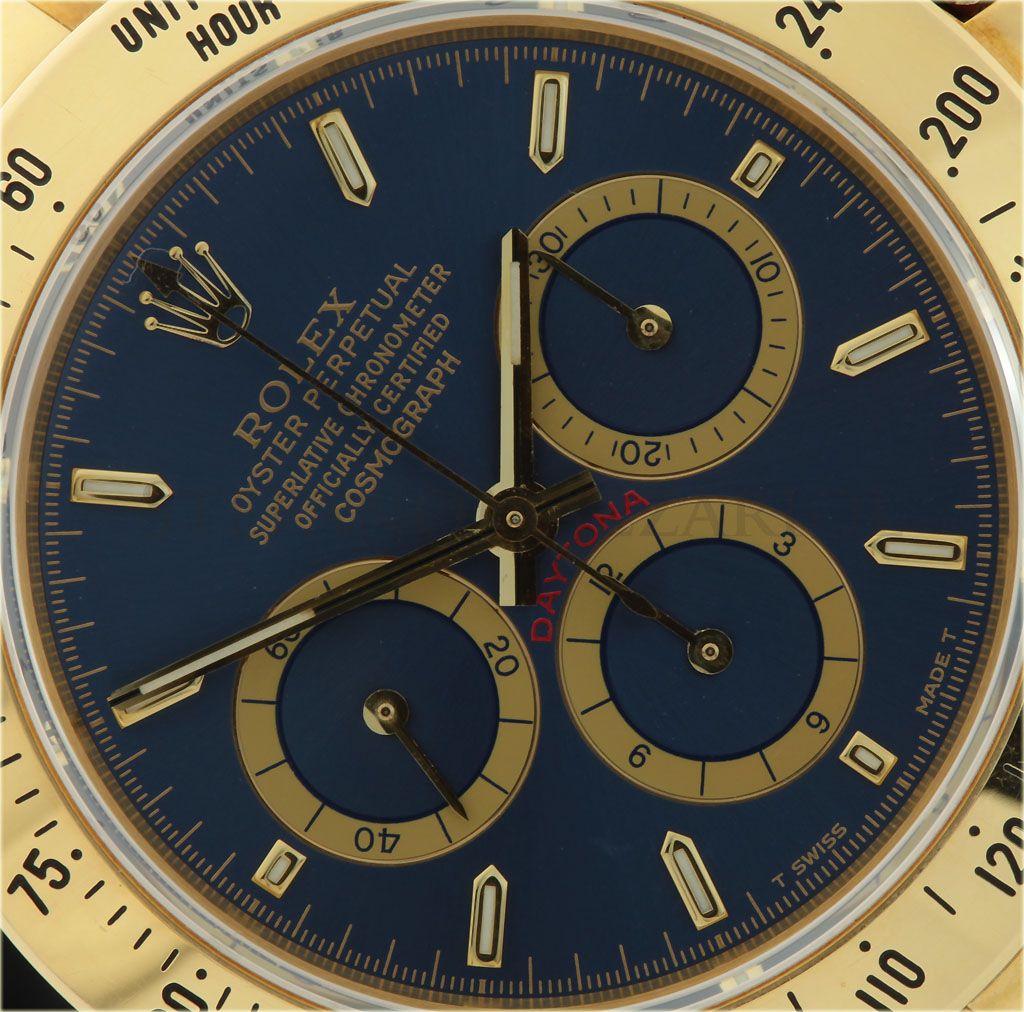 La Rolex e' stata fondata a Londra nel 1905 da Hans Wilsdorf e si trasferi' a Ginevra nel 1919.
Succedette a Wildsorf ,nel 1962, Andre J. Heiniger, secondo presidente della storia Rolex , entrato in azienda nel 1948 e nel 1962 e' salito a capo dell'esecutivo.
Un uomo di convinzione, André Heiniger, aveva lo stesso senso di anticipazione del suo predecessore.
Negli anni settanta Rolex, alla guida di Heiniger, ha partecipato attivamente allo sviluppo del primo movimento al quarzo svizzero, ma, con sorpresa di tutti, decise di restare fedele all'orologio meccanico.
Rolex was founded in London in 1905 by Hans Wilsdorf and relocated to Geneva in 1919.
In 1962 Andre J. Heiniger succeeded Wildsorf as the second president in the history of Rolex having joined the company in 1948 and rising to head executive in 1962.
As a man of convictions, Andre Heiniger had the same foresight as his predecessor.
In the 1970's Rolex, under the direction of Heiniger actively participated in the development of the first swiss quartz movement, but to everyone's surprise decided to remain faithful to the mechanical watch.
Questa decisione ha mostrato come Heiniger e' stato uno dei grandi anticipatori dell'orologeria contemporanea e consentito a Rolex di salvare l'intero comparto dell'industria orologiera meccanica svizzera.
André Heiniger era impegnato anche ad aumentare la visibilità del brand.
Negli anni sessanta e settanta ha suscitato partenariati tra Rolex, eventi sportivi e personalità , come pure con artisti di fama mondiale.
Queste associazioni hanno contribuito all'emergere come immagine nell'immaginario collettivo come negli eventi culturali e sportivi e nelle sponsorizzazioni nel mondo del lusso.
This decision demonstrated how Heiniger was one of the great visionaries of the contemporary watch world and allowed Rolex to save an entire section of the Swiss mechanical watch industry.
Andre Heiniger was also actively engaged in increasing the visibility of the brand.
In the 1960's and 70's he created partnerships between Rolex, sporting events and personalities, as well as with world renowned artists.
These partnerships contributed to bringing Rolex to the forefront of everyone's minds, as a symbol of luxury.
Nel 1976, per celebrare il cinquantesimo anniversario dell'orologio OYSTER, André Heiniger ha creato i premi "Rolex per Enterprise".
Questi premi forniscono supporto finanziario alle persone che cercano nuovi modi per aumentare le conoscenze e migliorare la qualità della vita sul nostro pianeta.
Nel 1992 Patrick Heiniger, figlio di Andre', diventa il terzo presidente della Rolex.
Sotto il suo impulso alla metà degli anni novanta, Rolex ha fatto una scelta strategica fondamentale e punto' sull'integrazione totale dei suoi mezzi di produzione.
Questa iniziativa è stata destinata a garantire il controllo sulla fabbricazione di componenti essenziali di orologi del marchio e garantire così la sua autonomia.
In 1976, to celebrate the fiftieth anniversary of the OYSTER watch, Andre Heiniger created the award "Rolex for Enterprise".
These prizes provided financial support to people that looked for new ways to increase knowledge and better the quality of life on our planet.
In 1992 Patrick Heiniger, Andre's son, became Rolex's third President.
Following his drive in the middle of the 1990's, Rolex made a strategic and fundamental choice to fully integrate all production phases.
This initiative was destined to guarantee control over the production of its essential watch components and therefore Rolex's autonomy.
In questo contesto, Rolex SA, la nuova entità aziendale della società fin dal 2002, diventa nel 2004 un industria di manifattura e fabbricazione : Montres Rolex SA.
Il gruppo Rolex non è quotato in Borsa, è controllato dalla Fondazione Wilsdorf.
Rolex non rende noti i dati sulle sue attività, ma secondo analisti del settore il fatturato del gruppo è compreso tra i 2 e i 3 miliardi di franchi svizzeri.
L'insieme di questi fattori hanno fatto si che Rolex non e' semplicemente un azienda produttrice di orologi ma uno status.
In this context, Rolex SA, the new corporate entity as of 2002, in 2004 became a manufacturing company: Montres Rolex SA.
The Rolex group is not publicly traded but rather is controlled by the Wilsdorf Foundation.
Rolex does not make it's books public, but according to analysts in the sector, the group's turnover is between 2 and 3 billion Swiss Francs.
The combination of these factors have made it so that Rolex is no longer simply a watch producer, but is now a status symbol.
L'orologio che per antonomasia rappresenta , nell'immaginario collettivo uno status e senza ombra di smentita il Rolex Daytona che grazie ad una riuscita politica commerciale e caratteristiche tecniche indovinate fa' si che il Daytona ,fin dalla sua introduzione , sia un modello di grande successo, diventando molto ambito dai collezionisti nonostante sia un orologio di concezione moderna.
Nel 1993, Patrick Heiniger decise di donare ai piu' importanti dirigenti Rolex , un Daytona nella sua configurazione nel metallo piu' prezioso ,con un quadrante esclusivo blu.
The watch that best represents status in the minds of collectors, is without a doubt the Rolex Daytona. Thanks to a successful commercial policy and correctly guessing which technical characteristics would be popular, have made the Daytona has been a very successful model since its introduction as well as becoming extremely sought after by collectors despite its modern conception.
In 1993, Patrick Heiniger decided to give the highest ranking Rolex directors a Daytona combining the most precious metal and an exclusive blue dial.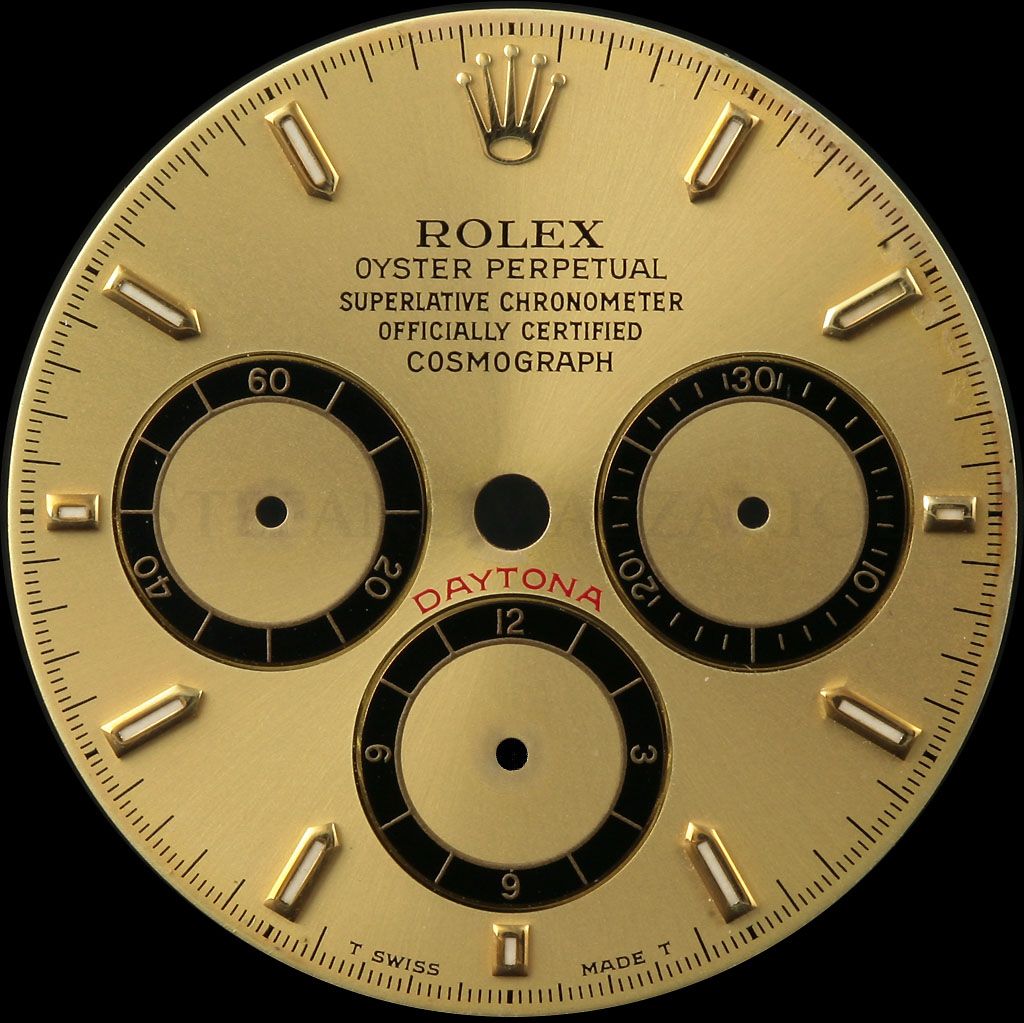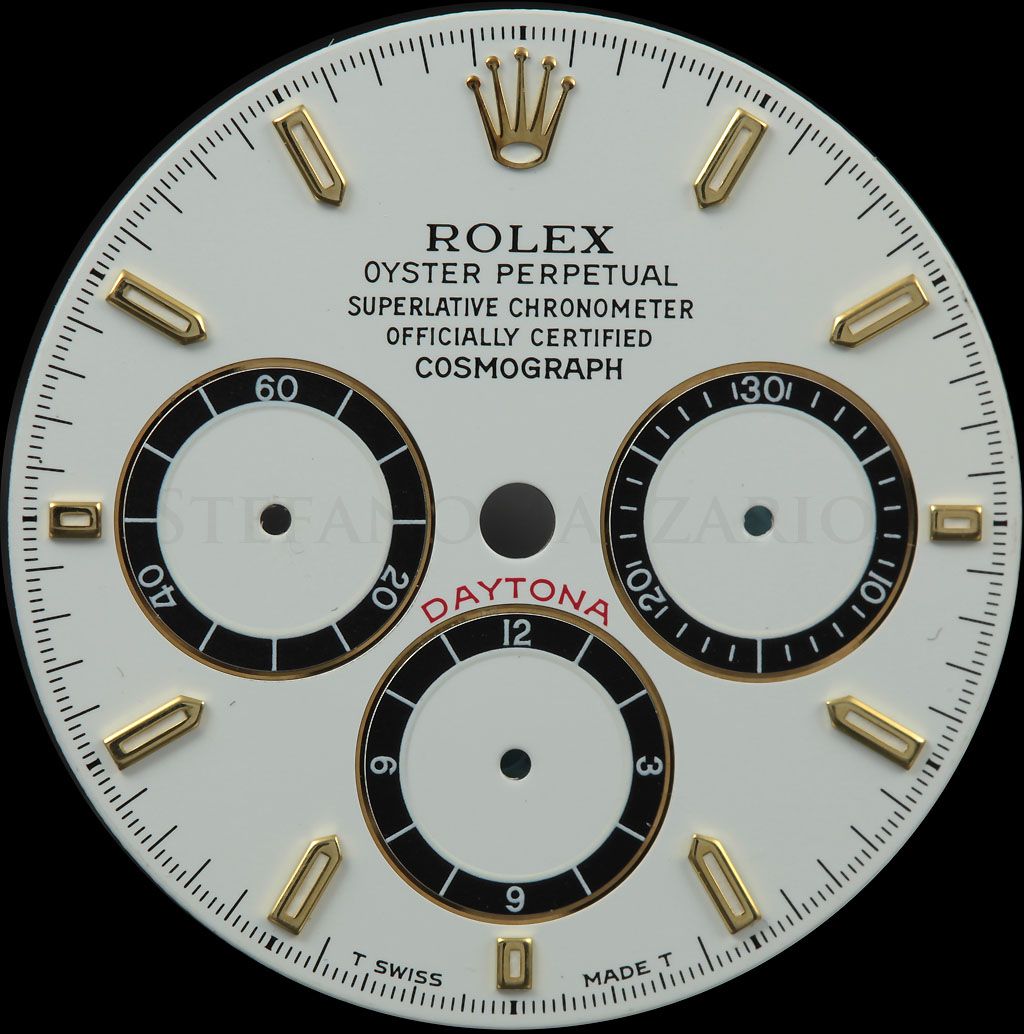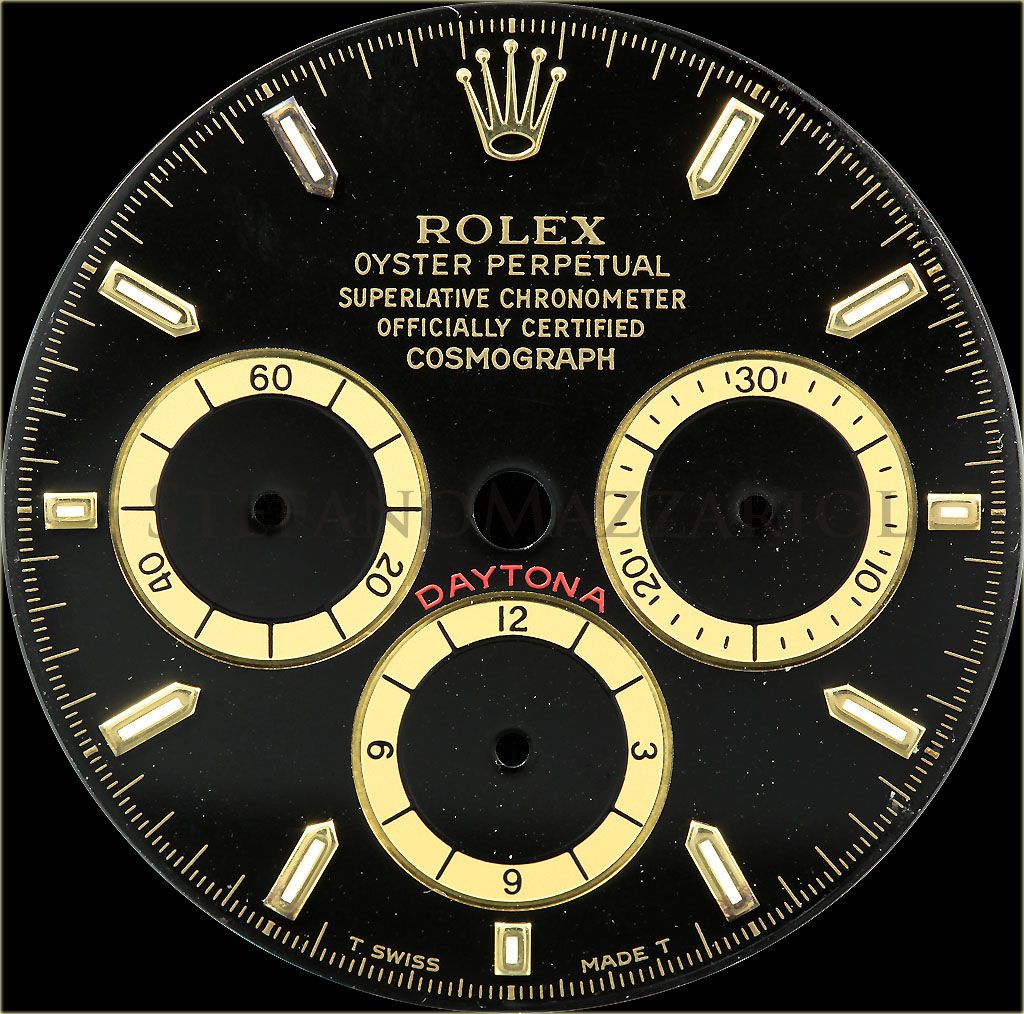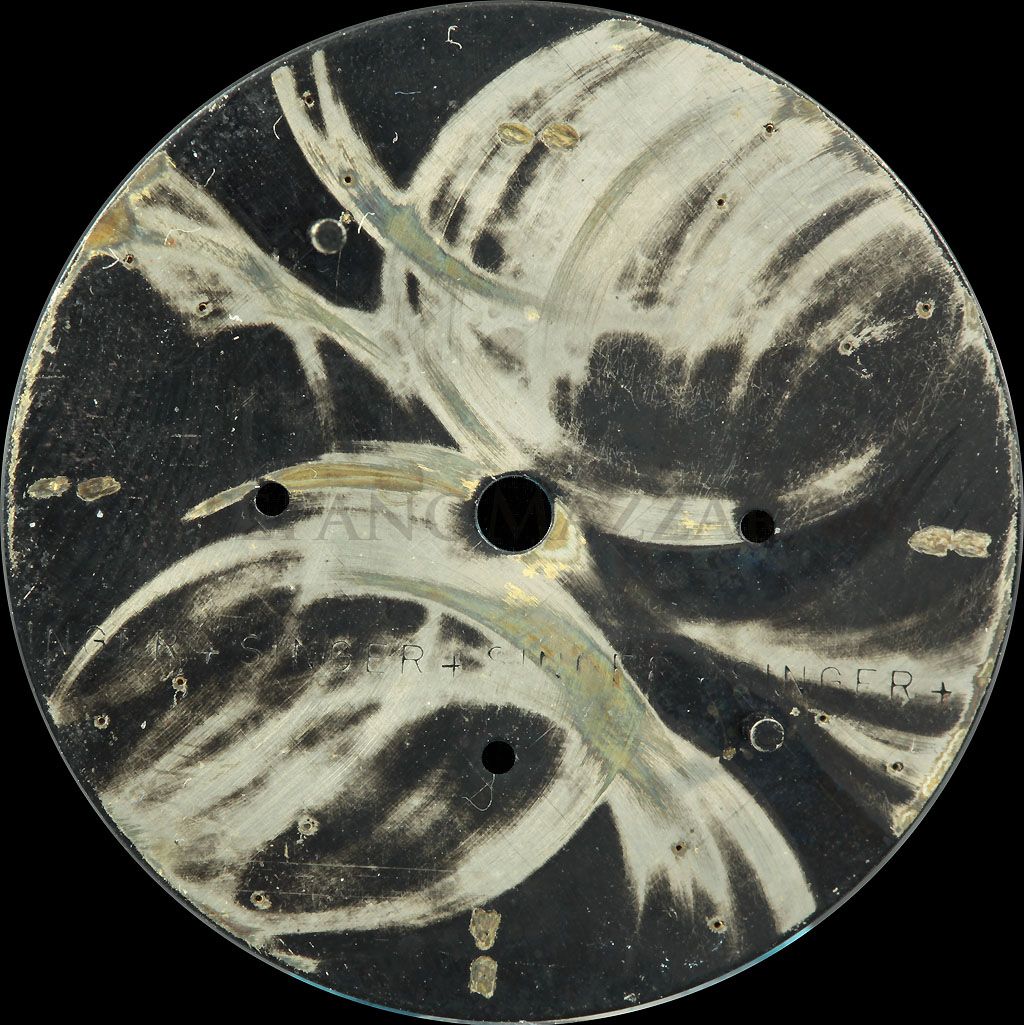 Il fatto che questo orologio abbia un quadrante unico o comunque prodotto in pochissime unita'aggiunge per se stesso valore sia concettuale che economico.
Ognuno di questi aspetti, ma specialmente quelli legati al collezionismo ed al valore, vivono basilarmente poggiando sul pilastro di: unicità ed esclusività.
The fact that this watch has a thoroughly unique dial or at least very rare, in and of itself adds both conceptual and economic value to it.
Each of these aspects, but especially those tied to collecting and value are based on the pillars of: uniqueness and exclusivity.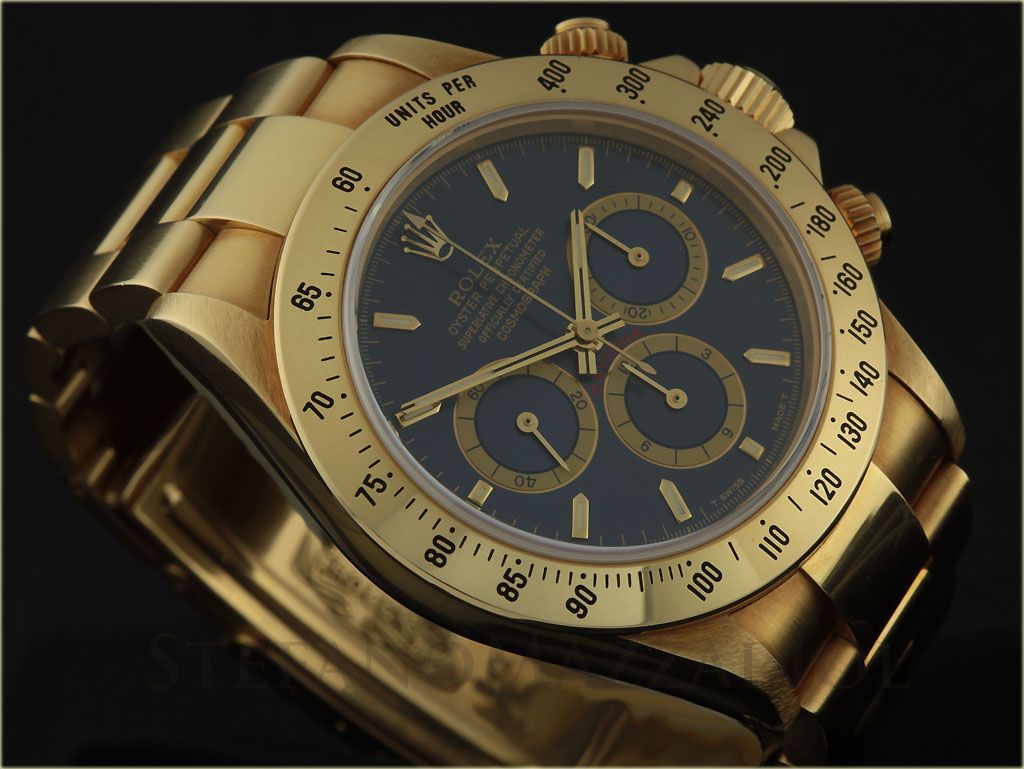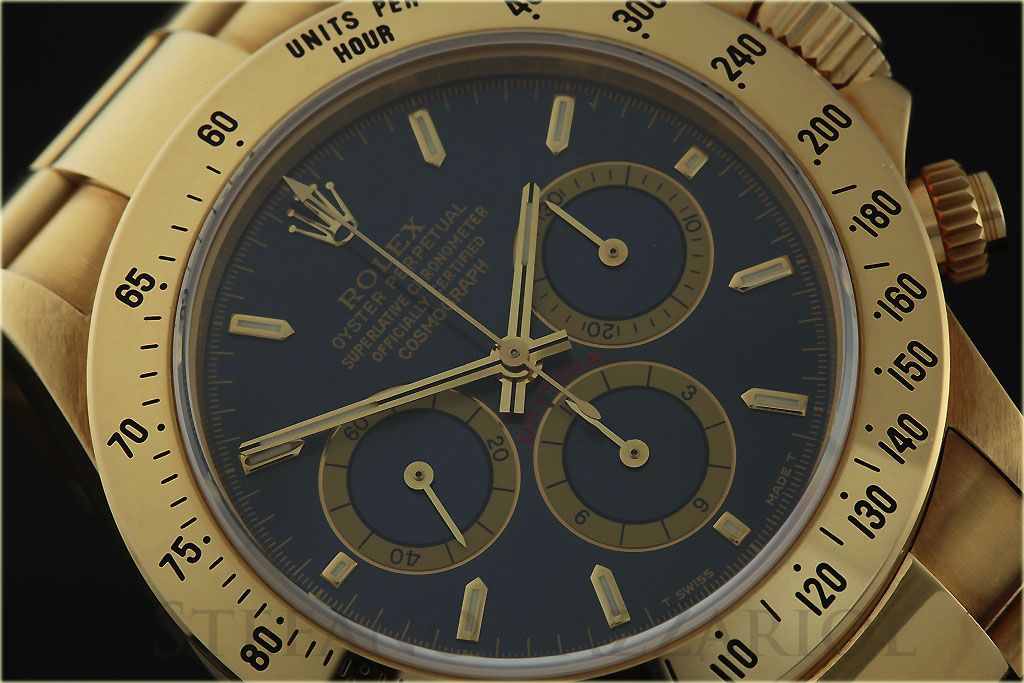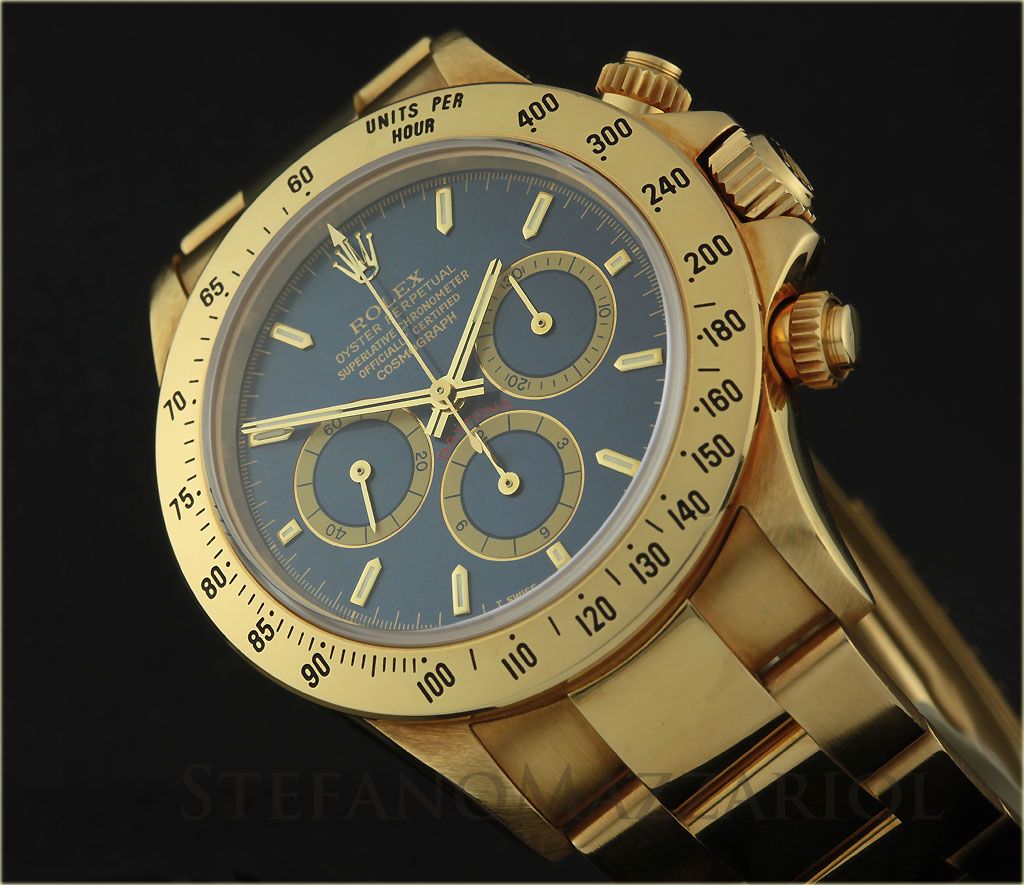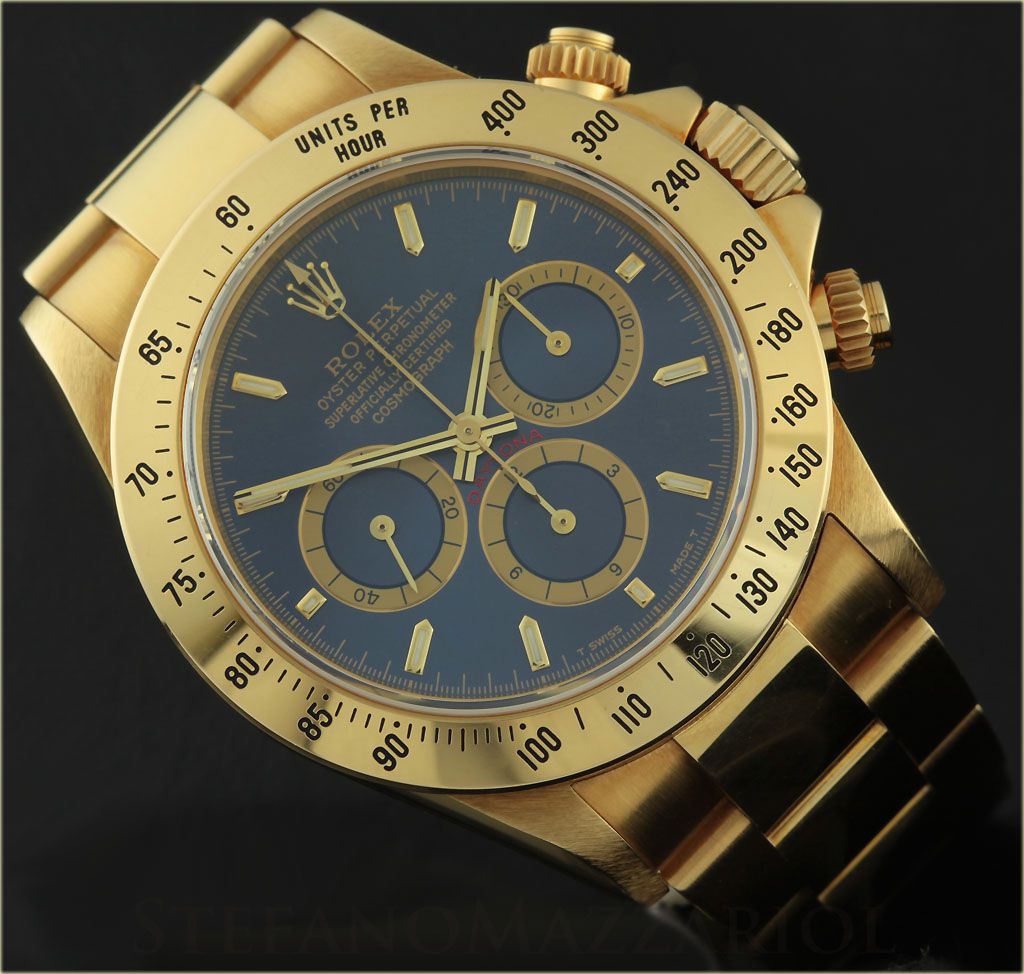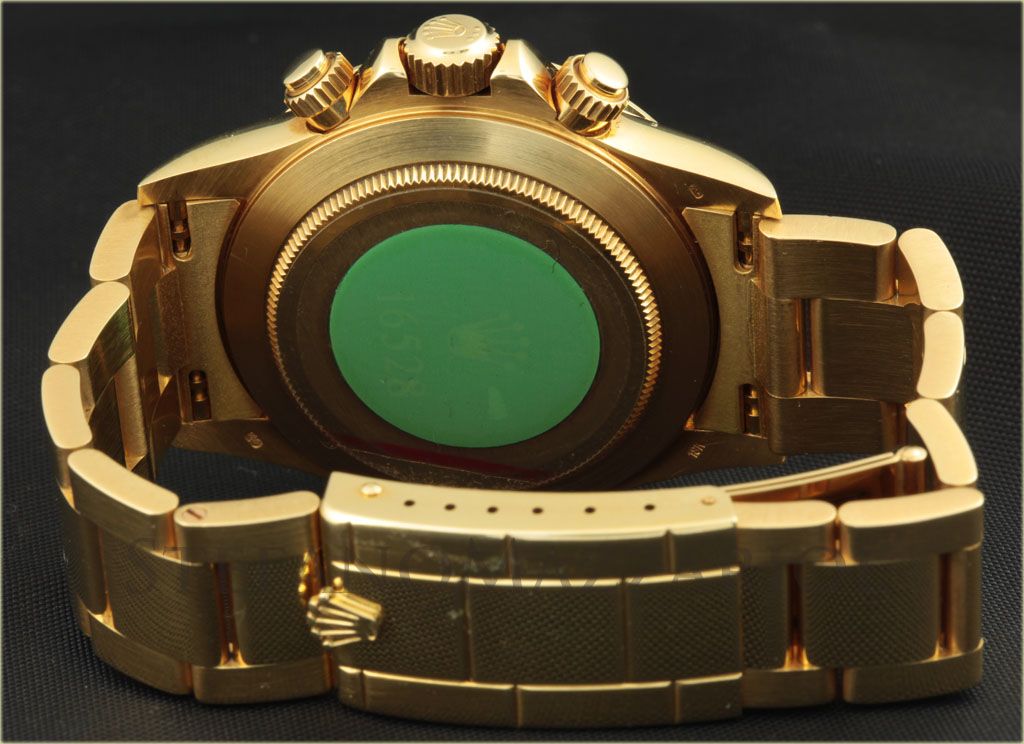 Questo quadrante prodotto da Singer , ha le stesse caratteristiche grafiche dei modelli contemporanei dell'epoca, ma realizzato in blu galvanico con rifinitura soleil e "6 rovesciato".
Le scritte sono color oro .
This dial was produced by Singer and has the same graphic characteristics of other models of the time, but was made in galvanized blue with soleil details and an "upside down 6".
The writings are all gold color.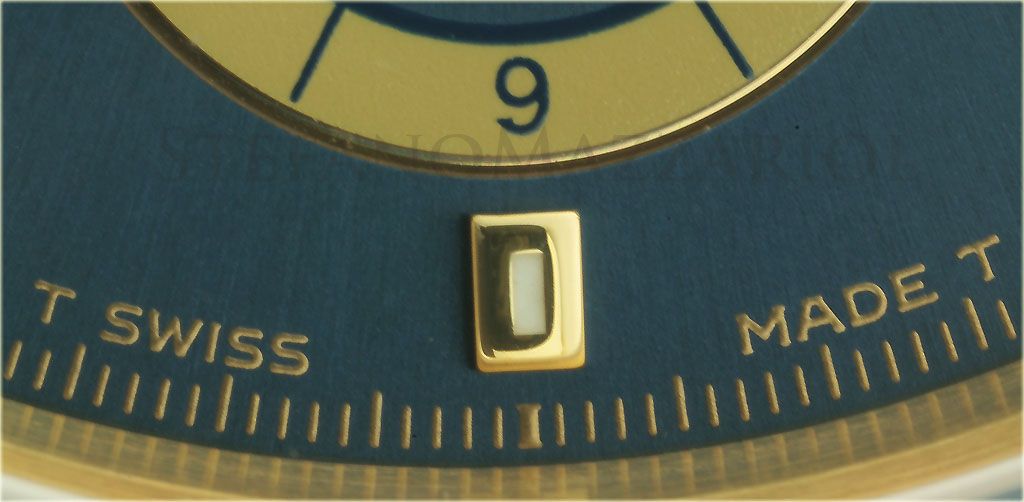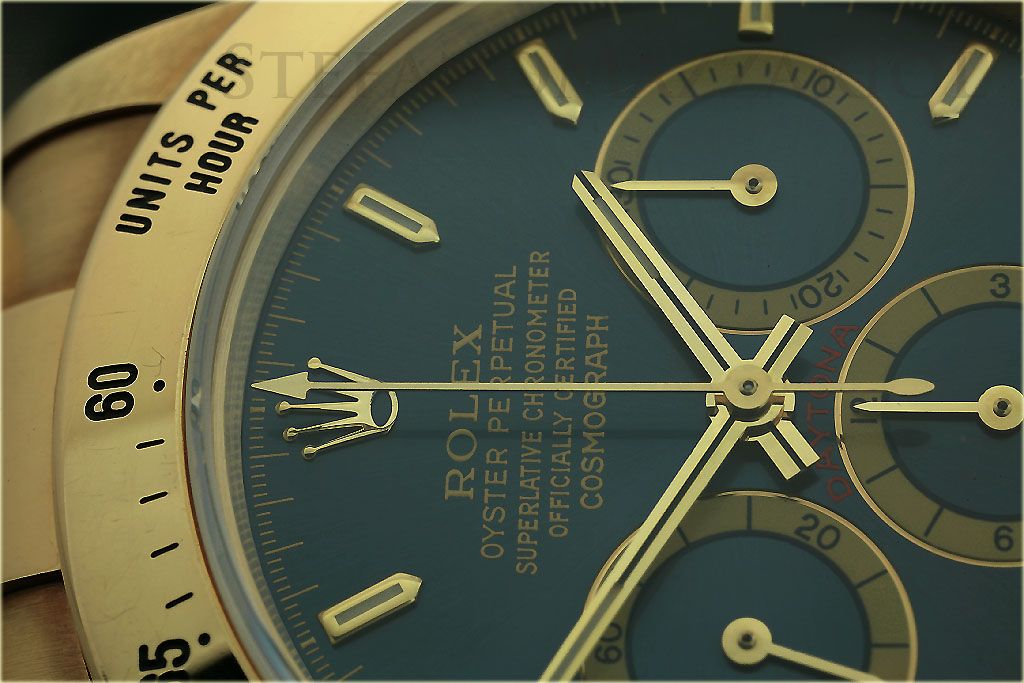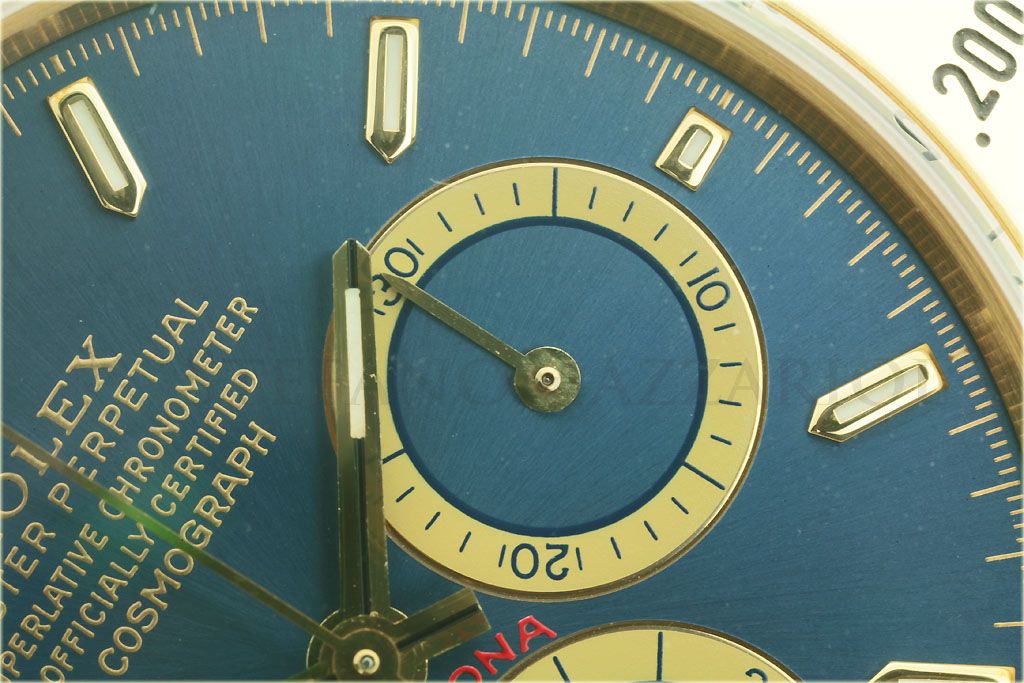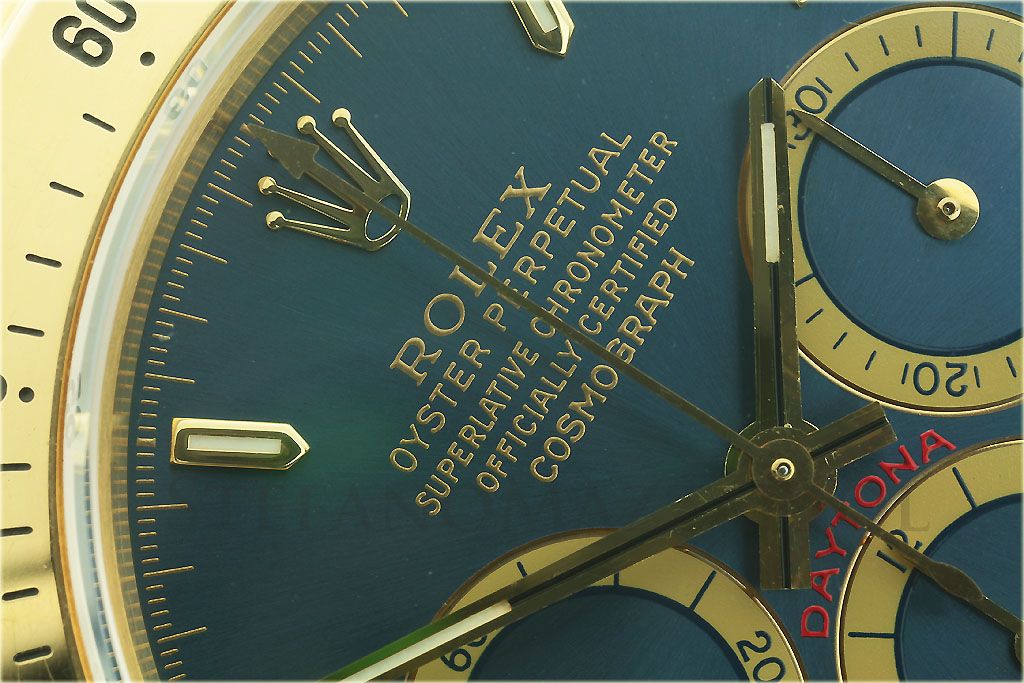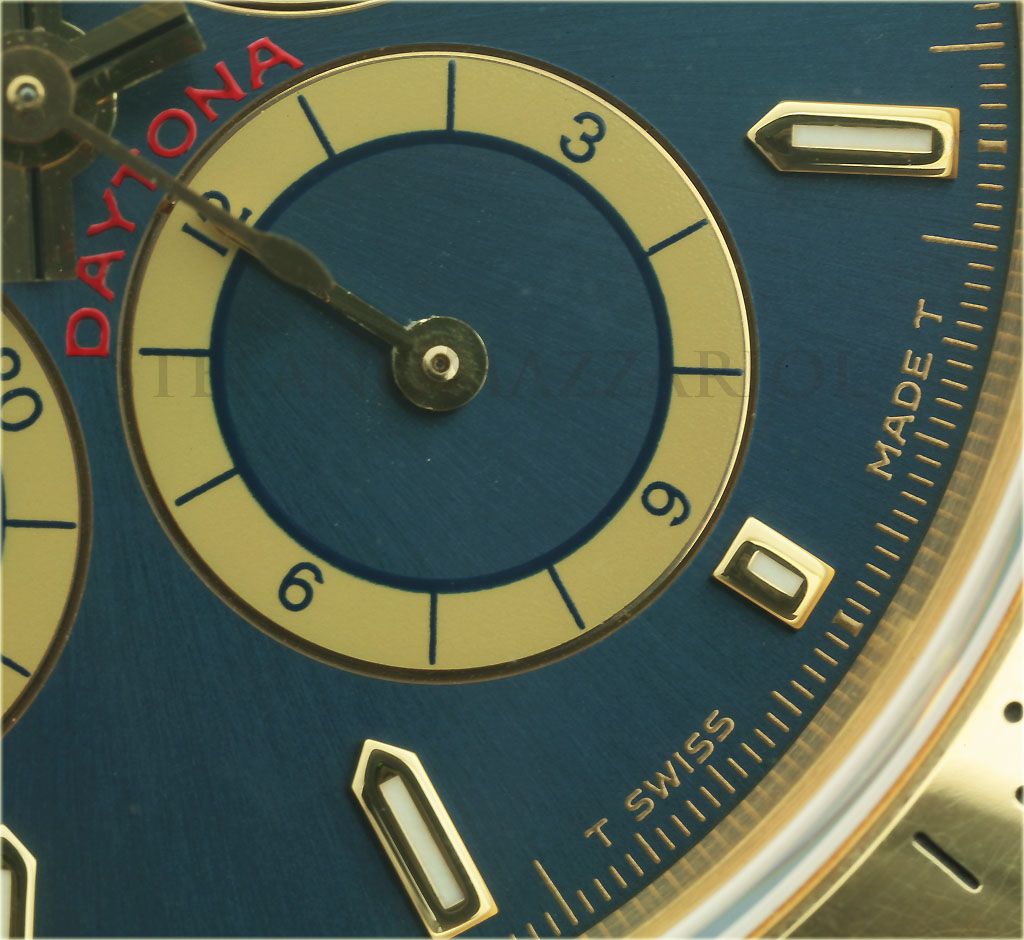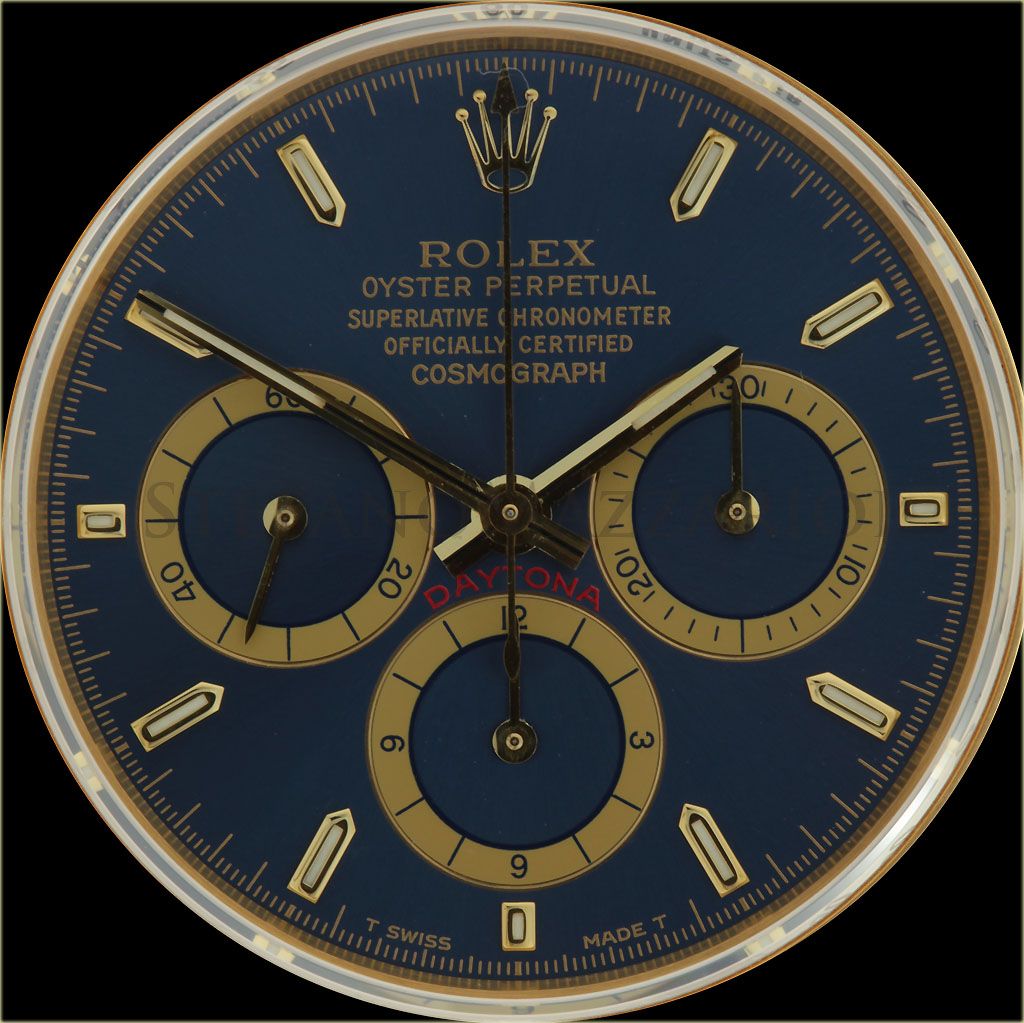 Il risultato e' un insieme di sportivita' ed eleganza con un "pizzico" di esclusivita' risevato solo ai Chairman Rolex.
The result is a combination of sportiness and elegance with a 'dash' of exclusivity reserved only to Rolex Chairmen.
Stefano Mazzariol