Rolex GMT-Master ref. 1675/8 Logo OMAN
Il GMT -MASTER ref. 1675/8 , evoluzione della ref. 6542 di cui abbiamo gia' ampiamente parlato, e' entrato in produzione nel 1959 in contemporanea con il modello in acciaio.
Le differenze tra i due GMT pero' sono molte, la piu' evidente e' che per alcuni anni la versione oro e' stata prodotta senza le spallette di protezione della corona di carica.
Verso la seconda meta' degli anni 60 entro' definitivamente in produzione la versione in oro con le spallette di protezione della corona, uniformandosi con le caratteristiche del modello in acciaio.
La versione oro e' solo in 18kt.
The GMT –MASTER ref. 1675/8, evolution of the ref. 6542 which we have already discussed previously entered into production in 1959 together with a steel model.
There are many differences between the two GMT's however; the most evident is that for a few years the gold version was produced without the winding crown protectors.
Around the second half of the 1960's the gold version with the crown protectors began to be produced conforming to the characteristics of the steel model.
The gold version is only available in 18kt.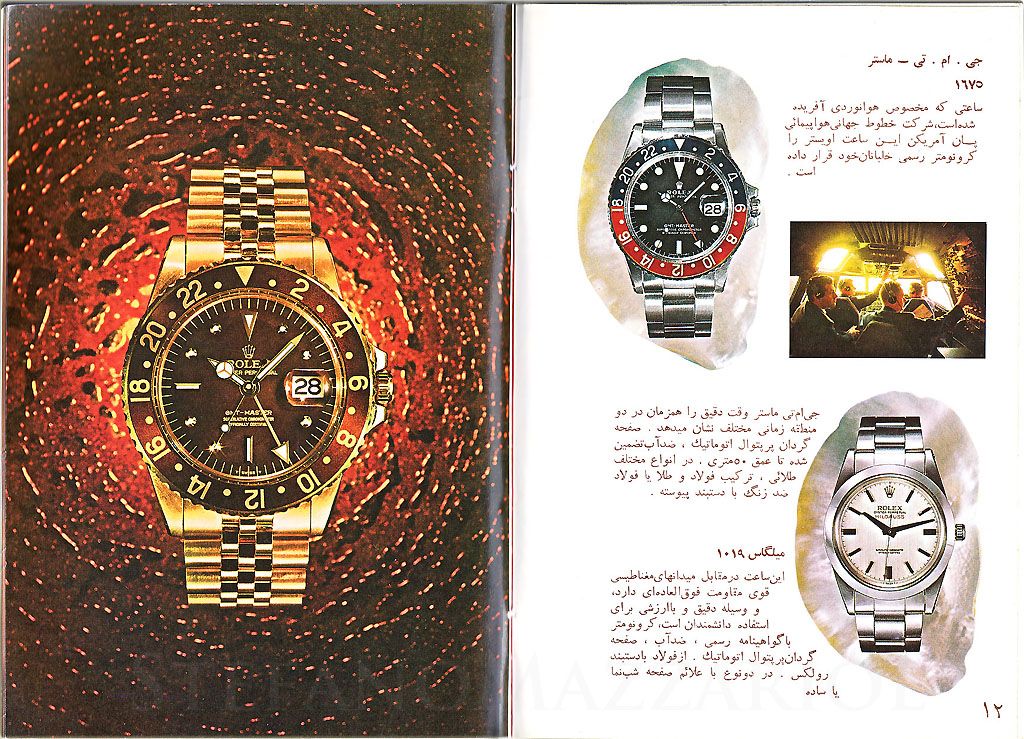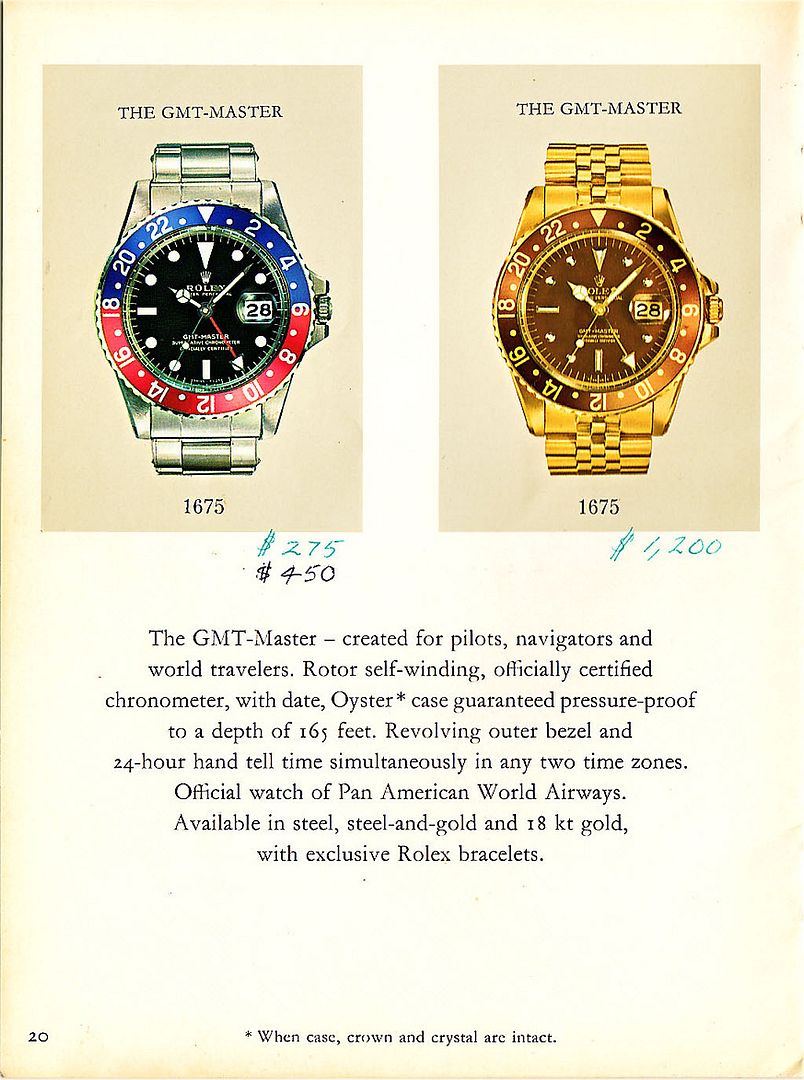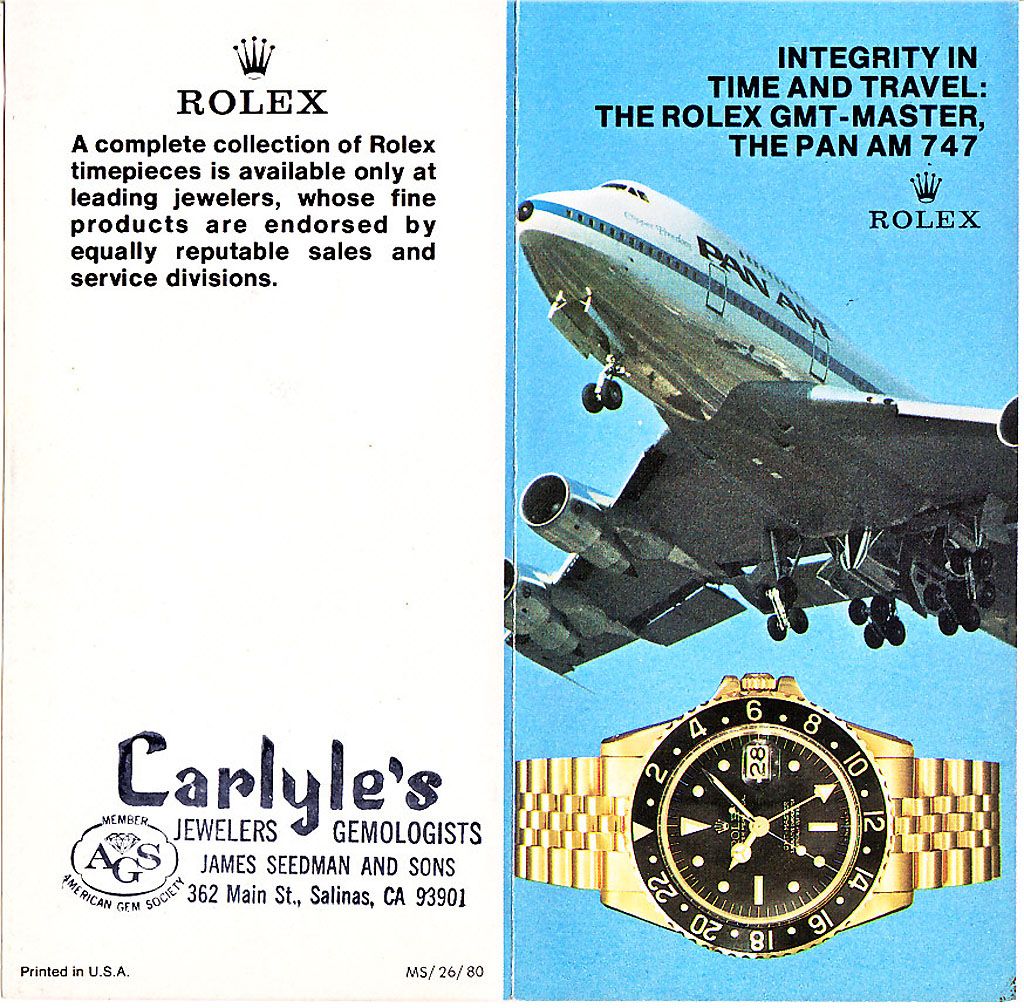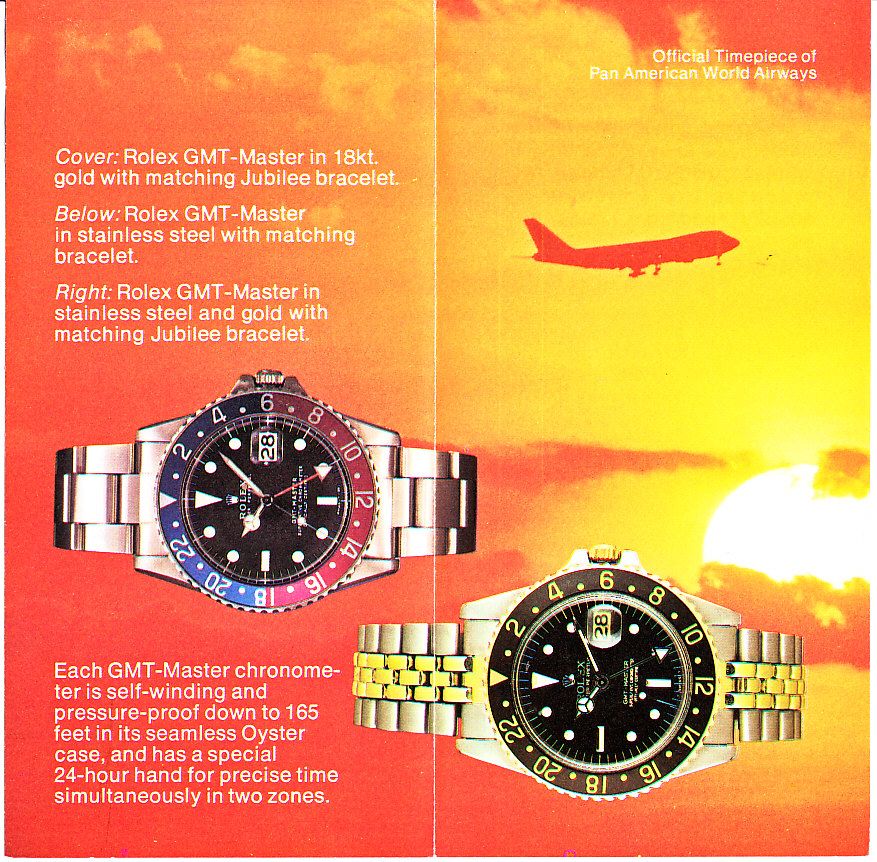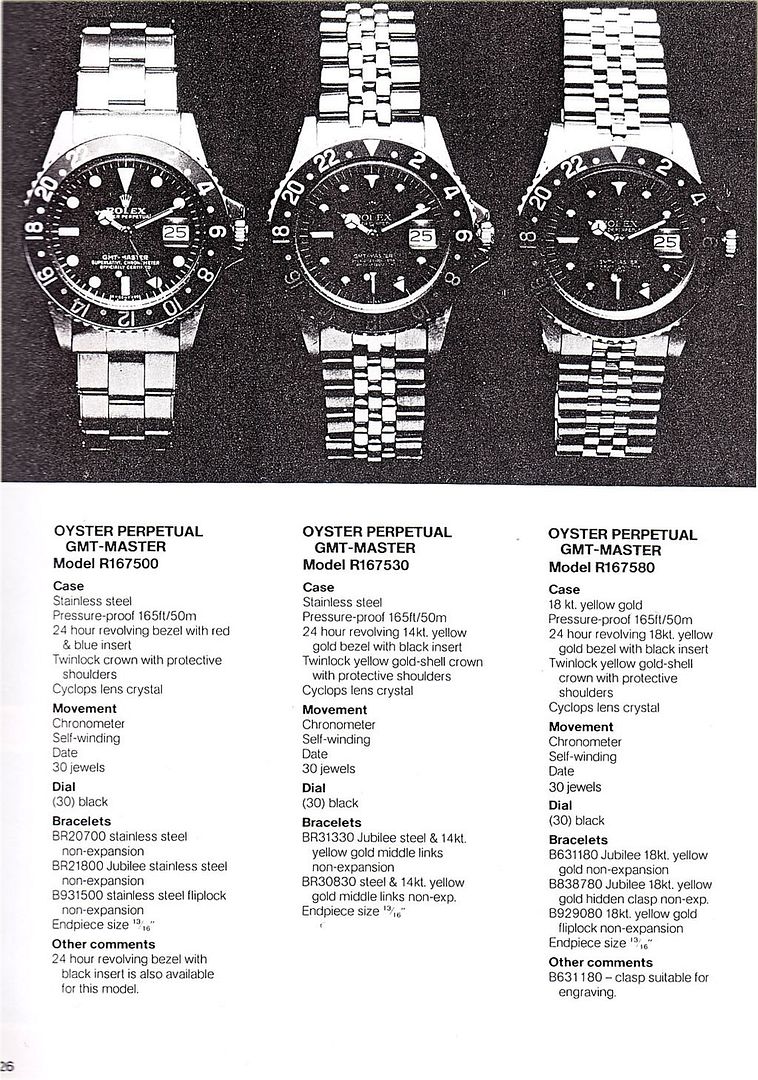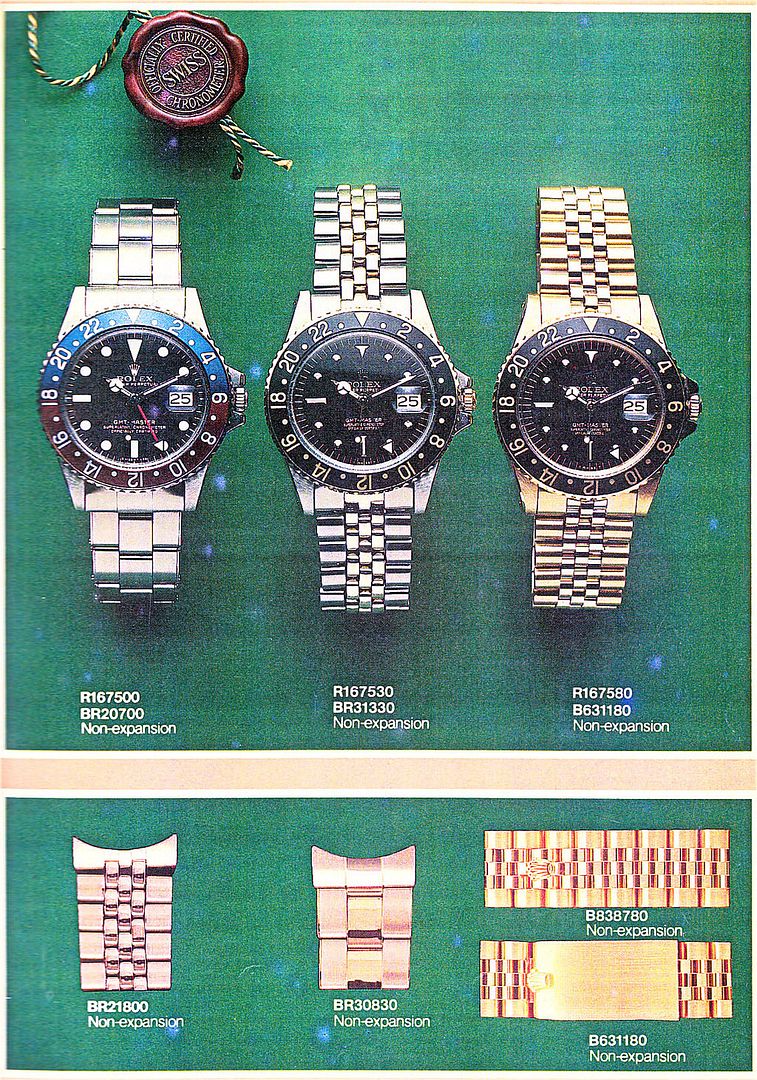 Una pubblicita' Rolex affermava che occorreva un anno di lavoro per realizzare un Rolex GMT-Master ;dichiarava letteralmente:"...I Rolex sono fabbricati con cura e pazienza dagli artigiani piu' esperti del mondo. Essi ci mettono oltre 12 mesi per fabbricarne uno... i nostri artigiani compiono 162 operazioni per trasformare un pezzo di metallo nella piu' robusta cassa d'orologio che esista. Poi eseguono altre 38 operazioni per adattarvi la corona Rolex a doppia tenuta, che e' avvitata alla cassa come il portello di un sommergibile" .
A Rolex ad stated that it took a full working year to make a Rolex GMT-Master; it literally said: " Rolex watches are made with care and patience by the most expert craftsmen in the world. It takes them more than 12 months to make one… our craftsmen perform more than 162 operations to transform a piece of metal into the most robust watch case that exists. Then it takes another 38 operations to fit the double sealed Rolex crown which is screwed onto the case like the door of a submarine".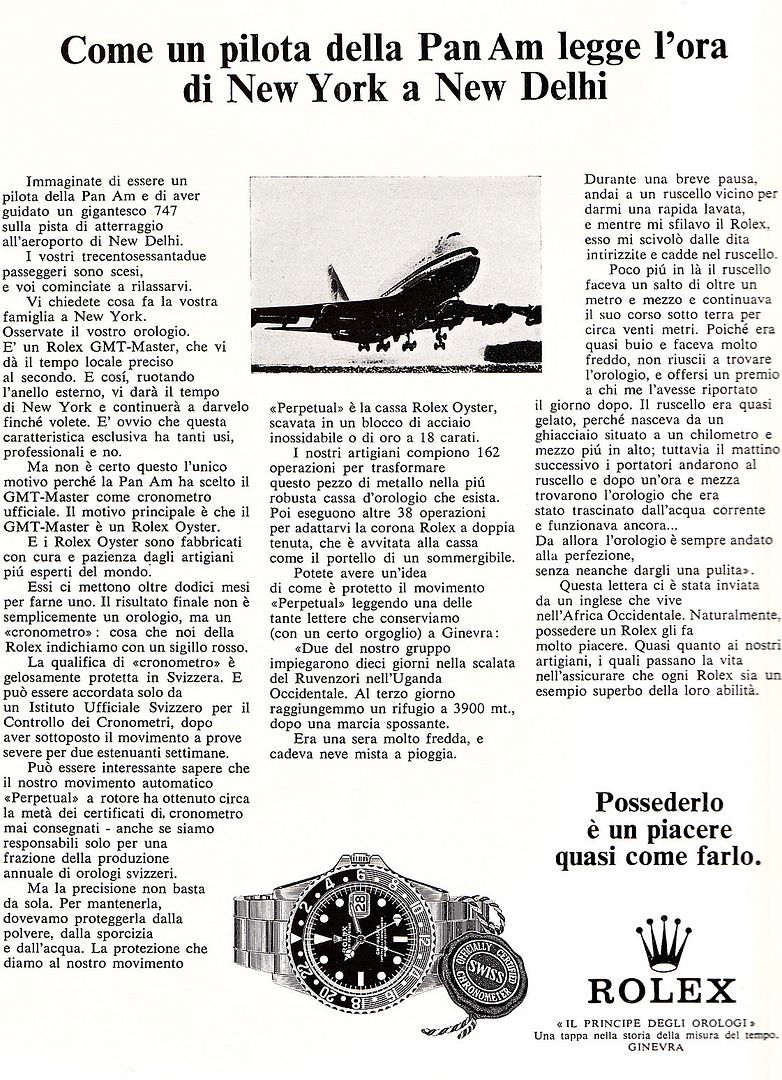 Il GMT Master ref. 1675/8 e' dichiarato impermeabile fino a 50 mt, monta il movimento cal. 1565GMT(sul ponte marchiato 1560 o 1570) derivato dal cal. 1530 con un diametro di 28,5 mm, altezza 6,47 mm e 18000 alternanze ora.
Il fondello e' in oro massiccio filettato per una chiusura a vite con la cassa con punzoni identificativi all'interno.
The GMT-Master ref. 1675/8 is listed as waterproof up to 50 meters. The caliber that is mounted is the cal. 1565GMT (stamped 1560 or 1570 on the bridge) derived from the cal. 1530 with a 28.5 diameter, 6.47mm height and 18000 vibrations per hour.
The back is in threaded heavy gold for a screw-type closure with the case and has the identifying punches on the inside.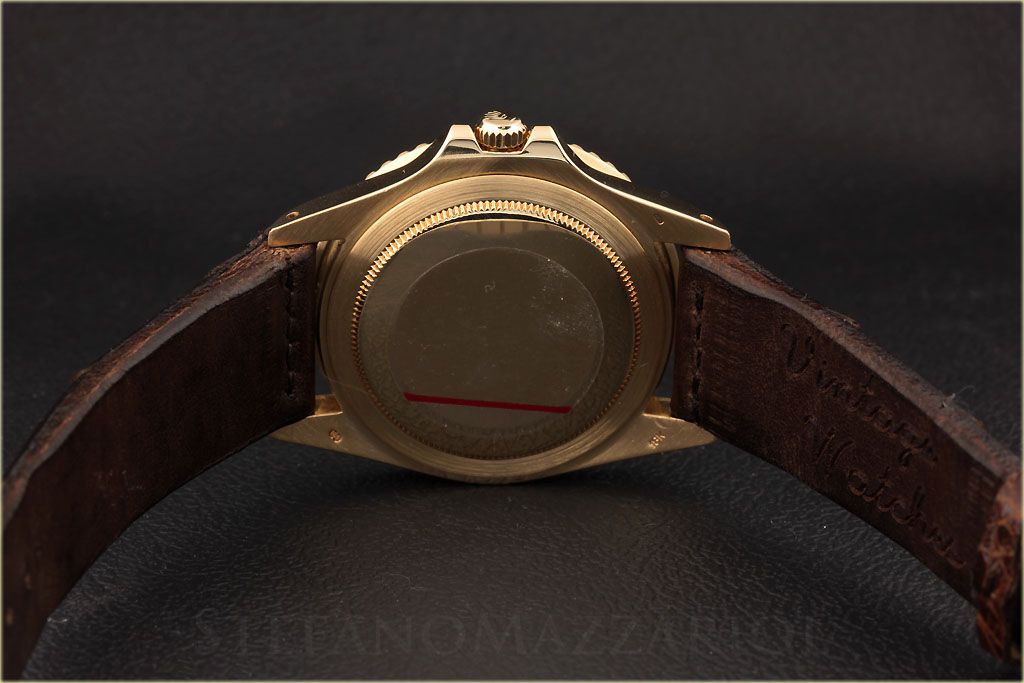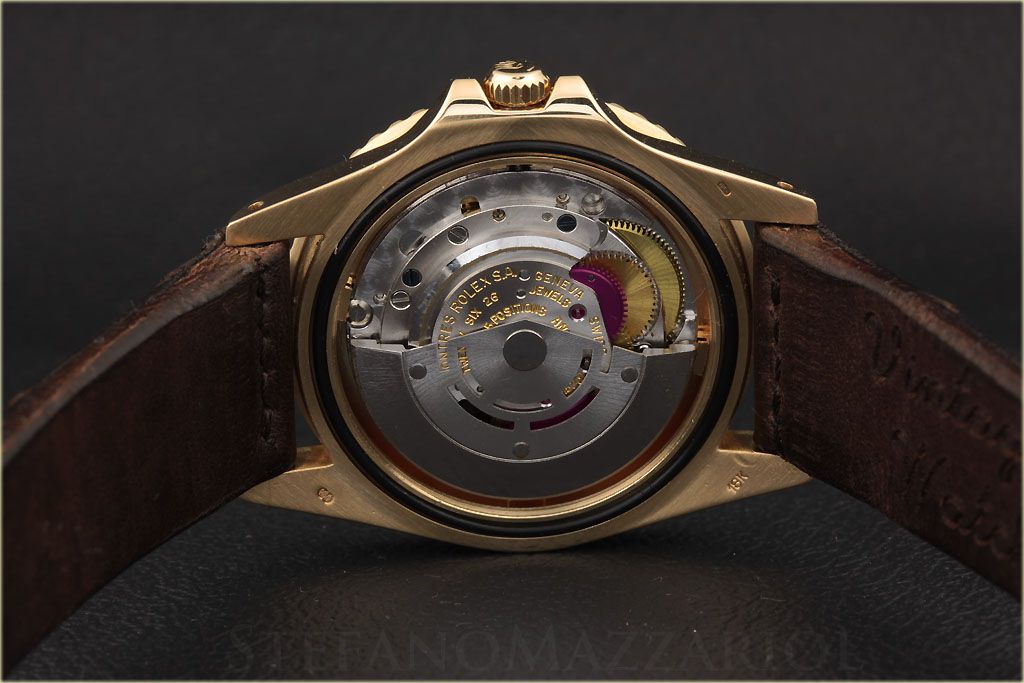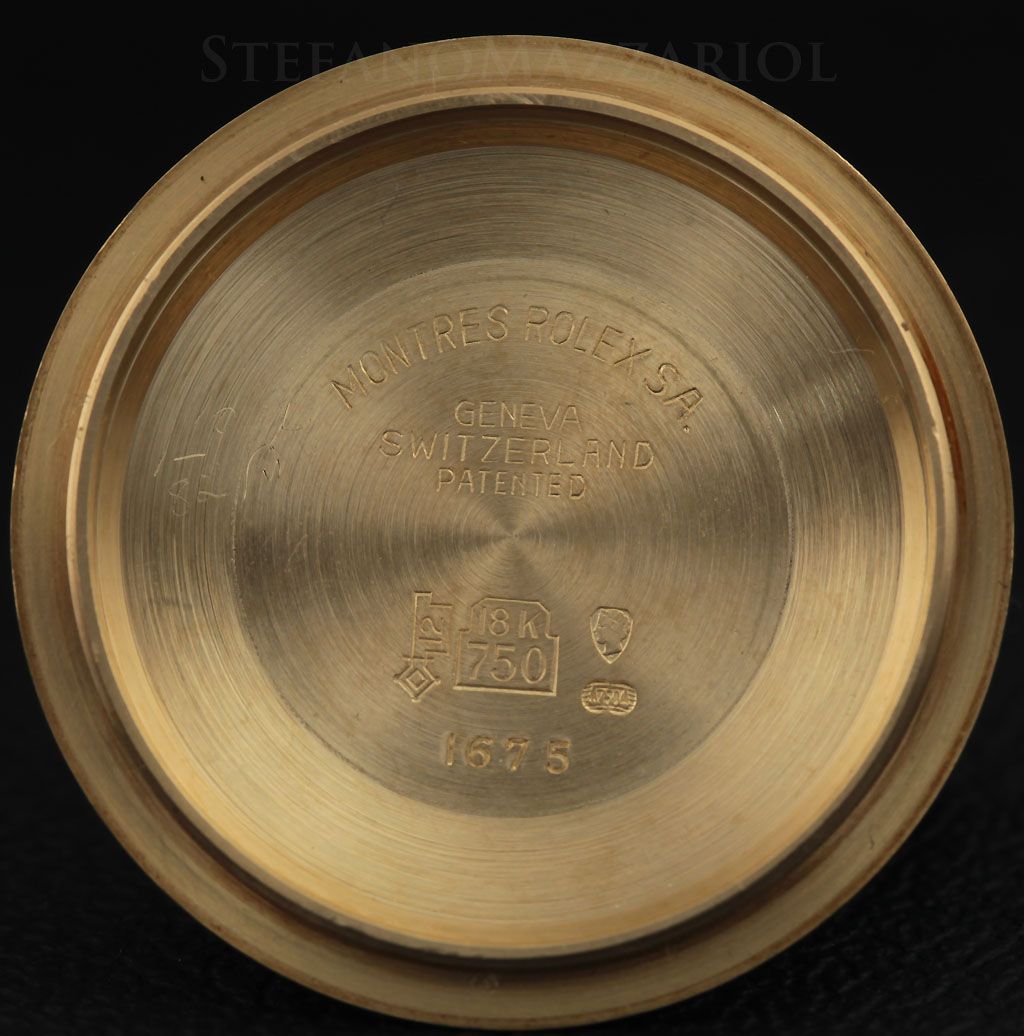 La corona di carica e' una Twinlock del diametro di 5,3 mm fabbricata con una speciale lega di zinco, rame e nichel rivestita in oro.
The winding crown is a 5.3mm diameter Twinlock made with special gold plated copper and nickel alloy.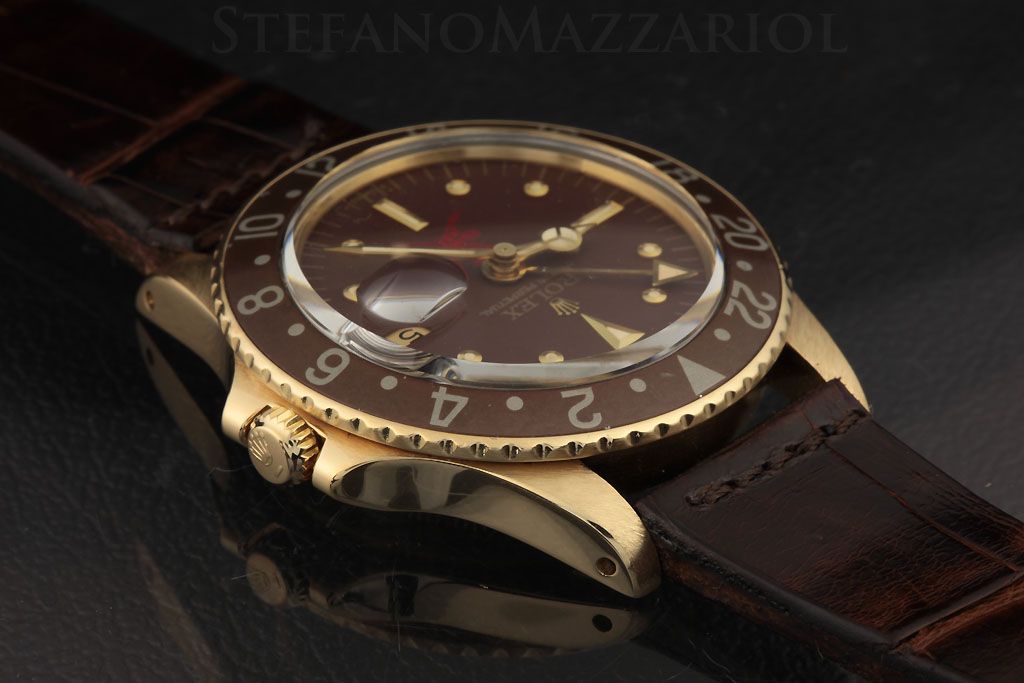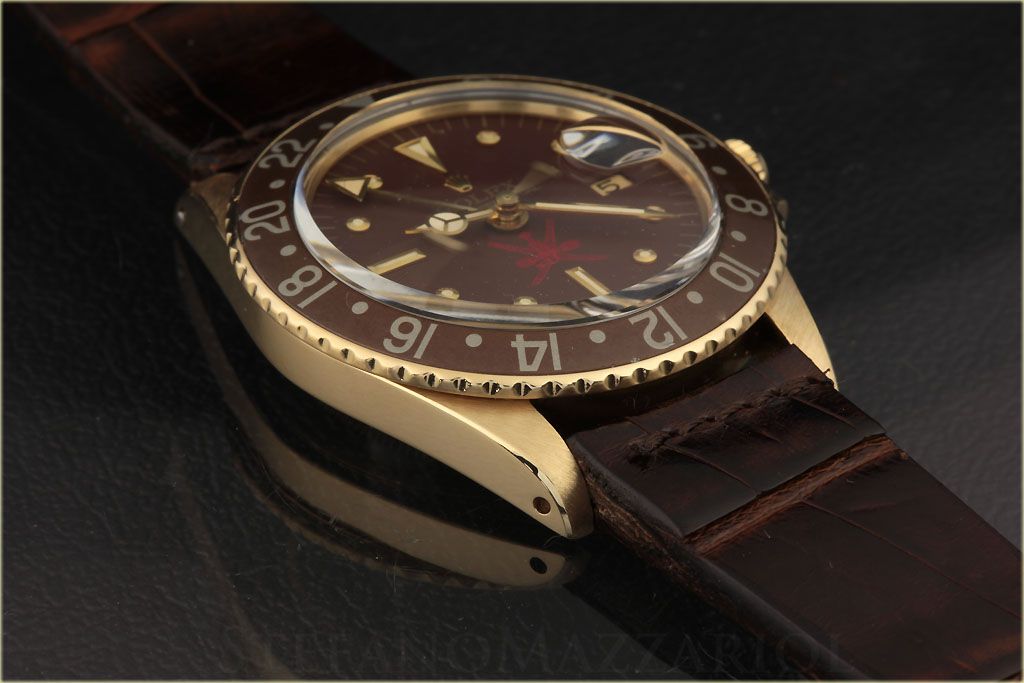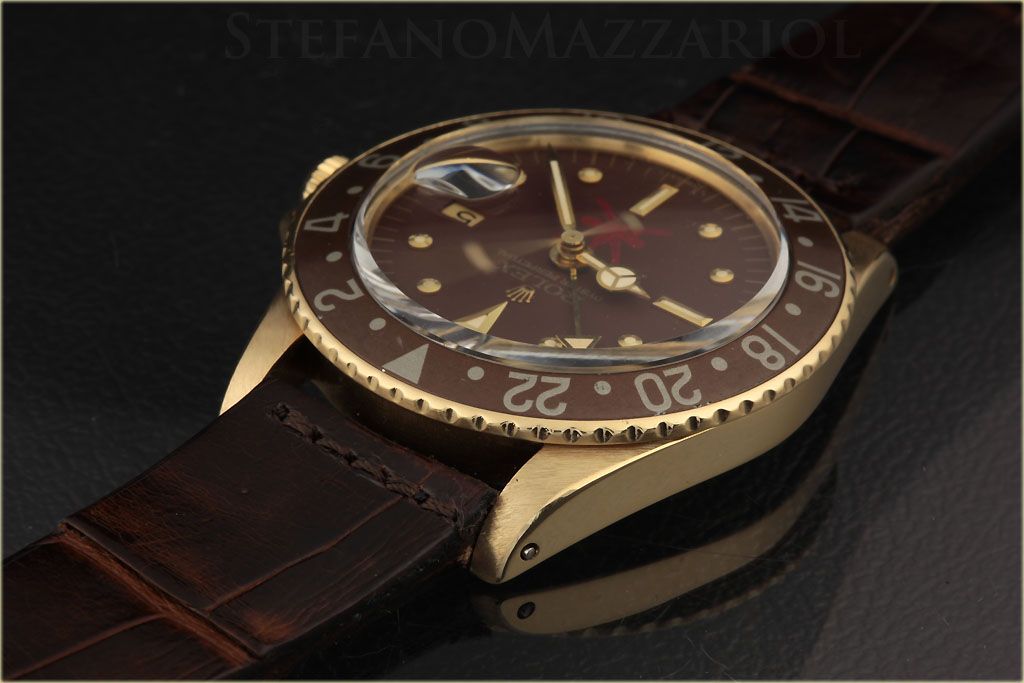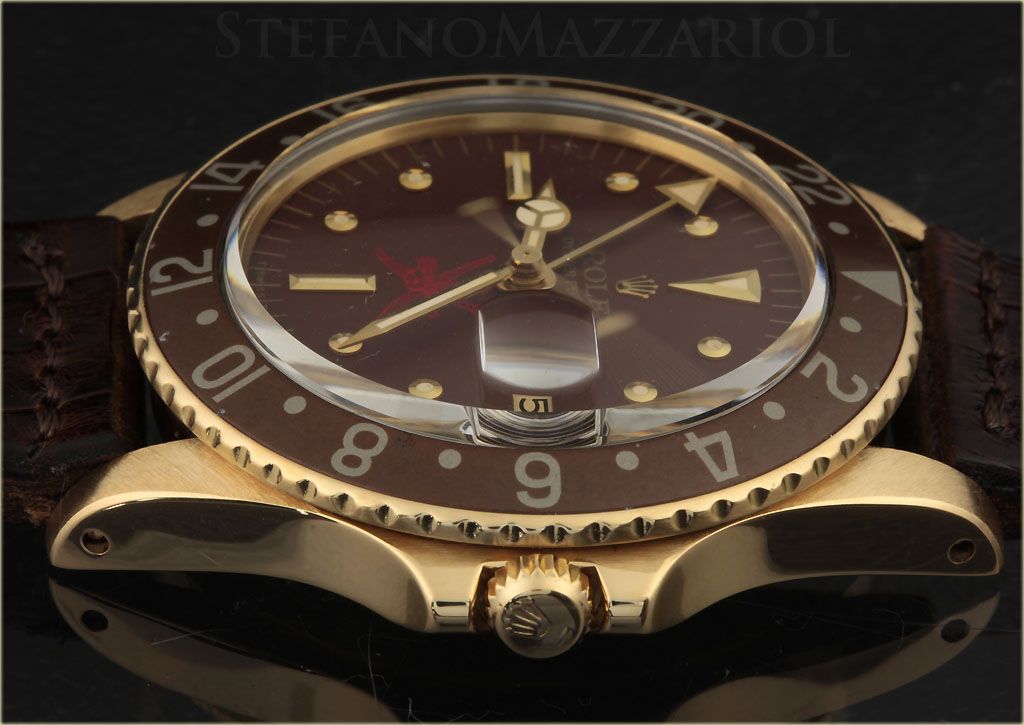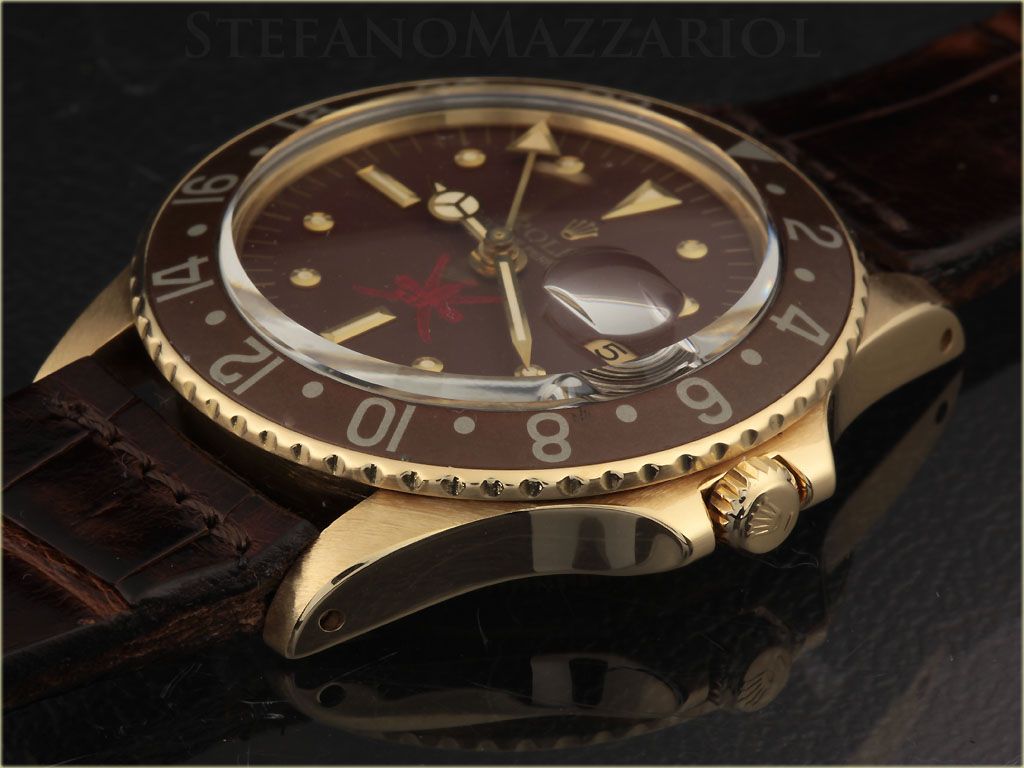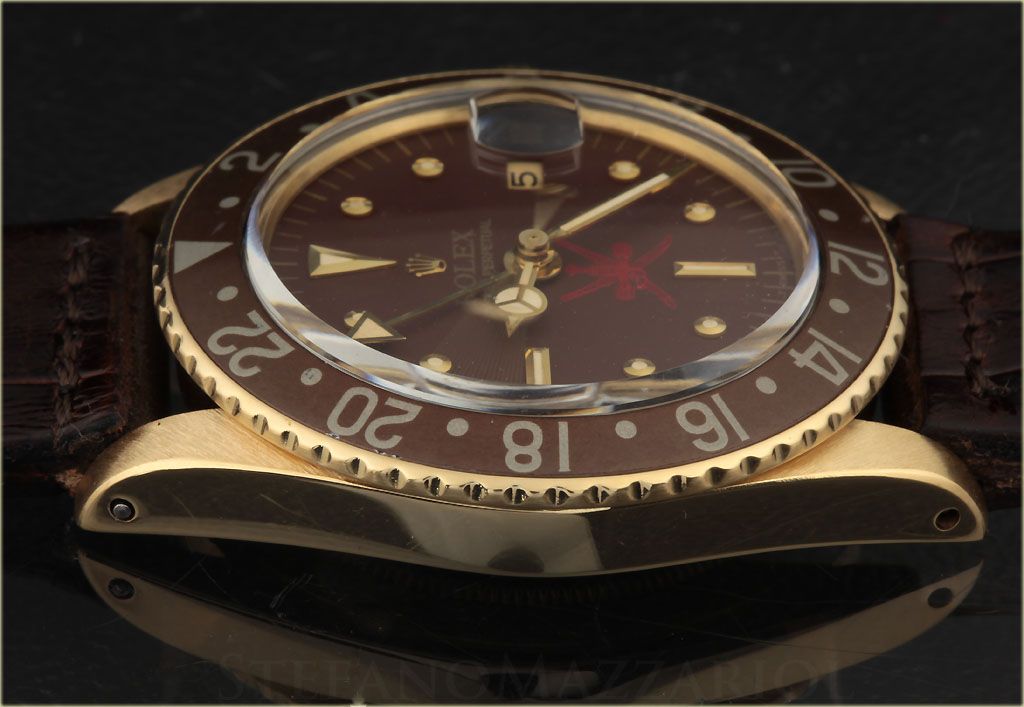 Il GMT-MASTER era commercializzato sia con 2 cinturini in pelle ed una fibbia in oro, che nella versione braccialata oro. Questa aveva un prezzo di listino pari al doppio rispetto all'altro.
Poteva montare i bracciali ref.6636/8 Oyster estendibile o 7206/8 Oyster
e successivamente il 6311/8 Jubilee'o 7836/8 Oyster.
The GMT-MASTER was sold with either 2 leather bands with a gold clasp, or in a version with a gold bracelet for double the price. It had either the Oyster extendible bracelet ref. 6636/8 or the Oyster 7206/8 and later with the Jubilee' 6311/8 or Oyster 7836/8.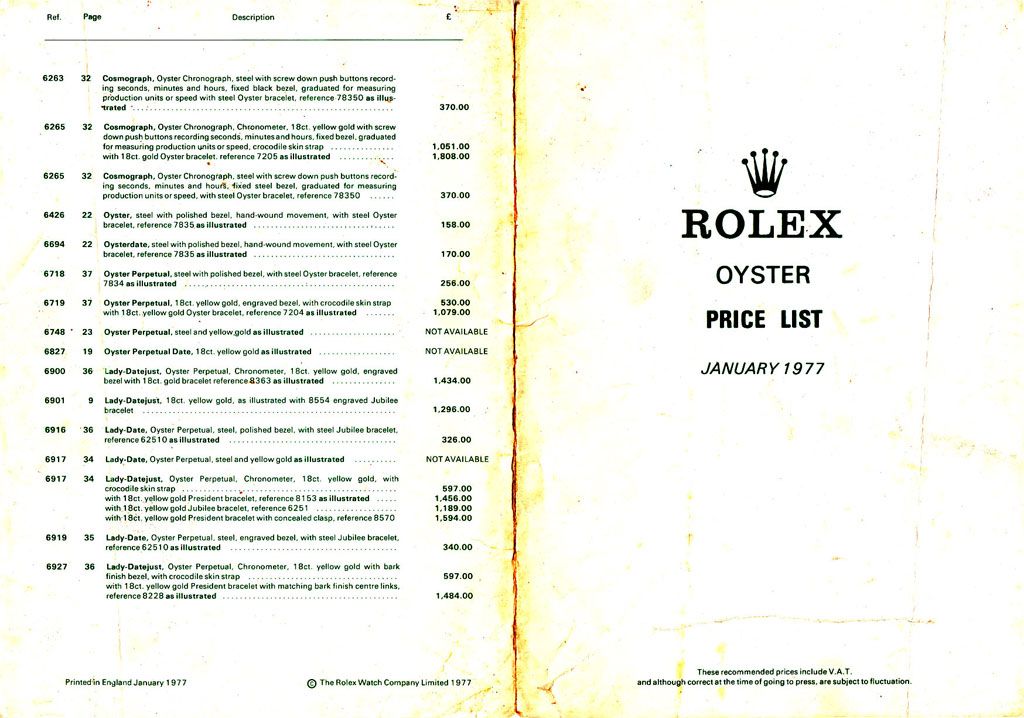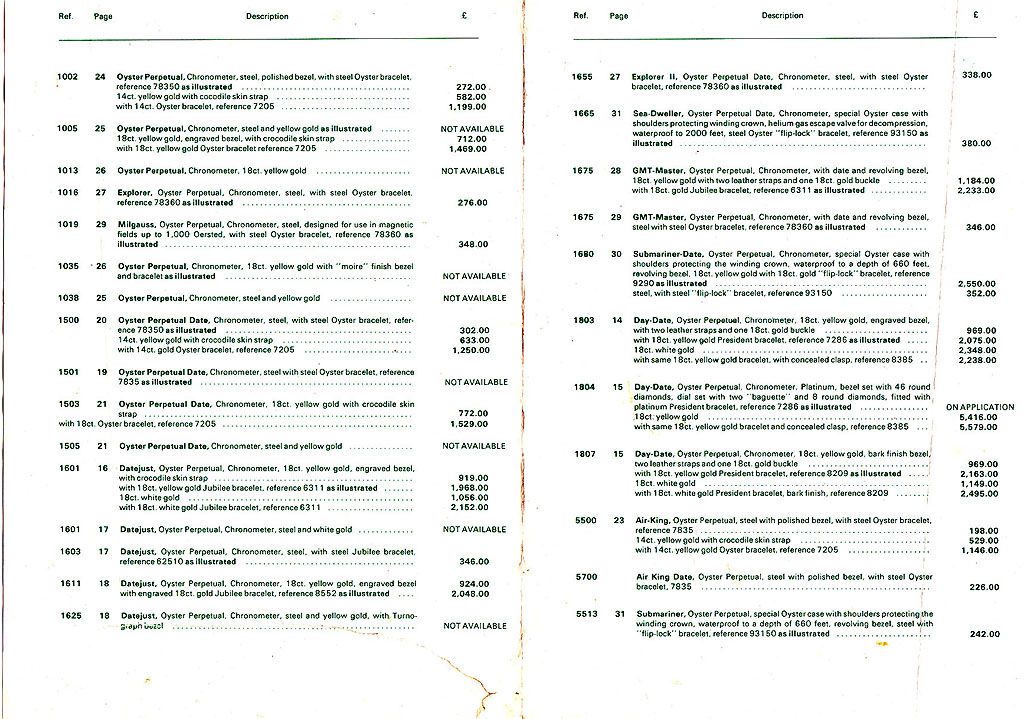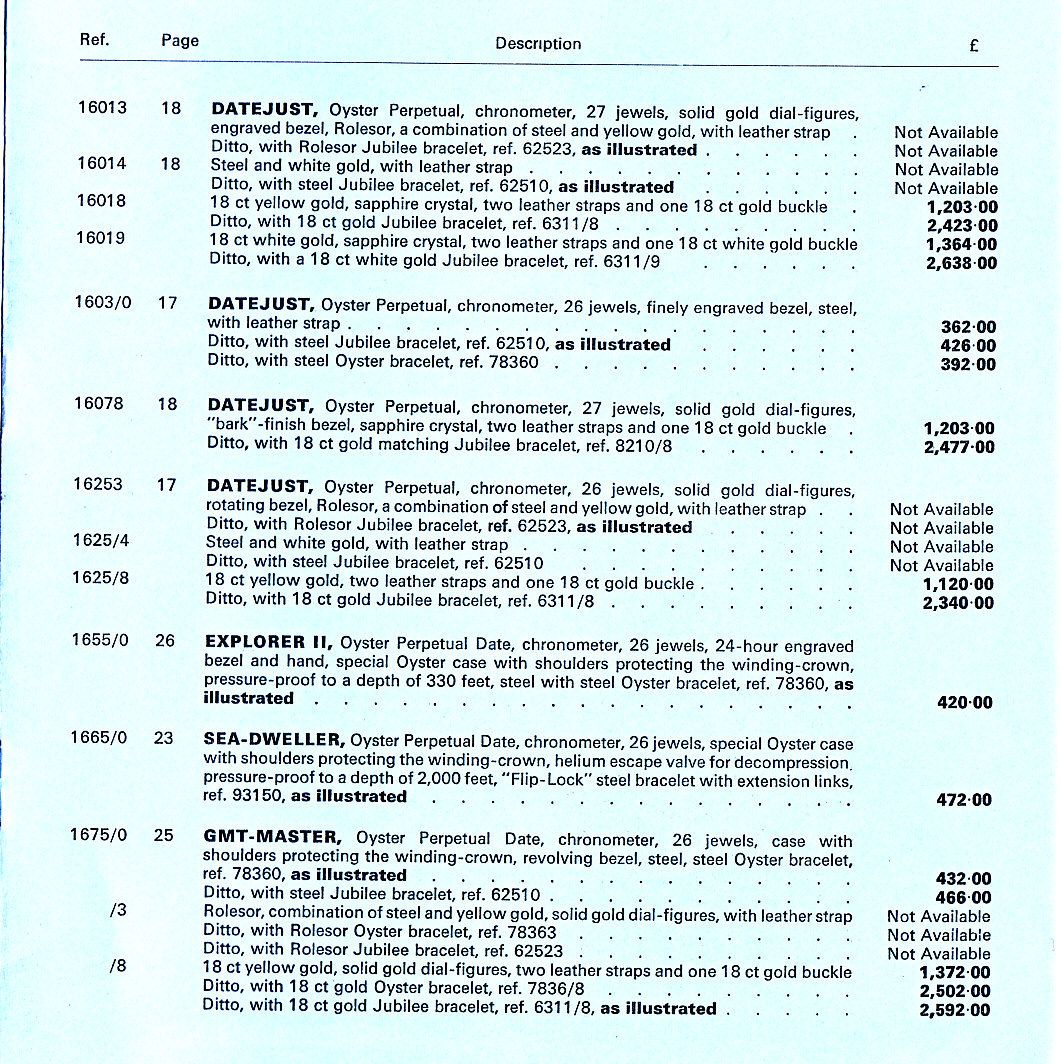 Nel 1977 il numero di seriale assegnato agli orologi Rolex seguì una doppia numerazione , da 4.259.0** a 4.275.9**e da 5.0845** a 5.431.6** .
La matricola 5.127.1** fu' assegnata al GMT-MASTER ref 1675 con il logo spade, chiamate Kanjir, simbolo dell'Oman.
Questo orologio e' inedito, non e' mai apparso in nessuna pubblicazione o asta a dimostrazione della sua estrema rarita'. Voci non confermate affermano una produzione di soli 17 esemplari.
In 1977 the serial number assigned to Rolex watches followed a double numeration, from 4.259.0** to 4,275.9** and from 5.0845** to 5.431.6**.
The serial number 5.127.1** was given to the GMT-MASTER ref 1675 with the sword logo, called Kanjir, symbol of Oman.
This watch is unpublished, and never appeared in any publication or auction, demonstrating just how rare it is. Unconfirmed sources say that only 17 specimens were produced.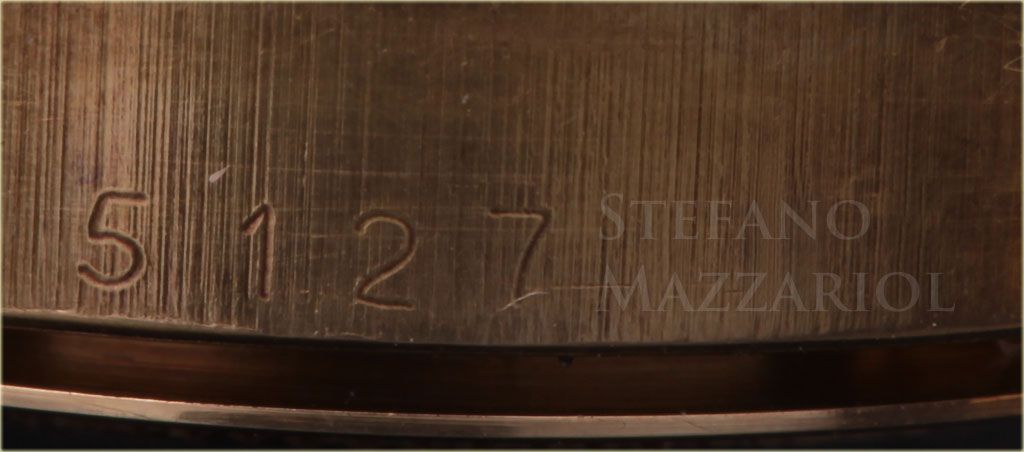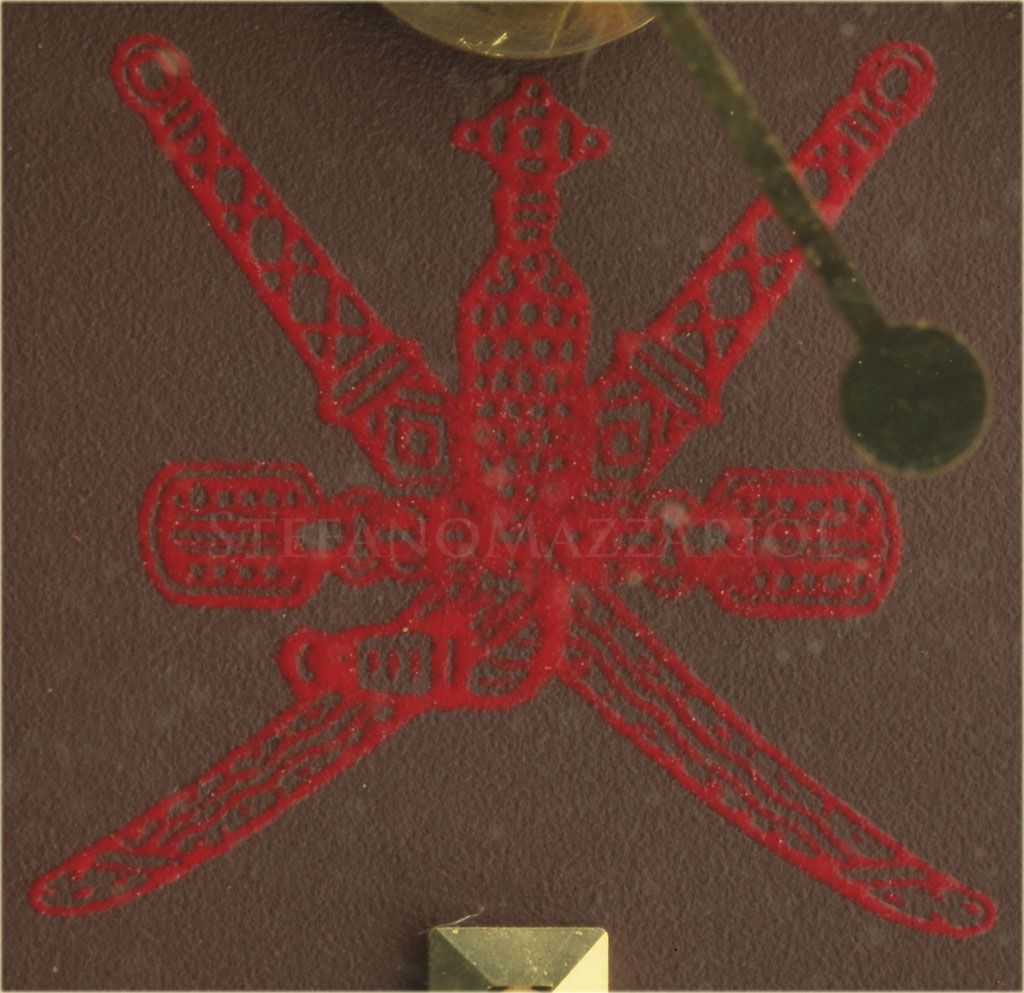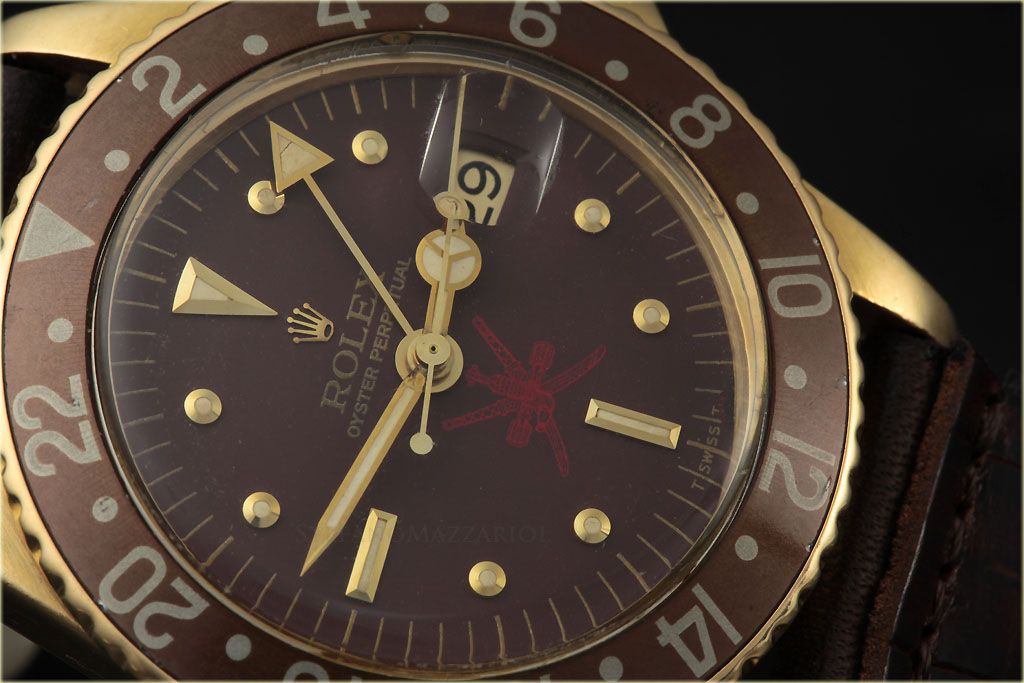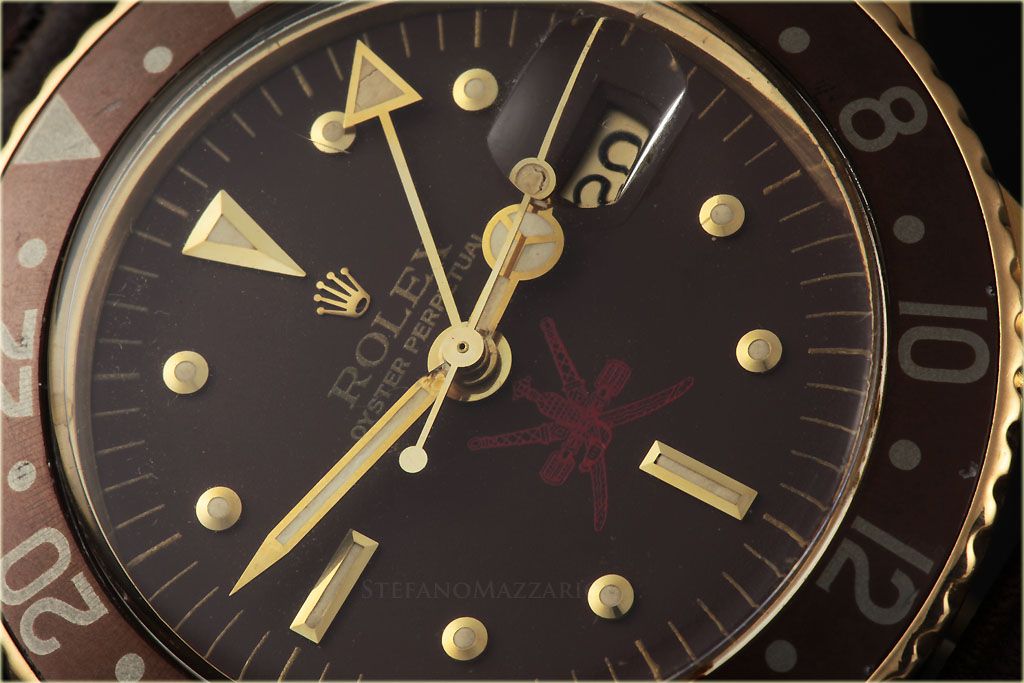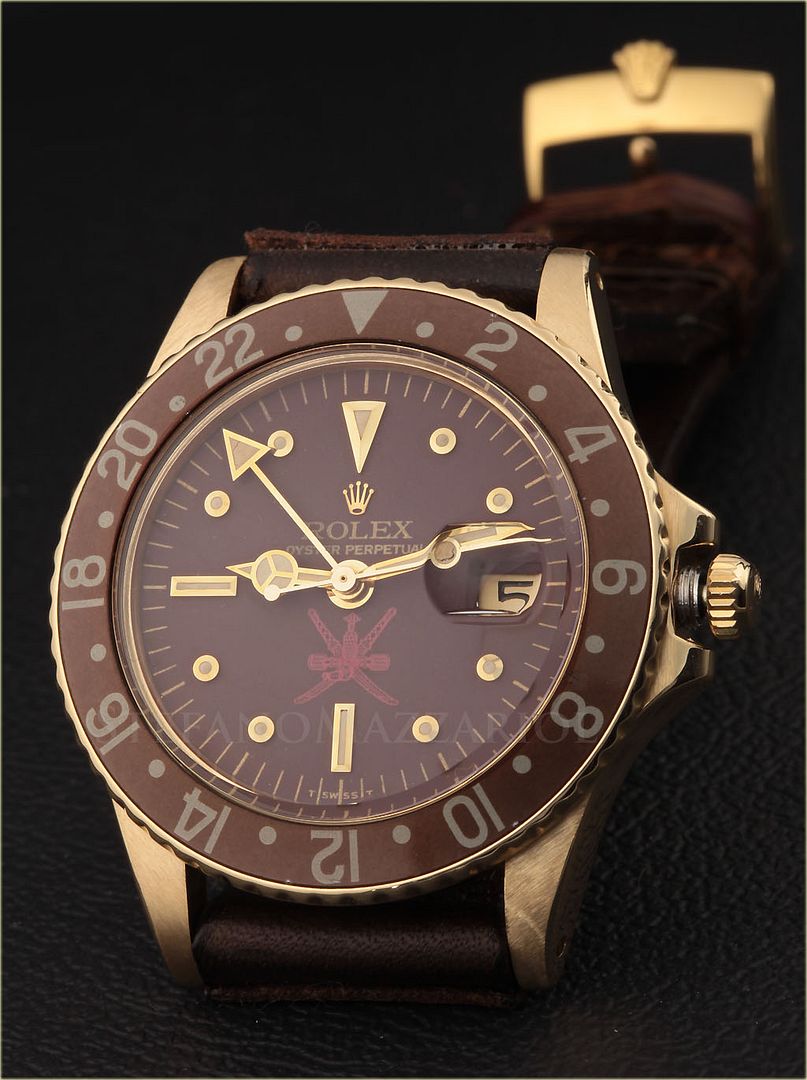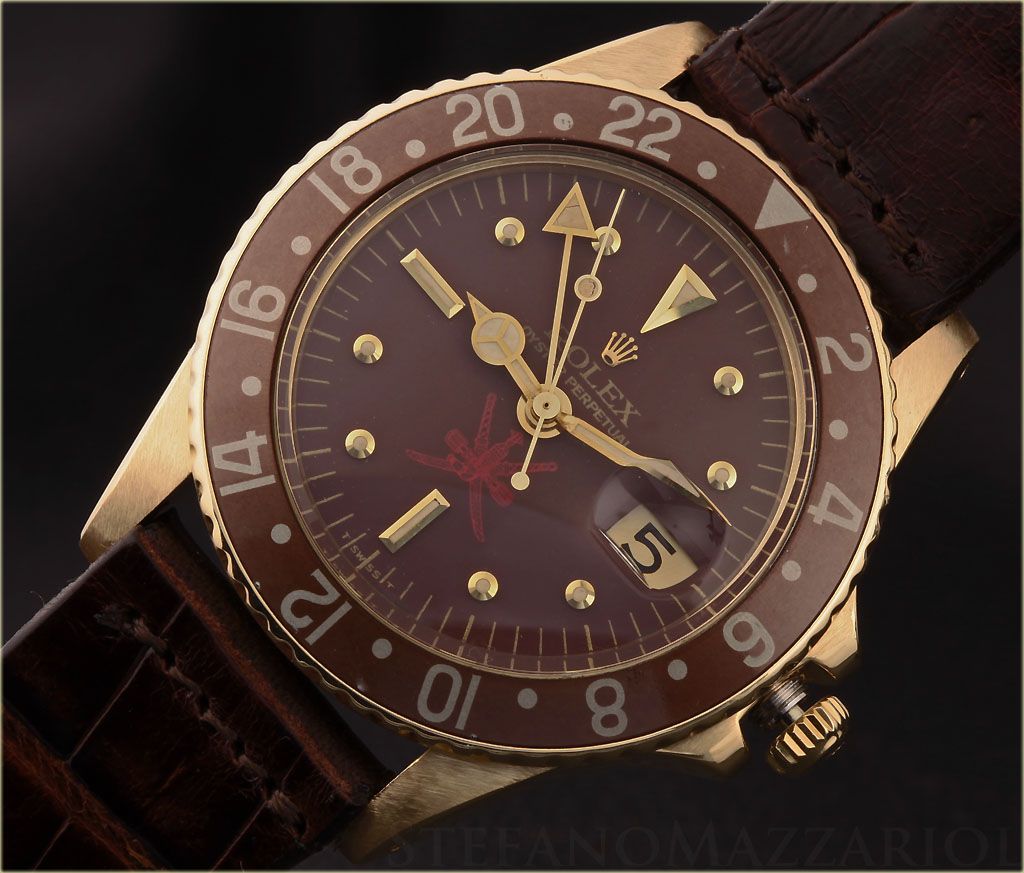 E' tradizione del regnante dell'Oman ,Sultano QABUS Ibn Sa'id, donare qualcosa ad ospiti o persone importanti e per qualche ragione gli orologi Rolex erano uno dei regali preferiti.
Il livello di rispetto dimostrato verso una persona viene giudicato dal valore del regalo offerto.
Il quadrante marrone mat con indici applicati e' sopranominato dai collezionisti
"occhio di Tigre" per il caldo color marrone somigliante al colore degli occhi del grande felino. Il quadrante personalizzato con le spade e' stato prodotto da Beyeler di Ginevra , uno dei fornitori ufficiali di quadranti di Rolex.
It is tradition for the reigning leader of Oman, Sultan QABUS Ibn Sa'id, to give something to guests or important people, and for some reason Rolex watches were his favorite gift.
The level of respect shown to a person was judged by the value of the gift offered.
The brown matt dial with applied indices is nicknamed by collectors "Tiger eye" due to its warm brown color which is similar to the eye color of the great feline. This personalized dial with the swords was produced by Beyeler of Geneva, on of the official Rolex dial suppliers.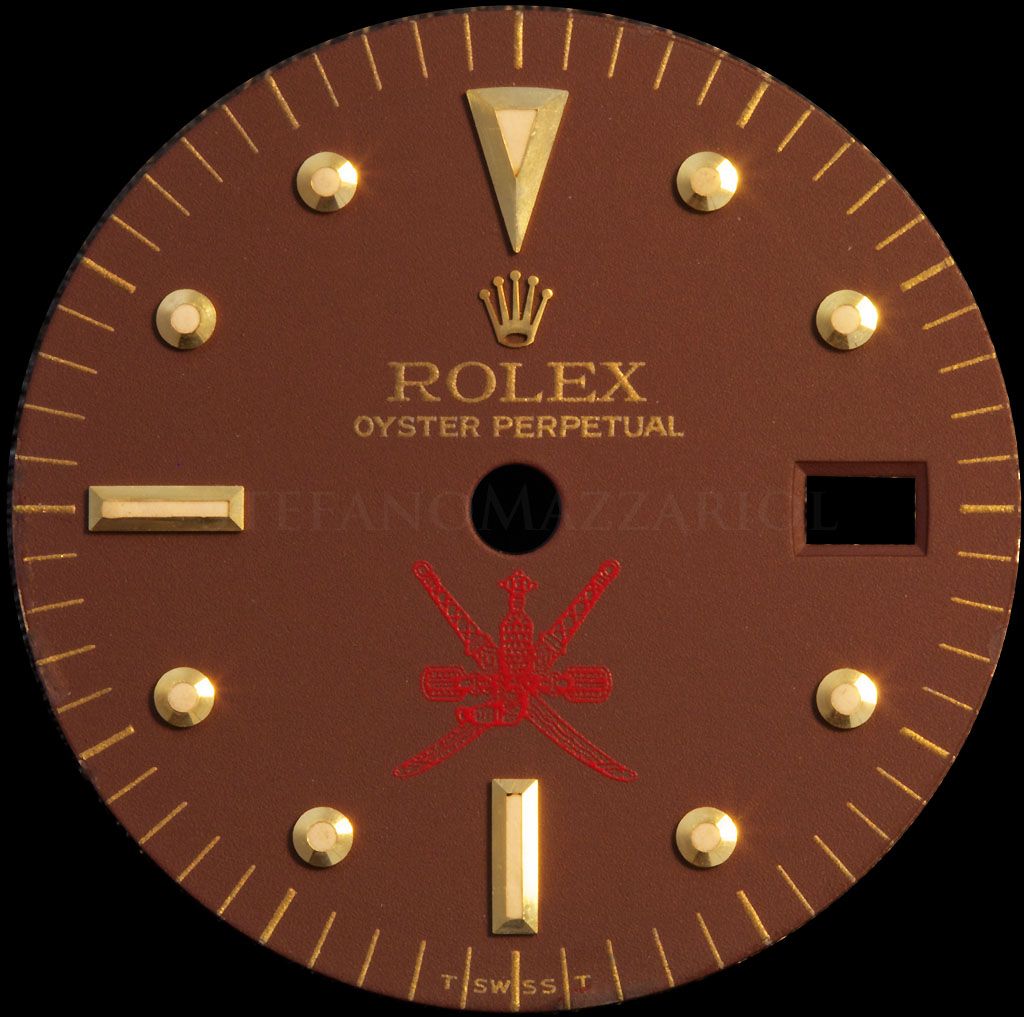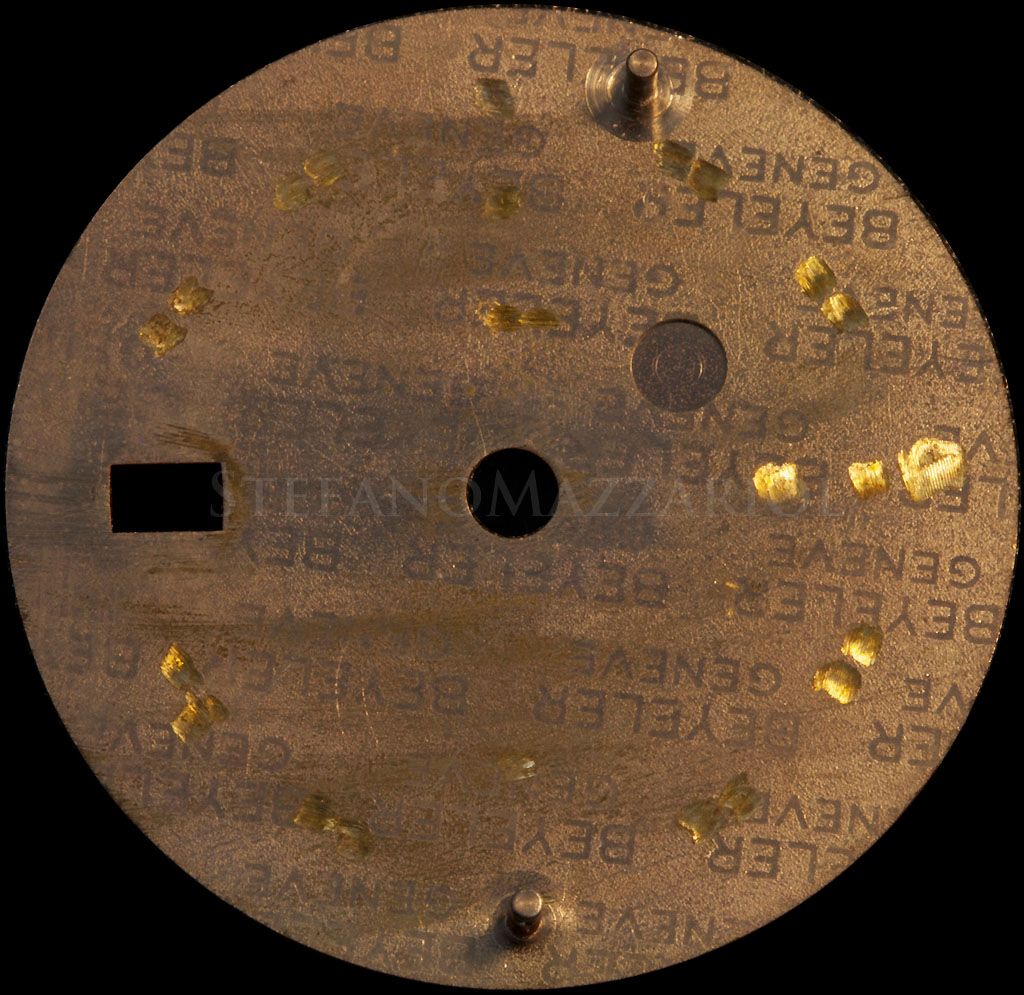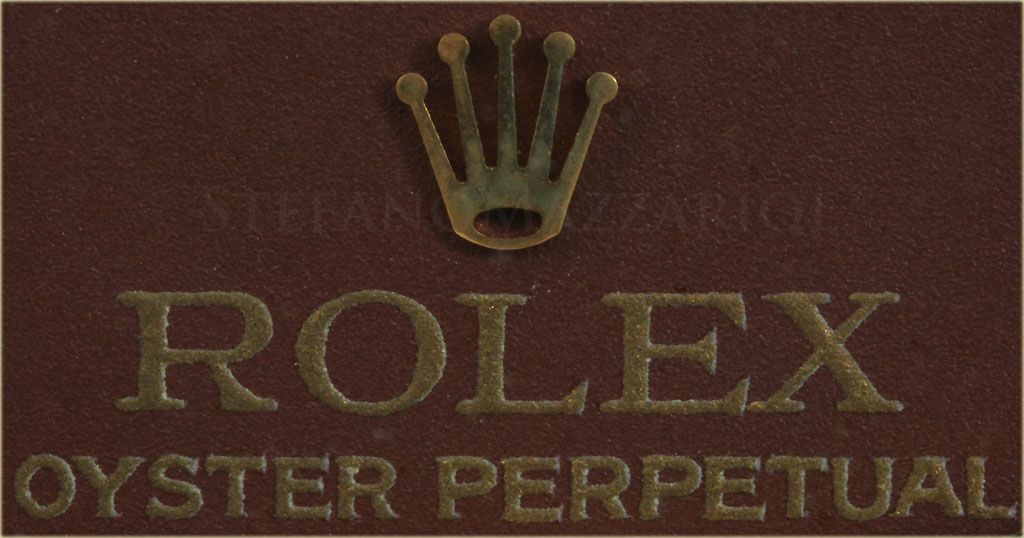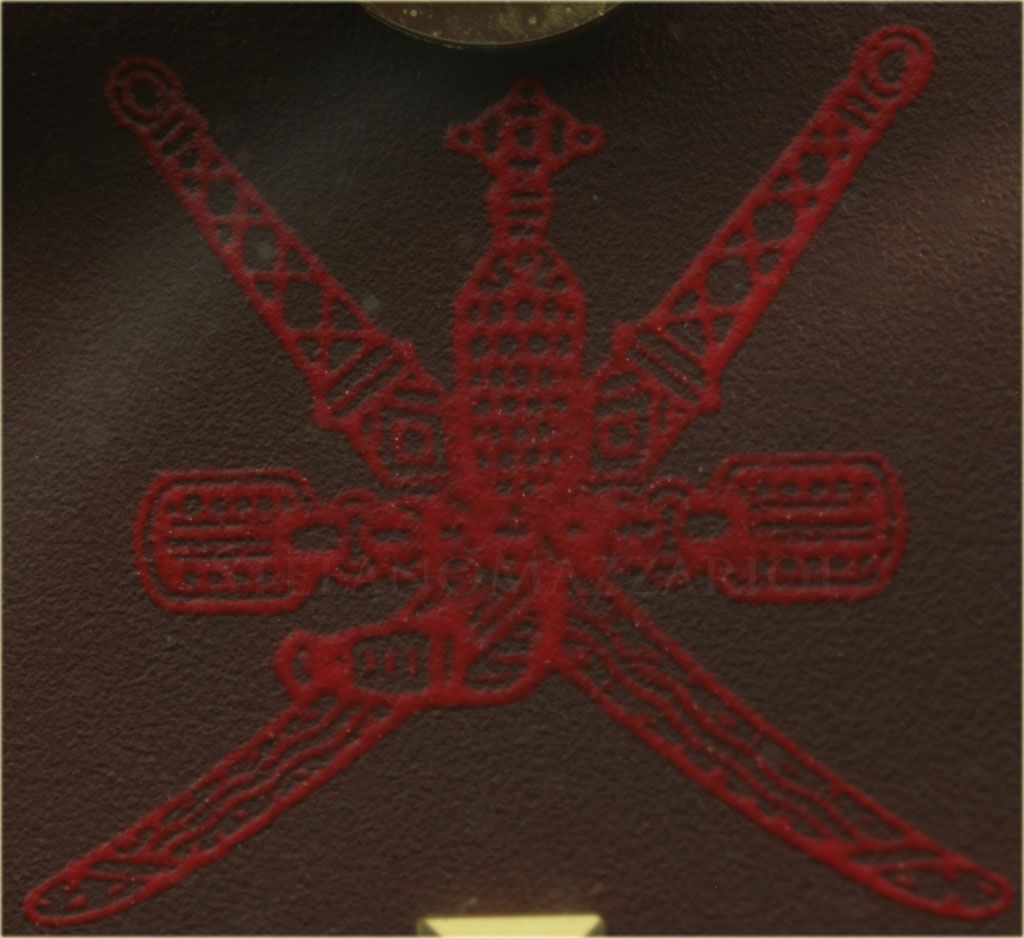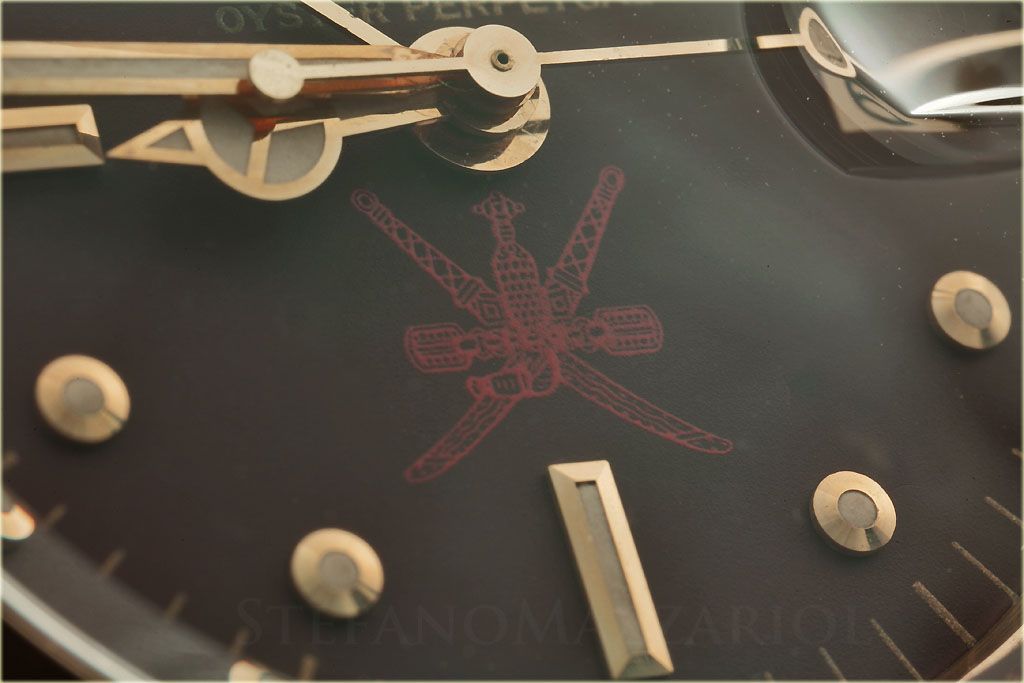 Le spade rosse stampate al 6 al posto della consueta scritta GMT-MASTER e della certificazione di cronometro, fanno si che il Gmt comunemente chiamato "occhio di tigre " possa essere ribattezzato con il sopranome "La tigre dell'Oman".
The red stamped swords at 6 o'clock in place of the usual writing GMT-MASTER and chronometer certification, allow the commonly known "Tiger eye" to be renamed with the nickname "The tiger of Oman".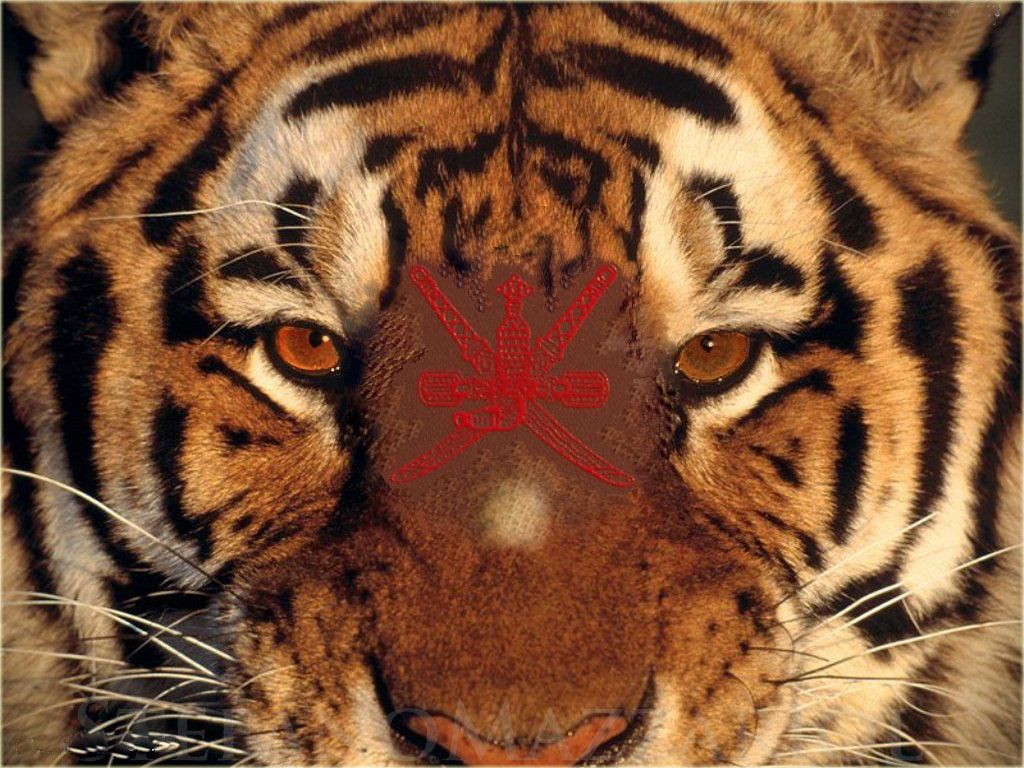 Stefano Mazzariol