Rolex Explorer ref.6610 Albino
1956: Rolex in quest'anno produce circa 100.000 orologi e li identifica
con i numeri di matricola da 150.000 a 249.999.
In questi anni sono nati gli orologi di maggior successo e di "carattere" di casa Rolex, gli orologi dedicati al professionista e allo sportivo quali: Turn-o-graph, Submariner, GMT-Master ed Explorer .
La brochure seguente descrive l'Explorer 6610 :"...black dial only..."
1956: In this year Rolex produced approximately 100,000 watches and identified them with serial numbers from 150,000 to 249,999.
During these years, the watches that had the most success and the most "character" were born, watches dedicated to the professional and to the sportive man like: Turn-o-graph, Submariner, GMT-Master and Explorer.
The following brochure describes the Explorer 6610: "…black dial only…"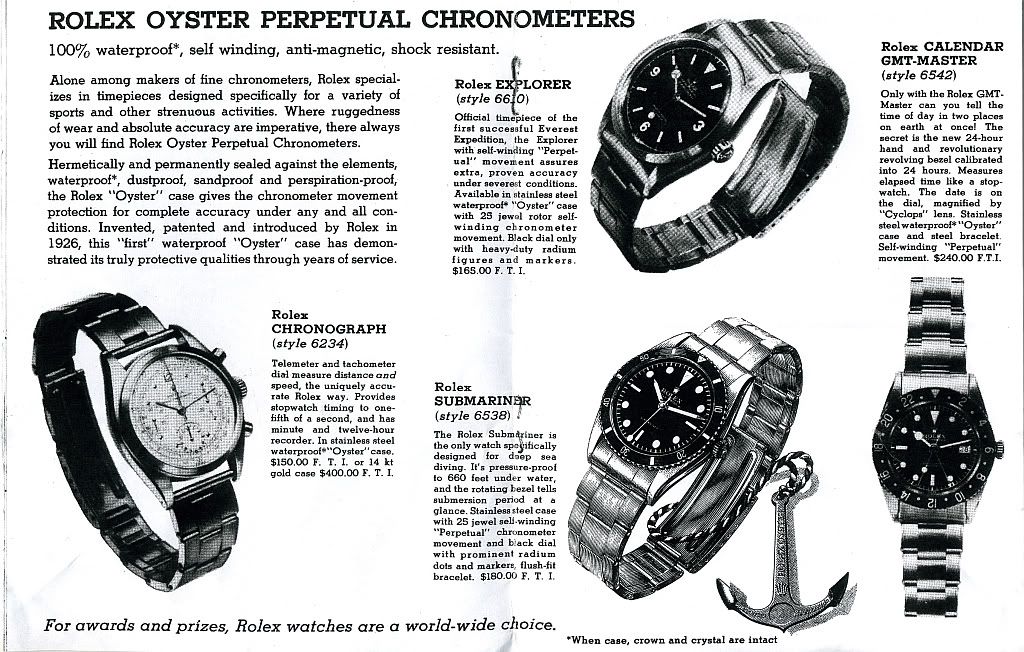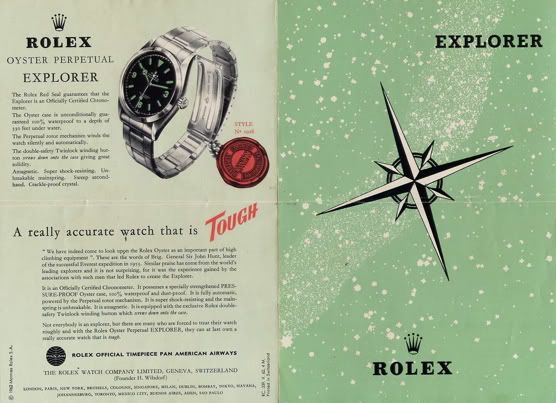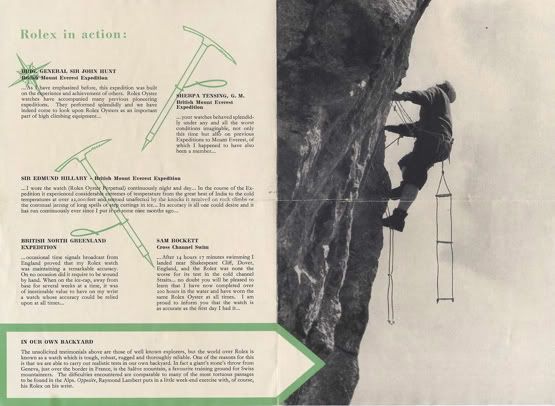 Tutti questi modelli sono caratterizati
all'unisono da quadranti neri , ma , come gia' visto per altri modelli(GMT-Master 6542 albino), c'era la volonta' di dare un alternativa di colore bianco.
Alternativa destinata solo ad alcuni selezionati mercati probabilmente per testarne il gradimento e solo con pochi esemplari.
All these models are characterized in unison by black dials, but as we have seen with other models (GMT-Master 6542 albino), there was a desire to give a white colored alternative.
An alternative destined to only a select few markets most likely to test how well they were received and with only few examples.
Con la matricola 1686** e' stato prodotto l'EXPLORER ref .6610 con un affascinate ed inusuale quadrante bianco , che come da mia tradizione chiamero' "Albino".
Bearing serial number 1686** The EXPLORER ref 6610 was created with a charming and unusual white dial, which as per my tradition I will call "Albino".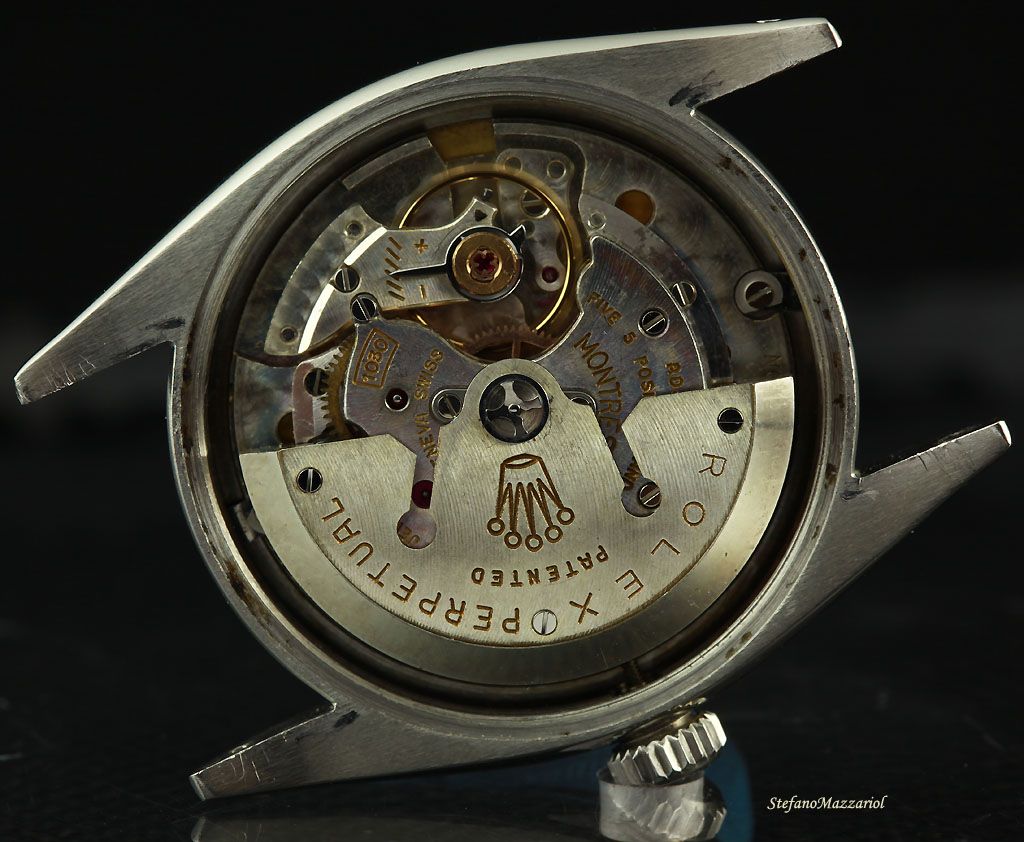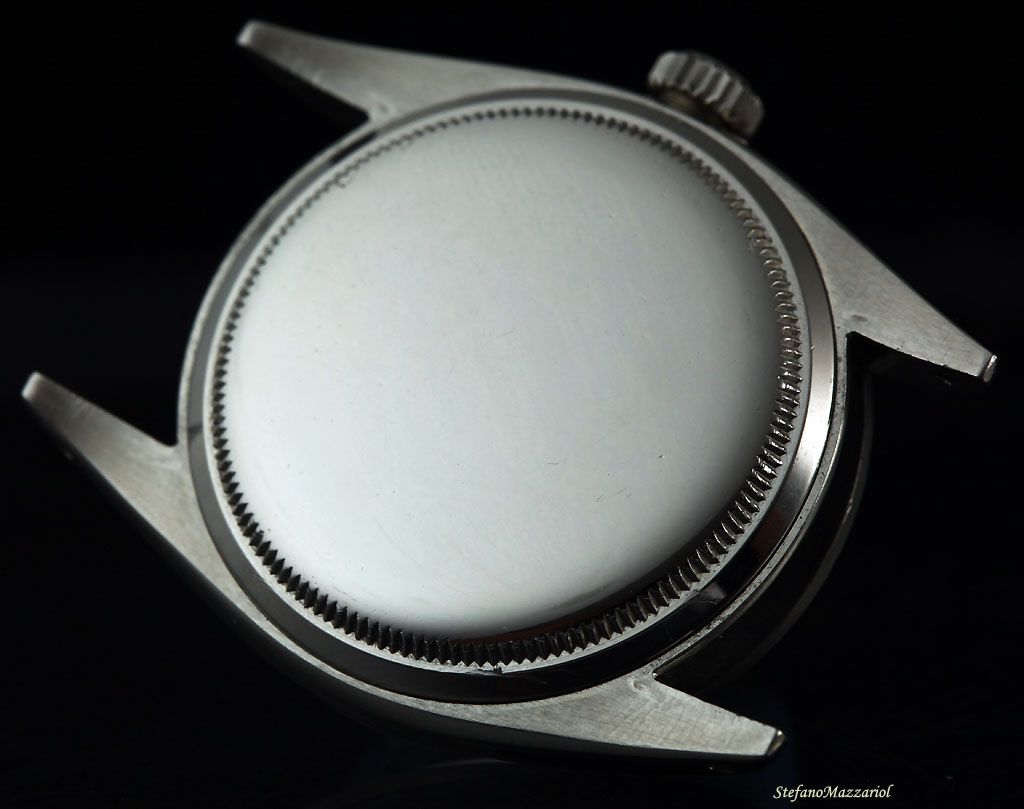 Il quadrante ha caratteristiche grafiche simili ed in alcuni particolari uguali al quadrante nero di produzione standard.
The dial has similar graphical characterisitics and some details which are the same as the standard production black dial.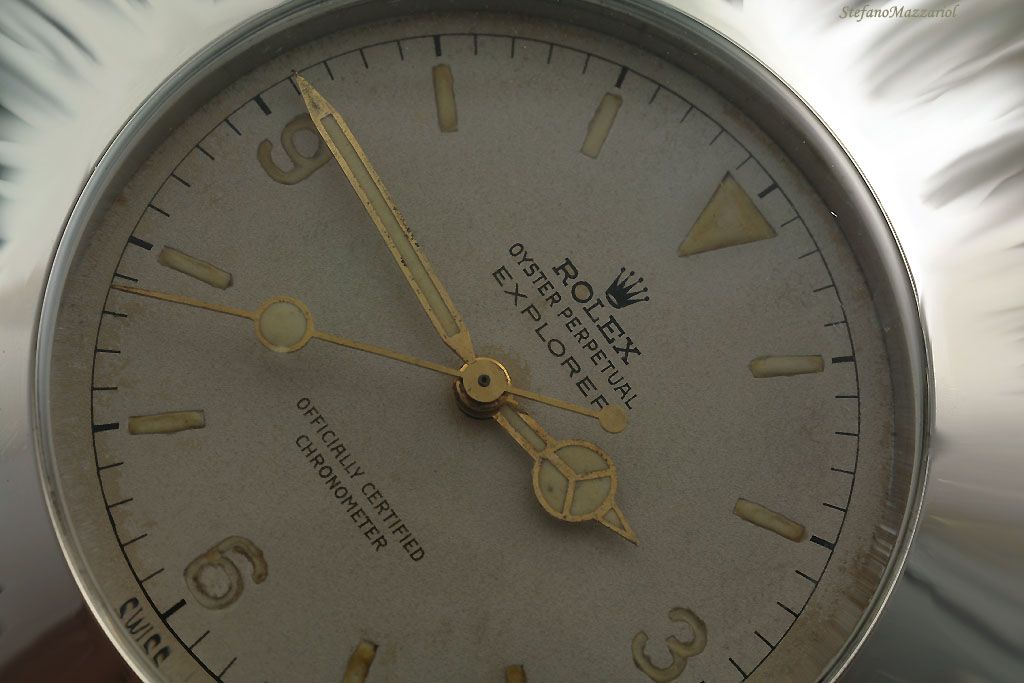 La mancanza del punzone identificativo sul retro , cosa comune in quel periodo su molti quadranti, rende difficile attribuire con certezza la paternita' del fabbricante terzista .
The lack of identifying stamp on the back, a fairly common occurance in that period for many dials make it difficult to determine with certainty the parenthood of the third party manufacturer.
Ovviamente la tecnica di realizzazione dell'"Albino" e' totalmente diversa rispetto al nero e quindi anche la resa delle scritte appare differente.
I quadranti neri erano prodotti con procedimento galvanico mentre quelli bianchi erano prima verniciati e poi tampografati.
Obviously the construction technique of the "Albino" is totally different with respect to that of the black and therefore even the rendering of the writing appears different.
The black dials were produced with a galvanizing method whereas the white ones were painted first and then pad printed.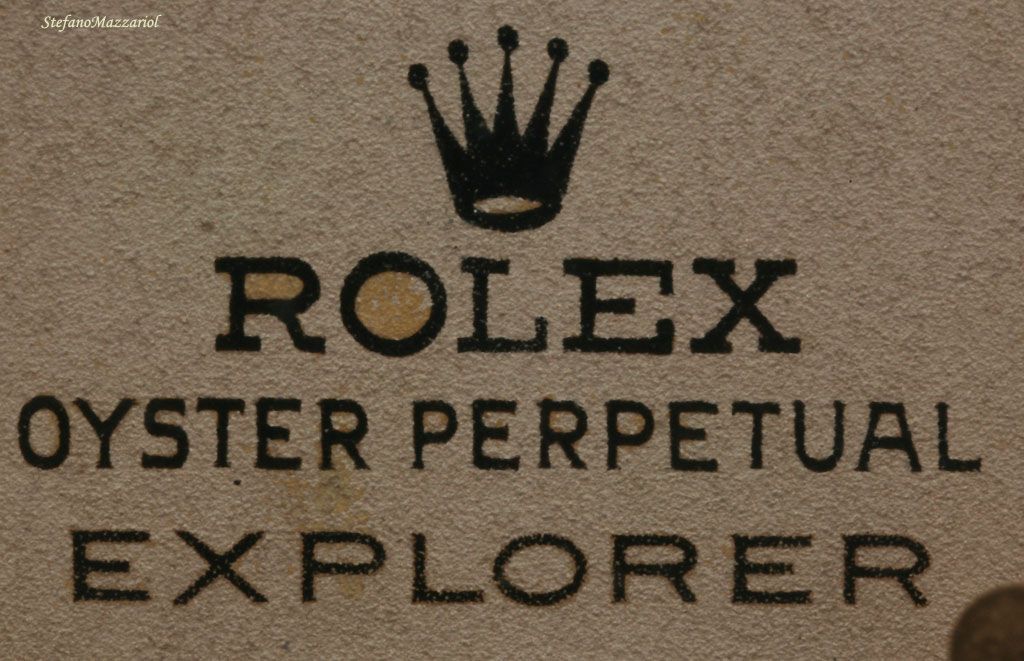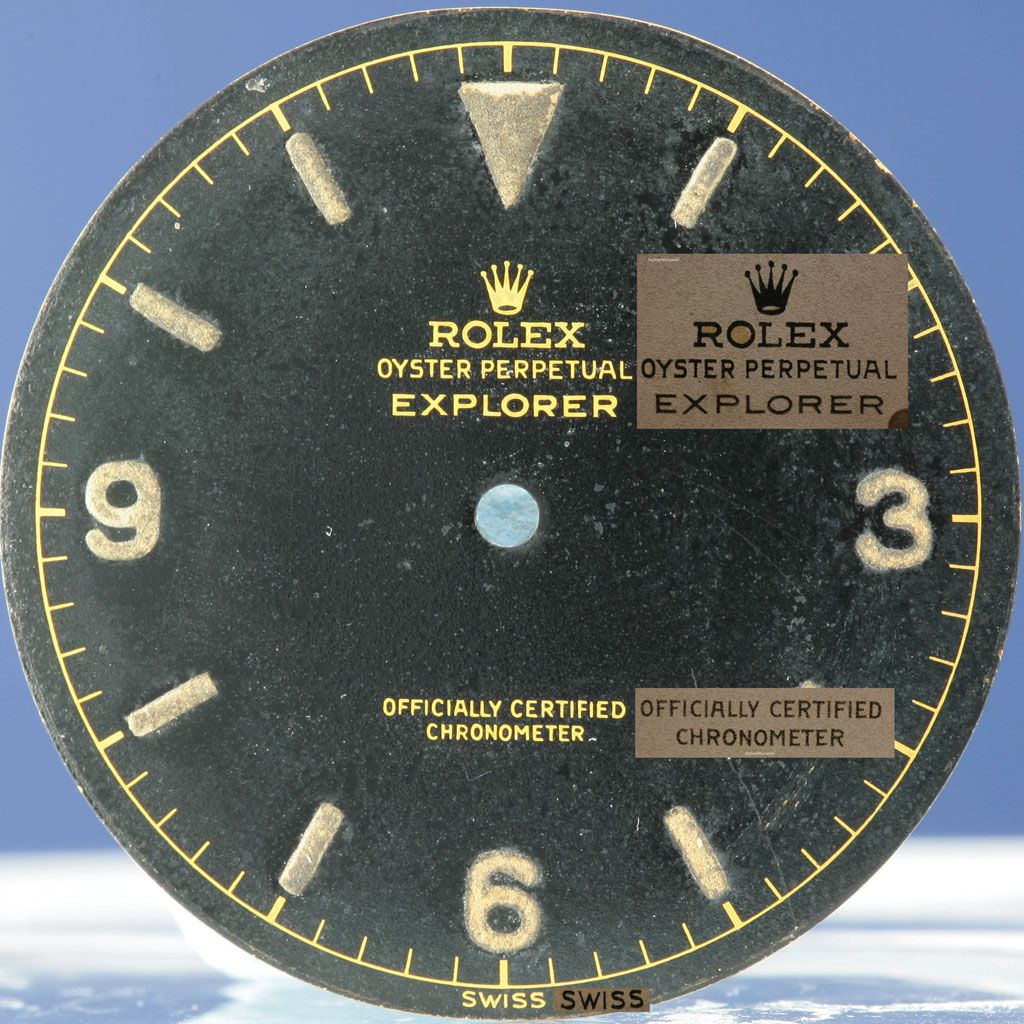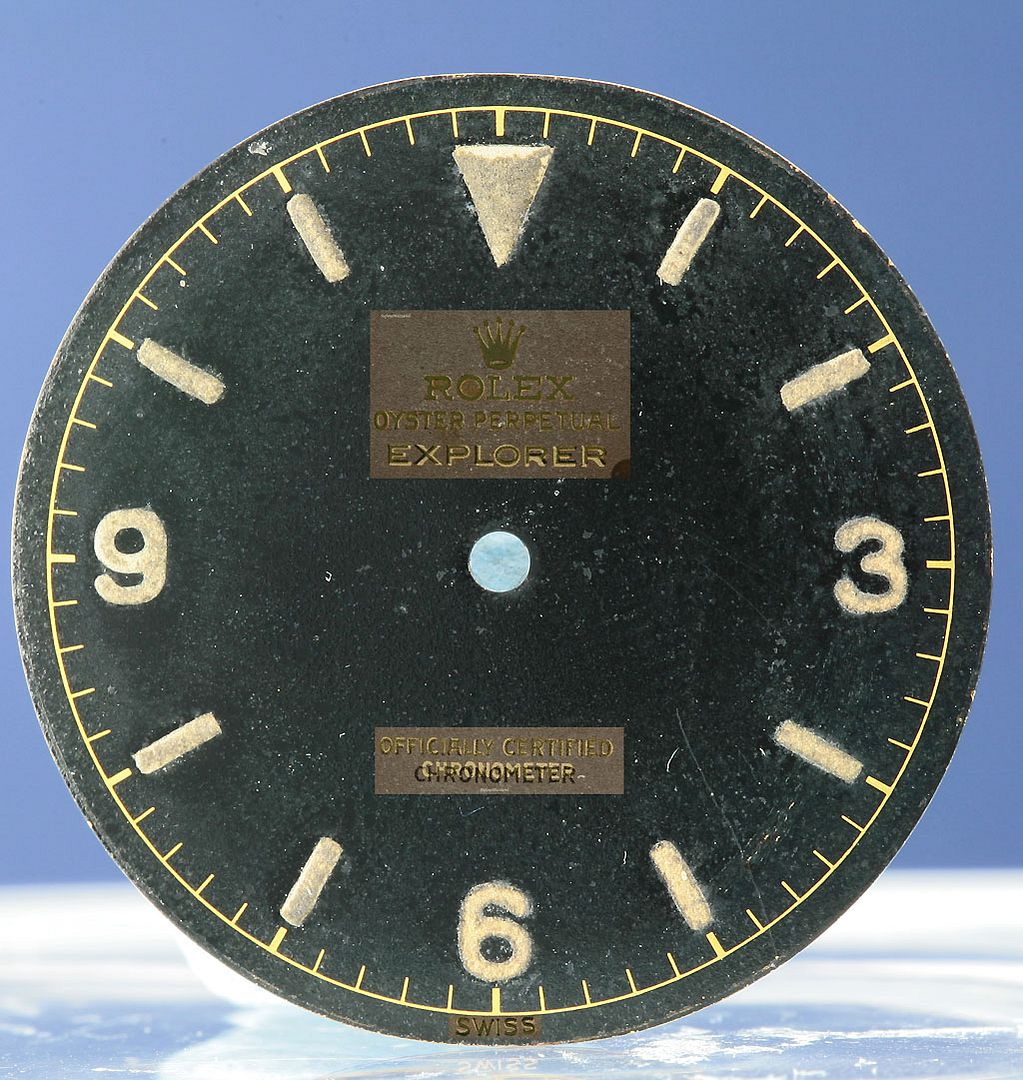 Come possiamo osservare nelle elaborazioni grafiche , alcune scritte sono derivate dal cliche' del quadrante di serie mentre altre sono differenti ma indubbiamente originali.
L'immagine granulosa della vernice di fondo e la "pasta" dei fosfori sono elementi da memorizzare bene in quanto caratteristica di originalita' molto
difficile da imitare.
As we can see in the graphic processing, some writings are derived from the original dial clichés while others are different but indubitably original.
The grainy image of the base paint and the fosforous "paste" are elements to memorize well as it is a characteristic of authenticity which is difficult to imitate.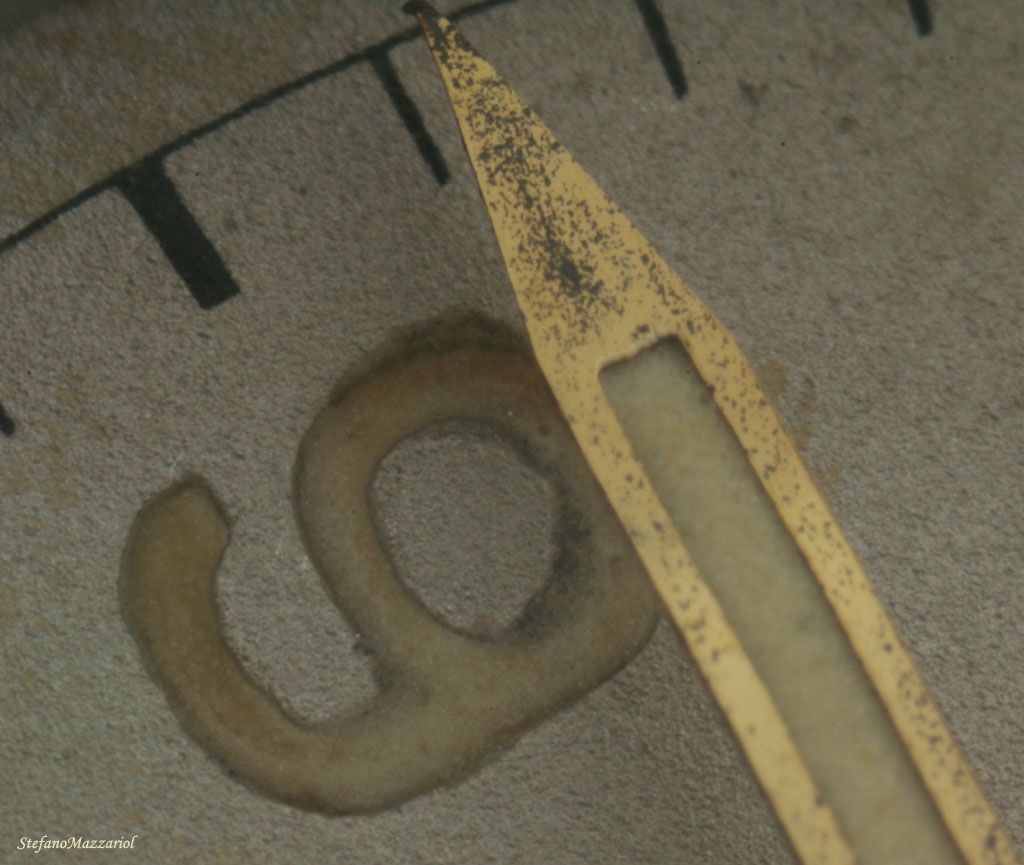 Gli indici come le cifre indicanti le ore erano realizzati in bassorilievo, cioe' scavati rispetto alla superficie del quadrante, come a voler creare una sede di riempimento del fosforo usato per la luminescenza.
Cerchiamo di dare un perche' della realizzazione di questi quadranti bianchi.
Tornando indietro nella storia di Rolex di soli 3 o 4 anni, troveremo le precedenti referenze EXPLORER 6298 ecc..realizzate nelle versioni che abbiamo definito dress
ed Explorer , ma quasi sempre con la dicitura Explorer stampata in modo evidente sul quadrante.
E' importante ricordare che la conquista dell'Everest fu' un evento storico e mediatico importantissimo e Rolex battezzo' l'orologio portato per quest'impresa con il nome Explorer.
L'"Explorer face" nella versione nera era una novita' destinata ad un cliente sportivo e dinamico.
The hour markers as well as the numbers indicating the hours were made in bas-relief, meaning they are recessed compared to the dial surface, as if to create a filling seat for the phosphorus used for the luminescence.
Let us try to find a reason for the creation of these white dials.
Going back only 3 or 4 years in the history of Rolex, we find the earlier referenced EXPLORERS 6298 etc., made in the versions that we defined dress and Explorer but almost always with the wording Explorer printed prominently on the dial.
It is important to remember that the conquest of Everest was an extremely important historical and media event and Rolex baptized the watch that was worn for this undertaking with the name Explorer.
The "Explorer face" in the black version was a novelty destined for a sportive and dynamic clientelle.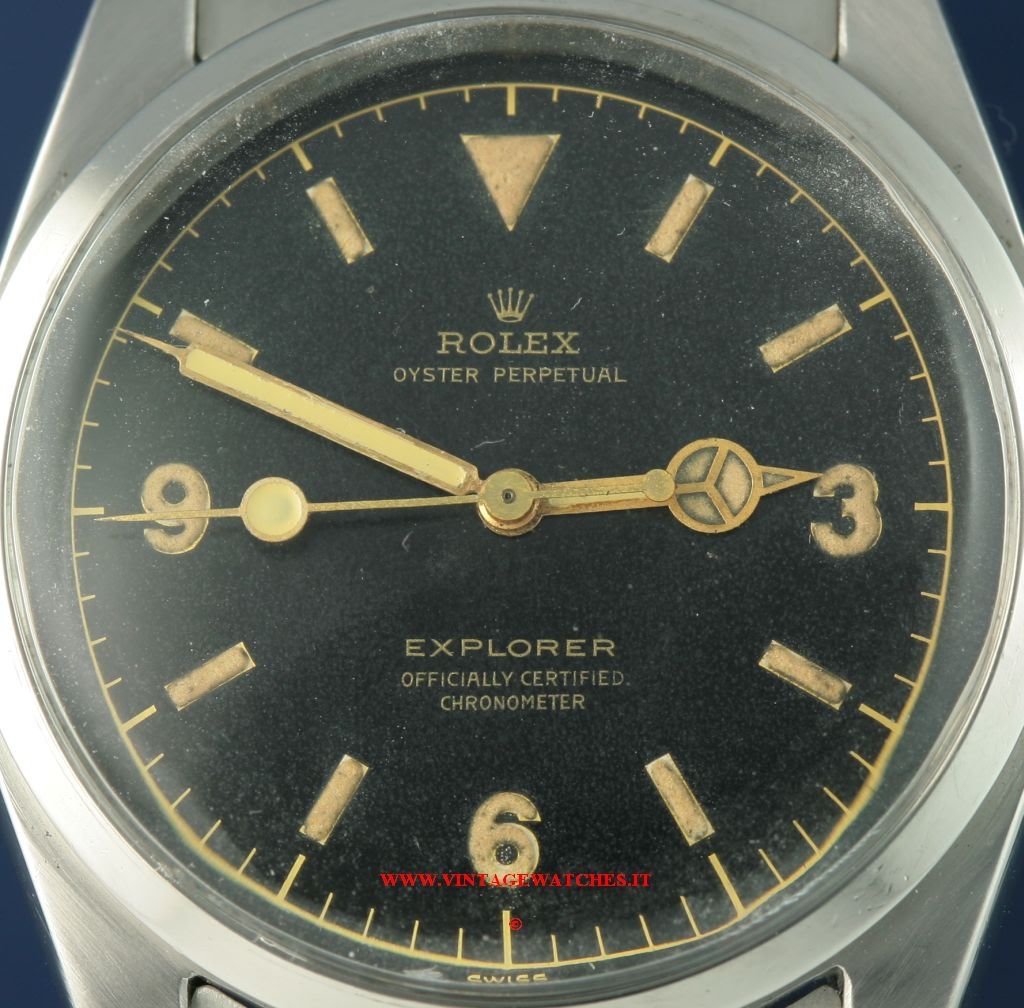 A sua volta il quadrante bianco era destinato ad un pubblico piu' elegante e discreto ma che allo stesso tempo non voleva rinunciare al simbolo piu' glamour del momento: il nome EXPLORER.
In turn the white dial was destined for a more elegant and discreet public but which at the same time didn't want to give up the most glamorous symbol of the moment: the name EXPLORER.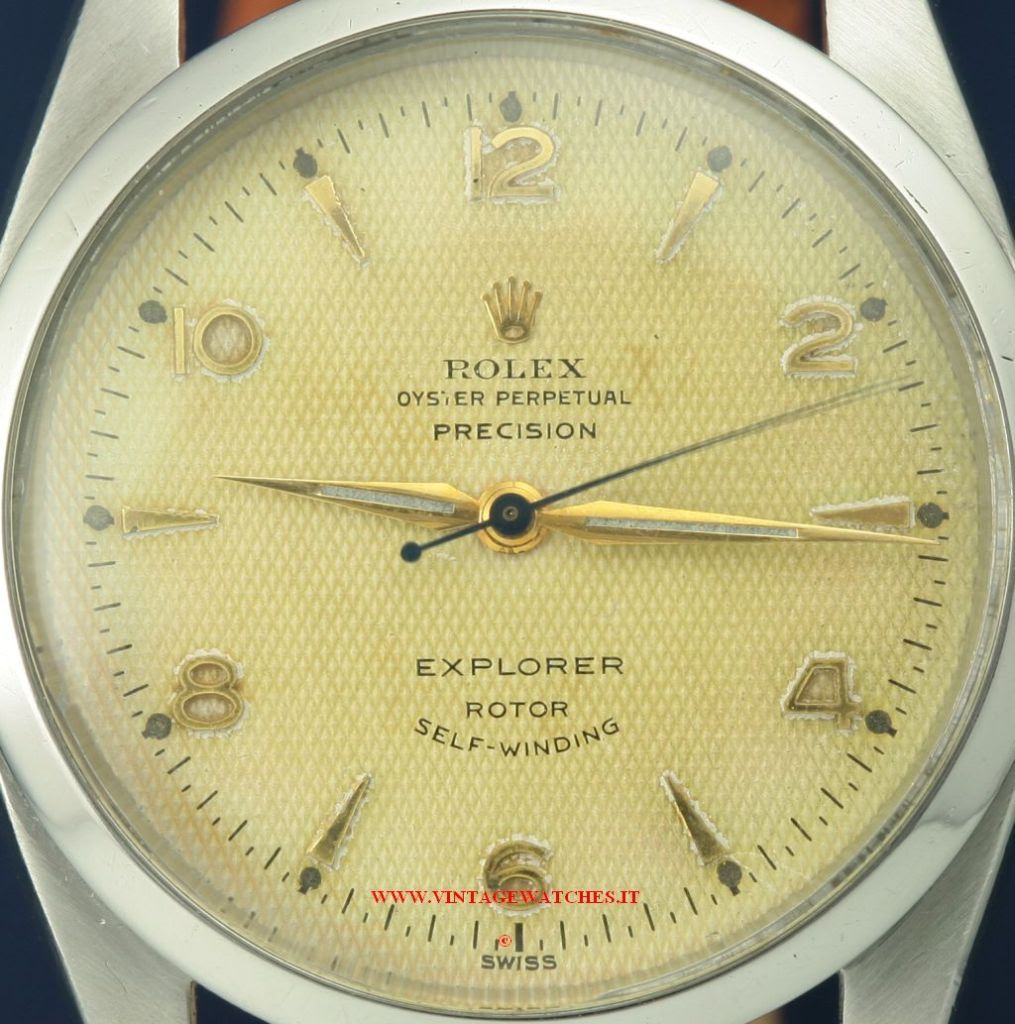 In poche parole si voleva abbracciare una porzione piu' ampia di pubblico con uno stesso orologio reso meno aggressivo ma piu' discreto da un quadrante bianco.
Questa puo' essere la plausibile spiegazione del perche' furono pensati anche nella versione che noi amiamo chiamare "Albino".
La rarita' il fascino sono comunque l'unico comun denominatore di un grande orologio qualsiasi sia la sua referenza: L'EXPLORER.
In short they wanted to embrace a larger portion of the public with the same watch made less aggressive but more discreet by the white dial.
This could be a plausible explanation for why they were also designed in the version that we love to call "Albino".
The rarity and charm are however the only common denominator of a great watch whatever its reference: EXPLORER.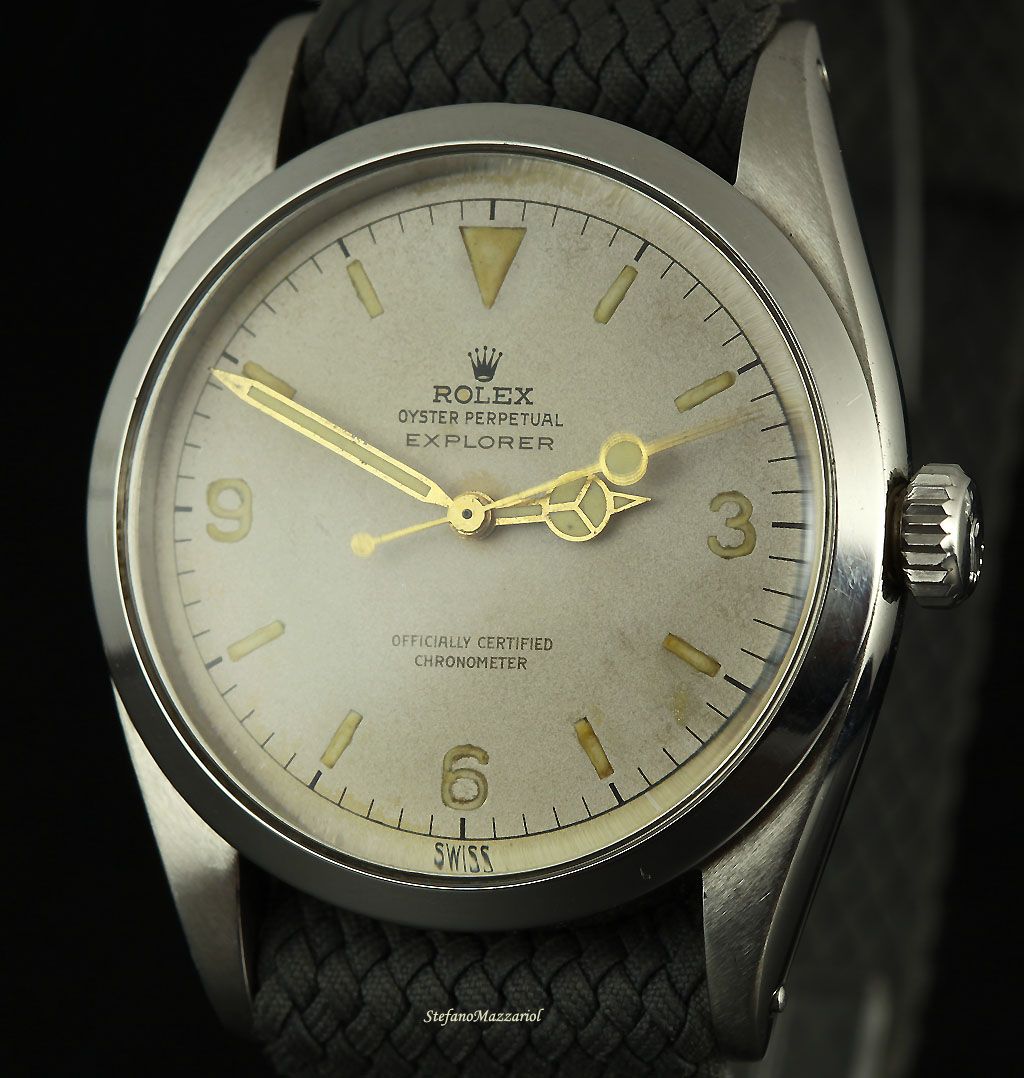 Ringrazio l'amico Lorenzo Frogman per avermi messo a disposizione l'Explore "Albino".
I wish to thank my friend Lorenzo Frogman for making the Explorer "Albino" available to me.