Rolex Submariner ref. 1680 -8 OMAN
1975: L' industria orologiera Svizzera fa' registrare un calo
del 25 % sulle esportazioni rispetto all'anno precedente, questo dovuto all'incremento del franco svizzero rispetto al dollaro e alla crisi economica.
Nei paesi dove l'economia e' legata alla moneta statunitense i prezzi dei prodotti di importazione Svizzera aumentano anche del 40%.
Nonostante cio' Rolex produce circa 253000 orologi, compresi tra le matricole 3.862.*** e 4.115.***.
1975: The Swiss watch making industry records a 25% drop in exports from the previous year due to the rise in the Swiss Franc compared to the dollar and the economic crisis.

In countries where the economy is directly tied to the United States currency, the prices of imported Swiss products show an increase of up to 40%. Regardless, Rolex produces approximately 253,000 watches, included between the serial numbers 3.862.*** and 4.115.***.

Uno tra questi e' il Submariner ref. 1680 -8 matricola 4.111.*** commisionato dal Sultanato dell'Oman e che per ovvie ragioni non risente assolutamente degli accadimenti del panorama mondiale.
One of these is the Submariner ref. 1680 -8 serial number 4.111.*** commissioned by the Sultan of Oman that for obvious reasons was not affected at all by worldwide events.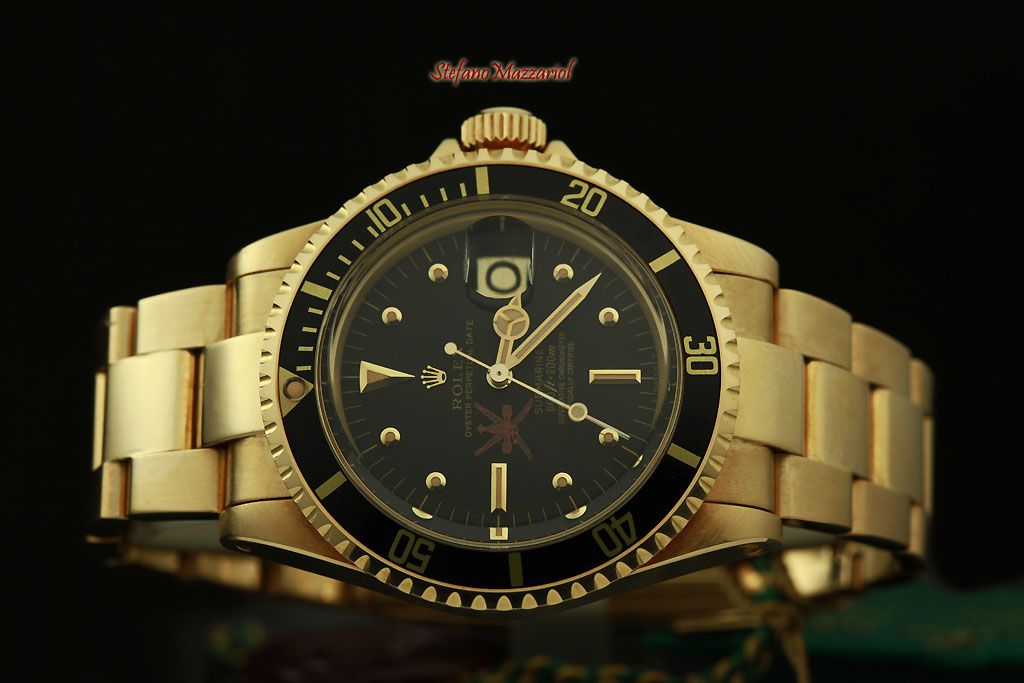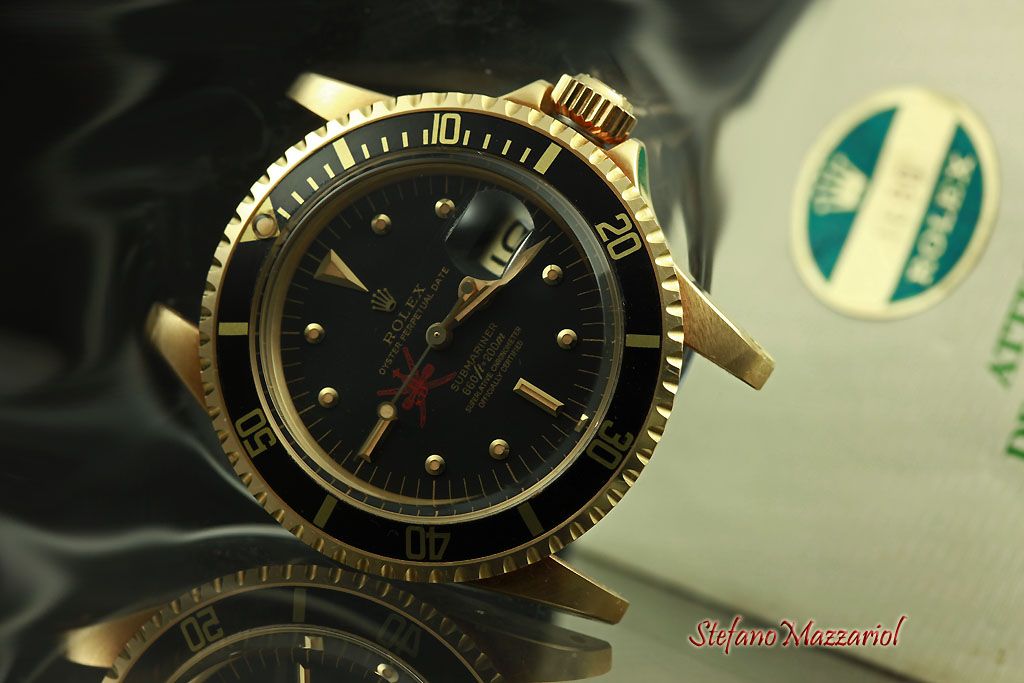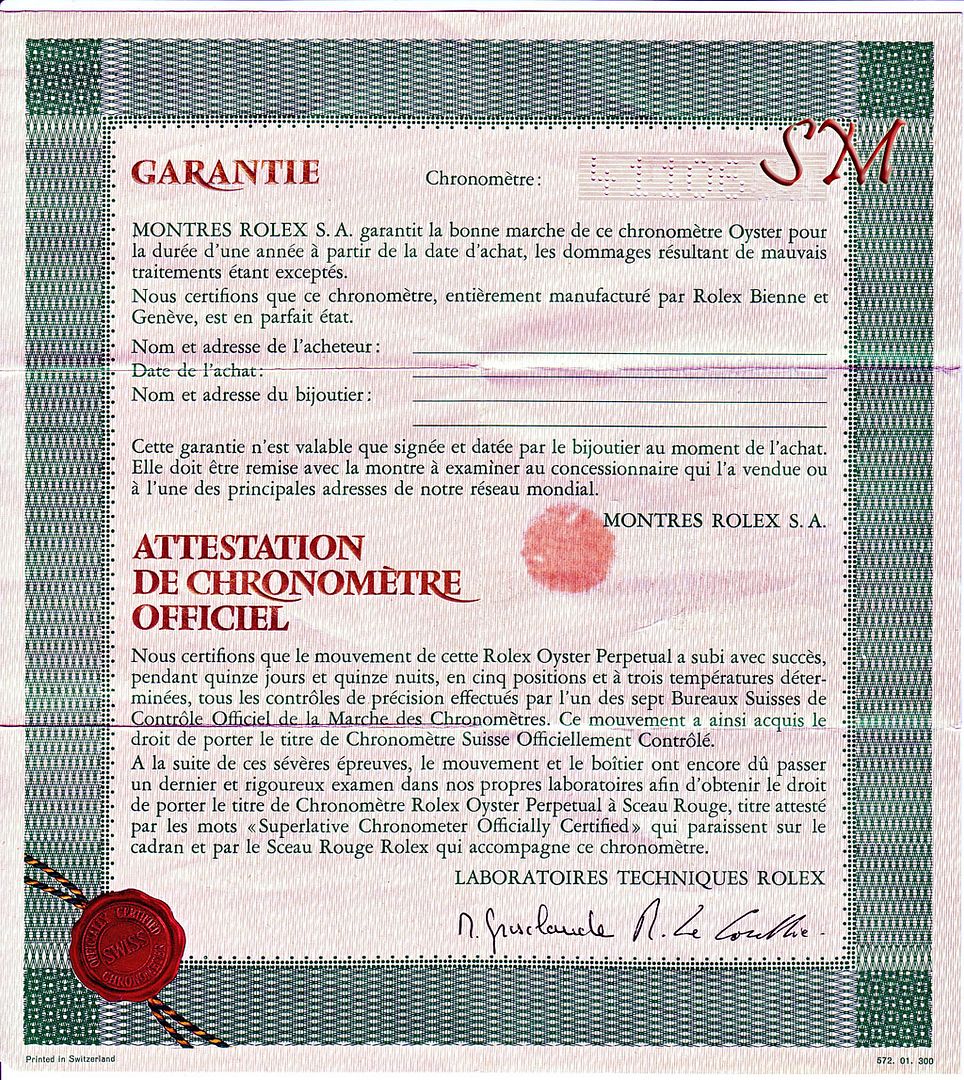 La garanzia tipica di questi modelli e' "in bianco", senza nessuna indicazione
del concessionario di provenienza , che mi risulta essere in questo caso Khimji Ramdas,official agent 539 Sultanate of Oman.
The typical guarantee of this model is 'blank', with no indication of the original vendor, which appears to me in this case to be Khimji Ramdas official agent 539 Sultanate of Oman.
L'orologio , come da tradizione , ha il logo dell'Oman , il Kanijr, posto questa volta in modo inedito , ad ore nove del quadrante.
The watch, as per tradition, has the Oman logo, the Kanijr, positioned this time unedited at the nine o'clock position of the dial.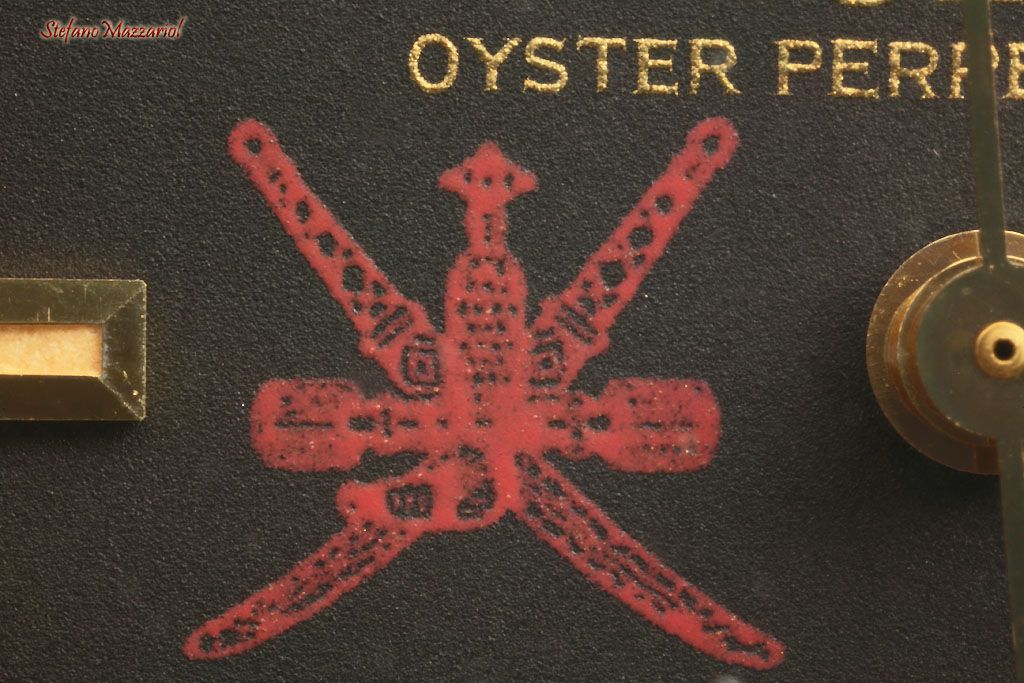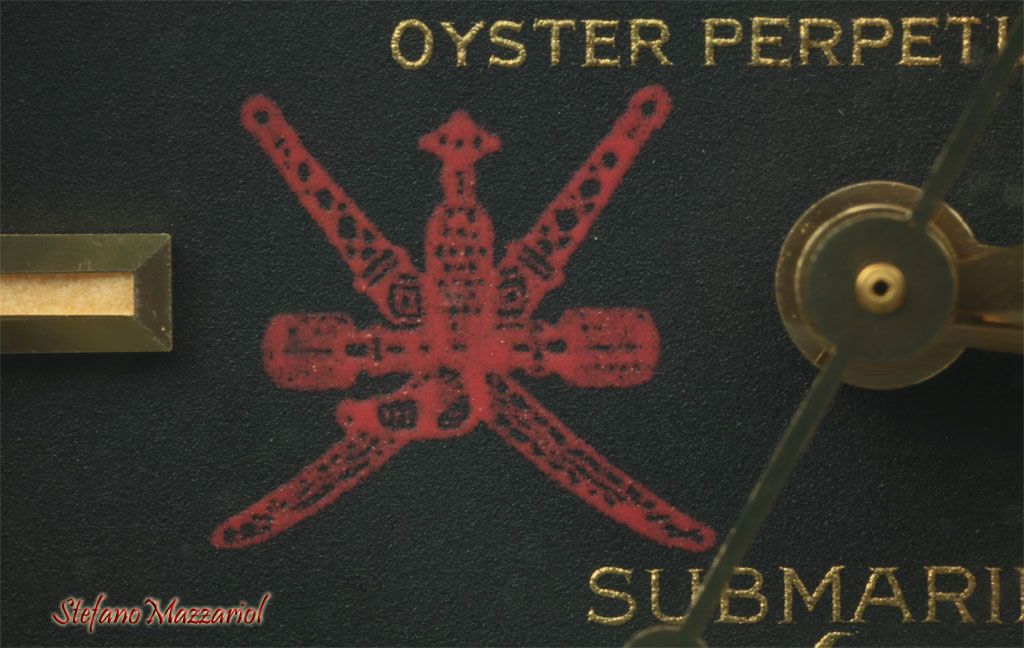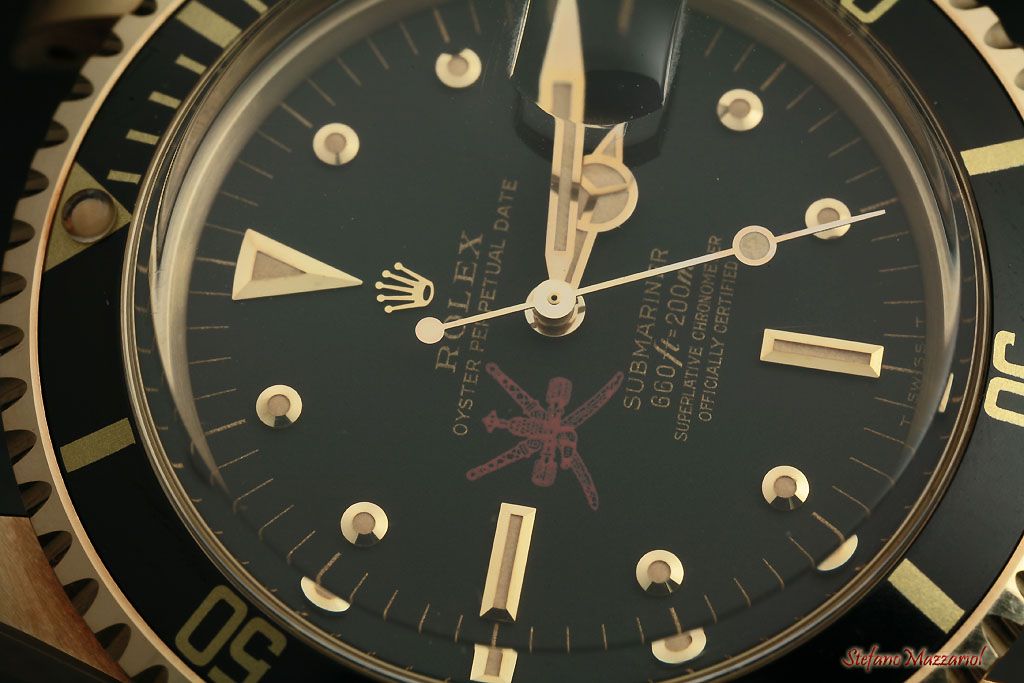 Il quadrante e' stato prodotto da Lemrich e riporta sul retro la classica numerazione dedicata come illustrato nell'analogo modello realizato in blu con la firma del Sultano QABUS ibn Sa'id .
The dial was produced by Lemrich and bears the classic dedicated numeration on the back as illustrated in the similar model created in blue with the signature of the Sultan QABUS ibn Sa'id.
Particolari del quadrante nero con logo "spade"
Particulars of the black dial with the "sword" logo
Il quadrante e' color nero opaco ,ha gli indici in oro cosi come il logo Rolex.
The dial is an opaque black with indexes and Rolex logo in gold.
Tutte le scritte sono realizate con una vernice porosa color oro mentre il logo delle spade e'direttamente stampato rosso su nero, caratteristica dei quadranti prodotti da Lemerich,contrariamente a quanto visto su altri quadranti realizati da altri terzisti (beyeler, singer) per altri modelli ,quest'ultimi usavano stampare prima in bianco e successivamente in rosso il logo delle spade per dare piu' luminosita' al colore rosso.
All writings have been created with a porous gold colored paint whereas the sword logo is printed directly red on black, characteristic of the dials created by Lemrich, contrary to that seen on dials created by other third parties (Beheler, Singer) for other models. These last two printed the sword logo first in white and successively in red in order to make the red color brighter.
Comparazioni quadranti 1665 Beyeler 1680-8, 1675 Lemrich, e 6265 Singer:
Comparision between dials 1665 Beyeler 1680-8, 1675 Lemrich, and 6265 Singer: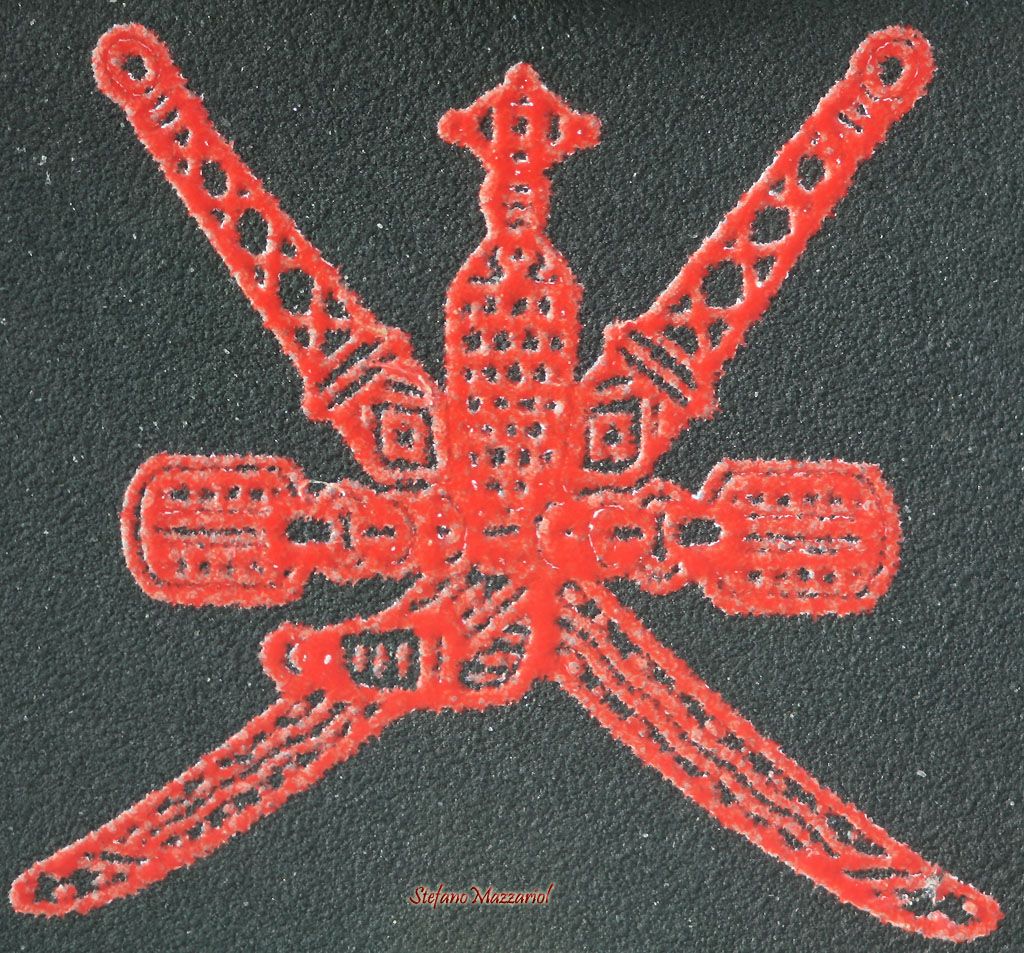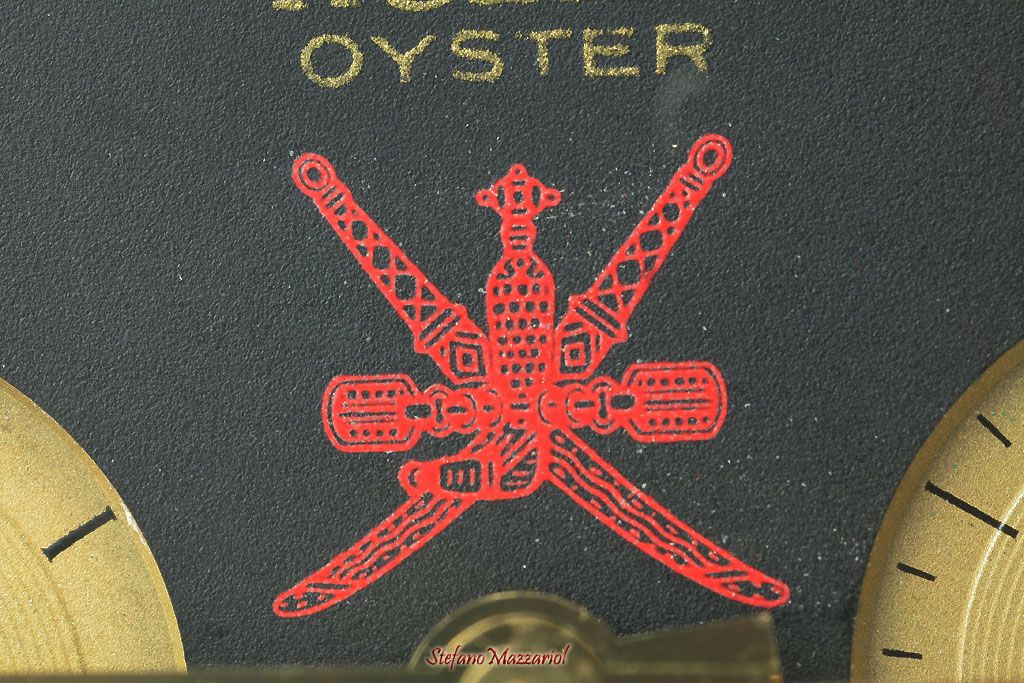 L'orologio , nonostante i suoi 35 anni , non ha nessun segno d'usura rilevante, a testimonianza della sua probabile "prigionia" in qualche cassaforte per tutti questi anni.
The watch, despite it being 35 years old, shows no significant signs of use, a testament to the probability that it was "imprisoned" in some safe for all these years.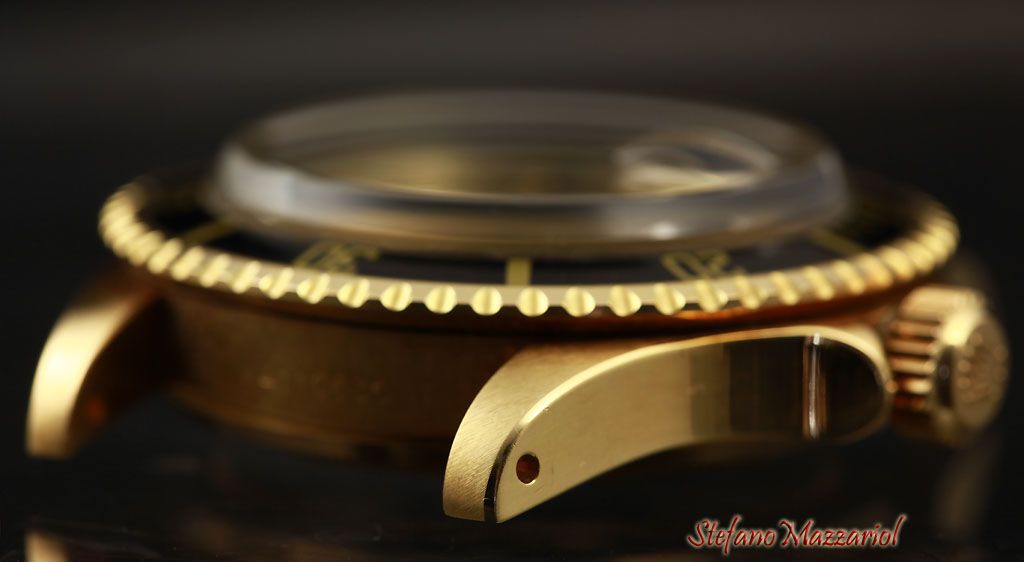 Lo stikers sul fondello, adesivo che riporta il numero della referenza dell'orologio, posto sul fondello e' ancora leggibile.
The stickers on the back, an adhesive that carries the reference number of the watch, placed on the back is still legible.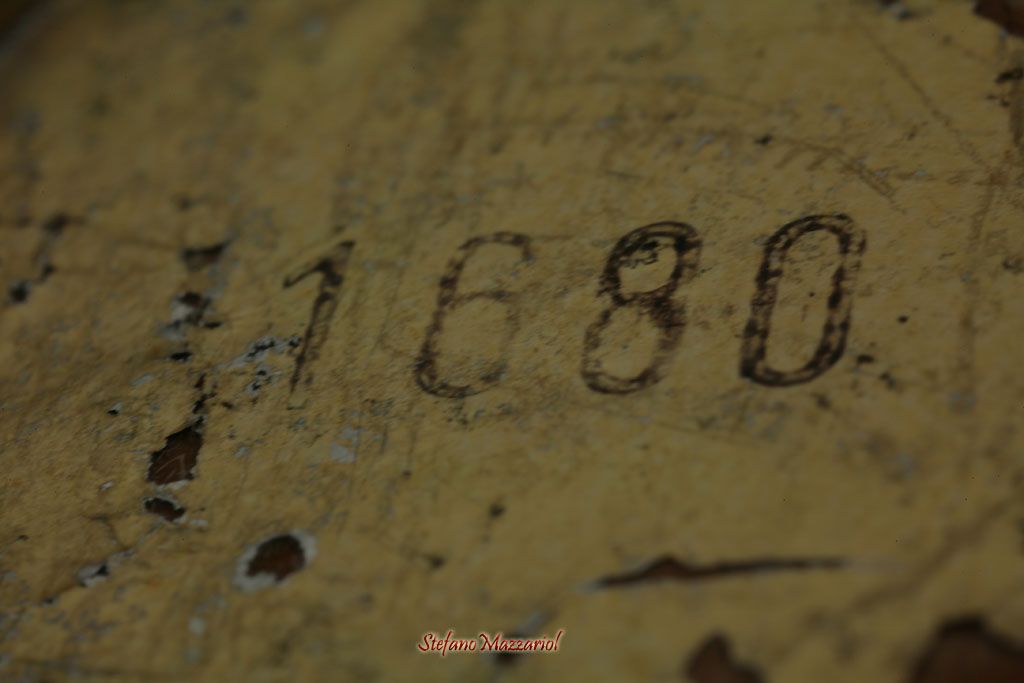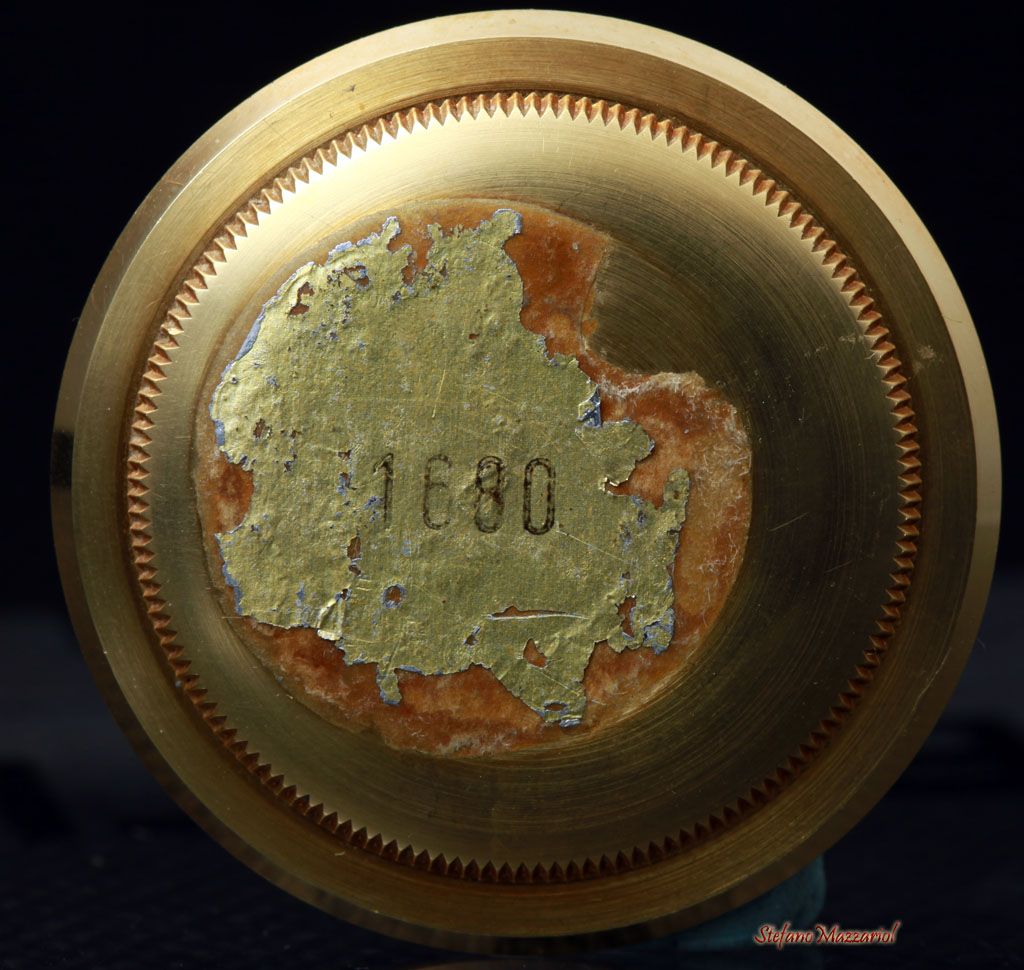 In quel periodo Rolex introdusse la nuova corona di carica triplock 701, ancora piu' performante e sicura rispetto alla precedente Twinlock.
In that period Rolex introduced the new winding crown Triplock 701, with even better performance and more reliable with respect to the previous Twinlock.
Questa e' facilmente riconoscibile dai tre puntini realizati sotto la corona Rolex.
This is easily recognizable by the three dots added below the Rolex crown.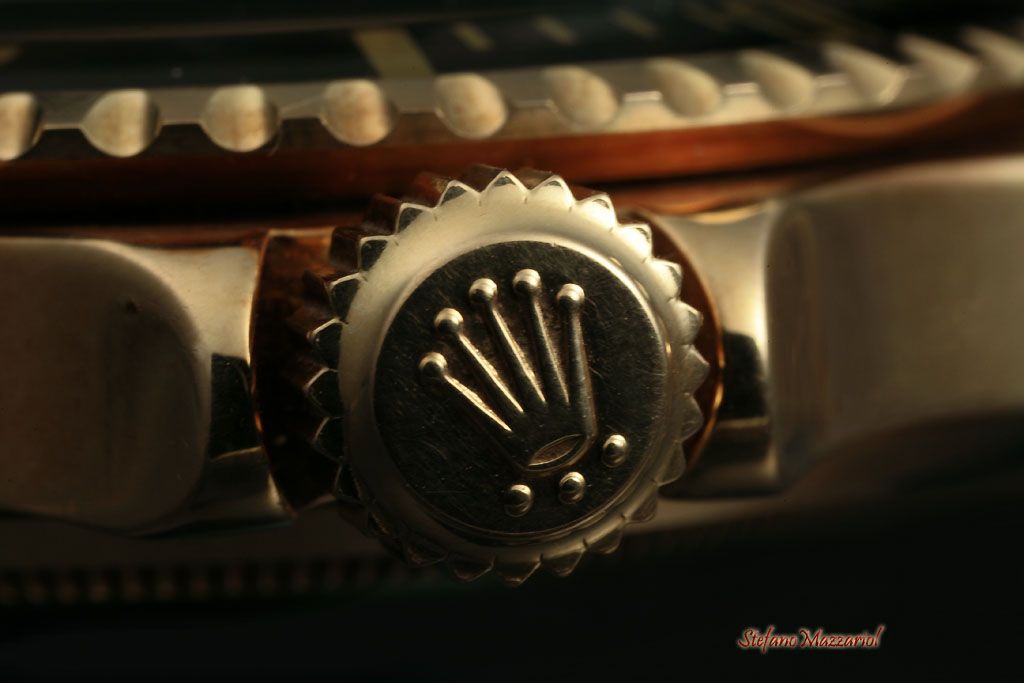 Il vetro originale dell'epoca ,chiamato tropic 127, ha una forma diversa da quella realizzata negli anni 80.
La spigolatura laterale era molto piu' accentuata e rendeva piu' dolce e sobrio l'impatto estetico del vetro pur mantenendo la solita altezza di quello realizzato successivamente.
The original glass at the time, called tropic 127, has a different shape from that created in the 80's.
The side gleaning was much more accentuated and made the esthetic look of the glass softer and more sober while still maintaining the same height of the one created later.

Comparazione con vetro di fornitura successiva .
Comparison with glass provided subsequently.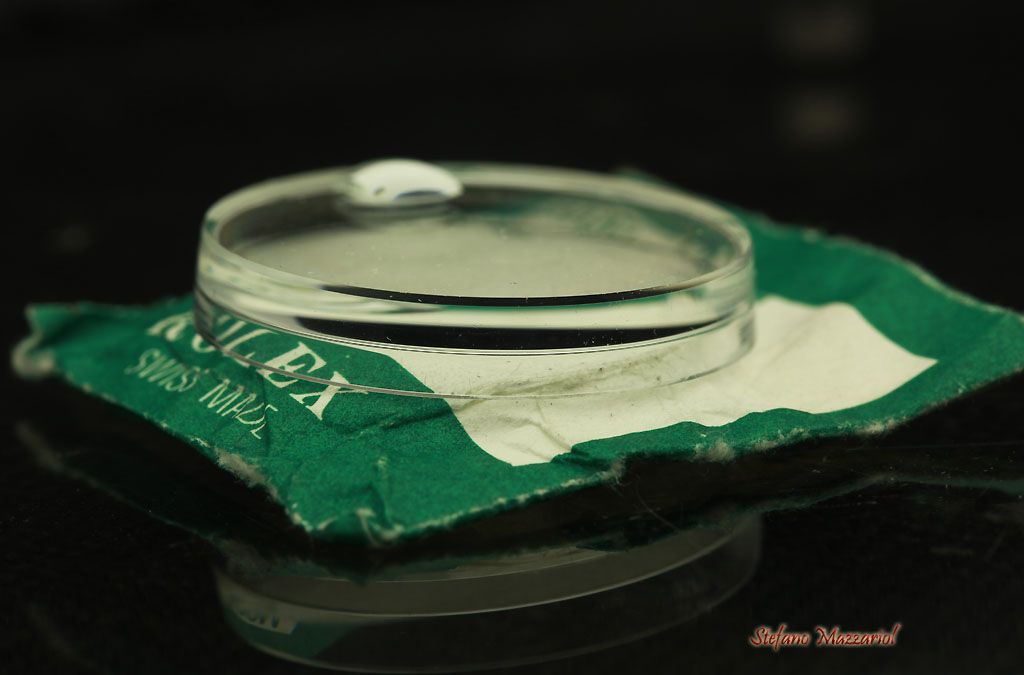 Il bracciale ref.929080 realizato per questo orologio era il primo bracciale a maglia pesante e con i finali sel pensato per uno sportivo (solid end link).
The band ref. 929080 created for this watch was the first heavy mesh band with the final links designed for a sportsman (solid end link).
Caratteristica dei primi bracciali sono i perni di fissaggio delle maglie rimovibili rispetto alle viti realizate pochi anni dopo. Anche la cassetta di chiusura e' molto particolare,
e' stata realizata senza l'unghiatura che agevola l'apertura del fermo di sicurezza, come nei modelli ref.9315 in acciaio con maglia ripiegata, inoltre il logo Rolex della corona a cinque punte e' posto all'estremita' invece che
come vedremo in seguito centralmente in rilievo.
A characteristic of the first bands are the removable holding pins of the links compared to the screws which were used a few years later. Even the closure clasp is very unique, it was created without the channel that made opening the safety clasp easier as in models ref 9315 in steel with a folded link, in addition the Rolex logo with the five pointed crown was placed on the edge instead of raised in the center as we see later.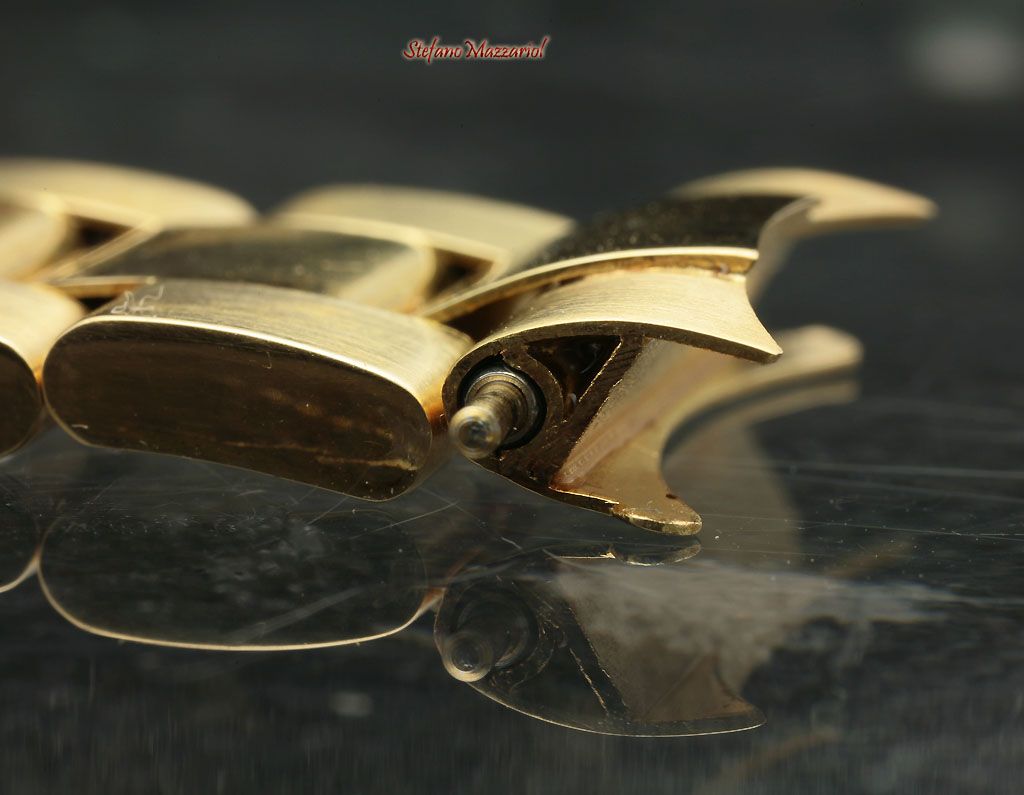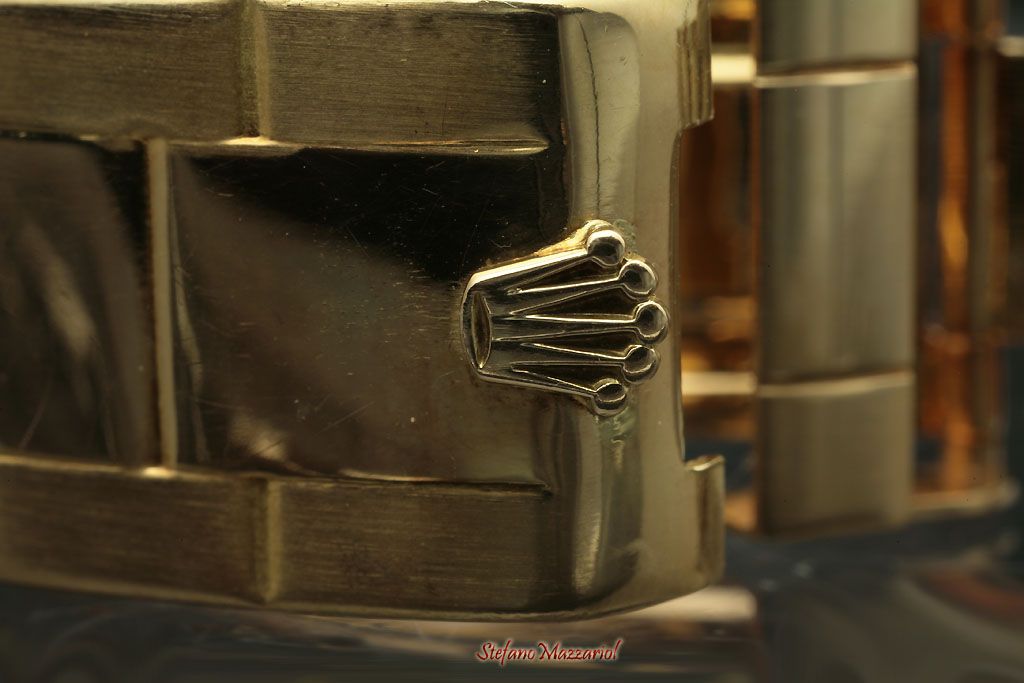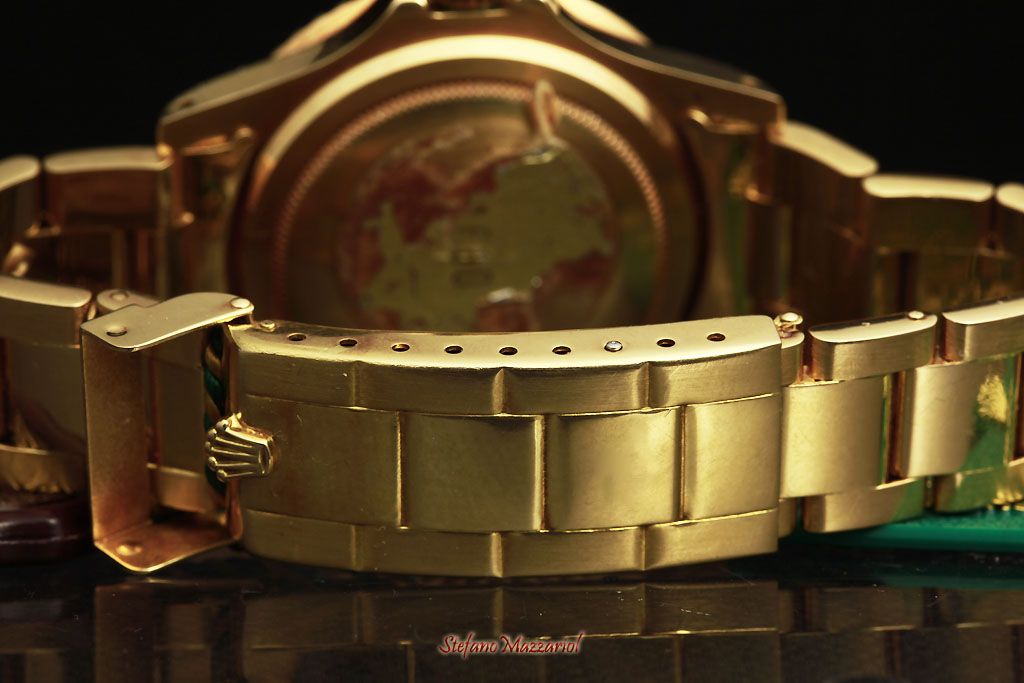 Il movimento e' un cal 1575 ma nominato 1570, come riportato in tutti i cataloghi tecnici originali, da 19800 a/h e 26 rubini .
The movement is a cal 1575, called 1570 as listed in all the original technical catalogs from 19800 a/h and 26 rubies.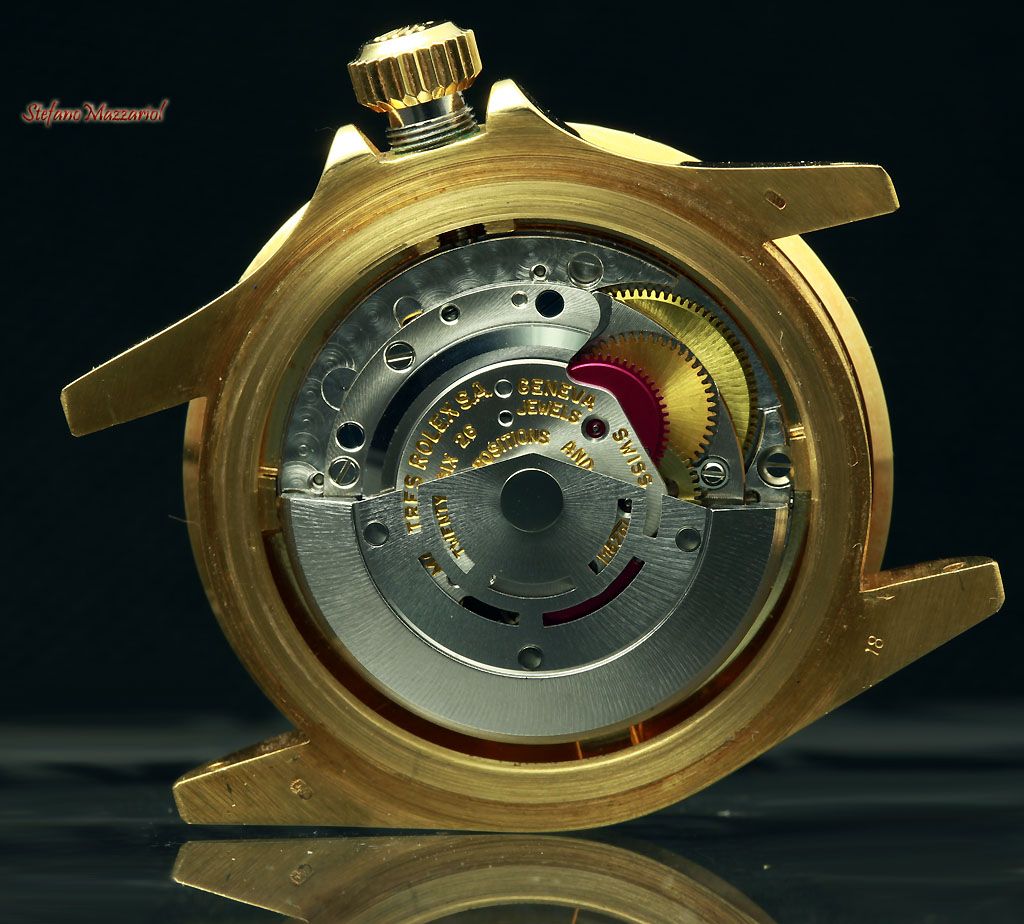 Il fondello internamente riporta i punzoni dell'oro e i marchi Rolex, rispetto ai modelli precedenti non vi e' la matricola dell'orologio incisa all'interno.
The back has the gold punches and the Rolex brand compared to previous models there is no watch serial number engraved on the inside.
Un Submariner nato raro ed impreziosito dalle eccezionali condizioni che difficilmente possiamo ritrovare.
A Submariner which was born rare and made more precious by the exceptional condition that would be difficult to find elsewhere.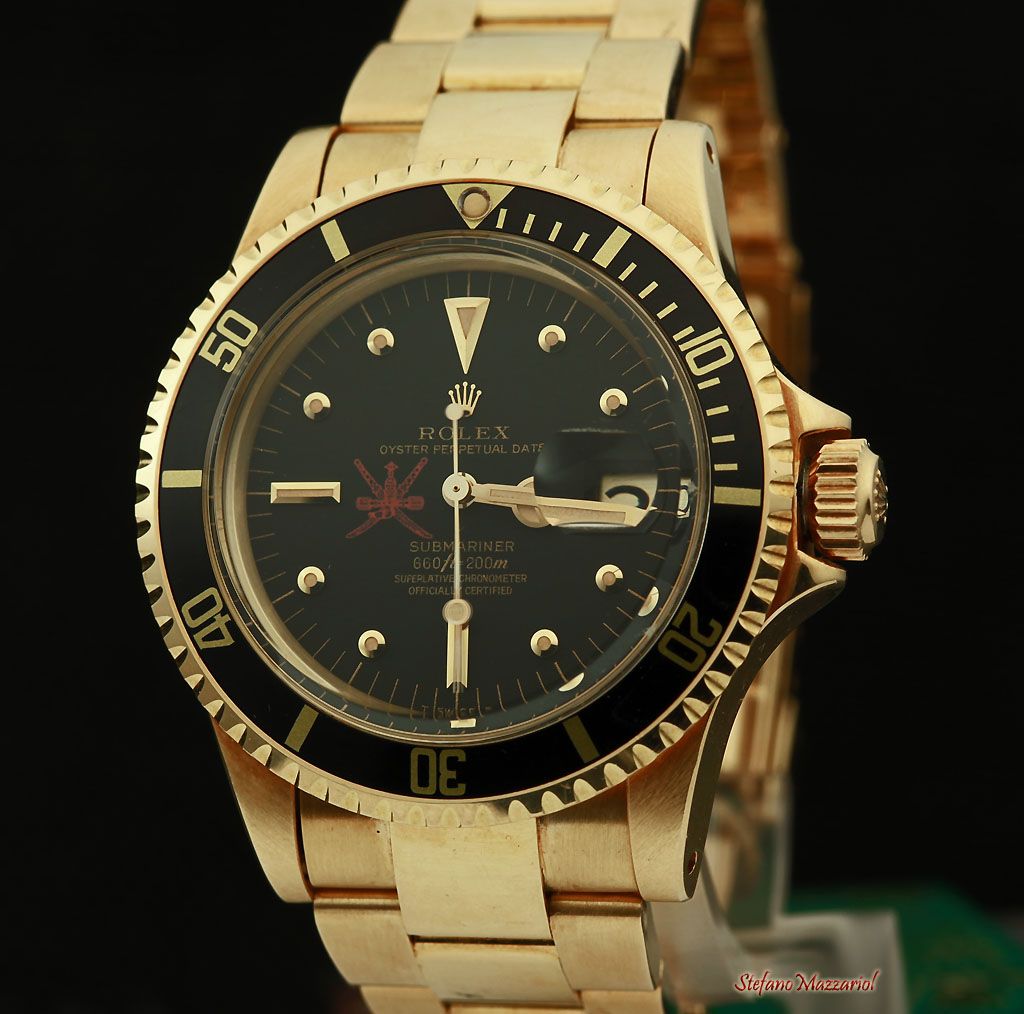 Stefano Mazzariol