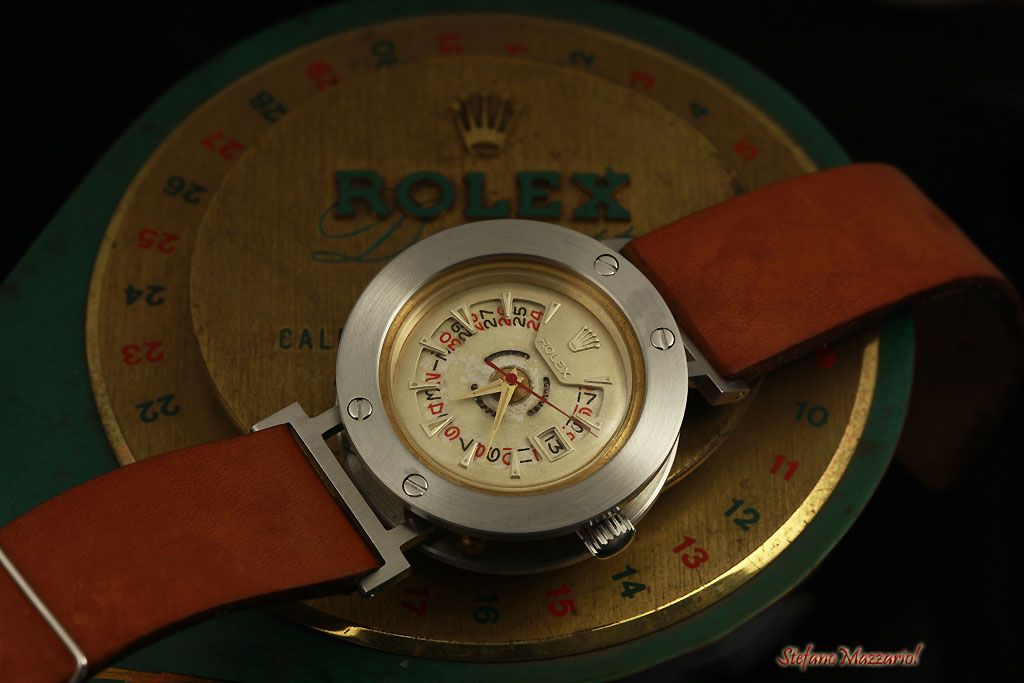 Il termine custom indica un manufatto, un dispositivo o un componente, progettato e realizzato su misura in base alle necessità dell'acquirente o della funzione specifica che dovrà svolgere.
The term custom indicates a handmade article, a device or component designed and tailor-made according to the buyer's needs or to the specific function that it will perform.
La parola è entrata ormai a far parte del linguaggio comune in tutto il mondo, prendendo origine dai significati propri della lingua anglo-americana.

custom work: lavoro su misura
Today the word has become part of worldwide common language, taking its meaning from the Anglo-American words: custom work.
Il Custom è un'attidudine, un modo di vivere caratterizzato anzitutto dalla propensione a trasformare un oggetto in modo da farlo diventare un qualcosa di unico.
Custom work is an attitude, a way of life characterized above all by the propensity to transform an object in such a way as to make it become something unique.
Molti , ma molti anni fa' mi capito' di comprare dei movimenti Rolex, tra cui
un A296 (movimento da ovettone con data) in condizioni di nuovo ancora nel
suo portamovimento.
Quest'ultimo era realizato da un cilindro di ottone alle cui somita' erano installati due bellissimi vetri plexi bombati che lasciavano ammirare il movimento ed il suo camminare.
Many years ago I happened to buy some Rolex movements, among which an A296
(bubbleback movement with date) in new condition still in its original cover.
The cover consisted of a brass cylinder with two beautiful pieces of dished plexi-glass
installed on each side that allowed the movement and its function to be admired.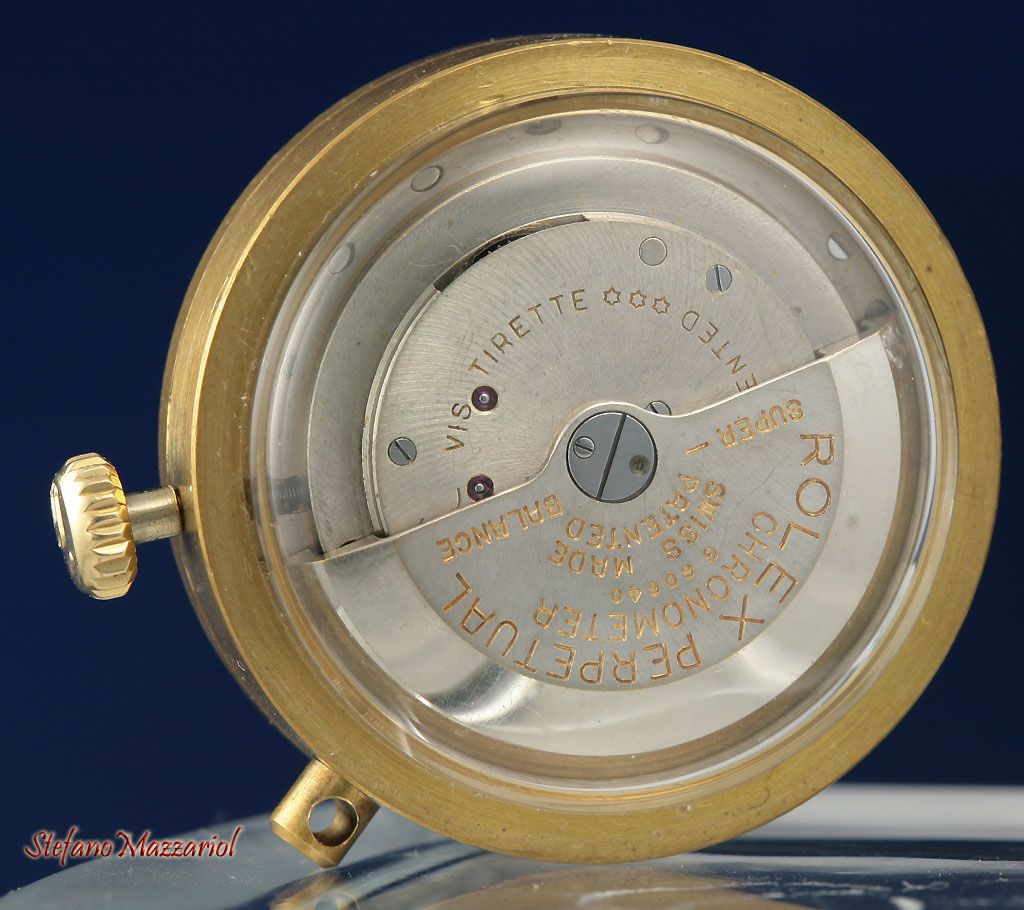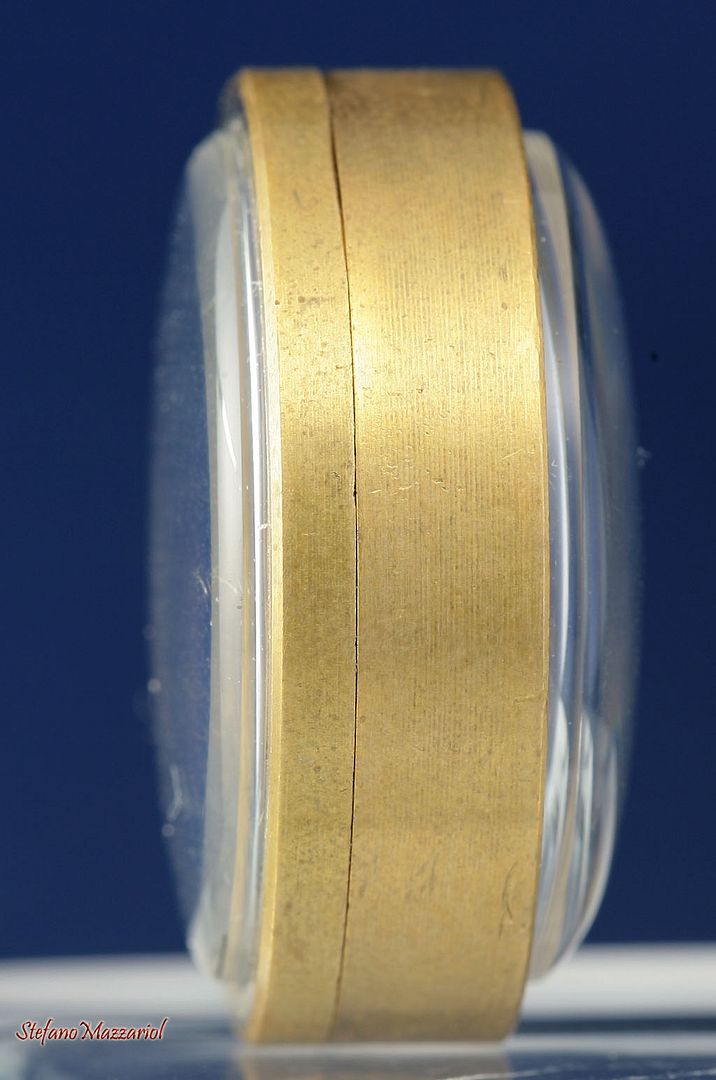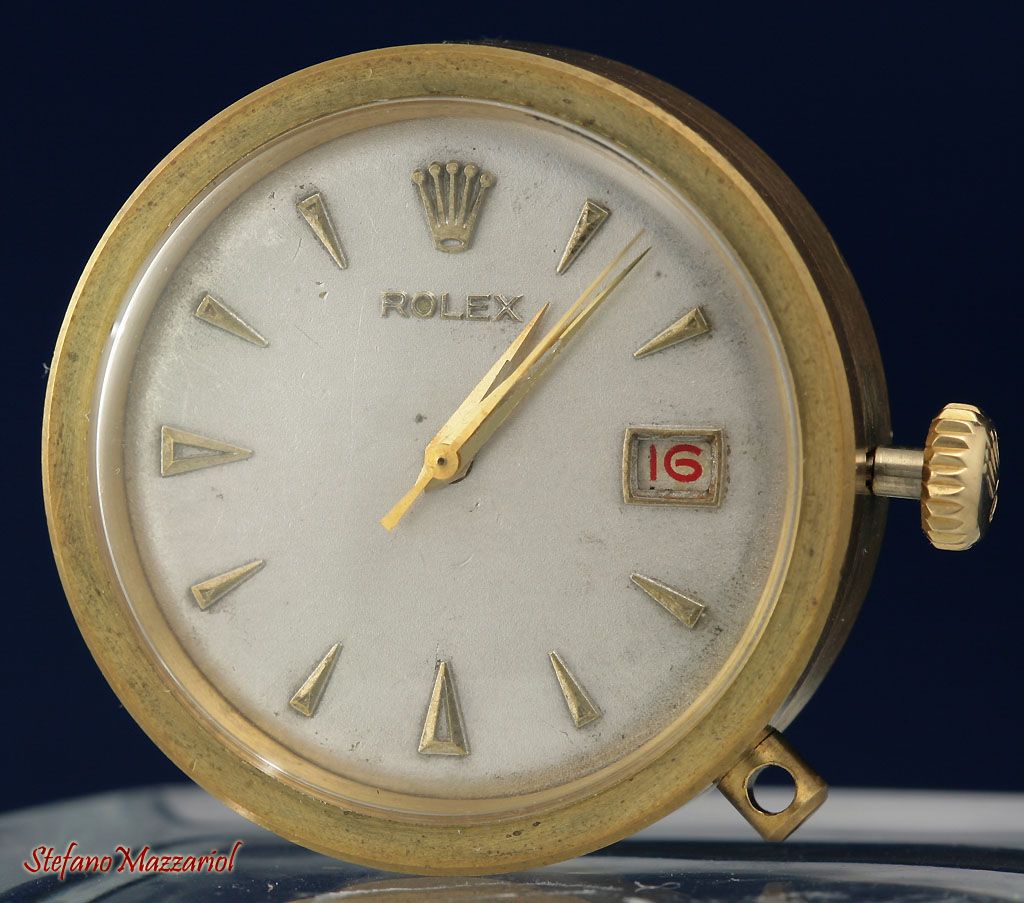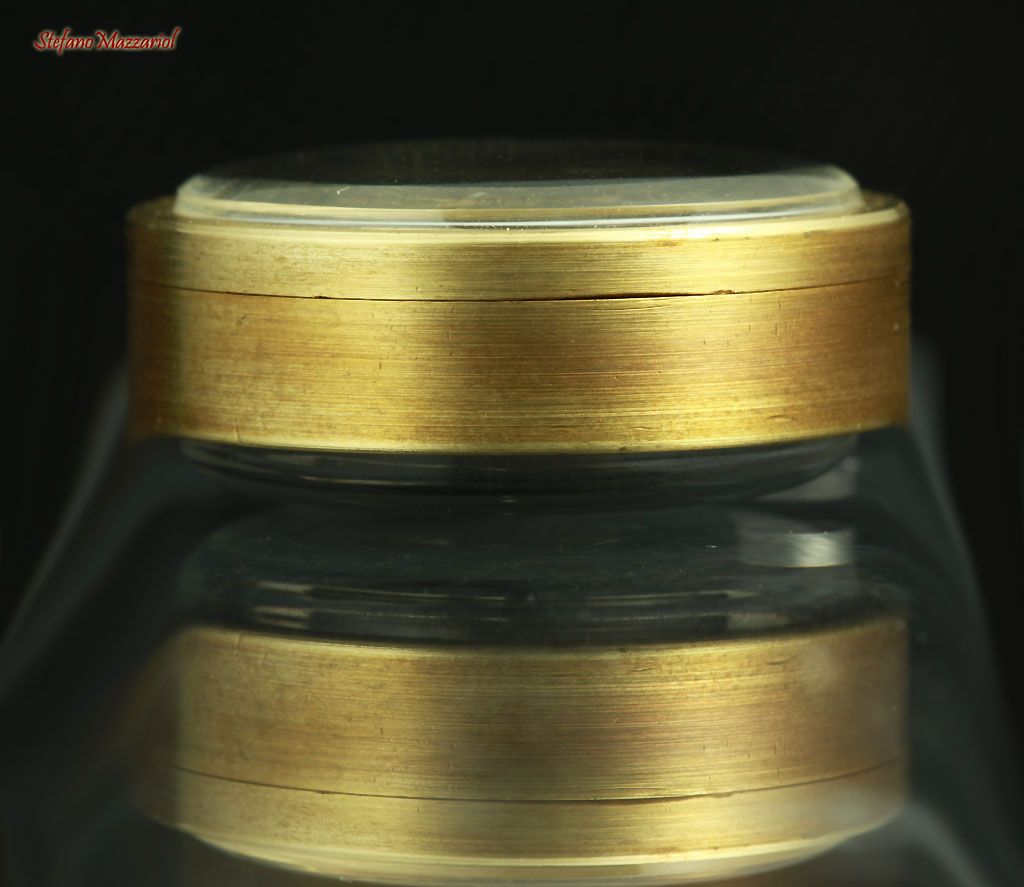 Propio questa era la funzione di questo portamovimento vederlo camminare e controllare ; aveva da un lato un perno
che si andava a fissare ad una macchina che ruotando dei braccieti , simulava il comportamento dell'orologio al polso e lo manteneva in carica, la macchina si chiama
final tester.
This was exactly the purpose of this case, to see and control the working movement;
on one side it had a pin that could be connected to a device that simulated the behavior of the watch on a wrist keeping it wound by turning some small arms, this machine is called the final tester.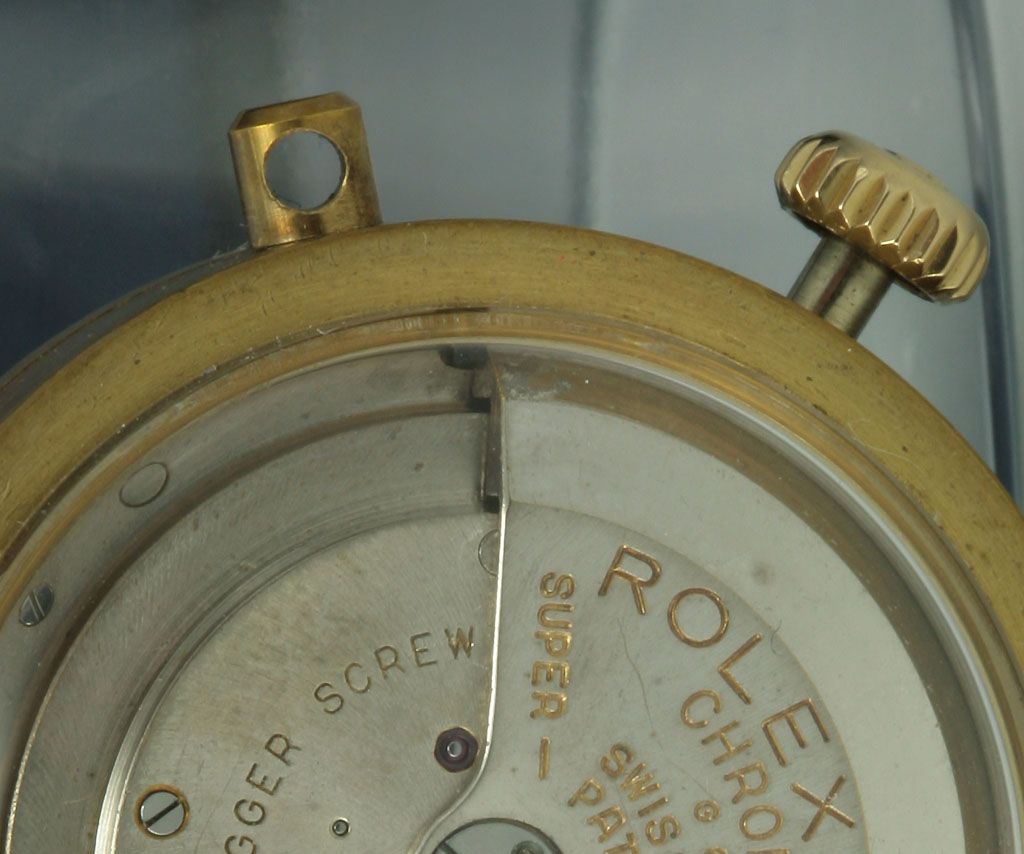 Quest'oggetto mi affascinava a tal punto che non ho mai avuto il coraggio di separarlo dal movimento.
Per questo motivo e' rimasto nella mia cassaforte per oltre due lustri.
This object fascinated me to the point that I never had the courage to separate it from the movement and this is why it stayed in my safe for more than two years.
La voglia di sentirmi addosso un oggetto cosi' affascinante mi ha portato a pensare di indossarlo in qualche modo , senza stravolgerlo ,conservando sia il contenitore che il movimento come e' giunto a me dopo oltre 60 anni di vita.
The desire of such a fascinating object led me to think of a way to wear it without changing its beauty, maintaining both the movement and the cover as they came to me after over 60 years of life. So was born the desire to create my custom watch.
Nacque cosi' il desiderio di creare il mio Custom watch.
Mi sono rivolto ad un amico, Giancarlo Martini, definirlo orologiaio non e' esatto;
un artista e' il termine adatto ,persona dotata di creativita' e buon gusto, capace ed attrezzato;gli mostrai l'oggetto e bastarono due parole per scatenare la sua fantasia...
..."Giancarlo, vorrei creare una gabbia per poter indossare al polso questo...."
Due schizzi su un pezzo di carta e la fantasia di Giancarlo volava , stimolata dal fascino che solo un oggetto di altri tempi puo' emanare.
Abbiamo montato un calendario roulette ed un quadrante sacrificabile per poter fare degli esperimenti.
I turn to a friend, Giancarlo Martini, who to define as a simple watchmaker would not be exact; an artist is the more suitable term, a person blessed with creativity and good taste, capable and with the right tools; I showed him the object and it only took a couple of words to spark his imagination.
"Giancarlo , I would like to create a cage to be able to wear it on my wrist..."
a couple of sketches on a piece of paper and Giancarlo's imagination took wing, stimulated by the charm that only an object from another time can emanate.
We assembled a calendar wheel and an expendable face, to be able to experiment.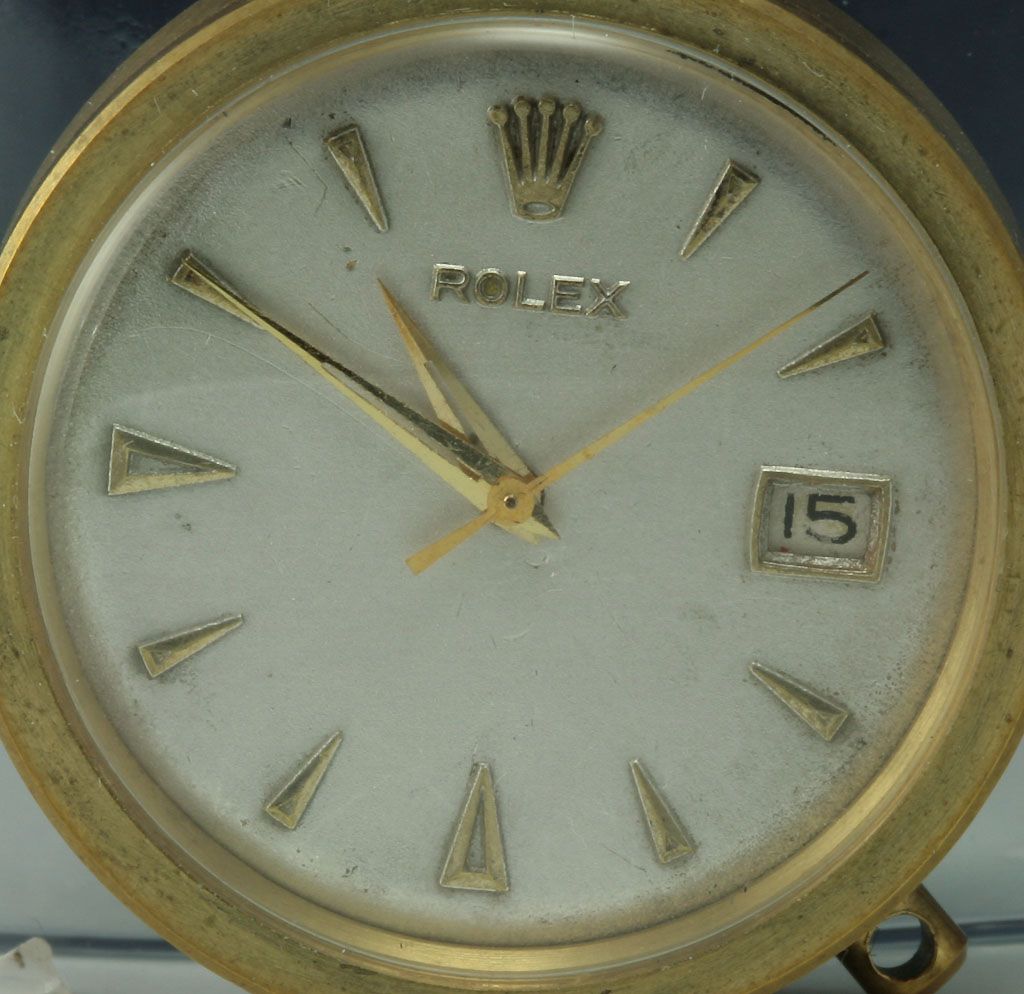 Il quadrante e' stato pazientemente scavato , scheletrato per far vedere il piu' possibile il datario bicolore ed il movimento.
Dopodiche' argentato , lucidato e ritriziato, un tocco di rosso alla lancetta dei secondi.. et voila' il quadrante e' pronto.
The dial was patiently hollowed out to reveal as much as possible of the bicolored date wheel and movement.
After that, it was silver plated, polished and ritriziato , a touch of red on the second hand......and voilà the face is ready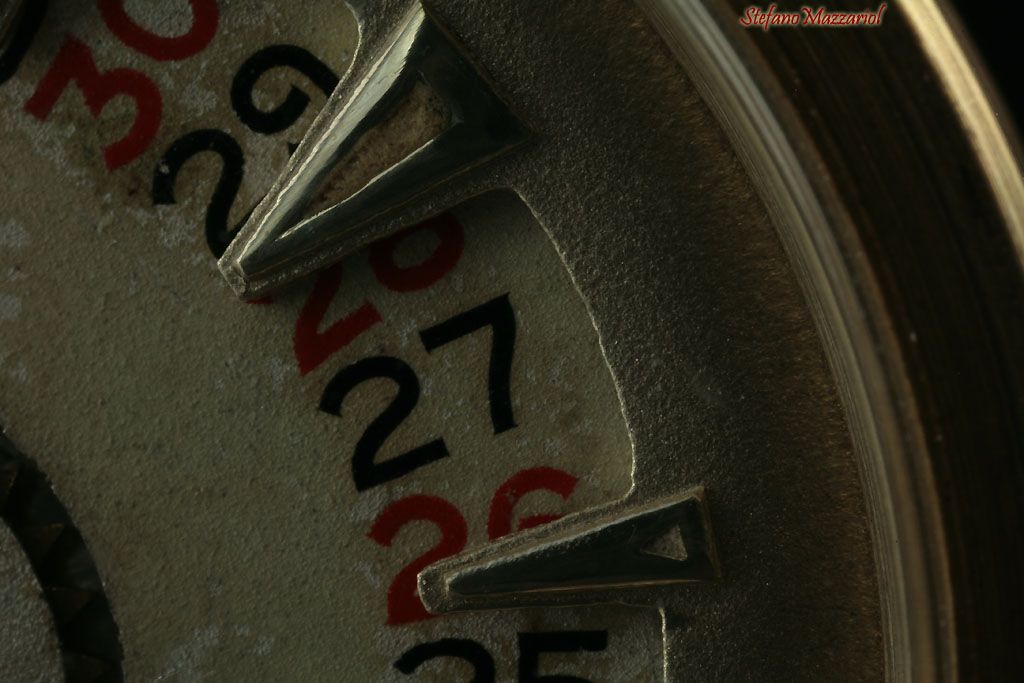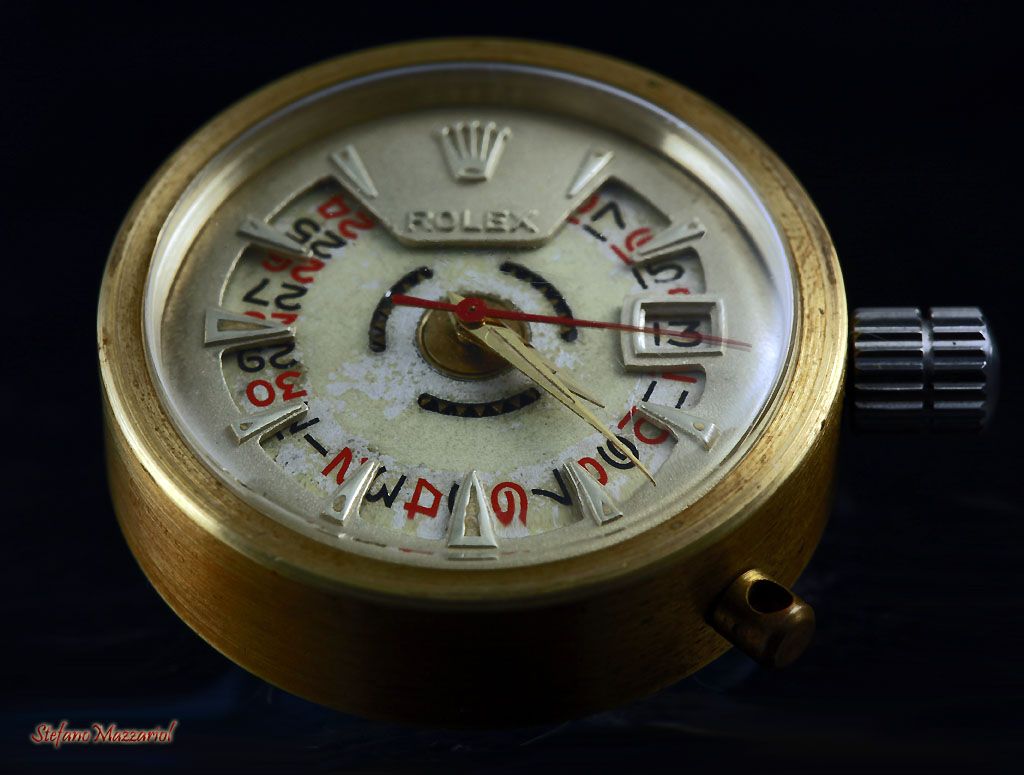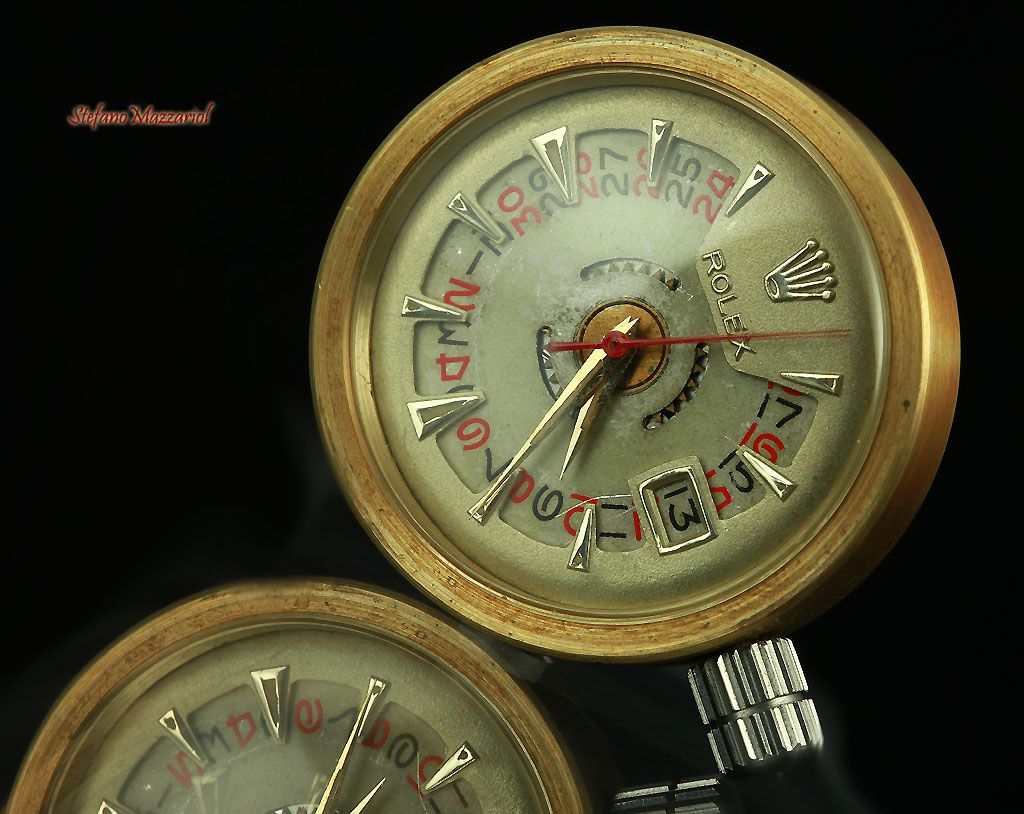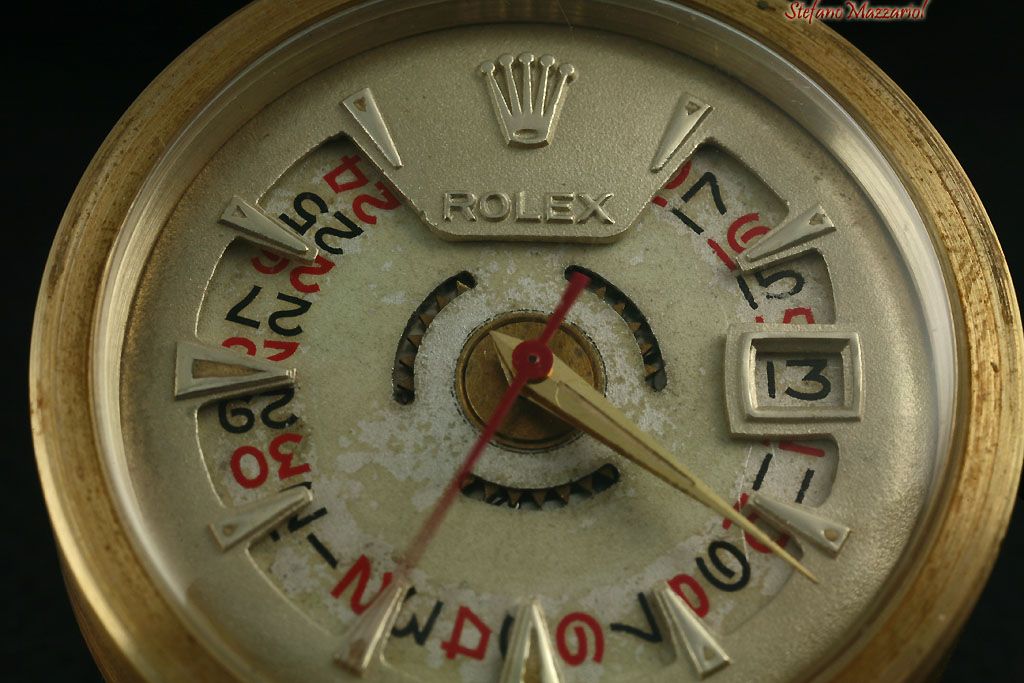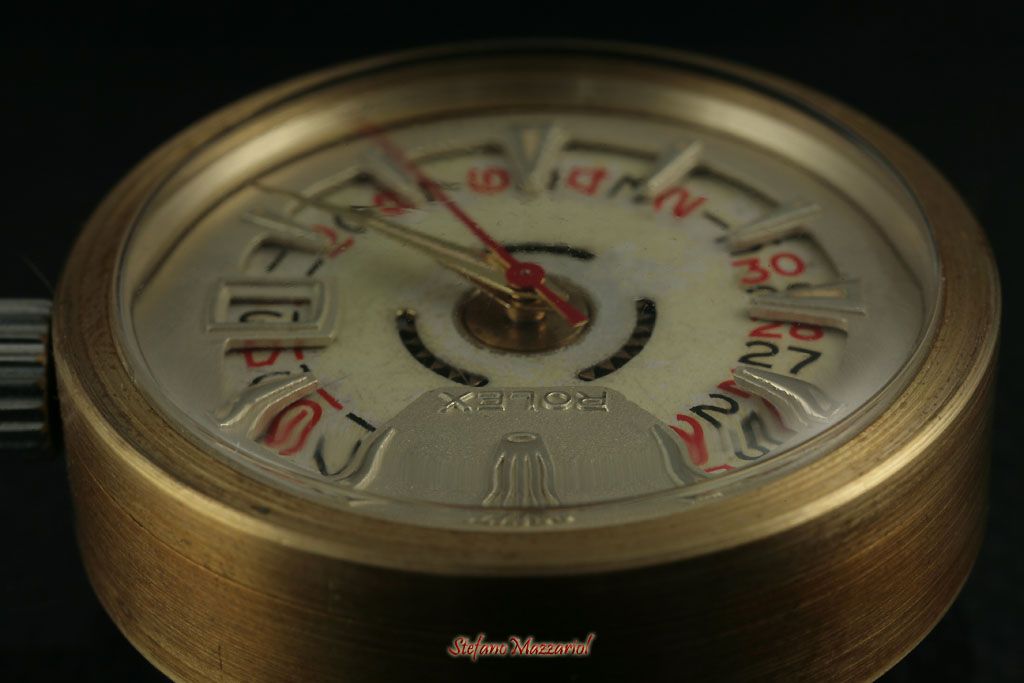 Il quadrante e' stato pazientemente scavato , scheletrato per far vedere il piu' possibile il datario bicolore ed il movimento.
Dopodiche' argentato , lucidato e ritriziato, un tocco di rosso alla lancetta dei secondi.. et voila' il quadrante e' pronto.
Machined with a lathe from solid steel, he patiently created the winding crown, obviously custom made, so that it could be easily operated.
Quindi la cassa, due anelli che si incastrano nei vetri superiore ed inferiore ,
tenuti da due cilindri in acciaio che hanno la duplice funzione di trattenere il movimento tra i due anelli tramite viti , e il fissaggio di due anse mobili che si fissano al cinturino.
Then the case, two rings that fit in the upper and lower glass, held in place by two steel cylinders that have the double function of keeping the movement between the two rings with screws, and the attachment of the two movable loops that connect to the watch band.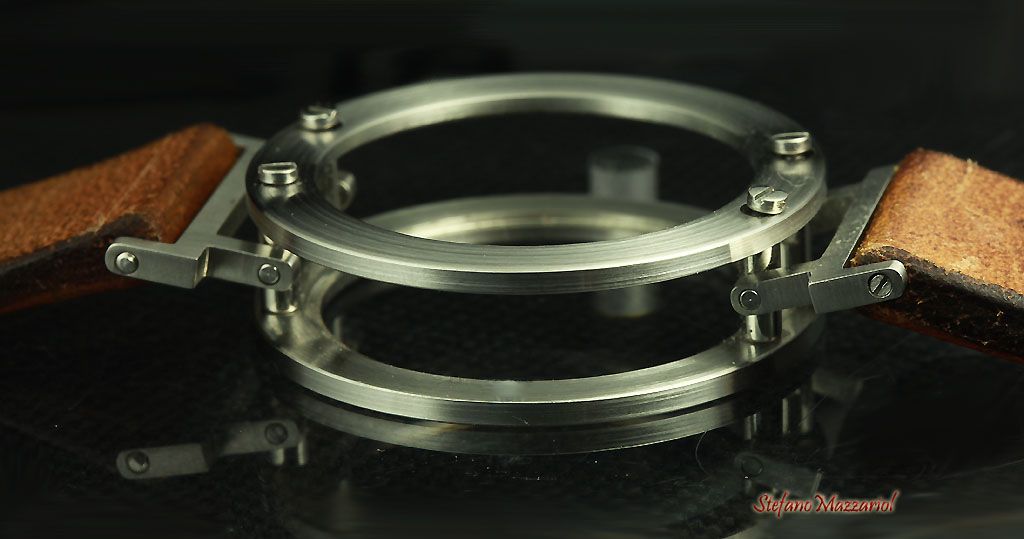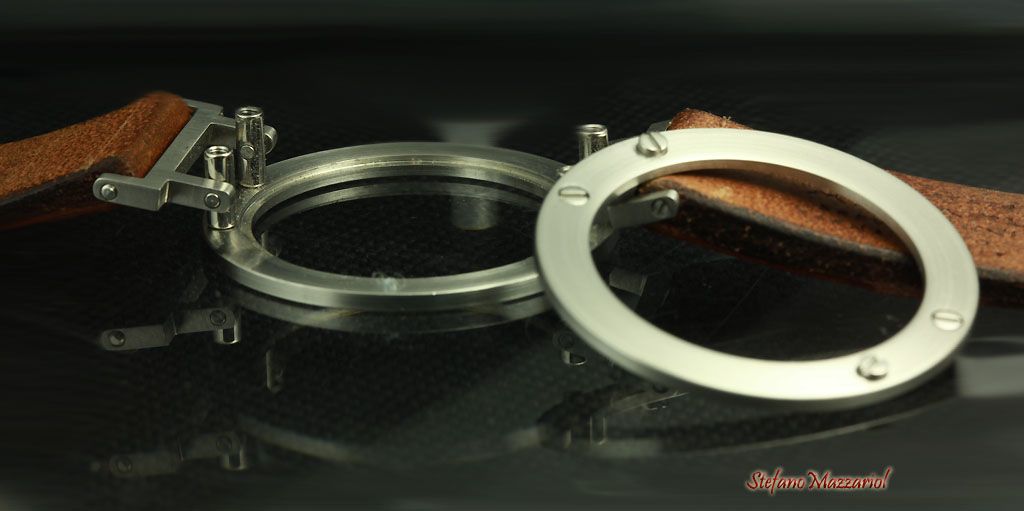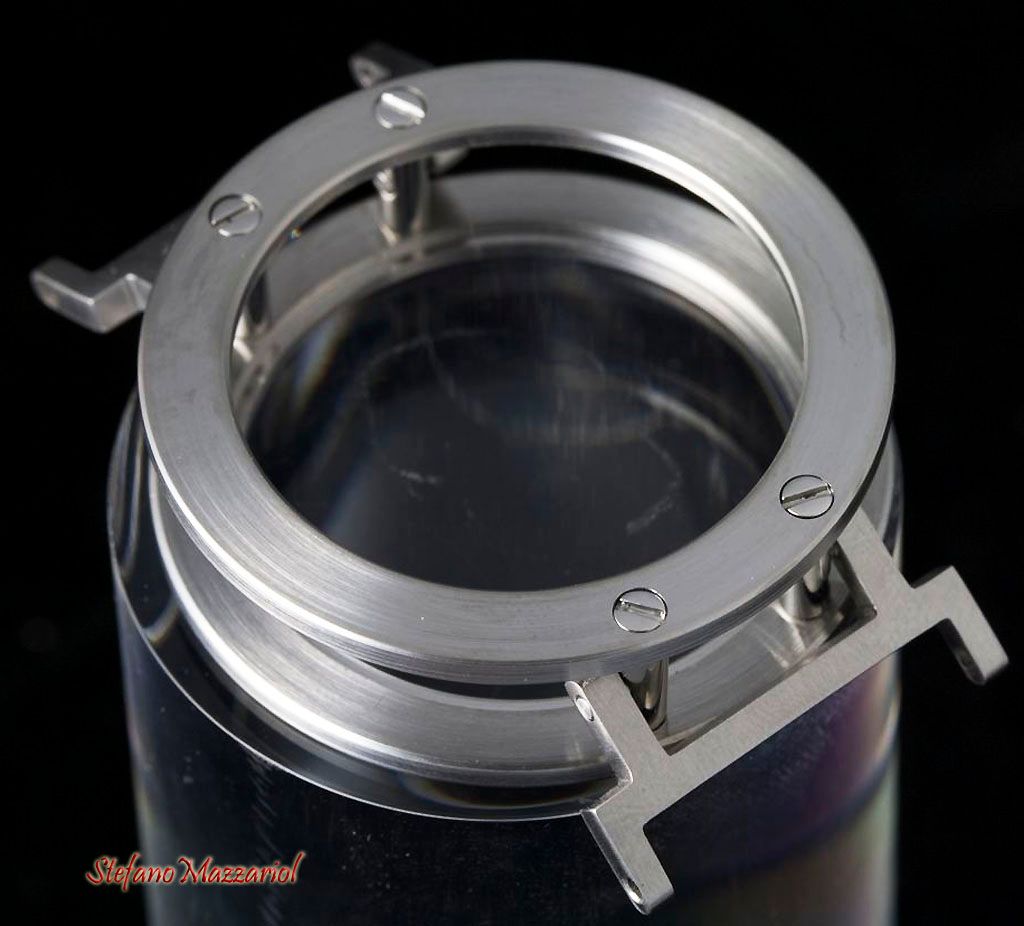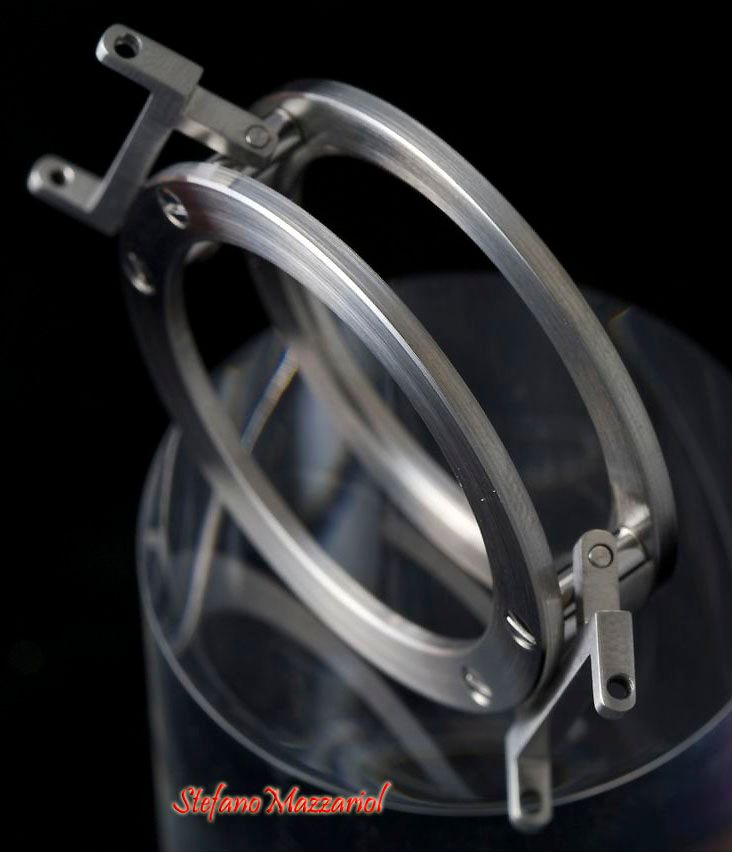 Non contento ,Giancarlo ha realizato una splendida fibbia ad ardiglione deployante, comoda e pratica,montata con un cinturino in pelle robusto e dal look aggressivo.
Not satisfied, Giancarlo created a splendid fold fastening buckle, comfortable and practical, assembled with a strong leather watch band with an aggressive look.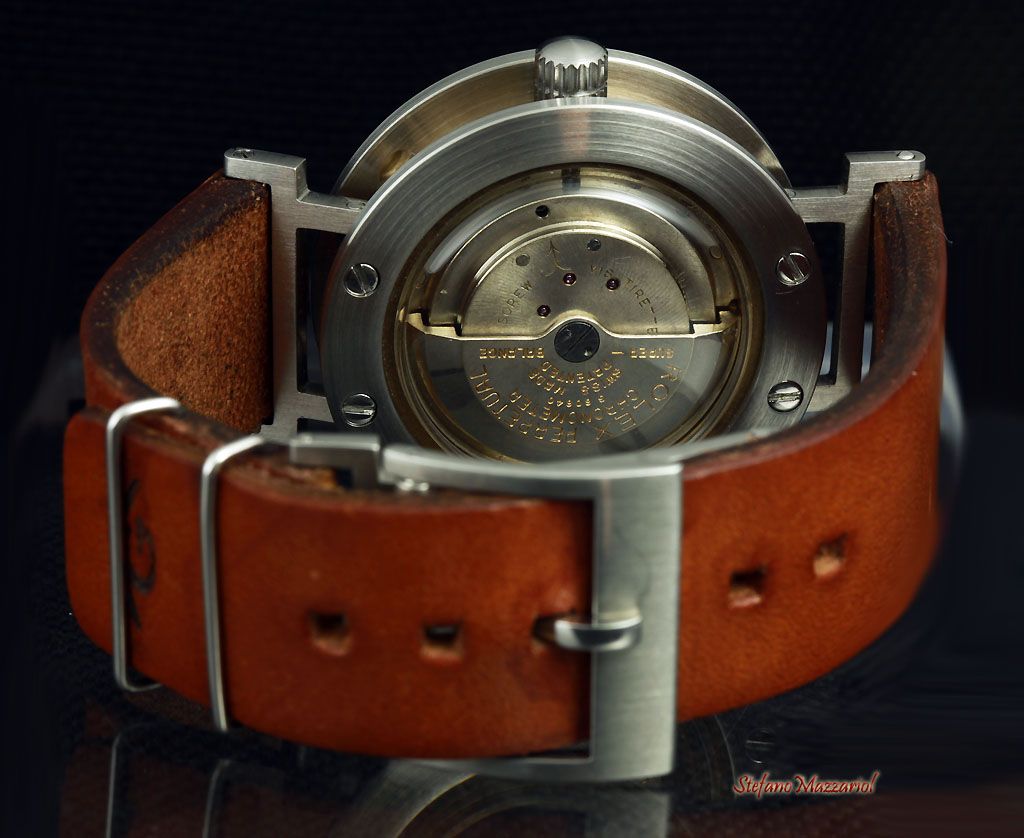 Il risultato e' un orologio dalle forme moderne ma dal gusto retro', senza nessuna destinazione commerciale,esercitazione unica a mio uso e piacere....e francamente e' stato per me una grande soddisfazione.
Grazie Giancarlo.
The final result is a watch with a modern shape but with a retro flavor, with no commercial purpose, but only for my use and pleasure.....and frankly it has been a great pleasure for me.
Thank you Giancarlo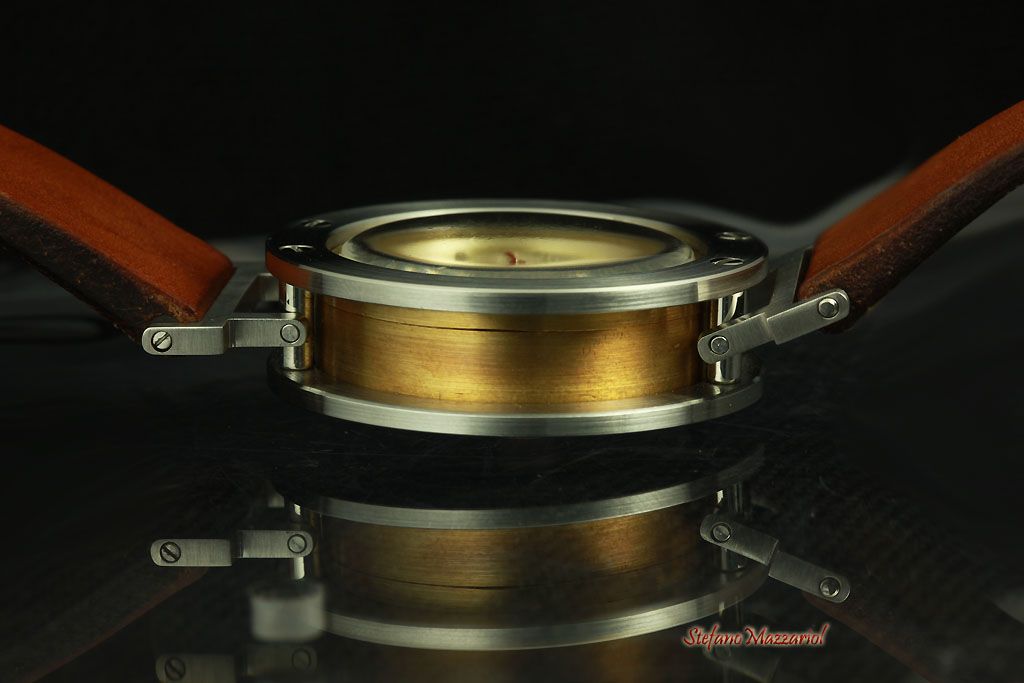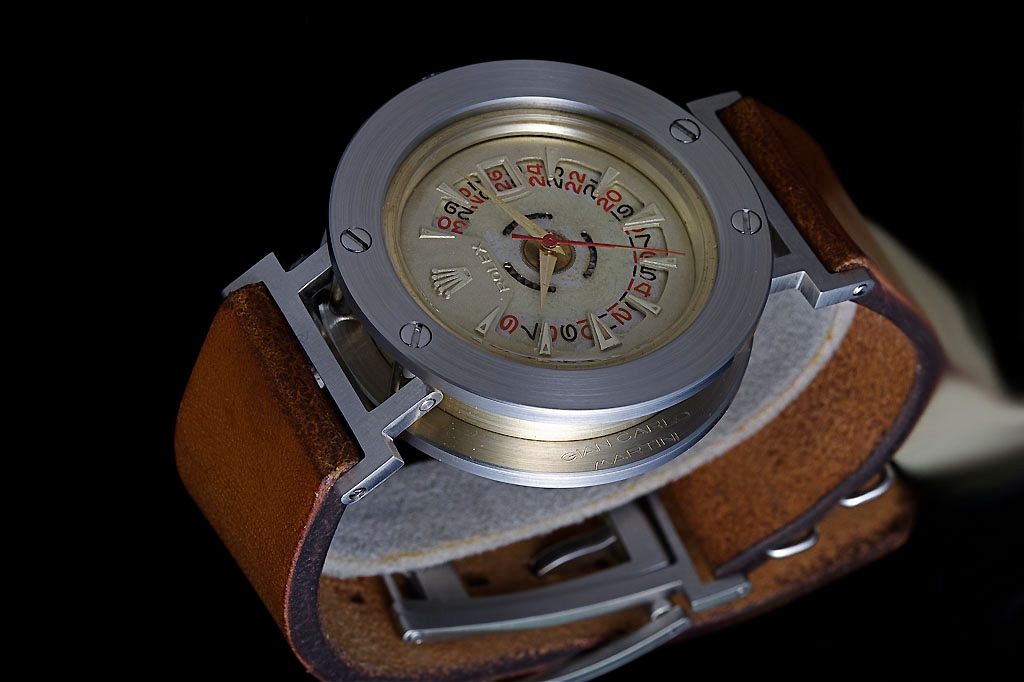 Stefano Mazzariol