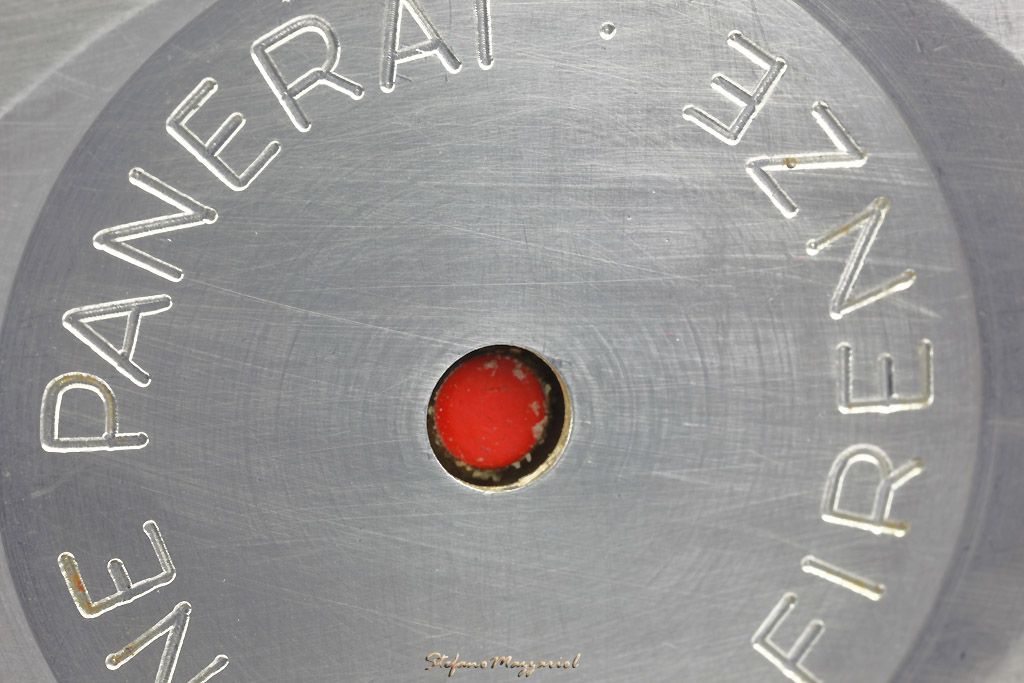 Catalogo prodotti militari Panerai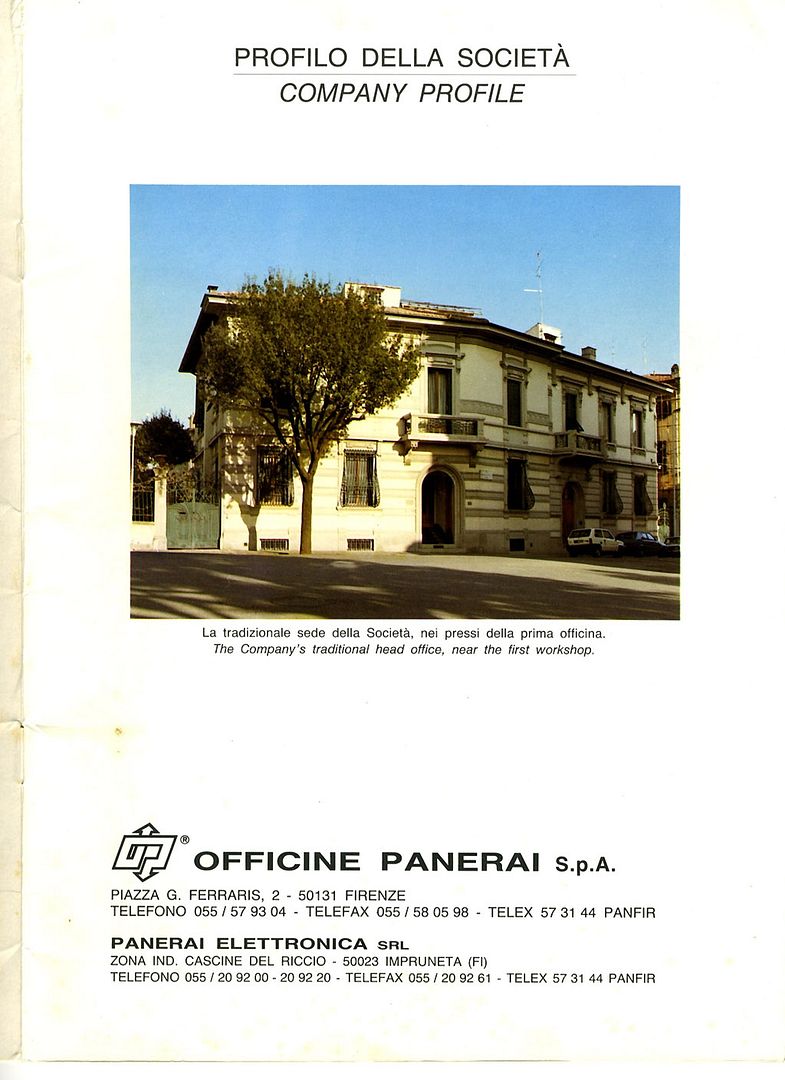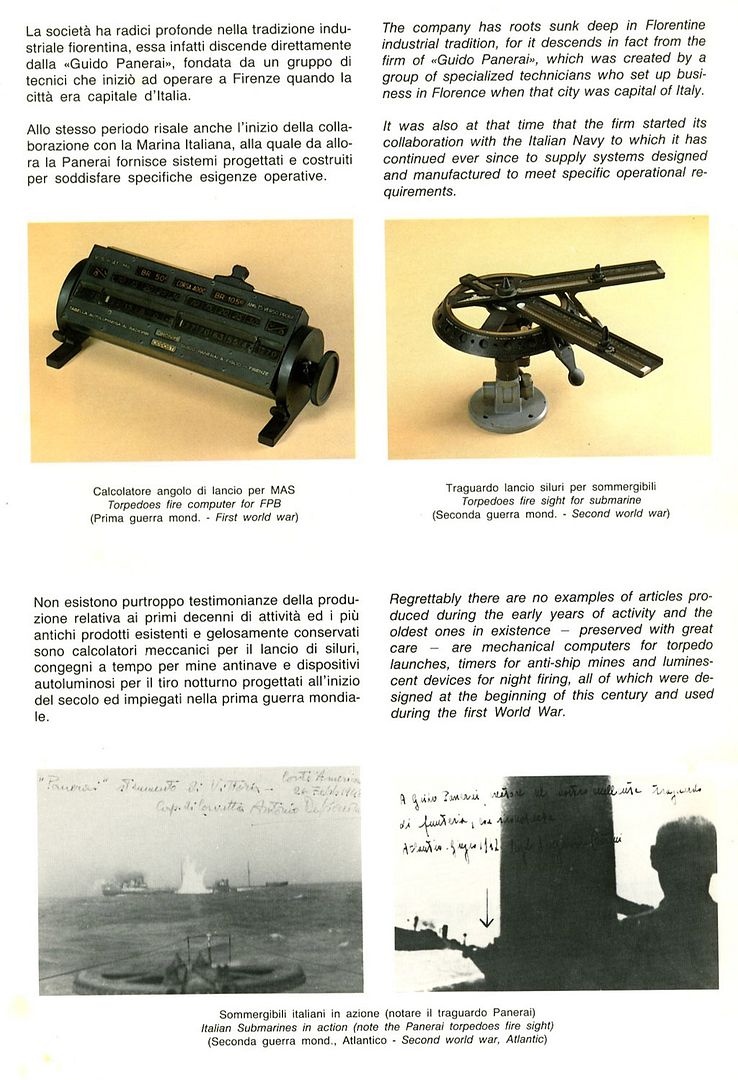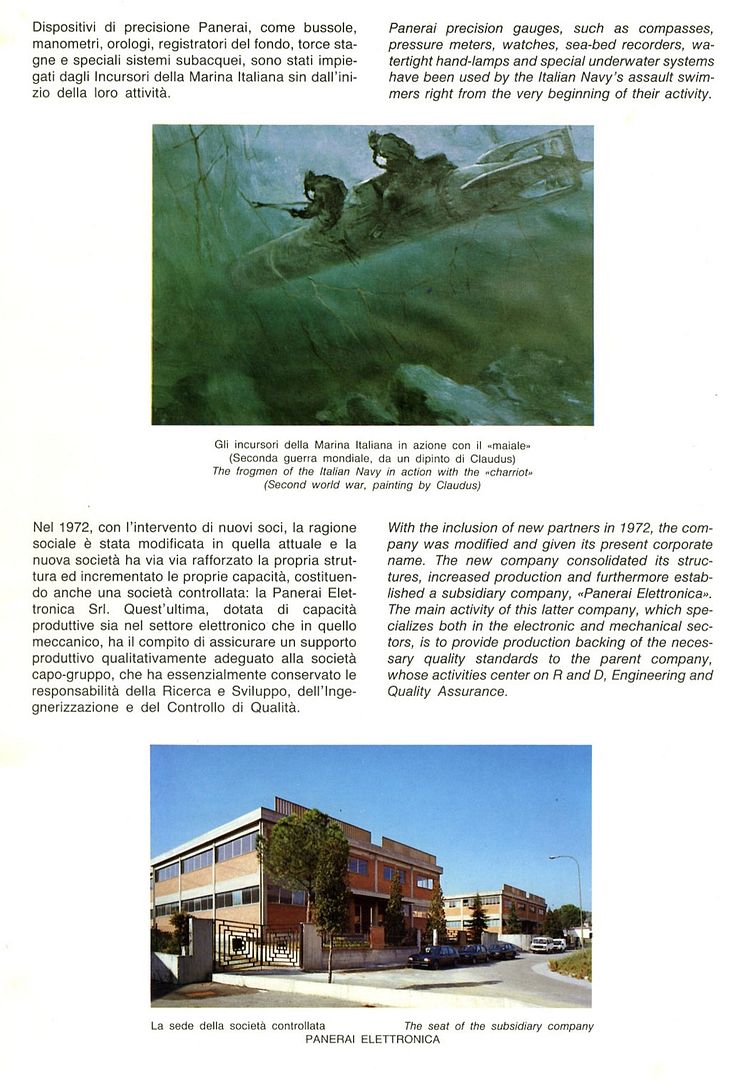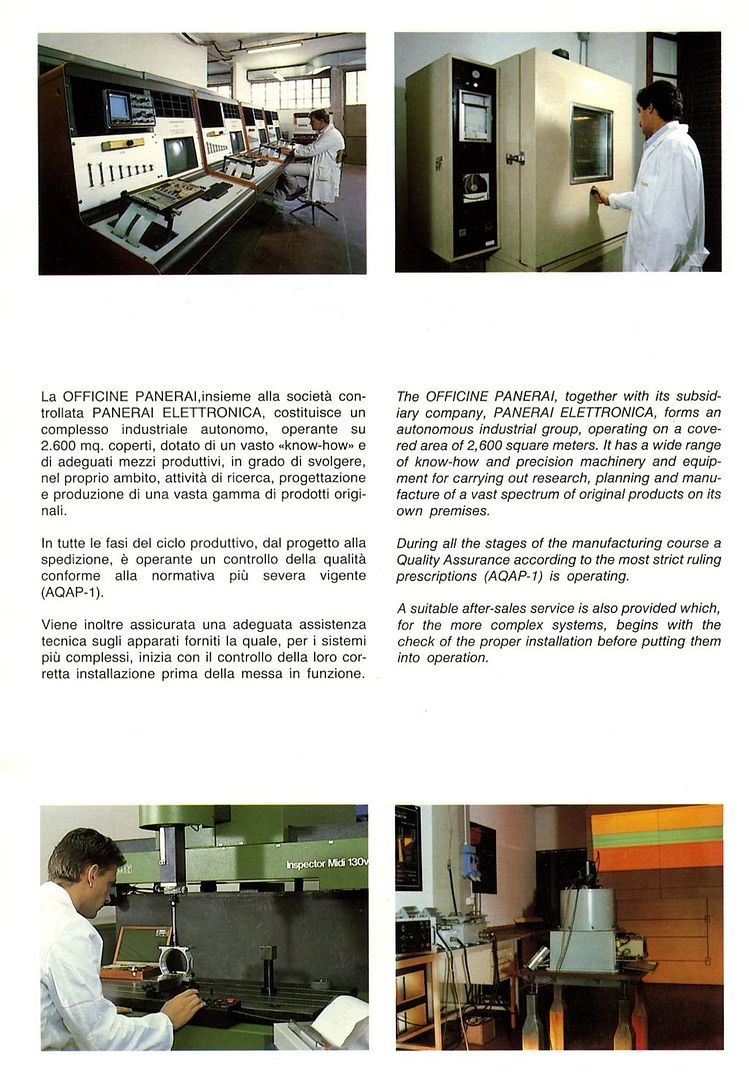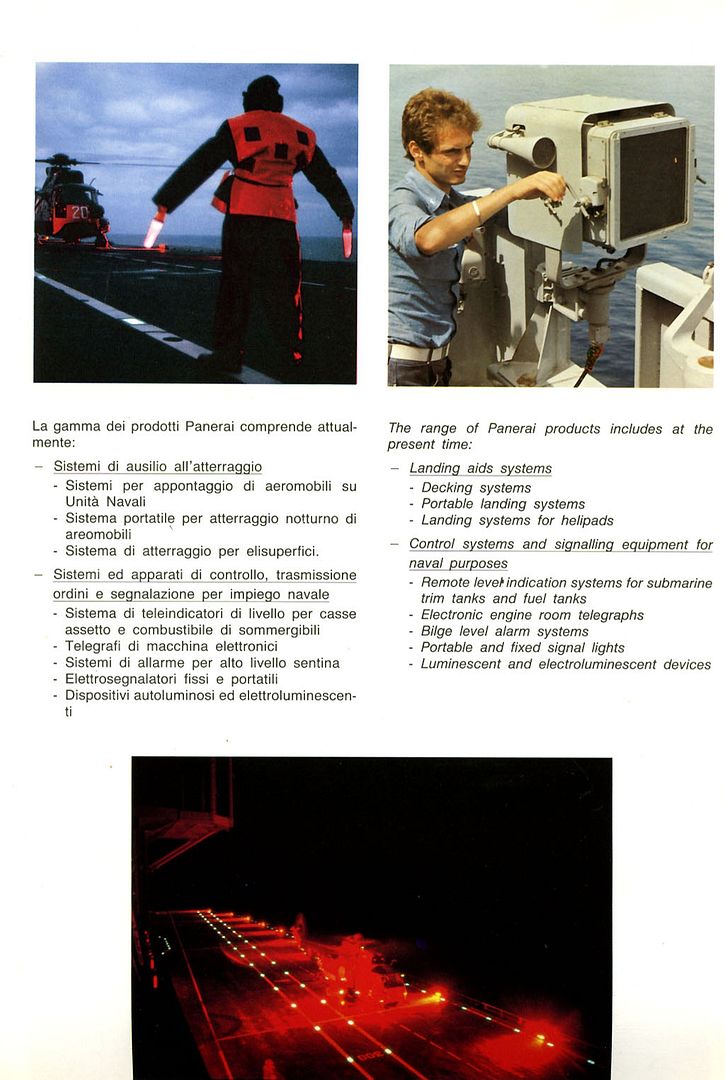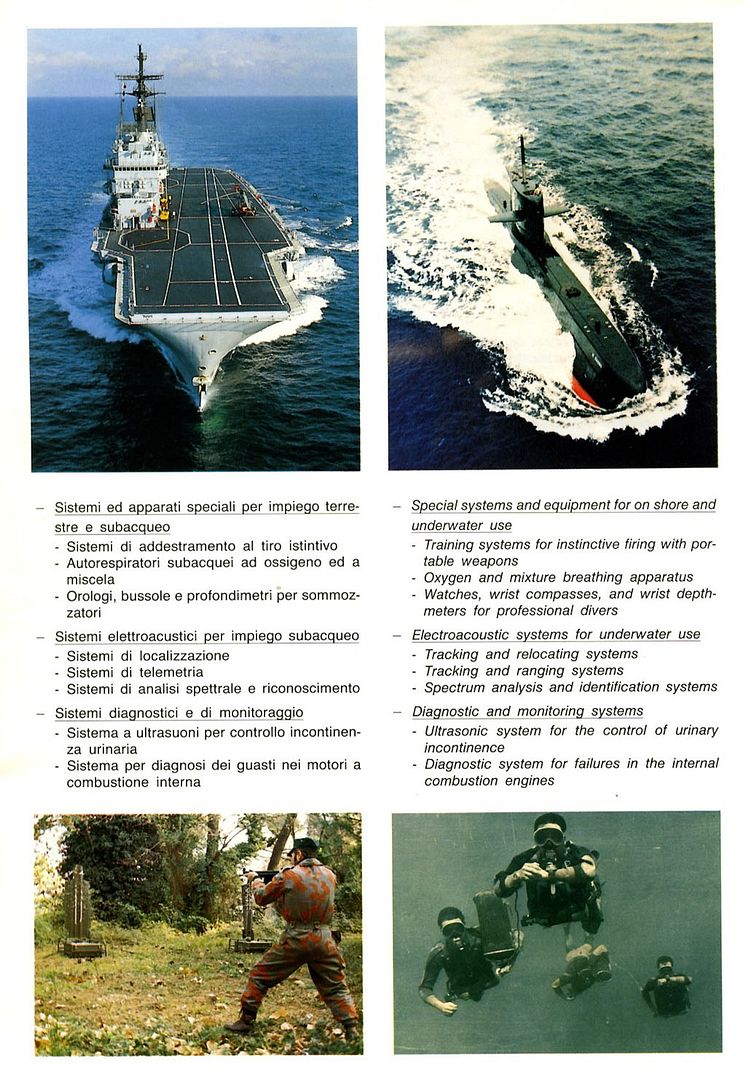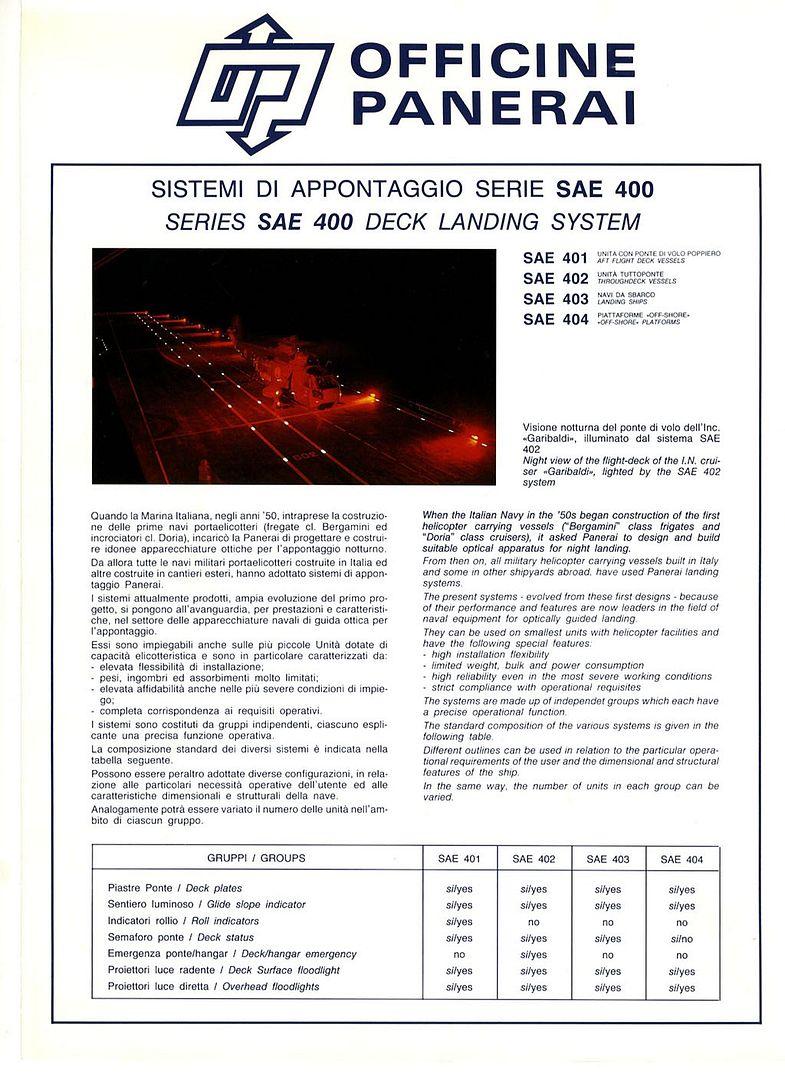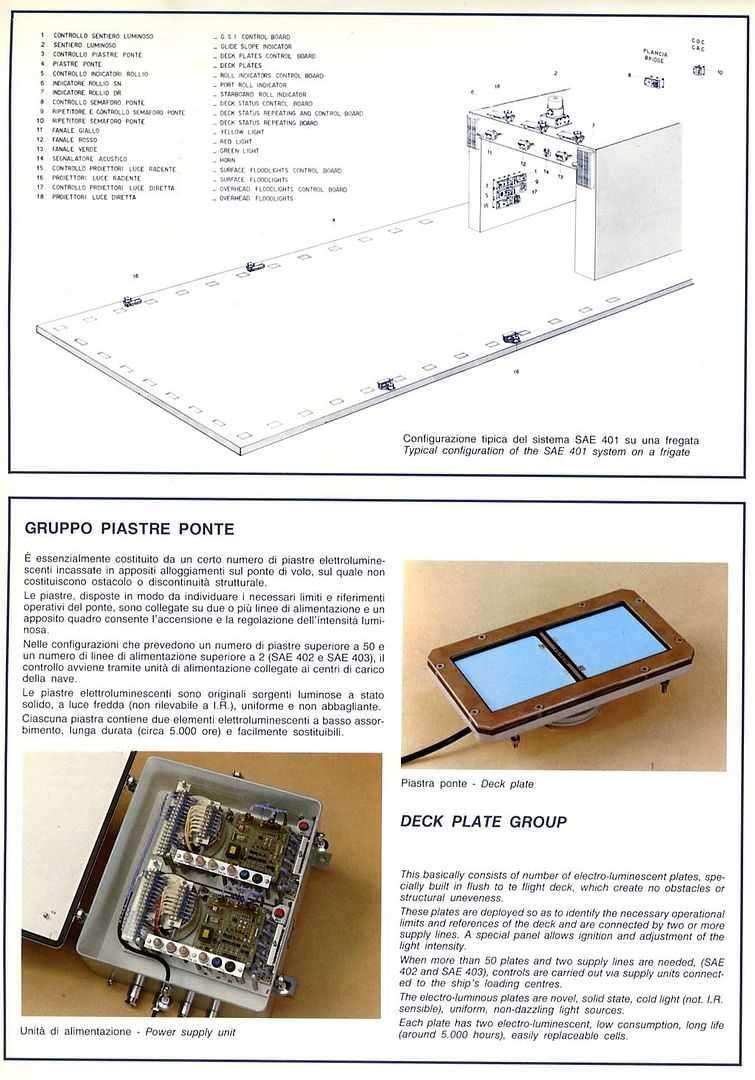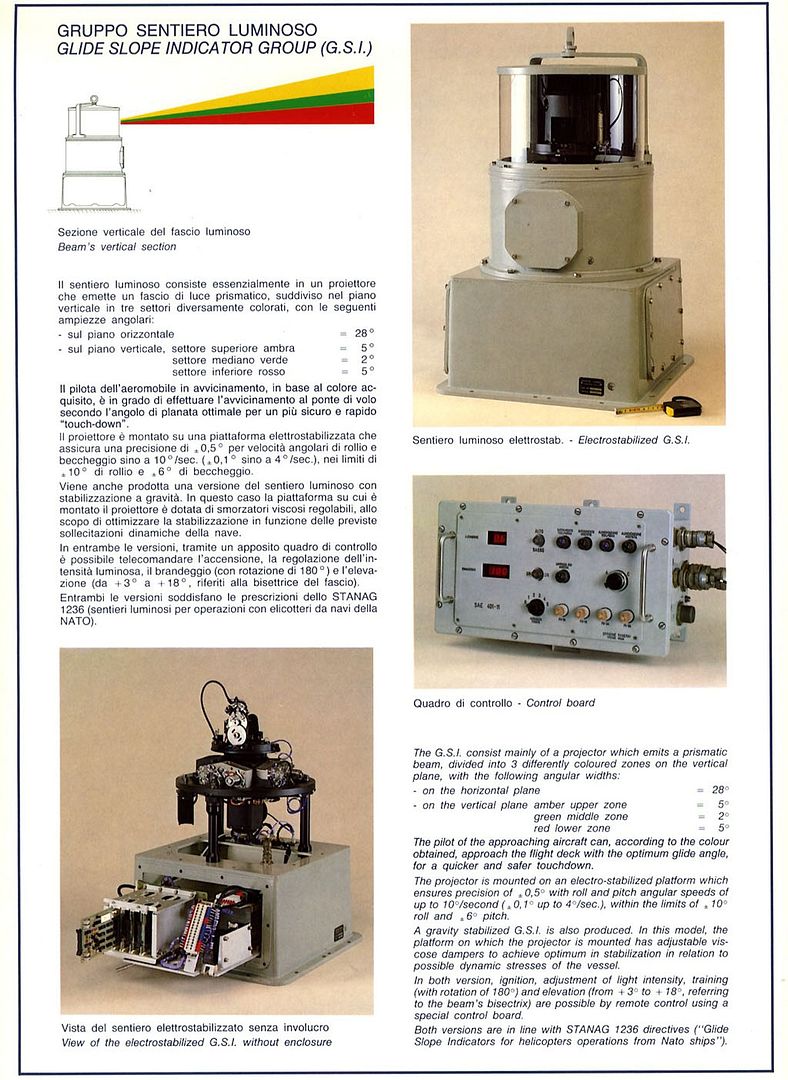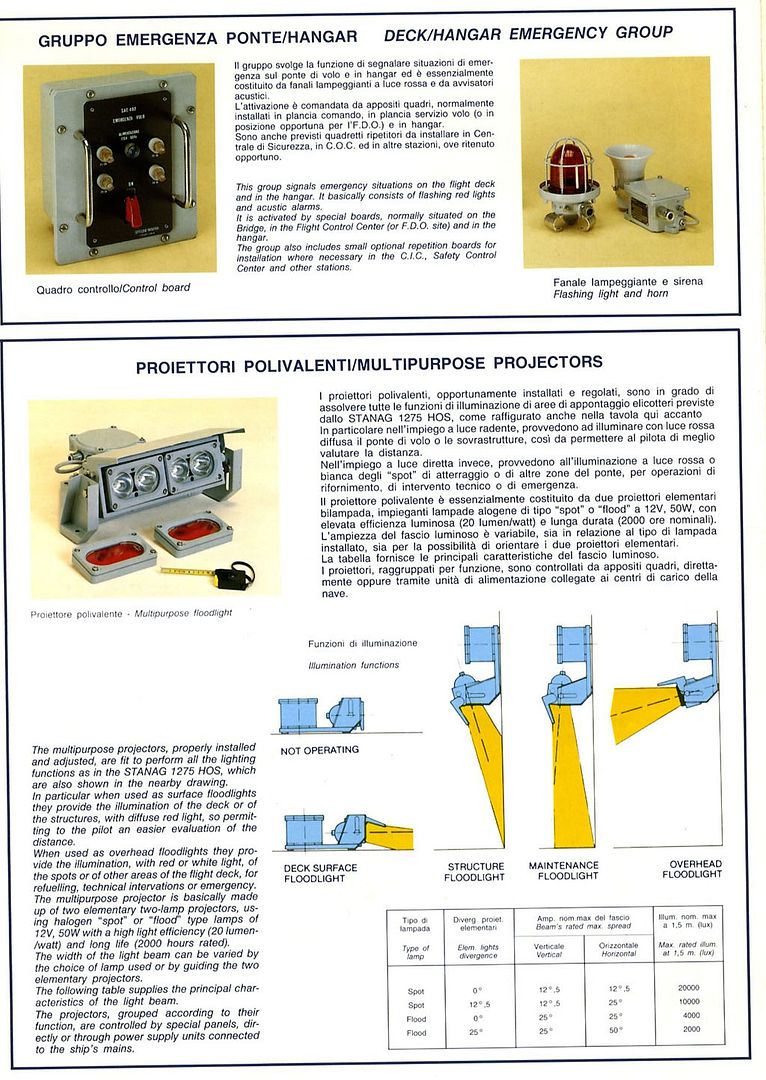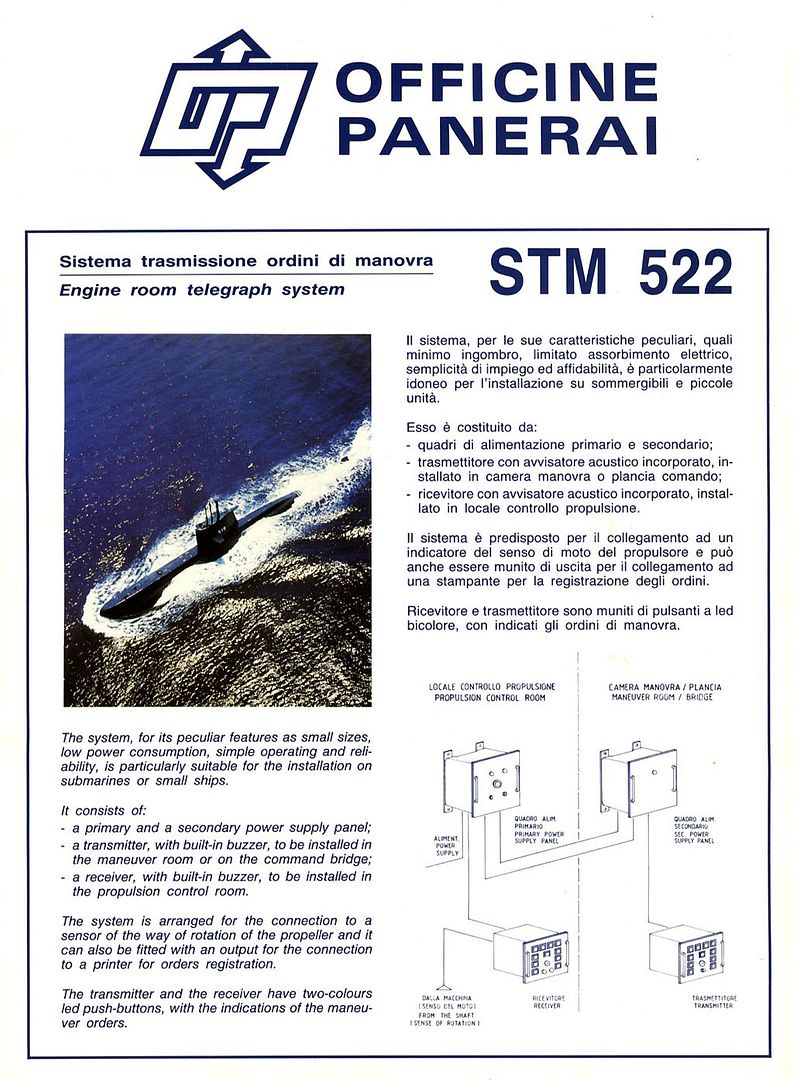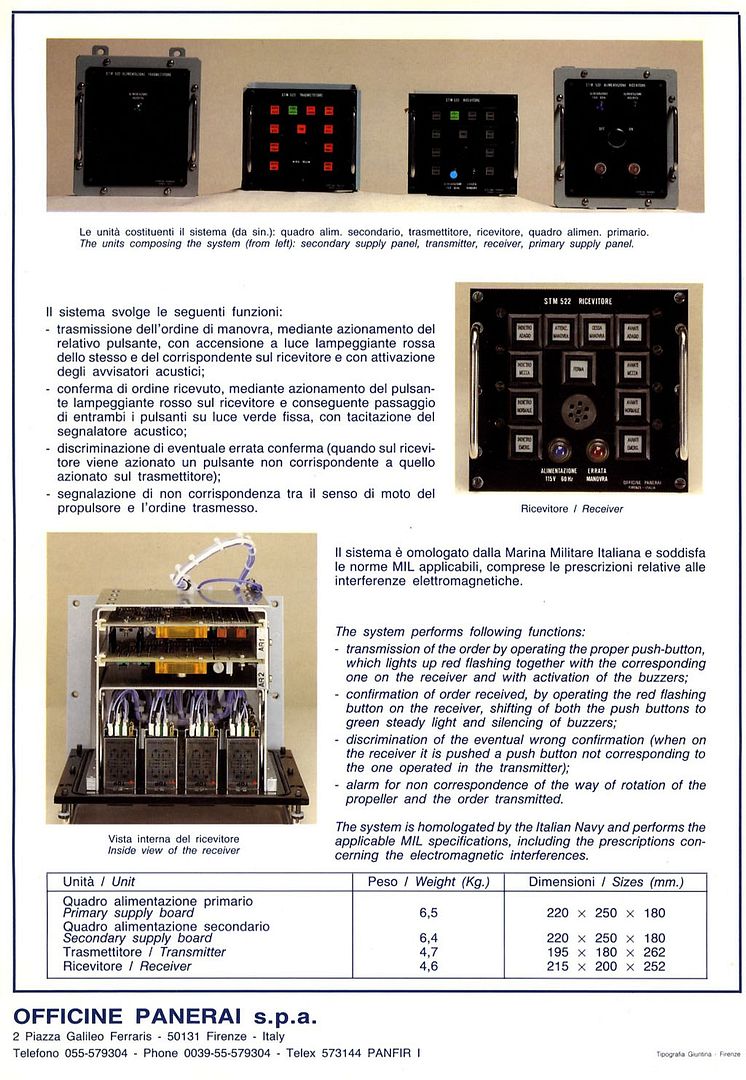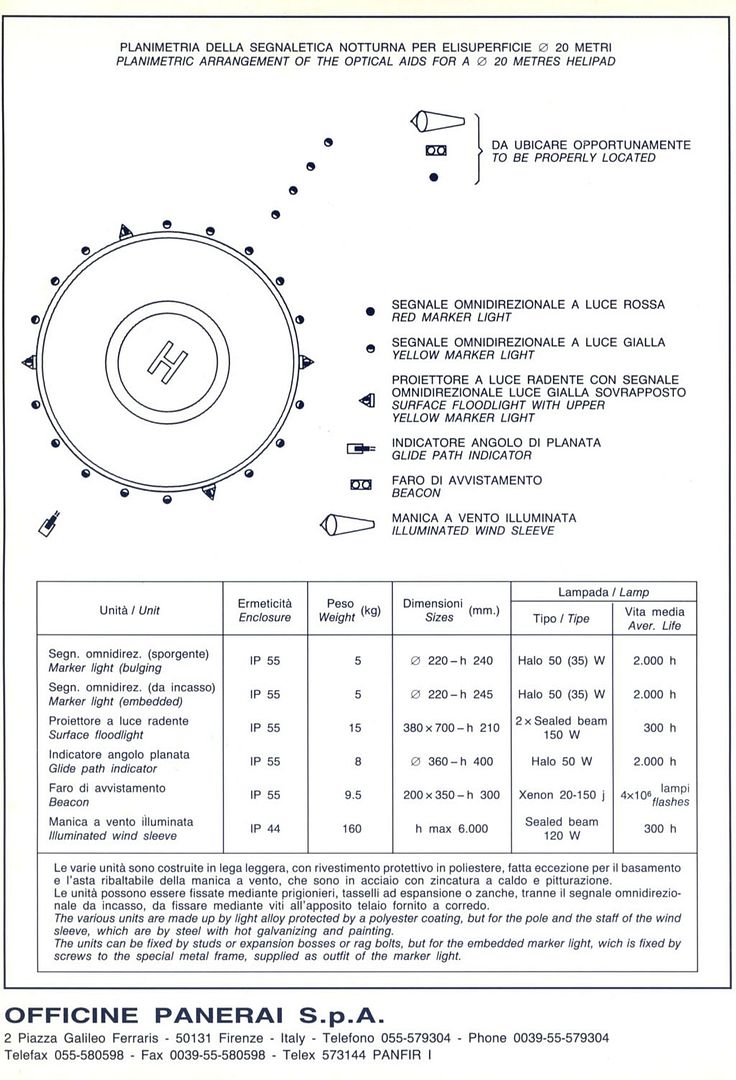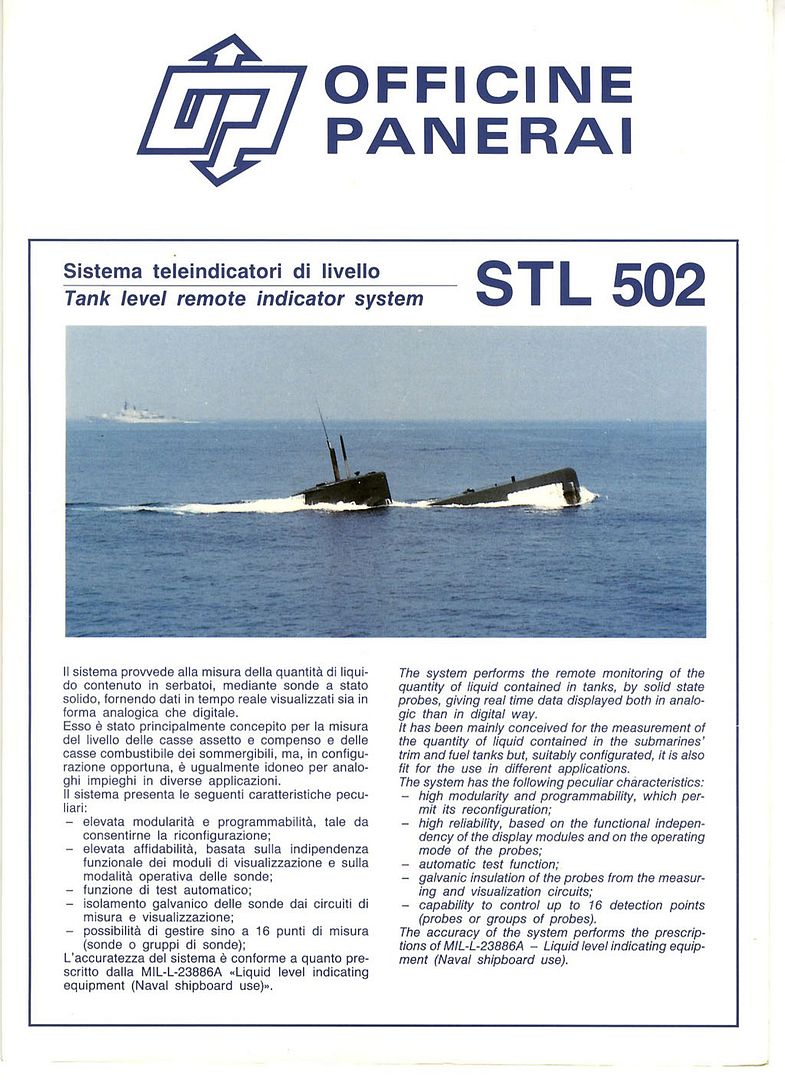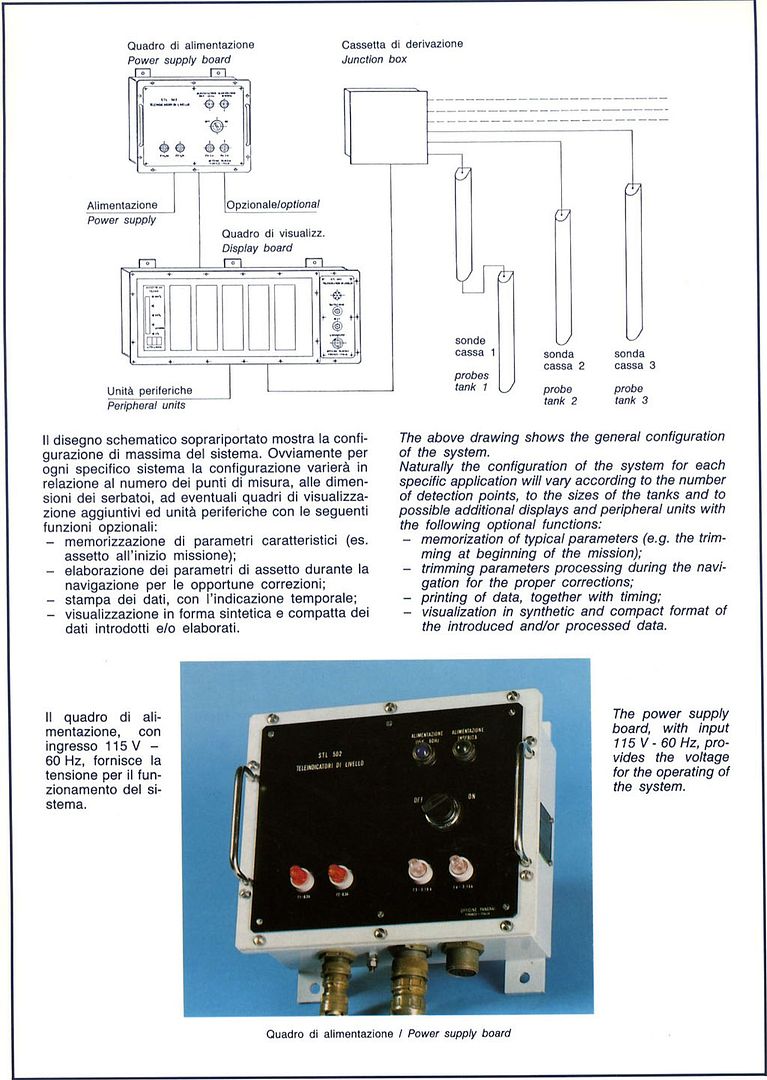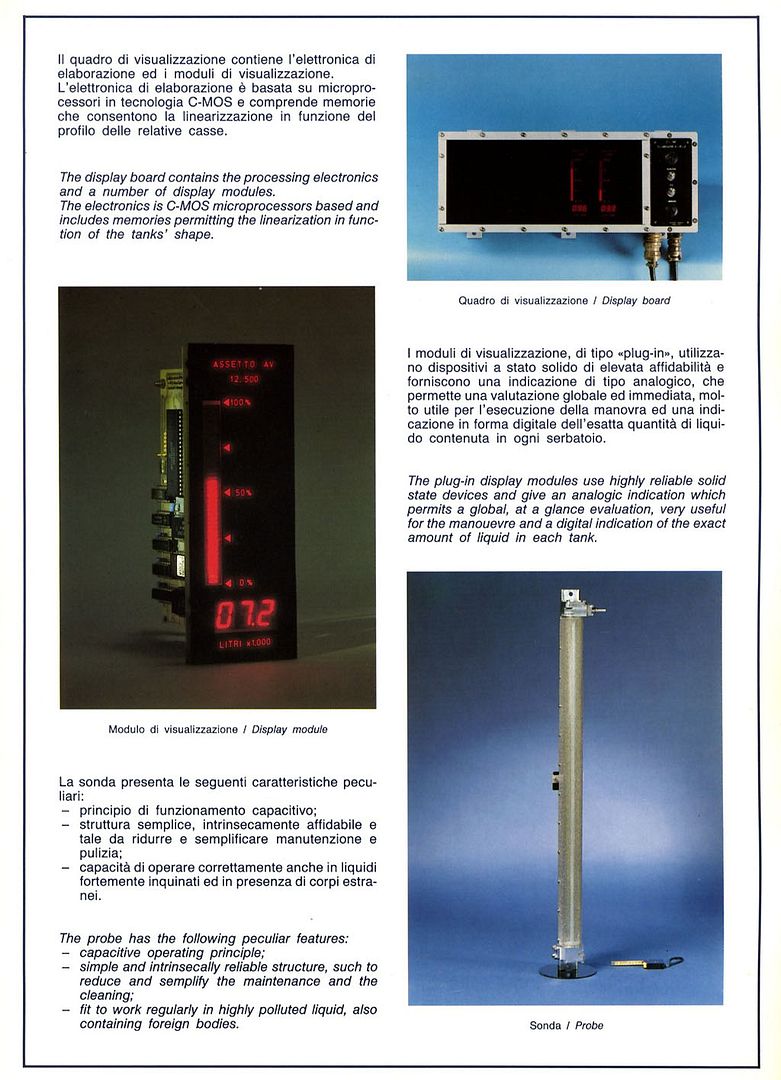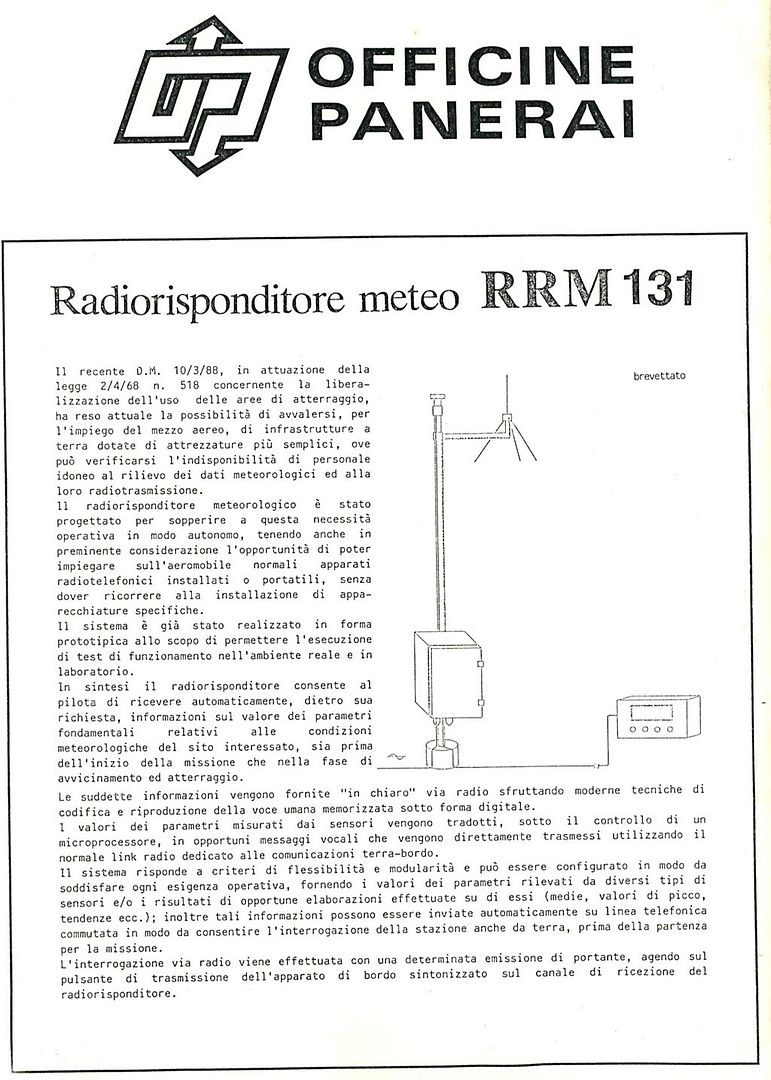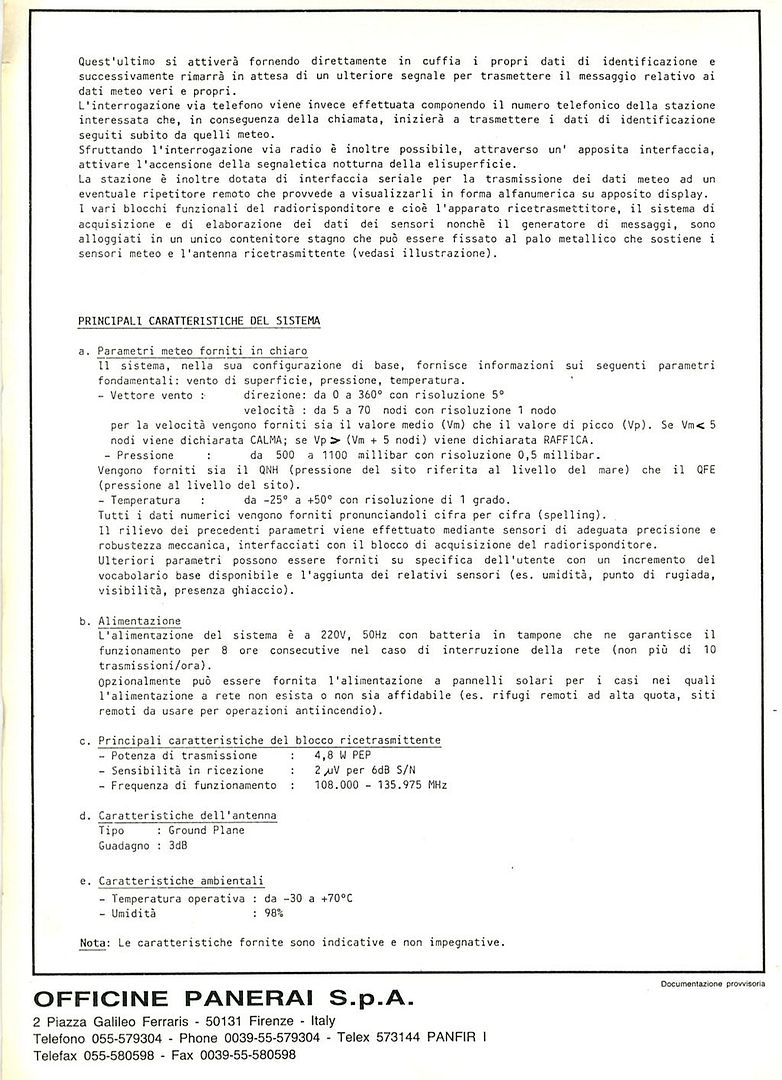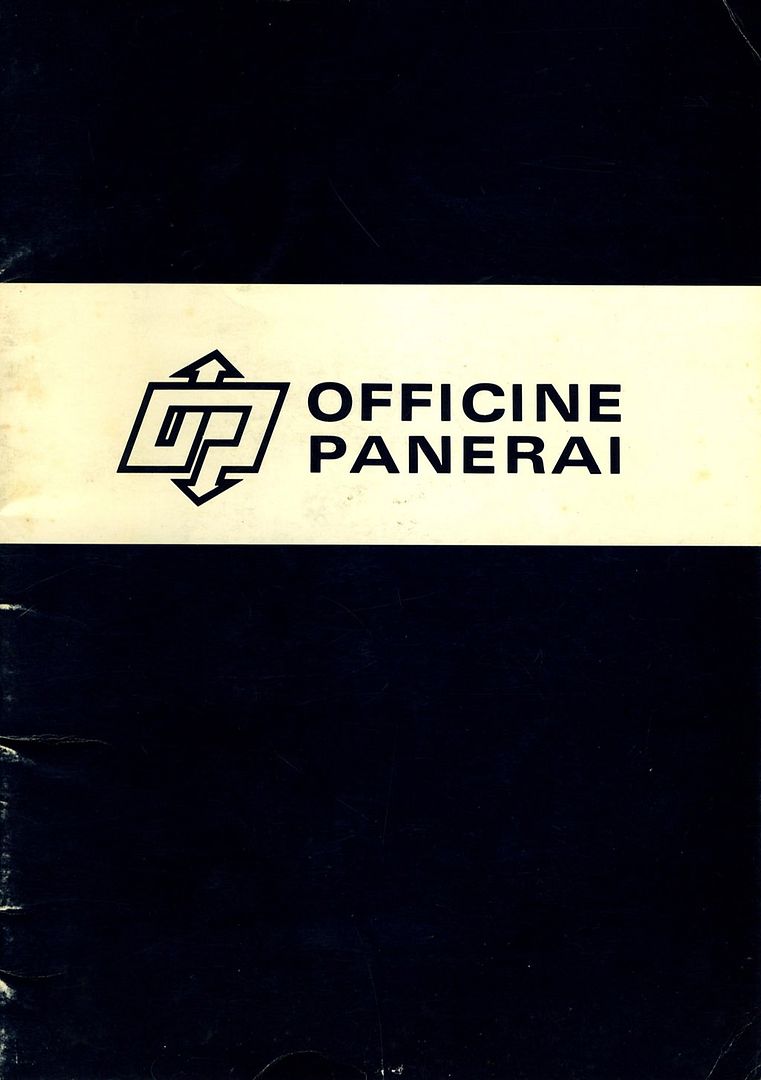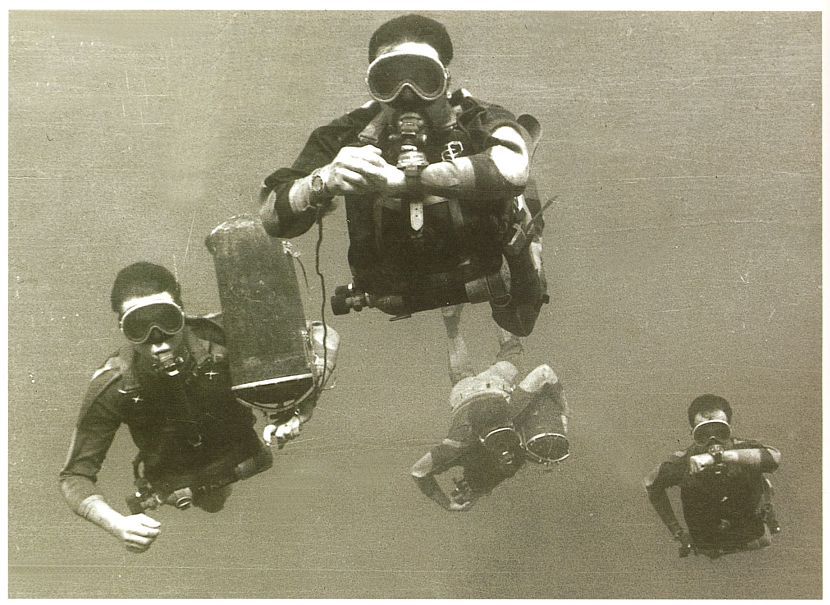 Con l' inizio degli anni 90 ritorna il mito, le Officine Panerai decidono di presentare alcune serie di modelli in edizione limitata.
Per la prima volta la Panerai offre i suoi prodotti direttamente al pubblico, nel 1993 le prime serie vengono presentate con gli onori che spettano a chi ha fatto la Storia dell' orologeria Italiana.
With the beginning of the 90's the legend returns, the Officine Panerai decide to present a few limited edition model series.
For the first time Panerai offers its products directly to the public. In 1993 the first series are presented with honors worthy of who created the history of Italian watch making.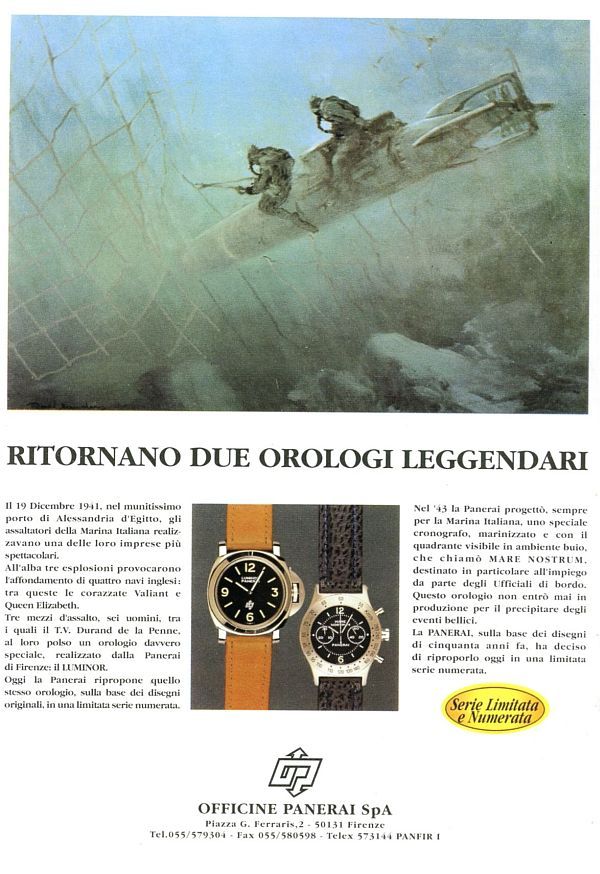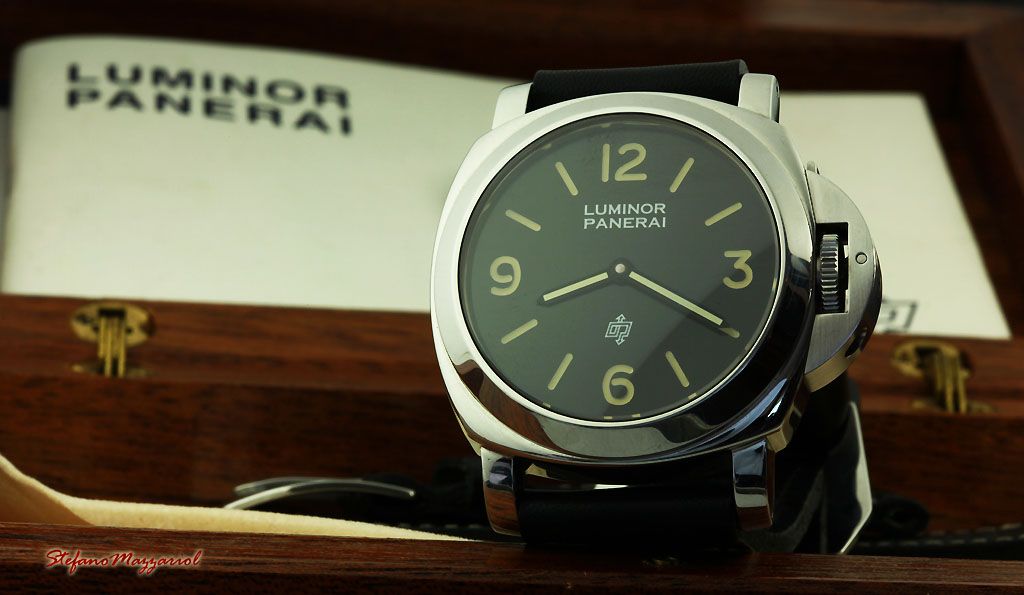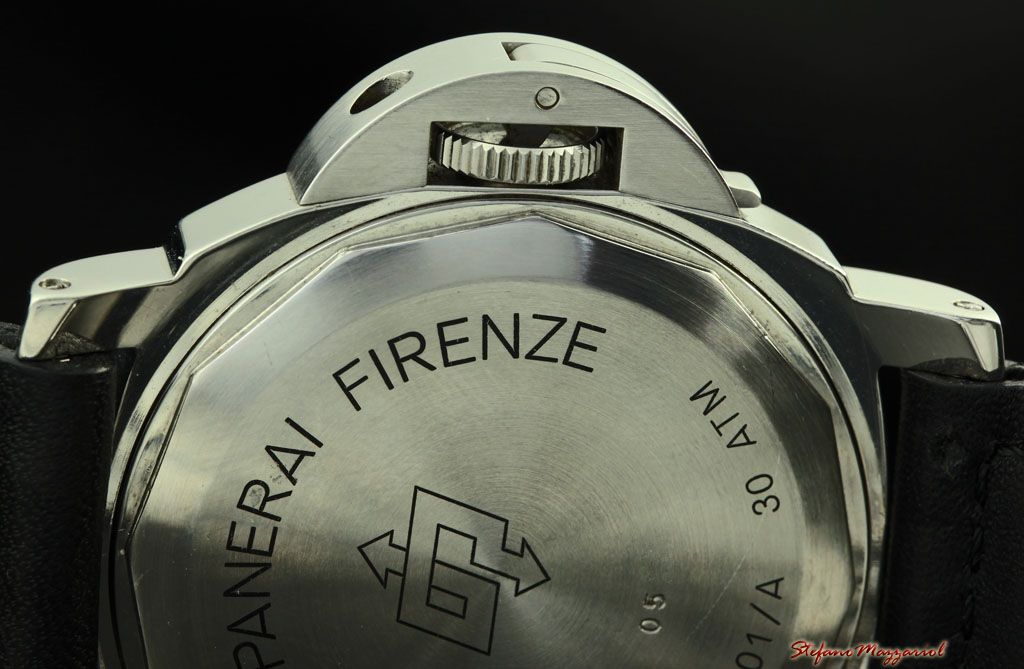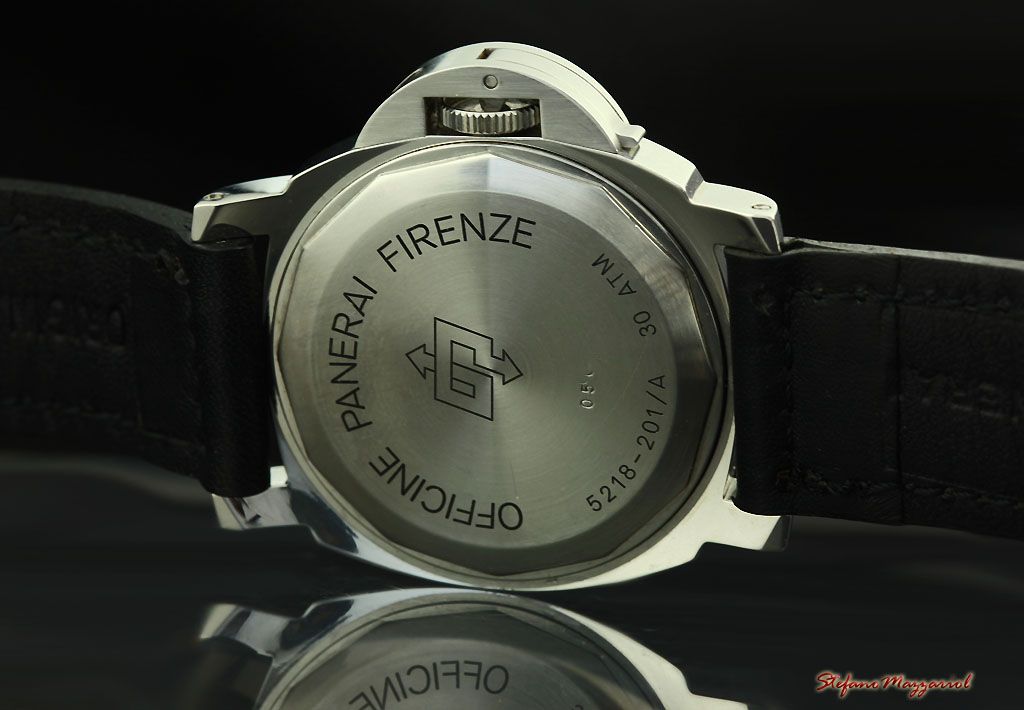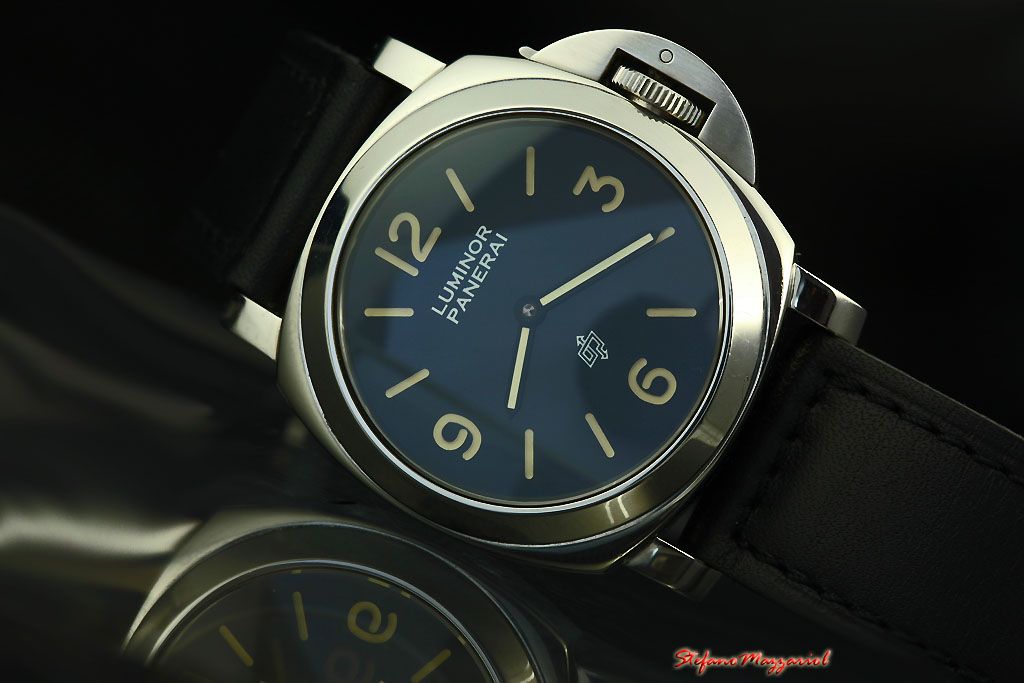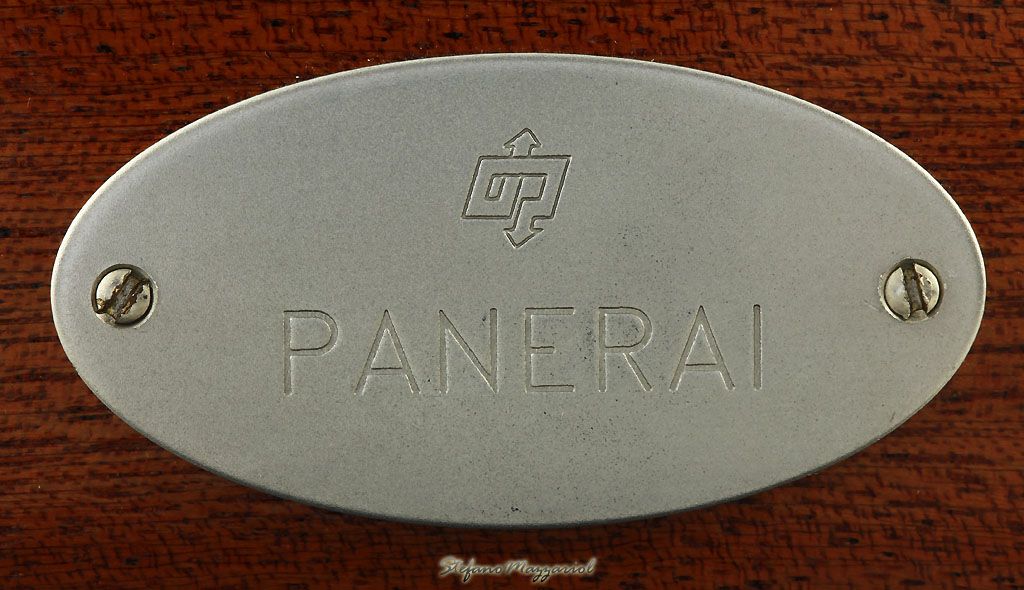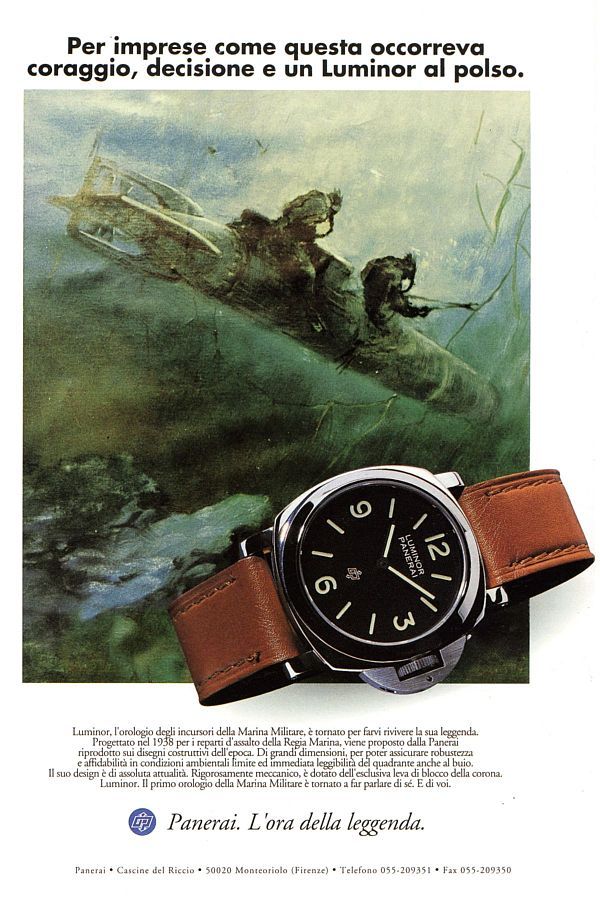 Il LUMINOR Logo ref. 5218-201/A cassa in acciaio lucido AISI316L forma a cuscino con le anse ricavate dalla stessa, la lunetta e' montata a forzamento sulla carrure, le dimensioni della cassa senza ponte e anse sono di 44 mm, il fondello in acciaio è avvitato con una chiave speciale a 12 facce ha inciso a semicerchio OFFICINE PANERAI FIRENZE ed al centro il logo OP sotto il logo stesso la numerazione progressiva quindi nel semicerchio opposto il numero di referenza ed il dato di tenuta stagna 30atm pari a 300metri (anche se le prove sono state fatte per 40atm).
The LUMINOR Logo ref. 5218-201/A with a polished steel cushion shaped case AISI316L and integrated lugs. The bezel is force mounted on the case. The dimensions of the case without winding bridge and lugs is 44mm in diameter. The steel back is screwed on with a special 12 faced key and has a semicircle incision OFFICINE PANERAI FIRENZE and in the center the logo OP. Below the logo is a progressive numeration and in the opposite semicircle the reference number and the watertight rating 30atm equal to 300 meters (even if the tests were done for 40atm).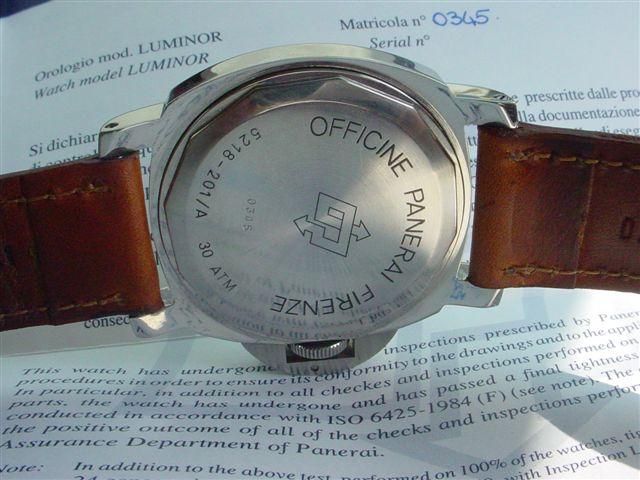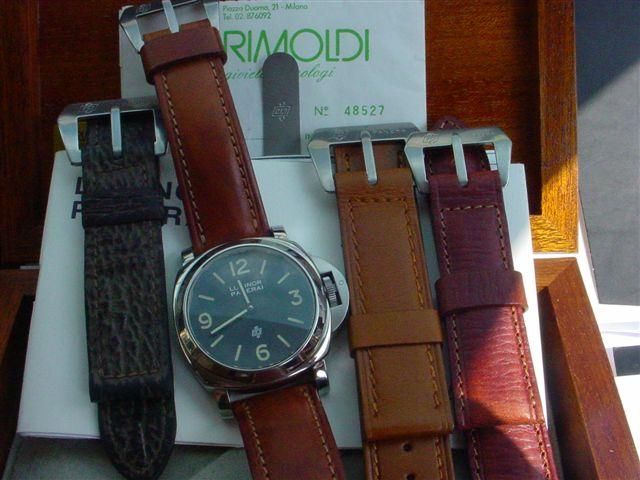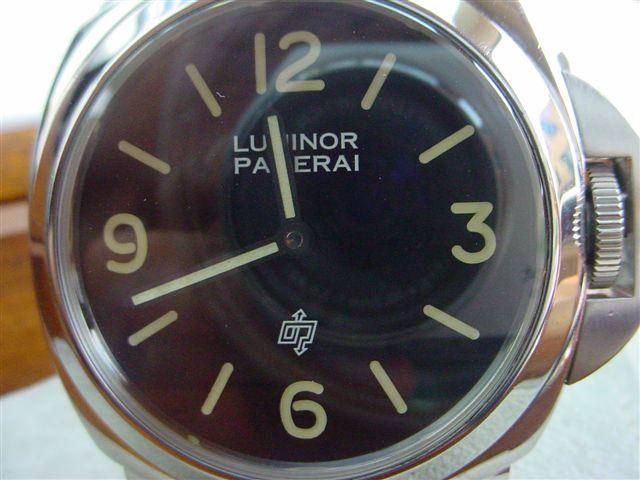 E' un vero colosso per il periodo, presenta ad ore 3 il ponte proteggi corona satinato, viene prodotto in 10 prototipi e della prevista serie regolare di 899 esemplari solo una parte venne prodotta mentre un 'altra parte venne utilizzata in futuro per creare i modelli per Stallone (ne parleremo più avanti) di conseguenza la cifra stimata dei Luminor logo prodotti in serie regolare e' di 677 pezzi, compreso un prototipo mancino, al suo interno batte il cuore di un calibro solido e affidabile come l' UNITAS 6497 in 16linee e ½ a 17rubini lavorato a linee di Ginevra e regolato su 4 posizioni, il quadrante e' in ottone con cifre arabe al 3, 6, 9, 12 e indici a barretta fresati e riempiti con una miscela a base di trizio (ISO 8/3) la dicitura sul quadrante è a ore 12 LUMINOR PANERAI ed a ore 6 il logo OP,le lancette sono a bastone con la parte centrale al trizio, il vetro in zaffiro 3,5mm di spessore e' inserito a pressione sulla lunetta con guarnizione di tenuta, il peso dell' orologio compreso di cinturino, si aggira sui 130 grammi.
L'orologio era fornito all'interno di un cofanetto di legno di mogano pregiato insieme al proprio libretto matricolare e di assistenza, contenente le norme di manutenzione periodica suggerite, le schede di manutenzione, il tagliando di garanzia ( la garanzia del produttore e' di 2 anni) ed il certificato di conformità specifico di ciascun orologio attestante le verifiche eseguite e firmato dal responsabile del controllo di qualità, vi e' anche un cinturino di riserva in pelle KODIAK maggiorato, mentre di solito montava un cinturino in pelle di squalo grigio, entrambi i cinturini avevano una fibbia ad ardiglione cucita direttamente al cinturino, c'erano anche un cacciavite per il cambio con 4 viti e 2 tubetti di scorta, il cinturino era fissato con 2 viti contrapposte avvitate su un tubetto.
Dopo 50 anni il progetto del MARE NOSTRUM vede finalmente una serie regolare e con la referenza 5218-301/A nasce il primo cronografo Panerai con una cassa rotonda ed anse a corna in acciaio AISI 316L 42mm, i tasti per il crono a pompa, inseriti in 2 corpi avvitati alla cassa, la corona e' sovradimensionata, sul fondello, serrato a vite con 6 punti di presa per la chiave, sono incise oltre al marchio OFFICINE PANERAI FIRENZE a semicerchio, il logo OP al centro con sotto il numero di matricola, quindi la referenza ed il dato di tenuta stagna 5 atm sempre a semicerchio.
A true colossus of its time presents a satin finished crown protecting bridge at 3 o'clock. 10 prototypes were made, and of the standard series of 899 samples only a part of them were produced while the other part was used in the future to create models for Stallone (we will discuss this shortly) therefore the estimated number of Luminor Logo produced as part of the standard series was 677 including a left handed prototype. Inside it beats the heart of a solid and reliable caliber, the UNITAS 6597 in 16 ½ lines with 17 rubies tooled in Geneva lines and set on 4 positions. It has a brass dial with Arabic numbers at 3, 6, 9,12 and hour marker lines all milled and filled with a tritium based mixture (ISO 8/3). The writing LUMINOR PANERAI on the dial is at 12 o'clock with the OP logo at 6 o'clock.
The hands are stick shaped with a tritium center. The 3.5mm thick sapphire crystal was pressed into the bezel with a sealing gasket. The weight of the watch including the band is approximately 130 grams.
The watch was supplied in a fine wooden mahogany box together with the serial and assistance booklet containing the suggested periodic maintenance, maintenance schedules, warranty certificate (the manufacturer's warranty was 2 years) and the certificate of compliance specific to each watch, signed by the quality assurance manager attesting compliance with all tests performed. It also contains a spare band in KODIAK leather, while the original was usually a grey shark skin band. Both bands have a barbed clasp sewn directly to the band. A small screwdriver and replacement screws and tubes were included for substituting the bands which were attached to the lugs by two opposing screws inserted in each end of a small tube.
After 50 years, the project MARE NOSTRUM finally sees a regular series and with reference 5218-301/A. The first Panerai chronograph is born with a round steel case and horn shaped lugs AISI316L 42mm. The keys for the pump chronograph, inserted into two bodies screwed onto the case and the crown is oversized. On the back which is bolted to the case with hexagonal key screws, besides the OFFICINE PANERAI FIRENZE in a semicircle, are inscribed the OP logo in the center with the serial number below it, then the reference and the waterproof rating of 5atm in another semicircle.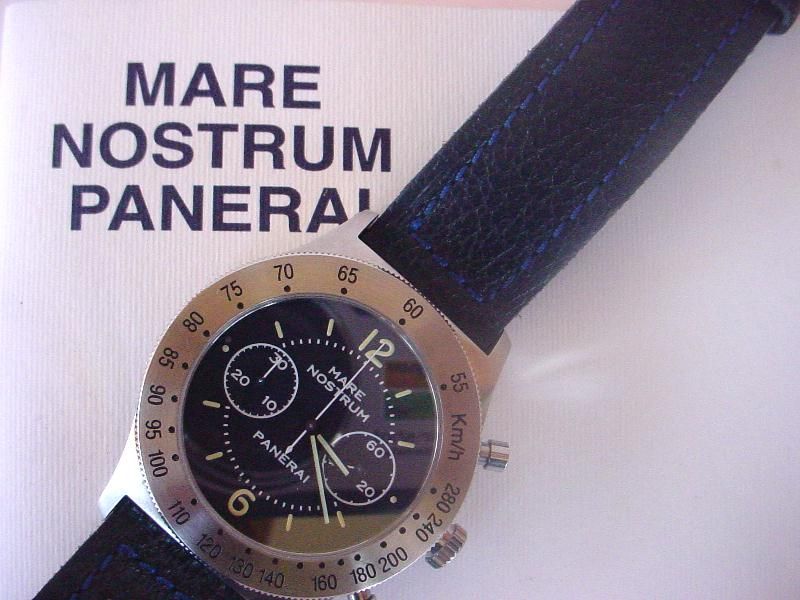 La lunetta e' incisa con una scala tachimetrica ed e' inserita a pressione sulla cassa, monta un calibro Eta2801-2 di 11 linee e ½ a carica manuale come base con platina inserita Dubois-Dèpraz calibro 3127 per la sezione cronografica di 13 linee e 1/4 , diametro di 30 mm e 6,25 mm in altezza con 43 rubini totali, viene prodotto in 1000 esemplari però come sopra solo una parte verrà terminata mentre il resto verrà utilizzata per i modelli Slytech e una parte verrà ceduta al gruppo Vendòme oggi Richemont (398 pezzi ceduti) ricapitolando 10 prototipi e 492 in serie regolare, come per il logo l'orologio e' contenuto in un cofanetto di legno di mogano pregiato insieme al proprio libretto matricolare e di assistenza ,con un cinturino di riserva in pelle di squalo blù (blu è anche il quadrante in ottone che presenta i contatori dei minuti ad ore 9 ed i secondi continui ad ore 3mentre le funzioni sono di ore minuti e secondi crono al centro, gli indici sono a barretta e ad ore 12 e 6 sono presenti i rispettivi numeri arabi) . Nel dicembre del 1993 la presentazione di questi primi 2 segnatempo viene fatta a La Spezia sull' incrociatore Durand De La Penne alla presenza di importanti personaggi della Marina Militare di ieri e del presente, per l'occasione viene anche edito una versione speciale con dedica alle Officine Panerai del libro i mezzi d'assalto della Xa flottiglia MAS 1940-1945.
Per la Marina Militare Italiana viene studiato un orologio particolare con ref. 5218-202/A il LUMINOR PANERAI MARINA MILITARE cassa in acciaio ASI316L ricoperta in PVD (nitrato di titanio) che la rende quasi nera opaca, come il logo ha solo la funzione di ore e minuti ed il quadrante presenta la doppia dicitura ad ore 12 Luminor Panerai ed a ore 6 Marina Militare, la produzione e' di 150 pezzi in totale di cui 10 prototipi (numerati da P01 a p10) e 2 serie, una di 90 pezzi nel 1993 e l'altra di 50 pezzi nel 1994, la numerazione e' progressiva da 001 a 140, alcuni di questi orologi vengono assegnati al reparto speciale della Marina Militare COMSUBIN ed altri donati ad autorità della Marina Stessa.
The bezel is engraved with tachometer scale and is pressed into the case. It contains a manual wound caliber Eta2801-2 with 11 ½ lines as the base with sinker insert Dubois-Depraz 3127 caliber for the chronograph section with 13 ¼ lines, a 30mm diameter and 6.25 mm height and 43 total rubies. 1000 samples were produced, but as above only some of them were completely finished while the others were used for the Slytech models and a part were transferred to the Vendome group (now called Richemont (398 pieces transferred), therefore to summarize, 10 prototypes and 492 regular series were made. As with the Logo, the watch was supplied in a fine mahogany box together with its serial number and assistance booklet with a spare band in blue shark skin (the brass dial is also blue which has a minute counter at 9 o'clock and the continuous seconds at 3 o'clock while the chronograph hour, minute and second functions are in the center. The hour indicators are bar shaped and at 12 and 6 o'clock the respective Arabic numbers are shown.)
In December of 1993 the presentation of these first 2 timepieces was done in La Spezia aboard the cruiser Durand De La Penne in the presence of important members of the Navy from both past and present. For the occasion a special edition of the book "I Mezzi d'assalto dell a ZA flottiglia MAS 1940-1945" (Assault vehicles of the ZA fleet MAS 1940-1945) was published with a dedication to the Officine Panerai.
For the Italian Navy a special watch was studied with ref. 5218-202/A the LUMINOR PANERAI MARINA MILITARE steel case ASI316L covered in PVD (titanium nitrate) which rendered it almost a matt black. As with the Logo it only has hour and minute functions and the dial bears the double writing at 12 o'clock Luminor Panerai, and at 6 o'clock Marina Militare.
150 total pieces were produced of which 10 were prototypes (numbered from P01 to P10) and 2 series, one of 90 pieces in 1003 and the other 50 pieces in 1994. The numbering is progressive from 001 to 140. Some of these watches were assigned to the special division of the Navy COMSUBIN and others were gifted to authorities of the Navy itself.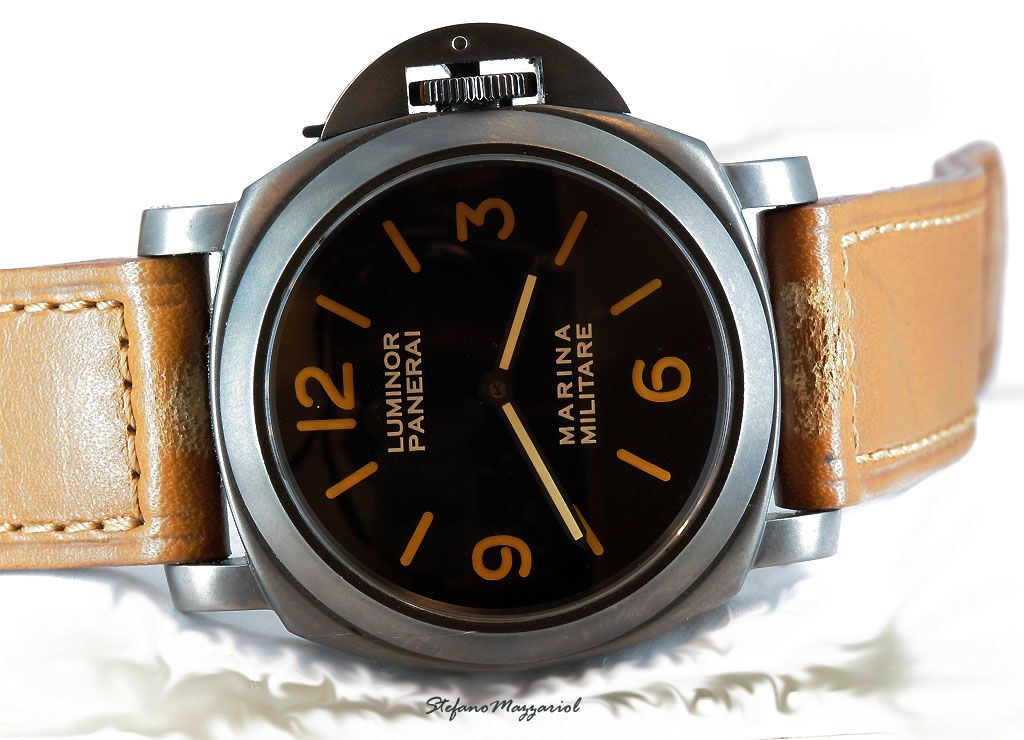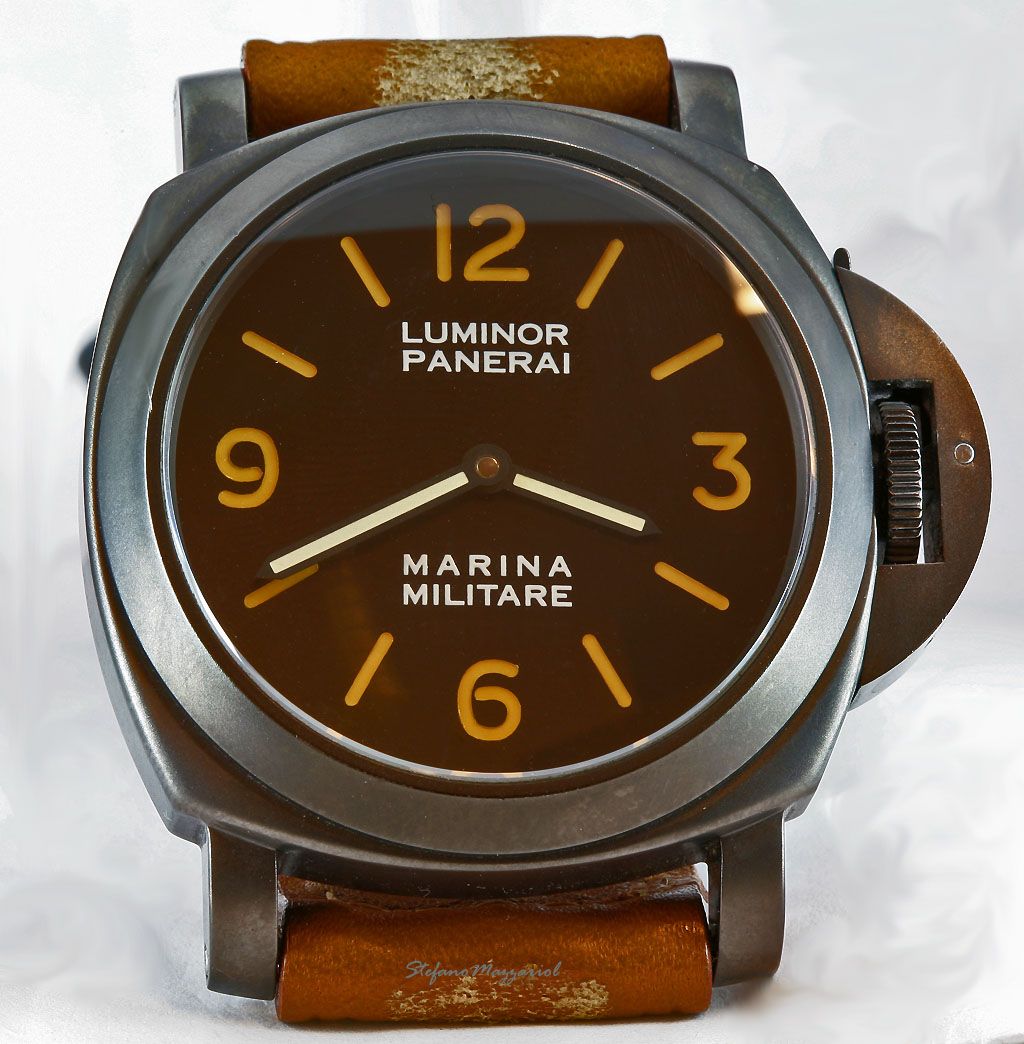 Sul fondello in acciaio con lavorazione a satinatura circolare all'esterno, sono presenti come nel logo le incisioni a semicerchio della referenza, il dato di impermeabilita' 30atm e la dicitura OFFICINE PANERAI FIRENZE con il classico logo a centro fondello e sotto l' incisione del numero seriale. Il peso dell'orologio e' di circa 130 grammi ed anche qui la garanzia e' di 2 anni.
Sempre in PVD viene prodotto nel 1994 il LUMINOR MARINA ref.5218-203/A in 200 esemplari con numerazione progressiva incisa sul fondello, il quadrante ad ore 9 presenta i piccoli secondi con una piccola lancetta a foglia, inoltre la scritta ad ore 12 e' Luminor Marina ed a ore 6 Panerai, il cinturino e' in pelle e la fibbia in acciaio trattato PVD per entrambi, anche per queste due versioni il cofanetto e' in legno di mogano pregiato in allegato il libretto di garanzia ed un secondo cinturino di riserva in pelle Kodiak maggiorato nelle dimensioni per l'utilizzo sopra la muta da sub.
Nel 1995 avviene la svolta, l' attore Sylvester Stallone e' a Roma per girare il film Daylight per caso vede un Panerai in vetrina e se ne innamora, gira il film con un logo al polso e chiede alla Panerai un paio di edizioni speciali a suo nome con la dicitura SLYTECH, nascono cosi i primi 2 modelli.
On the steel back with a circular processed satin finish on the external side as with the Logo, the semicicle engravings of the reference, waterproof rating 30atm and the writing OFFICINE PANERAI FIRENZE are present with the classic logo in the center and the serial number below. The weight of the watch is approximately 130 grams and once again the warranty is for 2 years.
In 1994 200 LUMINOR MARINA ref. 5218-203/A were produced in PVD with progressive numbering engraved on the back. The dial has a small seconds dial at 9 o'clock with a small leaf shaped hand. The writing at 12 o'clock is Luminor Marina and at 6 o'clock Panerai. The band is leather and the clasp is PVD treated steel for both. Both of these versions also come in the fine mahogany box together with the warrantee booklet and a second spare band of Kodiak leather large enough to be used over the diving suit. In 1995 comes the turn of events: the actor Sylvester Stallone is in Rome to shoot the film Daylight and happens to see a Panerai in a store window and falls in love. He shoots the film with a Logo on his wrist and asks Panerai for a pair of special editions in his name with the writing SLYTECH, and so the first two models were born.
LUMINOR SUBMERSIBLE 5218-205/A ( quadrante nero con piccoli secondi al 9 e la doppia dicitura sul quadrante LUMINOR SUBMERSIBLE ad ore 12 e ad ore 6 SLYTECH PANERAI, 12 prototipi con fondello del logo 5218-201/A numeri di matricola 872,873,875,876,880,881,882,885,886 e 887 mentre 95 esemplari della serie regolare avevano la numerazione progressiva da 001/200 a 095/200, visto che erano previsti 200 esemplari in 2 anni ma si riuscirono a terminare solamente 95 esemplari di cui 38 vennero trasferiti al gruppo Vendòme dopo la vendita del marchio, sul fondello c'era la dicitura SLYTECH PANERAI SPECIAL EDITION SYLVESTER STALLONE ed al centro la firma autografa dell'attore stesso)
Il LUMINOR DAYLIGHT 5218-207/A (quadrante bianco con piccoli secondi al 9 e la doppia dicitura LUMINOR DAYLIGHT, SLYTECH PANERAI sul fondello era inciso OFFICINE PANERAI FIRENZE SPECIAL EDITION SYLVESTER STALLONE ed a centro fondello la firma autogafa di Sly) entrambi i modelli montano l'oramai collaudato movimento UNITAS 6497, inoltre il Daylight monta un quadrante bianco con i classici numeri arabi neri e punti luminescenti ai punti cardinali, e la minuteria stampata all'esterno con numerazione progressiva da 001 a 105/200 ma come per il gemello submersible solo una parte venne prodotta ed inoltre e' curioso sapere che tra questi 105 esemplari una dozzina e' con indici e numeri blu con grafica diversa ,questo perchè in principio era previsto appunto un quadrante bianco con indici a barretta e numeri arabi blu ai punti cardinali ma a Stallone non piaceva questo quadrante e volle rifarlo ma nel frattempo una dozzina di questi orologi era già stata venduta quindi questi orologi sono una vera rarita', inoltre il dayligth e' l'unico Panerai solotempo con tenuta a 15atm pari a 150 metri (questo perchè il fondello era stato recuperato dai logo rilavorato e inciso nuovamente asportando del materiale) .
The LUMINOR SUBMERSIBLE 5218-205/A (black dial with small seconds dial at 9 o'clock and double writing on the dial LUMINOR SUBMERSIBLE at 12 o'clock and at 6 o'clock SLYTECH PANERAI, 12 prototypes with logo back 5218-201/A serial numbers 872,873,875,876,880,881,882,885,886 and 887 while 95 specimens of the regular series had progressive numbering from 001/200 to 095/200 since 200 specimens were planned for the next 2 years but they were only able to complete 95 of which 38 were transferred to the Vendome group after selling the trademark, on the back was the writing SLYTECH PANERAI SPECIAL EDITION SYLVESTER STALLONE and in the center the autograph of the actor himself.
The LUMINOR DAYLIGHT 5218-207/A (white dial with a small seconds dial at 9 o'clock and double writing on the dial LUMINOR DAYLIGHT, SLYTECH PANERAI. With OFFICINE PANERAI FIRENZE SPECIAL EDITION SYLVESTER STALLONE engraved on the back and Sly's autograph in the center). Both models are mounted with the newly tested movement UNITAS 6497. Furthermore the Daylight has a white dial with the classic black Arabic numbers and luminescent dots at the cardinal points and minute ring printed on the outer edge. The numbering is from 001 to 105/200 but as with the submersible twin only a part of the series is produced and it is also peculiar to note that among these 105 specimens a dozen have hour indicators and numbers in blue with different graphics. This was because in the beginning a white dial with barred hour indicators and Arabic numbers at the cardinal points was designed but Stallone didn't like it. In the meantime a dozen of these watches had already been sold so these watches are extremely rare. The Daylight is also the only Panerai time-only watch with a waterproof rating of 15atm equal to 150 meters (this is because the back was taken from the Logo, re-machined and engraved again removing some of the material).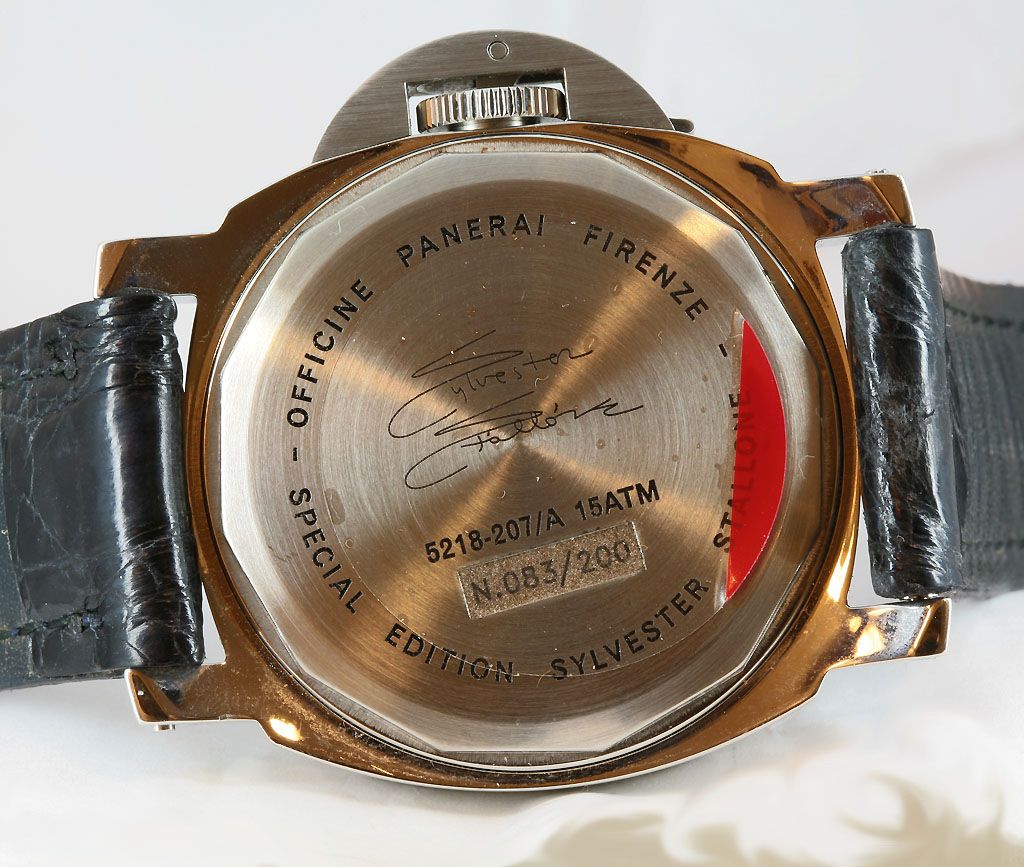 Due edizioni firmate Slytech anche per il Mare Nostrum, con ref. 5218-302 lunetta con scala tachimetrica e 5218-304 con lunetta liscia trattata in PVD platino, il quadrante uguale per entrambi i modelli e' blu con la dicitura MARE NOSTRUM ad ore 12 e PANERAI SLYTECH ad ore 6 ,(50 orologi per modello, questi 100 pezzi facevano parte dei 1000 iniziali) sul fondello incise ci sono la firma dell'attore al centro insieme alla referenza ed alla numerazione che va da 001/500 a 050/500, quindi in giro al fondello la scritta OFFICNE PANERAI FIRENZE SPECIAL EDITION SYLVESTER STALLONE.
Quasi tutte le edizioni Slytech avevano a corredo un grande cofanetto di legno di Radica che conteneva un modellino del SLC per il Submersible ed il Daylight e l' incrociatore Durand DeLa Penne per i Mare Nostrum, 2 cinturini di scorta ed il volume "I mezzi d'assalto della Xa flottiglia MAS 1940-1945" edito in edizione speciale per la Panerai, a dire il vero però i modelli che dalla Panerai di Firenze passarono alla Vendòme e poi rivenduti ai clienti avevano una confezione più piccola in radica e senza modellino e libro al suo interno.
Nel 1996 era anche prevista una riedizione del modello Luminor logo in acciaio lucido per 350 esemplari ma ne furono prodotti solo 12 con la ref. 5218-209 con la modifica del sistema di fissaggio per il cinturino ad una sola vite passante su di un'ansa e avvitata all'altra, in gergo collezionistico definita "vitone".
Sempre nello stesso anno il modello Luminor Marina doveva essere prodotto in 150 esemplari in cassa acciaio trattata PVD ma ne vennero presentati solo 2 con la ref. 5218-210 con la modifica della vite per il montaggio del cinturino, la ditta Italiana che doveva fornire le casse non consegnò in tempo le forniture.
Invece 2 casi curiosi sono il Luminor Sub ref. 5218-206/A (con ghiera girevole brevettato Panerai) ed il Luminor BlackSeal Slytech ref. 5218-218 (in PVD) entrambi dovevano essere prodotti in Italia con il classico Unitas al loro interno ma non furono mai presentati alla Panerai, in circolazione ci sono 5 esemplari per modello, entrambi con piccoli secondi al 9.
Nel 1997 la Panerai cedette il ramo orologi al gruppo Cartier meglio conosciuto Vendòme Luxory gruop, le serie precedenti a questa data sono definite appunto pre Vendome, per Panerai questa data e' uno spartiacque, il gruppo Cartier ha la possibilità di lanciare il proprio prodotto su scala mondiale e così sarà.
La prima serie Storica del nuovo corso e' millesimata sul fondello e vede la luce in vari modelli e cassa acciaio lucido o PVD, quadrante bianco o nero con indici e cifre arabe al trizio, 1000 pezzi in totale suddivisi in varie referenze PAM (Panerai Model) 01,03 e 04 per il LUMINOR MARINA (ore minuti e piccoli secondi al 9) e PAM02, 09 e 10 per il LUMINOR definito base solo ore e minuti. Oltre alla millesimazione sul fondello sono incise anche la referenza e il numero seriale dell'orologio e logicamente il dato dell'impermeabilità 300metri.
I primi orologi costruiti sono assemblati con pezzi provenienti direttamente dalle forniture della Panerai di Firenze, casse, quadranti e movimenti, infatti su tutti questi modelli viene utilizzato un calibro di derivazione UNITS6497 ma che prende nome in OPI e OPII (per la presenza dei piccoli secondi ad ore 9) dentro una cassa di 44 mm in acciaio AISI 316L con il caratteristico ponte proteggi corona ad ore 3.
Inoltre ecco anche 400 Mare Nostrum in vari modelli e colori di quadrante, PAM06, 07 e 08, si diversificano dai modelli del '93 per la ghiera diversa ed il quadrante rivoluzionato con la minuteria esterna alle ore, oltre a essere anche bianco e nero e non solo blu. Questi primi orologi del nuovo corso vengono forniti in un cofanetto pregiato e con un cinturino di riserva con fibbia inclusa cucita.
Nello stesso anno nasce anche la prima Special edition ed e' sicuramente una delle piu' ambite e ricercate dai collezionisti, stiamo parlando del Radiomir pam21 in platino cassa a cuscino 47 mm di diametro prodotto in 60 esemplari con le anse a filo saldate alla cassa e 2 fondelli, uno chiuso in platino con le incisioni al suo interno ed uno con il fondo a vista che permettere di osservare lo splendido Calibro Rolex 618 nella versione 17 rubini, il quadrante e' color tabacco con indici e cifre arabe ai punti cardinali, le sfere sono in oro giallo e la corona a vite e' personalizzata OP ed e' a "vaso".
Dal 1998 in poi sul fondello la millesimazione e' preceduta da una lettera che sta a significare l'anno di produzione e da questo anno in poi la linea storica e' affiancata anche una linea di orologi contemporanei, cito solo per dovere di cronaca il submersible, power reserve ed il GMT sono i primi modelli a veder la luce. La serie storica aumenta la tiratura e la millesimazione si suddivide per modello, il Luminor nelle sue versioni viene prodotto in 1000 esemplari mentre il Luminor Marina in 1500. Per la prima volta viene prodotto un Panerai per mancini (300 pezzi in serieA) pam22 in acciaio lucido e pam26 in PVD , ha la corona di carica ad ore 9 e i piccoli secondi ad ore 3 monta un calibro OPII.Da questo momento la fibbia ad ardiglione del cinturino perde la forma storica e prende la forma del ponte proteggi corona, e a volte il cinturino di riserva e' un cinturino tecnico in velcro.
There were also two signed Slytech editions for the Mare Nostrum with ref. 5218-302 bezel with tachometric scale and 5218-304 with polished bezel treated with PVD. The dial is the same for both models, blue with the writing MARE NOSTRUM at 12 o'clock and PANERAI SLYTECH at 6 o'clock. (50 watches per model, these 100 pieces made up part of the first 1000). On the back the signature of the actor is engraved in the center together with the reference number and the series numbering that goes from 001/500 to 05/500, and the writing OFFICINE PANERAI FIRENZE SPECIAL EDITION SYLVESTER STALLONE is around the edge. Nearly all editions of the Slytech come with a briar root wood box that contains a small model of the SLC for the Submersible and Daylight and the cruiser Durand De La Penne for the Mare Nostrum , 2 replacement bands and the special Panerai edition volume of "I mezzi d'assalto della Xa flottiglia MAS 1940-1945". To tell the truth however, the models that Panerai of Florence transferred to Vendome and then sold to clients had a smaller briar root wood package without the model ship and book.
In 1996 there were plans to reissue 350 specimens of the Luminor logo model in polished steel but only 12 were produced with the ref. 5218-209 with a modification to the band attachment system to a single screw which passed through one lug and screwed into the other, in collectors slang defined as the "big screw".
During the same year 150 specimens of the Luminor Marina model were to be produced with a PVD treated steel case but only 2 were presented with the ref. 5218-210 with a modification to the band mounting screws. The Italian company who was supposed to supply the cases did not deliver them in time.
However there are 2 curious cases: the Luminor Sub ref. 5218-206/A (with a Panerai patented rotating bezel) and the Luminor BlackSeal Slytech ref. 5218-218 (in PVD) both were supposed to be produced in Italy with the classic Unitas inside but were never presented to Panerai. Currently in circulation there are only 5 specimens per model, both with small seconds dials at 9 o'clock.
In 1997 Panerai gave its watch branch to the Cartier group better known as the Vendome Luxury Group. In fact the series preceding this date are defined pre Vendome. For Panerai this date was a watershed moment, the Cartier group had the possibility to launch their products on a world-wide scale, and in fact this was the case.
The first Historical series of this new trend is stamped with the thousands series number on the back and sees the light in various models with either PVD or polished steel case, white or black dials with hour markers and Arabic numbers made of tritium. 1000 pieces in total divided in various references PAM (Panerai Model) 01,03 and 04 for the LUMINOR MARINA (hours minutes and small seconds dial at 9 o'clock) and PAM 02, 09 and 10 for the LUMINOR base definition with only hours and minutes. Besides the thousands lot numbering, the reference and serial numbers of the watch and of course the waterproof rating to 300 meters are engraved on the back.
The first watches built were assembled with pieces coming directly from the suppliers of Panerai di Firenze, cases, dials and movements. In fact on all these models a caliber was used with origin UNITS6497 but which was named OPI and OPII (due to the presence of small seconds dials at 9 o'clock) inside a 44mm steel case AISI 316L with the characteristic crown protecting bridge at 3 o'clock.
Moreover we also see 400 Mare Nostrum in various models and dial colors, PAM 06, 07 and 08. These differ from the 1993 models because of a different bezel and a redesigned dial with a minute hand external to that of the hour, besides being available in black and white and not only blue. These first watches of the new trend come in a fine box and include a spare band with the included clasp sewn on.
In the same year the first Special Edition is born and is definitely one of the most aspired for and sought-after by collectors. We are talking about the Radiomir pam21 in a 47mm diameter platinum cushion shaped case with 60 specimens that have the lugs wire welded to the case and 2 backs, once closed in platinum with the engravings on the internal side and one with a see-through back that allows the splendid Rolex Caliber 618 with 17 rubies to be seen. The dial is a tobacco color with the hour indicators and Arabic numbers at the cardinal points. The hands are in yellow gold and the screw type crown is personalized OP and is "vase" shaped.
From 1998 and on, the thousands lot number on the back is preceded by a letter that indicates the year of production and from this year on the historical line is flanked by a line of contemporary watches. For descriptive duty only, I will mention that the first models to come to light were the submersible power reserve and the GMT. The historical series increased the editions and the thousands lot numbering is subdivided by model. 1000 specimens of the Luminor versions are produced while 1500 are made of the Luminor Marina. For the first time a Panerai for left handed people is produced (300 pieces in the series) pam22 in polished steel and pam26 in PVD. The winding crown is at 9 o'clock and the small seconds dial is at 3 o'clock with an OPII caliber. From this moment on the clasp and the barb on the band lose their historical form and take on the form of the crown protecting bridge and at times the reserve band is a Velcro band.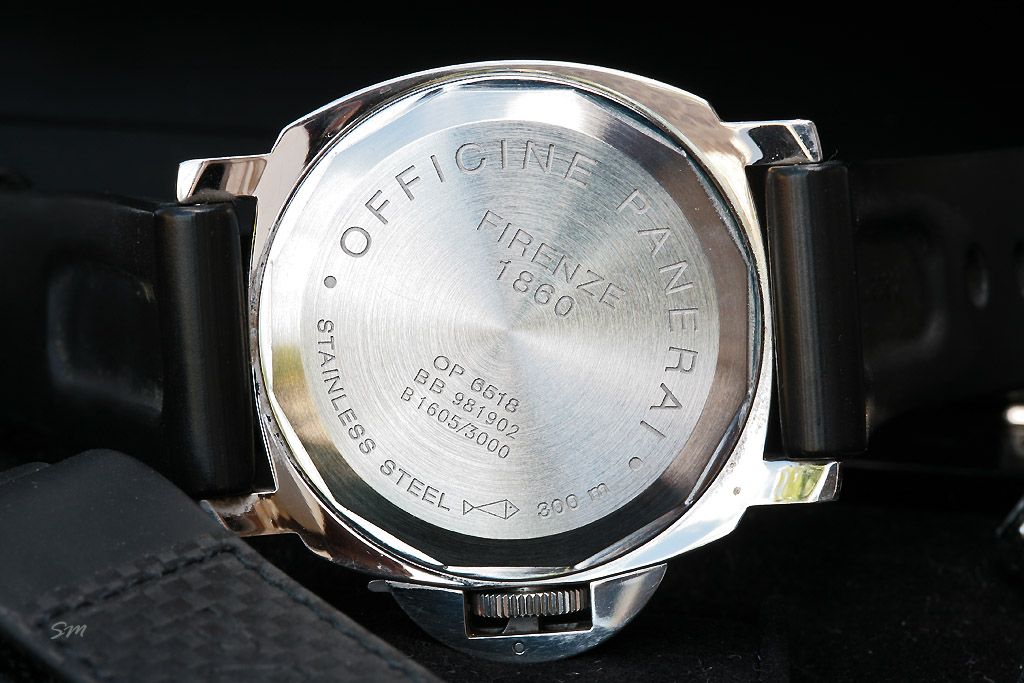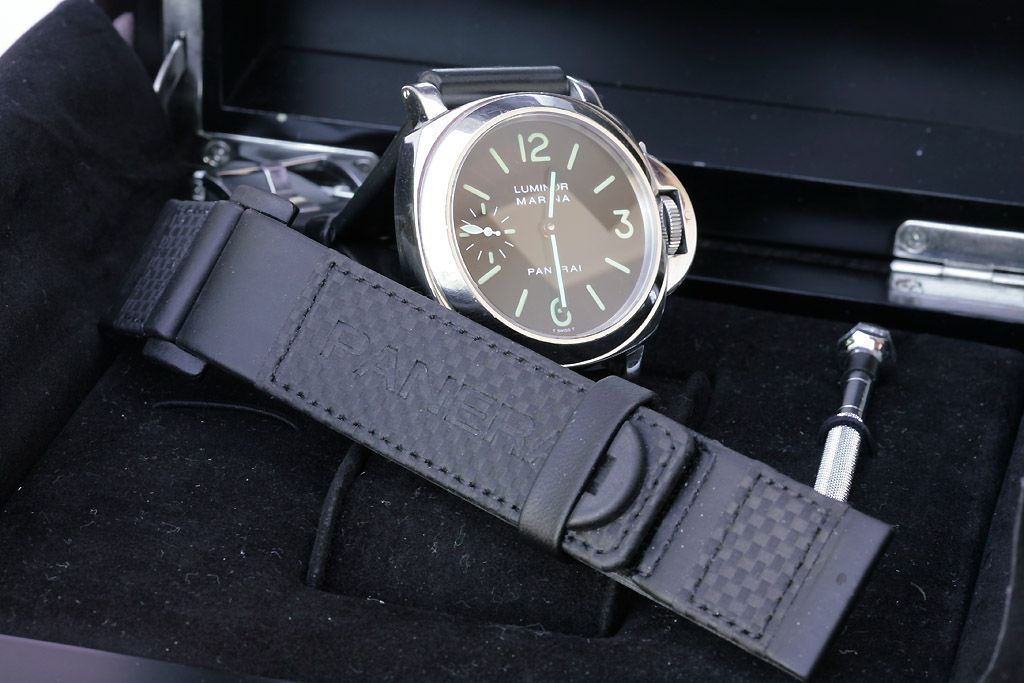 Con la lettera B 1999 la tiratura aumenta e per la prima volta sui quadranti compare la nuova miscela luminescente a base di Luminova , da sottolineare in questo anno una special edition di 200 pezzi in cassa titanio dedicata alla marina militare PAM36 con la doppia dicitura sul quadrane che riprende i modelli degli anni postbellici, il fondello e' a vista e permette di vedere il movimento calibro OPII con i ponti incisi PANERAI, il cofanetto e' di notevoli dimensioni in legno di pero con allegata una pergamena che riporta i dati dell'orologio, oltre ai vari libretti e garanzie. C'e' anche da segnalare il pam40 Luminor Marina in titanio quadrante nero con indici al trizio e la serie dei famosi Panerai dedicati al WWF pam37, dove 43 personaggi famosi prestano la loro immagine per un asta benefica, tra questi citiamo la signora Maria Teresa Abetti moglie di Giuseppe Panerai e titolare della boutique Panerai in Piazza S. Giovanni FI e la MOVM Emilio Bianchi, uno dei 6 assaltatori della Xa MAS della Regia Marina che nel dicembre del 1941 sferrò un attacco alla marina britannica nel munito porto di Alessandria d'Egitto dando lustro alle proprie imprese belliche. In questi primi anni di produzione post Firenze esplode la Panerai mania su Internet nascono un club ed un forum dedicato agli appassionati, e catalizzano l'attenzione di miglia di persone in tutto il mondo, a breve clubpanerai.com e paneristi.com sono un punto di riferimento per collezionisti e appassionati di tutto il mondo.
La lettera C nel 2000 e' caratterizzata dall' uscita di scena del PVD e l'ingresso stabile delle serie in Titanio (PAM55 luminor PAM56 luminor marina mancino e PAM61 luminor marina), da sottolineare anche in questo anno una special edition dedicata alla nave scuola A. Vespucci della marina militare 300 pezzi in totale PAM82 in titanio con quadrante blu con doppia dicitura.
La produzioni degli storici si attesta sui 5000 pezzi in totale nella lettera D siamo nel 2001 mentre la cassa Radiomir viene utilizzata per creare dei modelli particolari e complicati quali crono e svegliarini, oppure con metalli pregiati e pietre preziose, Panerai spopola al polso dei VIP e calciatori.
Nel 2002 serie E ci sono notevoli innovazioni nella serie storica, il fondello non è più chiuso e permette la vista al movimento OPX (luminor base PAM112, 114 e 116) e OPXI (luminor Marina PAM111, 113, 118 e 115, 117Luminor Marina mancini) questi 2 nuovi calibri sono stati modificati nel taglio dei ponti e compare anche la regolazione a collo di cigno del bilanciere.
Una delle più belle novità è costituita dal lancio del pam127 meglio conosciuto come 1950, una special edition di grande impatto, misura infatti 47mm di diametro (escluso il ponte proteggi corona) riprende il quadrante sandwich come i modelli storici degli anni 50 ed ha la cassa che ne ricalca le caratteristiche, come nella serie ordinaria il fondello e' a vista sul calibro OPXI e le lancette sono in oro giallo, il vetro e' in zaffiro ed e' bombato e curvo.
Nella serie F del 2003 si sperimenta una cassa in tantalio,Luminor Tantalium PAM172 materiale largamente utilizzato per la costruzione di oggetti chirurgici, 300 pezzi, la cassa ha un processo di lavorazione molto lungo e laborioso, per la sua costruzione si utilizza un attrezzo solamente e degli utensili speciali che sbozzano un blocco di tantalio e danno forma all'orologio, il quadrante e' nero con la peculiarità di avere dei cerchi concentrici sui piccoli secondi ad ore 9, le lancette sono azzurrate alla fiamma.
Nel 2004 dalla serie G il criterio di millesimazione cambia, non più numerata per modelli ma per singola referenza, per esempio il pam111 che e' il Luminor Marina in acciaio quadrante nero viene prodotto in 2000 pezzi ed il pam177 che e' il Luminor Marina in Titanio quadrante nero e' prodotto in 500 pezzi.
Sempre in questo anno per la prima volta una special edition viene fatta con il nome del proprietario inciso sul fondello direttamente dal produttore il modello e' il PAM195 Luminor Marina con cassa in PVD (200 fortunati collezionisti possono vantarlo) il cofanetto e' quello consolidato delle SE e la pergamena riporta il nome del proprietario, il quadrante riporta il logo OP, come nel famigerato logo del 1993, inoltre da questa serie vedono la luce due modelli che verranno comunemente chiamati nuovi logo (logo OP sopra la cifra 6) appunto per questa peculiarità, stiamo parlando del Luminor Logo PAM00 e Luminor Marina logo PAM05, questi 2 modelli hanno il calibro OPI e OPII ed il fondello chiuso a differenza dei loro simili PAM112 e PAM111. Per la prima volta viene riproposta una bussola di notevoli dimensioni (60mm)e viene chiamata blackseal Pam191 calotta in plexi e corpo in titanio e acciaio.
Finalmente anche la cassa Radiomir vede un modello Storico dopo il PAM21, si tratta del Radiomir Blackseal PAM183 con cassa in acciaio di 45 mm e anse smontabili (brevetto Panerai) per il cambio del cinturino, il fondello e' a vista sul calibro OPXI il quadrante di tipo sandwich ha i secondi ad ore 9 e non e' finita perchè per la prima volta su un Panerai viene montato un calibro con 8 giorni di carica derivante da un calibro JLC, ha la particolarità di avere l'indicazione della riserva di carica posta sul lato fondello e tramite il fondo a vista si può ammirare la lancetta a foglia che indica la carica, il suo nome e' Radiomir 8 days PAM190, anche qui il quadrante è sandwich e le dimensioni sono maggiorate solo nello spessore per contenere un calibro con 8 giorni di ricarica.
E siamo giunti alla lettera H del 2005, anno in cui la Panerai lancia sul mercato un calibro tutto suo il Cal. 2002, con 8 giorni di riserva carica con visualizzazione orizzontale e GMT,viene incassato in una cassa Radiomir pam200 in acciaio (200 esemplari) che in platinopam201 (50 pezzi). Viene lanciato sul mercato anche il fratello per mancini del 1950 e si chiama pam217 Marina Militare, da questa serie in poi cambia la lavorazione dei calibri OPX e OPXI dalle scrittine Panerai su ponti e platine si passa alle linee di Ginevra,ed il quadrante nero del Luminor e del Luminor Marina diventano sandwich, ma la novità più grande è sicuramente il lancio del Luminor Marina pam203 con calibro storico Angelus 240, 8 giorni di riserva di carica,lo storico calibro viene incassato in una cassa di 47mm in stile 1950 in acciaio con fondello a vista, il quadrante riporta ad ore 3 la scritta 8 giorni brevettato in contrapposizione ai piccoli secondi delle ore 9,il vetro e' un zaffiro bombato e le lancette sono in oro giallo, la tiratura di soli 150 pezzi ne fa un vero oggetto da collezione ed e' subito richiestissimo. Per la prima volta ecco anche il Radiomir base da 45mm PAM210 ed il Luminor base Mancino pam219.
E siamo arrivati al 2006 serie I, la collezione storici e' rimasta invariata ma il calibro p.2002 di manifattura vede il Luminor per la prima volta in una serie in acciaio da 47mm PAM233.
Inoltre per sottolineare la collaborazione con Francesco Ferretti, noto concessionario nonche' collezionista e Storico Panerai, sono state create 2 serie speciali di 20 pezzi del Luminor Marina pam247 e Radiomir pam248 entrambi con fondello chiuso con il marchio e la firma di Ferretti per commemorare i 20 anni di attività.
With the letter B of 1999, the edition expands and for the first time on the dials the new Luminova based luminescent mix appears. It is also important to underline that in this year a 200 piece special edition with a titanium case dedicated to the Navy PAM36 with double writing on the dial which recalls the postwar models is released. The back is see-through allowing us to see the OPII caliber movement with PANERAI engraved on the bridges. The box is quite large made of pear wood and includes a parchment with the watch specs as well as other various booklets and warrantees. I should also mention the pam40 Luminor Marina with a titanium case, black dial with trizium indicators and a series of famous Panerais dedicated to the WWF pam37 where 43 famous people lend their images for a benefit auction, among them Mrs. Maria Teresa Abetti, wife of Giuseppe Panerai and the owner of the Panerai boutique in Piazza S. Giovanni in Florence and the MOVM Emilio Bianchi, one of the 6 attackers of the Xa MAS of the Royal Navy that in December of 1941 launched an attack on the British Navy in the armed port of Alessandria in Egypt giving honor to their war efforts. In these first years of production post Florence, Panerai mania exploded on the internet. A club and forum dedicated to fans are born and gather the attention of thousands of people throughout the world. Shortly clubpanerai.com and paneristi.com are reference points for collectors and fans around the world.
The letter C in 2000 is characterized by the disappearance of the PVD and the stable introduction of the Titanium series (PAM55 luminor PAM56 luminor marina mancino and PAM61 luminor marina), and we should underline that in this year a 300 piece special edition dedicated to the training ship school A. Vespucci of the Navy PAM82 is released with a titanium case, blue dial and double writing.
The production of the historical series is completed with 5000 total pieces in the letter D of 2001 while the Radiomir case is used to create detailed and complicated models such as chronographs and alarm clocks, or with precious metals and stones. Panerai is everywhere on the wrists of VIPs and soccer players.
In 2002 the E series has some noteworthy innovations for the historical series. The back is no longer cloes and allows the OPX movement to be seen (Luminor base PAM112, 114, and 115) and the OPXI (Luminor Marina PAM11, 113, 118 and 115, 117 Luminor Marina left-handed) these two new calibers were modified in the cut of the bridges and appears also in the swan neck balance regulator.
One of the most beautiful additions is that of the release of the pam127 better known as the 1950, a special edition with a big impact. In fact it measures 47mm in diameter (excluding the protecting crown bridge) with a sandwich dial like the historic models of the 1950s and follows many of the same characteristics. As with the standard series the back is see-through with the OPXI caliber and the hands are yellow gold. The crystal is sapphire and convex curved.
In the F series of 2003 they experimented with a tantalium case, Luminor Tantalium PAM172, a material widely used in the construction of surgical instruments. 300 pieces are created and the case requires a long and labor intensive production process. To create it a single tool is used and some special tools that hew out a solid piece of tantalium and give shape to the watch. The dial is black with the peculiarity of having concentric circles on the seconds dial at 9 o'clock. The hands are given a blue hint over a flame.
In 2004, from series G on the thousands lot numbering criteria changes, they are no longer numbered by model buy by single reference. For example 2000 pieces of the pam111 which is the steel Luminor Marina with a black dial were produced and the pam177 titanium Luminor Marina with a black dial has 500 pieces produced.
Also in this year for the first time a special edition is made with the name of the owner engraved on the back directly from the manufacturer. The model is the PAM195 Luminor Marina with PVD case (200 lucky collectors can show this off). The box is the same consolidated one from the SE and the parchment bears the name of the owner. The dial has the OP logo like the notorious logo of 1993. Also from this series two new models will see the light and will be commonly called the new logos (OP logo above the number 6) because of this peculiarity. We are talking about the Luminor Logo PAM00 and the Luminor Marina Logo PAM05. These two models have the OPI and OPII calibers and the closed back unlike the similar PAM112 and PAM111. For the first time a larger size compass (60mm) is brought back called the Blackseal PAM191 with a plexiglass cover and a body made of titanium and steel.
Finally the Radiomir case is used in a historic model after the PAM21, the Radiomir Blackseal PAM183 with a 45mm steel case and removable lugs (Panerai patented) to replace the band. The back is see-through with the POXI caliber and a sandwich type dial with a seconds dial at 9 o'clock. But that is not all, for the first time on a Panerai a caliber with 8 day power reserve is used coming from the JLC caliber. It also has the peculiarity of having a power reserve indicator with a leaf shaped hand placed on the back which can be seen thanks to the see-through back. Its name is the Radiomir 8 days PAM190. It also has a sandwich style dial and the dimensions are only larger regarding the thickness so it could contain a caliber with an 8 day power reserve.
Now we have come to the letter H of 2005, year in which Panerai launches its own caliber on the market: the cal. 2002 with an 8 day power reserve shown horizontally and GMT. It is encased in either a Radiomir PAM200 steel case (200 specimens) or in platinum PAM201 (50 pieces). The little brother of the 1950 for left handed people is also launched on the market and called the PAM217 Marina Militare. From this series on the workmanship of the OPX and OPXI calibers change from the Panerai writing on the bridge and sinkers to the Geneva lines. The black dial of the Luminor and the Luminor Marina become sandwich style, but the biggest changes is definitely the launch of the Luminor Marina PAM203 with the historic caliber Angelus 240, 8 day power reserve. The historic caliber is encased in a 47mm 1950 style steel case with see-through back. The dial has the writing 8 days patented at 3 o'clock opposite the small seconds dial at 9 o'clock. The crystal is convex sapphire and the hands are in yellow gold. The edition of only 150 pieces makes it a true collector's item and is immediately sought-after. For the first time we also see the base 45mm Radiomir PAM210 and base left-handed Luminor PAM219.
And so we arrive at the 2006 series I, the historical collection has remained unchanged but the caliber p.2002 is used in a Luminor for the first time in a 47mm steel series PAM233.
In addition, to underline the collaboration with Fancesco Ferretti, noted dealer as well as collector of historical Panerai watches, 2 special series were created of 20pieces each of the Luminor Marina PAM247 and Radiomir PAM248, both with closed backs with the Ferretti trademark and signature to commemorate 20 years of business.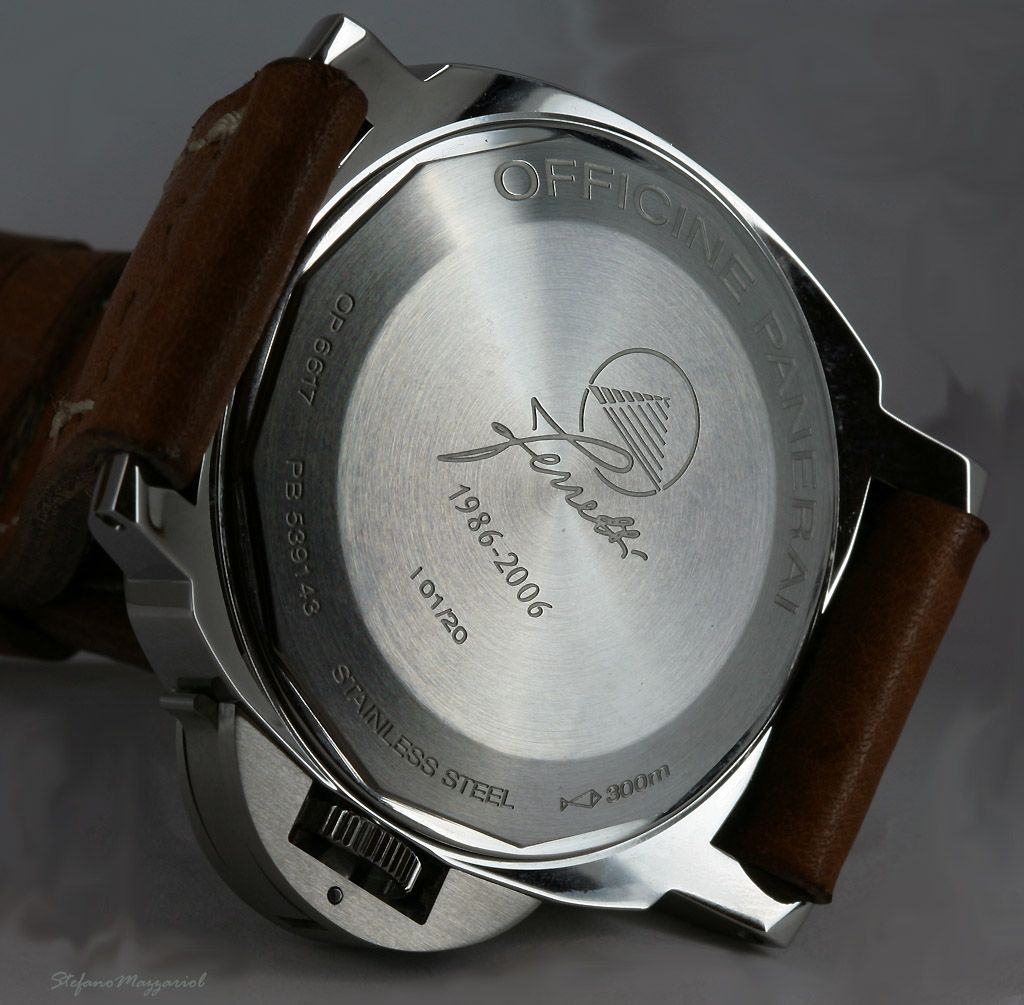 Inoltre da quest'anno c'e' da segnalare la collaborazione con la casa automobilistica Ferrari dove la Panerai presenta una linea di modelli automatici solotempo e crono che richiama la linea di un vecchio prototipo del 3646 degli anni 40 con cassa a cuscino ed anse saldate al suo ineterno batteva un calibro angelus 240 con 8 giorni di carica.
Ora non ci resta che attendere per vedere le ultime novità che sicuramente non mancheranno di stupirci, sicuramente ci sarà una prima riedizione di un profondimetro abbinato ad un segnatempo di prestigio quale il submersible e per la fine dell'anno si prevedono 2 special edition di notevole impatto, il california dial pam249 con il famoso quadrante in stile Rolex nero, vetro plexi e movimento OPX a vista su cassa Radiomir di 47mm in acciaio prodotto in 1936 pezzi piu' 50 pezzi in platino e quadrante tabacco pam262, e la tiratura in 1938 del Radiomir 47mm con fondello chiuso e vetro zaffiro con quadrante nero classico in stile Panerai con numeri arabi ai punti cardinali ed indici a barretta. Officine Panerai, IO COMANDANTE DEL TEMPO!
Also from this year we need to report on the collaboration with the automotive company Ferrari where Panerai presents a line of automatic time only and chronographs that recall the line of an old prototype of the 3646 from the 1940s with a cushion style case and welded lugs. Inside beats the heart of an 8 day reserve power Angelus 240 caliber.
Now we don't have anything else to do except wait for the latest changes that will definitely surprise us. Most definitely there will be a first re-edition of a depth gauge combined with a prestigious timepiece like the submersible and by the end of the year 2 special editions of notable impact are planned, the California dial PAM249 with the famous black Rolex style dial, plexi-glass crystal and OPX movement visible on a Radiomir 47mm steel case created in 1936 pieces plus 50 pieces made of platinum and with a tobacco colored dial PAM262, and the edition of 1938 Radiomir 47mm closed back, sapphire crystal, classic black Panerai style dial with Arabic numbers at the cardinal points and bar shaped indicators. Officine Panerai, THE COMMANDER OF TIME!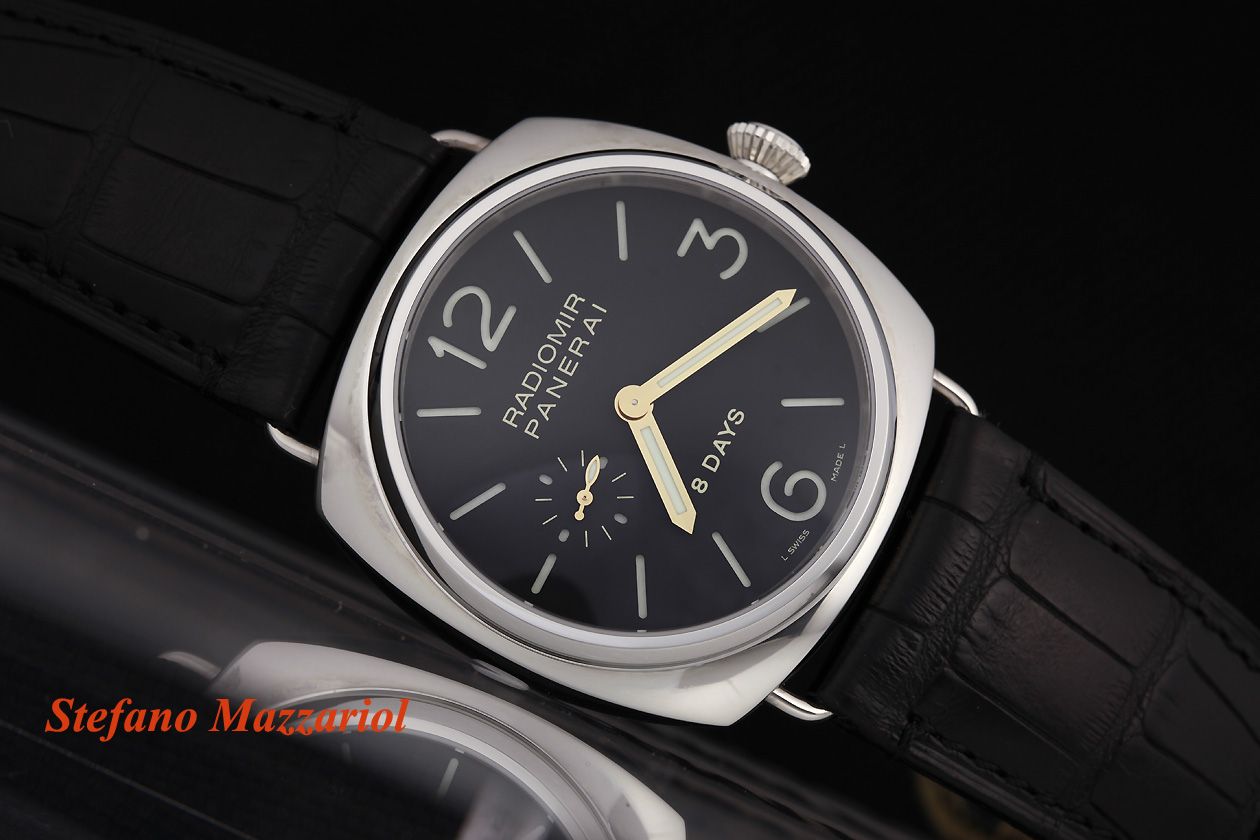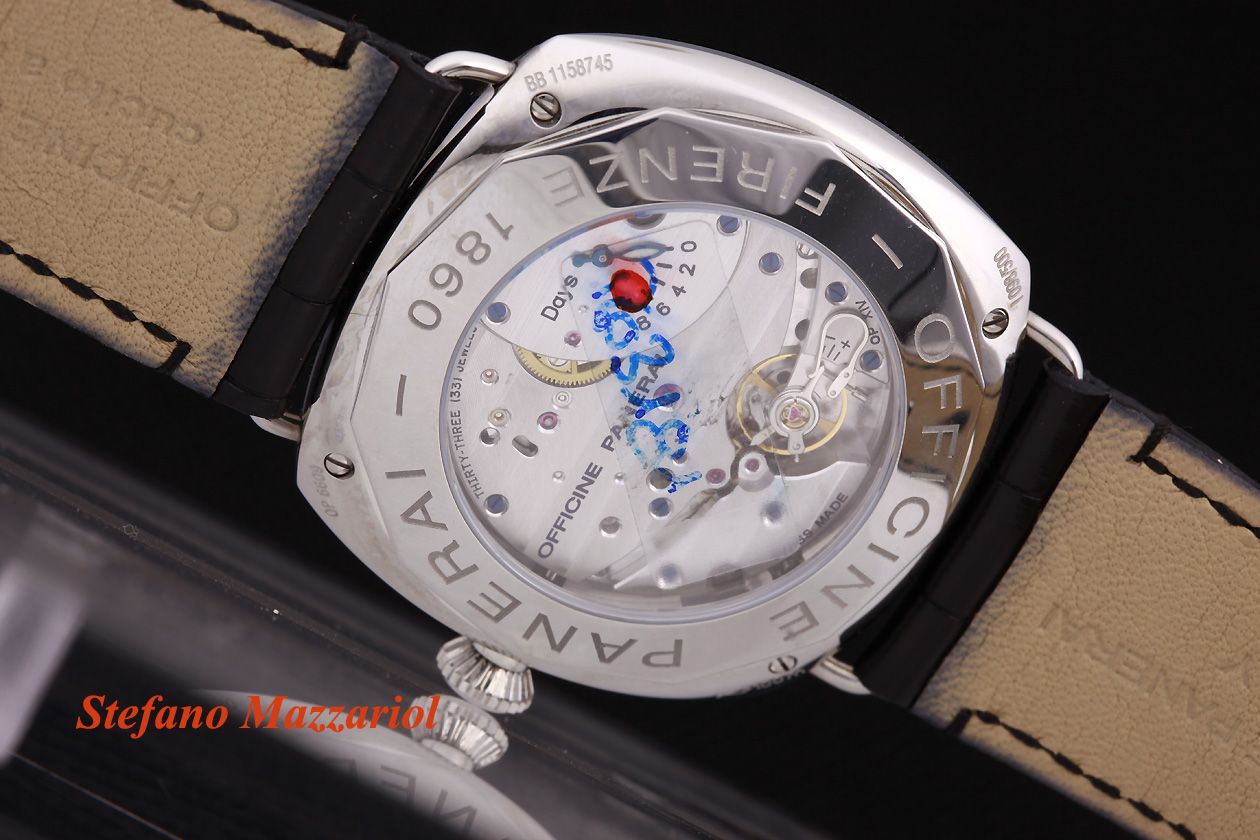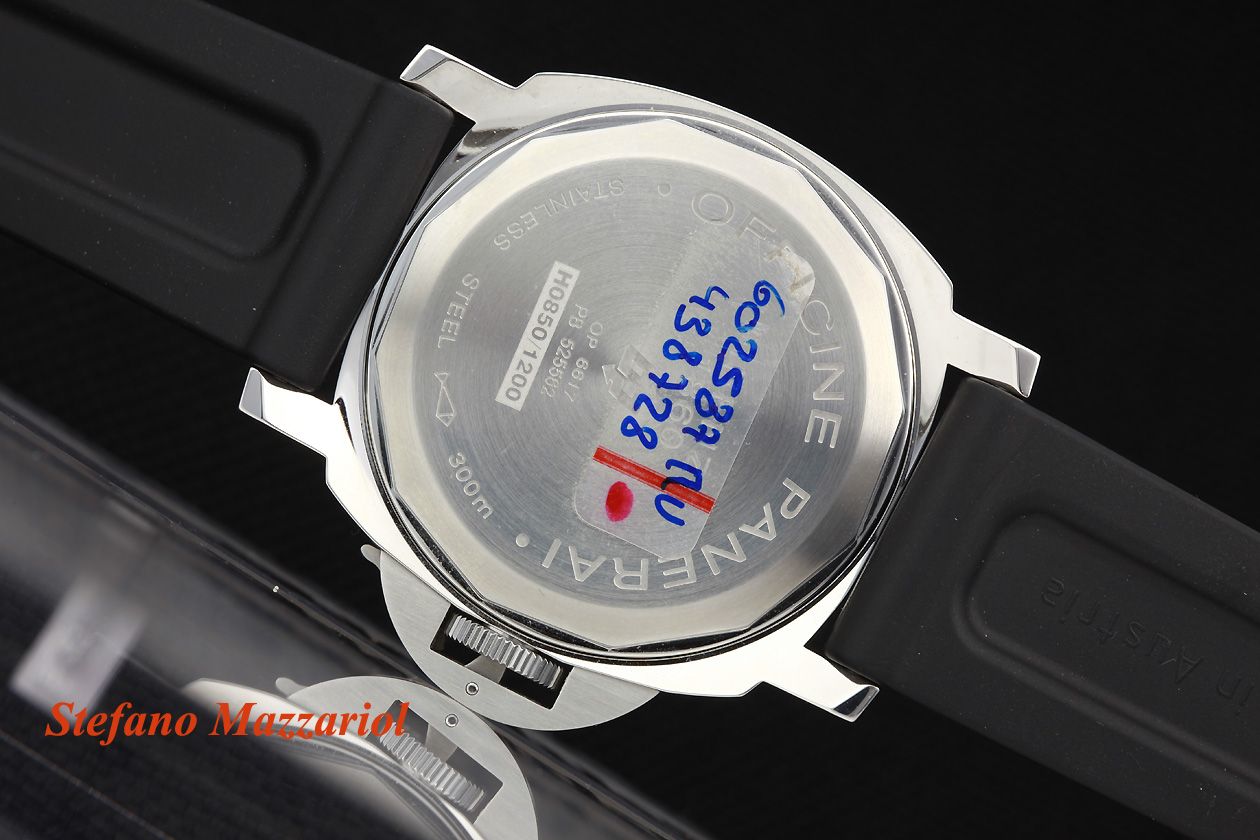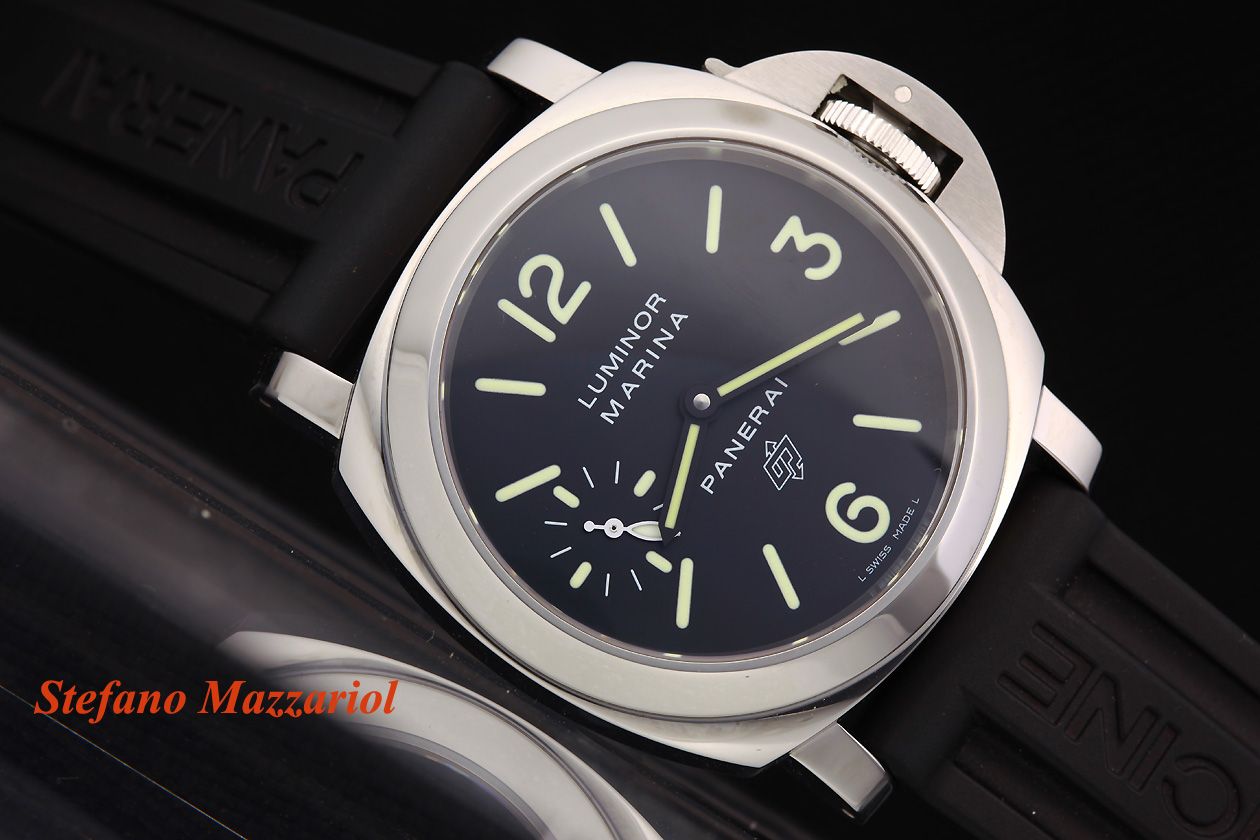 Stefano Mazzariol