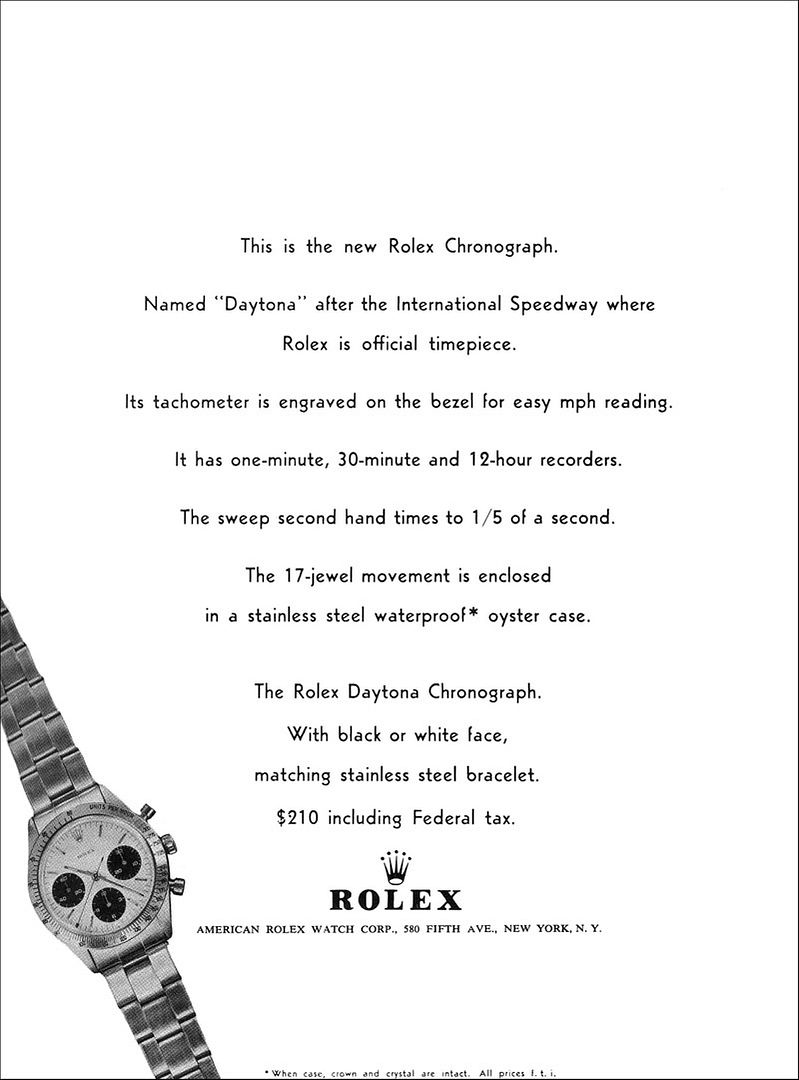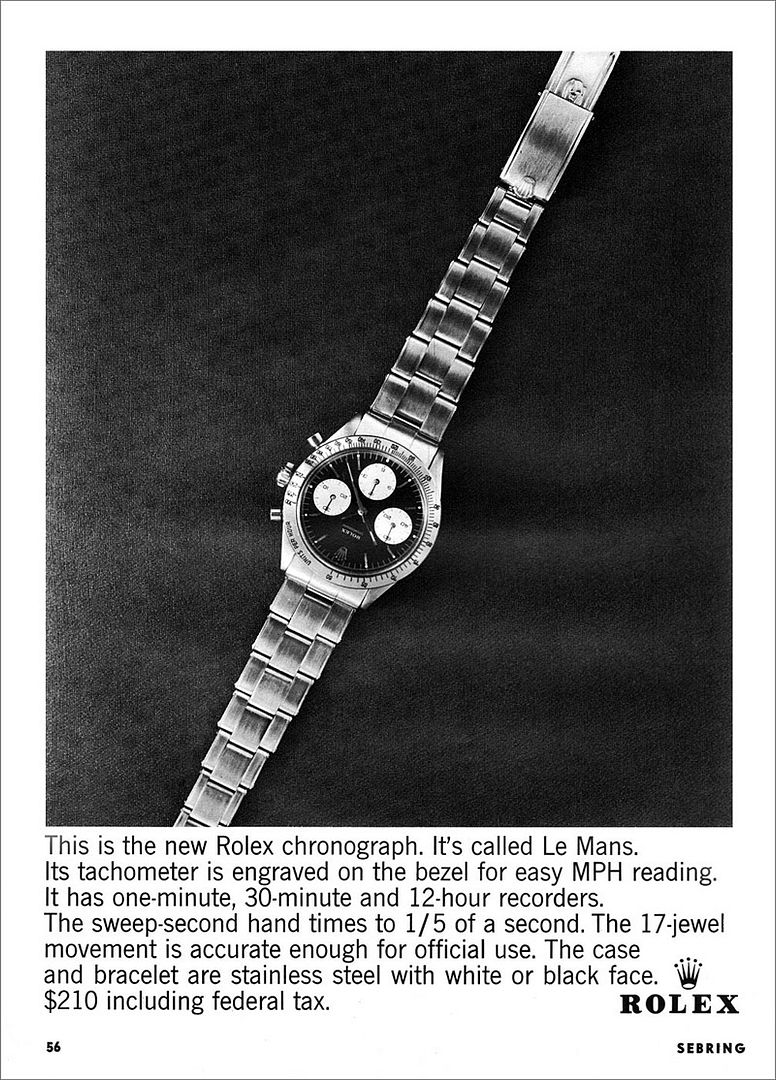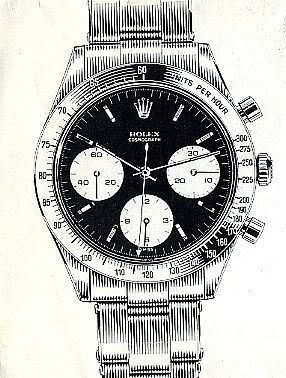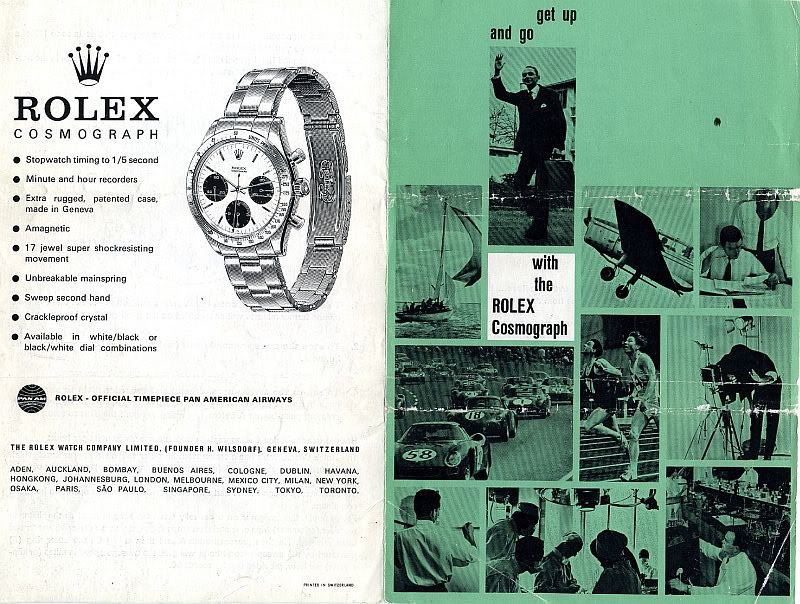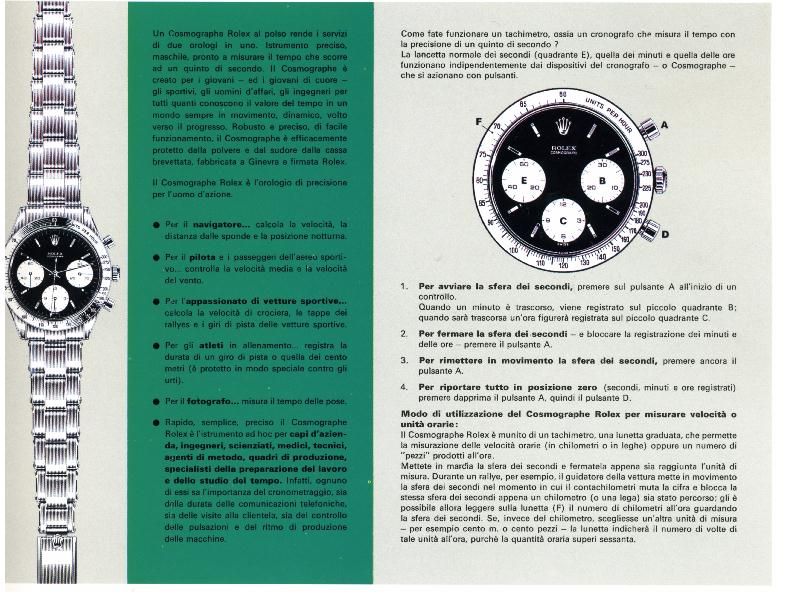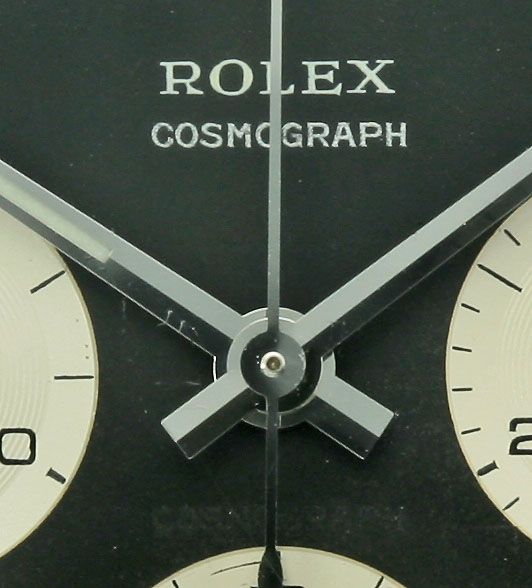 In questo articolo descriviamo le principali caratteristiche delle successive produzioni del cronografo, che come i precedenti,
utilizzano tasti per la cronografia cosidetti a pompa; Rolex li battezzerà COSMOGRAPH, per evocare le imprese spaziali dei
primi anni '60.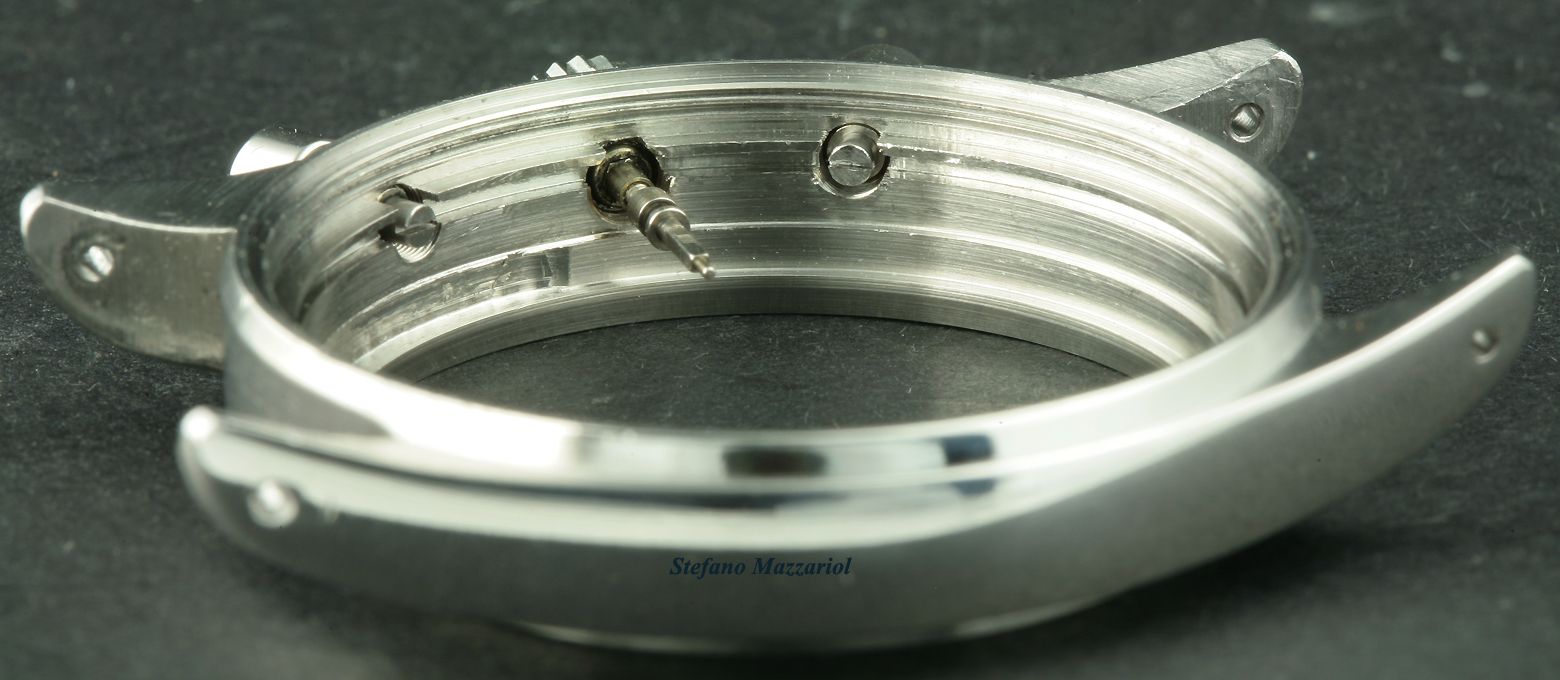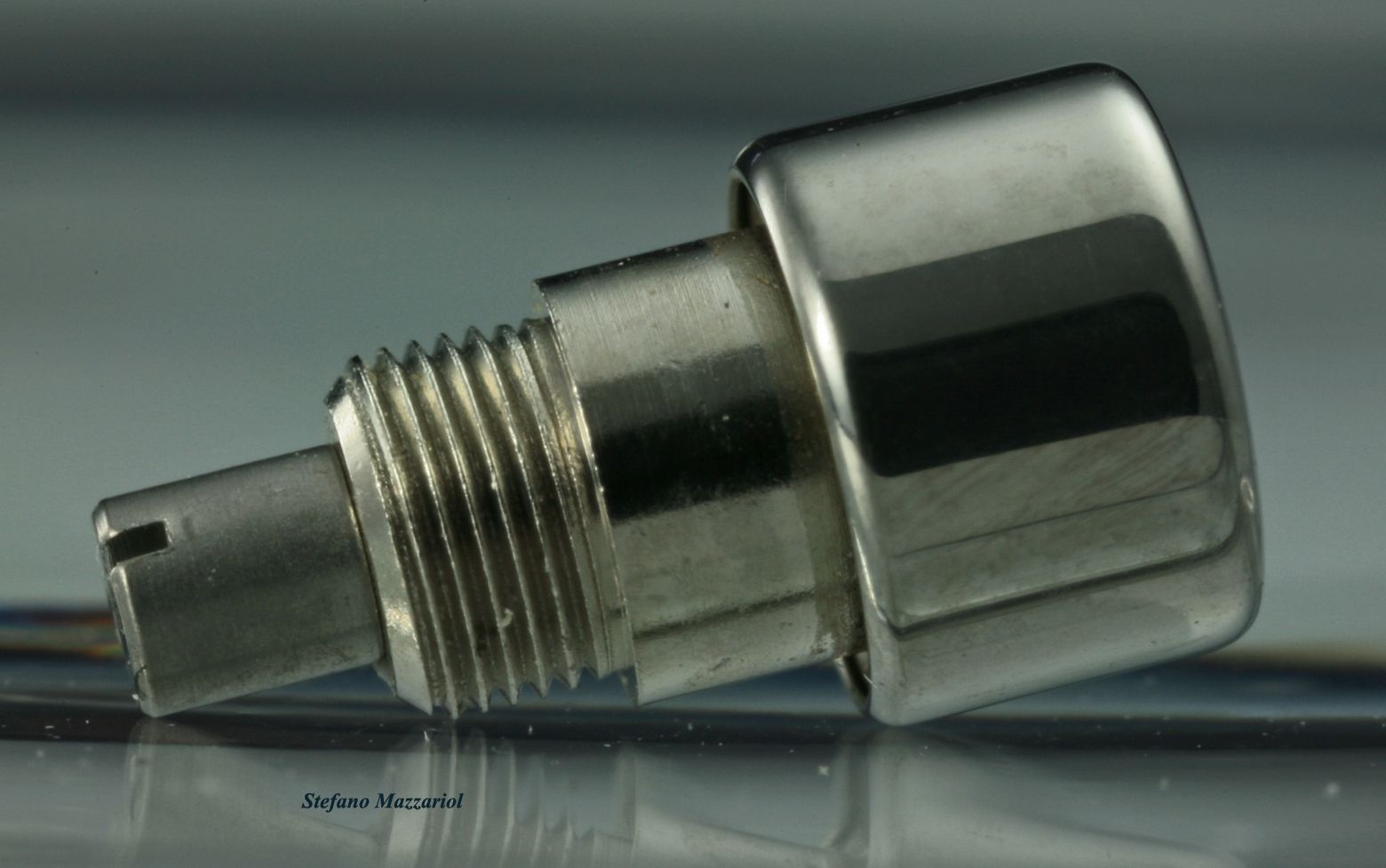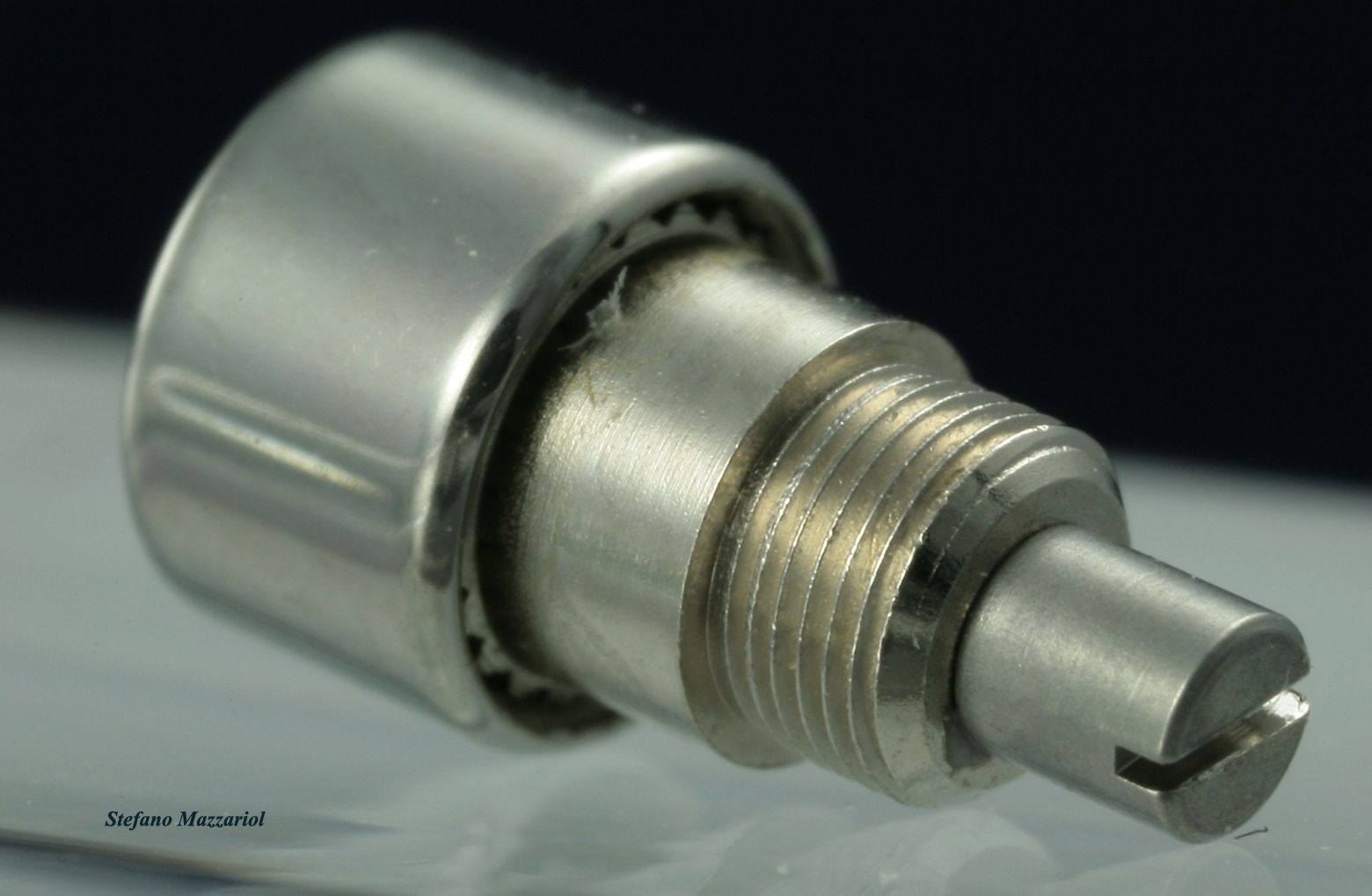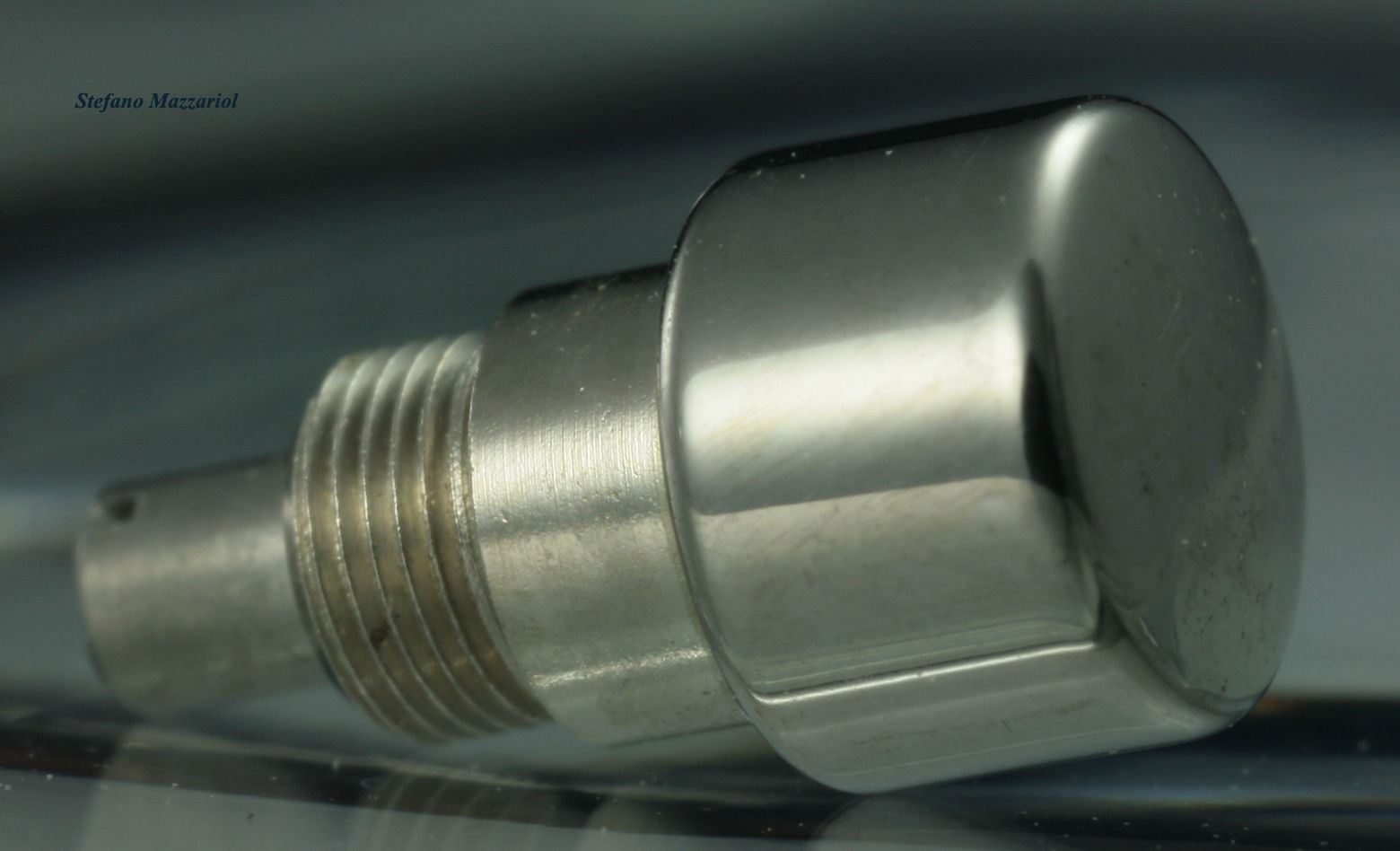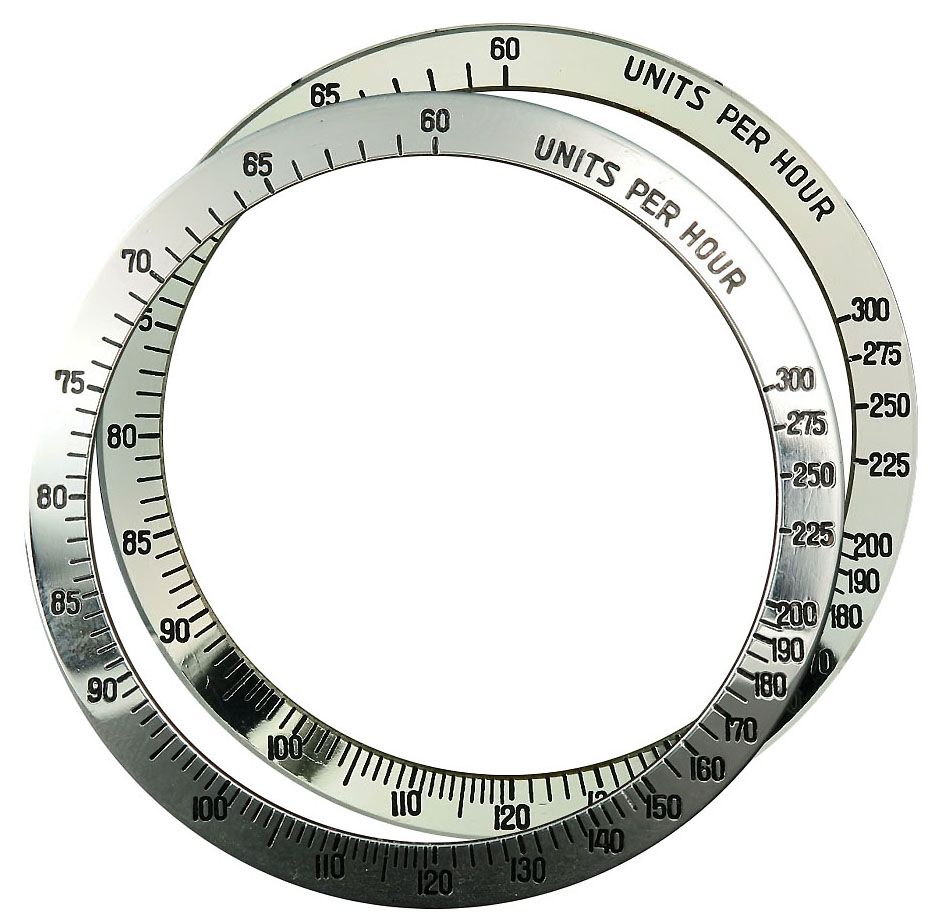 Le principali differenze estetiche rispetto ai vecchi modelli stanno nella scala graduata che non più stampata
sul quadrante ma sulla lunetta esterna, e sulla colorazione a contrasto tra i contatori e la base del quadrante: con quadrante
a fondo nero i contatori sono chiari e viceversa con fondo chiaro i contatori sono neri. Alternativa ai quadranti standard sono
i quadranti esotici rinominati dal mondo collezionistico "Paul Newman" che tratteremo prossimamente in un articolo specifico.
La scritta DAYTONA, stampata sul quadrante in un secondo tempo, celebra la storica sponsorizzazione di Rolex alla corsa
automobilistica Nascar Stock Car, disputata nel circuito ovale di Daytona, in Florida. Le produzioni COSMOGRAPH sono
suddivise in 4 referenze: 6239 – 6241 – 6262 – 6264. Nello schema evidenziamo le principali differenze che le caratterizzano:
La prima serie di COSMOGRAPH nasce con la referenza 6239 con numeri di matricola intorno ai 900.000 (1963) e in una
conformazione del tutto unica e rara da reperire.
In the article of the last issue of the magazine we treated reference 6238, last Rolex chronograph production with smooth
bezel and monochrome dial. In this chapter we will describe the main features of the following productions of the
chronograph, that as the previous one, use for the chronography the so-called pump buttons; Rolex will call them
"COSMOGRAPH", to evoke the space enterprises of the early 60's. The main aesthetic differences with the old models
lay in the graduated scale that is no longer printed on the dial but on the outside bezel, and on the contrasting colouring
between the indices and the dial's base: on the black background dial the indices are light and vice versa on the light
background the indices are black. An alternative to standard dials are the exotic dials renamed by the collectors' world
"Paul Newman" that we will treat in a specific article. The "DAYTONA" writing, printed on the dial afterwards, celebrates
the historic Rolex sponsorship in the Nascar Stock Car racecar, in the oval track of Daytona, in Florida. COSMOGRAPH's
productions are divided into 4 references: 6239 – 6241 – 6262 – 6264. In the following diagram we will underline the main
differences that characterize them: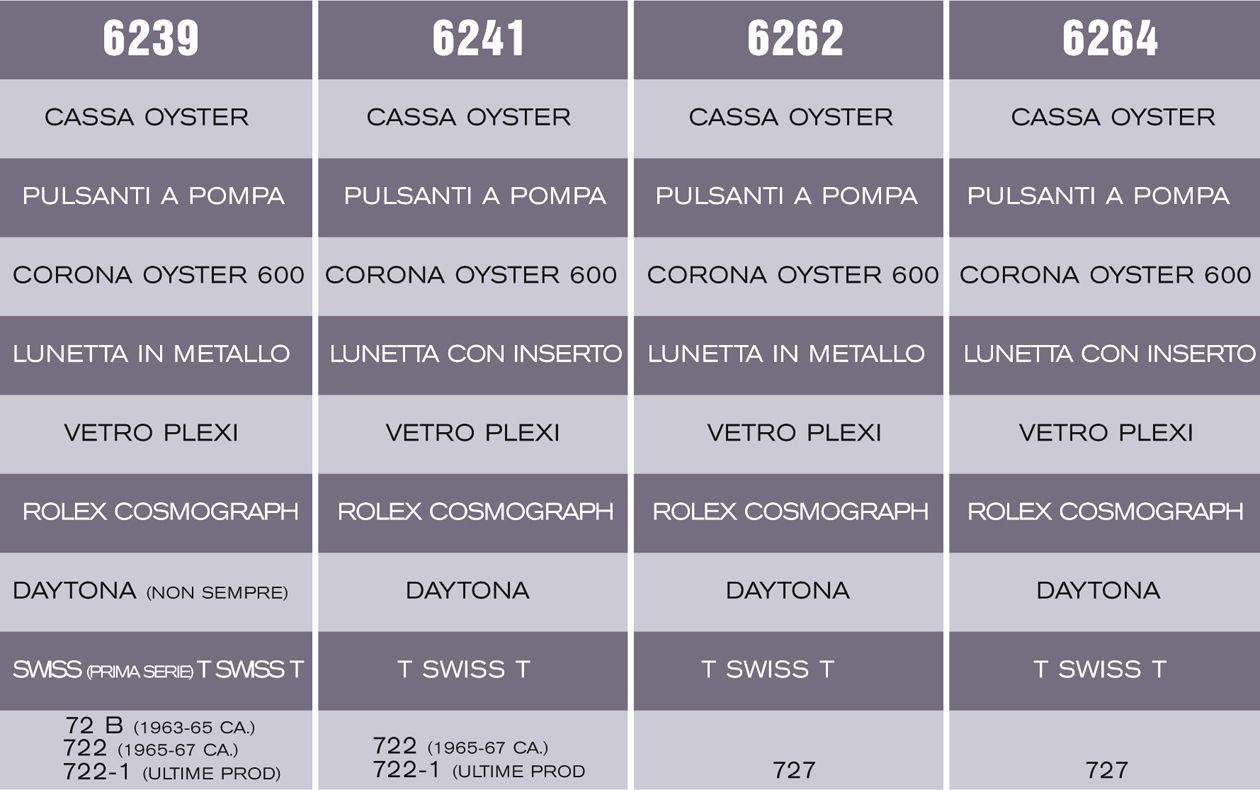 La lunetta montata su pochi esemplari ha la scala tachimetrica fino a 300
unità per ora, con misurazione a intervalli di 1 unità fino a 120, a intervalli
di 2 unità da 120 a 150 e intermedi a 225, 250 e 275. Il quadrante ha la
particolarità della doppia dicitura in basso SWISS (in parte nascosta dal
bordo cassa) e a volte una sottile linea chiamata underline sotto la scritta
COSMOGRAPH, forse ad indicare la sostituzione del vecchio materiale
fluorescente, il Radio, con il nuovo Trizio, per adeguare la produzione alle
nuove normative dell'epoca. Il movimento è 72/B rinominato in seguito 722.
The bezel mounted on a few pieces has a tachymetric scale up to 300
units per hour, with a measurement at 1 unit intervals up to 120, intervals
of 2 units from 120 to 150 and intermediate ones at 225, 250 e 275. The
dial's peculiarity is the double SWISS writing on the bottom (part of which
is hidden by the case's edge) and sometimes a thin line called "underline"
below the COSMOGRAPH writing, probably to show the replacement of
the old fluorescent material, Radio with Tritium, to make the production
comply with the new rules of that time. The movement is 72/B that will
be later on renamed 722.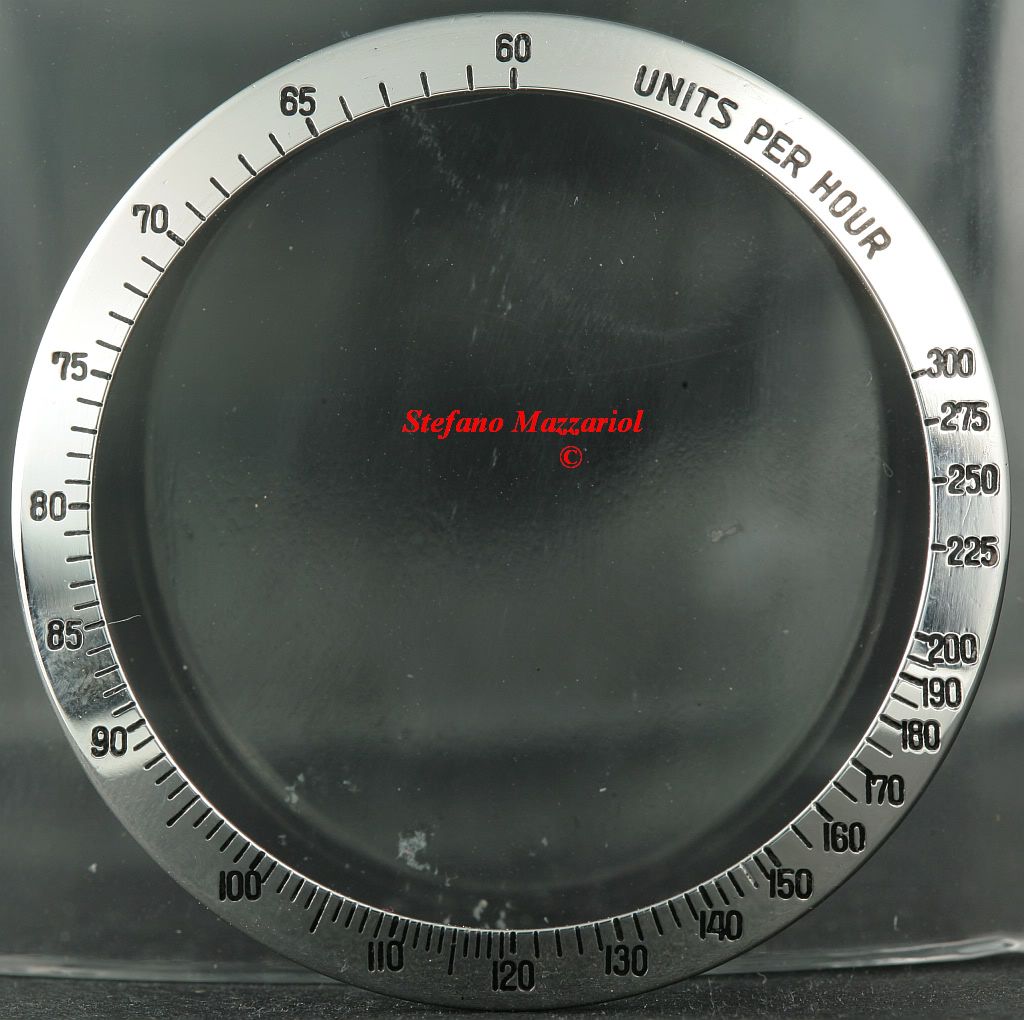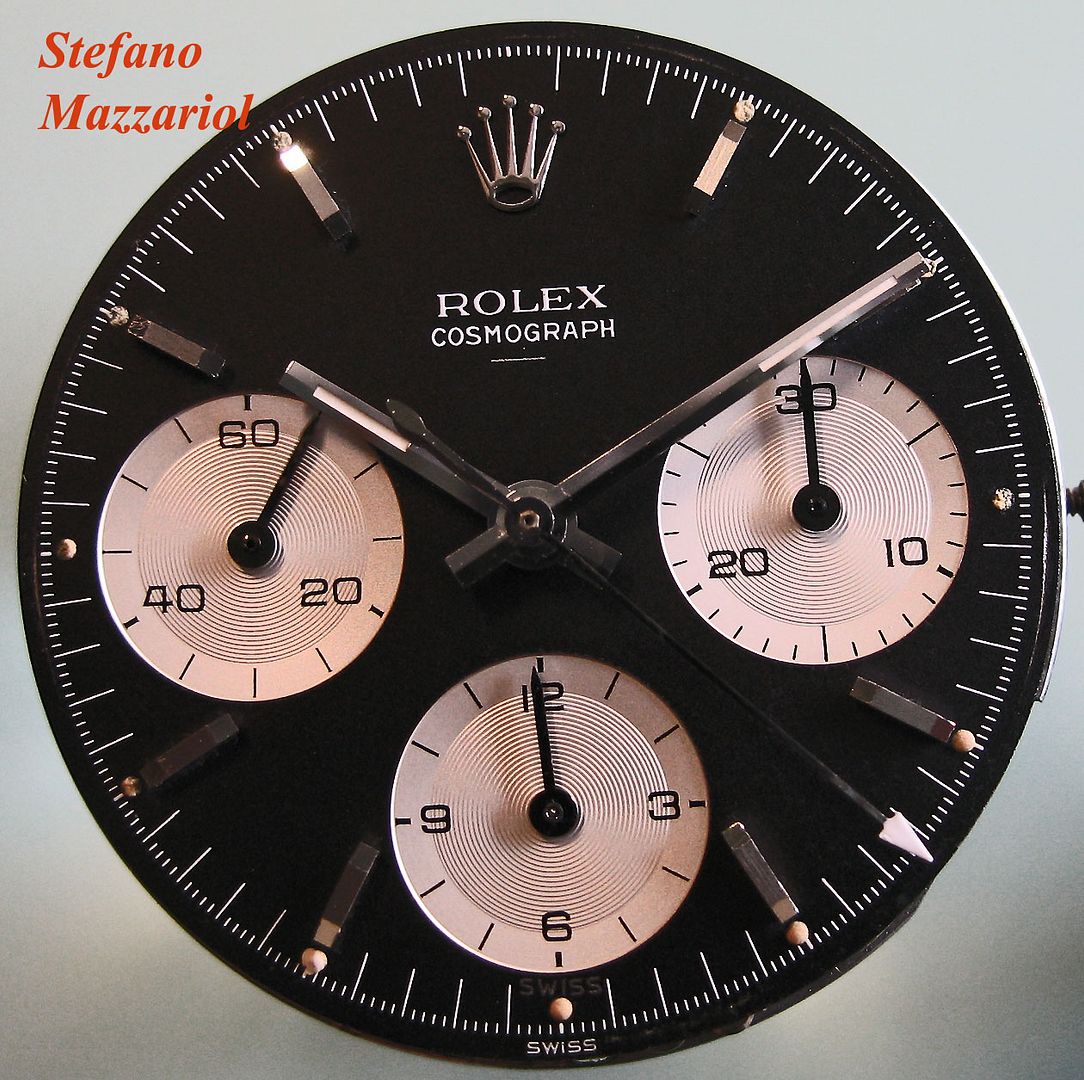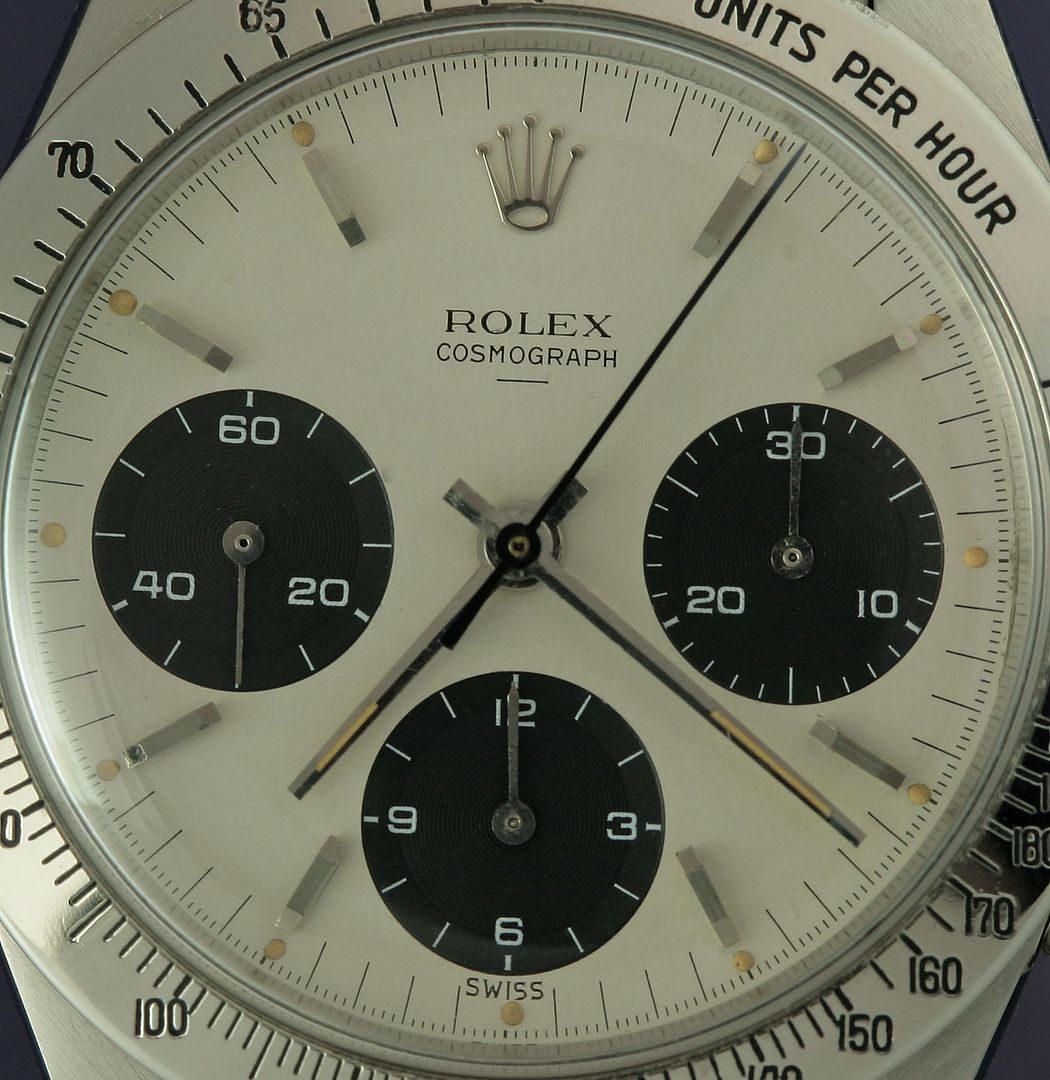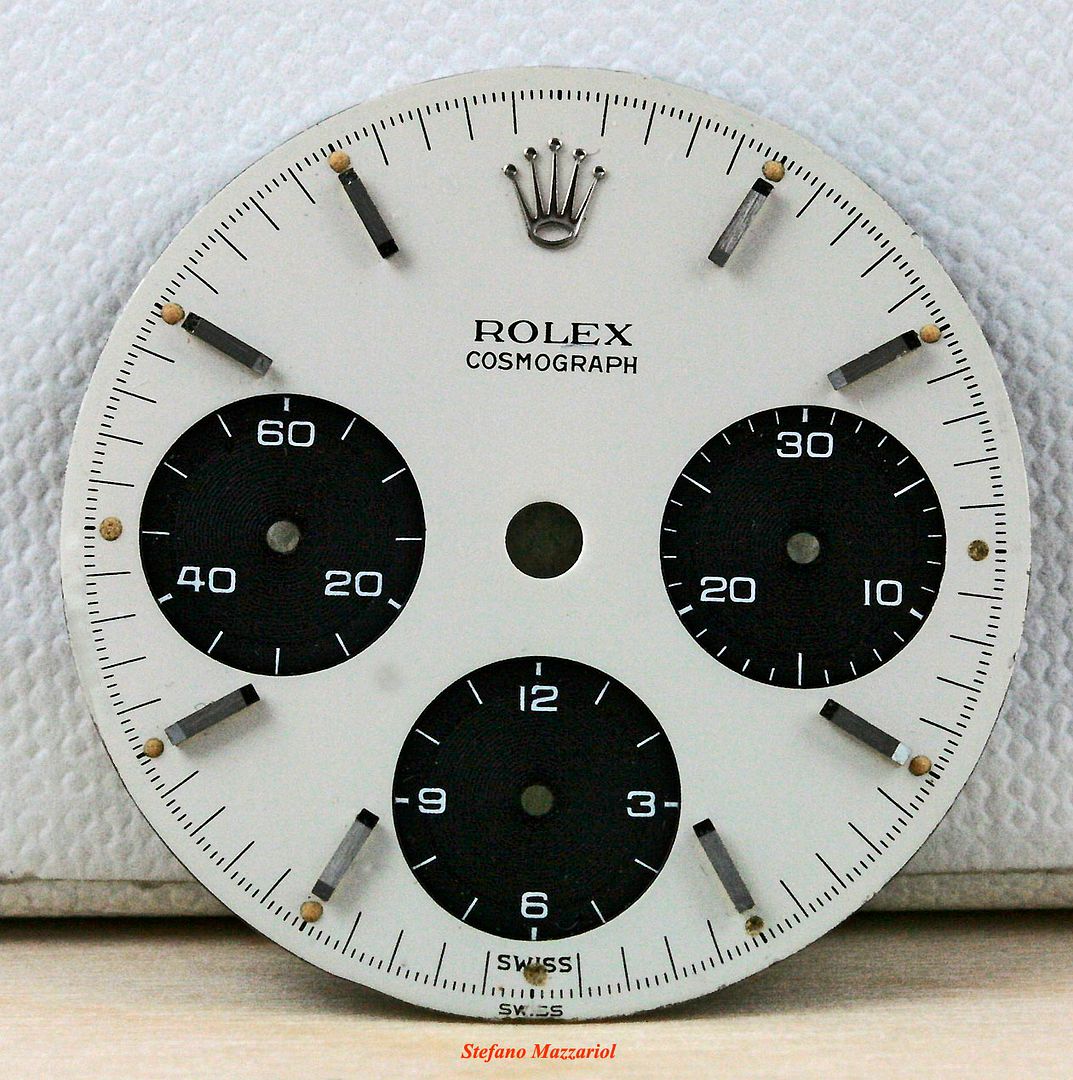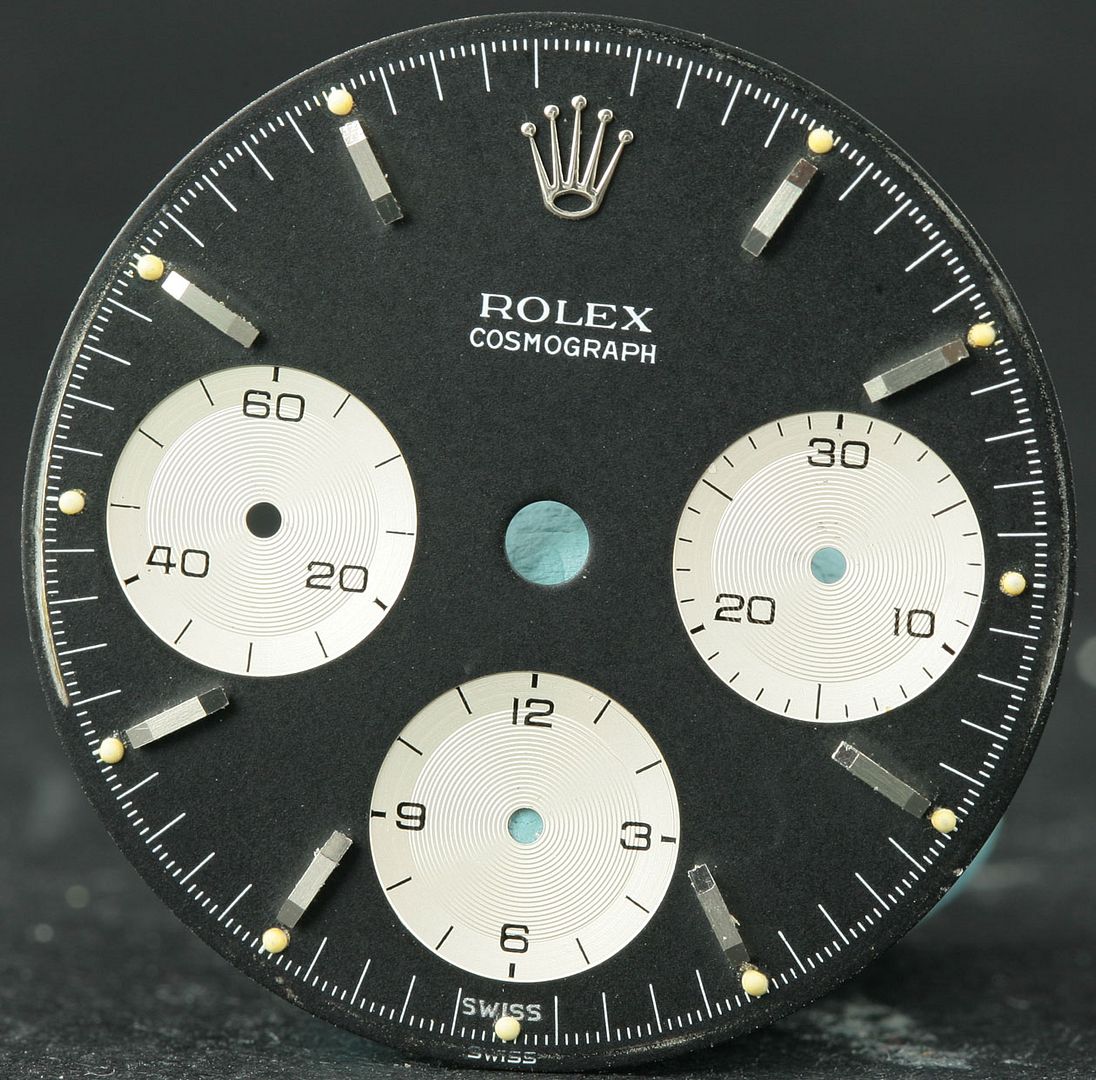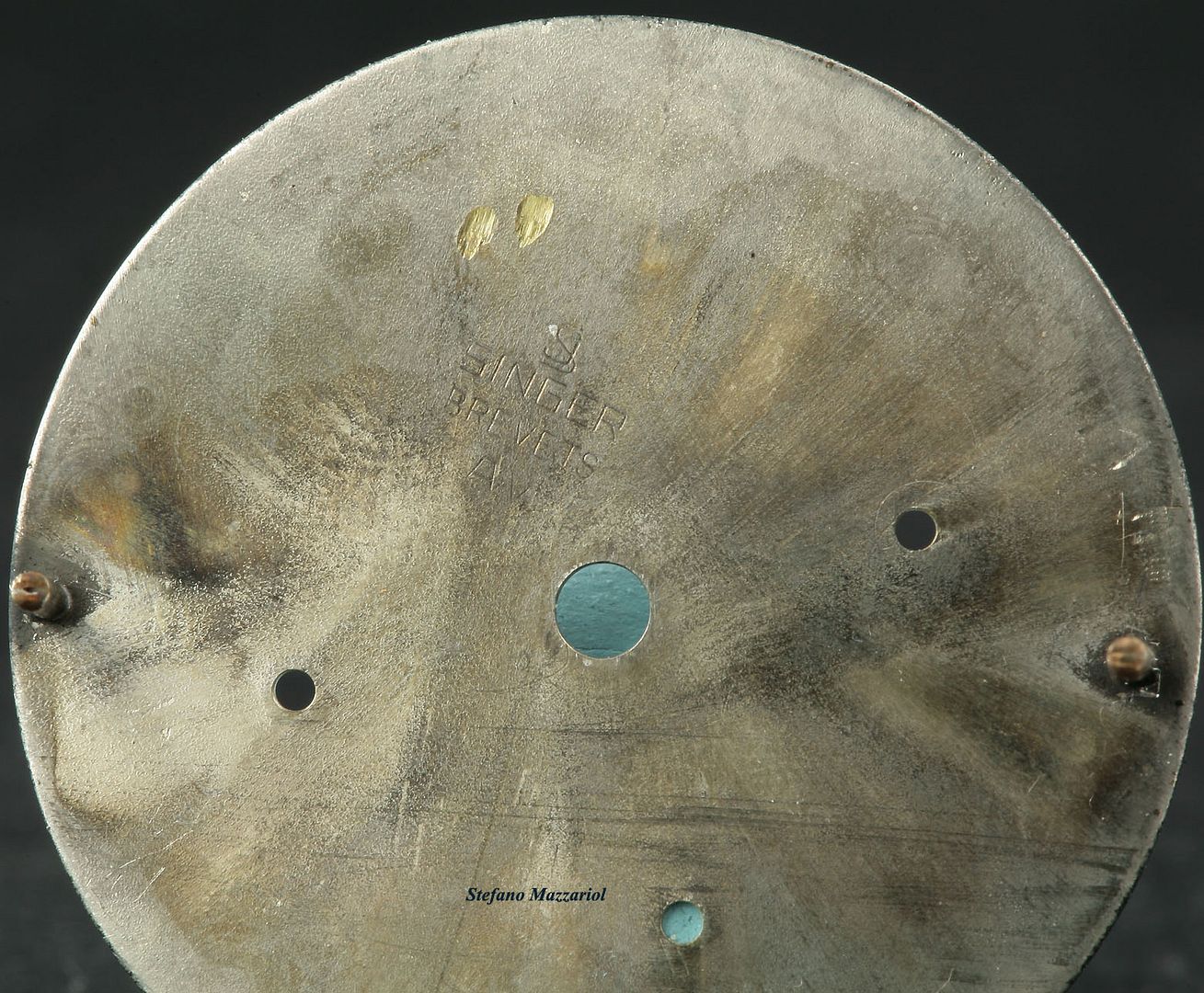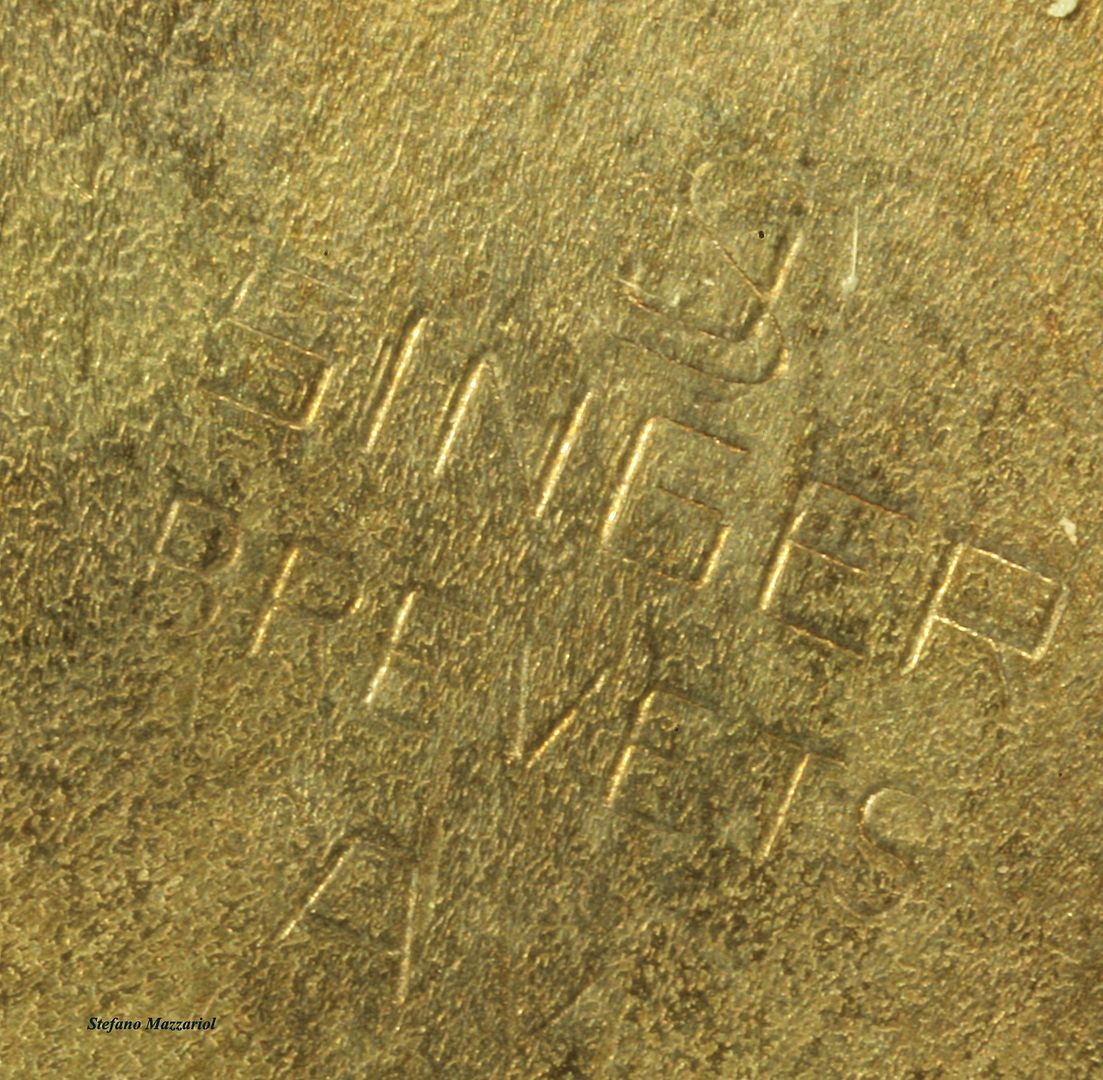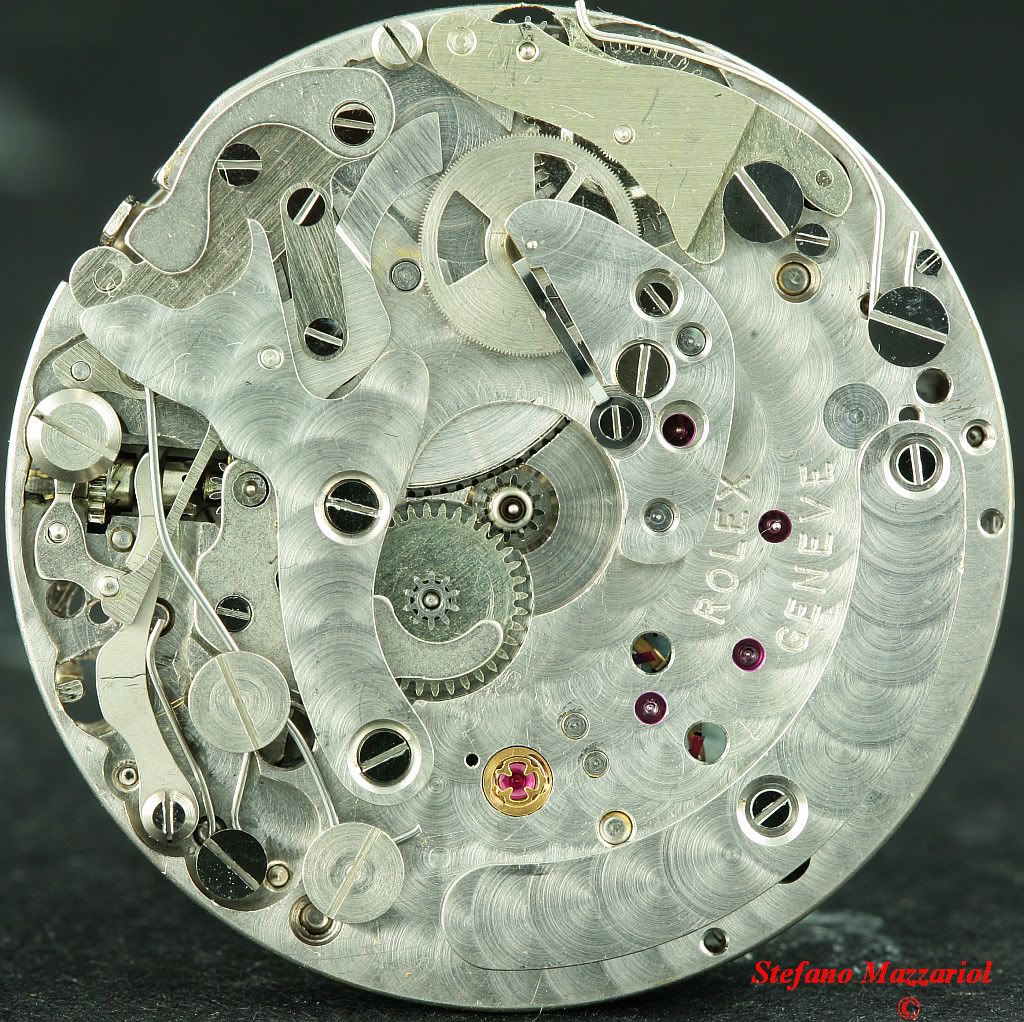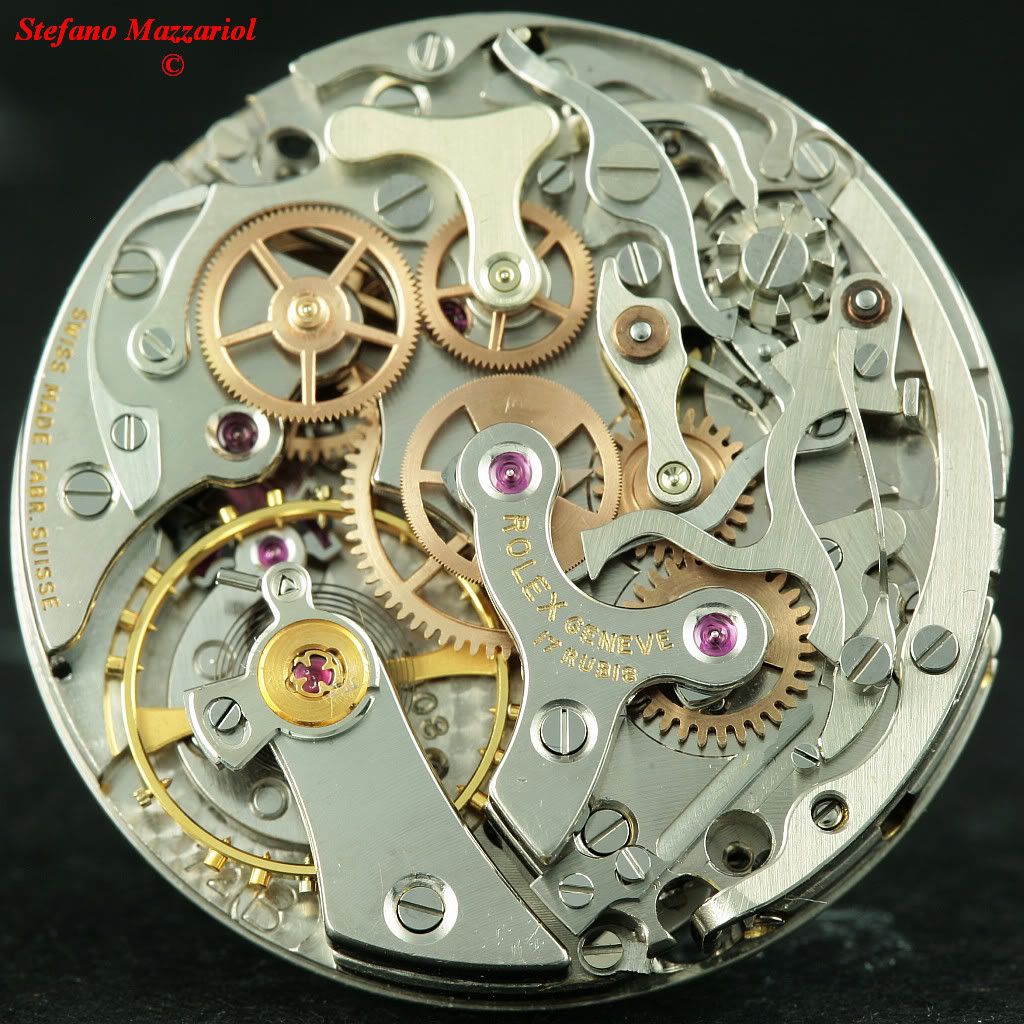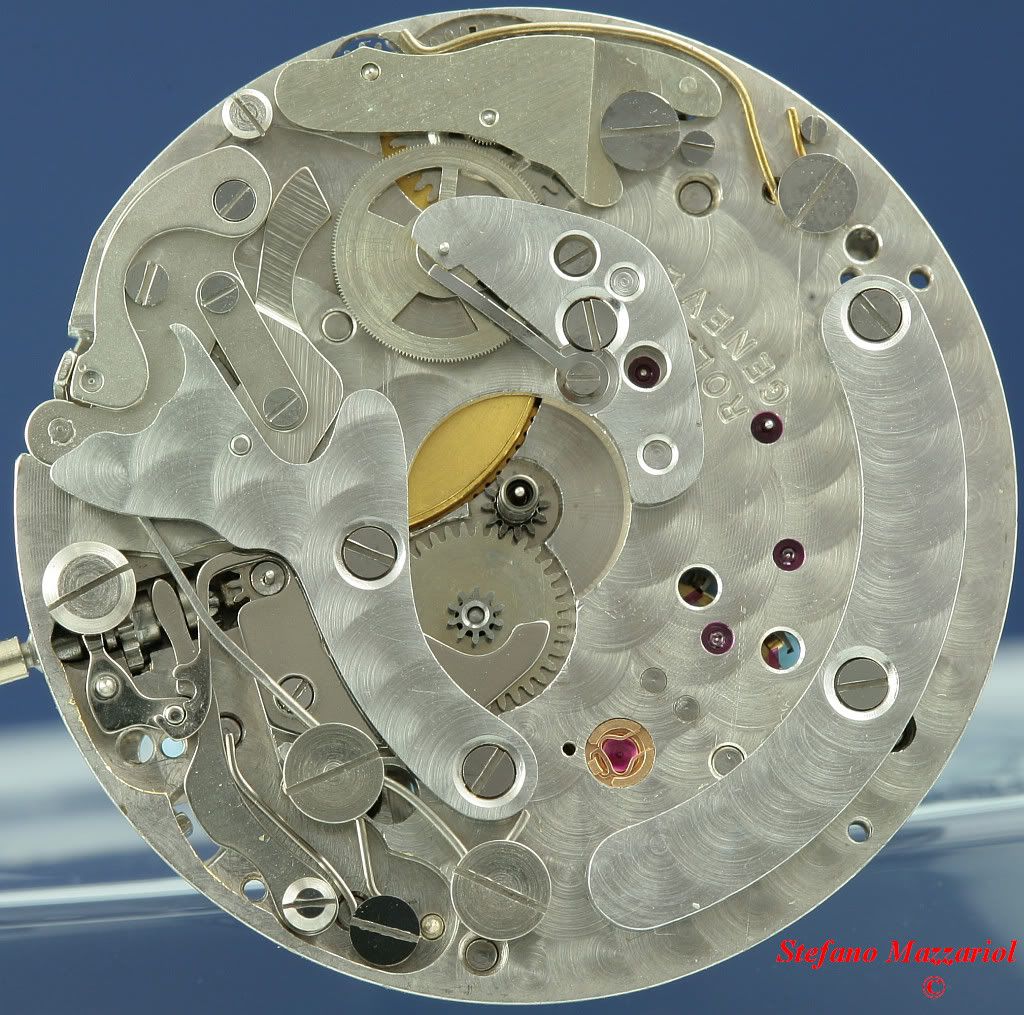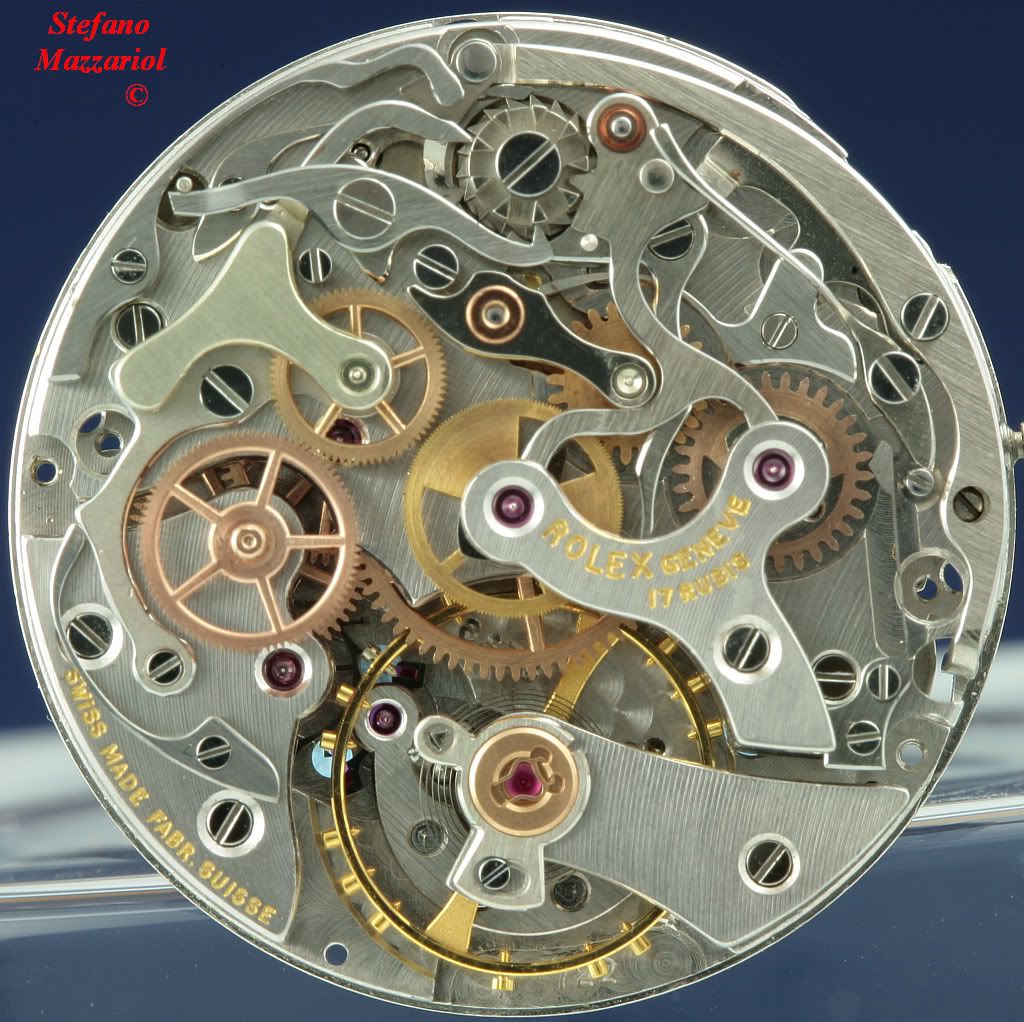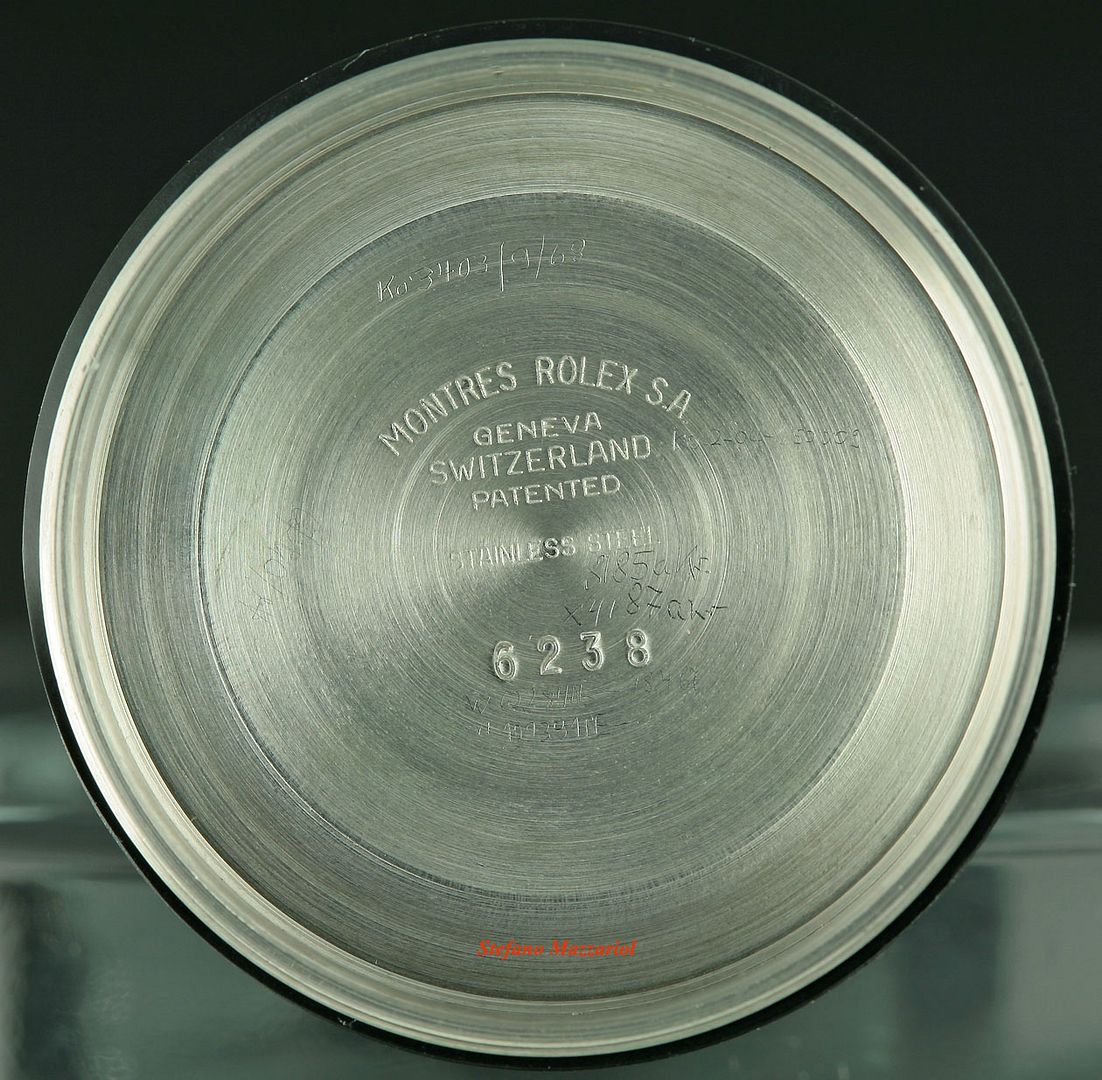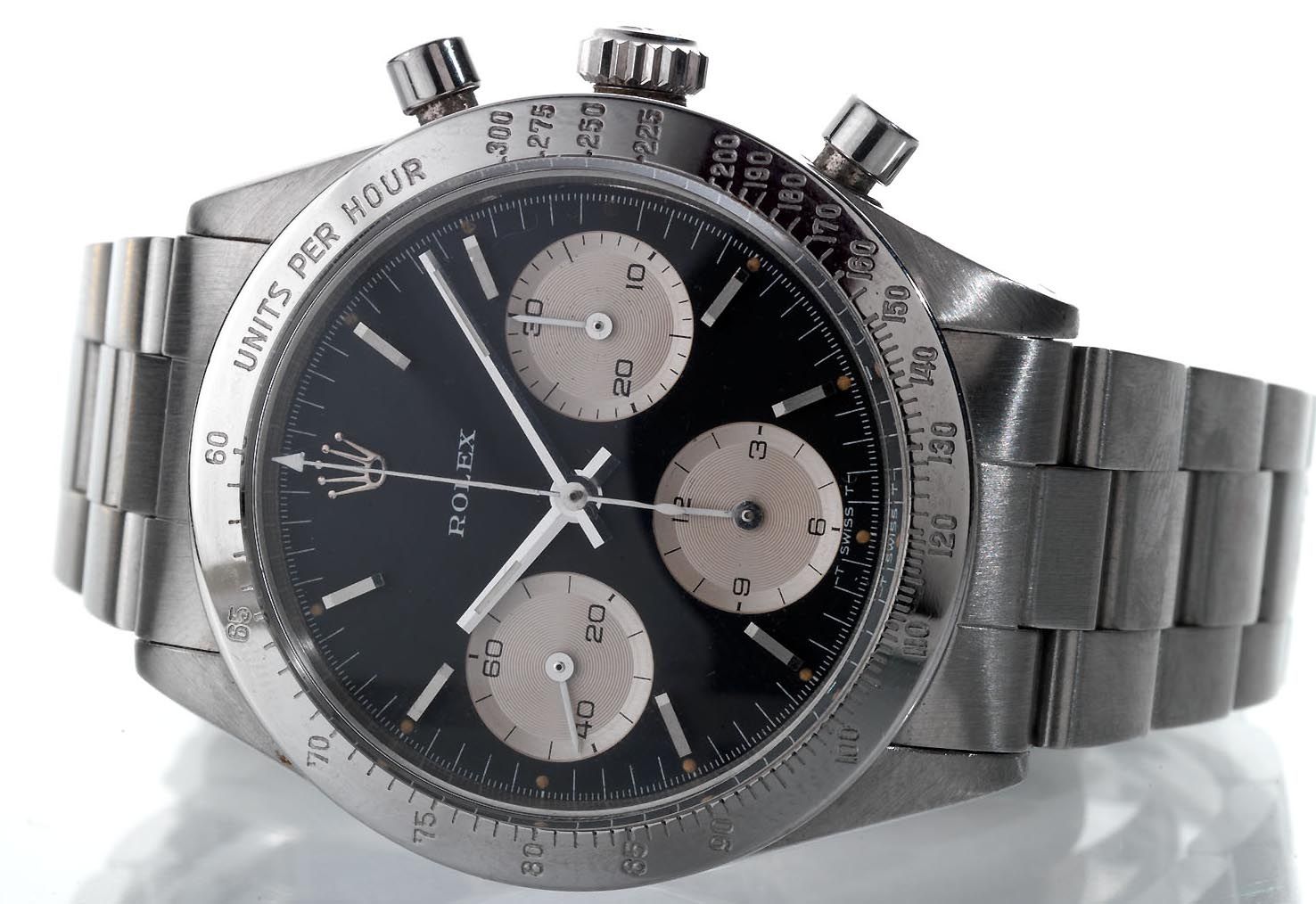 La seconda produzione di 6239, con numeri di matricola a partire da circa 1 milione (1964 circa), ha nella
maggior parte delle produzioni una lunetta seconda serie che presenta come la precedente una scala a 300
unità per ora, ma con misurazione di intervalli di un unità fino a 100 e intermedi a 225 e 250.Rarissime le versioni con finitura satinata.
The second production of 6239, with serial numbers from around 1 million (1964 meters), has in
Most productions a second set bezel that looks like a scale to 300 the previous
units per hour, but with a unit of measurement ranges up to 100 and 225 and intermediate 250.Very rare versions with satin finish.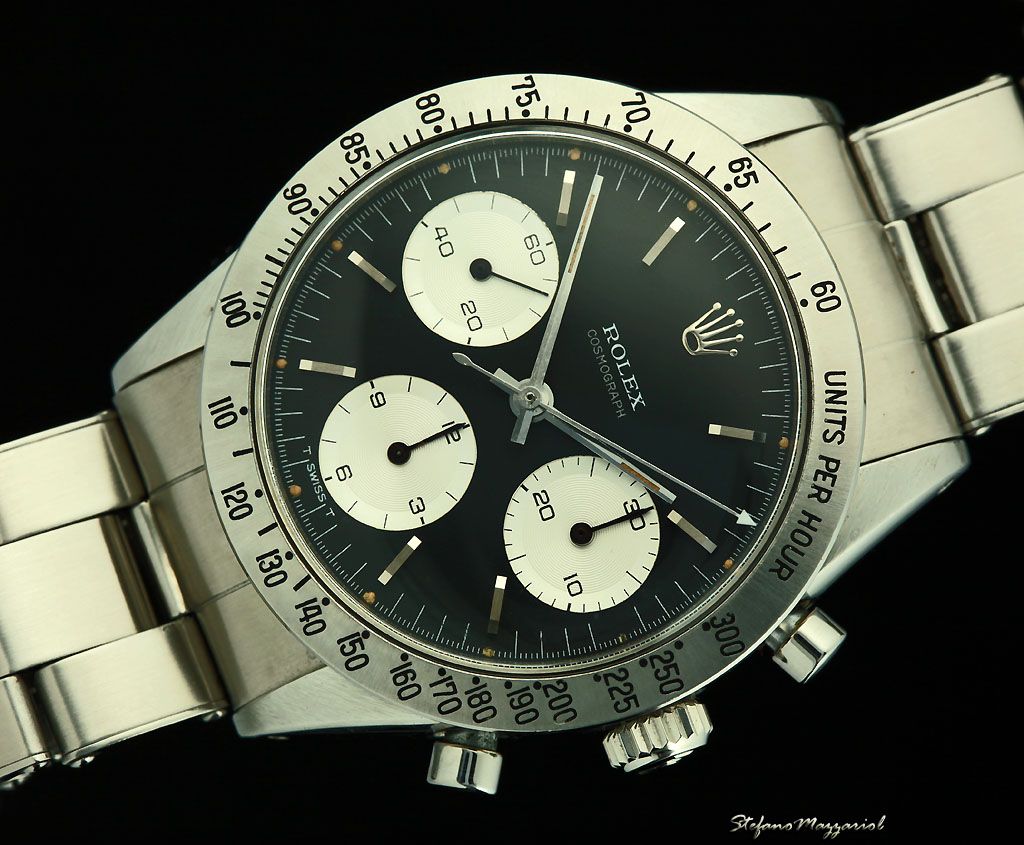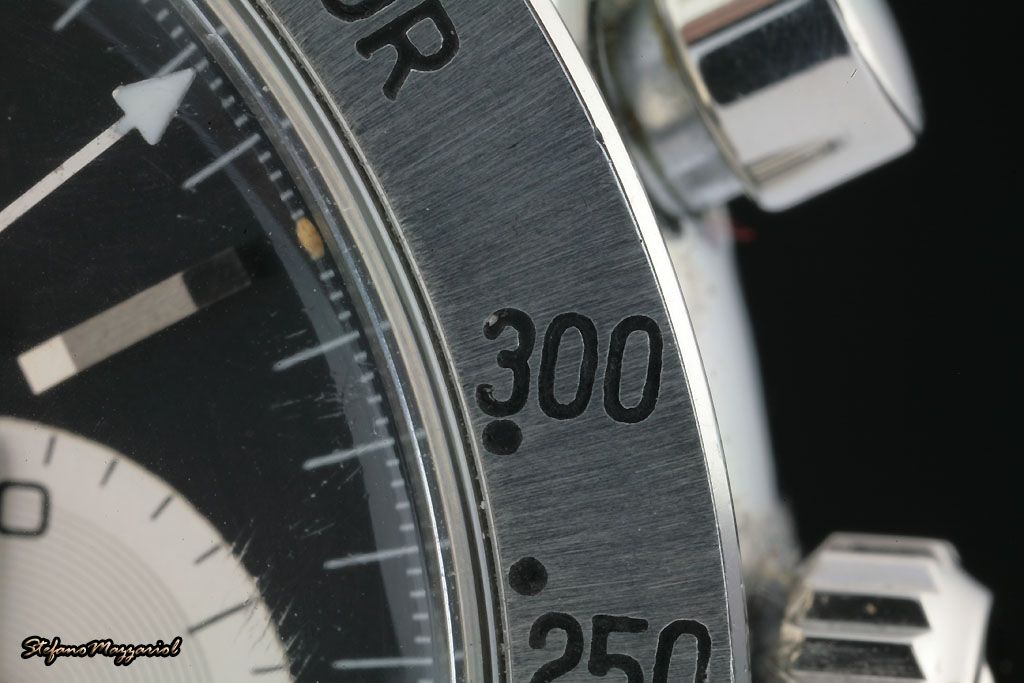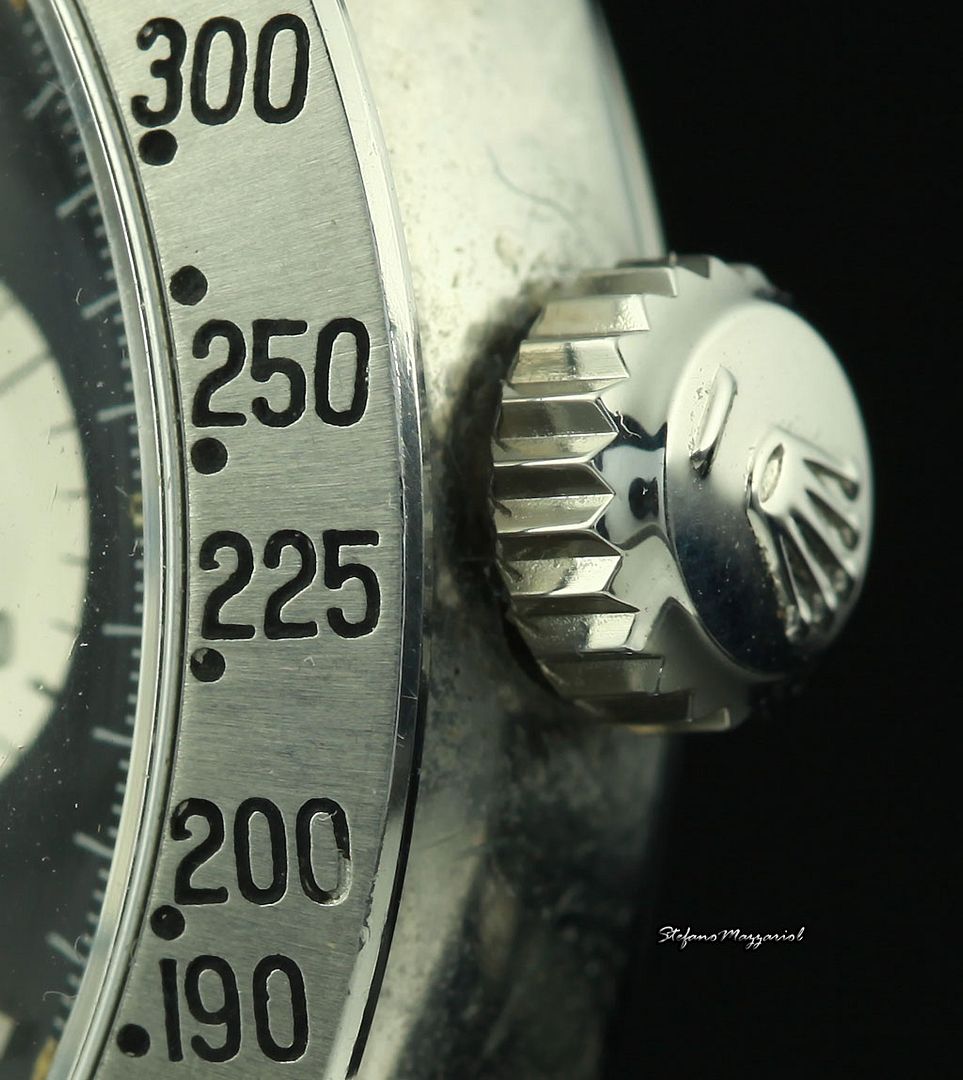 I primi modelli sono anche caratterizati da una lancetta delle ore piu' lunga.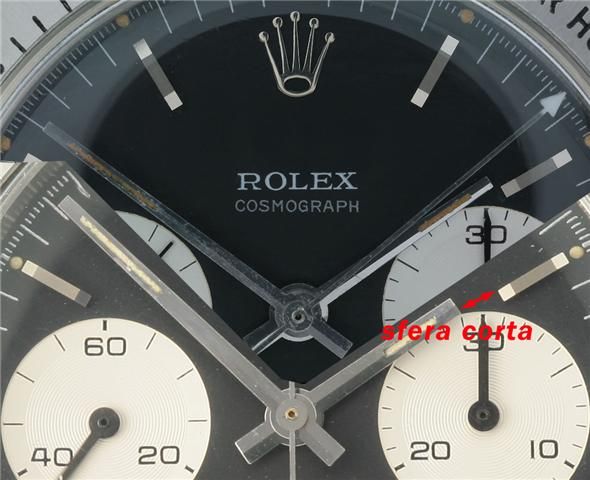 Il quadrante
mantiene le scritte ROLEX COSMOGRAPH in alto sotto la corona Rolex; in basso il quadrante ha la nuova
scritta T SWISS T, che rimarrà in uso anche su tutte le successive produzioni di quadranti per DAYTONA fino
ad oltre metà degli anni '90.
The second 6239 production, with serial numbers starting from about 1 million (around 1964), has
in most productions a second series bezel that presents as the previous one a scale of 300 units
per hour, but with a measurement at 1 unit intervals up to 100 and intermediate ones at 225 and
250. The dial keeps the ROLEX COSMOGRAPH writings on the top below the Rolex crown; on
the bottom the dial carries the new T SWISS T writing that will remain in use also on all the following
dial productions for DAYTONA until after the middle 90's.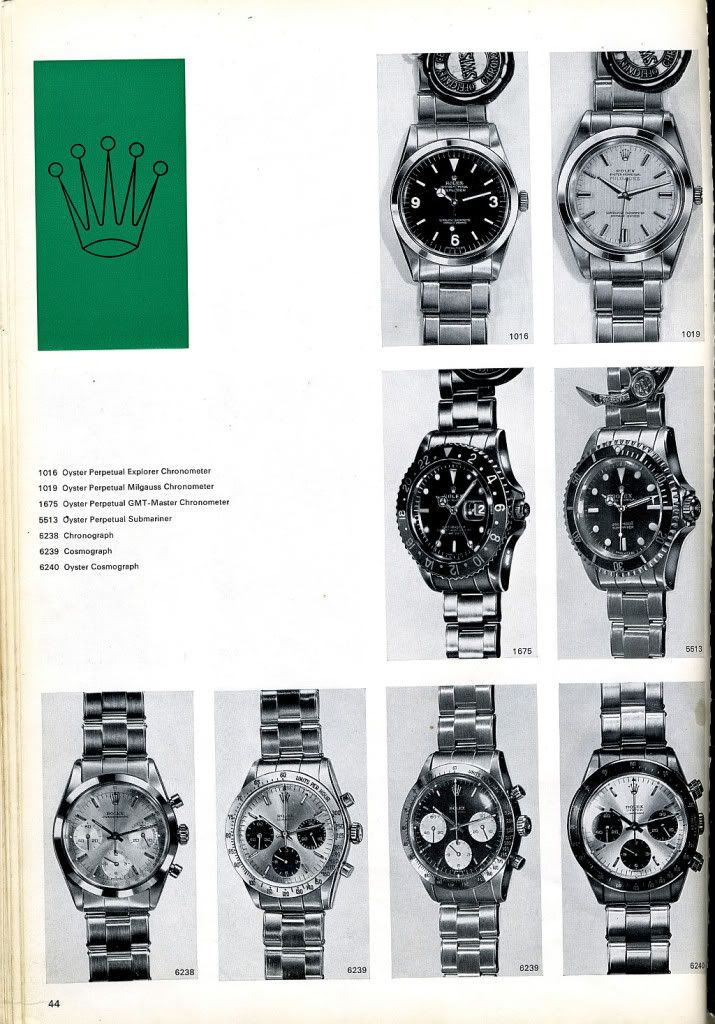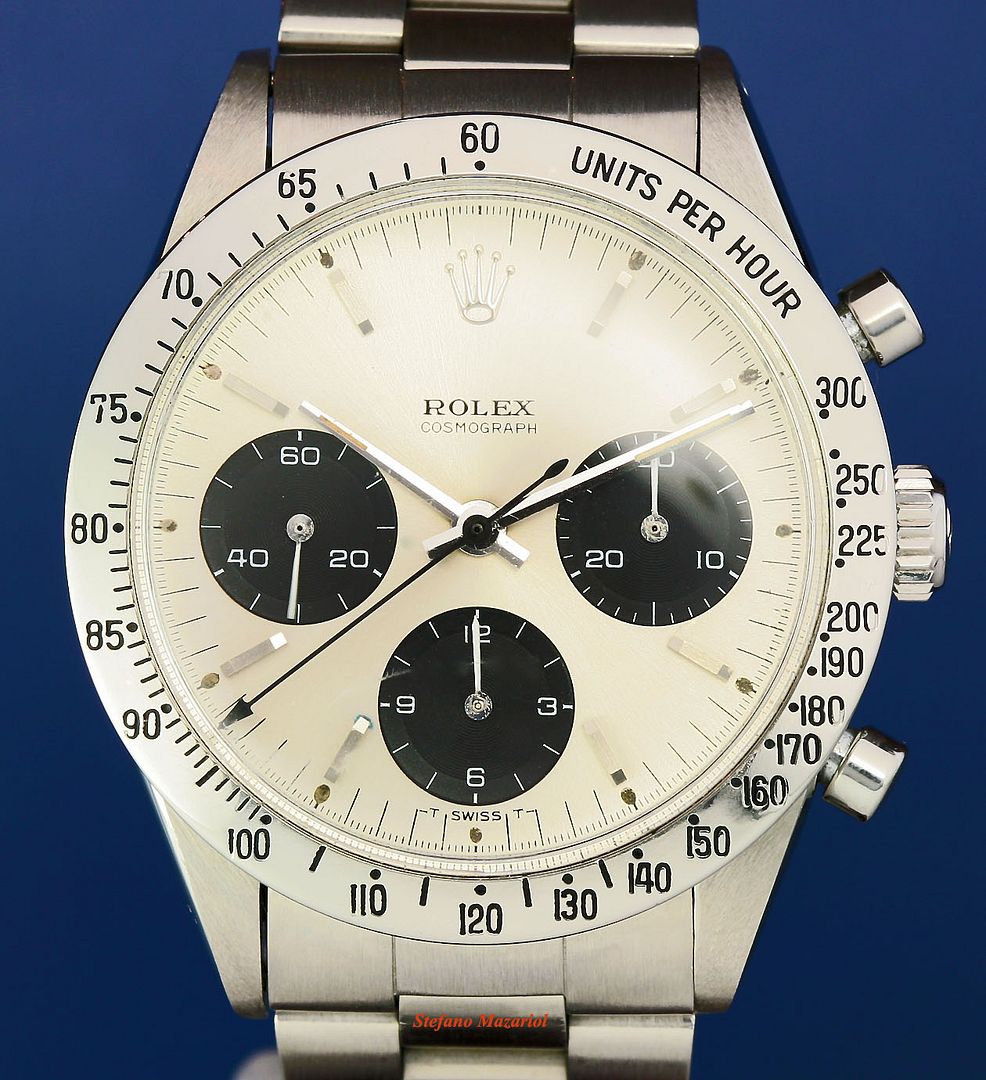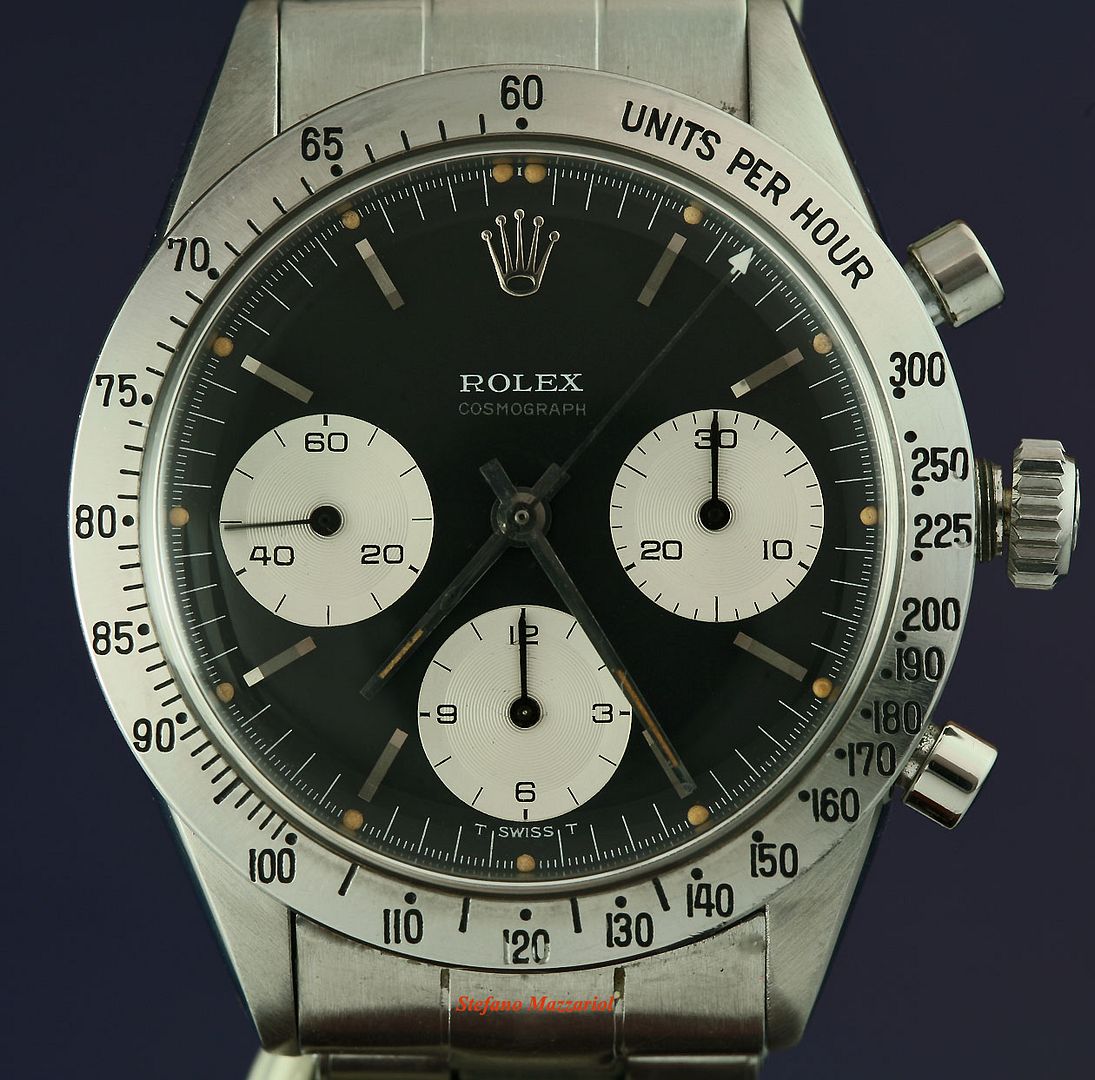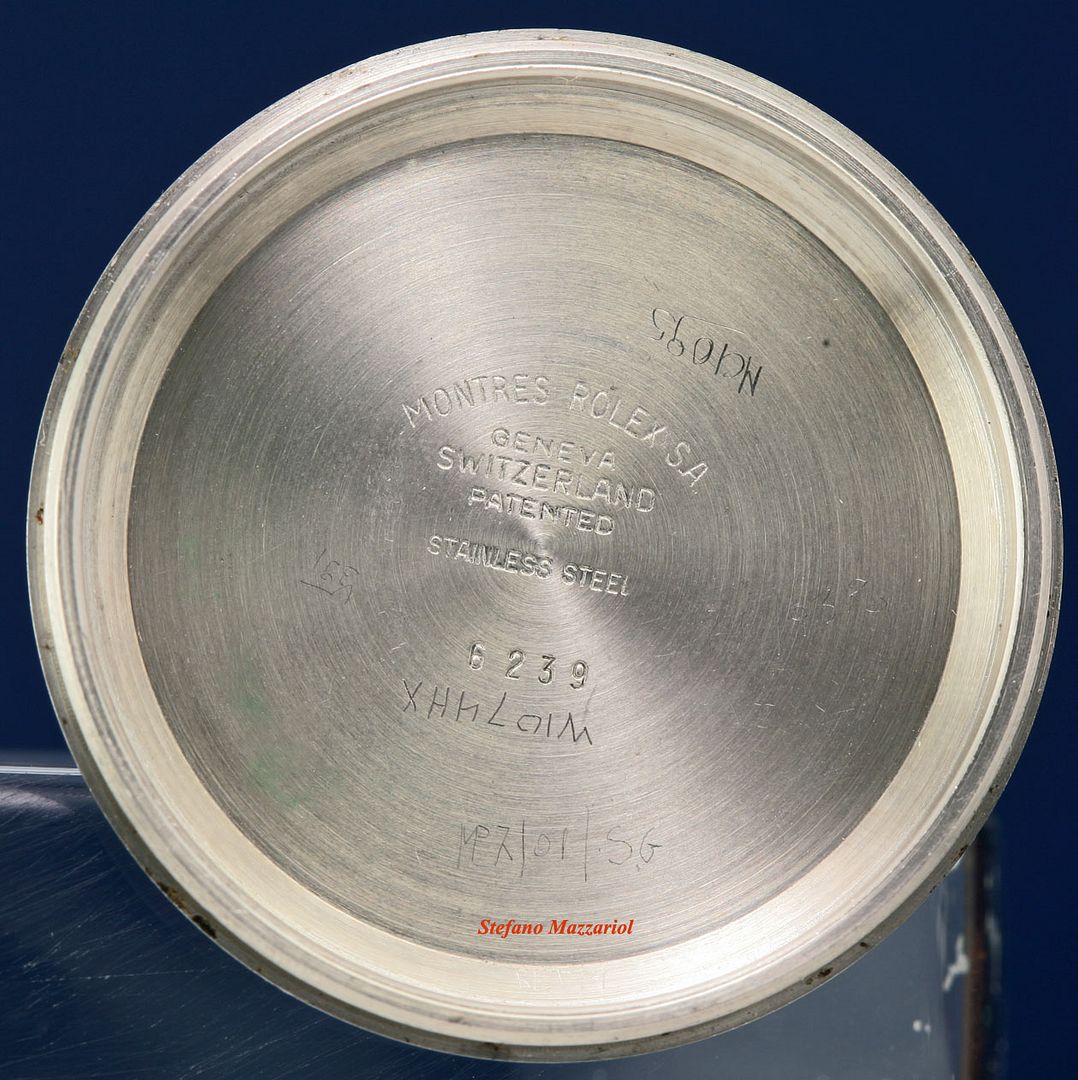 La terza produzione di 6239, con matricole intorno a 1,1 milione (1965 circa) vede la nascita della scritta DAYTONA, in un primo
tempo sul mercato Americano e poi nel resto del mondo. Il carattere grafico è di piccole dimensioni ed è posizionata ore 12
sotto la scritta COSMOGRAPH, dalla quale rimane più o meno distanziata a volte con colore leggermente diverso.
The third 6239 production, with serials around 1.1 millions (around 1965) sees the birth of the DAYTONA writing, at first in
the American market, and later on in the rest of the world. The font has a small size and is placed at 12 o' clock below the
COSMOGRAPH writing, from which it is more or less at a distance, sometimes with a slightly different colour.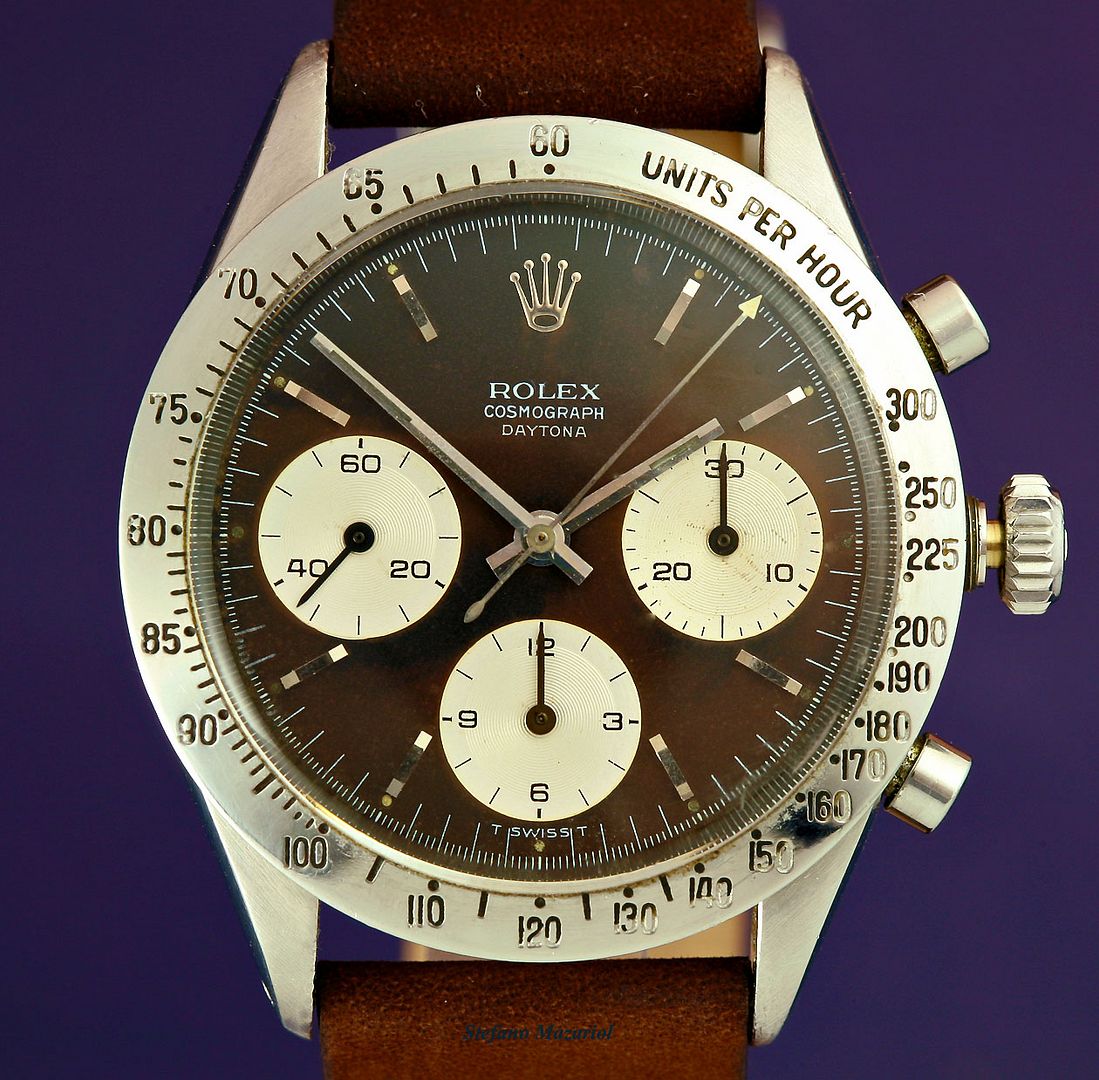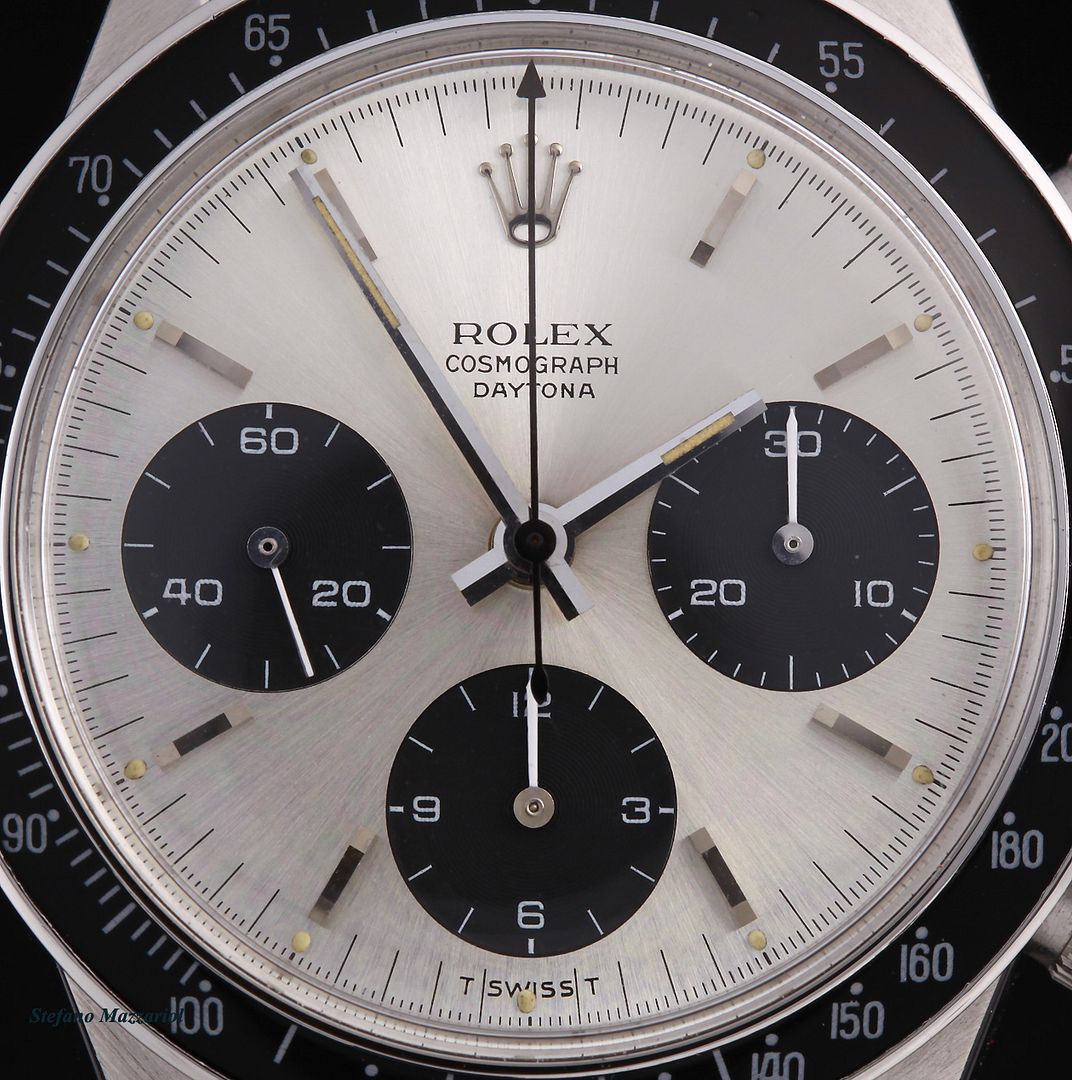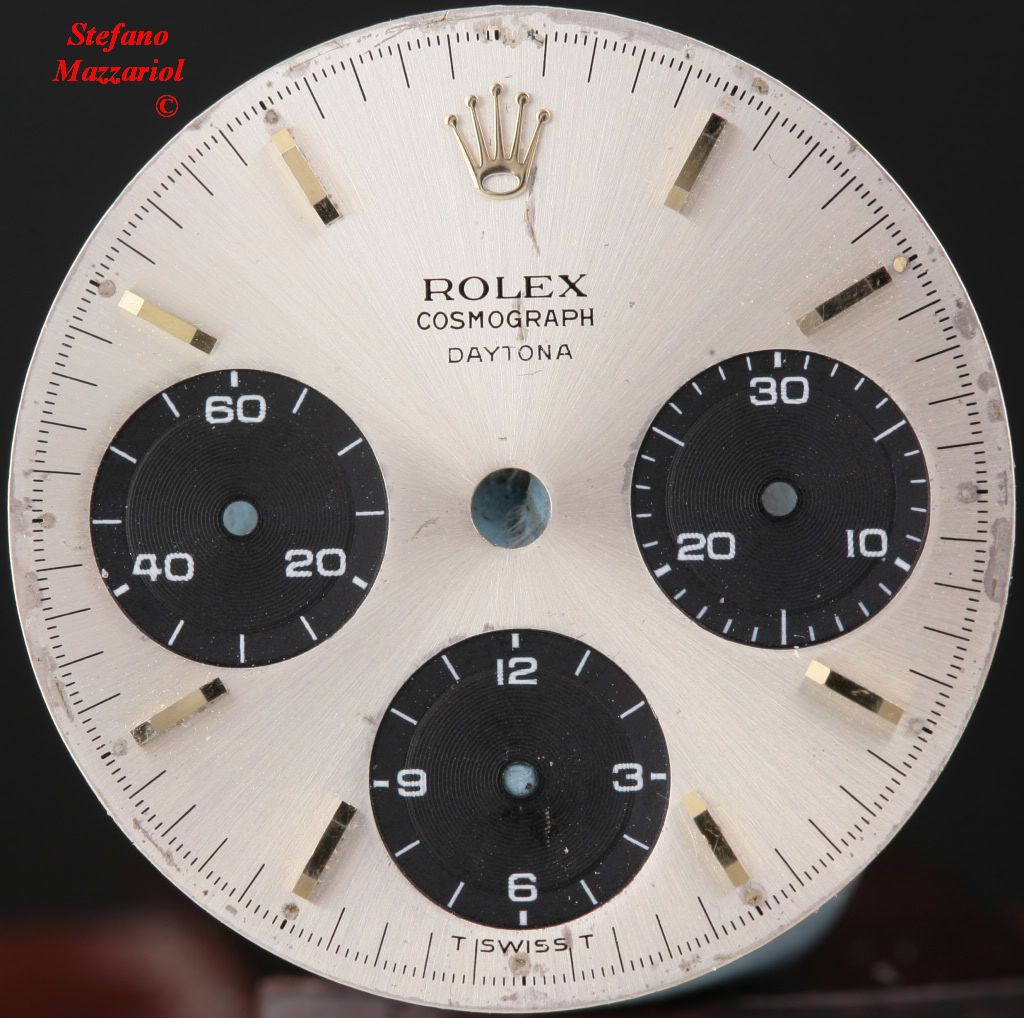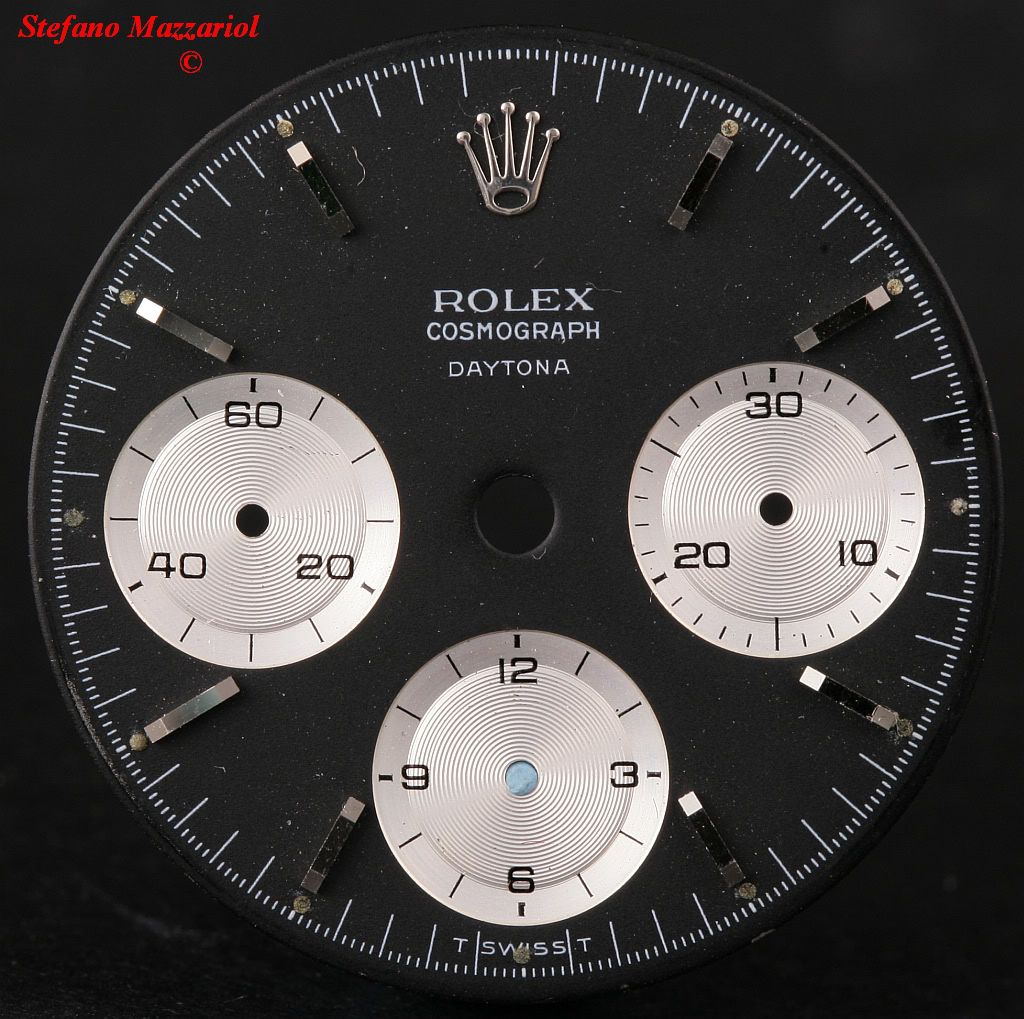 Verso la fine del 1965, con seriali da 1,2 milioni in poi, la grafica delle scritte varia e la scritta DAYTONA diventa più
grande e spaziata; il quadrante pur avendo le stesse scritte presenta un estetica differente dal precedente.
Towards the end of '65, with serials from 1.2 millions on, the graphics of the writings changes in a visible way and the DAYTONA
writing becomes bigger and more spaced; the dial thus, although keeping the same writings, has a different appearance from the
previous one.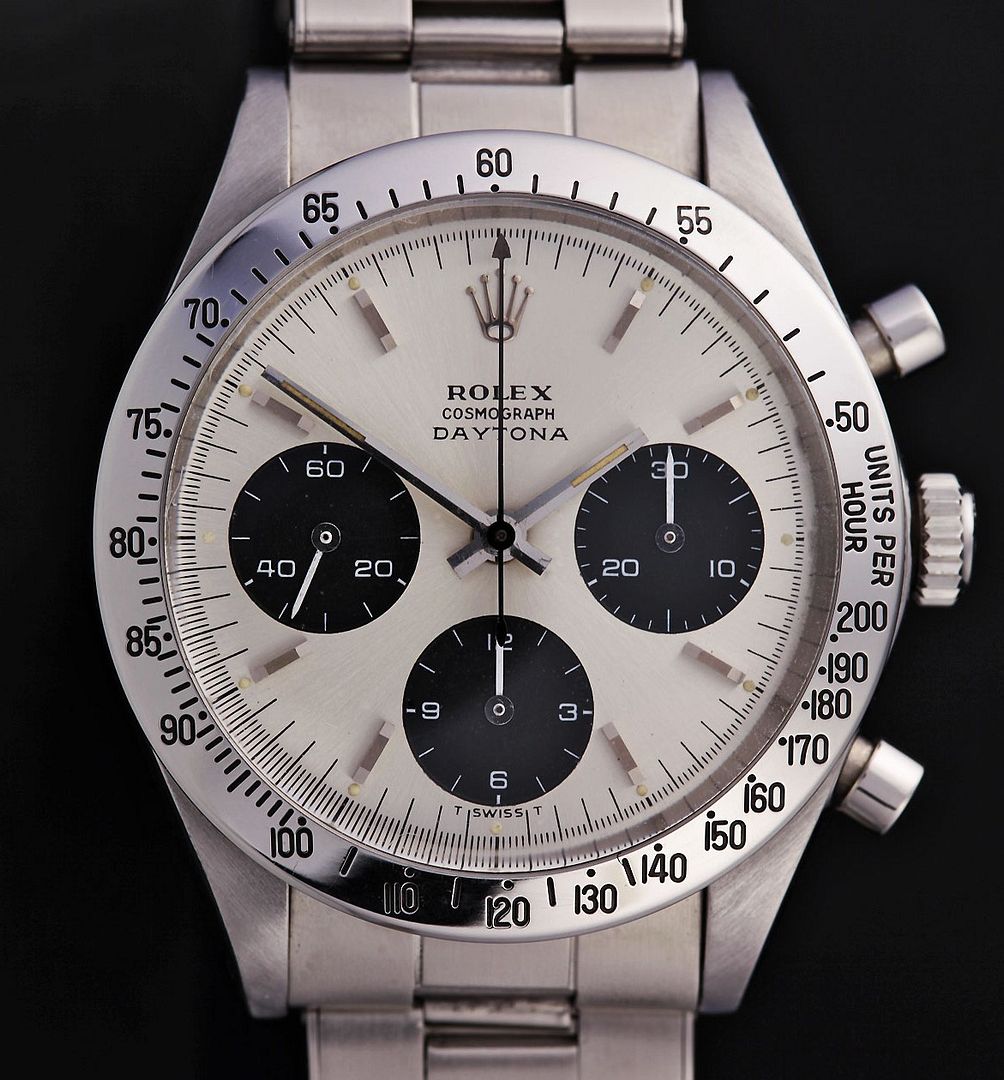 In contemporanea Rolex lancia sul mercato un nuovo modello, la referenza 6241; ha medesime caratteristiche della ref. 6239
ma la lunetta è in metallo con inserto in plastica nera e scala fino a 200 unità per ora. Di conseguenza anche la lunetta tutta in
acciaio del 6239 viene modificata con scala fino a 200 UPH.
In the meantime Rolex launches a new model, reference 6241; it has the same features as reference 6239 but the bezel
is metal with a black plastic insert and a scale up to 200 units per hour. As a result also the all-steel bezel of 6239 is modified
with a scale up to 200 UPH.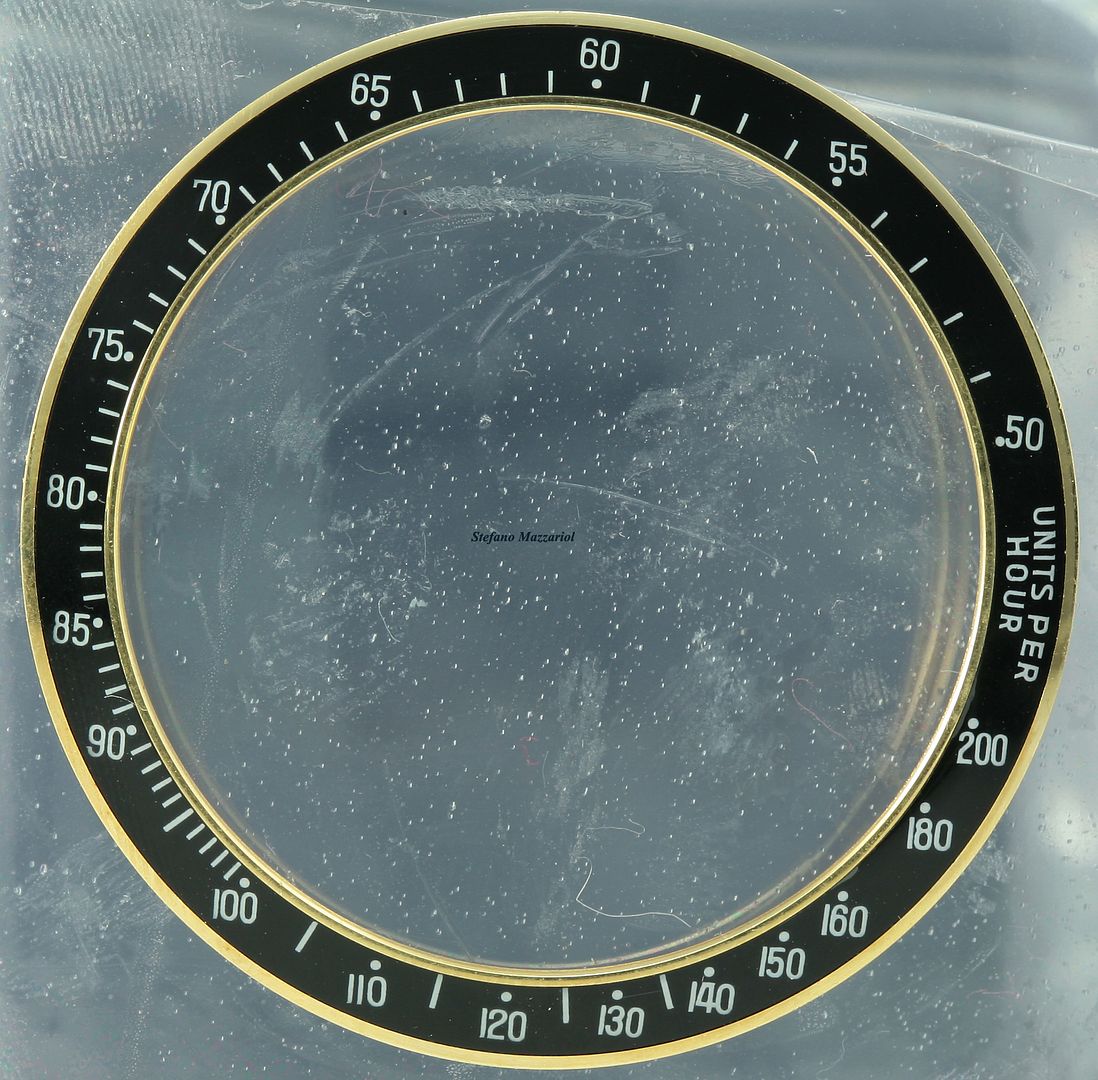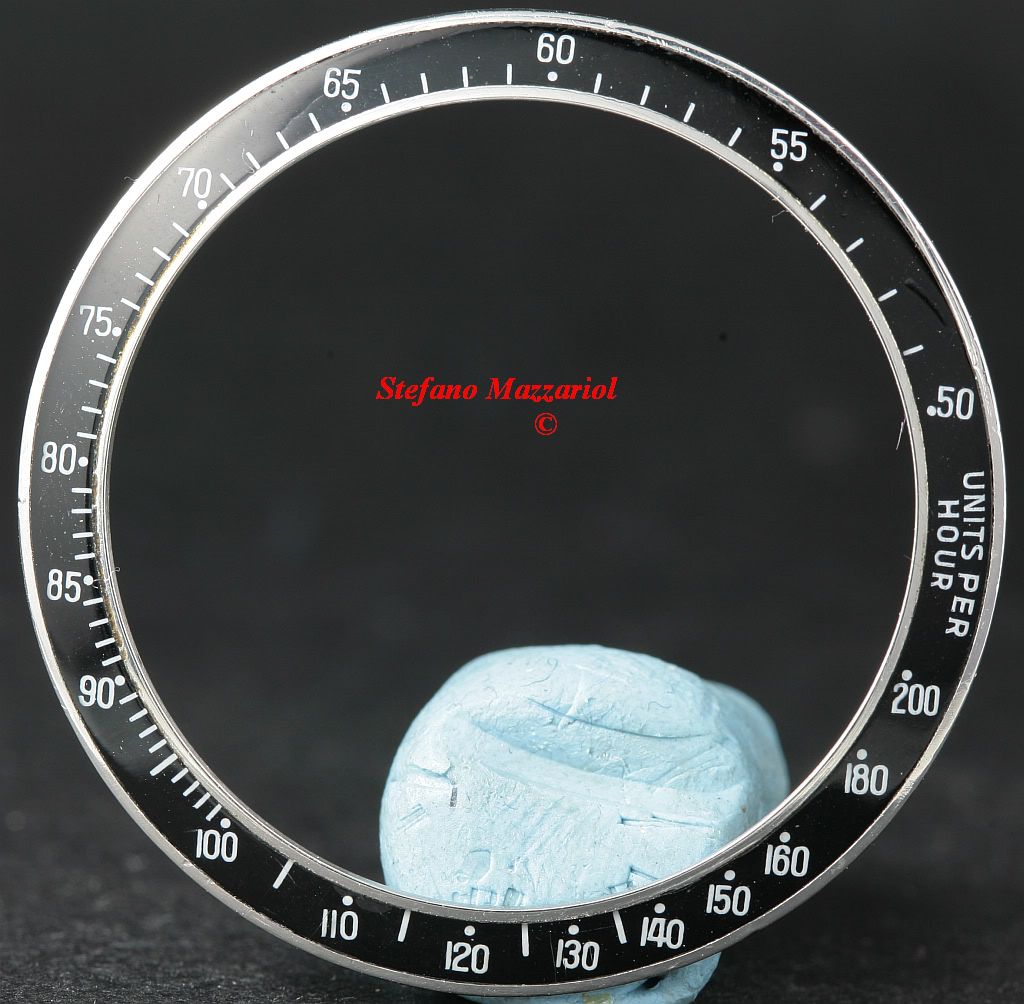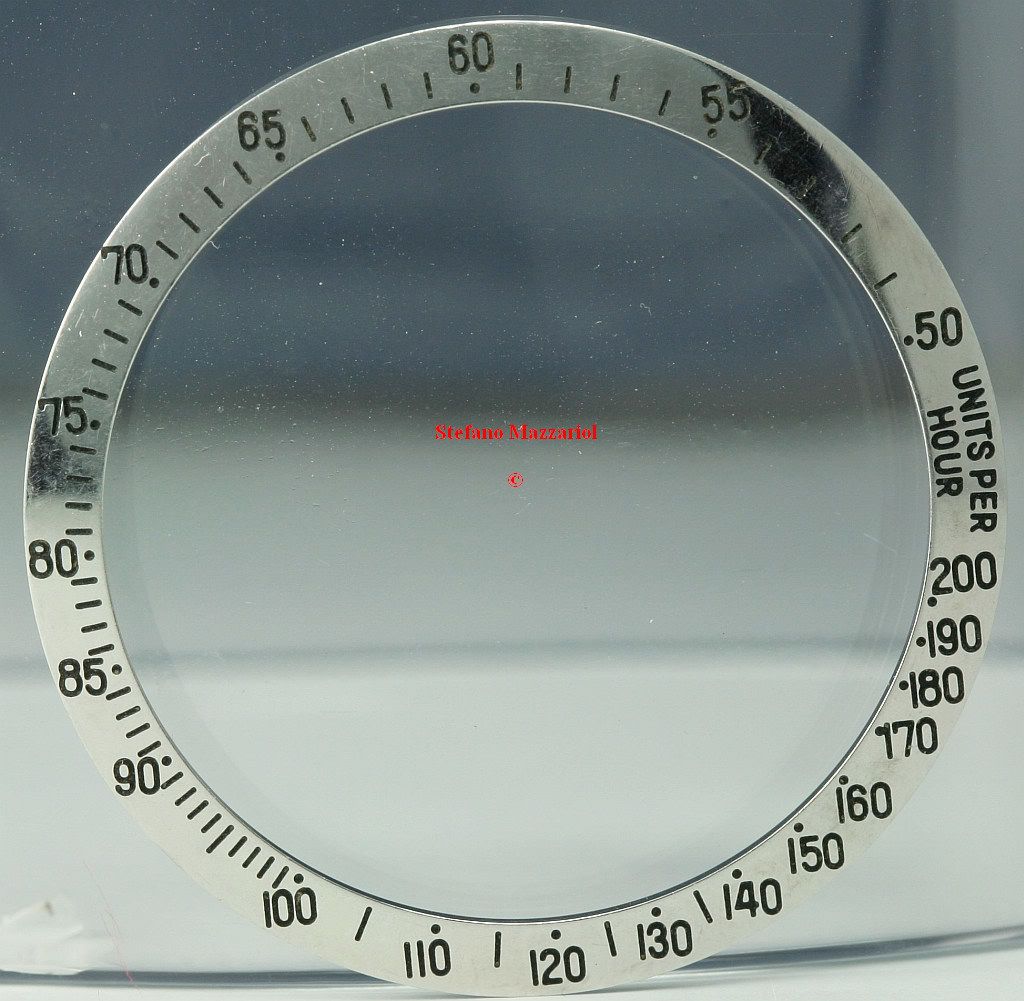 In contemporanea all'inserimento della nuova ref.6241 Rolex modifica la produzione della cassa
passando da un profilo perfettamente tondo ad un profilo con convessità accentuata in
corrispondenza della corona di carica in modo da agevolarne l'apertura, riducendo anche
l'alloggiamento dei pulsanti della cronografia.
Simultaneously with the introduction of the new reference 6241 Rolex modifies the case
production passing from a perfectly round profile to a profile that is particularly convex close
to the winding crown to make its opening easier and reducing the slot for the chronography's
buttons.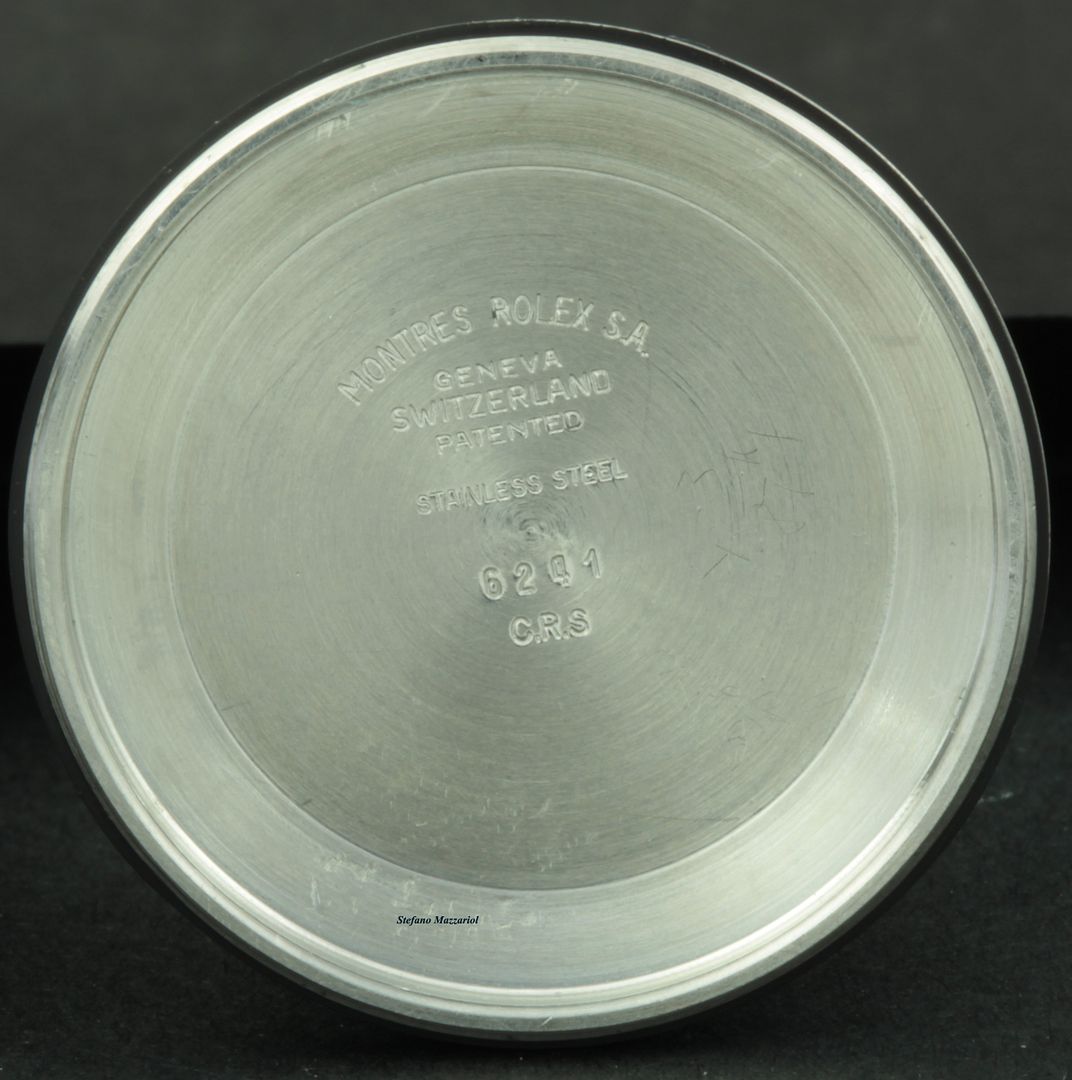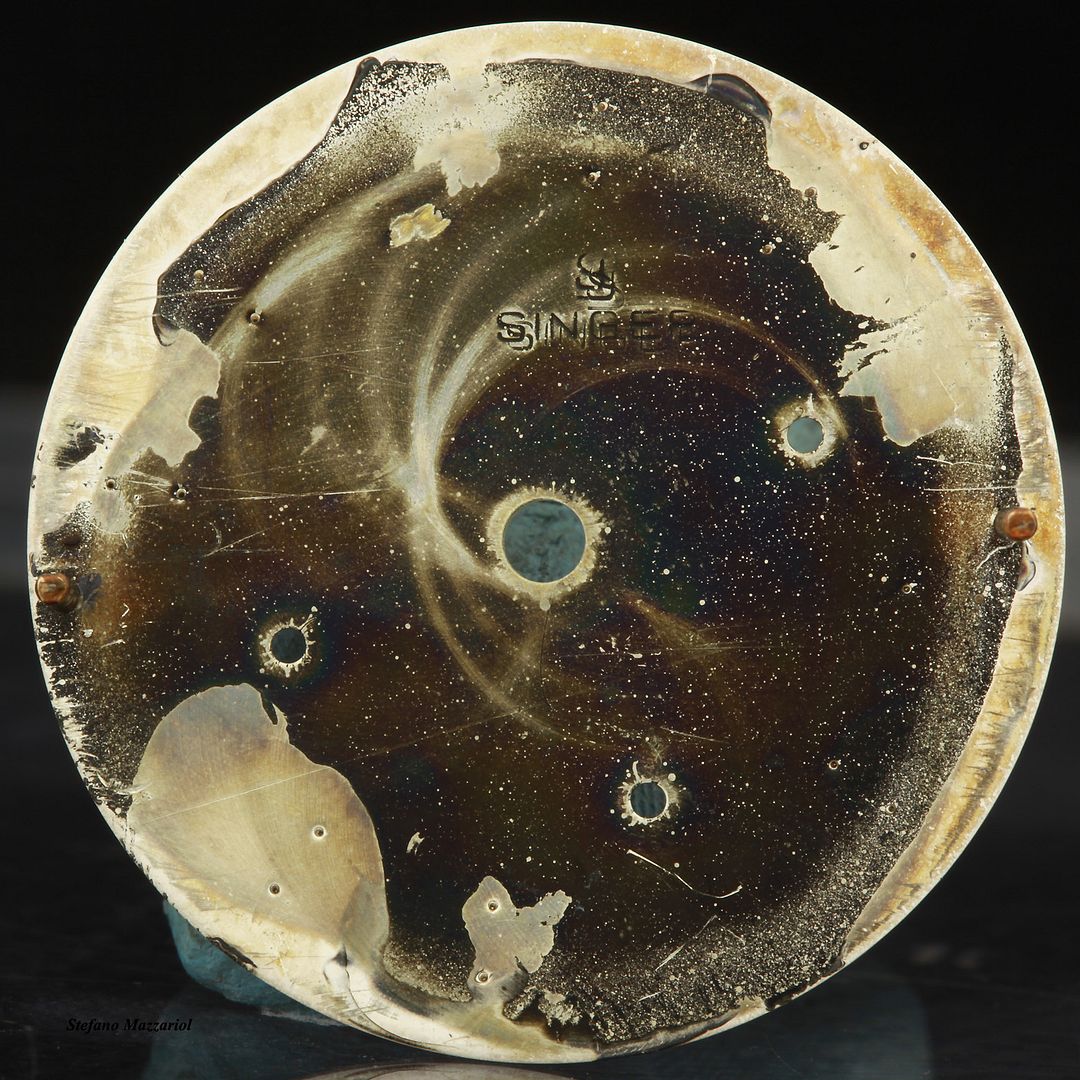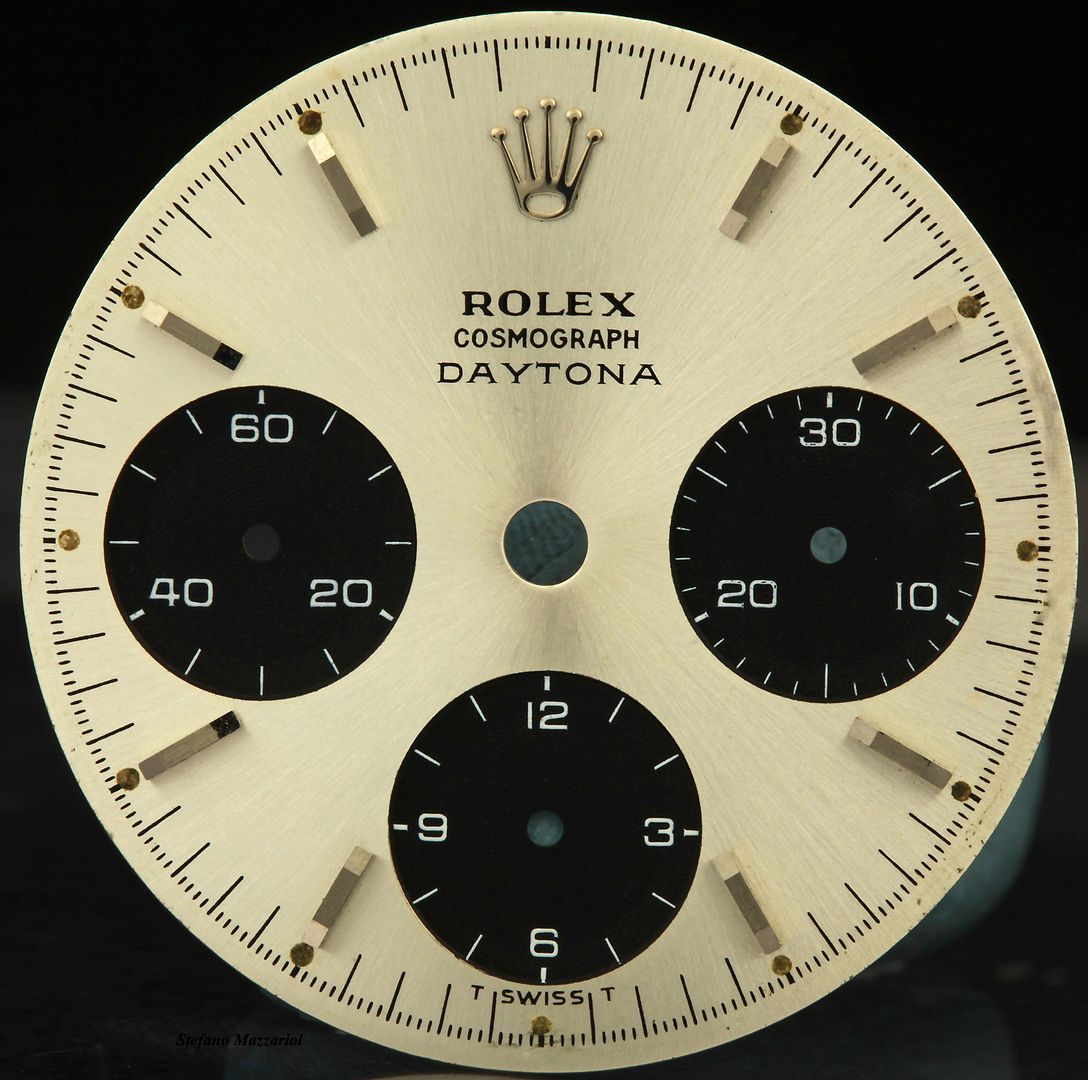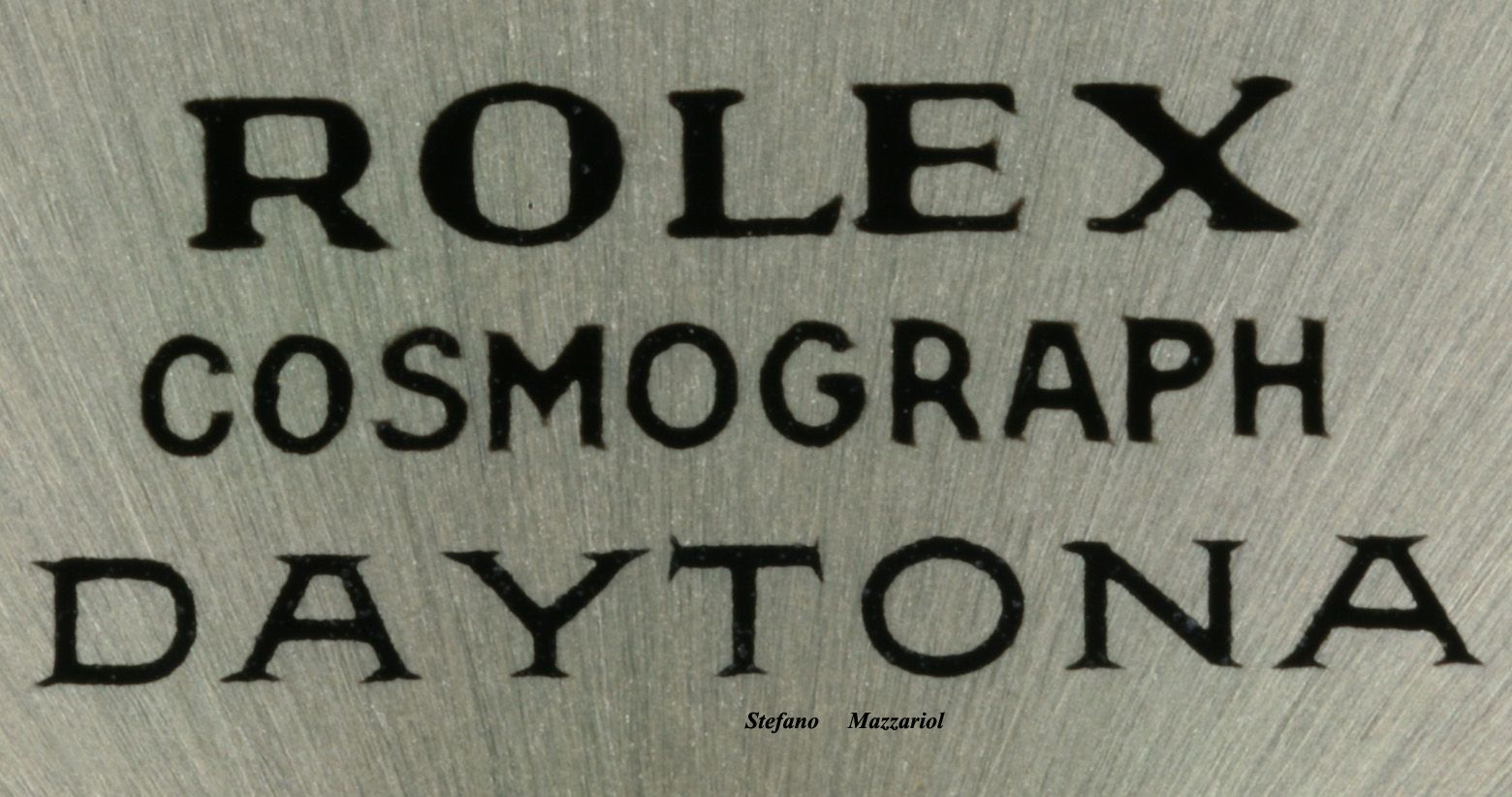 Anche il movimento negli ultimi anni di produzione delle referenze 6239 e 6241, subisce piccole
modifiche passando da 722 a 722-1.
Also the movement in the last years of production of references 6239 and 6241 undergoes small
changes passing from 722 to 722-1.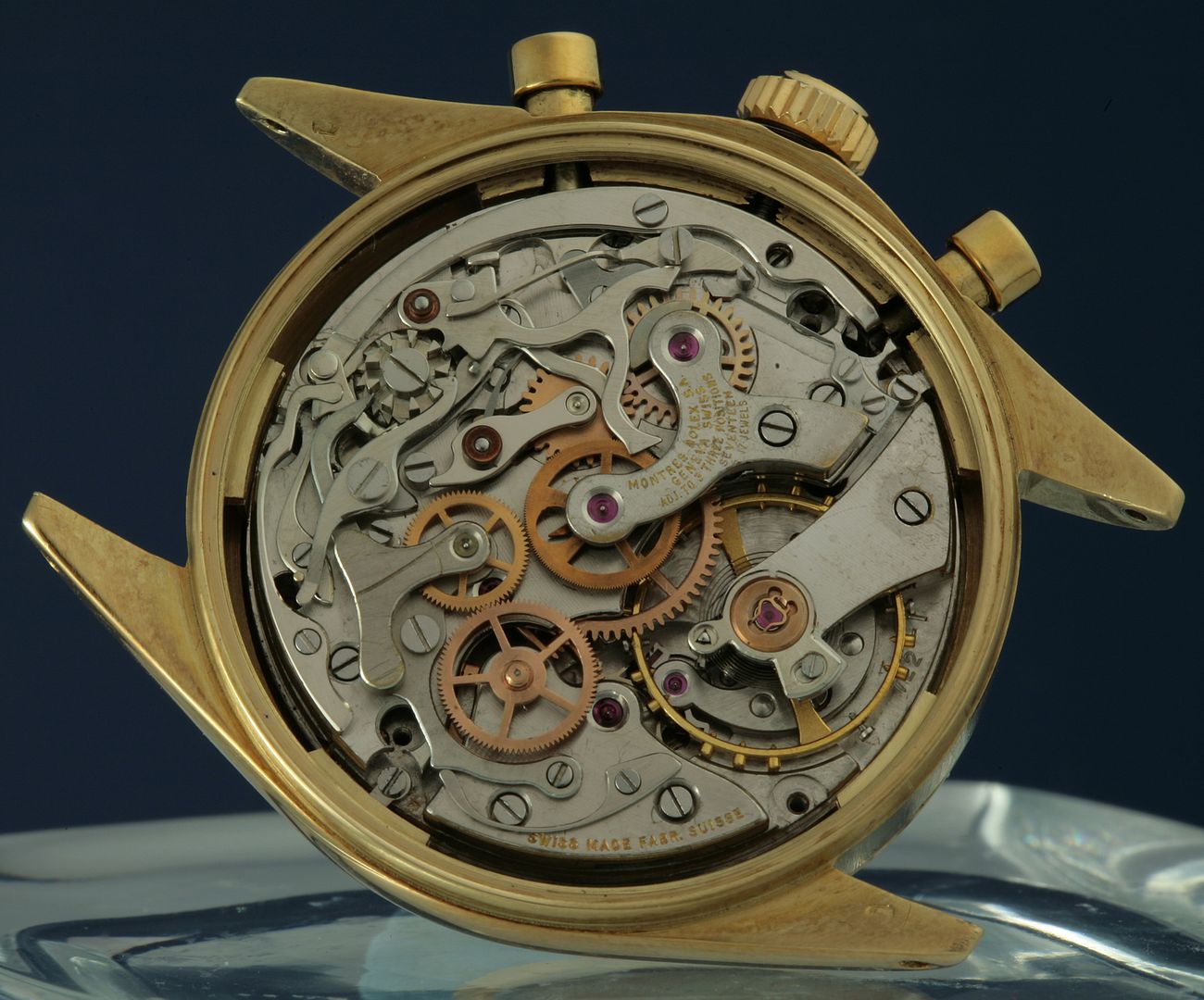 Le ultime produzioni di Daytona con tasti a pompa e numeri di matricola sopra i 2 milioni, sono le referenze
6262 e 6264; la prima con lunetta interamente in acciaio e la seconda con inserto in plastica nero. Identiche
esteticamente alle precedenti ref. 6239 e 6241, si diversificano per il movimento che sarà il nuovo 727 e per il
quadrante che riporta la scritta DAYTONA in basso sul contatore delle ore.
The last Daytona productions with pump buttons and serial numbers above 2 millions are references
6362 and 6264; the first one with a totally stainless steel bezel and the second with black plastic
insert. Identical in their appearance to the previous references 6239 and 6241, they differ by the
movement that will be the new 727 and the dial that carries the DAYTONA writing blow on the
hours marker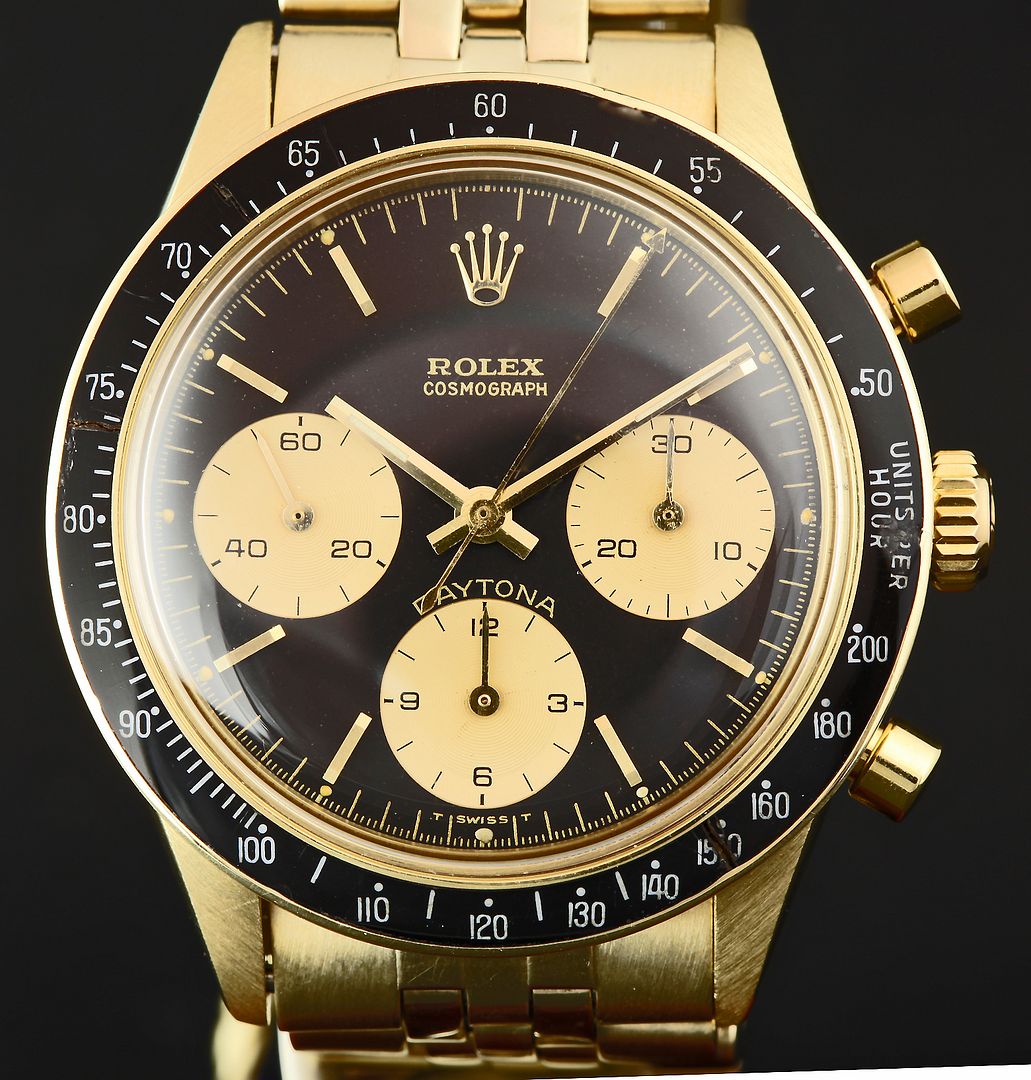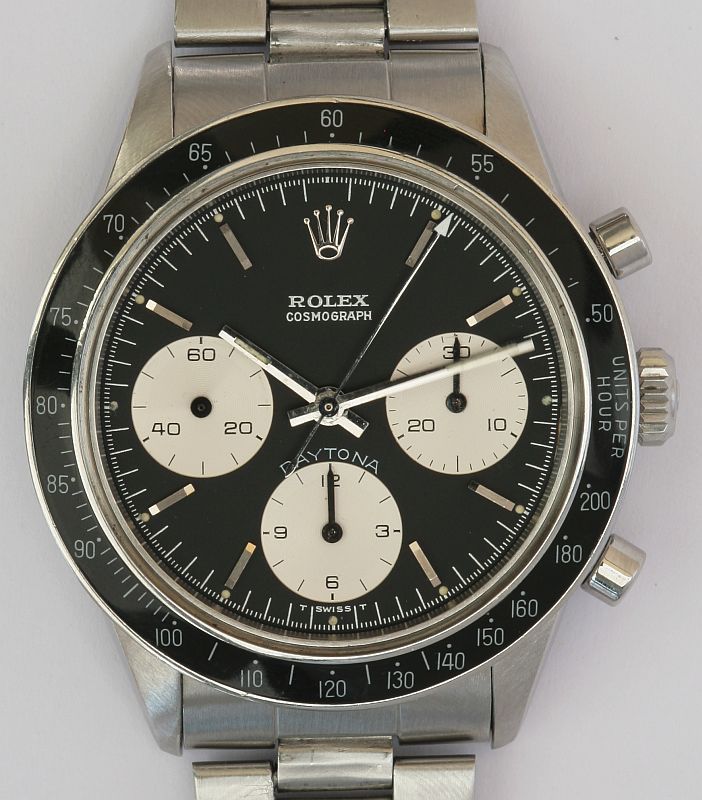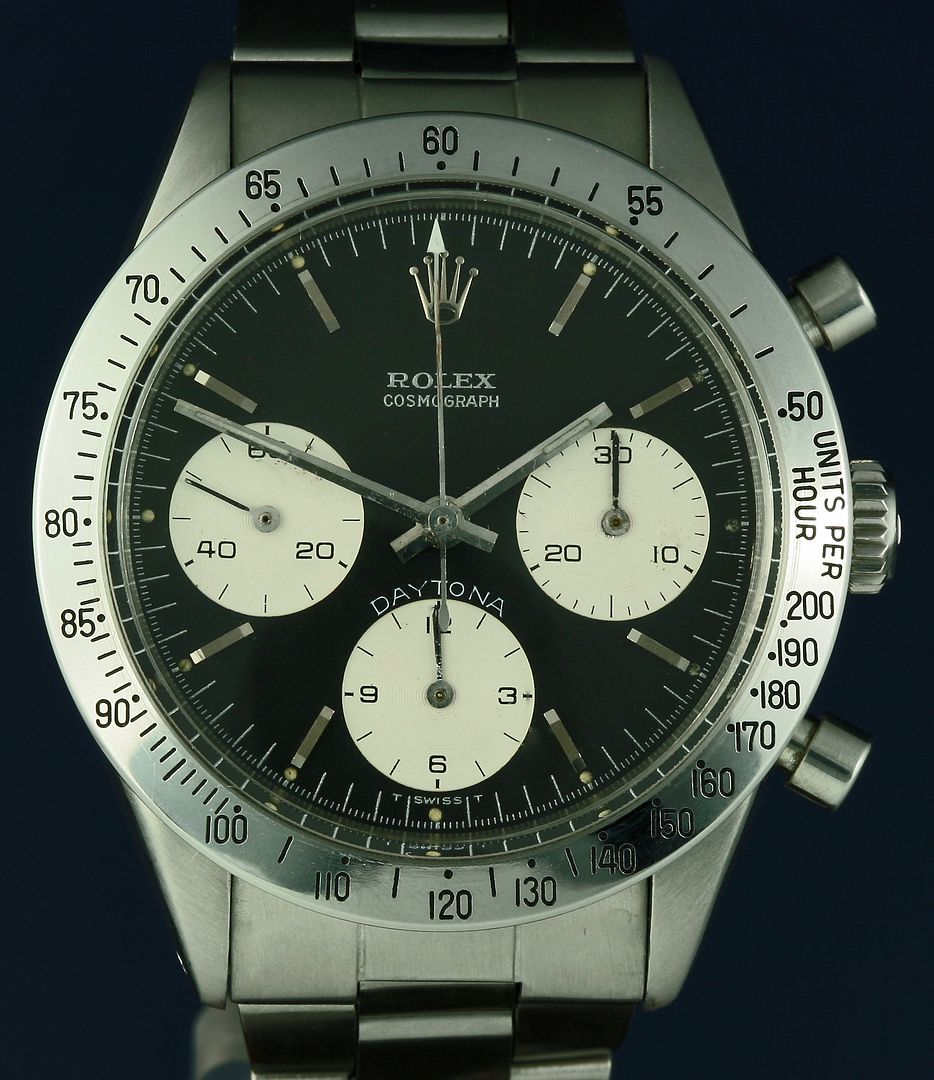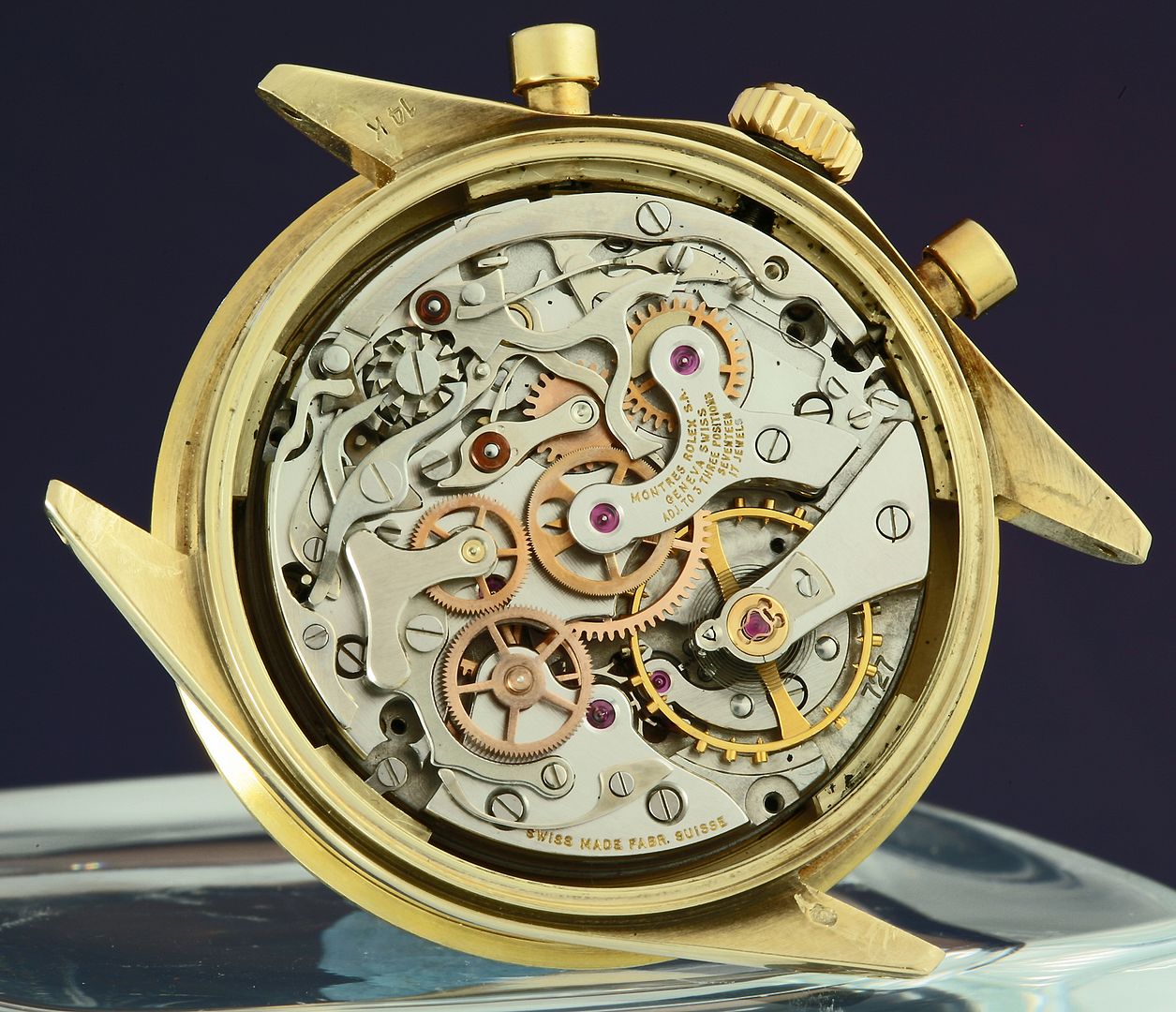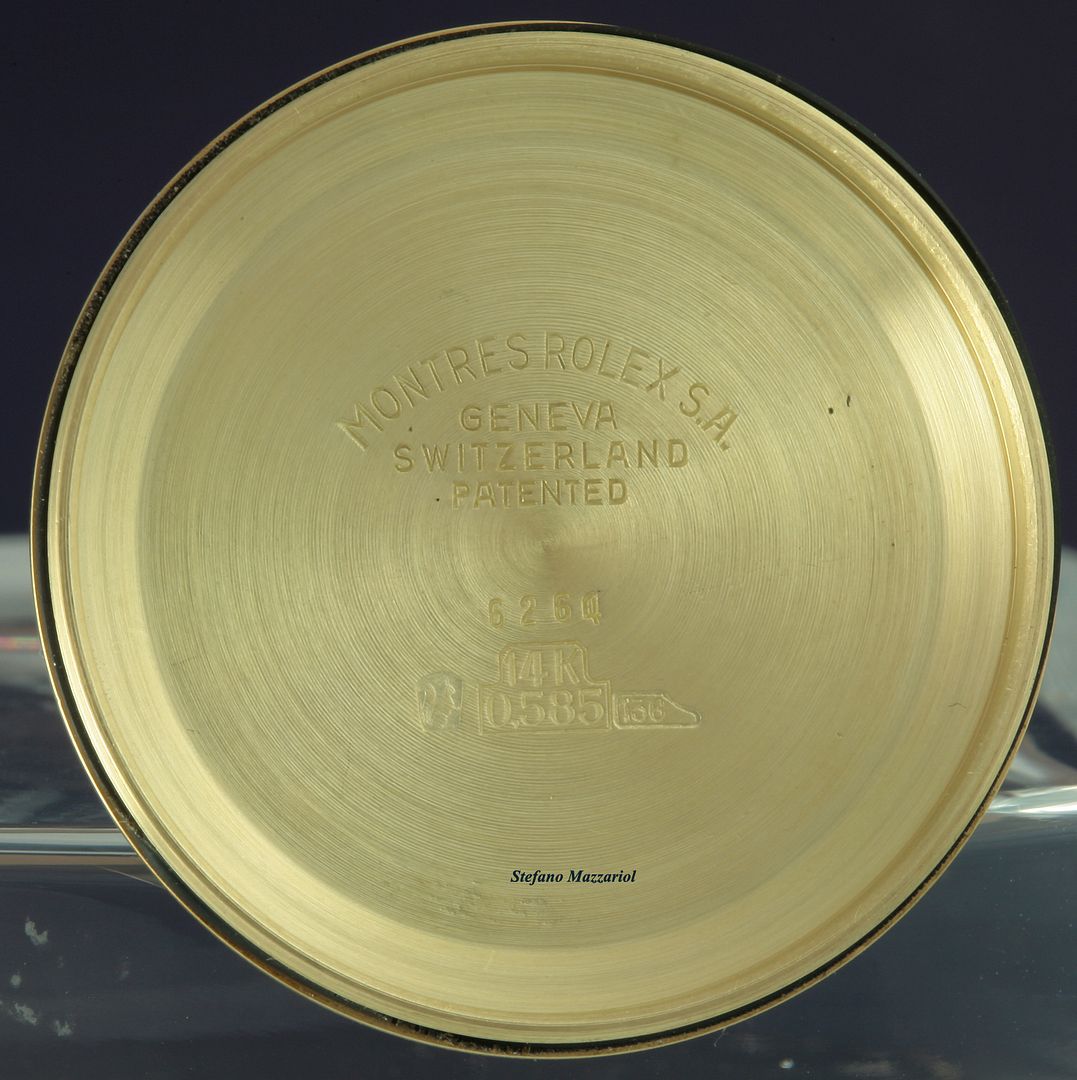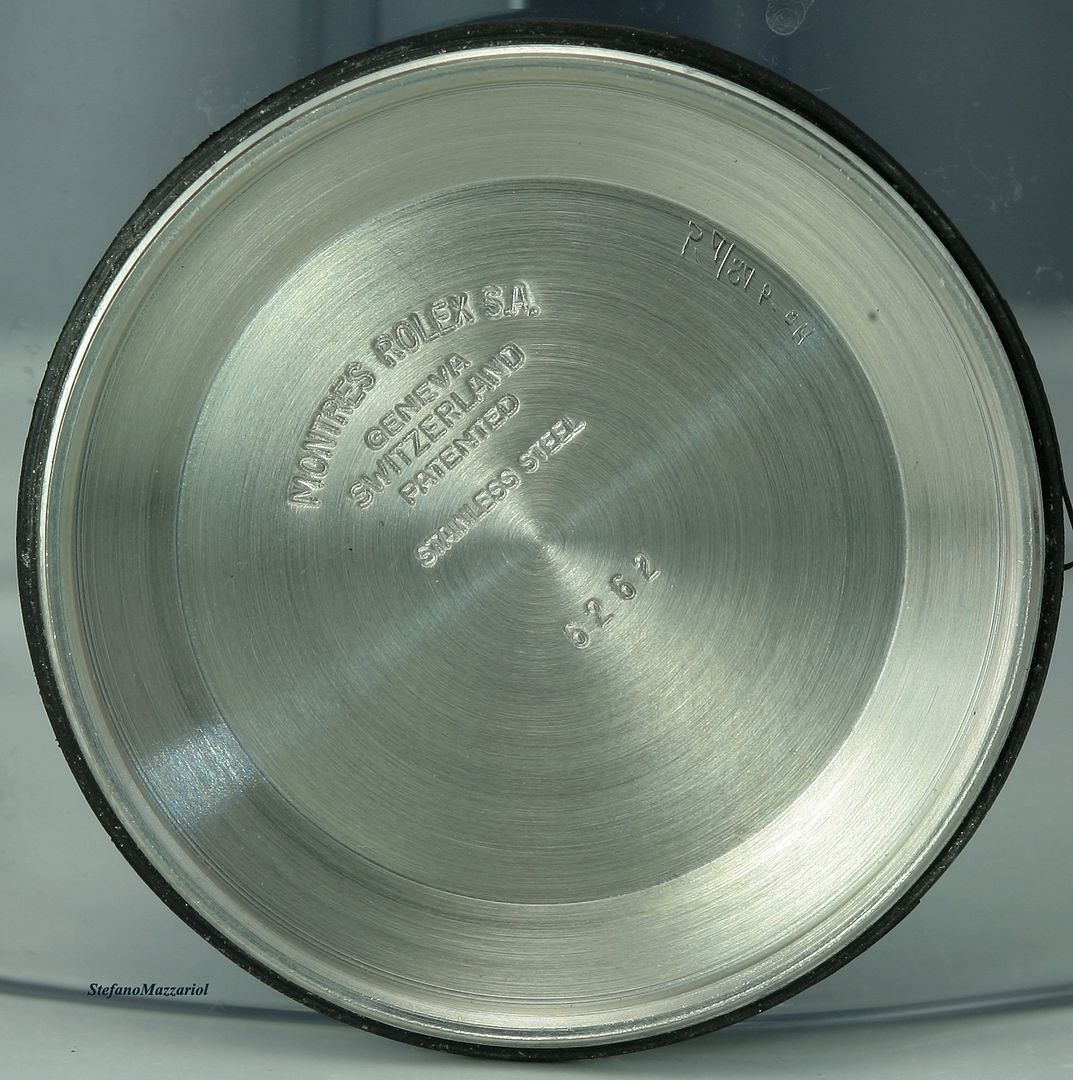 Tutti i quadranti per DAYTONA sono stati prodotti dalla azienda Singer; in questo montaggio, abbiamo fatto un confronto
inserendoli in ordine cronologico, in modo da evidenziarne l'evoluzione grafica.
Le configurazioni descritte in questo articolo non devono essere considerate categoriche, in quanto nel passaggio da
una produzione alla successiva possono verificarsi abbinamenti di quadranti più vecchi su casse con matricole più
recenti ad esempio, con lunetta successiva
All DAYTONA's dials have been produced by the Singer company; in this montage we compared them inserting them
in a chronological order, thus underlying their graphic evolution.
The configurations described in this article do not have to be considered as strict, since passing from one production
to the following one there may be some combinations of older dials on cases with more recent serial numbers for
instance with a later bezel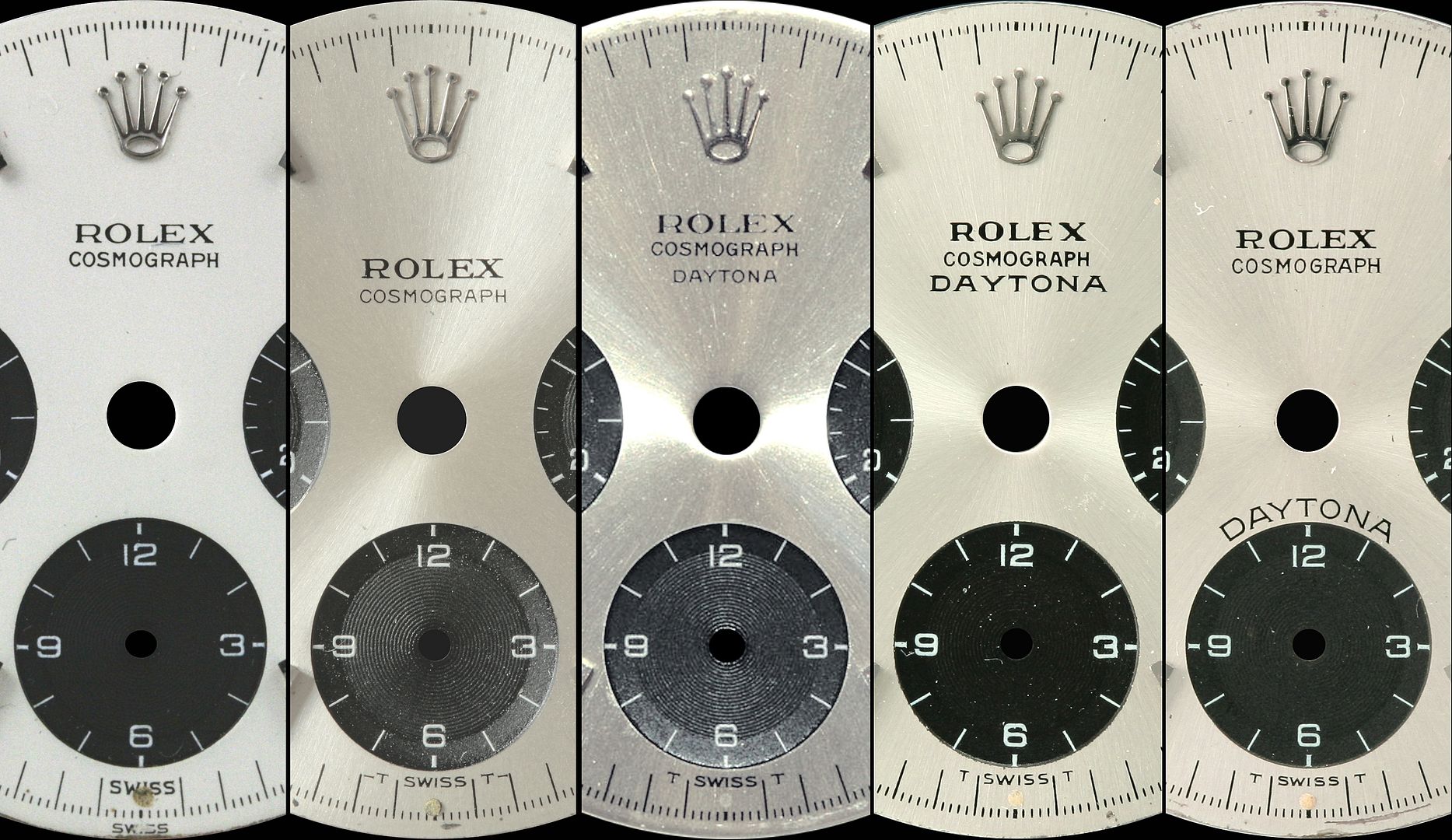 L'argomento verra' ampliato nel nostro prossimo libro e successivamente on line.
Grazie dell'attenzione
Stefano Mazzariol