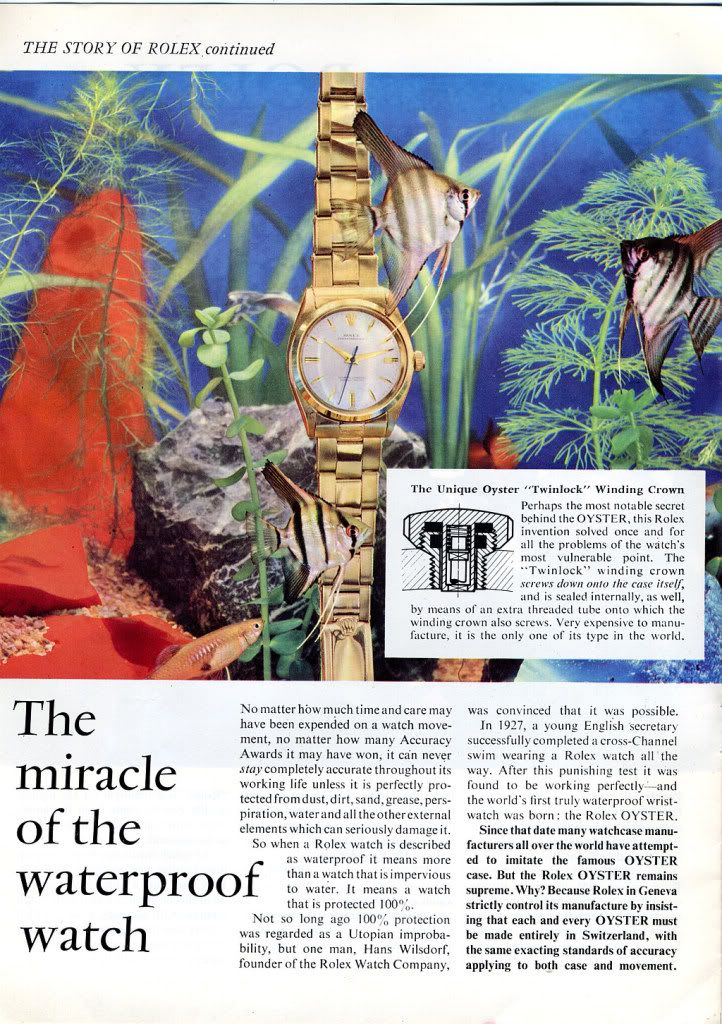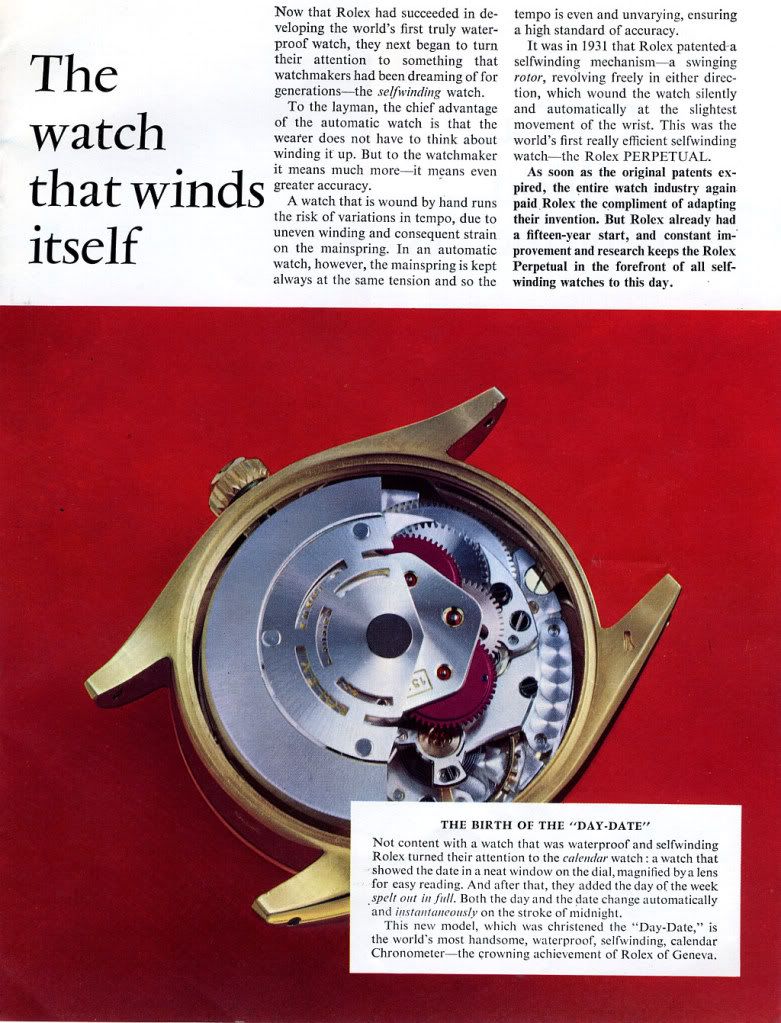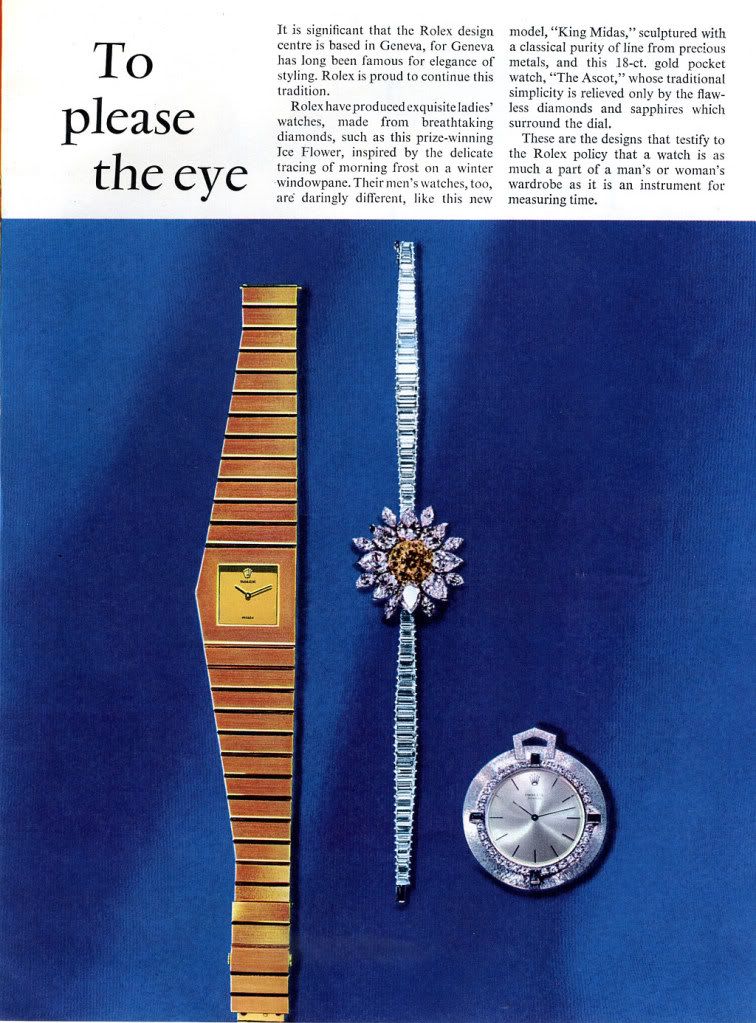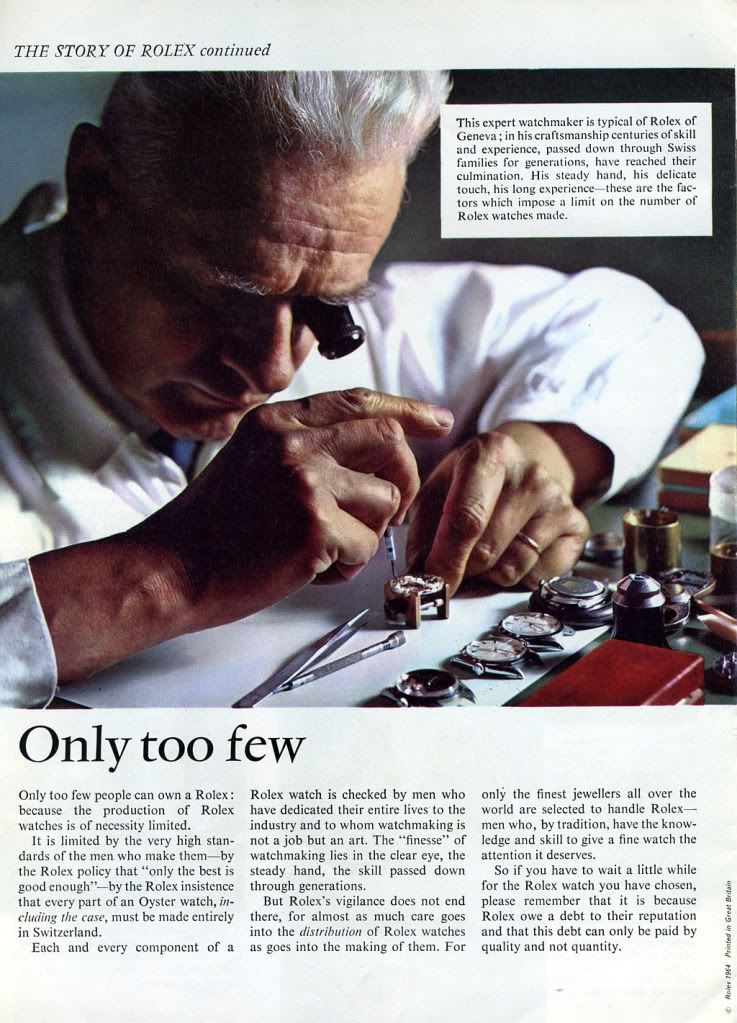 1926/1976 jUBILEE OYSTER CASE.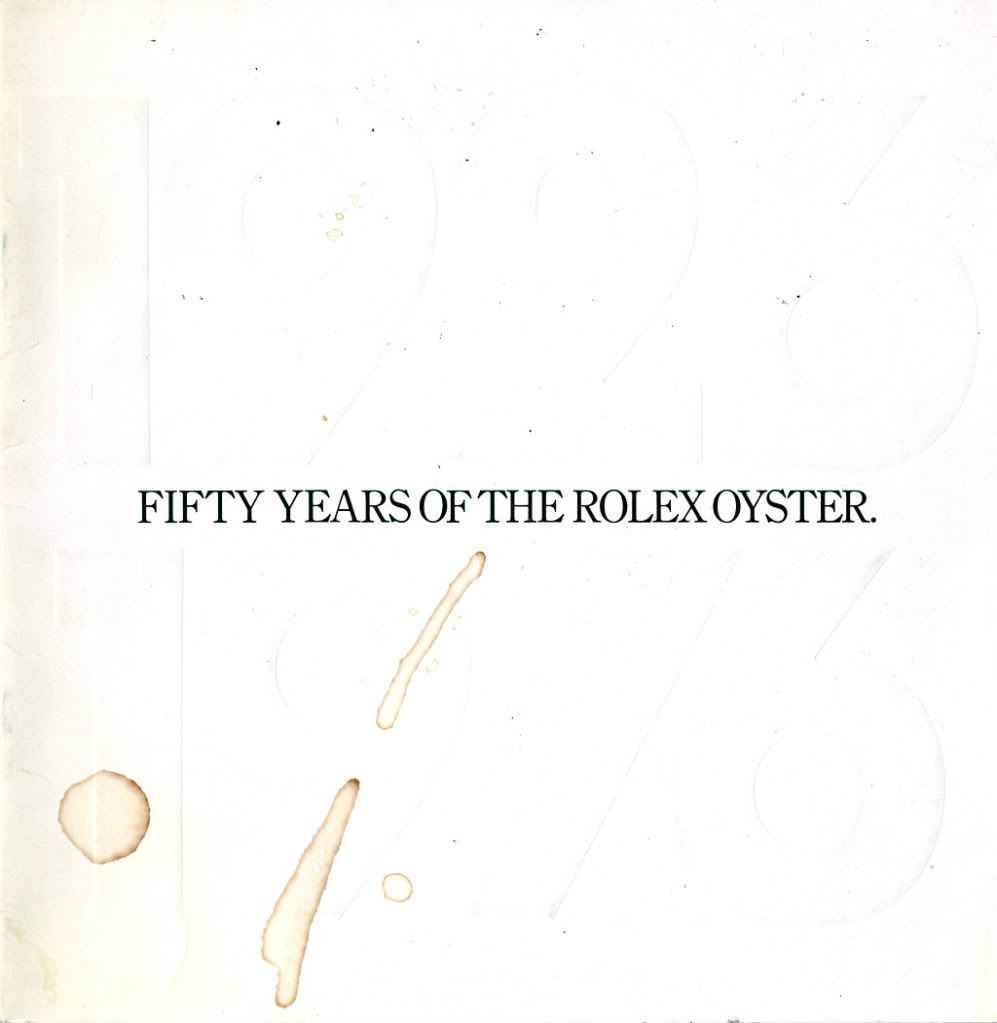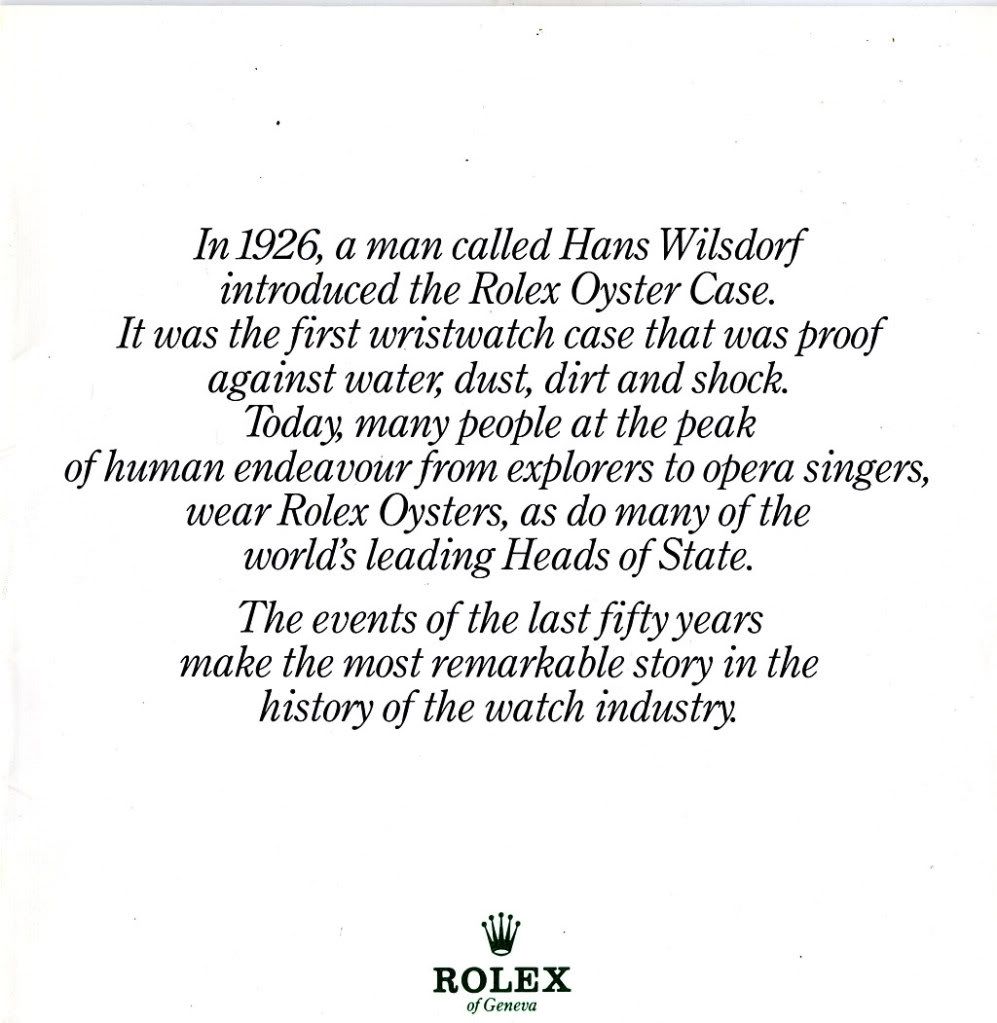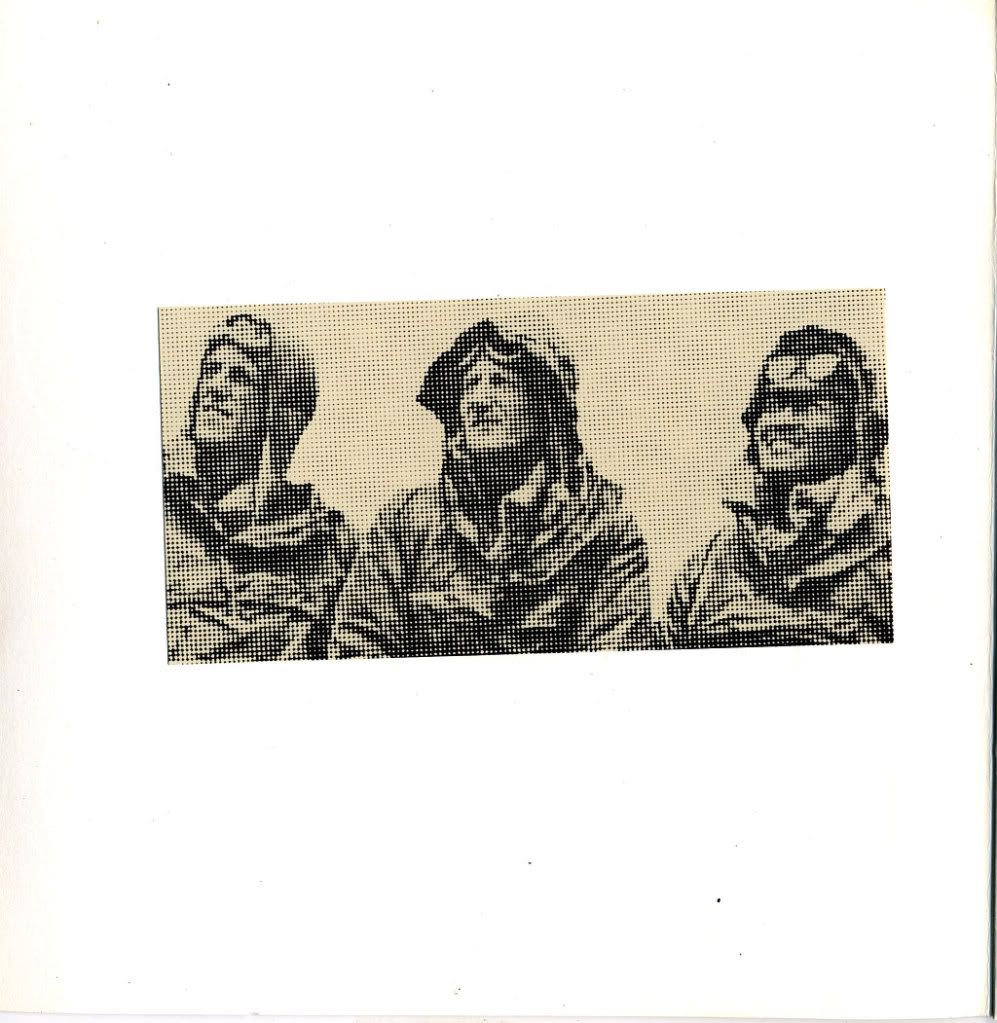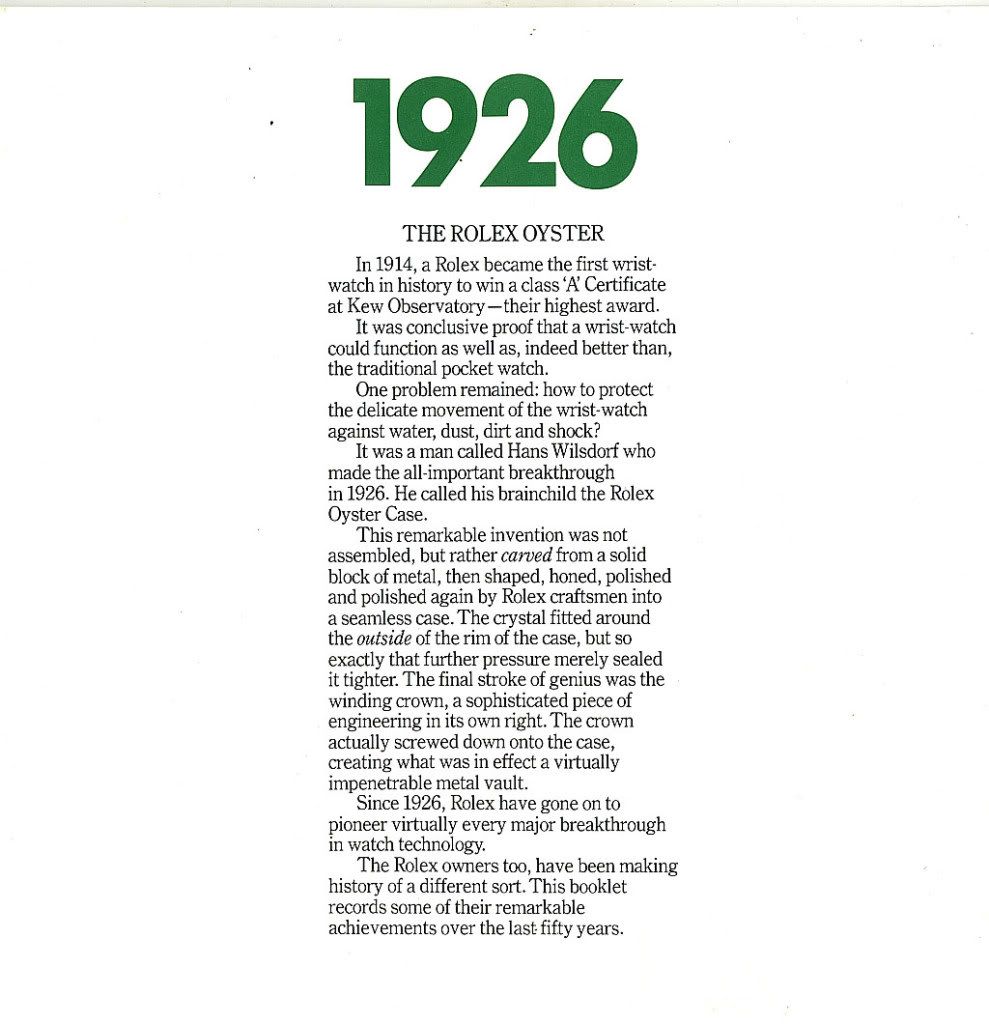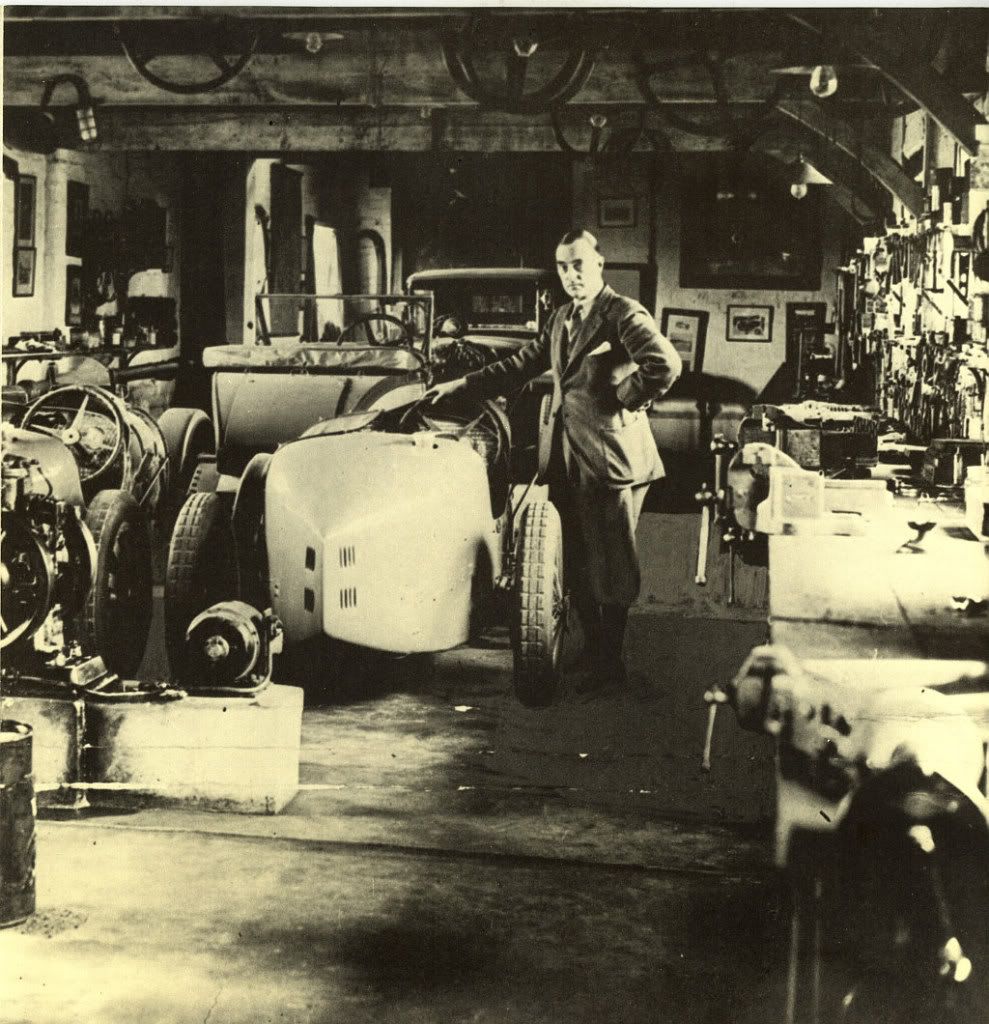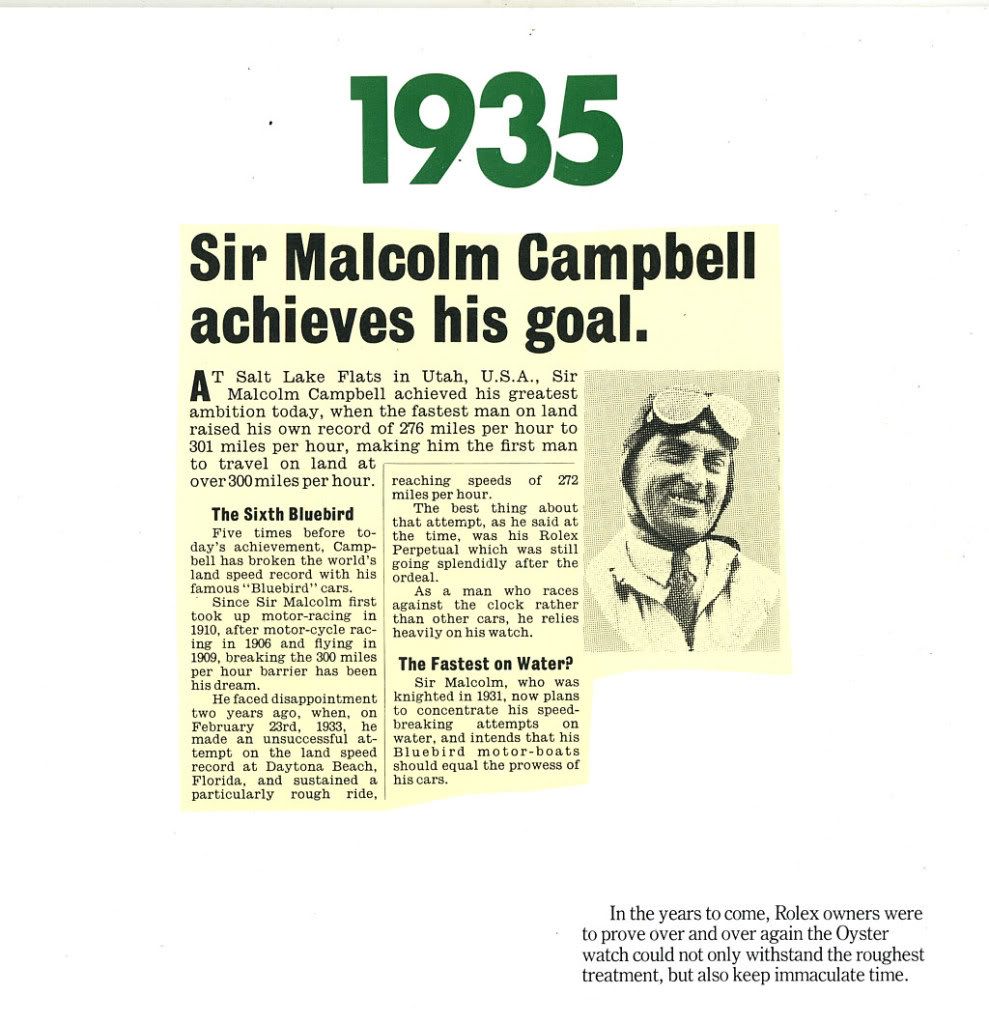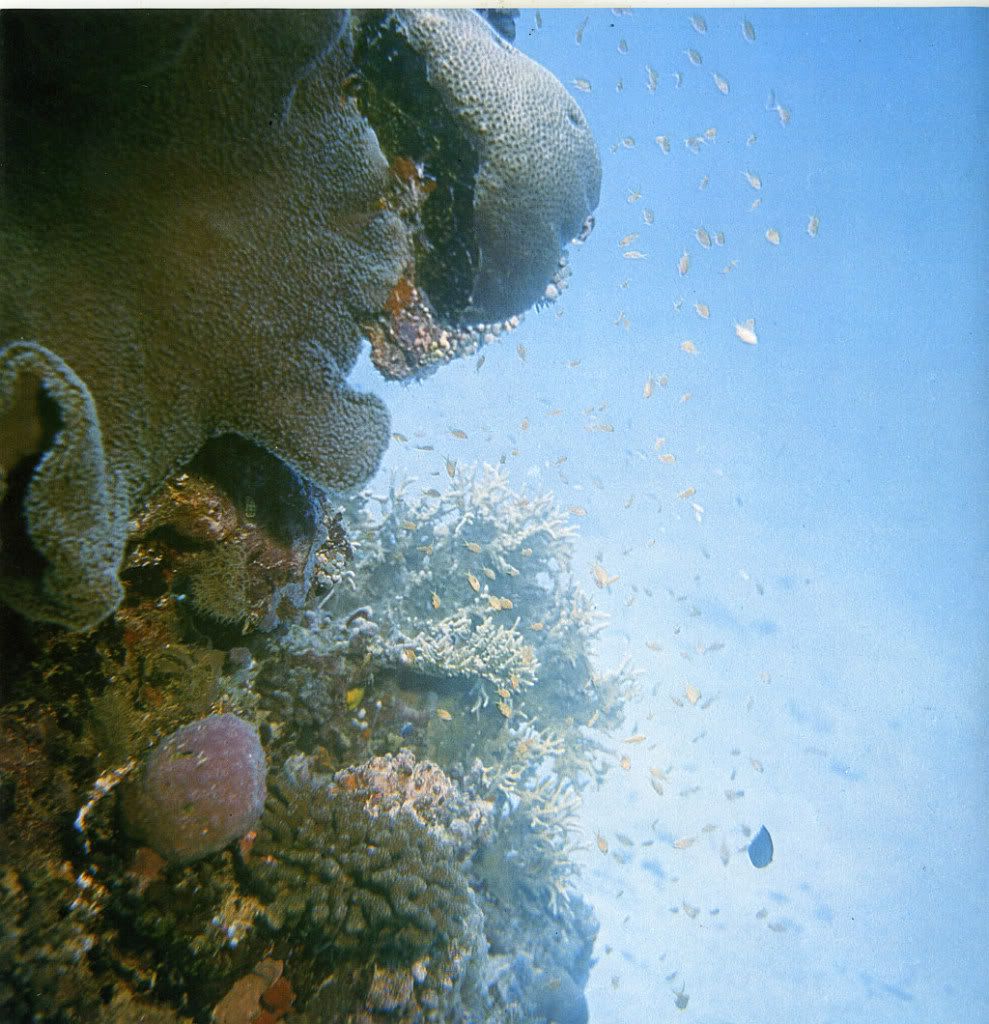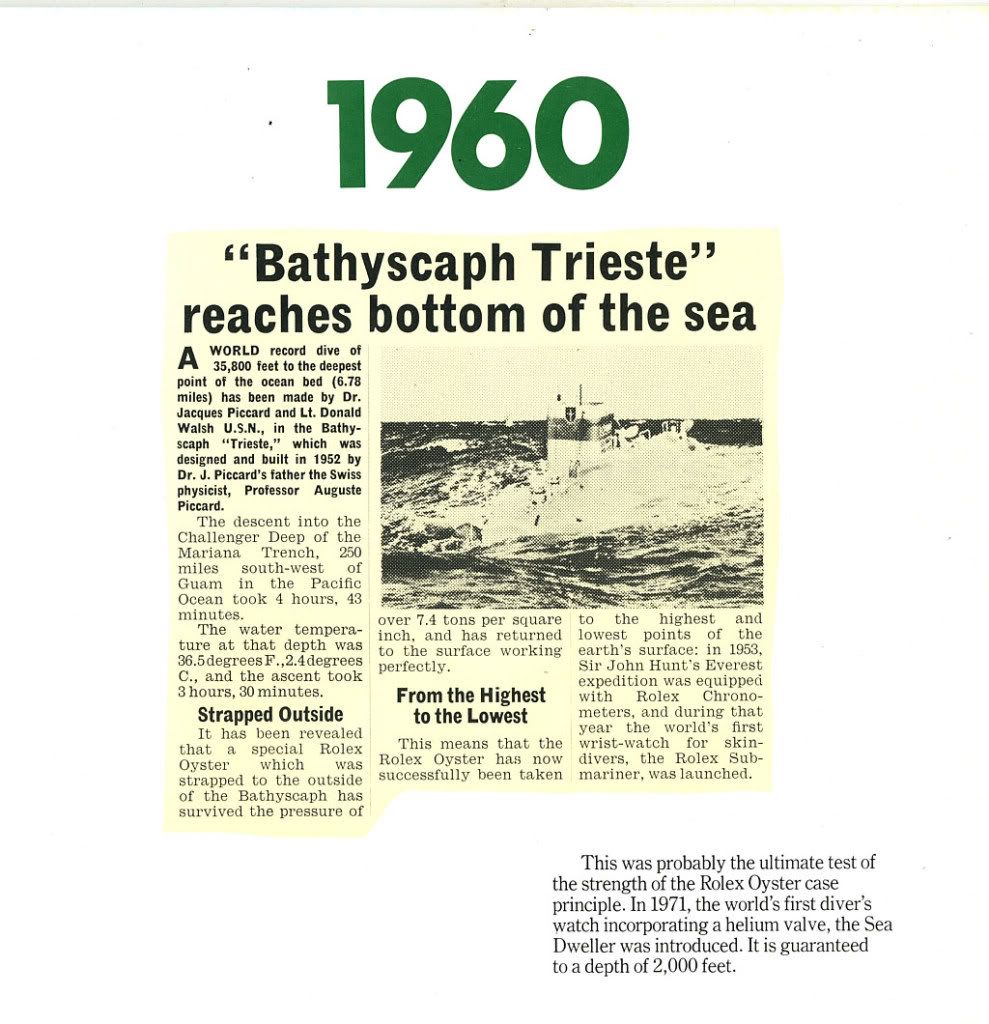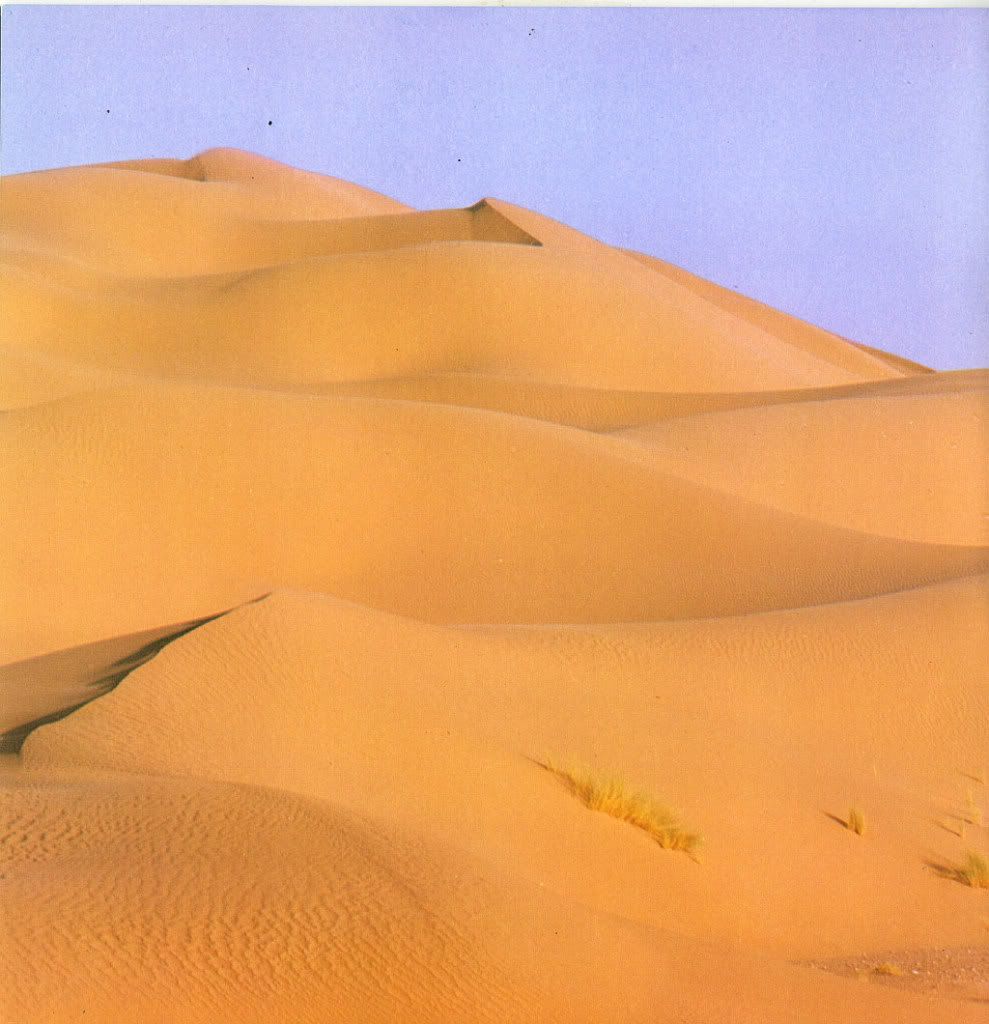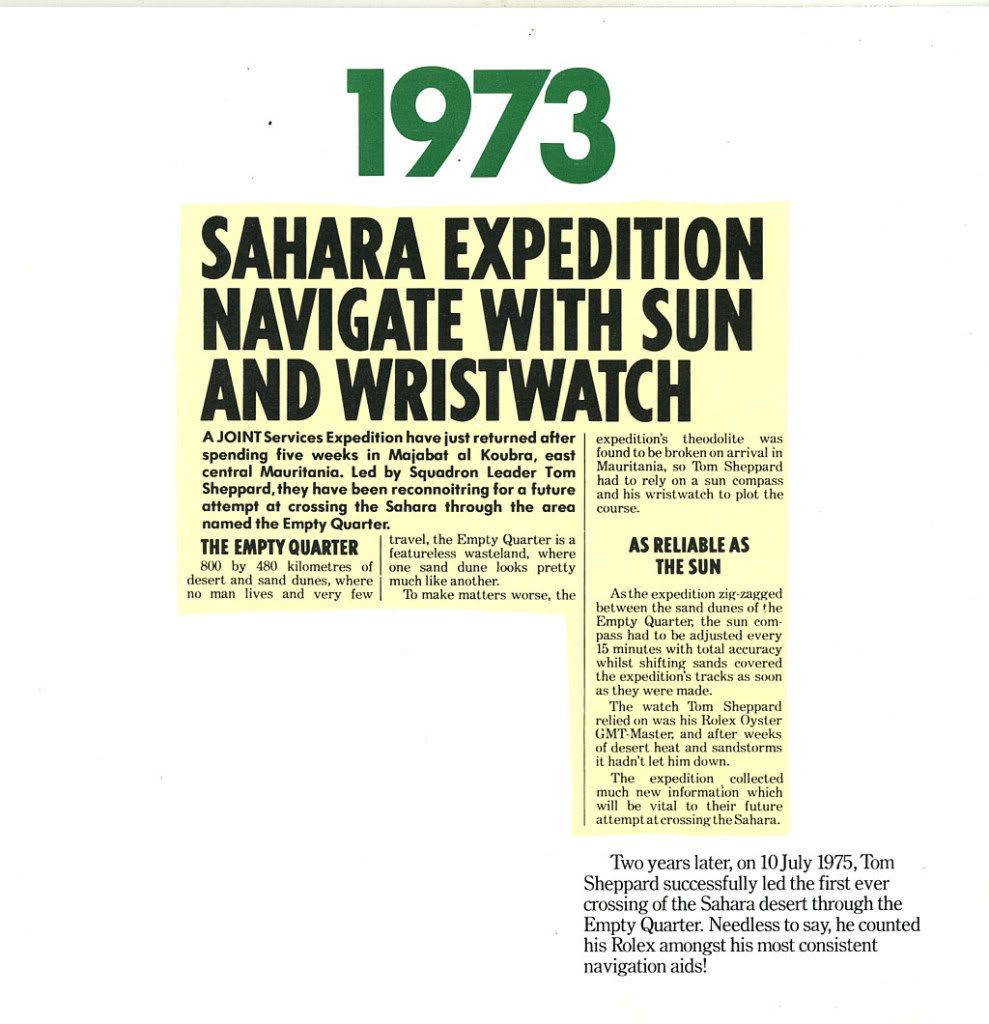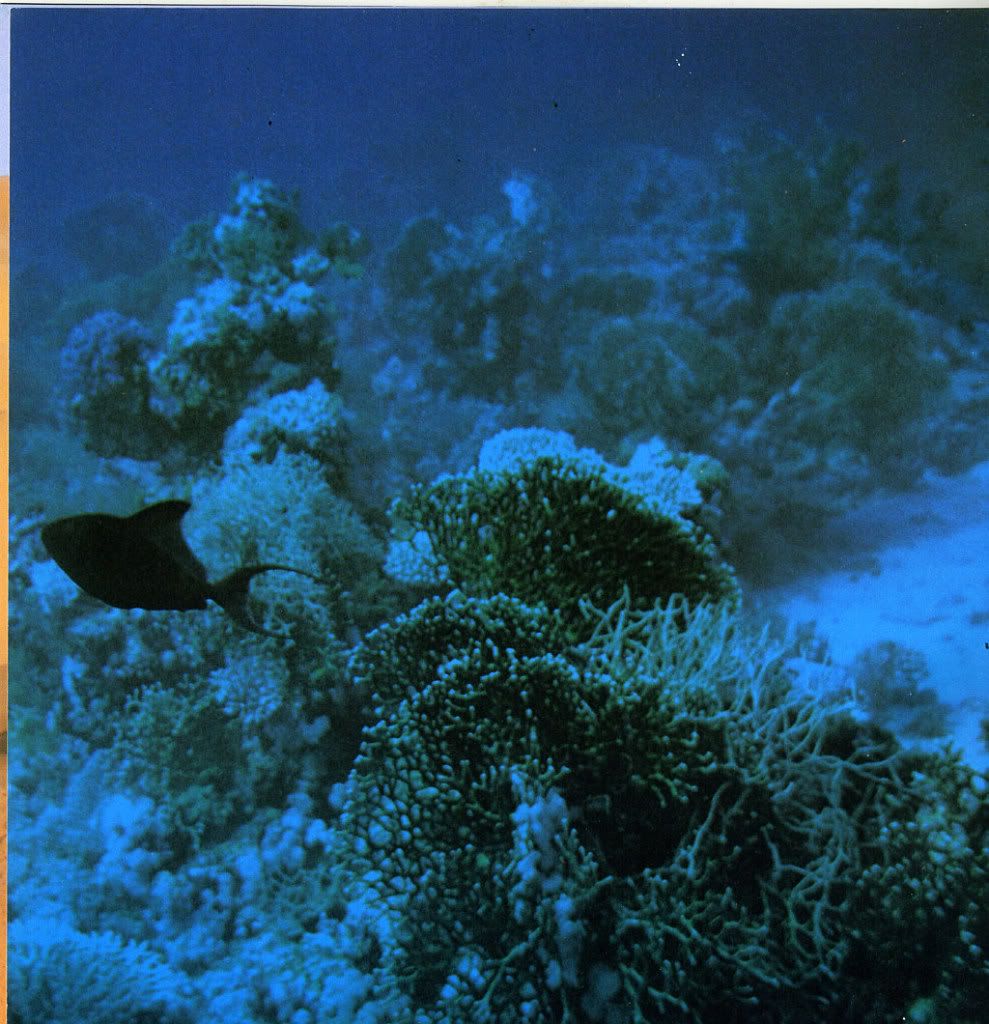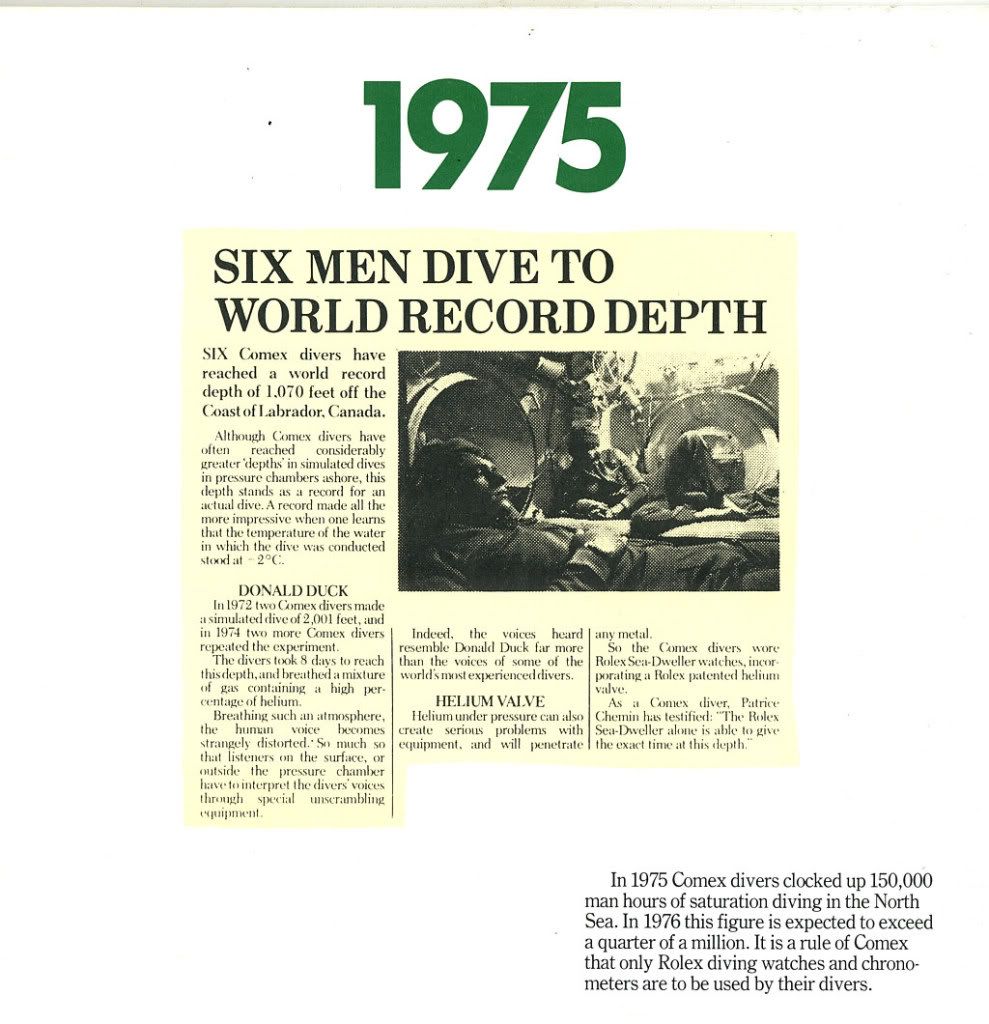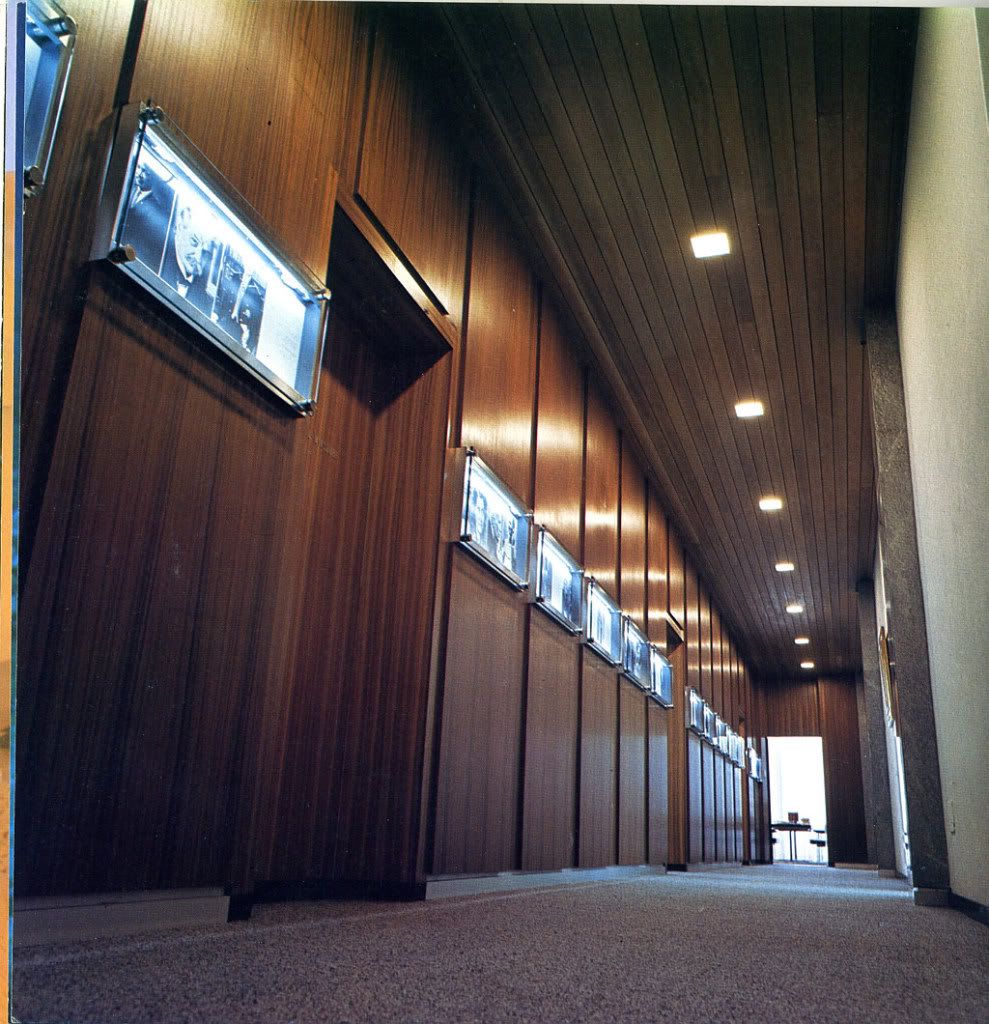 Inizia la storia...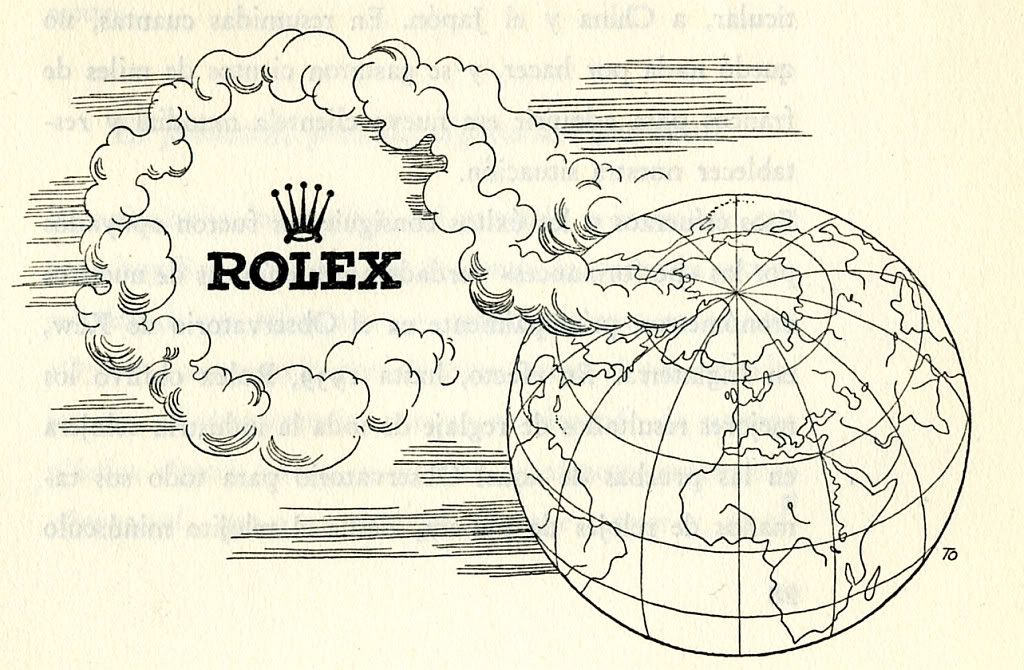 Topic in ampliamento
work in progress
Breve percorso storico di una grande casa ricostruito con pubblicita' e cataloghi d'epoca:
1905:
Hans Wilsdorf si stabilisce a Londra e apre la "Wilsdorf e Davis "specializzandosi nella distribuzione di orologi
London,Nation-wide launching of the Rolex Wristlet watch on the Britisch market.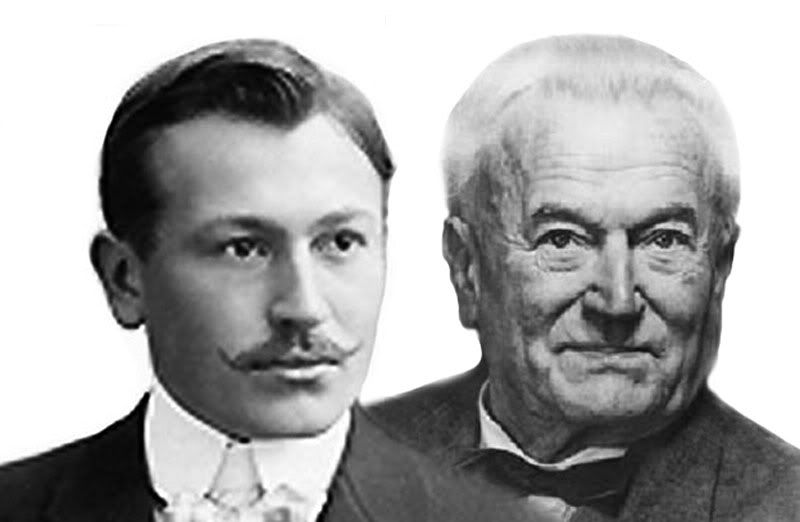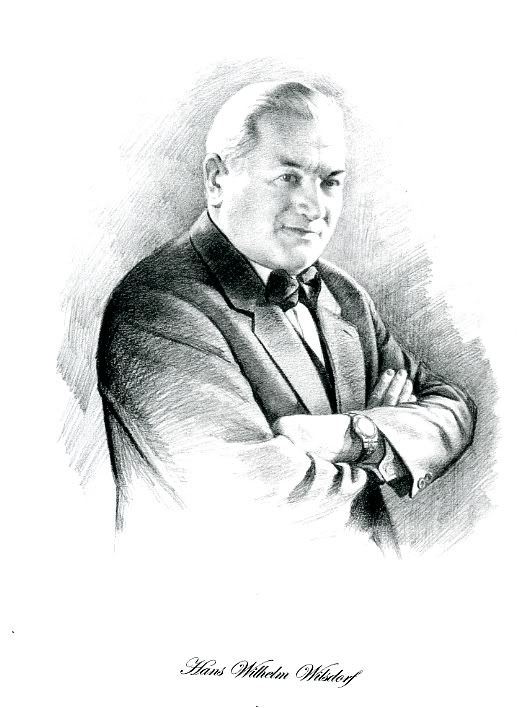 1907:
La Chaux De Fonds
H. Wildorfs apre in Svizzera
H. Wisldorf open his Swiss office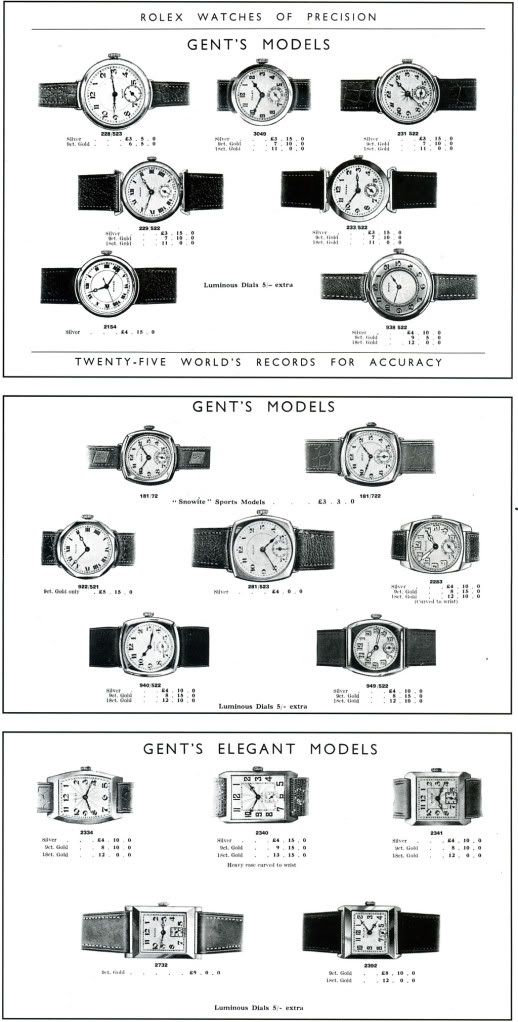 1908:
Wildorfs ribattezza la societa' con il nome Rolex.
Wildorfs coin The word "Rolex"
1910:
Official Controlment office for the rating of Watches, Bienne
Il primo Rolex ottiene il certificato di cronometro.
The 1st Rolex wrist watch to be officially controlled obtains a 1st clas certificate.
1914:
Rolex ottiene dal l'osservatio di Kew (normalmente testa orologi da Marina)il certificato di classe A, mai ottenuta su un orologio da polso.
Rolex obtains the first class A observatory certificate ever awarded a wristwatch chronometer.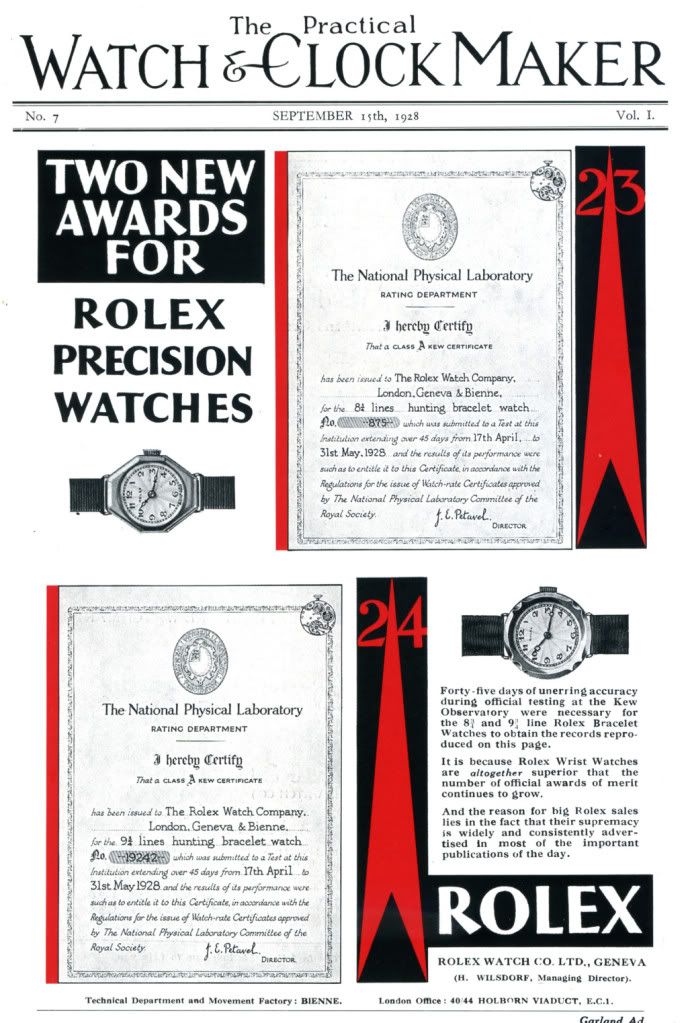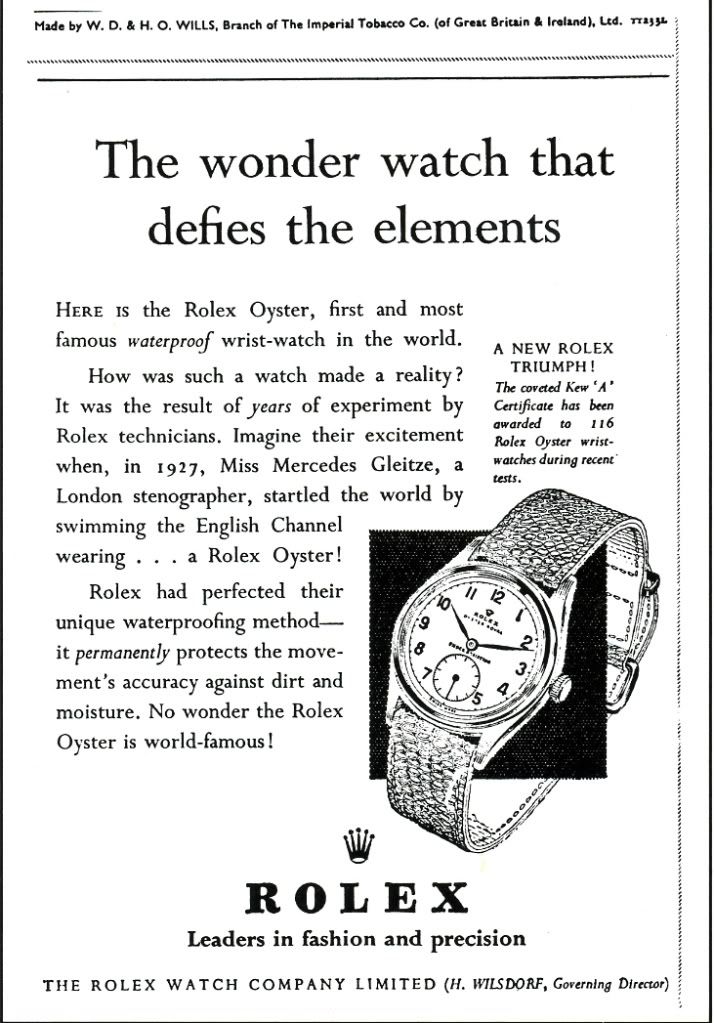 1919:
Rolex si trasferisce a Ginevra, 18 rue de Marche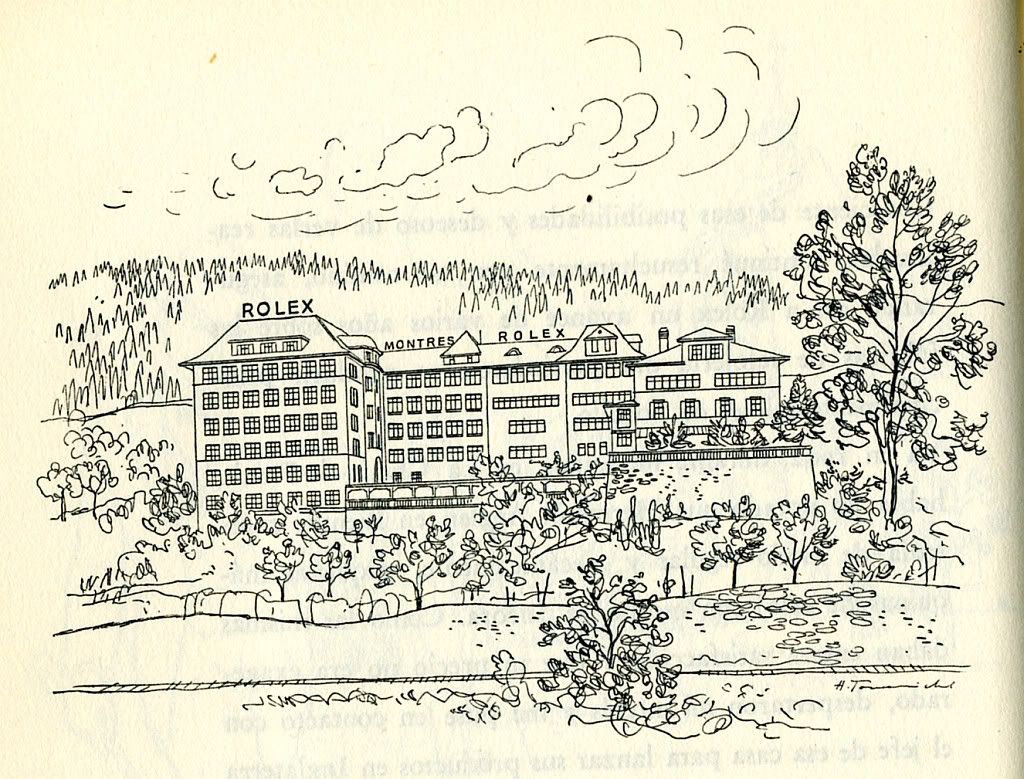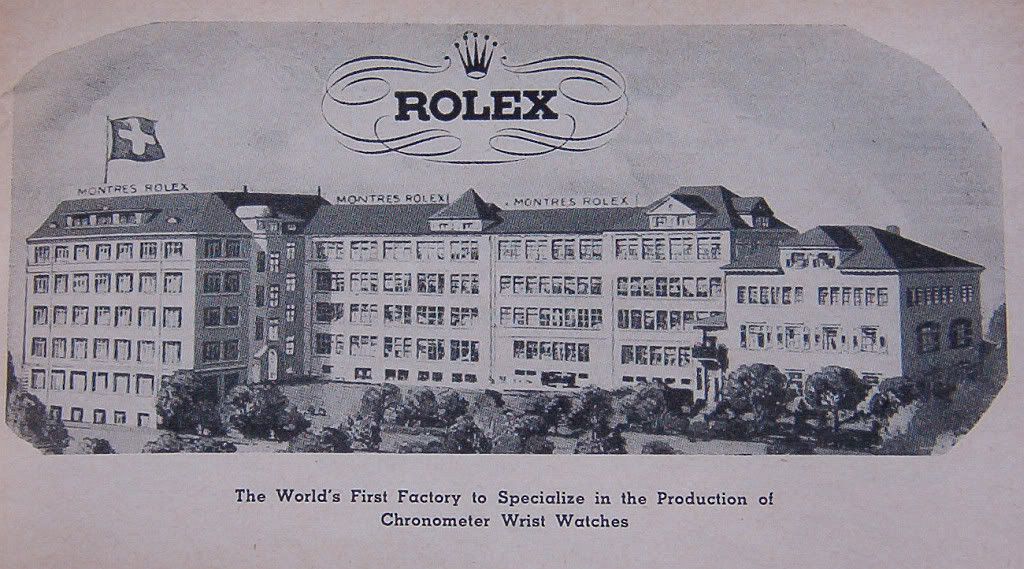 1925:
Rolex si fregia del simbolo della corona a 5 punte.
Rolex trademark the crown is launched
1926:
Rolex inventa e brevetta la prima cassa impermeabile.... il suo nome
Oyster.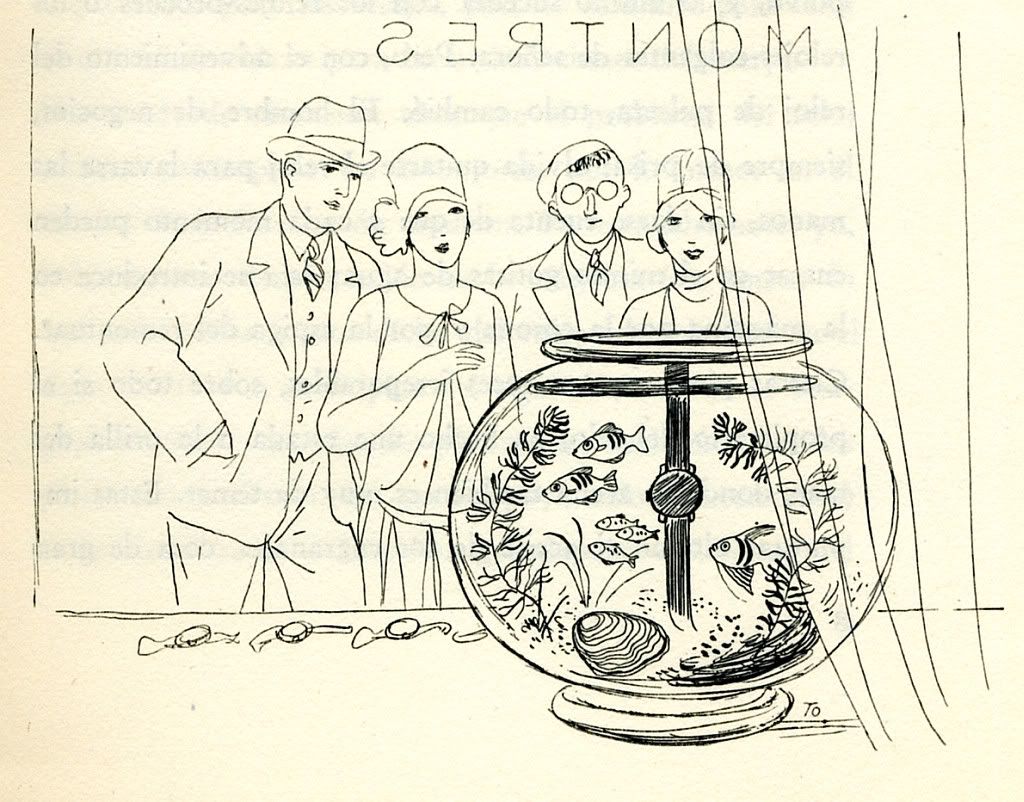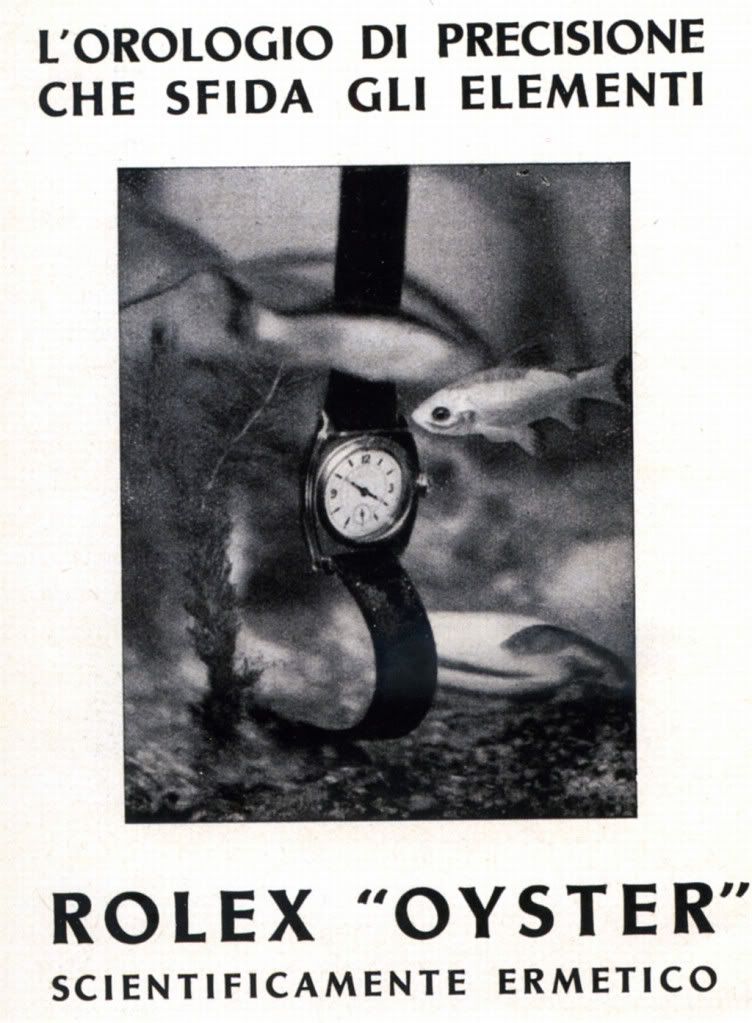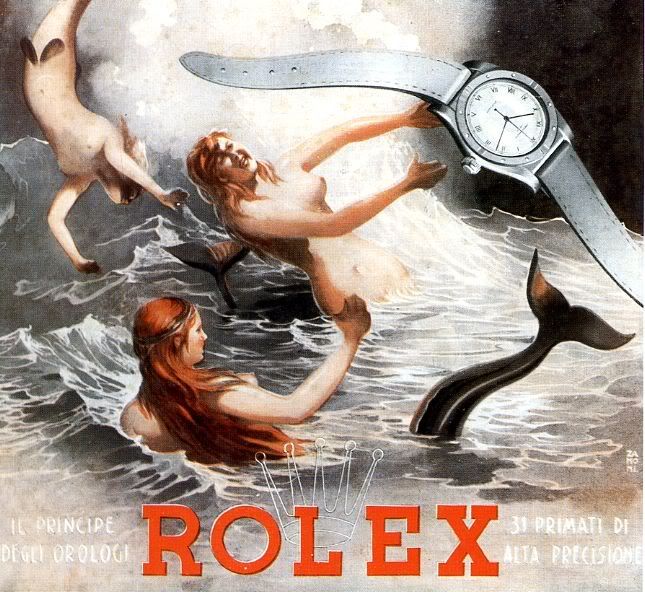 Catalogo 1931: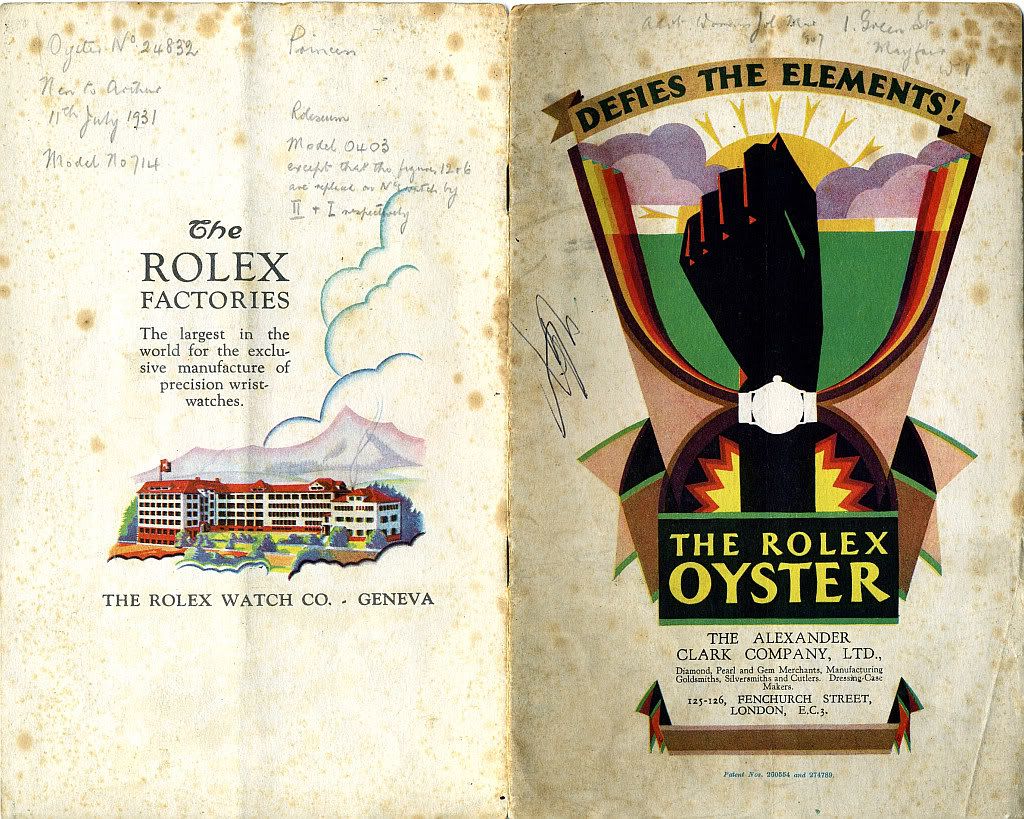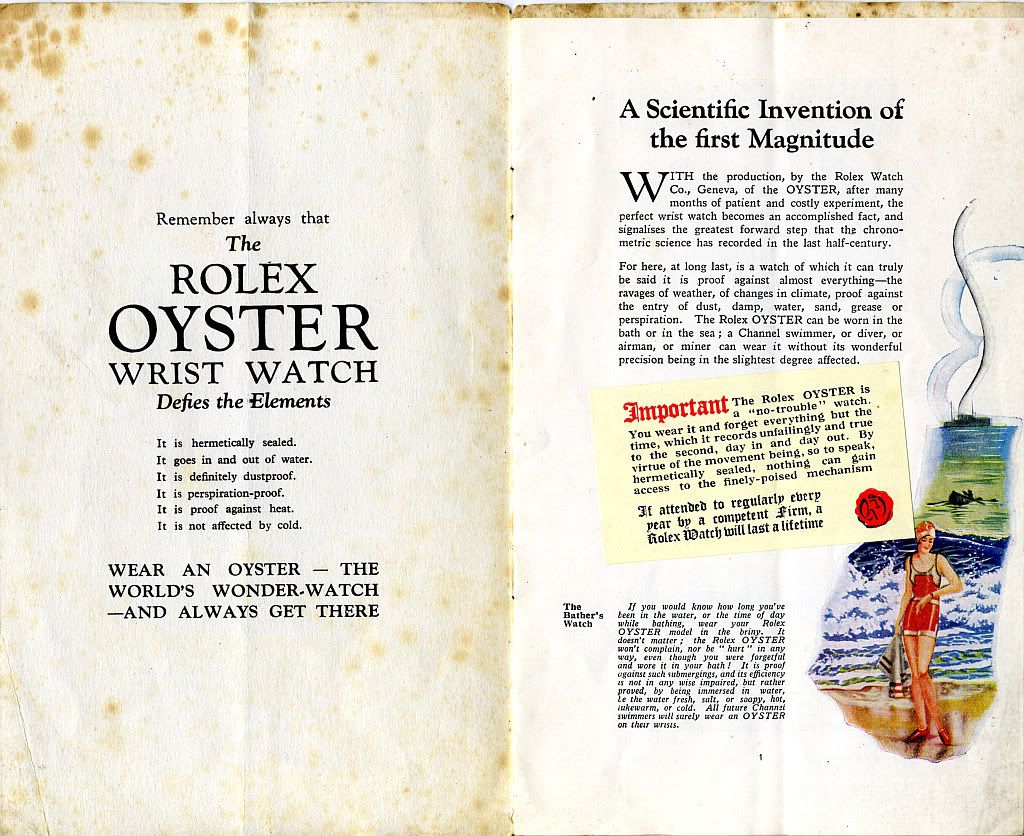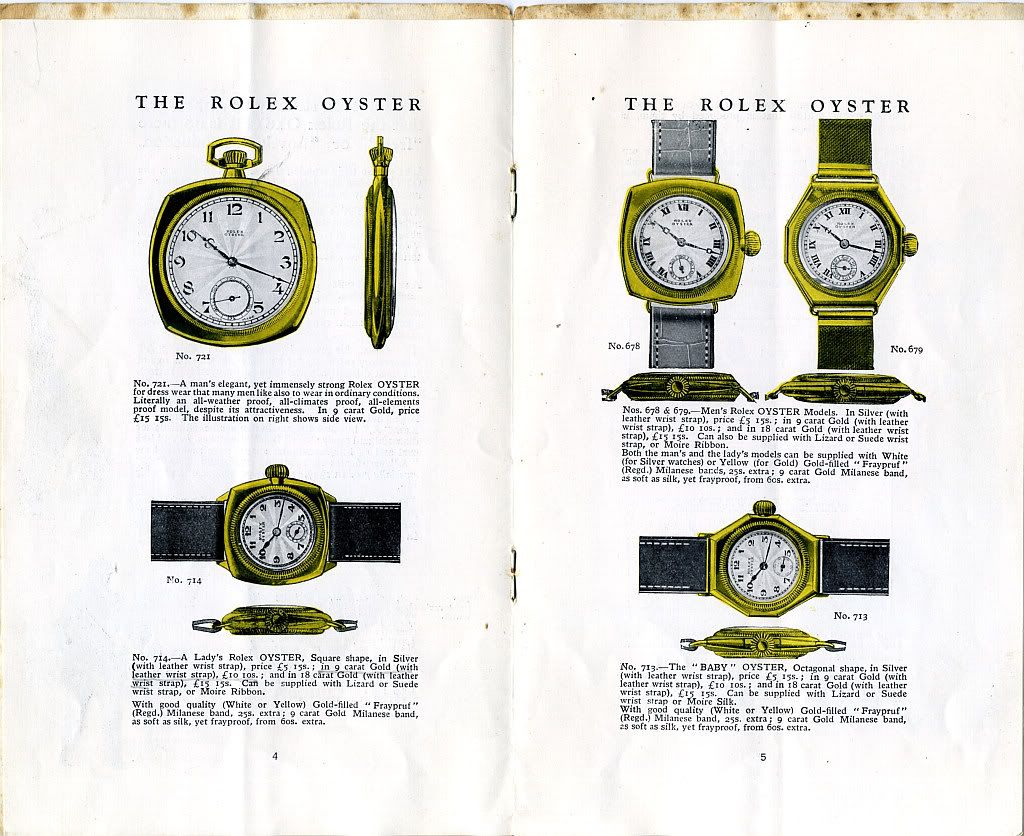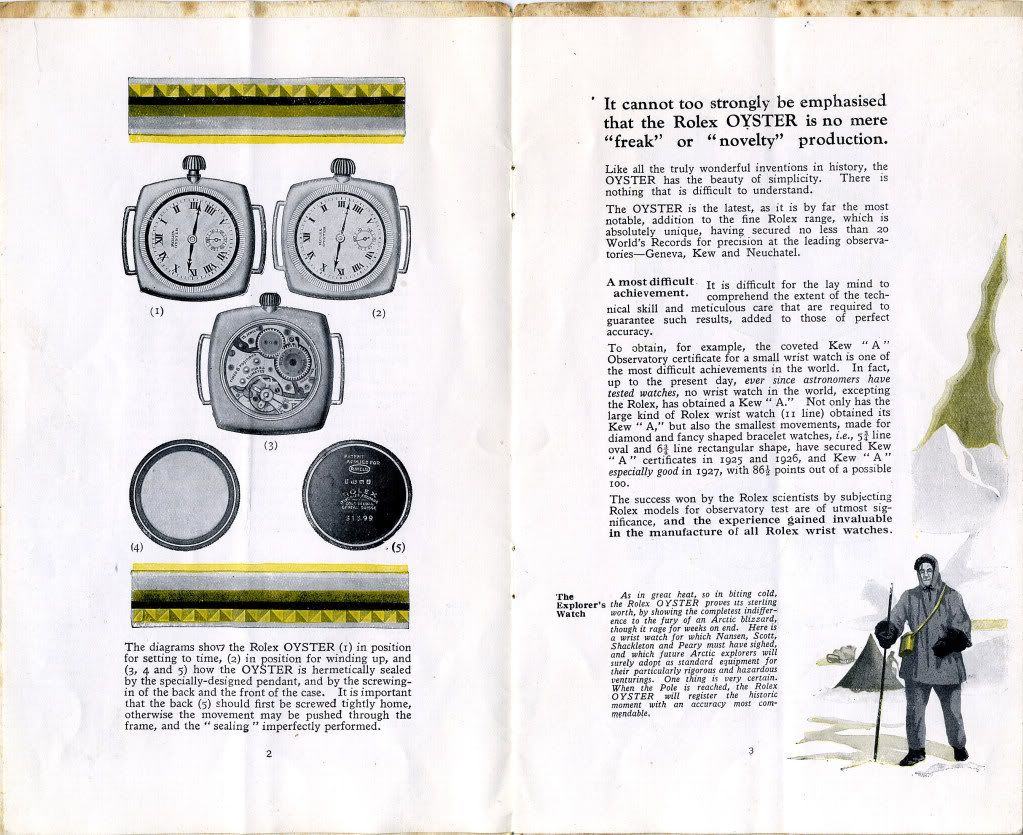 Rolex register the OYSTER andis issued a patent for the world's wristwatch
waterproof.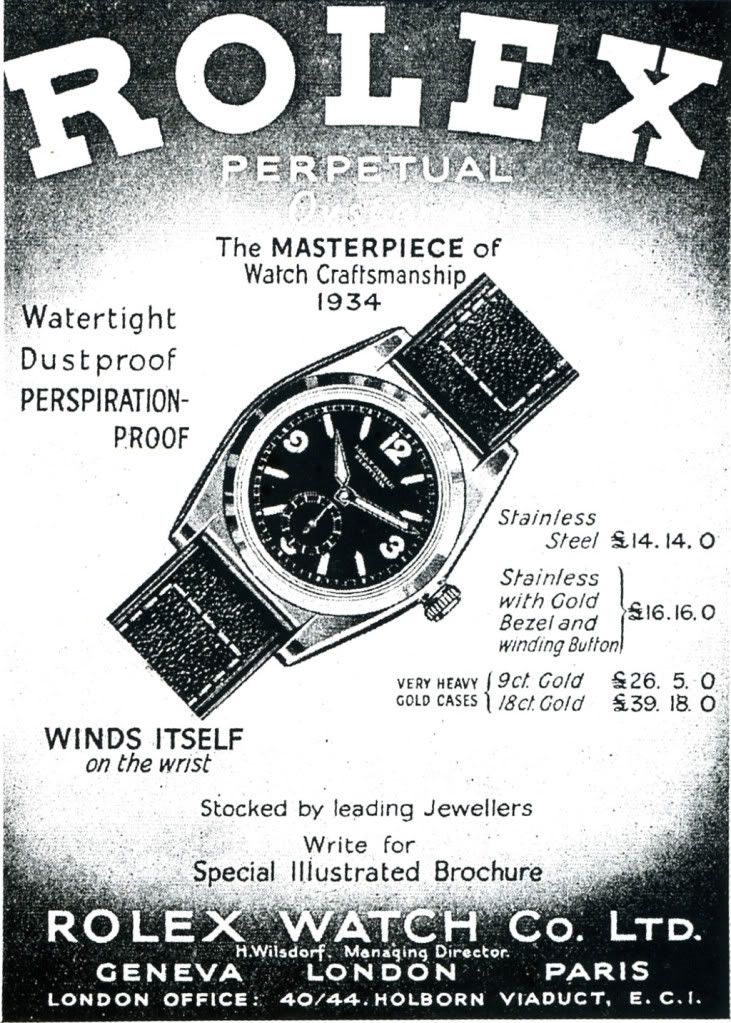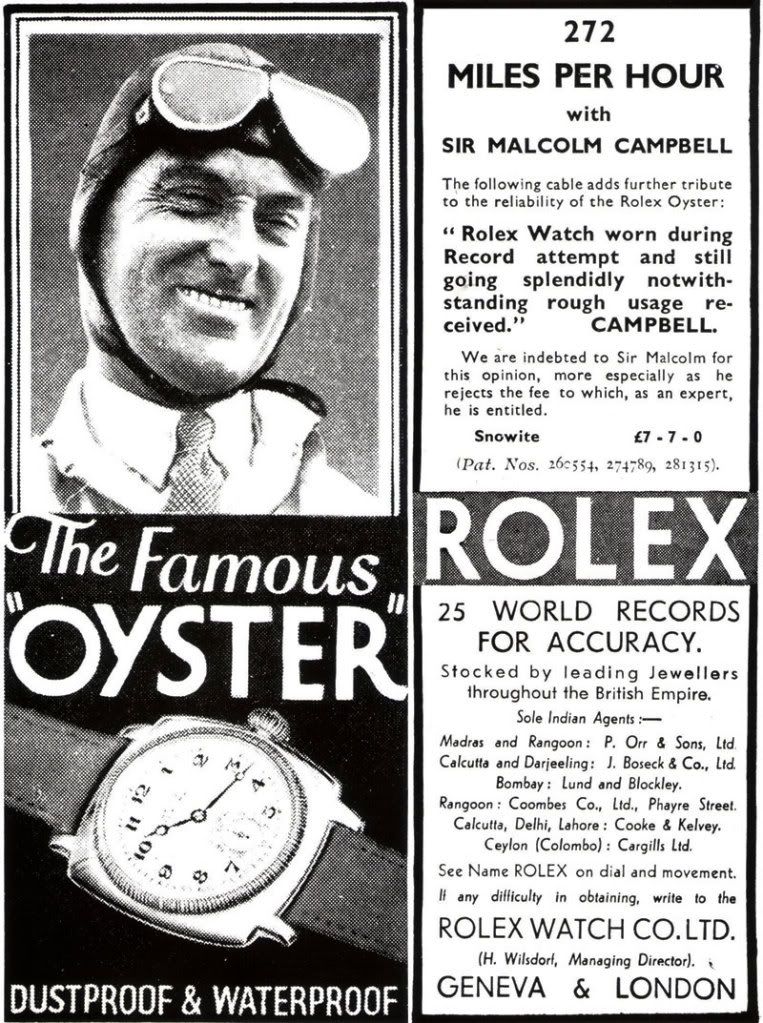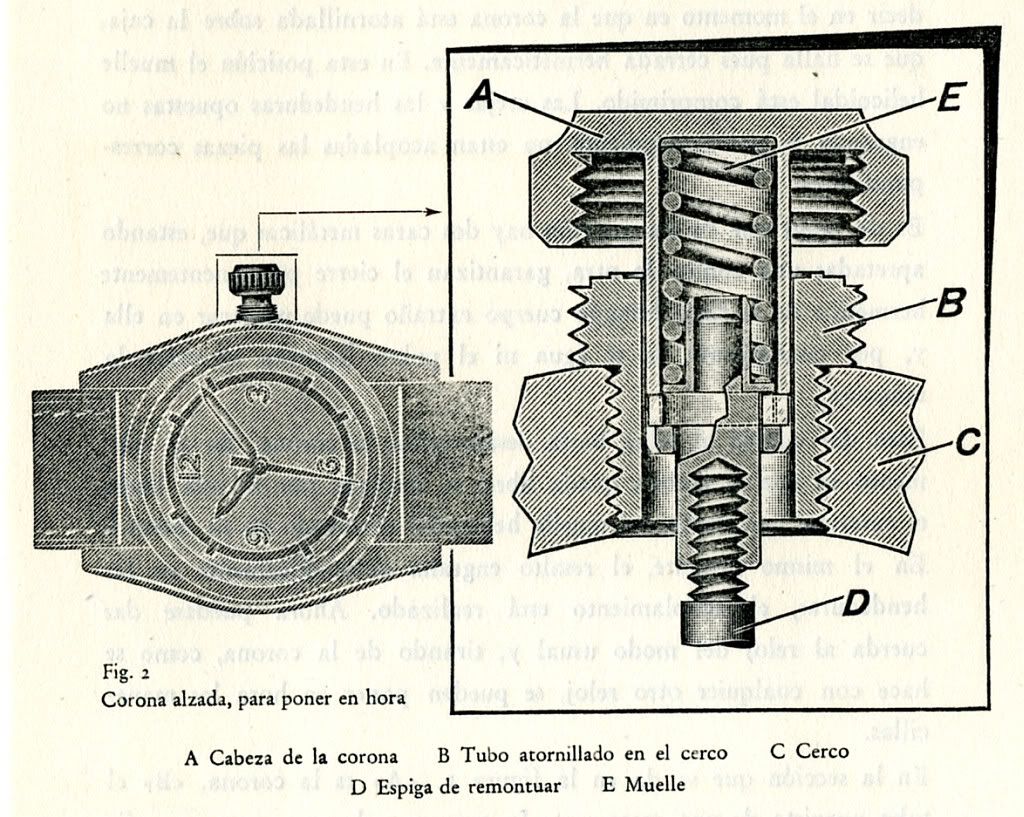 1927:
Un Rolex Oyster , al polso della nuotatrice Inglise Mercedes Gleitze, attraversa a nuoto il canale della Manica.
Questo evento fu il primo di una lunga lista di imprese , esplorazioni ecc.. associata a Rolex.
L'evento della traversata della manica a nuoto fu' pubblicizzato per la prima volta sulla prima pagina del giornale Inglese Daily mail, proclamando il successo dell'impermeabilita' del Rolex da polso,la frase pubblicata era
"Il debutto del Rolex Oyster e il suo trionfante cammino intorno al mondo".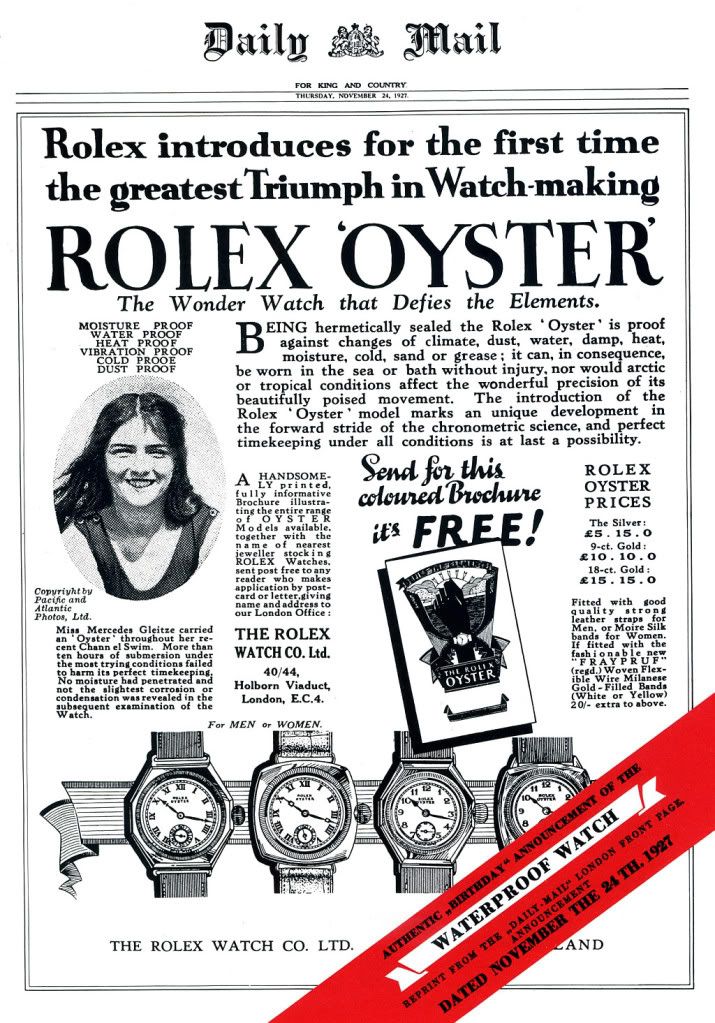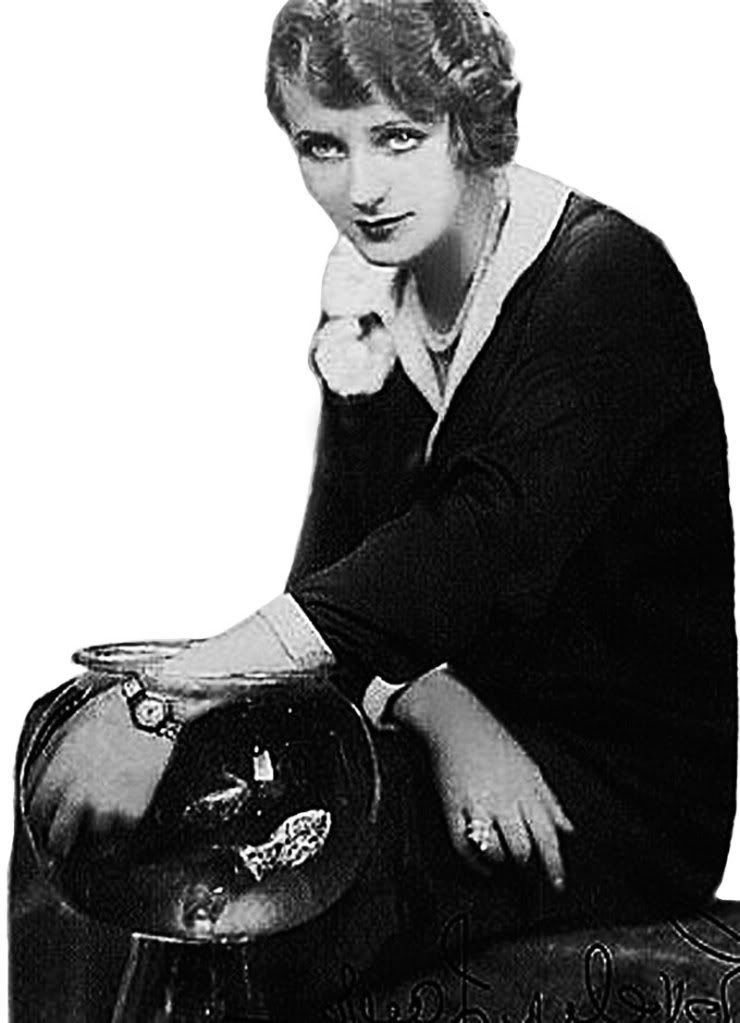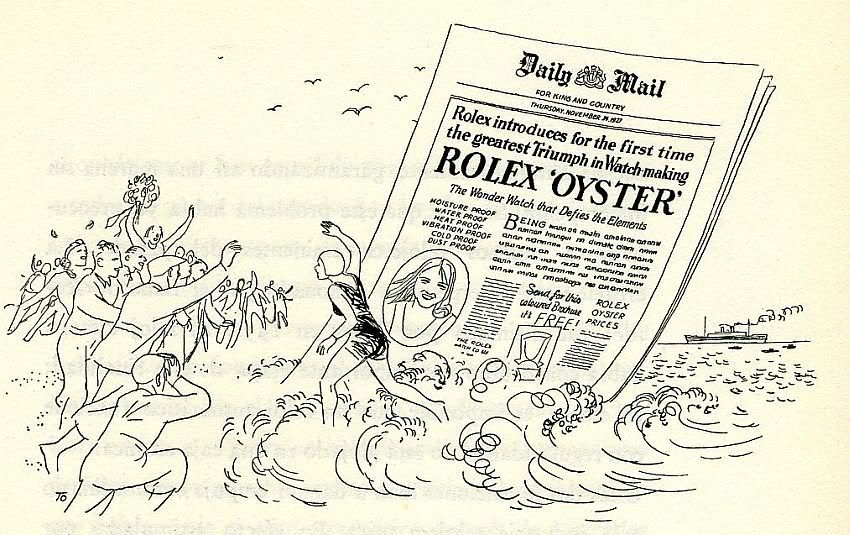 1928:
Rolex presenta il Prince.
Rolex launch the Prince.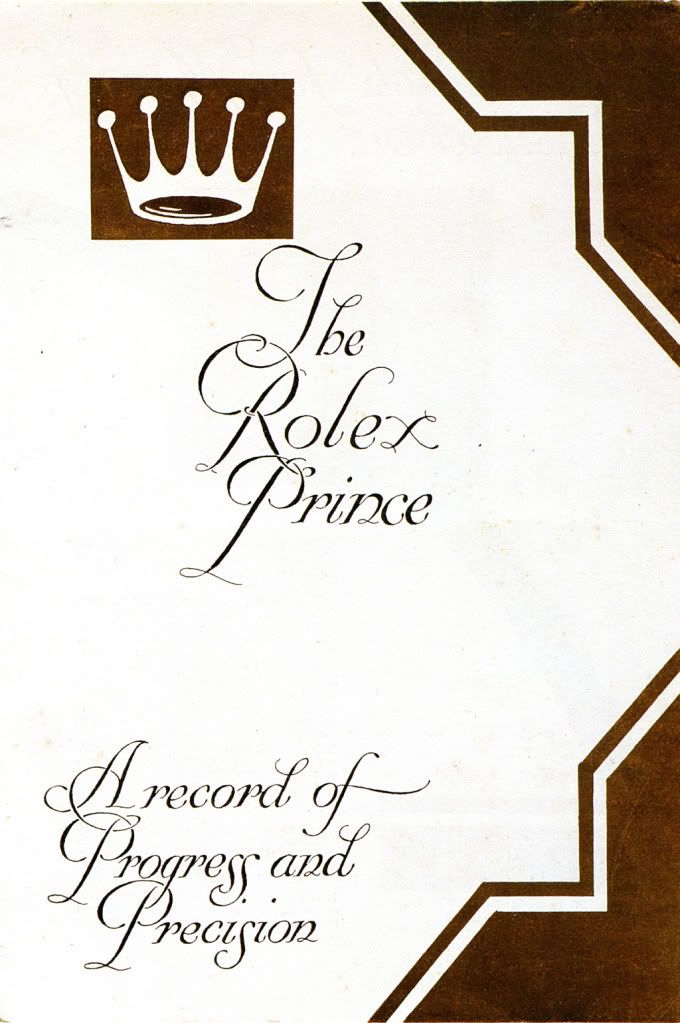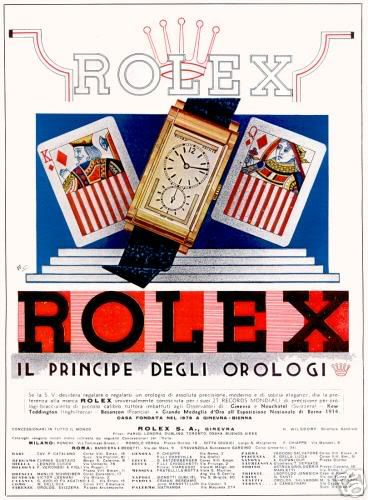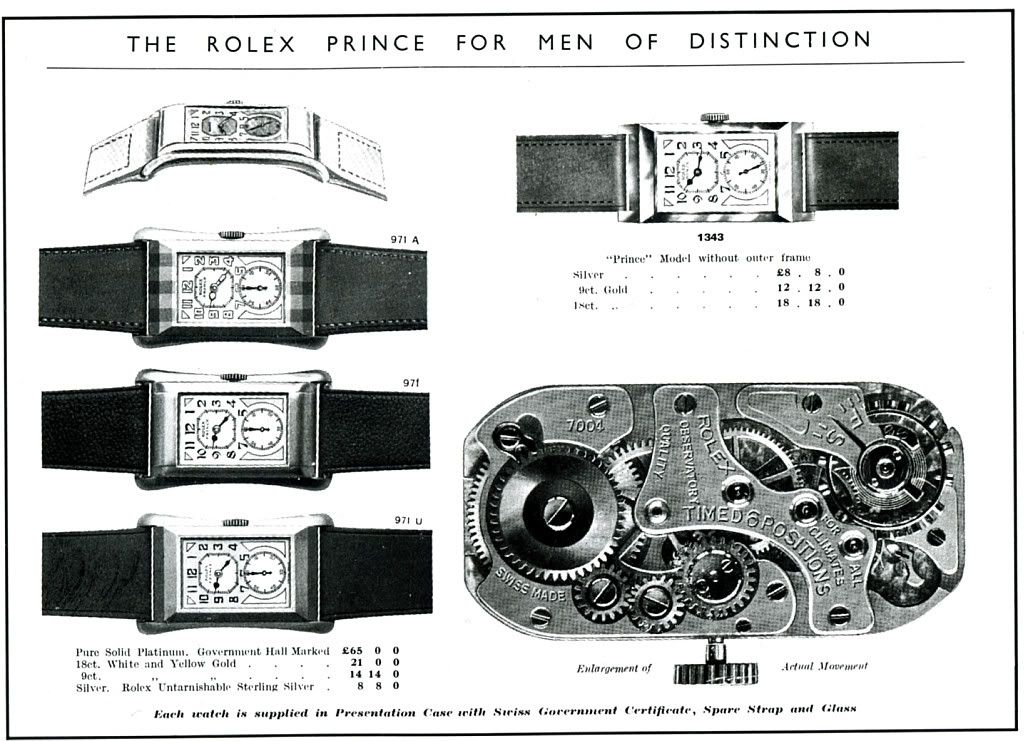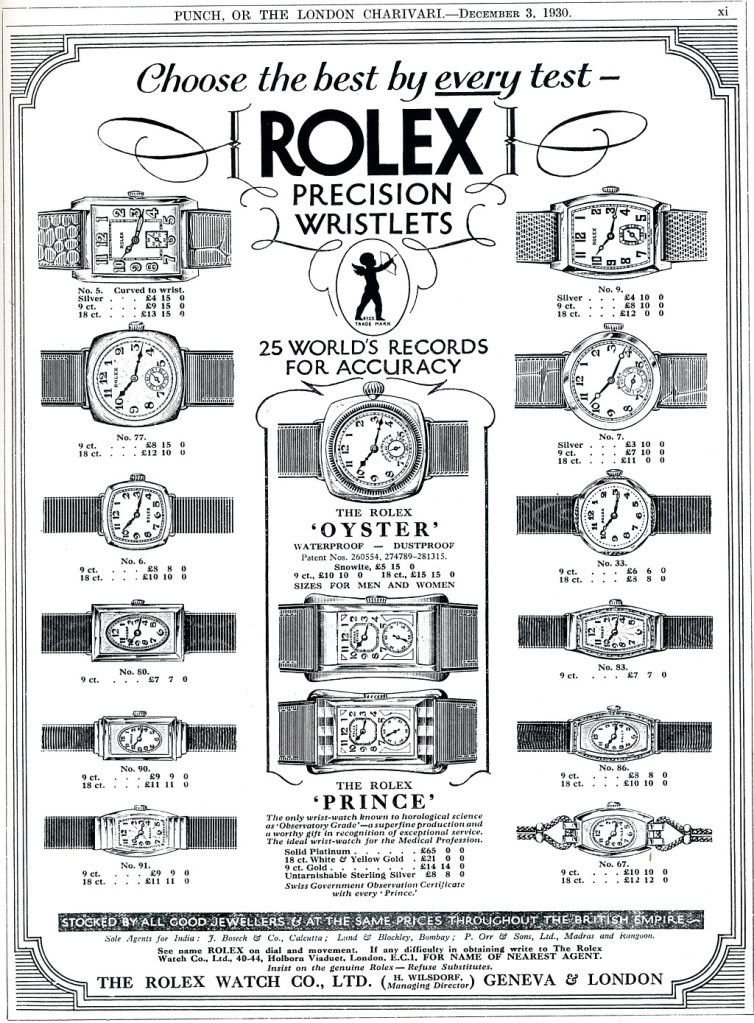 1931:
Rolex presenta il primo orologio automatico ed impermeabile la ref.1858.
Rolex Oyster perpetual ref. 1858, first automatic e waterproof wristwatch.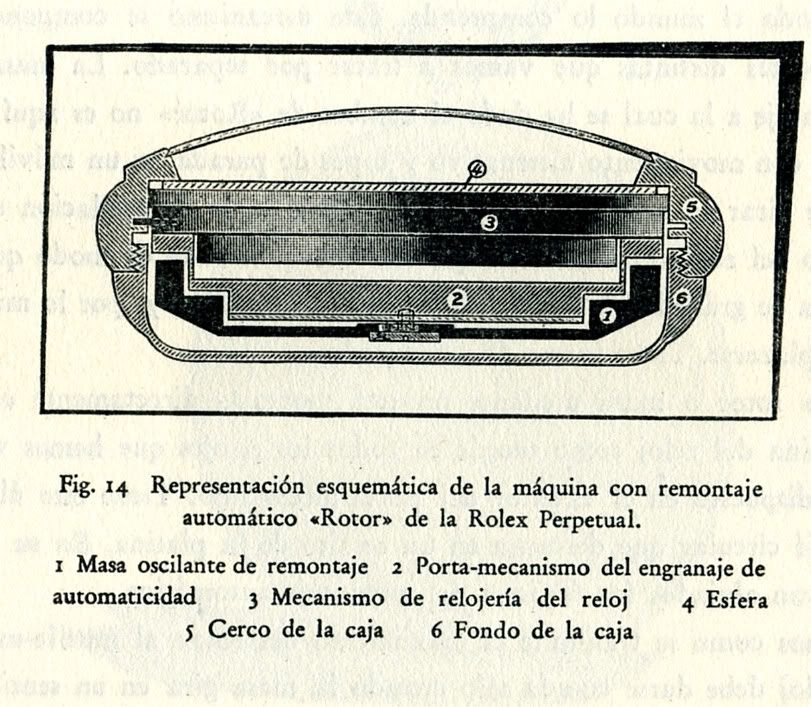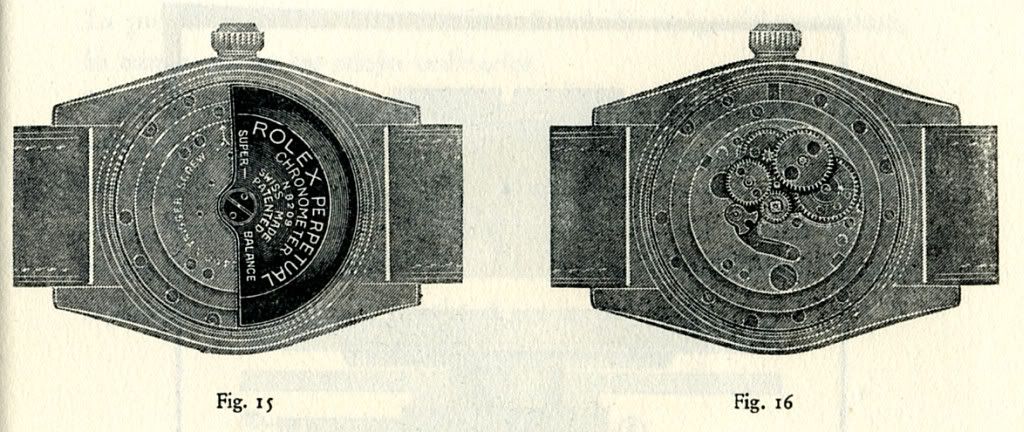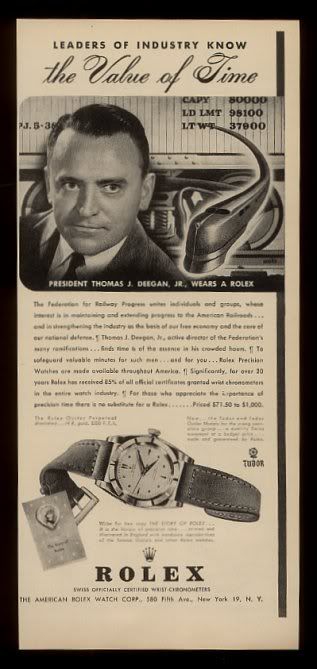 1932.
Rolex e' la prima maison che ottiene il certificato di 1a classe dai 4 osservatori:
Kew, Geneva,Neuchatel e Besancon.
Rolex is the only maison to have obtained a 1st class cerificate for the four Observatories: Kew,
Geneva,Neuchatel and Besancon.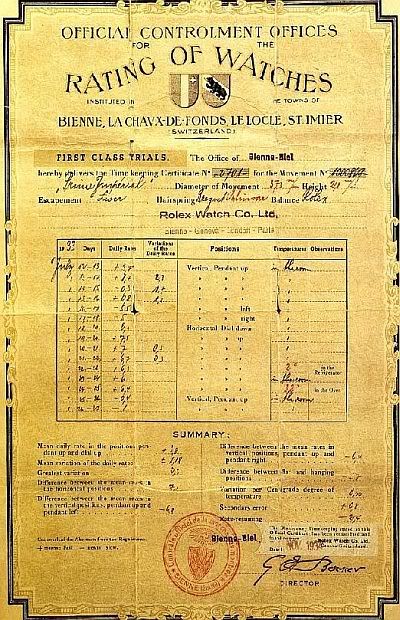 1936.
Rolex festeggia i 500 orologi cronometro (Calibro Prince)
500 Rolex chronometere Prince Calibre
1938:
Rolex Hooded Bubbleback ref.3065
1940: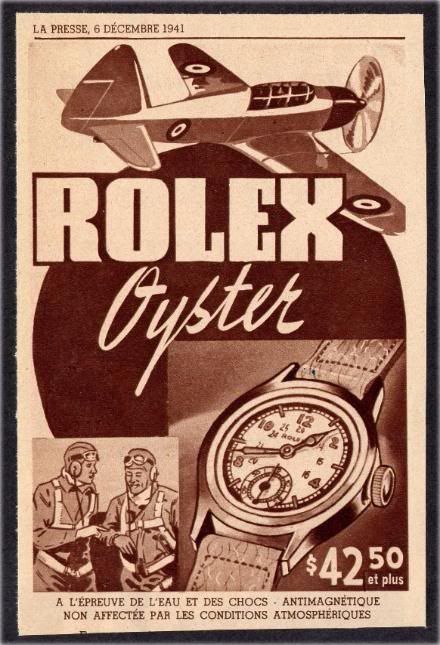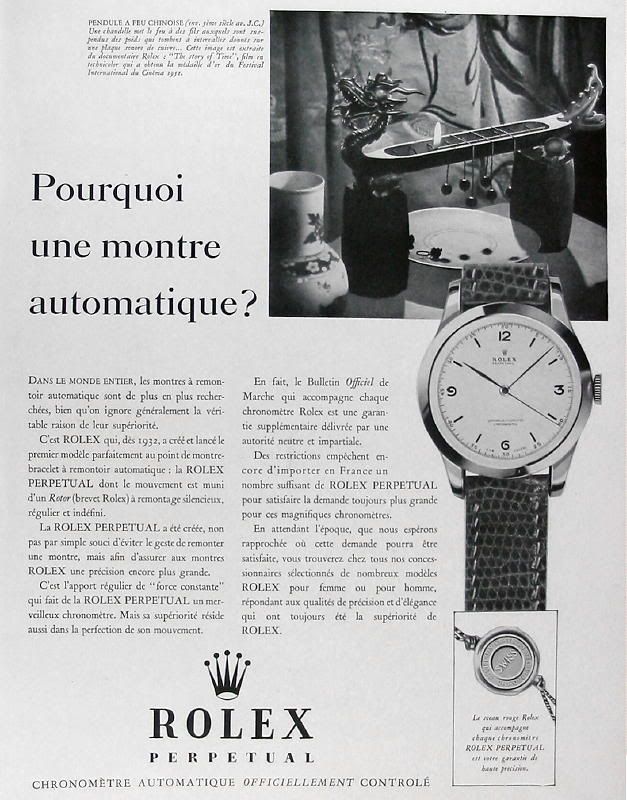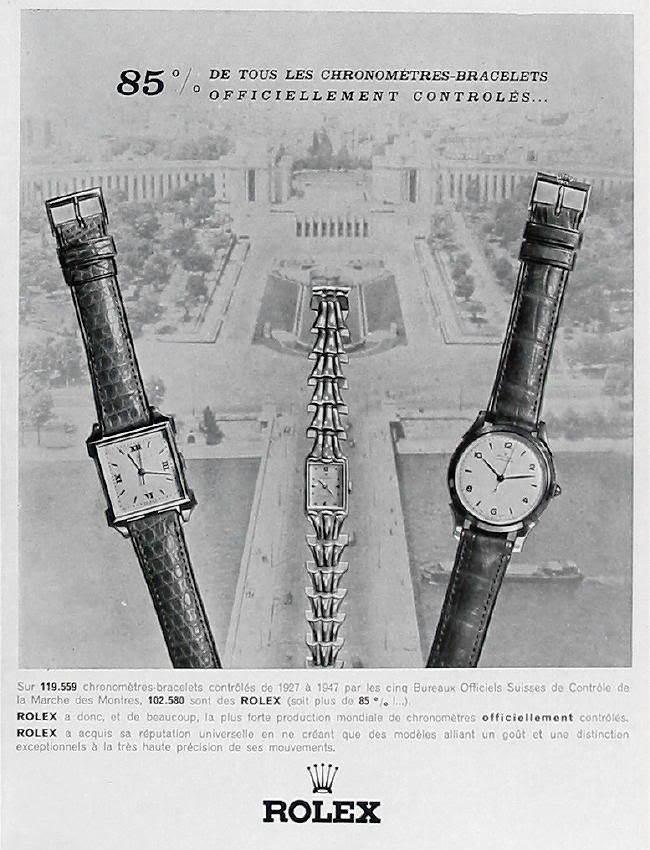 1944: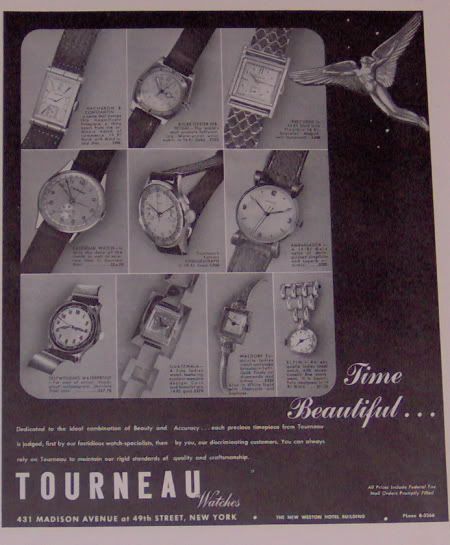 1945:
Rolex festeggia il 50.000 certificato di cronometro, un evento unico nella storia dell'orologeria
Rolex obtainsits 50000th certificate for wrist watch chronometers, an eventuniquein the history of watchmaking.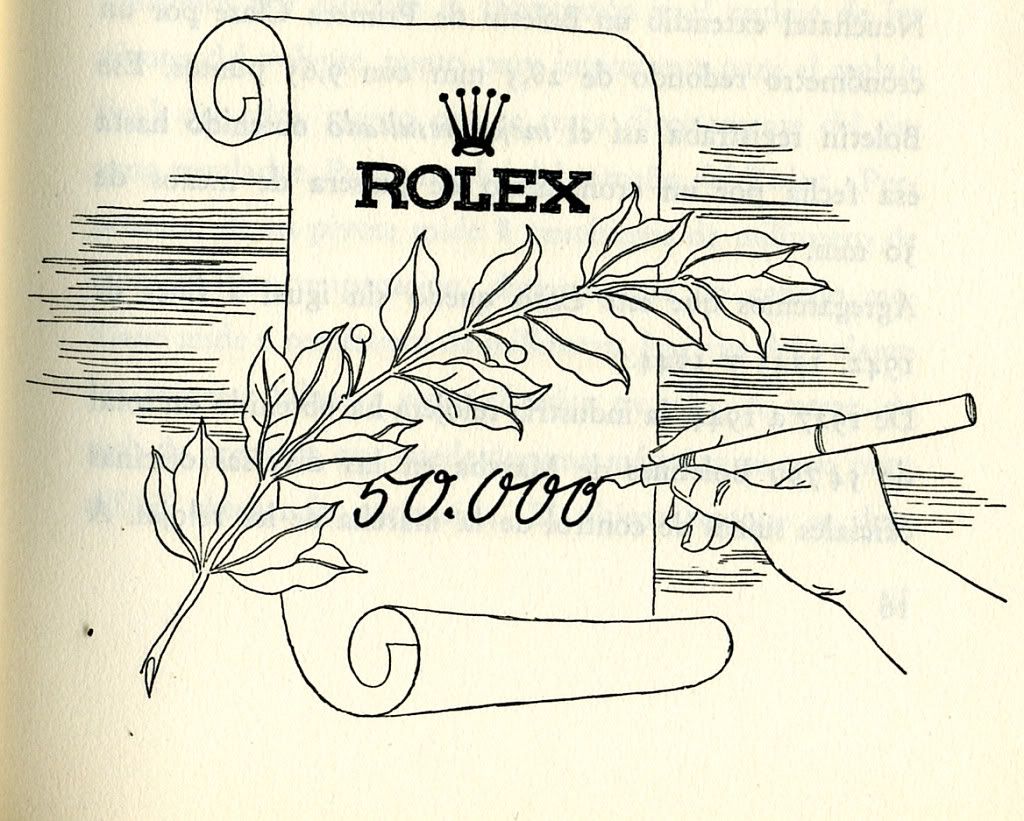 1945:
nasce il datejust, il primo orolgio da polso impermeabile, automatico con la data.
Born the Rolex Datejust,the first waterprof, selfwinding calendar wrist,chronometer.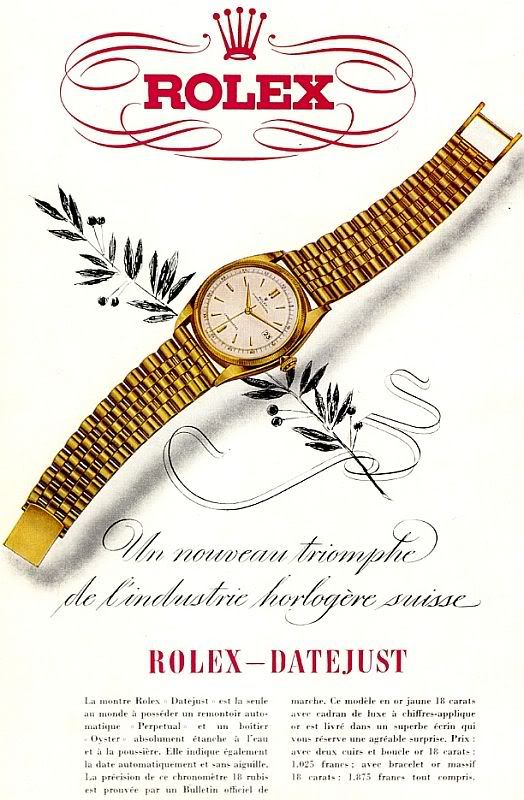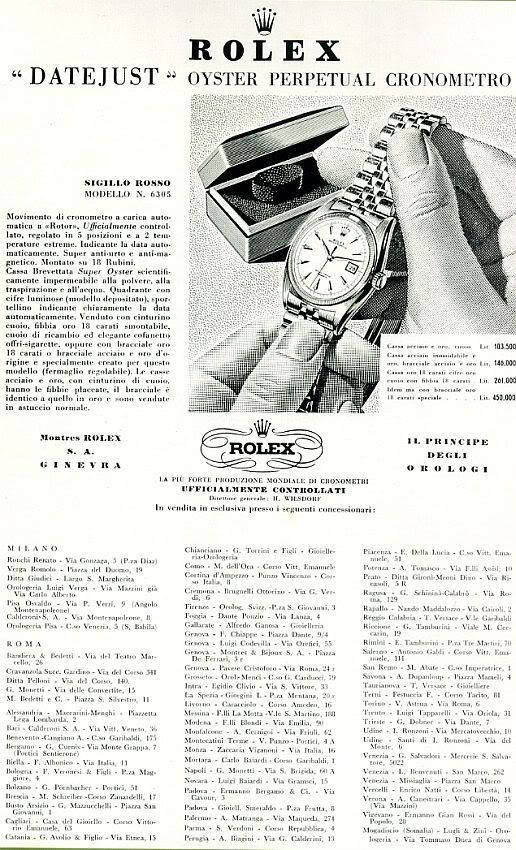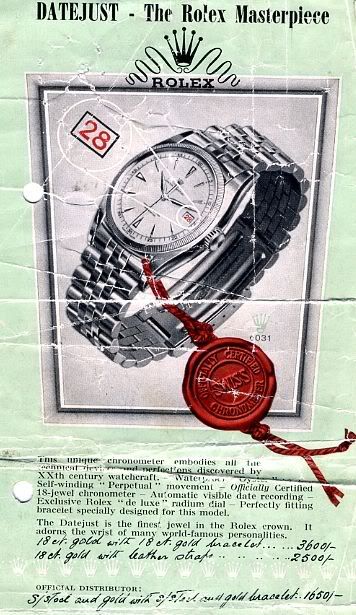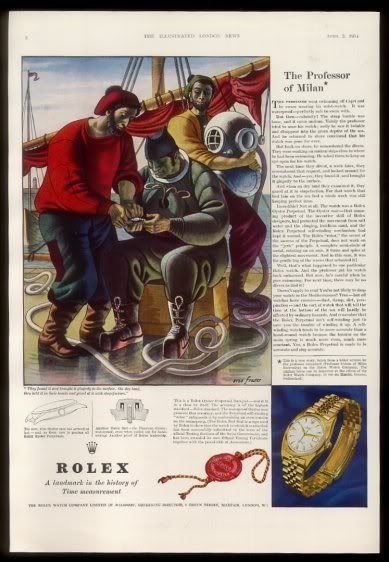 1947:
Rolex presente la ref6062 Oyster fasi di luna.
Born ref 6062 moonphase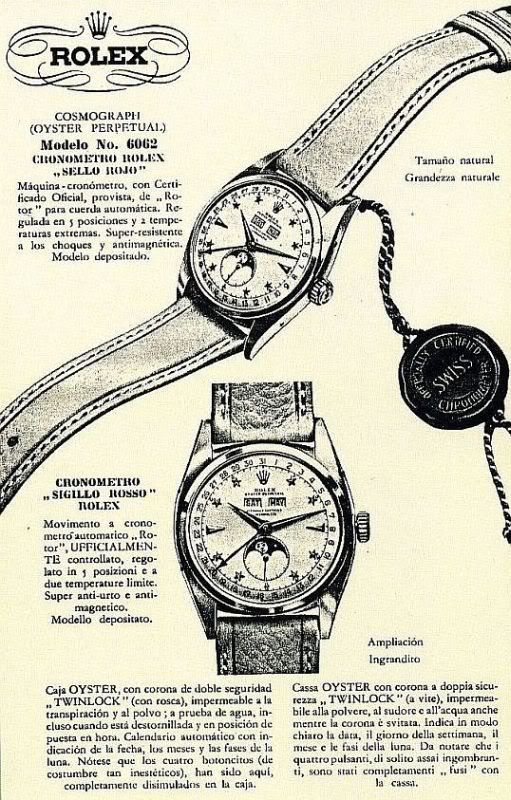 catalogo dell'epoca.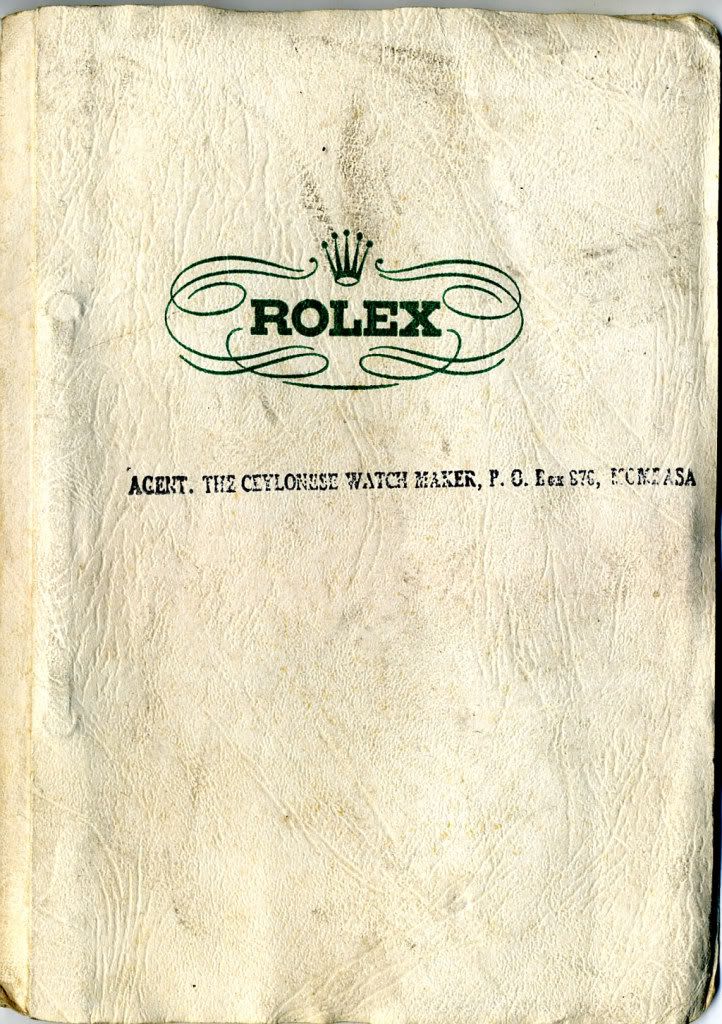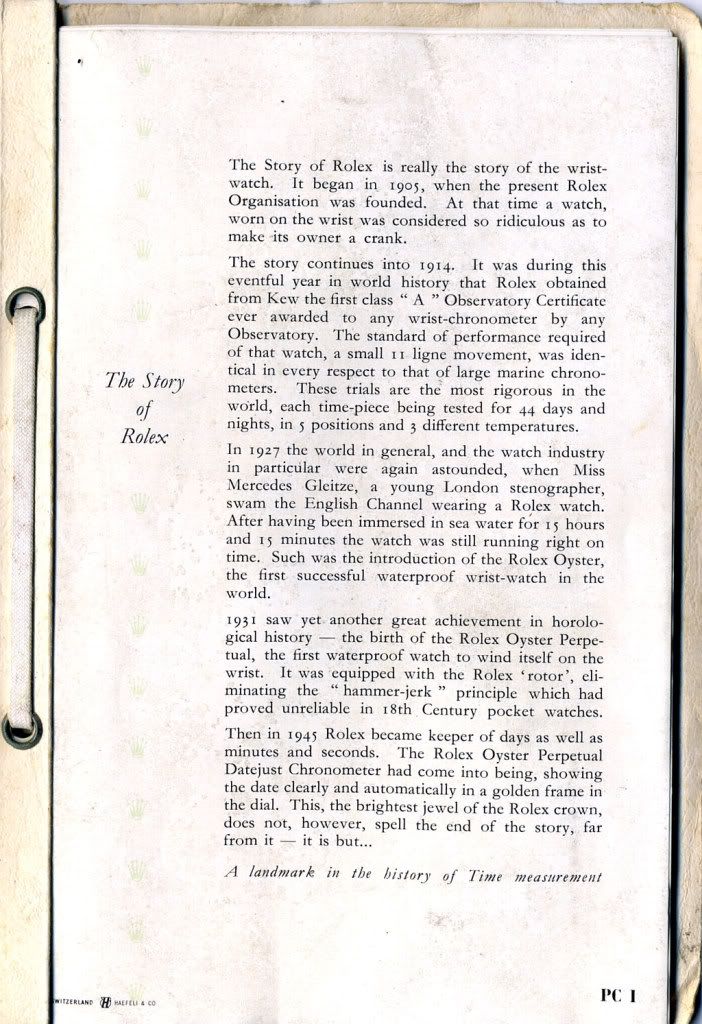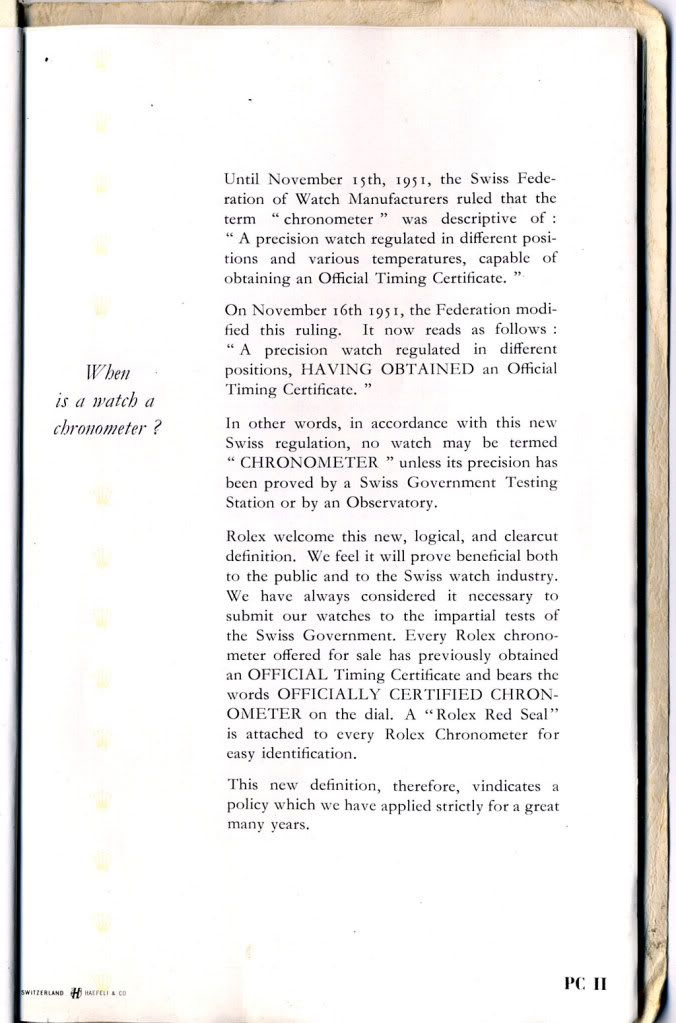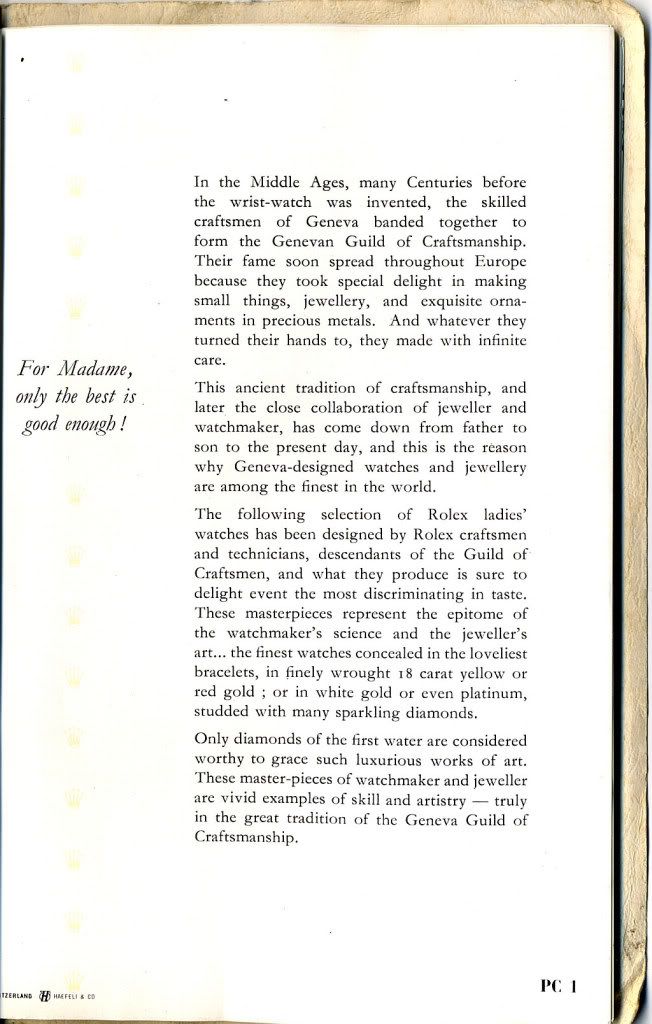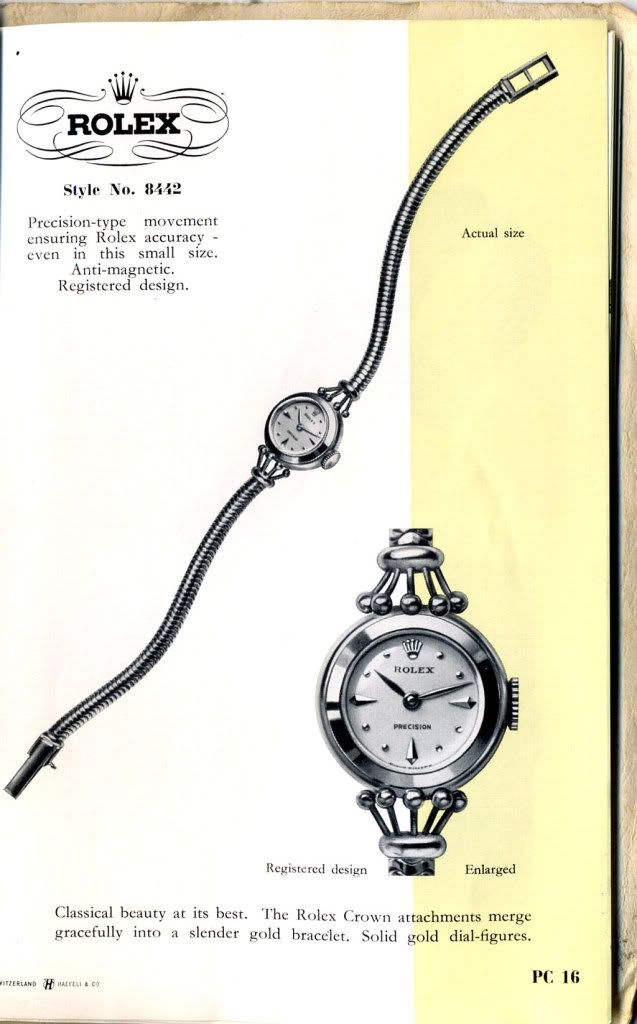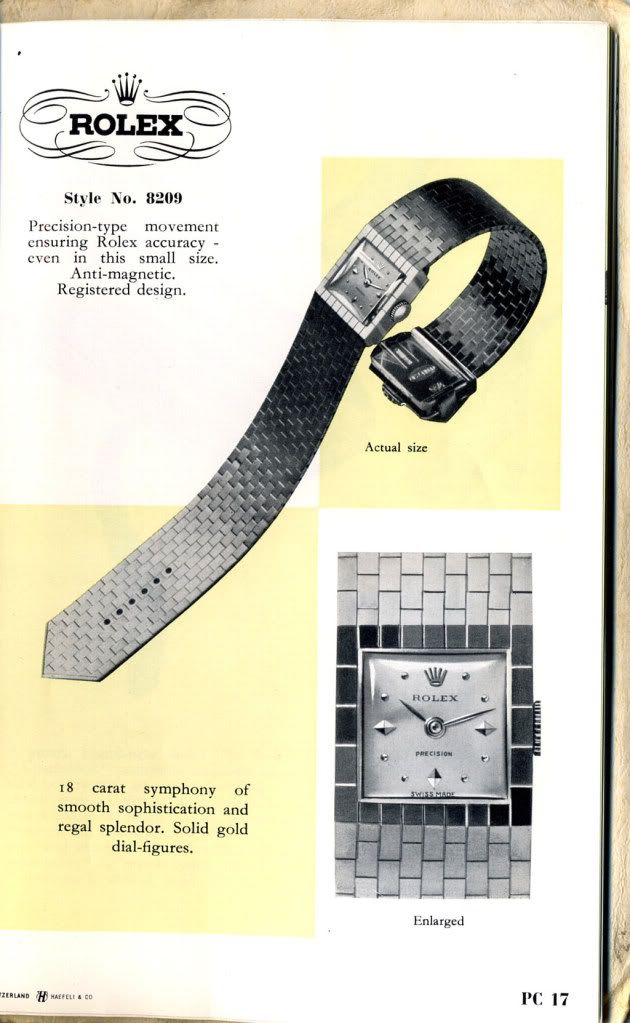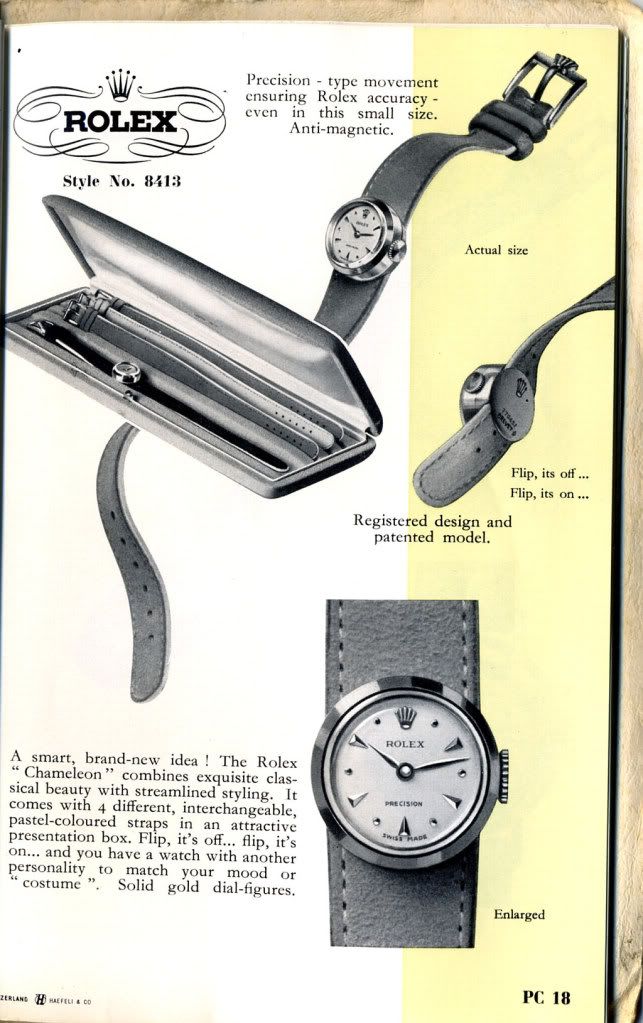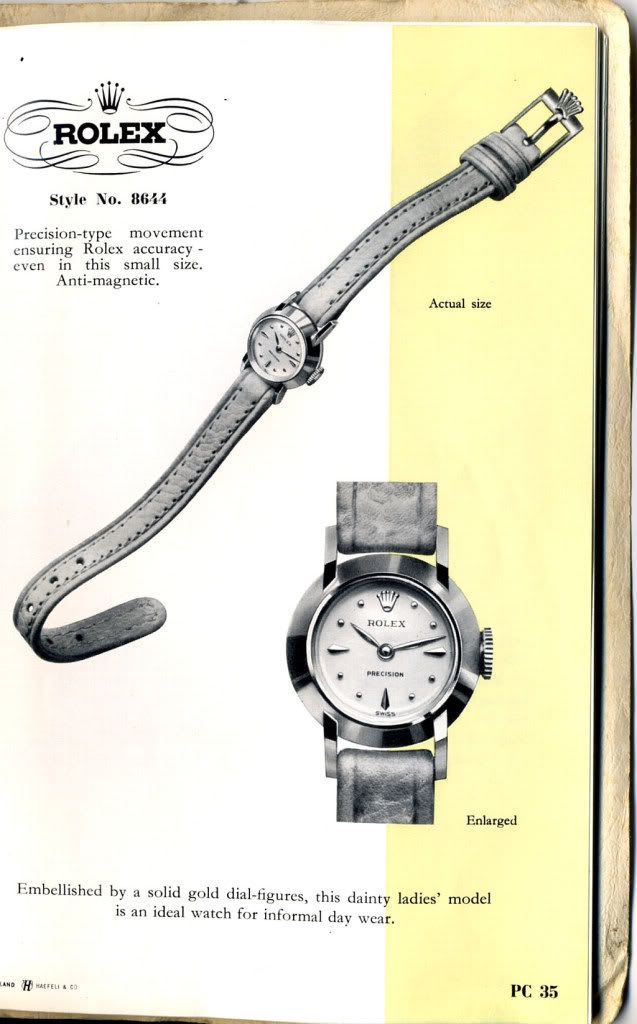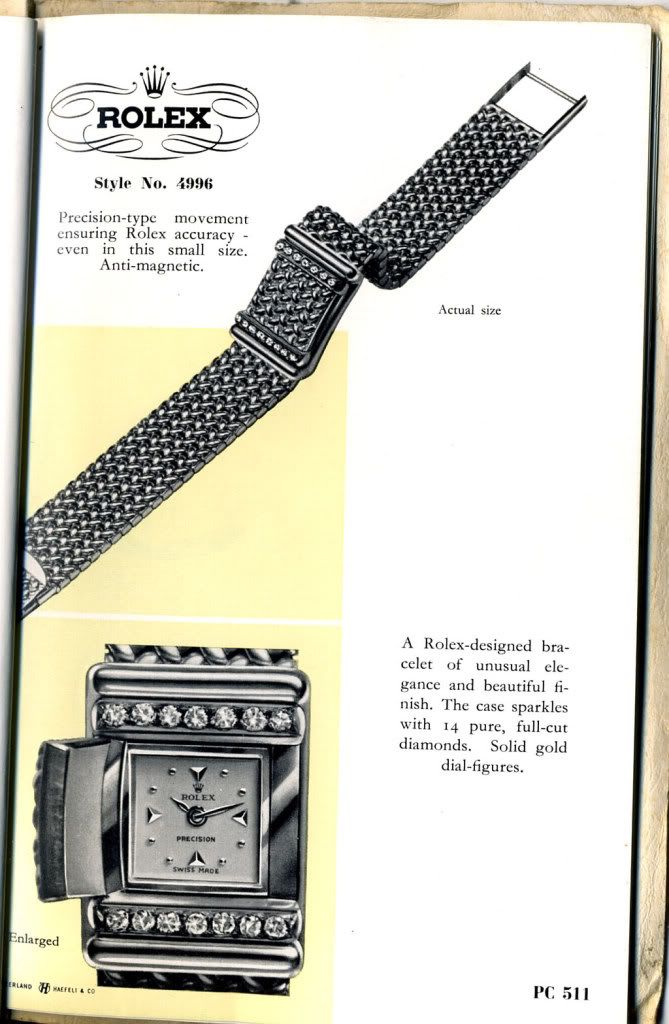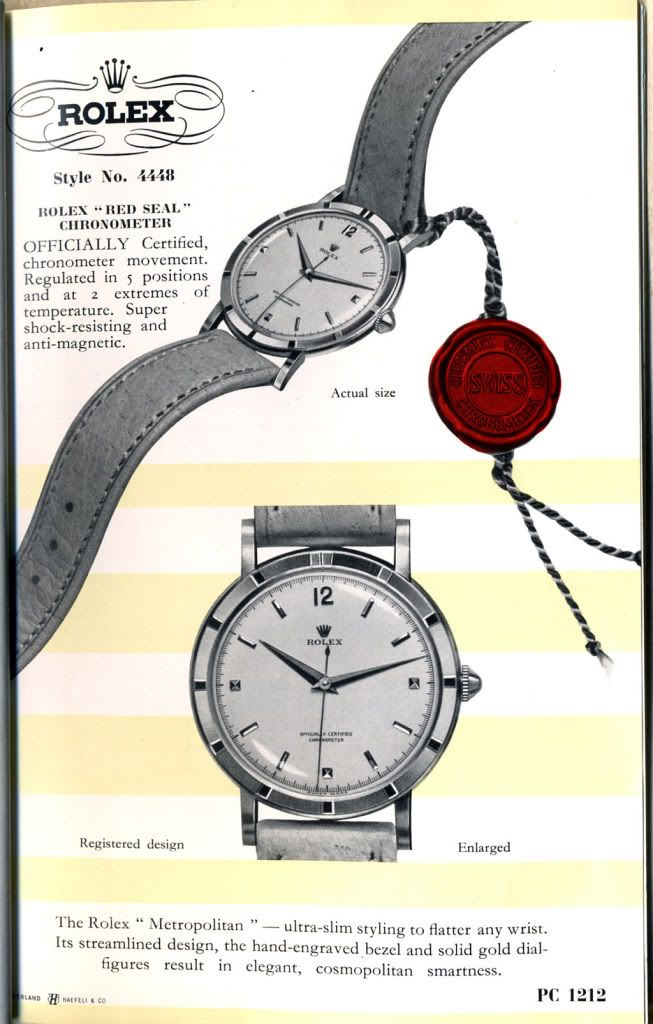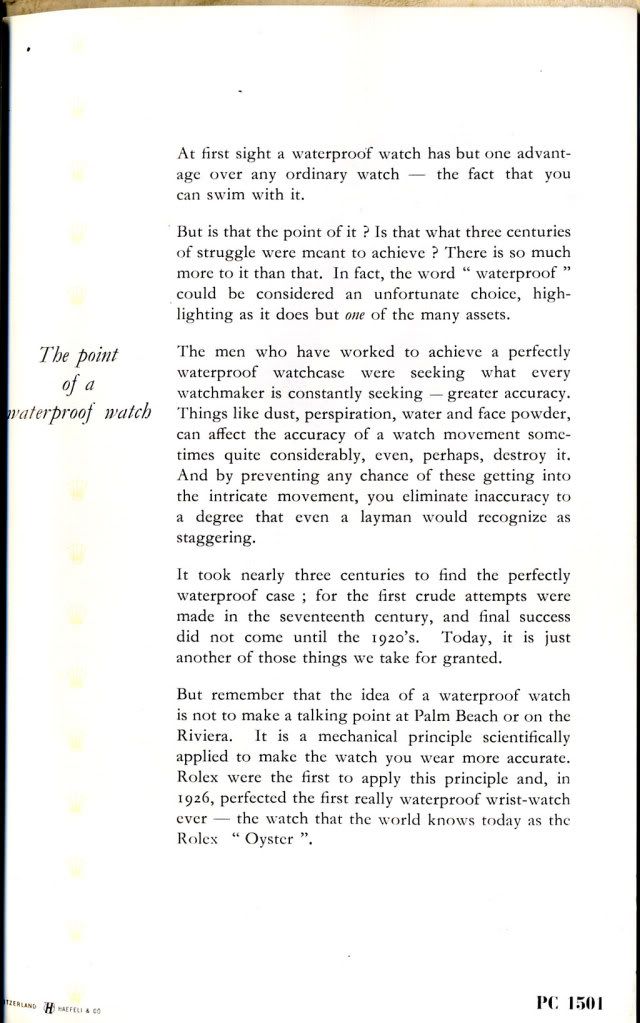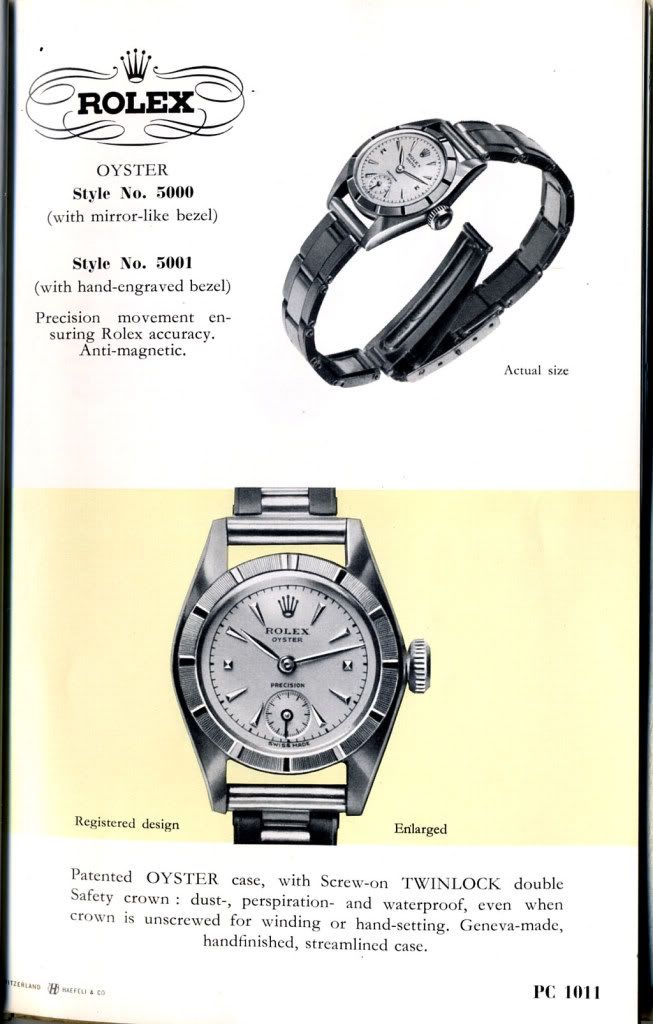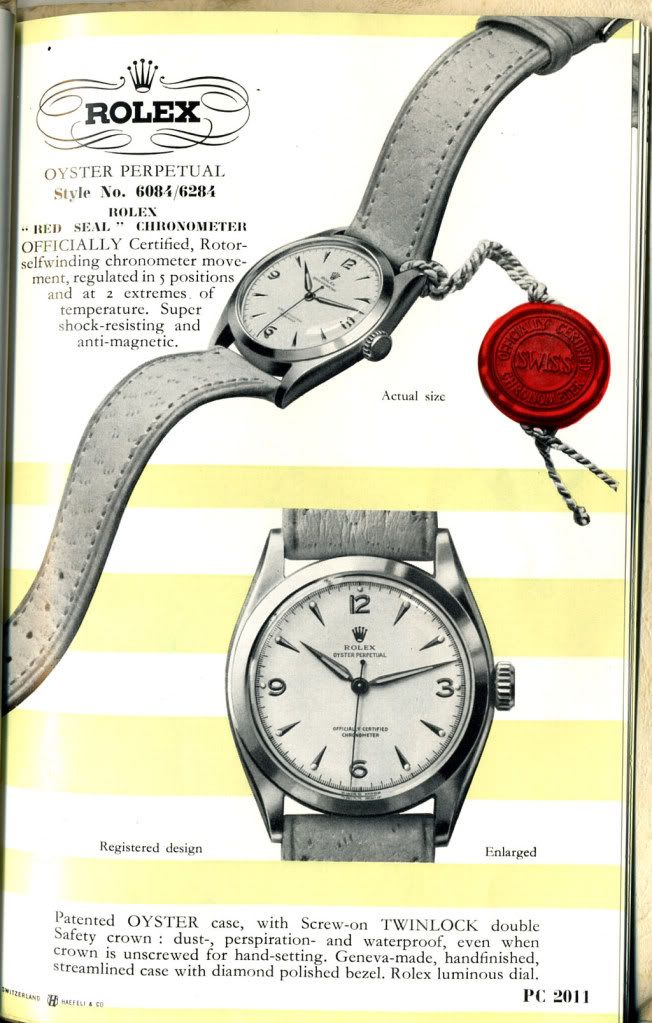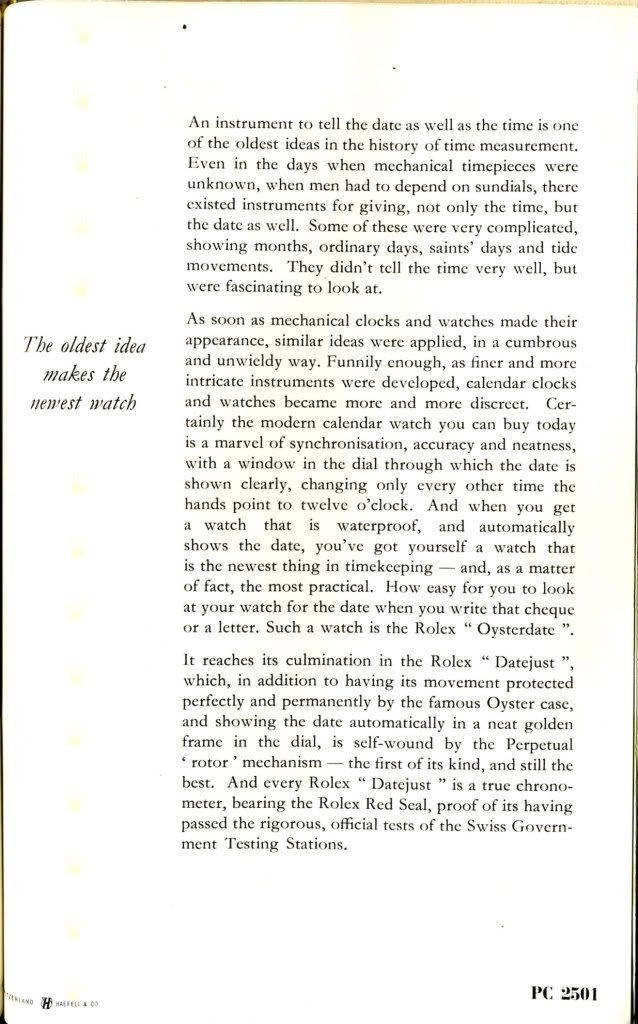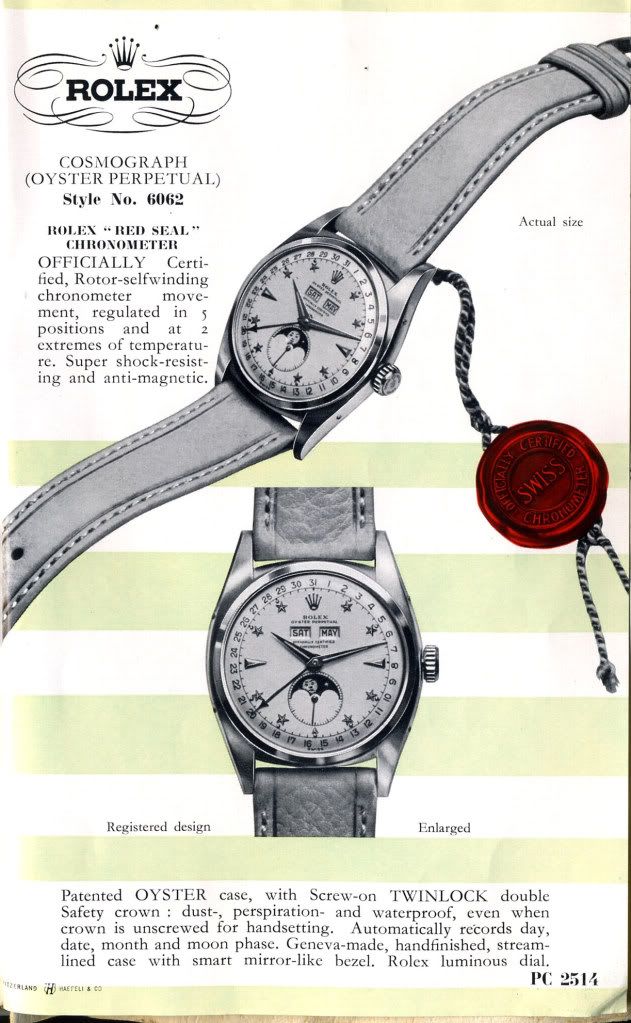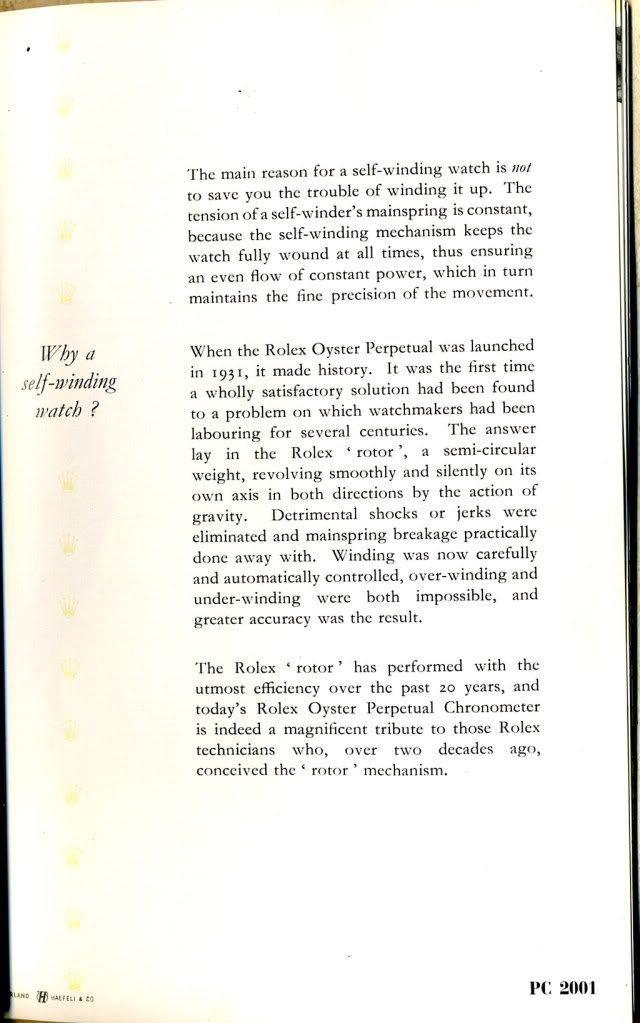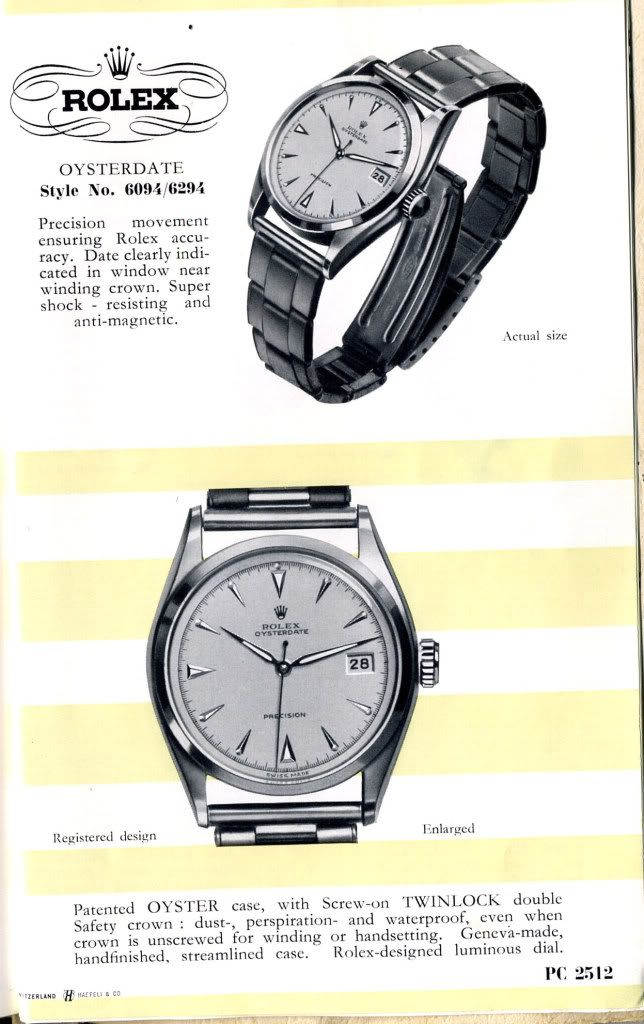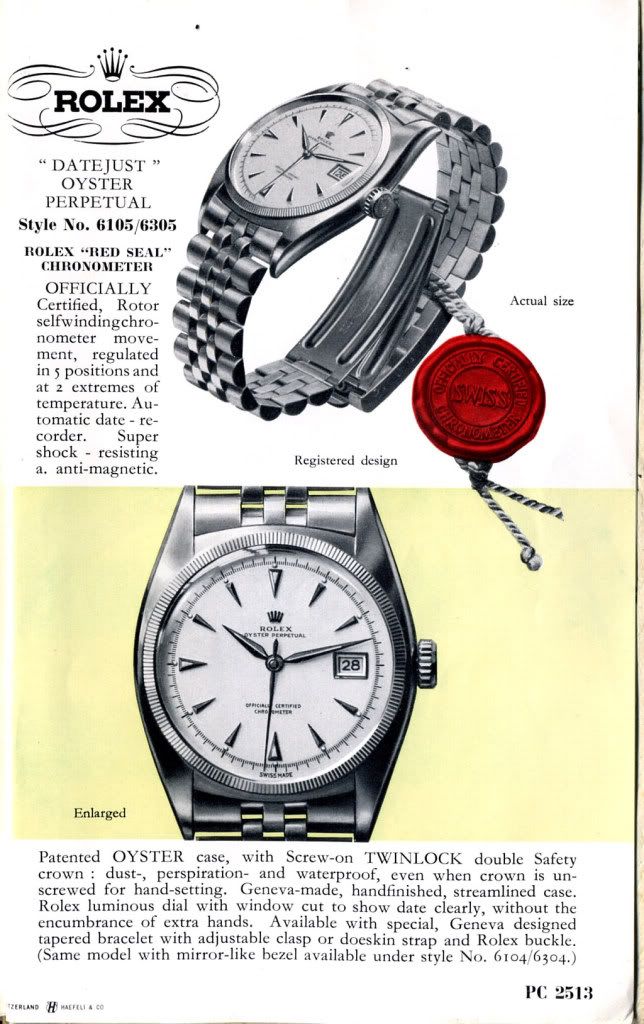 1949:
Rolex presenta il Datocompax ref 4768 e 4767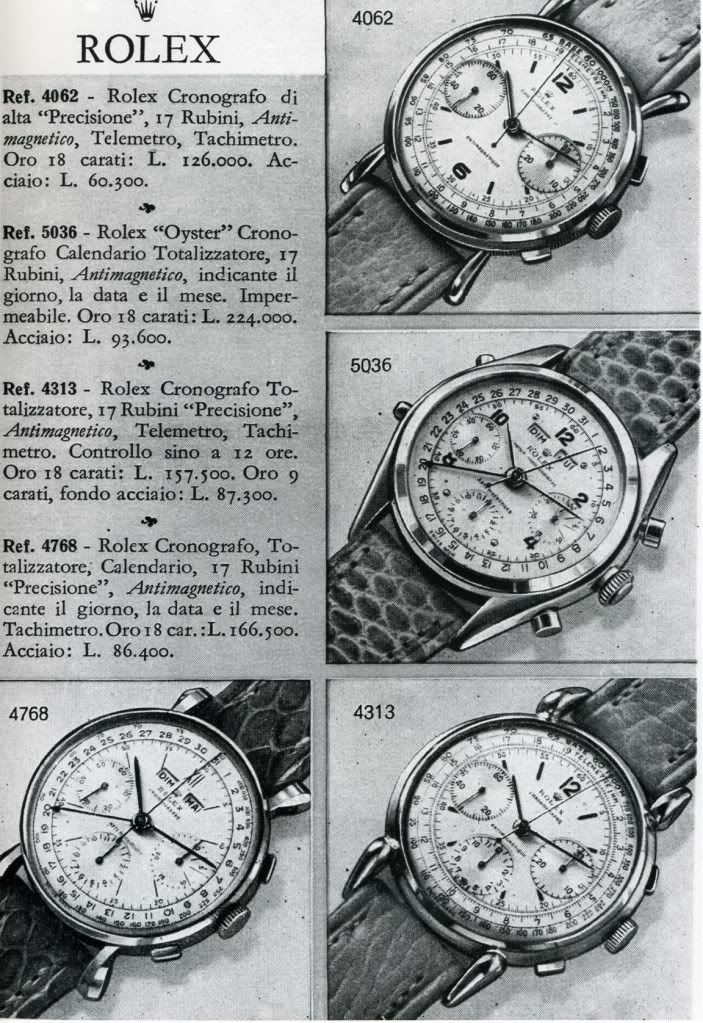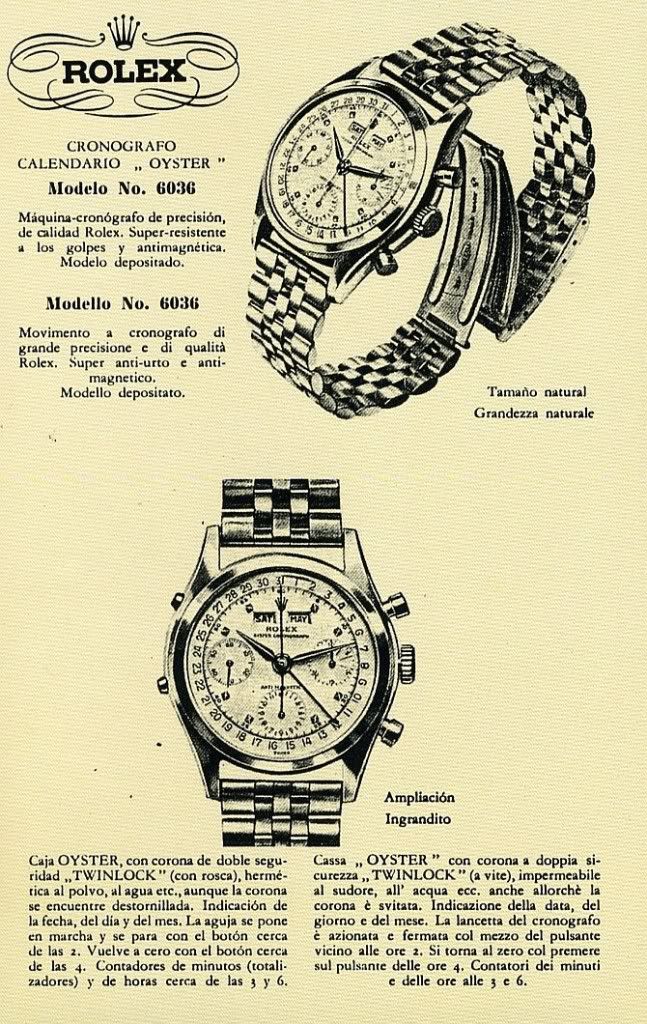 La parte 2:
http://stefanomazzariol.blogspot.com/2009/04/rolex-story-part-2-from-1950-to.html
Stefano Mazzariol