Più volte ed in vari articoli è stato opportunamente sottolineato come la filosofia Rolex da sempre abbia prediletto il carattere squisitamente tecnico-funzionale per le sue creazioni,cioe' affidabilita' e semplicita', a dispetto di quello più costoso , complesso e delicato delle "grandi complicazioni" purtuttavia, in alcuni rari se non rarissimi casi, anche la Casa Coronata si è prodotta sulla via del "complicato" mettendo a punto orologi come quelli di questo articolo che, per l'appunto, ne rappresentano un'eccellente paradigma.Questi modelli hanno visto la luce nel dopoguerra come per spronare una rinascita , una voglia di vivere e di poter pensare anche al superfluo.
Si tratta, del celebre ed alquanto raro modello ref. 8171 soprannominato dai collezionisti Italiani e conosciuto in tutto il mondo come "Padellone" e ciò proprio per l'imponenza delle sue dimensioni da 38mm.Orologio automatico, , astronomico, tripla data e antimagnetico.
Di questa versione ne sono stati prodotti, da circa il 1948 al 1952 pochissimi esemplari difficilmente quantizzabili ma, di certo, in misura non superiore ai 1000 pezzi totali(stima presunta) tanto nella versione acciaio( la più comune) quanto in quella in oro giallo 18K.quanto infine in quella rosa ( la più rara di tutte) sempre 18K.
Versione in oro rosa.
Computer translation upon request of foreign friends
And in many times over several articles it has been opportunely emphasized like the Rolex philosophy from always has predelight the exquisitely technical-functional character for its creations, cioe' affidabilita' and semplicita', in spite of that more expensive, complex and delicate one of the "great complications" purtuttavia, in some rare if not rarest cases, also the Crowned House has been produced on the way of "complicated" putting to point clocks like those of this article that, for the note, of it represents an excellent paradigm. These models have seen the light in the post-war period like in order spurring a rebirth, one wants of living and being able to think also next to the superfluous one. Draft, of celebre and somewhat rare model ref. 8171 nicknamed from the Italian collectors and known all over the world like "Padellone" and that just for the imponenza of its dimensions from 38mm. Clock automatic rifle, astronomical, triple antimagnetic date and. Of this version of they have been produced, give approximately 1948 to the 1952 least difficultly quantizzabili exemplary but, of sure, in not advanced measure to 1000 pieces totals (presumed esteem) as well as in the version the steel (most common) how much in that one in yellow gold 18K.quanto at last in that rose (rarest than all) always 18K. Version in gold rose.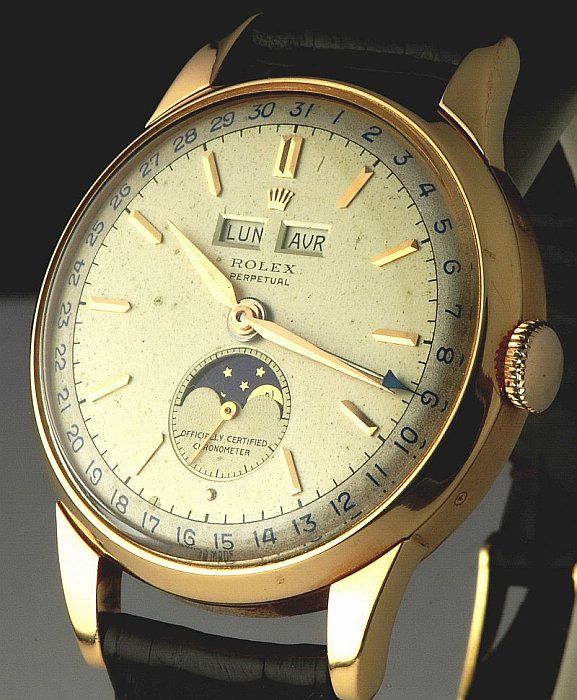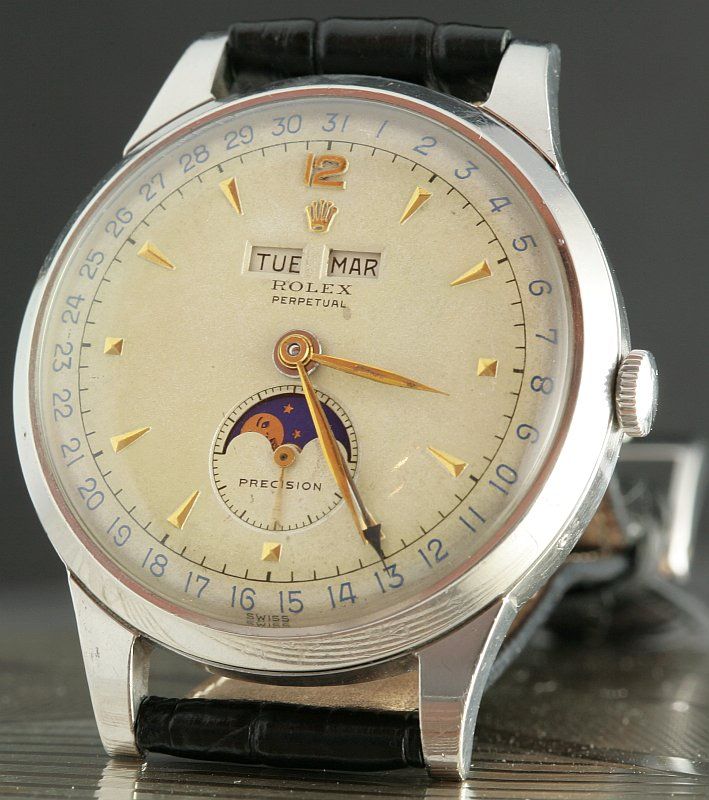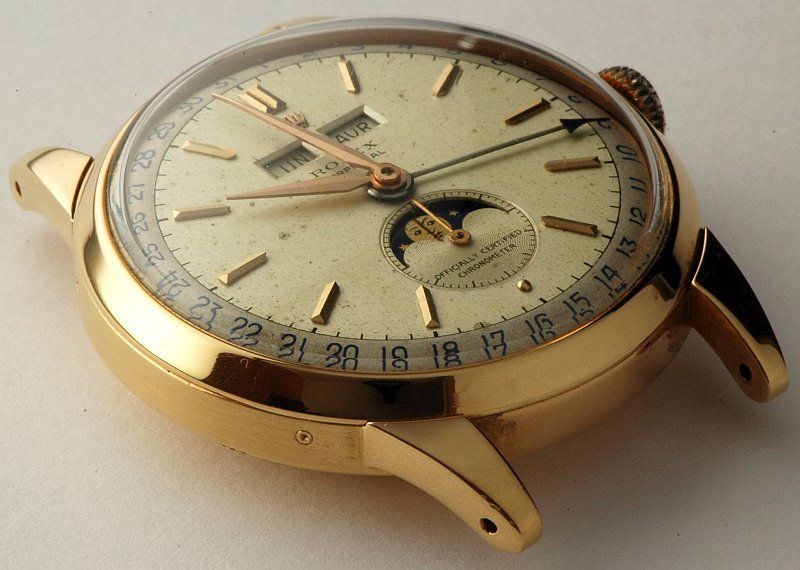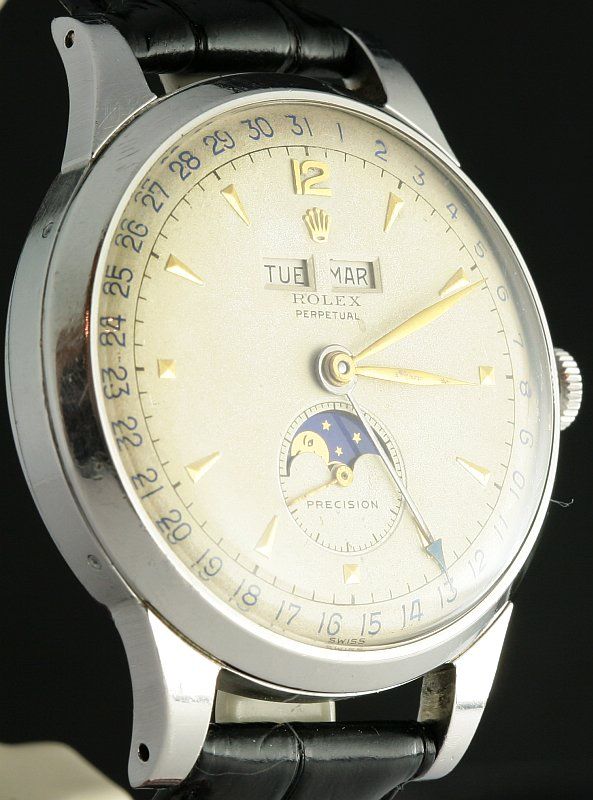 ....versione senza fosfori
….version without phosphorus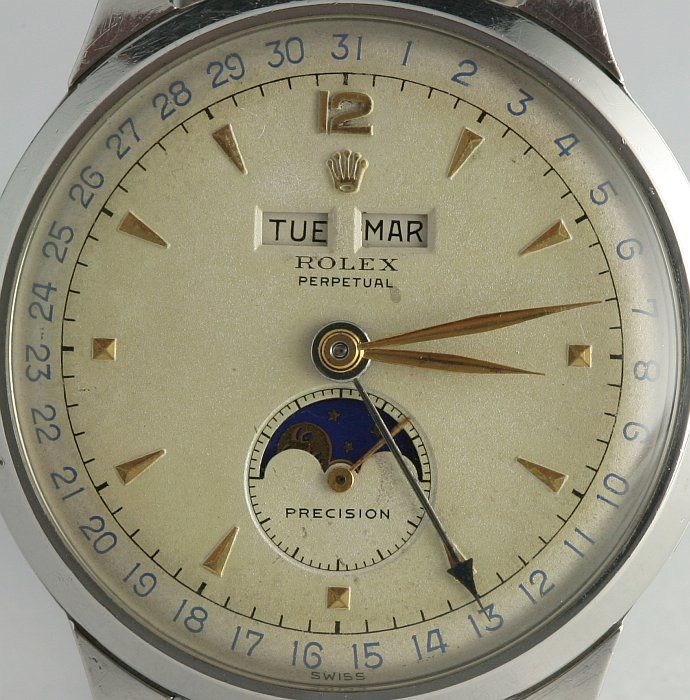 ...versione fosfori
….version phosphorus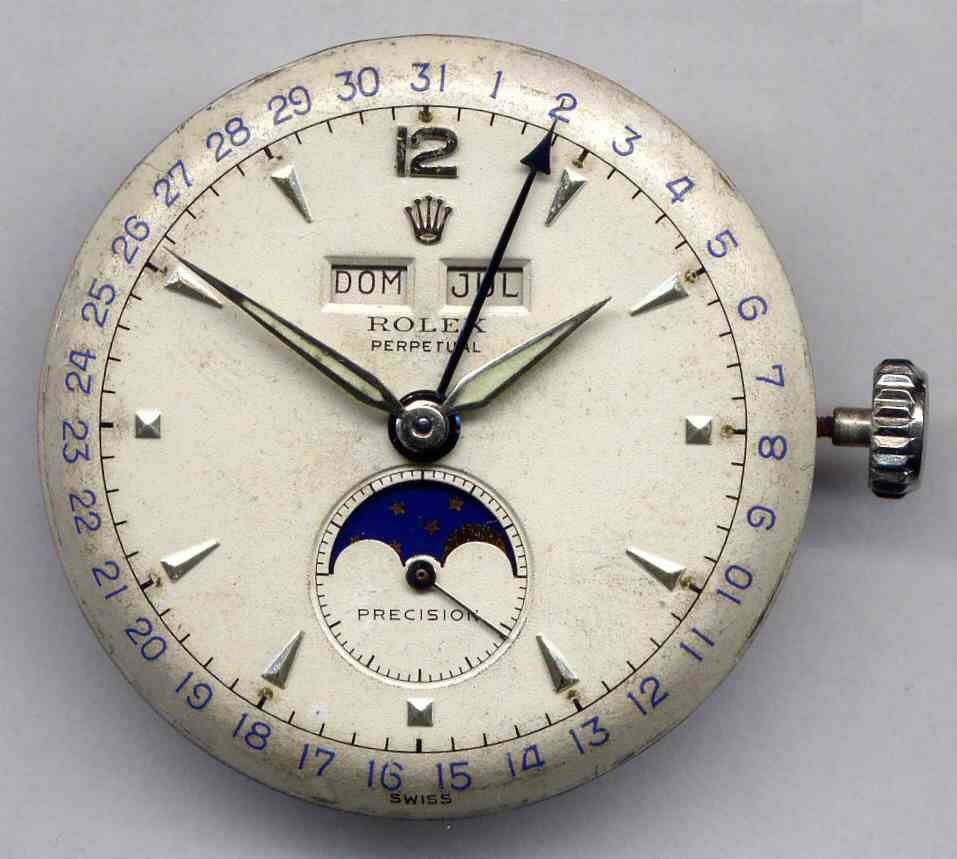 (foto presa in rete)
...Il suo quadrante, di generose dimensioni presenta bellissime sfere a foglia ed un suggestivo sferino in acciaio brunito con terminale a freccia( a volte di colore rosso altre, come in questo caso, di colore blù) necessario per indicare la data del giorno.
Ad ore 6 troviamo il compax dei secondi continui ( generalmente rifinito a filetti circolari nelle versioni oro e liscio in acciaio)con, al suo interno, la finestrella delle fasi della luna anch'essa, per tipologia , identica a quella del 6062 ossia con fondo blù, stelle e luna dorate.
Ad ore 12, proprio sotto la corona Rolex riportata in oro o acciaio che puo' avere 3 diversi disegni, tronca, piccola o grande ,troviamo a sinistra le finestrella del giorno ed a destra quella del mese e, ancora immediatamente sotto ad esse, la scritta, a caratteri piuttosto piccoli e molto sottili, "Rolex Perpetual" con grafica spaziata ed attestante l'automatismo di carica dell'orologio.
Sempre il quadrante presenta indici d'oro o color acciaio di 2 disegni a freccia ,triangolare o trapezoidale all'infuori che ad ore 12 ove è riportato il numero per l'intero o il doppio indice trapezoidale non a punta.
Ad ore 3,6 e 9 ove al posto delle frecce possiamo trovare le seguenti varianti:
1 indici più piccoli e caratteristici a forma di cuspide tronco-piramidale sempre in oro o acciaio
2 indici a trapezio a freccia al 3 e al 9 con indici al 6 a mezza sfera.
3 mai avuto il piacere di vederla ma illustrata in diverse pubblicazioni , indici a barretta , triangolari al 3 e 9 e triangolo tronco al 6.
….Its dial, of generous dimensions introduces beautifulst spheres to leaf sometimes and evocative hands in steel burnished with it finishes them to arrow (of red color others, like in this case, of blue color) necessary in order to indicate the date of the day. To hours 6 we find the compax of the second ones continues generally (rifinisch to circular threads in the versions smooth gold and in steel) with, to its inside, the finestrella of makes of the moon anch' it, for tipologiy, identical to that one of the 6062 that is with blue bottom, stars and moon gilded. To hours 12, just under the Rolex crown brought back in gold or steel that puo' to have 3 various designs, it cuts, small or large, we find on the left the window of the day and to right that one of the month and, still immediately under to they, the written one, to thin more rather small characters and much, "Rolex Perpetual" with spaced diagram and attesting the automatism of loads with the clock. Always the dial introduces gold indices or color steel of 2 designs to arrow, triangular or trapezial to the infuori that to hours 12 where are brought back the number for the entire one or the double trapezial index not to tip. To hours 3,6 and 9 where to the place of the arrows we can find following varying: 1 smaller and characteristic indices to log-pyramidal cuspid shape always in gold or steel 2 indices to trapeze to arrow to the 3 and the 9 with indices to the 6 to average sphere. 3 never had the pleasure to see it but illustrated in various banns, indices , triangular to 3 and 9 and triangle you cut to the 6.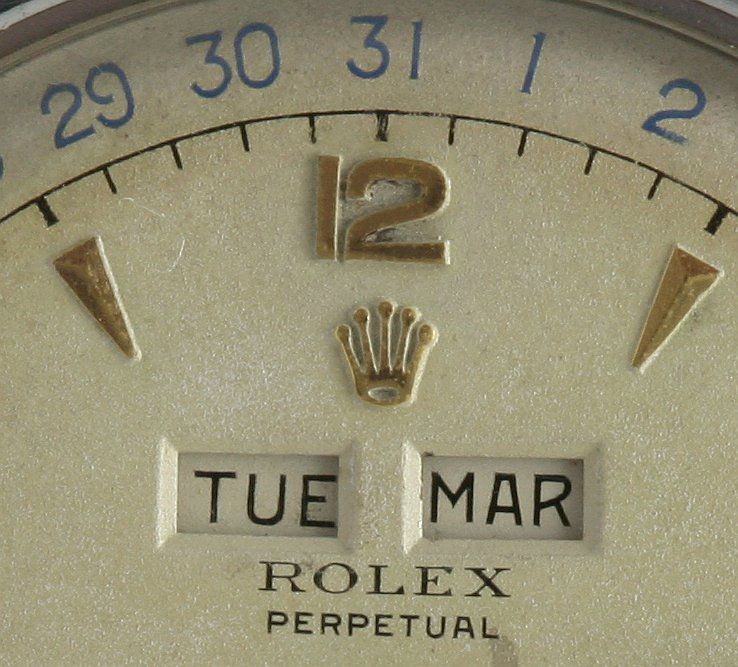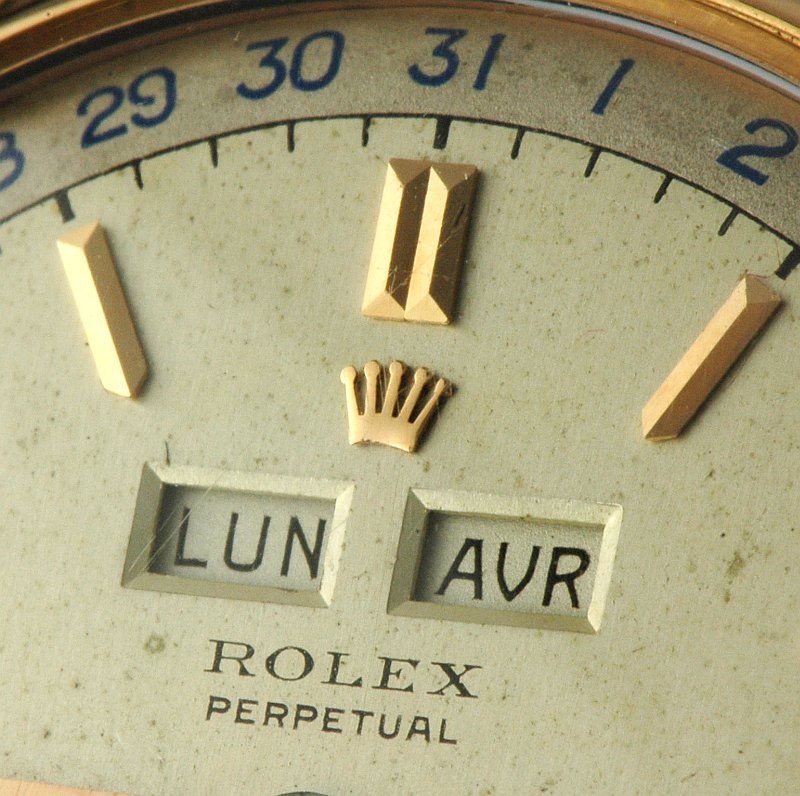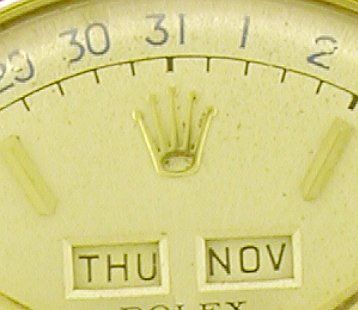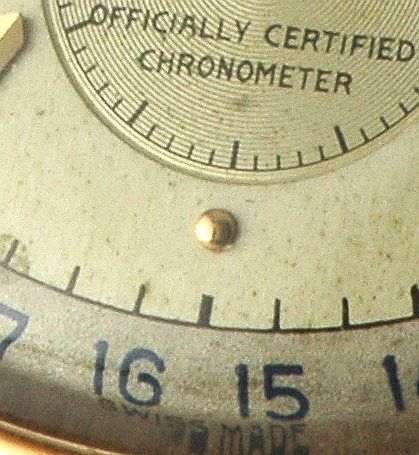 La certificazione di cronometro era generalmente dedicata ai modelli in oro, pur avendo il solito movimento, quelli in acciaio non venivano inviati al cosc.Rolex in quel tempo non aveva un unico standard di movimenti, ma teneva anche una linea economica dove generalmente cambiavano i rubini, sia come qualita' che in numero .
Il bilanciere con spirale Breguet era destinata ai modelli cosc.
Mi sono capitati orologi provenienti , per esempio , dall' India dove non si riscontrano gli standard Europei.
The certification of chronometer generally was dedicated to the models in gold, also having the usual movement, those in steel did not come sendes you to the cosc. Rolex in that time did not have an only standard of movements, but it held also an economic line where generally they changed the rubin, it is like quality that in number. The balance with Breguet spiral was destined to the models cosc. Coming from watch are understood to me to you, as an example, from India where the European standards are not found.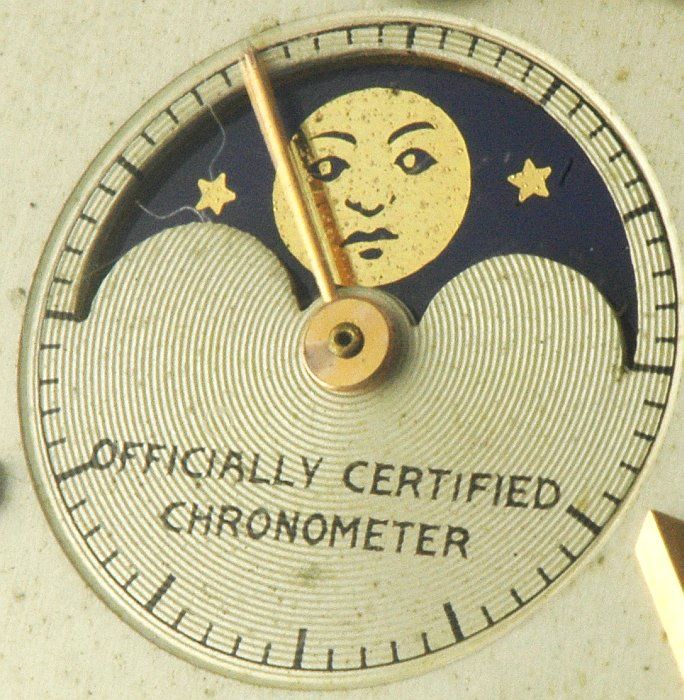 Versione acciaio senza i filetti circolari al contasecondi.
Version steel without circular threads to the second dial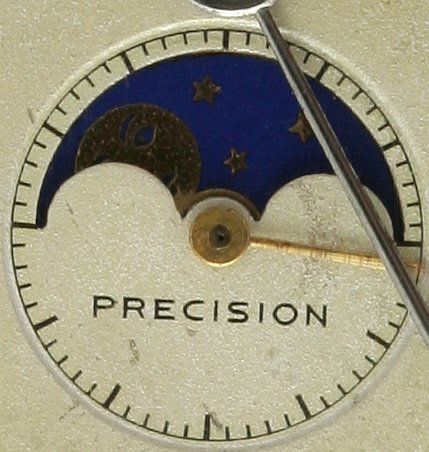 Versione oro rosa :Swiss made
Version gold rose: Swiss made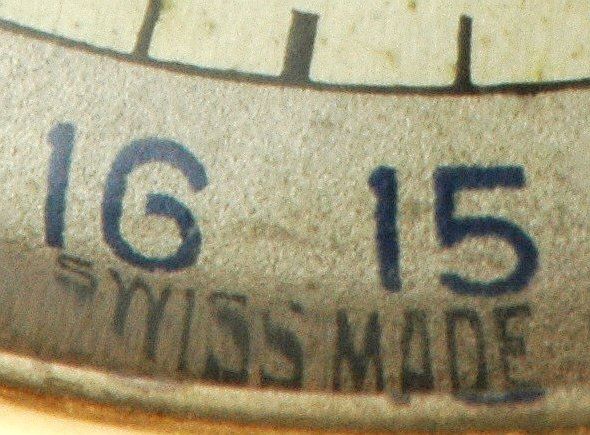 Versione acciaio:Swiss
Version steel: Swiss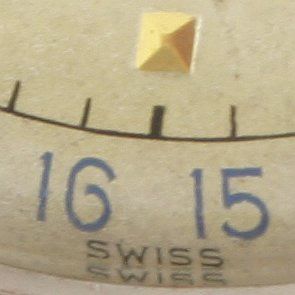 inversione dei numeri
Sul suo perimetro più esterno, sono indicati i 31
giorni del mese in un bellissimo colore blù cobalto, con i 6 ed i 9 molto aperti e la caratterista inversione di grafica ad ore 3 e 9.
reversal of the numbers
On its more external perimeter, they are indicates the 31 to you days of the month in a beautifulst blue color cobalt, with the 6 and the 9 the much open and caratterista reversal of diagram to hours 3 and 9.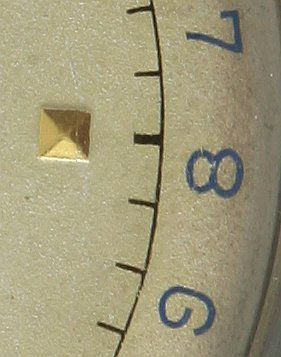 sfere per quadrante indici a triangolo
hands for disl indices to triangle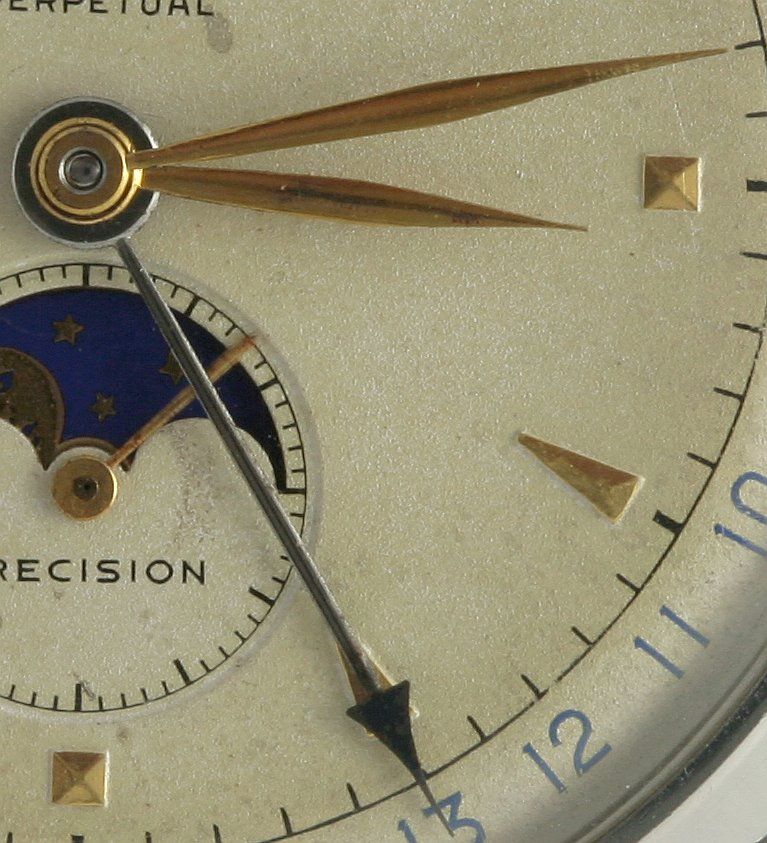 sfere per il quadrante indici a freccia
hands for the dial indices to arrow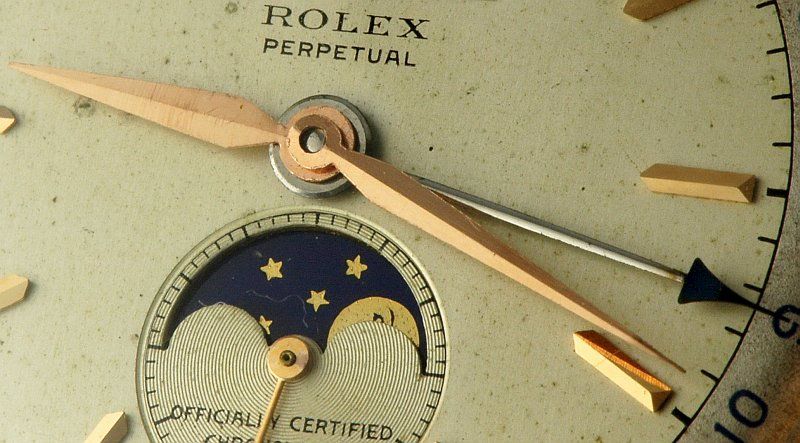 ...sfere fosforo
… hands phosphorus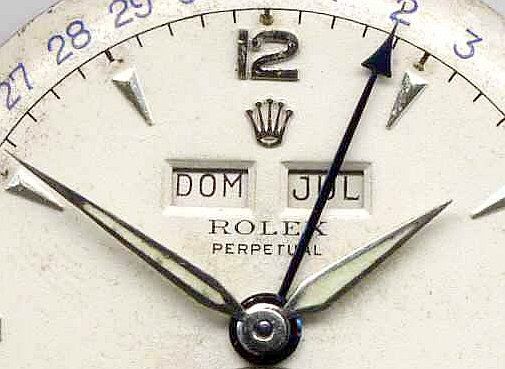 Movimento ovettone modificato con doppio calendario, mensile di 31 giorni e lunare di 28 giorni, a carica automatica derivato dal cal A 295 da 10 1/2'''
Modified movement ovettone with double calendar, lunar salary of 31 days and of 28 days, to loads automatic deriving from the cal To 295 from 10 1/2 '''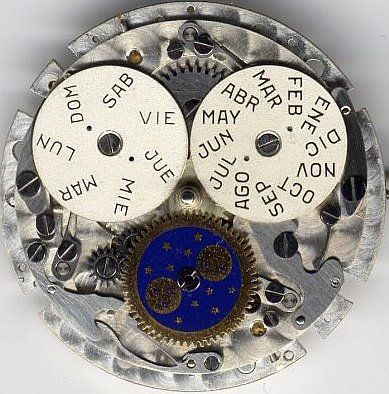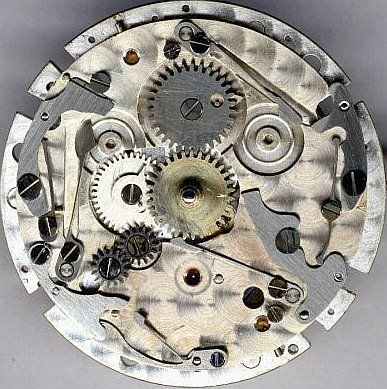 (foto prese in rete)
automatico
automatic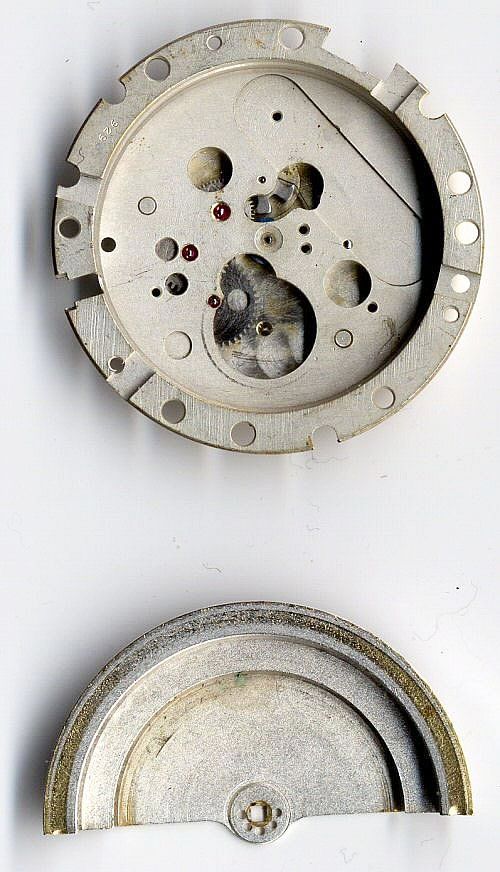 mov .senza la platina del datario
mov. without platina it of the dater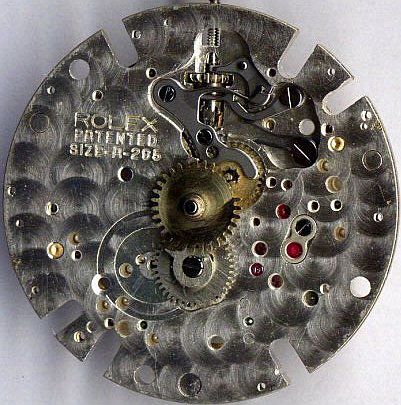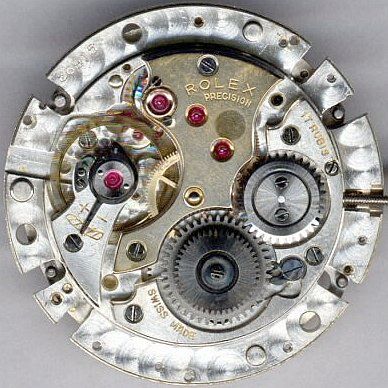 Movimento . Lungo il perimetro c'e' l'anello di metallo antimagnetico di alloggiamento del movimento.
Movement. Along the perimeter there is the ring of antimagnetic metal of lodging of the movement.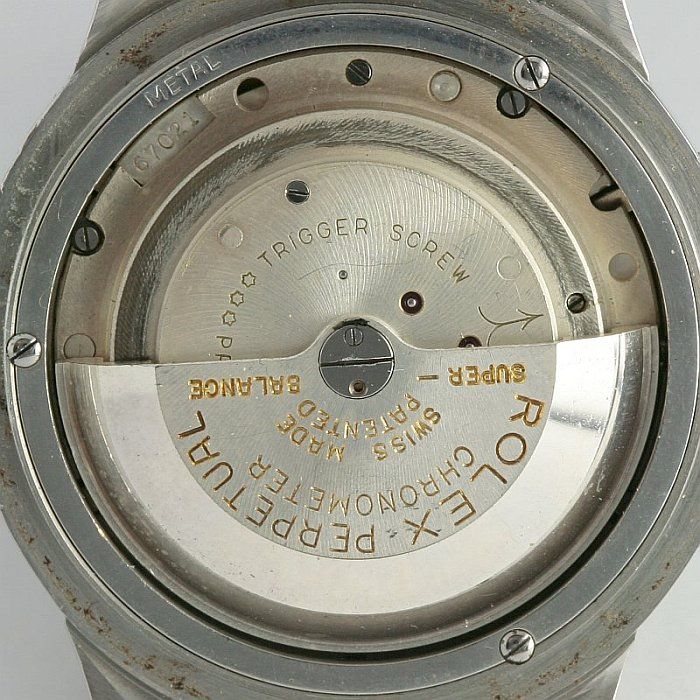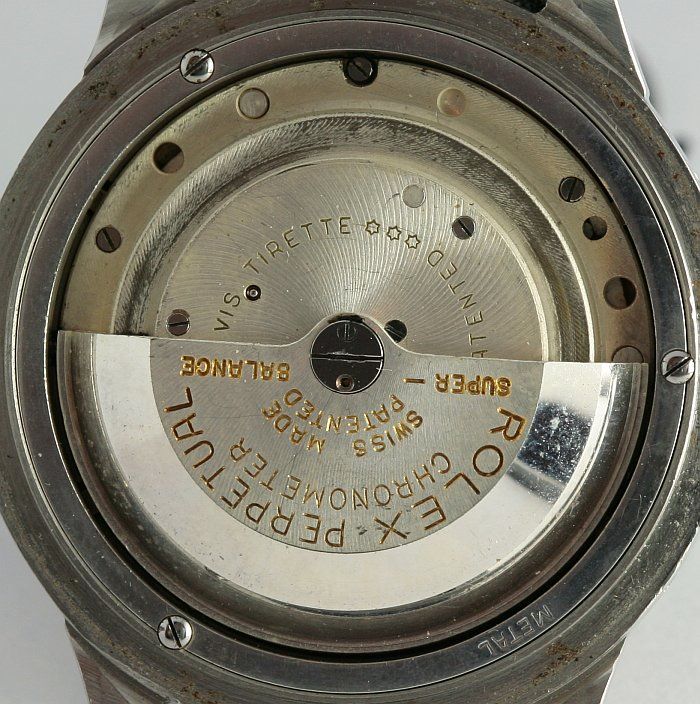 rotore
rotor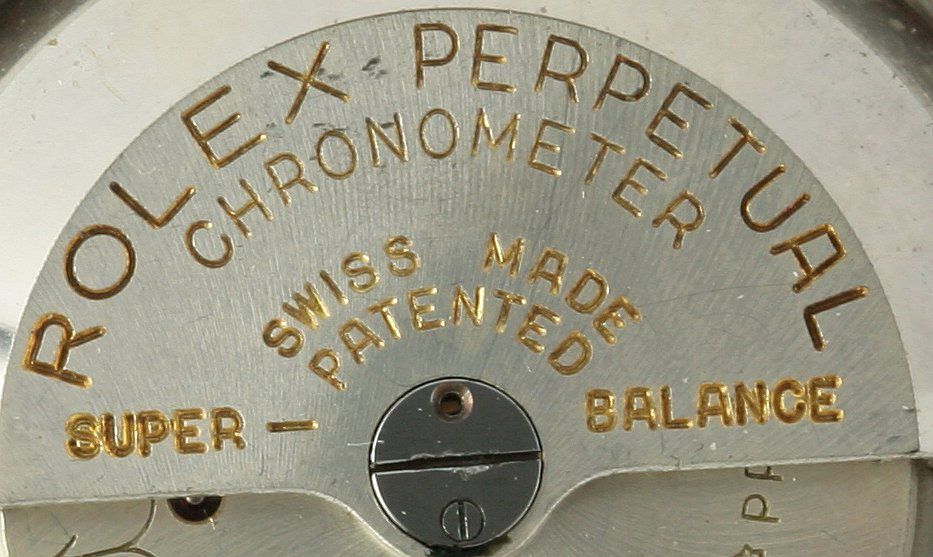 carrure
La sua carrure presenta i classici 4bottoni di rimessa per data,giorno, mese e fasi di luna con tipologia identica a quella del suo più blasonato fratello, il 6062, di cui abbiamo già avuto modo di parlare in altro topic.
carrure
Its carrure introduce the classics 4 bottons of remittance for date, day, month and are made of moon with identical tipology to that one of its more brother, the 6062, of which we have already had way to speak in other topic.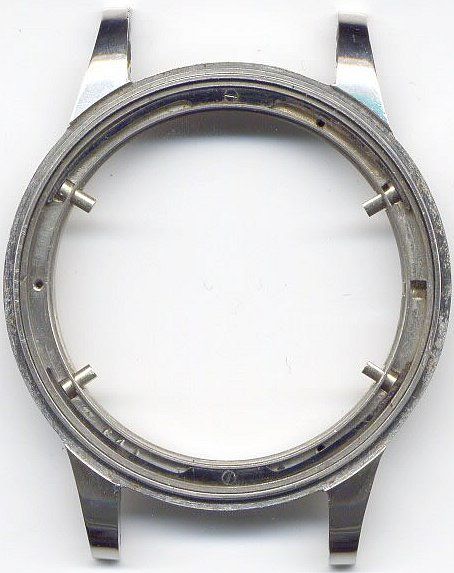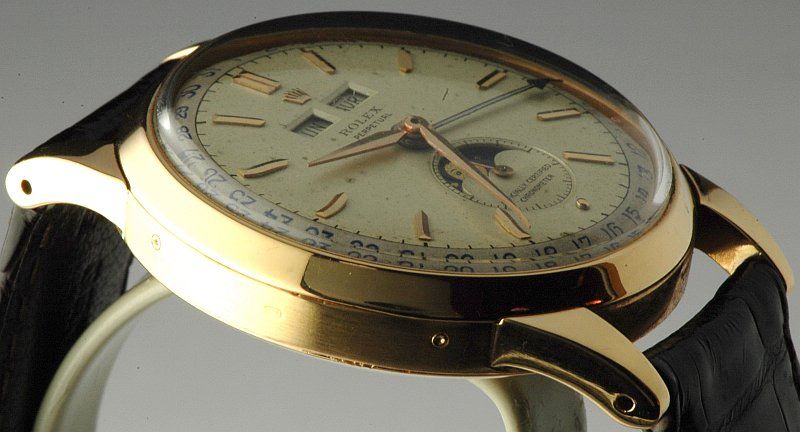 Due brevi cenni sul suo vetro plexi leggermente bombato e di forma assolutamente consona al periodo ed al suo bottone di carica anch'esso di generose dimensioni, molto piatto e ben attaccato alla carrure.
Two short signals on its glass plexi bombe' and of shape absolutely tipycal to the period and its button of load it with generous dimensions, much plate and very attacked to the carrure.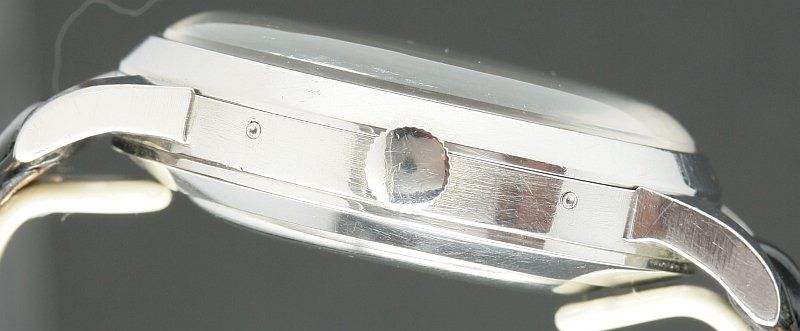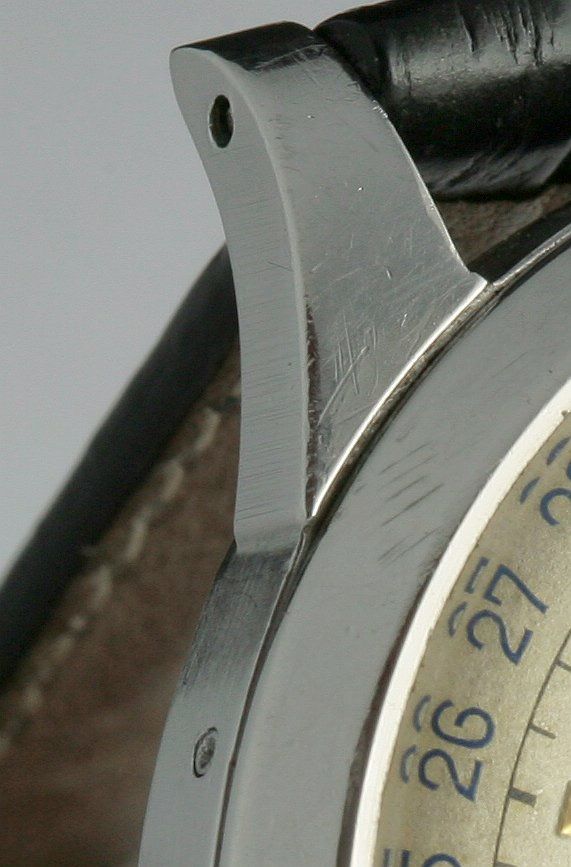 Fondello
Scendendo maggiormente nel dettaglio e partendo dal fondello si può notare come questo mostri una forma particolare detta anche "a cappello da prete" proprio per la sua accentuata bombatura centrale atta ad accogliere il corposo e spesso rotore di carica e,sempre al suo esterno,si notano due incisioni l'una raffigurante la Corona a 5 punte caratteristica della Maison mentre l'altra riportante il suo seriale.
Tali incisioni si presentano molto lievi e superficiali con una profondità di scalfittura davvero minimale con il tempo ma, e soprattutto ,a causa di probabili , reiterate e magari maldestre lucidature, tendono a scomparire del tutto o quasi
tanto da lasciare, purtroppo, nel più completo anonimato d'anagrafe un pezzo così raro, importante e costoso e tutto ciò, francamente, non è di conforto né di consolazione per nessuno.
Sempre rimanendo in argomento fondello si può notare come questo sia fissato direttamente alla carrure con un sistema a pressione od a "scatto" che dir si voglia invece, come d'uso per Rolex, invece del classico serraggio a vite od "oyster".
Bottom
Coming down mainly in the detail and leaving from the bottom it can be always noticed as this monster a said particular shape also "to hat from priest" just for its emphasized bombatura centers them apt to receive the corposo and often rotor of loads and, to its outside, notice two recordings one representing the characteristic Crown to 5 tips of the Maison while the bringing back other its seriale. Such recordings are introduced indeed much light and superficial with a depth of incise minibadly with the time but, and above all, because of probable, reiterate and even maldestre polishings, stretch to disappear completely or nearly much to leave, unfortunately, in the most complete anonymity of registry office a rare, important and expensive piece therefore and all that, frankly, are not of comfort neither of consolation for nobody. Remaining in argument bottom it can always be noticed as this is fixed directly to the carrure with a system to pressure or "release" that to say it wants instead, as of use for Rolex, instead of the classic serration to screw or "oyster".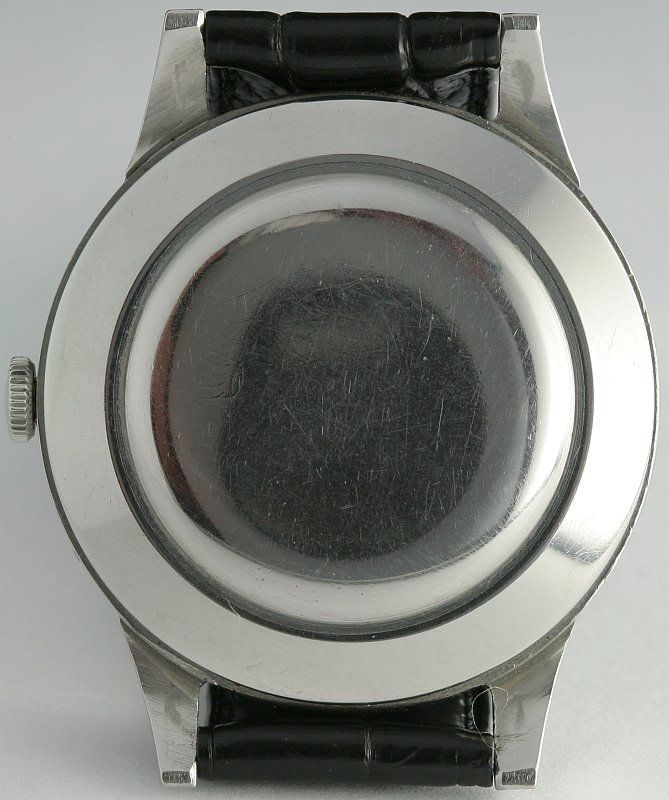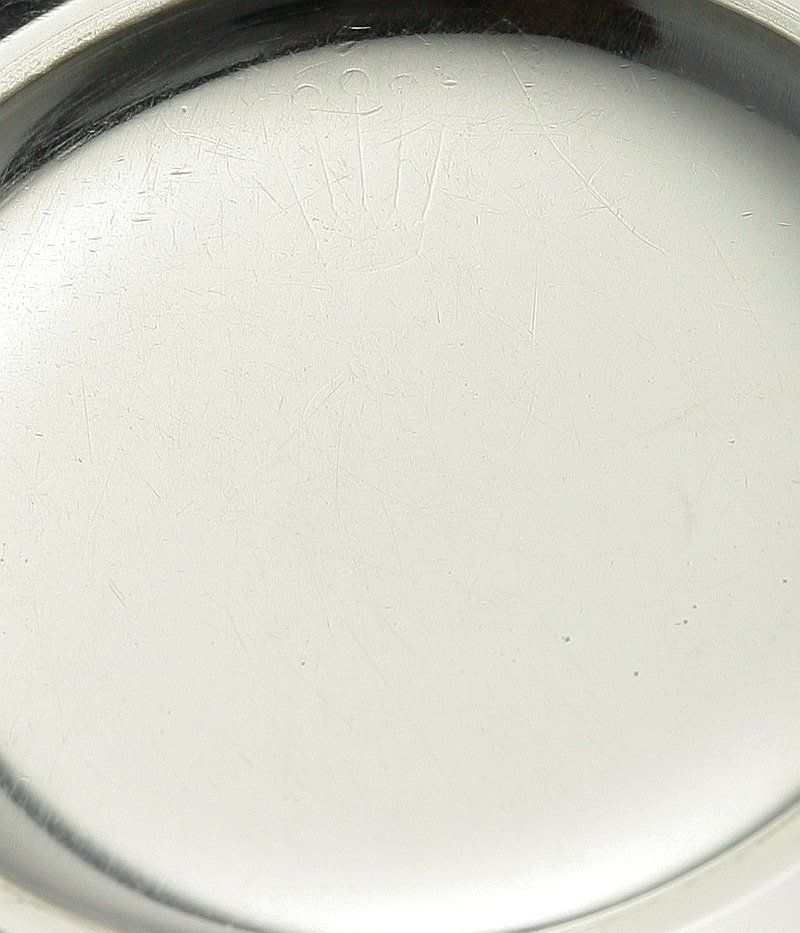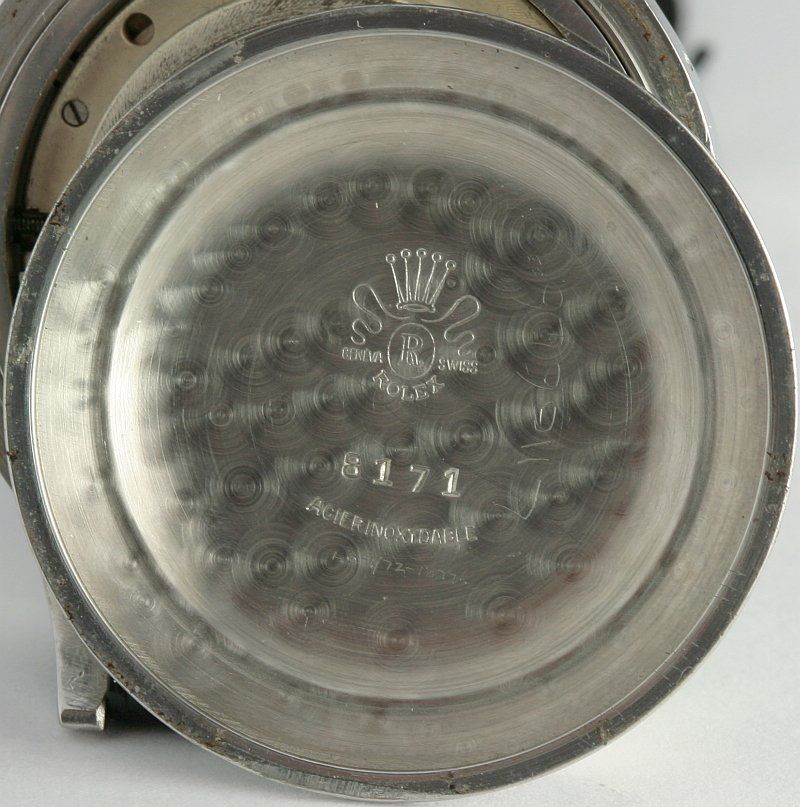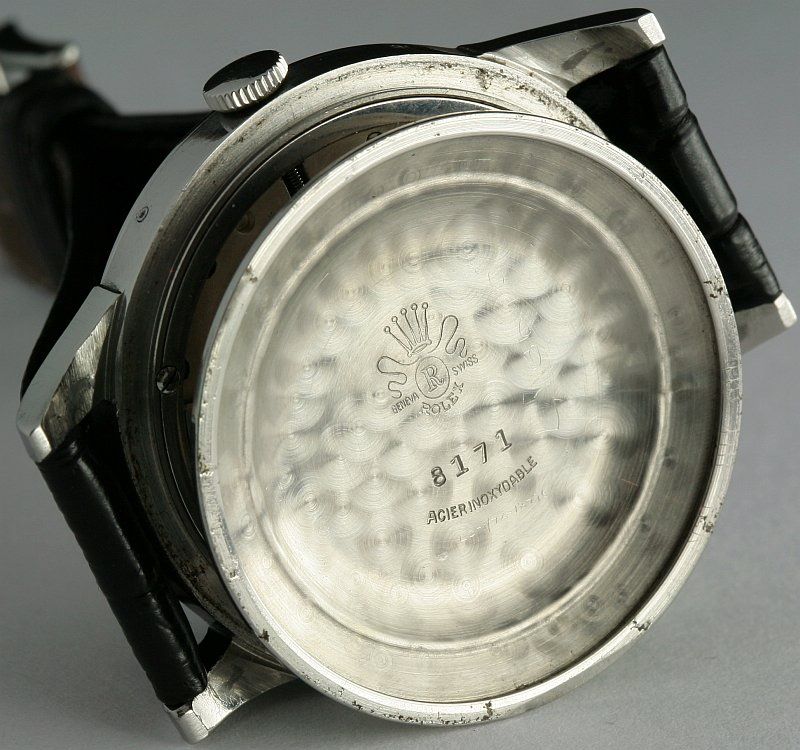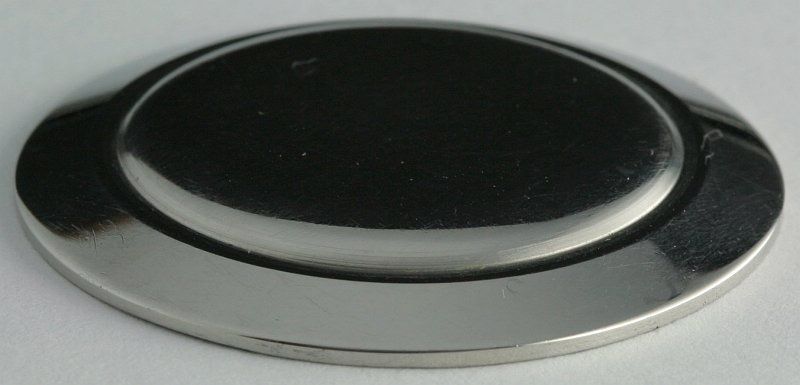 unghiatura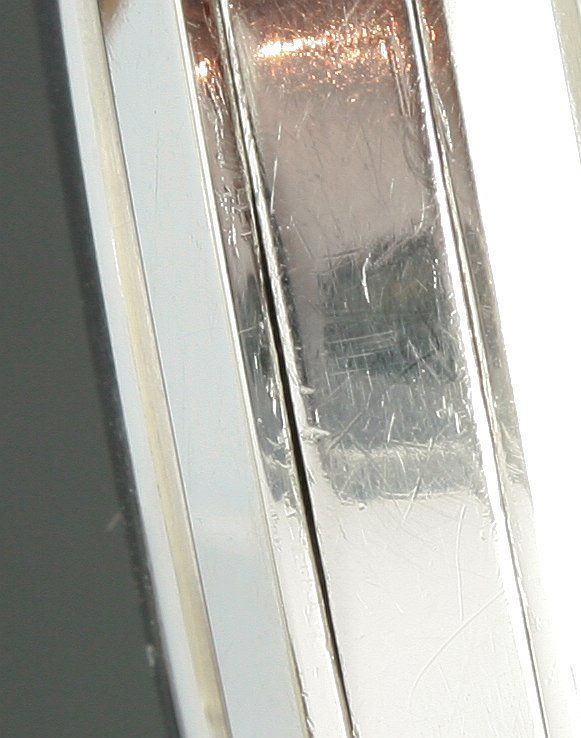 In questo topic è illustrato,come già ho avuto modo di dire, anche un rarissimo esemplare di 8171 in oro rosa la cui tipologia seppur identica all'acciaio, ne fa notevolmente lievitare la quotazione proprio per il materiale con cui è stato prodotto.
Stimare , infine, uno di questi pezzi è assai difficile in quanto, a causa della loro estrema rarità e dunque reperibilità e anche delle condizioni, non dimentichiamoci che e' un cassa a scatto e che l'impermeabilita' e' limitata a dustpruf, il prezzo in larga parte lo fa chi li possiede e vuole vendere purtuttavia, limitandoci agli alquanto aleatori risultati delle Aste Internazionali possiamo annotare che nell'asta Antiquorum della collezione Mondani , il lotto 200, un padellone in acciaio in eccezionali condizioni , ha fatto registrare la rispettabile somma di € 119.680.
In this topic it is illustrated, like already I have had way to say, also a rarest copy of 8171 in gold rose whose identical tipologia seppur to the steel, of ago remarkablly to leaven the quotation just for the material with which it has been produced. To estimate, at last, one of these pieces is difficult much in how much, because of their extreme rarity and therefore reperibilità and also of the conditions, we do not forget ourselves that e' a limited case to release and that the impermeabilita' e' to dustpruf, the price in wide leaves who ago possesses them and wants to sell purtuttavia, limiting us to the somewhat aleatory ones turns out you of the International Auctions we can annotate that in the Antiquorum auction of the collection Mondani, lottery 200, a padellone in steel in exceptional conditions, it has made to record the rispettabile sum of € 119.680.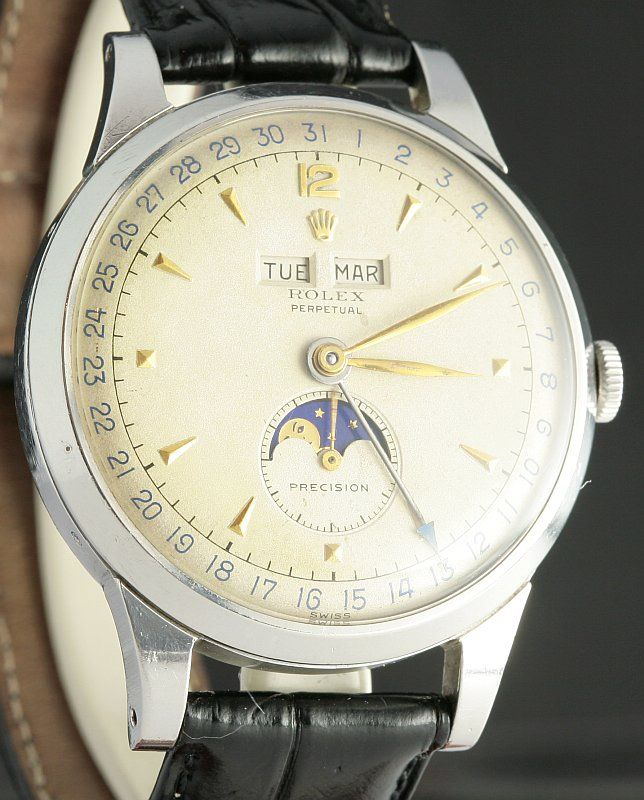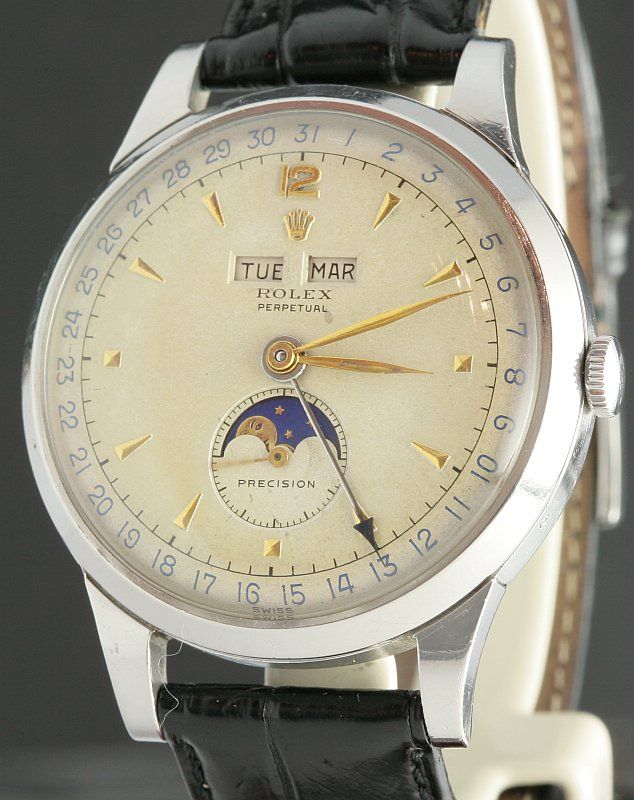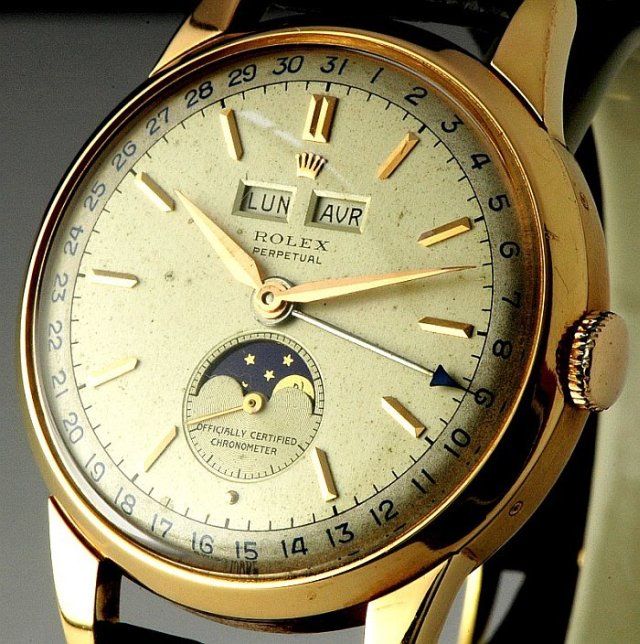 ...Quadrante con fosforo per oro giallo.
Dial with phosphorus for yellow gold.
Questo e' il "padellone " del record battuto all'asta di Antiquorum per 119680€, bellissimo, qualche perplessita ' sulle sfere .
This is "padellone" of the record struck to the auction of Antiquorum for 119680€, beautifulst, some dubs 'on the Hands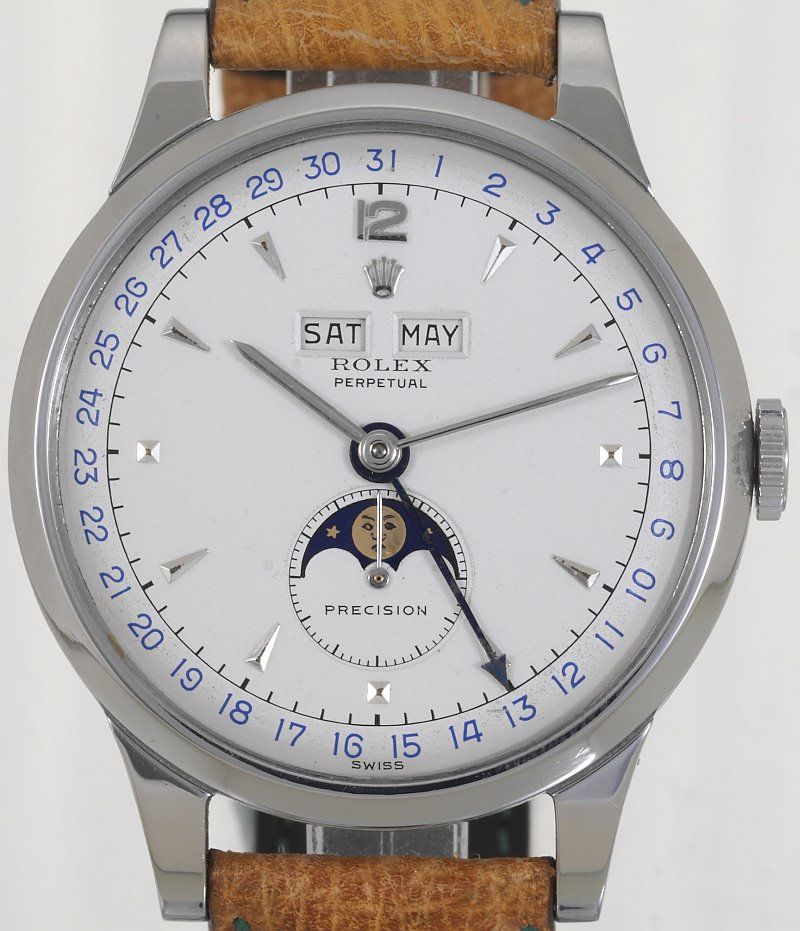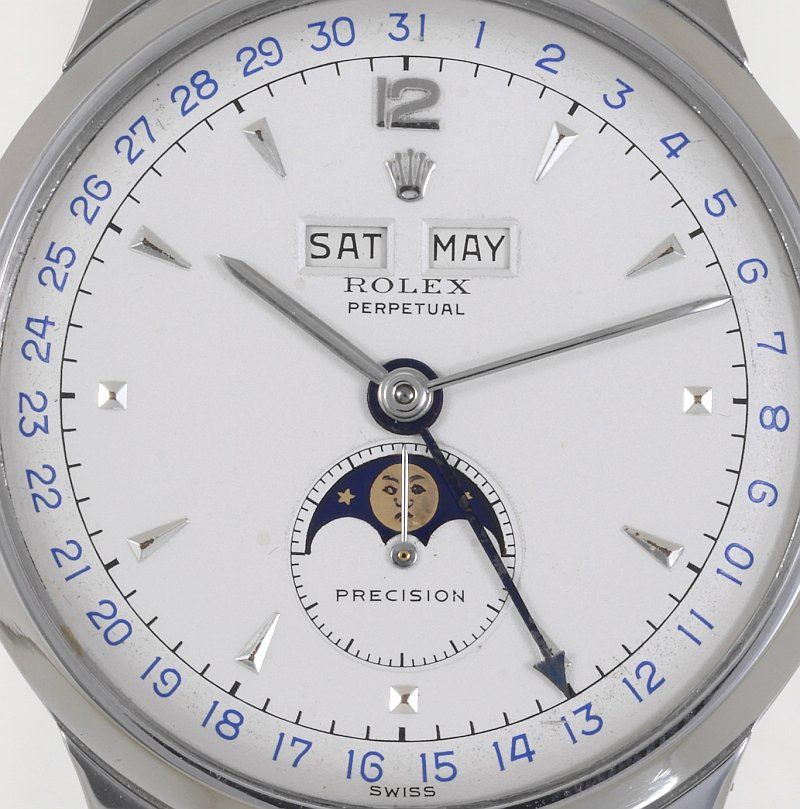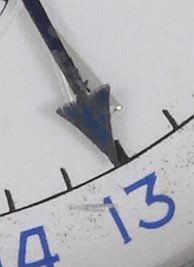 Per quello che mi e' dato conoscere la sfera a freccia del datario per le ref 6062 e 8171 dovrebbe essere cosi':
For what e' given to me to know the hands to arrow of the dater for ref 6062 and 8171 it would have thus to be: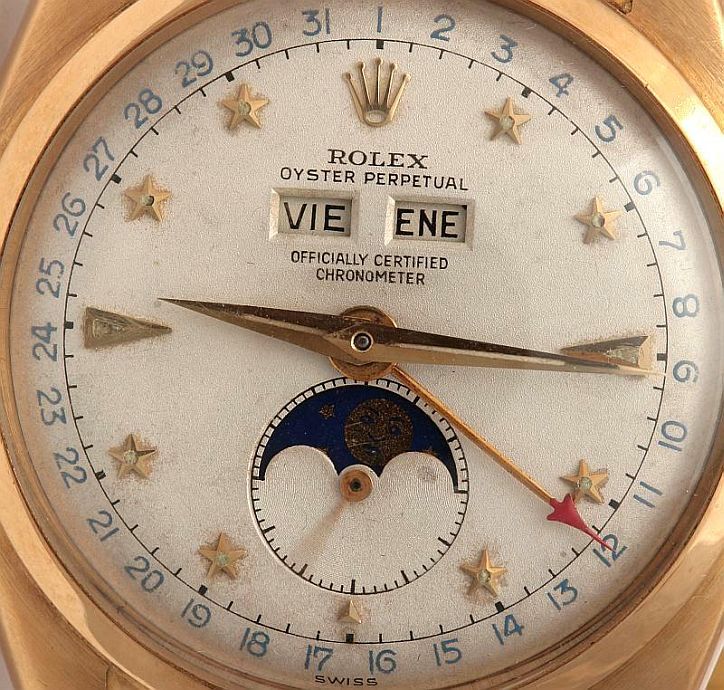 Altra importante differenza sta nel fondo vernice, perlata e "rugosa "di quello di sx, bianca e liscia di quello di dx
Other important difference is in the deep varnish, pearly and "rugosa "of that one of sx, white woman and smooths down of that one of dx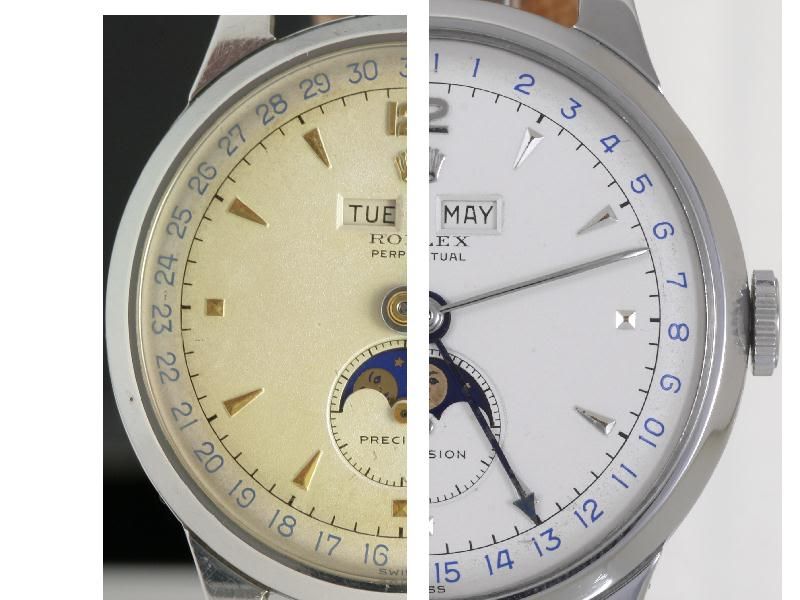 Stefano Mazzariol
Stefano Mazzariol