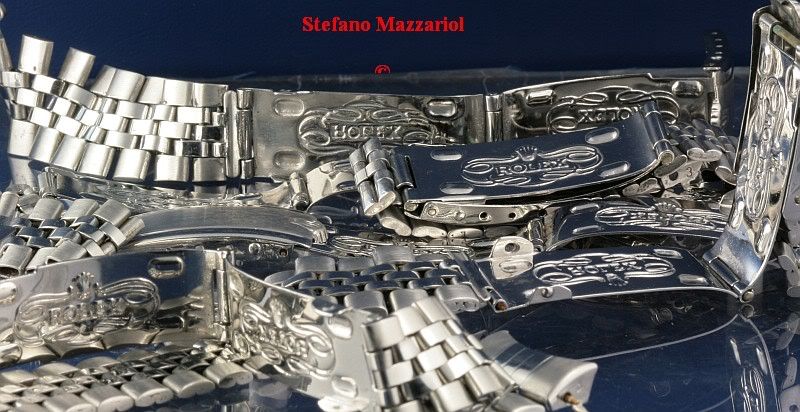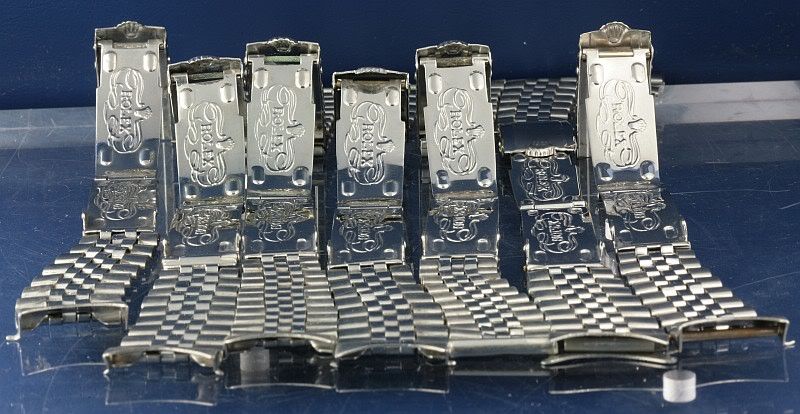 Il bracciale e' come un bel vestito, come cambia ,cambia anche il look , in questo caso dell' orologio.
The bracelet is like a beautiful dress, when you change it you also change the look, in this case of the watch.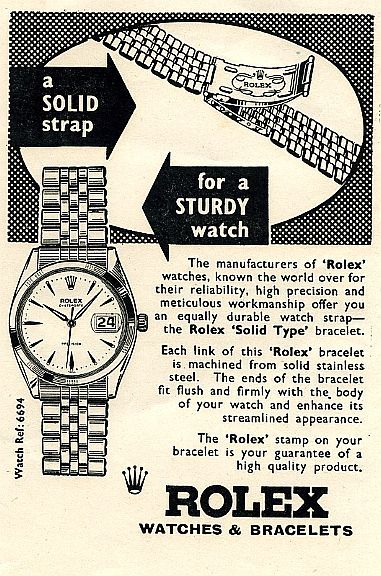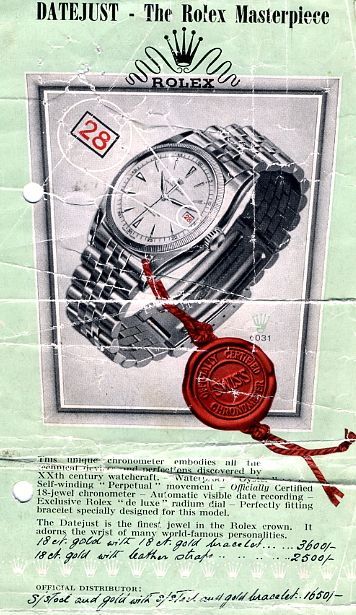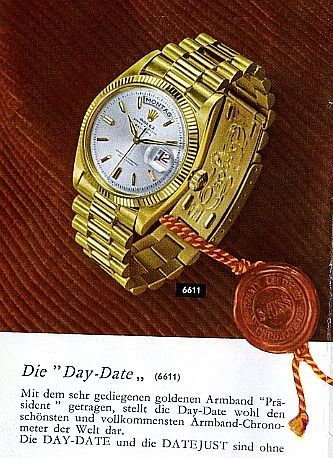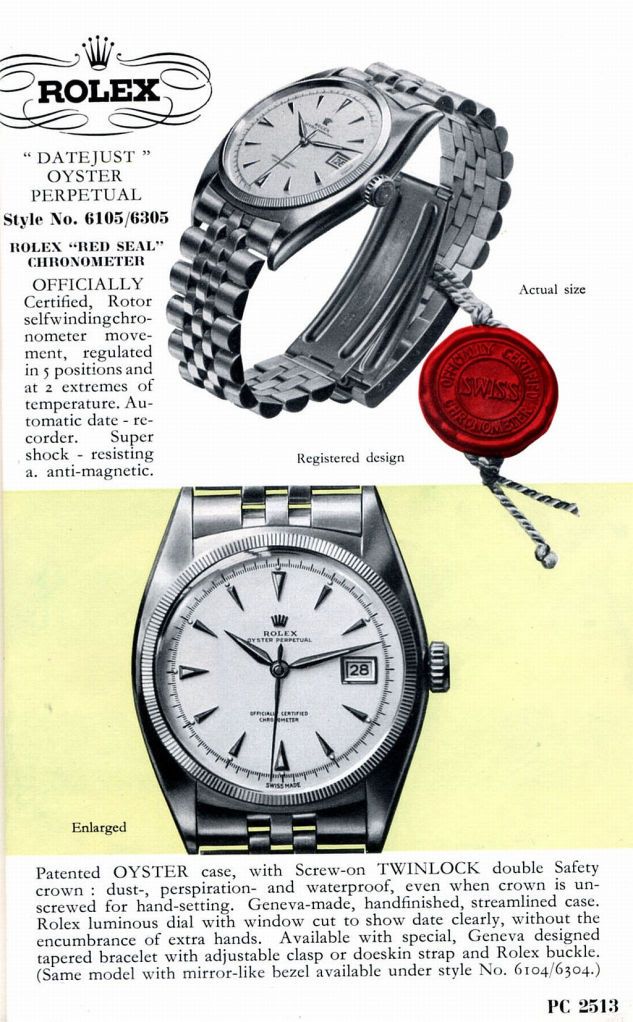 Rolex sopratutto nei modelli in oro aveva in produzione diverse tipologie di bracciali;
preferi' pero' gradatamente nel tempo
semplificare il tutto con tre soli modelli.
Rolex, mainly in their gold models had different types of bracelets in production; they preferred however, gradually over time, to simplify everything with only three models.
Courtesy Antiquorum
I Bracciali per antonomasia riconducibili a Rolex sono : President,Oyster e Jubilee'.
Negli anni 30 molti orologi montavano il cinturino in pelle ed i bracciali erano di fornitori
esterni , il piu' conosciuto e apprezzato era Gay Fréres.
The bracelets that are synonymous with Rolex are: President, Oyster and Jubilee'.
In the 1930's many watches had a leather band and the bracelets were made by outside manufacturers, the most well known and valued was Gay Fréres.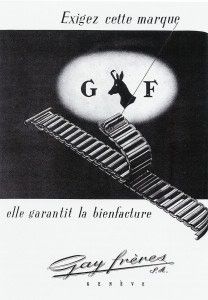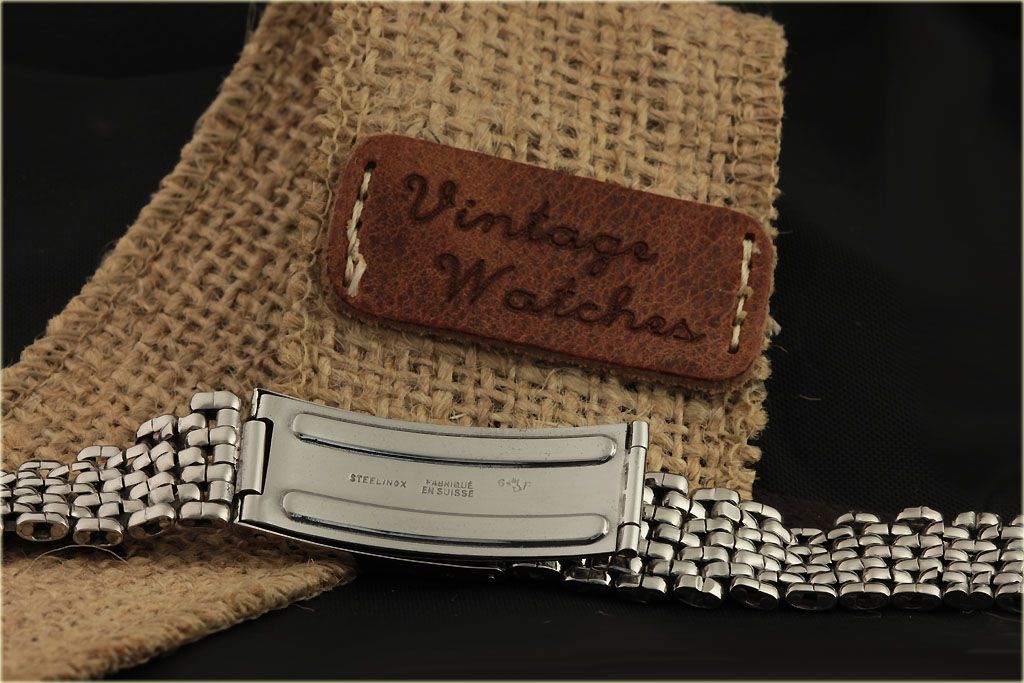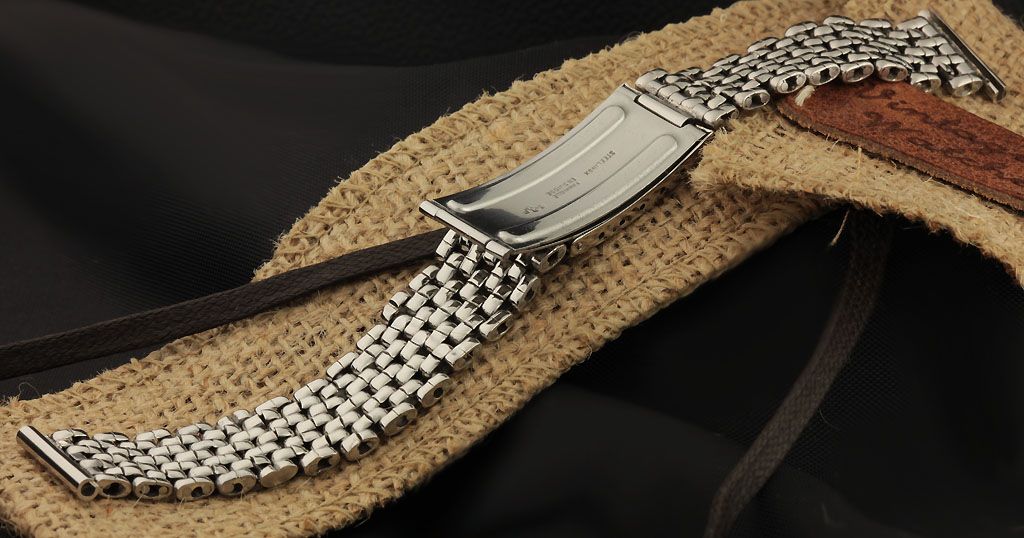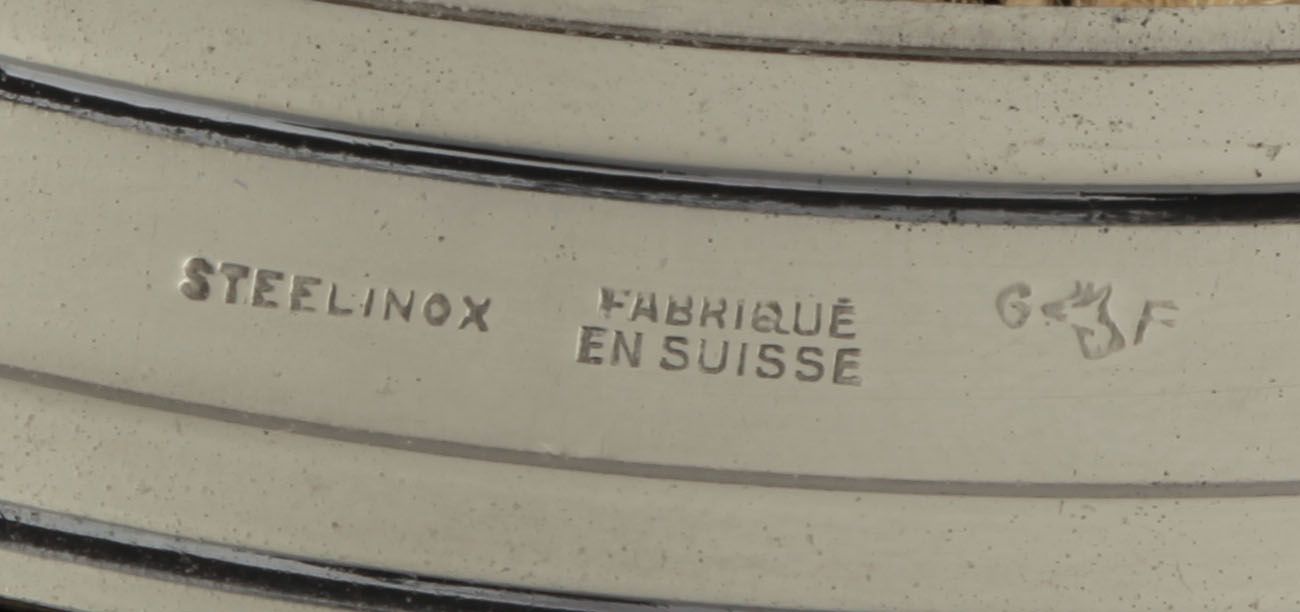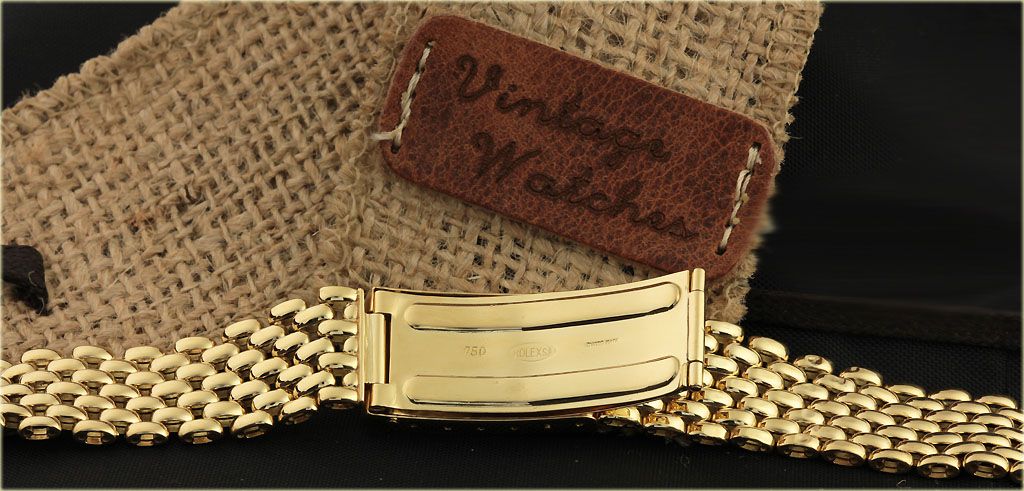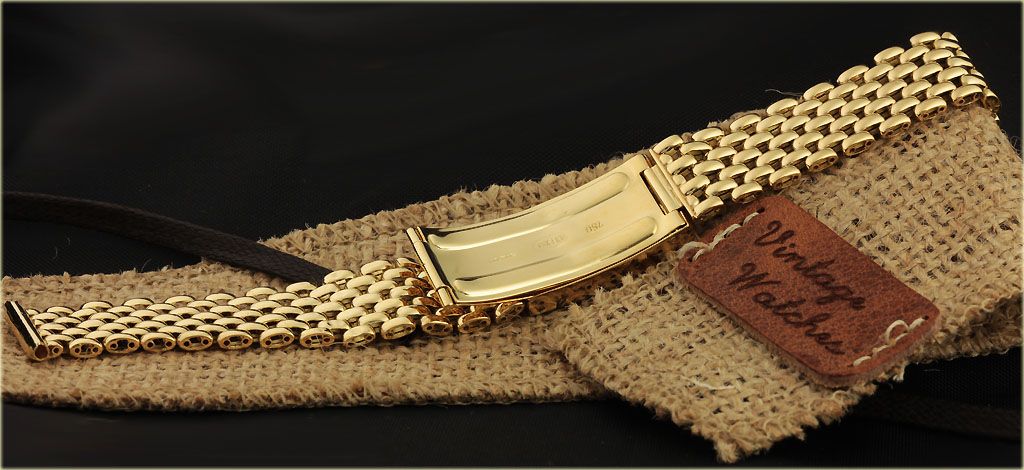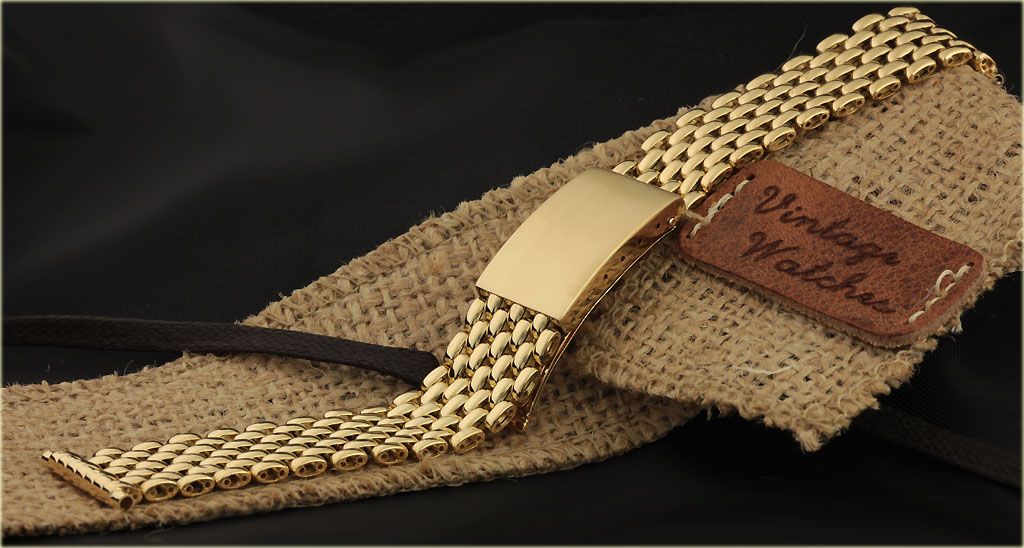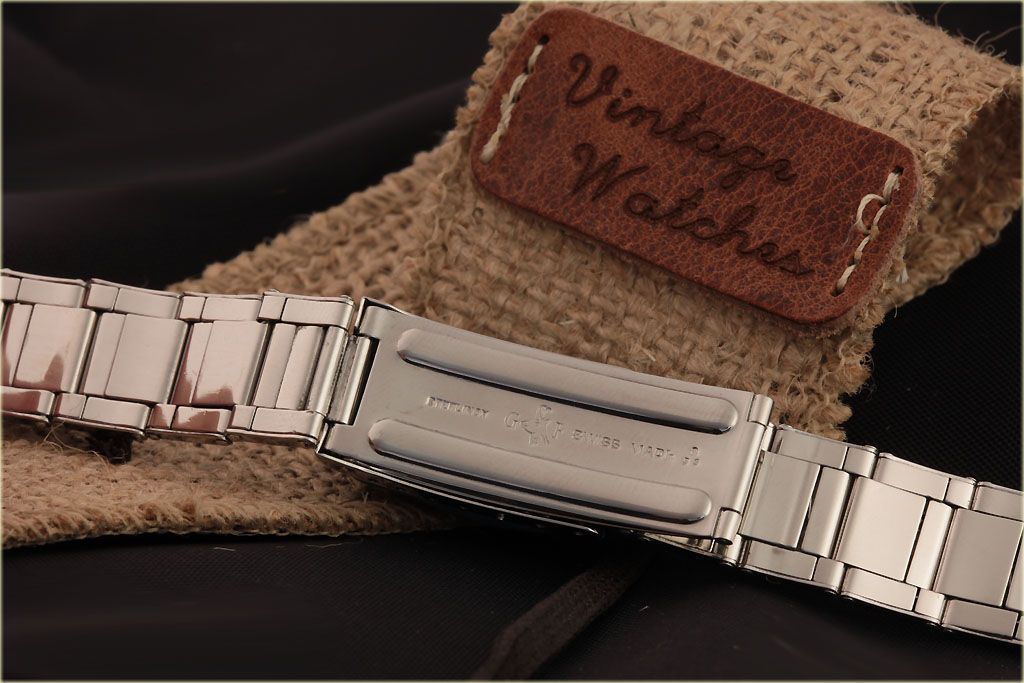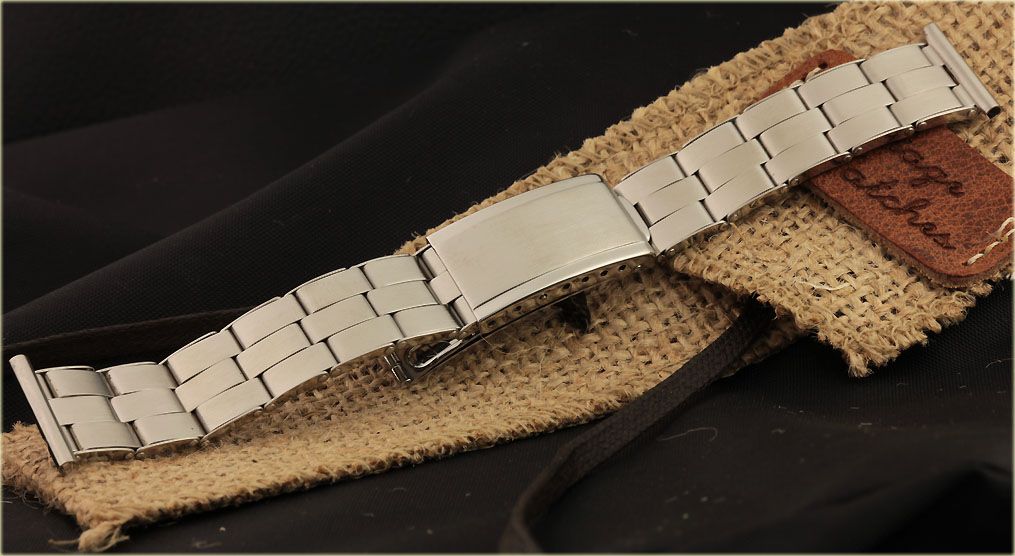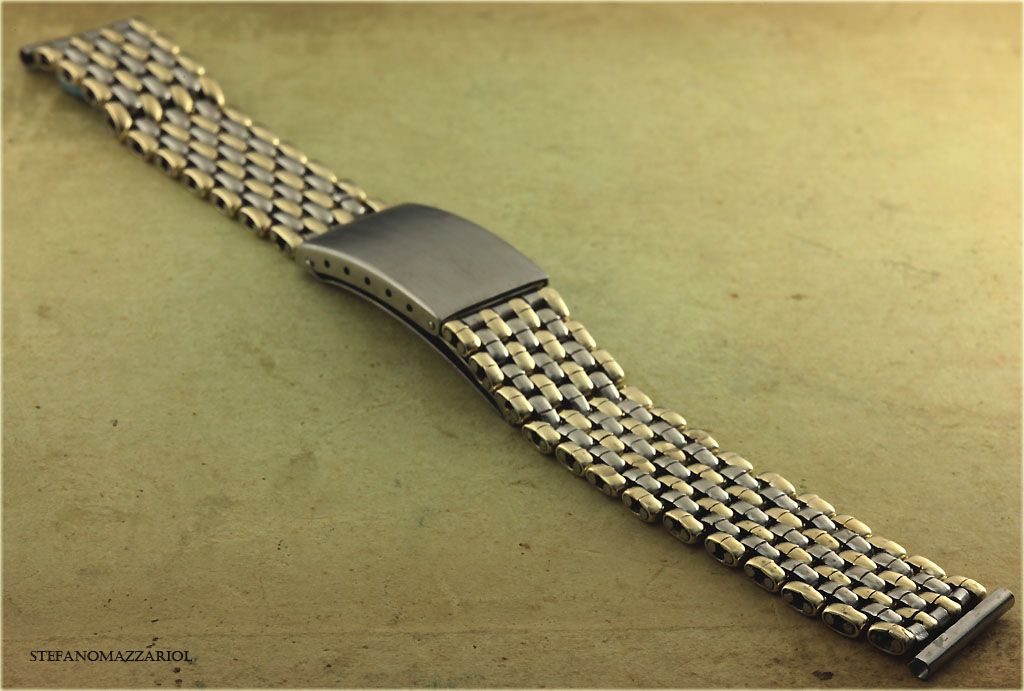 L'orologio braccialato non era molto diffuso in virtu' anche di una differenza di prezzo superiore del 30 % rispetto alla versione con cinturino.
The watch supplied with a bracelet was not very common due also to the difference in price of about 30% more compared to the leather band version.
A differenza delle casse , sempre prodotte in Svizzera, i bracciali potevano essere costruiti nei piu' svariati posti nel mondo:Inghilterra, Francia,Canada, USA, Messico ecc..
Il disegno e' sempre il solito ma moltissimi particolari differiscono
Il bracciale Jubilee' e' un evoluzione del bracciale Gay frères conosciuto anche come chicco di riso.
Venne motato per la prima volta per festeggiare i 40 anni di Rolex sulla ref .
4467 , il primo Datejust.
Bracelets, as opposed to the cases which were always produced in Switzerland, could be built in various parts of the world: England, France, Canada, USA, Mexico, etc.
The design is always the same, but numerous details differ.
The Jubilee' bracelet is an evolution of the Gay frères bracelet also known as the rice grain.
It was mounted for the first time to celebrate the 40th anniversary of Rolex on the first Datejust ref 4467.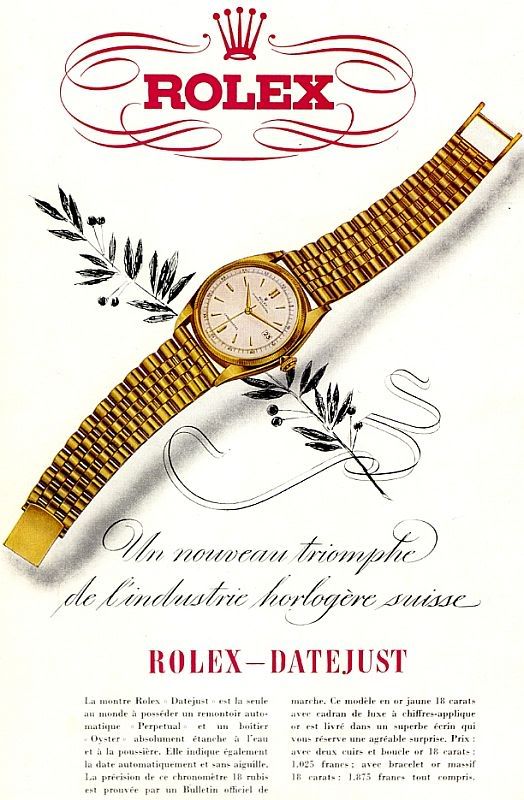 Il bracciale venne chiamato Jubilee' in onore dell'anniversario .
Il bracciale veniva prodotto solo in oro e veniva montato solo sui modelli piu' costosi, come avvenne poi per il il President ..
Il bracciale in oro visto di profilo aveva gia' la forma a mezza luna come quelli che siamo abituati a vedere oggi.
Negli anni a seguire viene prodotto anche nelle versioni acciaio e acciaio e oro sempre con il solito disegno ma realizzato in modi diversi in funzione anche di dove veniva prodotto.: maglia vuota ovale, ripiegata,ovale piena ecc.
The bracelet was called Jubilee' in honer of the anniversary.
The bracelet was only produced in gold and was only mounted on the most expensive models, as would be the case with the President..
The gold bracelet when viewed from the side already bore the half-moon shape of those that we are used to seeing today.
In the following years steel and steel and gold versions were produced as well. They still bore the same design but were made in different ways depending also upon where they were made: empty oval link, bent, filled oval, etc.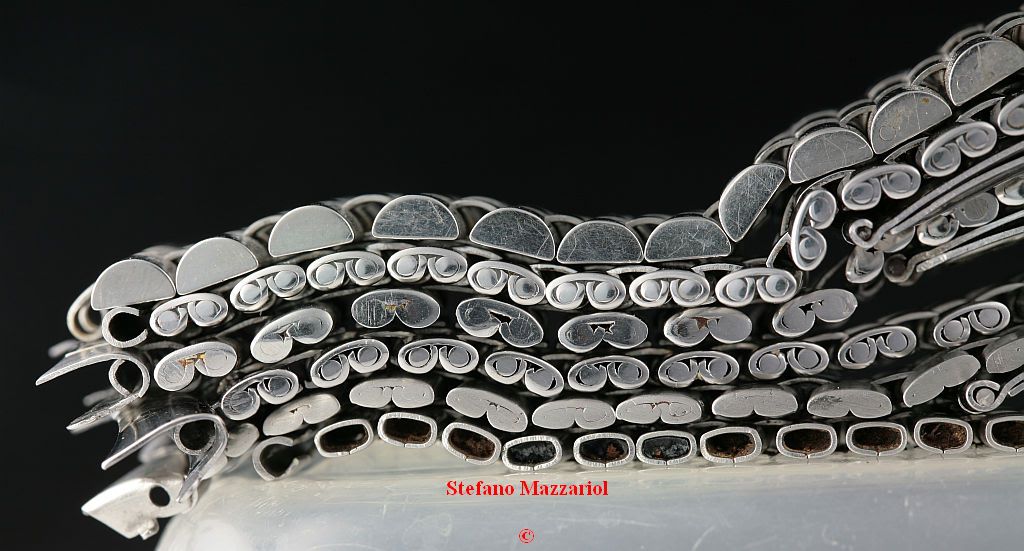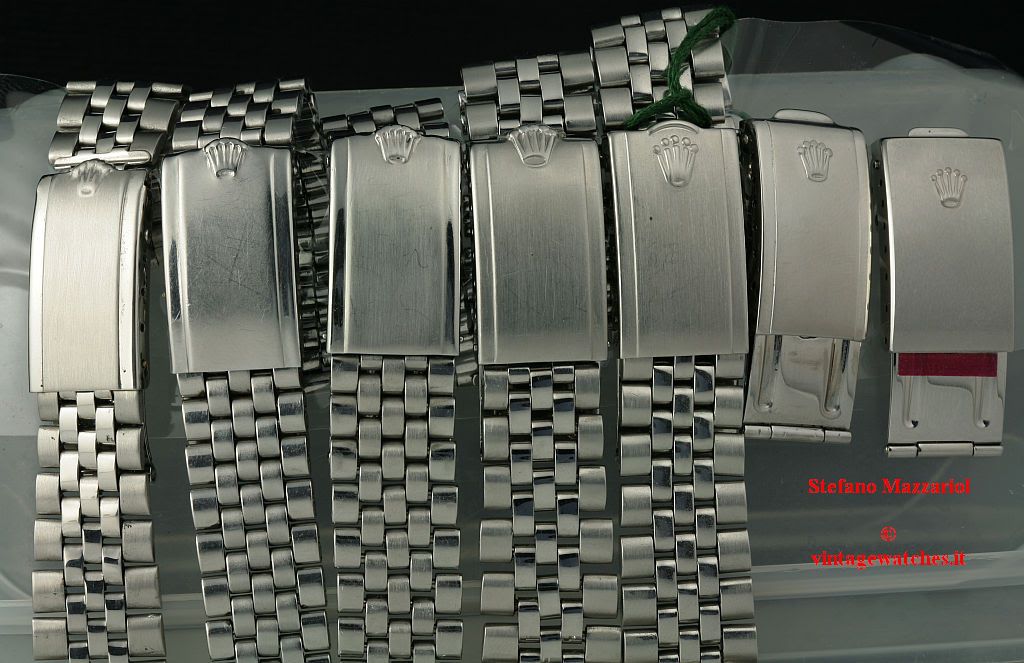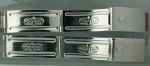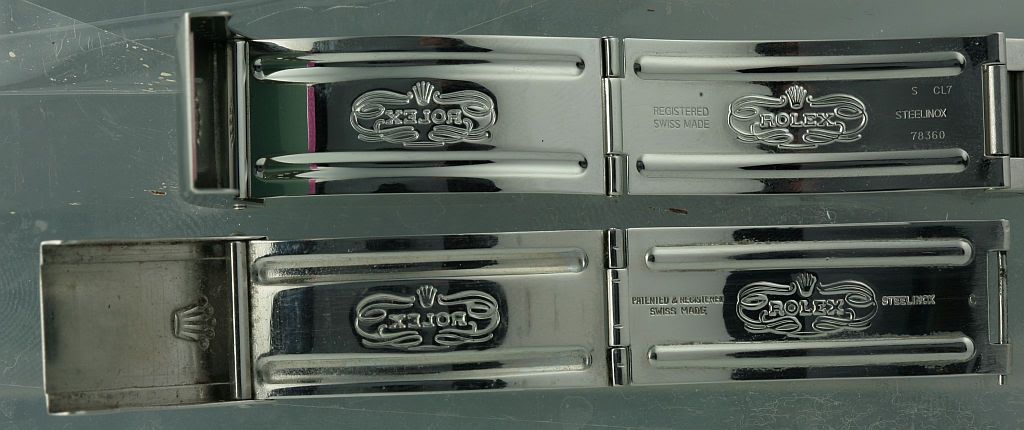 Da qui si delineo' una tendenza, Jubilee' per gli orologi eleganti , Oyster per gli orologi sportivi.
From here a tendency began to take shape, the Jubilee' for elegant watches, Oyster for the more casual models.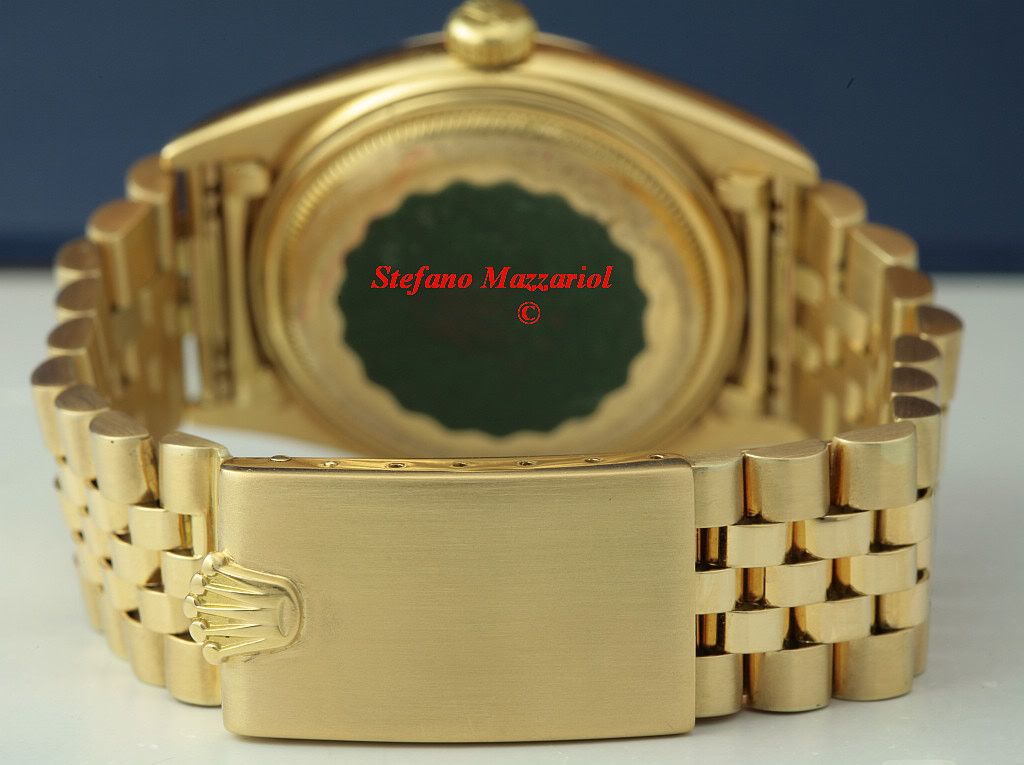 Il bracciale Oyster deriva da un progetto realizzato anche qua da un fornitore esterno di nome Mecan.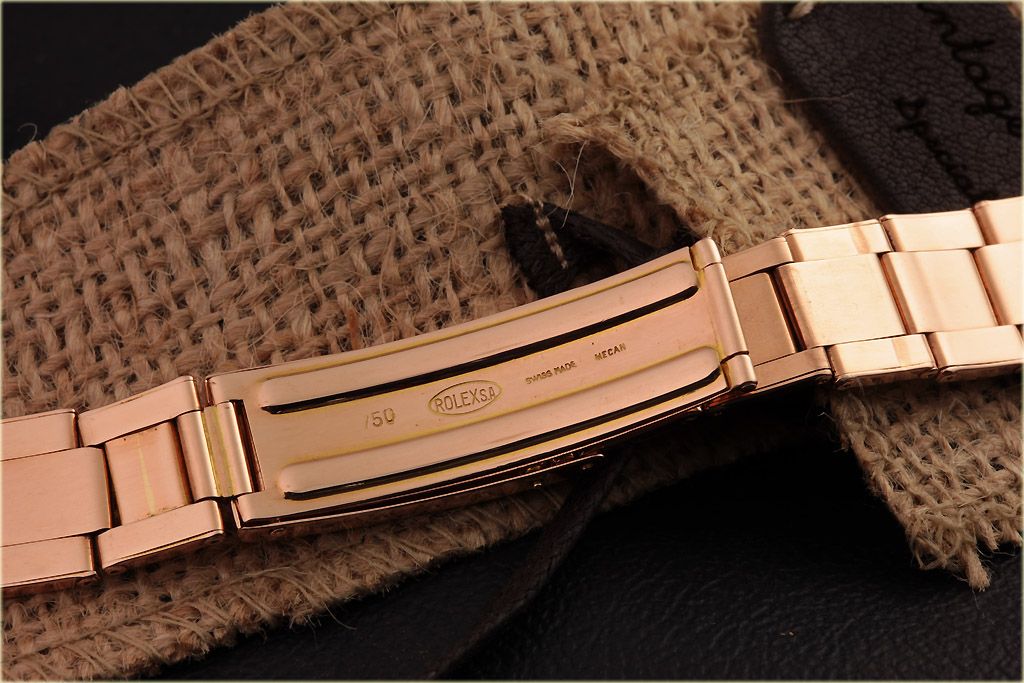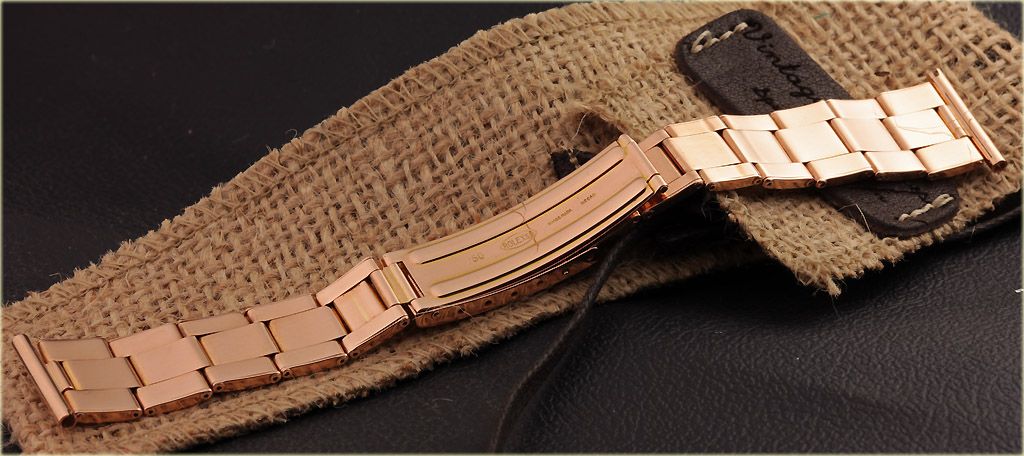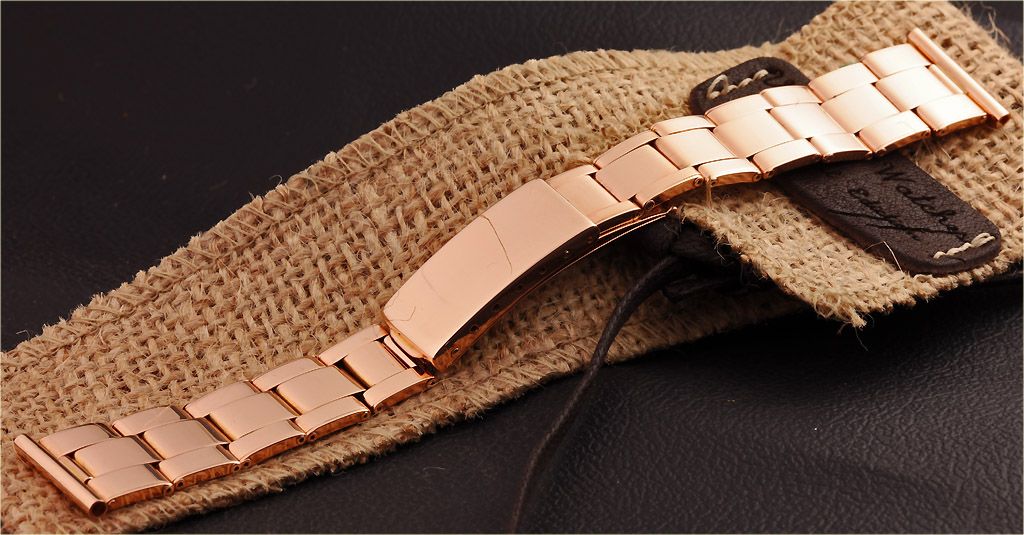 La larga diffusione sopratutto nelle versioni in acciaio avvenne nell'immediato dopoguerra, i primi modelli Explorer lo montavano senza i finali curvi .La maglia era in acciaio , con rivetti laterali di tenuta.
The Oyster bracelet came about from a project created by another external supplier named Mecan.
The wide spread use mainly on the steel versions occurred in the period immediately following the war. The first Explorer models had it without the curved ends. The links were steel with lateral mounting rivets.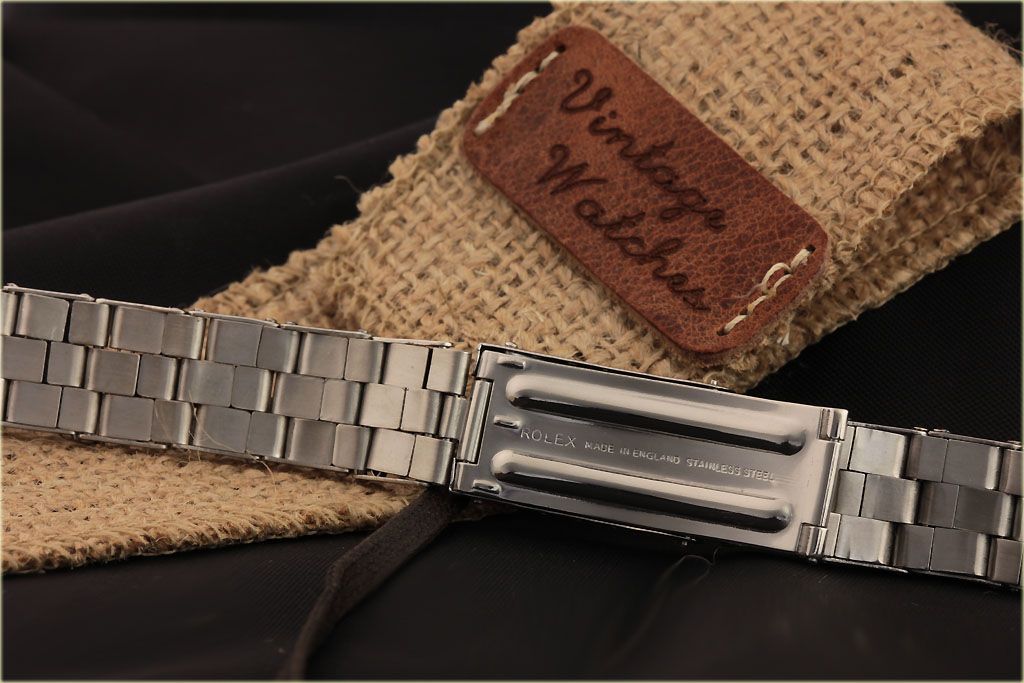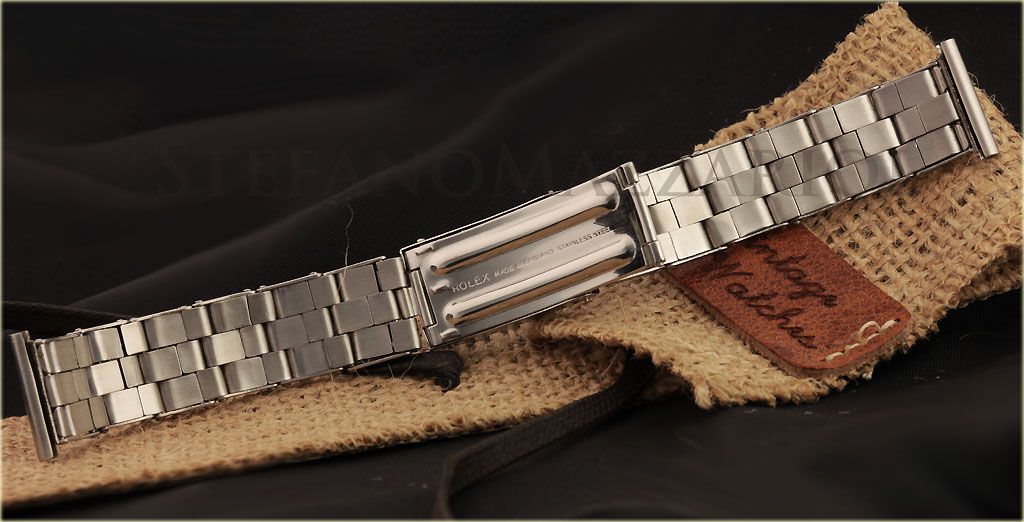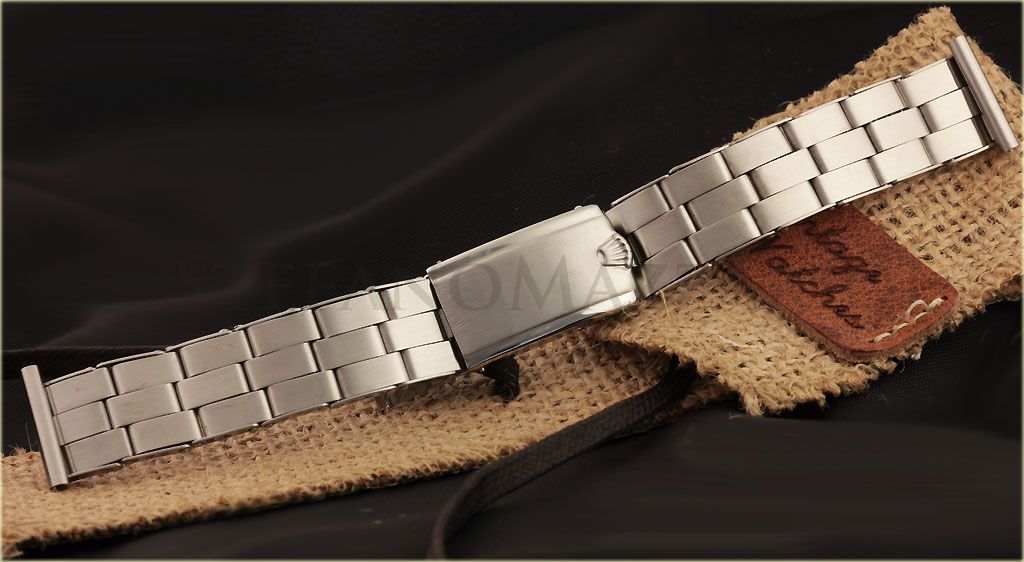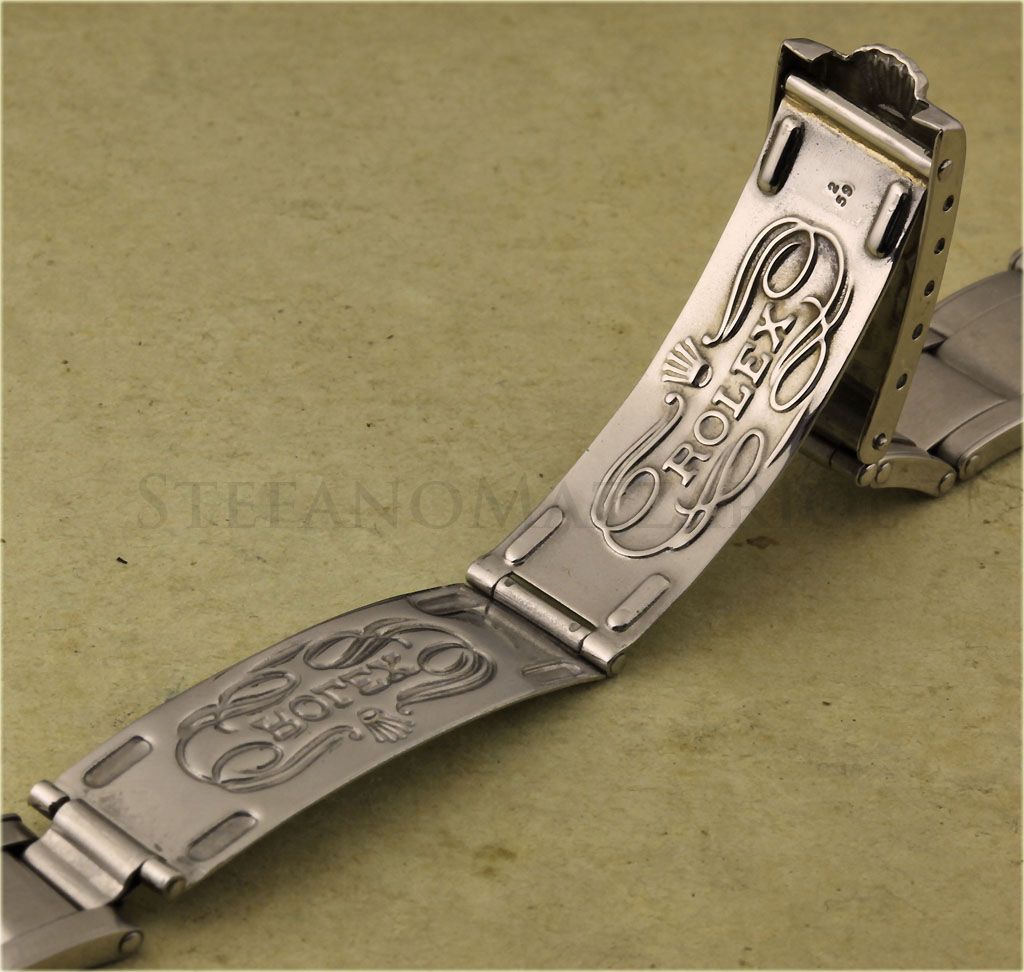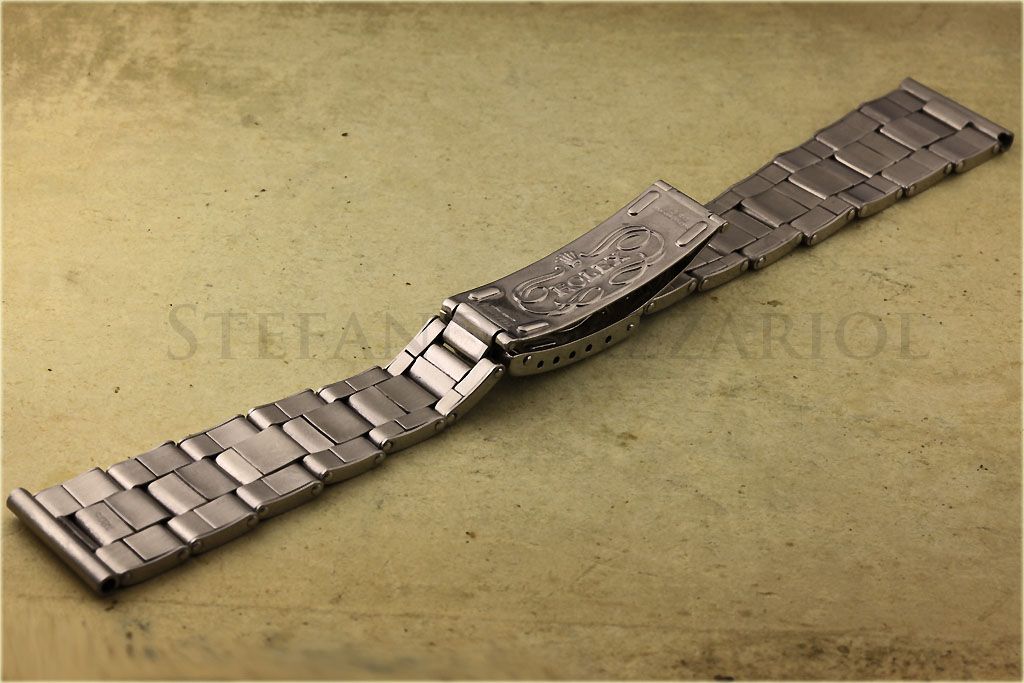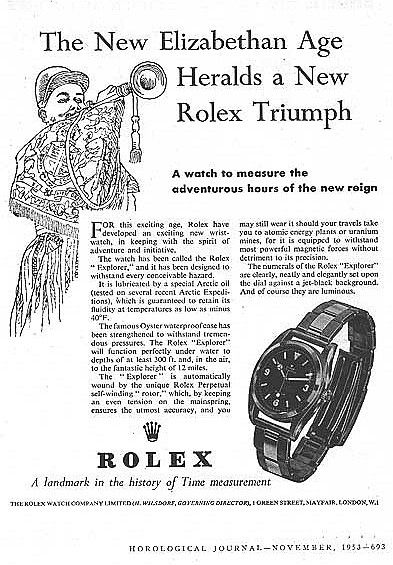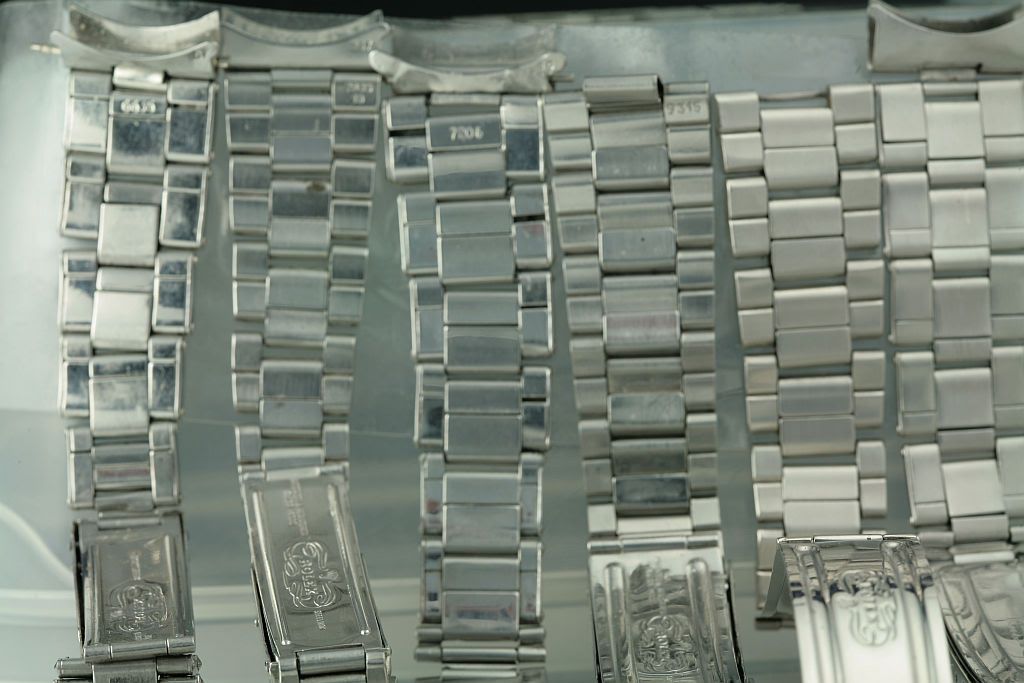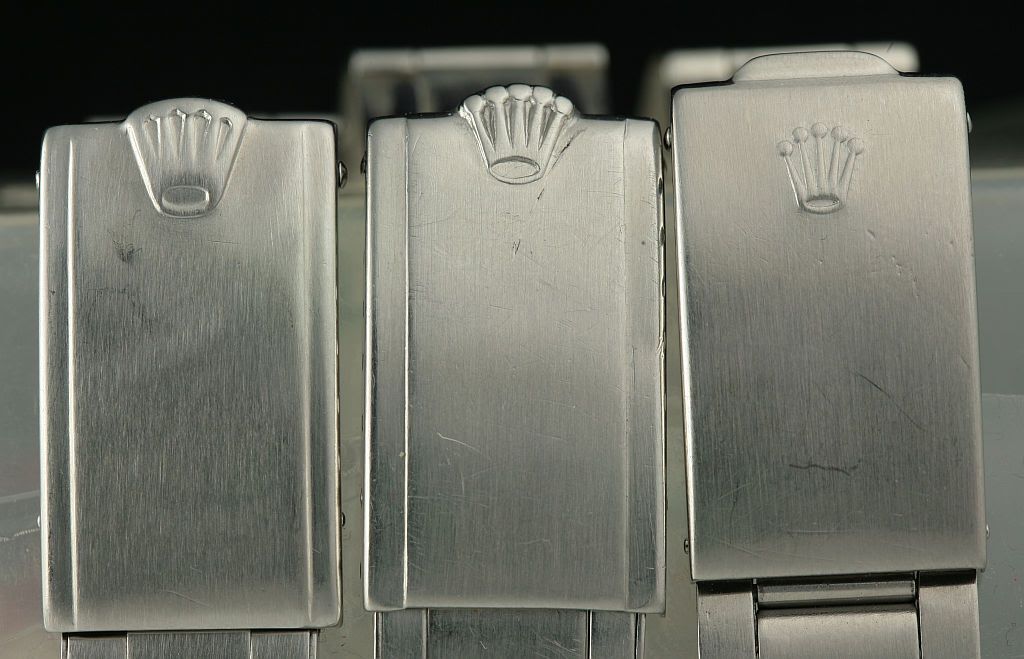 Tutta la produzione "professionale " degli anni 50 ha montato il Bracciale Rolex Oyster con i finali e anche "flusch-fit" cioe' elastico .
The complete "professional" production of the 1950's bore the Rolex Oyster Bracelet with the rounded ends as well as "flush-fit" or stretch.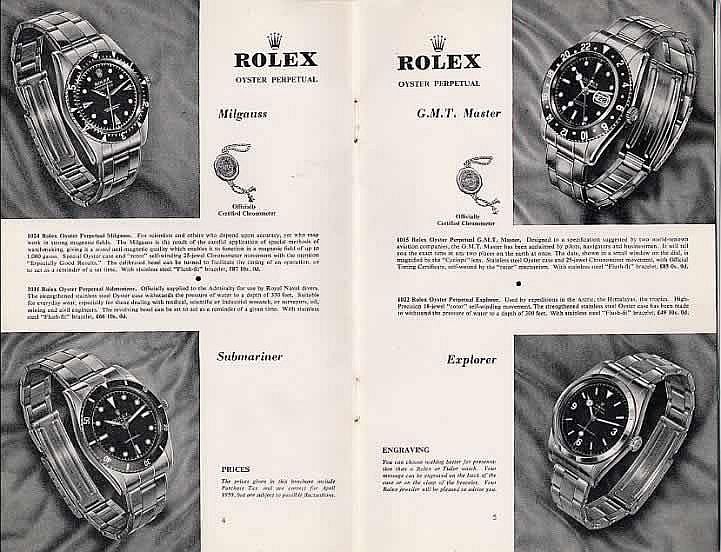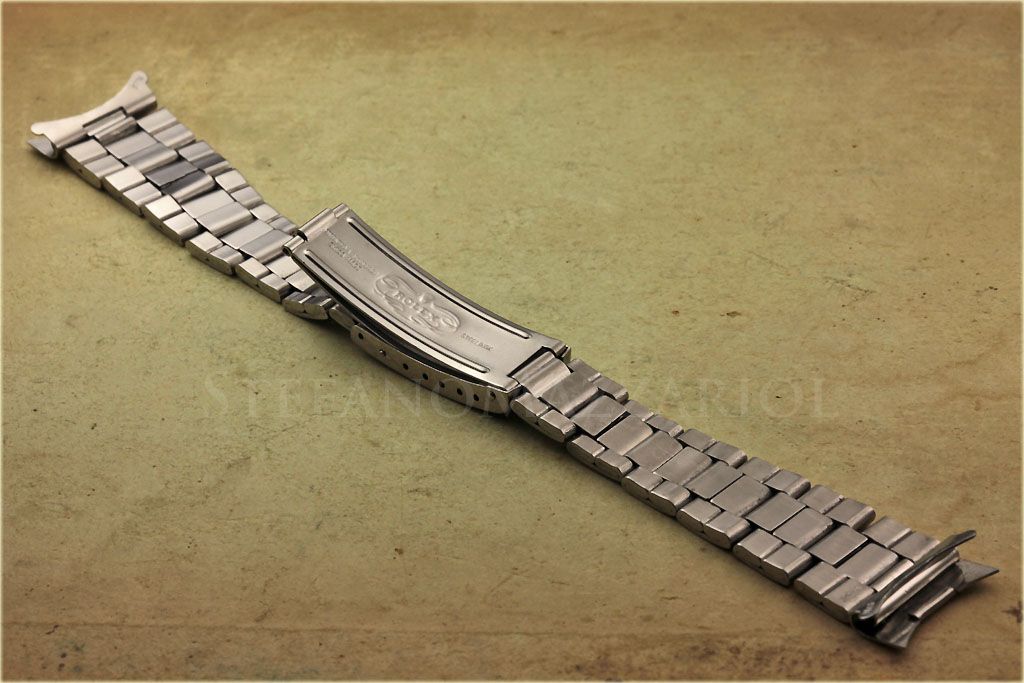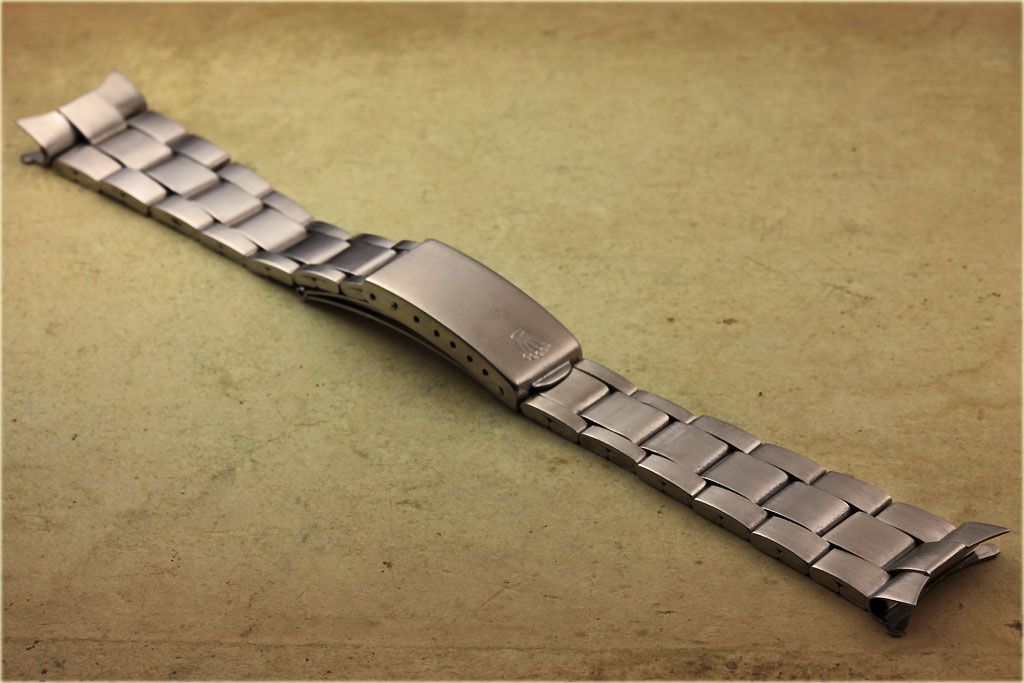 Nel corso degli anni il bracciale Oyster e' stato prodotto con rivetti pieni, rivetti forati (USA) , ripiegato , e a maglia pesante denominato " Blindato".
Over the years, the Oyster bracelet has been produced with full rivets, bored rivets (USA), folded, and heavy links called "reinforced".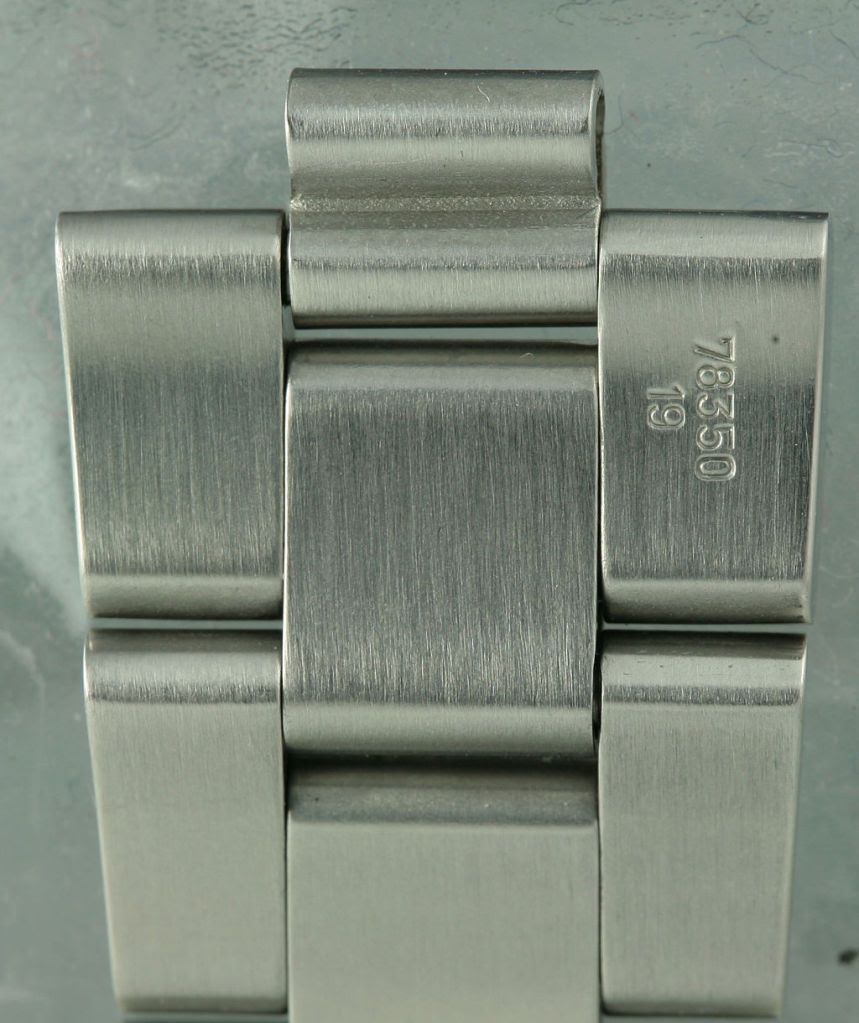 Il bracciale Oyster piu' robusto ed indicato ad un uso sportivo o professionale,
venne abbinato ad una chiusura con estensione per poterlo indossare sopra una tuta da sub.
The strongest Oyster bracelet is suitable for either casual or professional use, it is also combined with an extendable closure to allow it to be worn over a diving suit.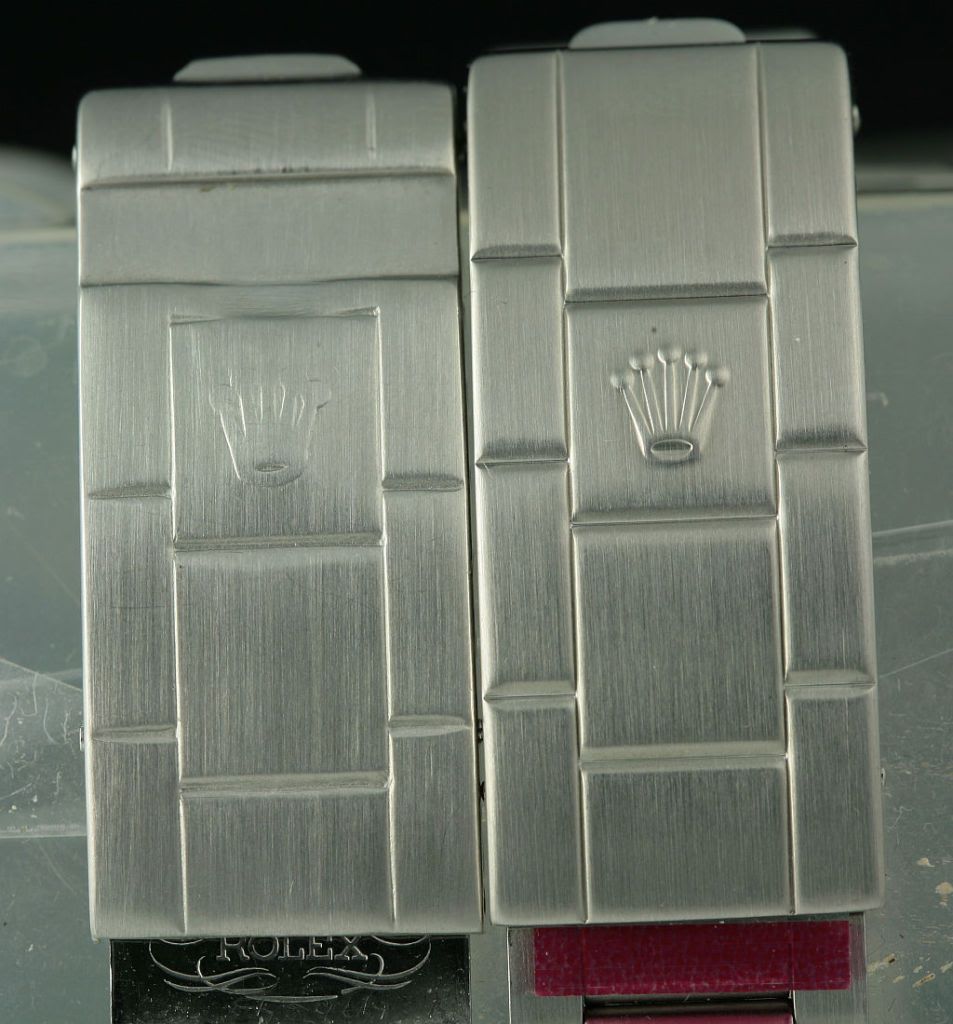 Il bracciale President e' realizzato solo ed esclusivamente in metalli preziosi, oro o platino, venne introdotto sul mercato con la presentazione del Day date ref 6511
presentato a Basilea nel 1956. Il suo nome deriva dal fatto che Rolex dono' un esemplare al Presidente USA Eisenhower.
Eisenhower non fu' il solo presidente Americano ad avere un Rolex al polso .Roosevelt, Johnson, Nixon e Ford seguirono questa "tradizione".
The President bracelet is made exclusively of precious metals, gold and platinum. It was introduced on the market with the release of the Day Date ref 6511 as presented in Basel in 1956. Its name derives from the fact that Rolex gave one specimen to the US president Eisenhower.
Eisenhower was not the only American president to have a Rolex on his wrist; Roosevelt, Johnson, Nixon and Ford also followed this "tradition".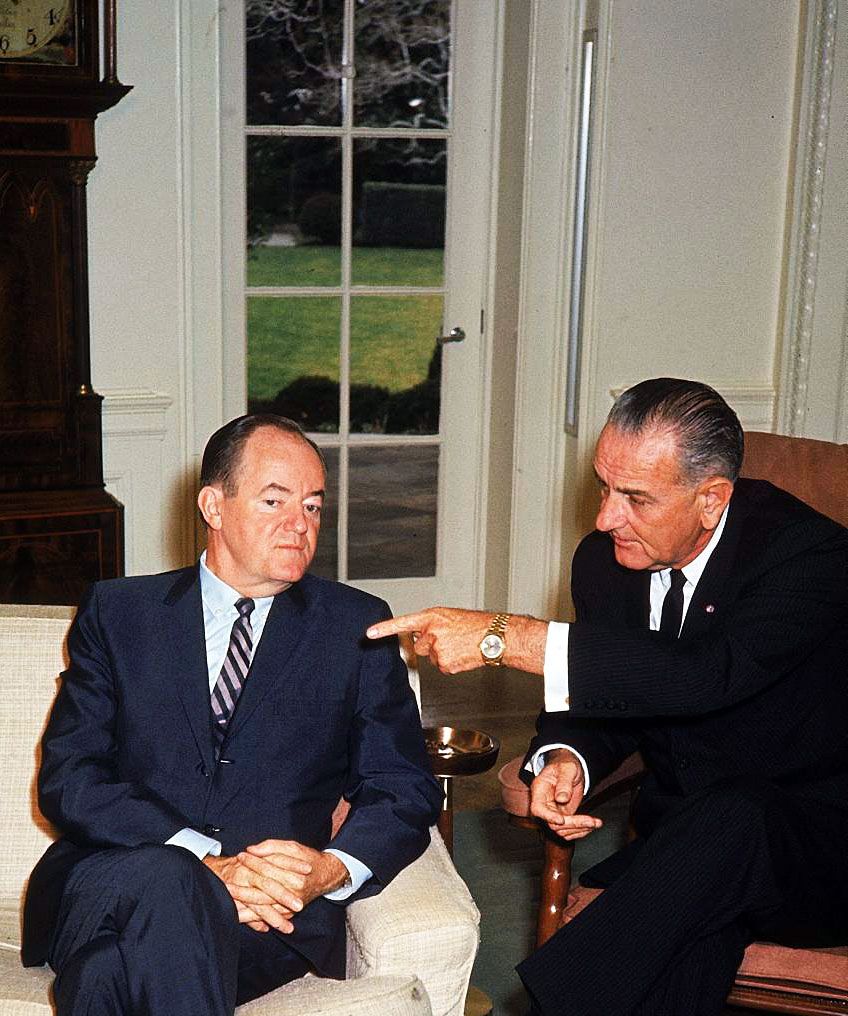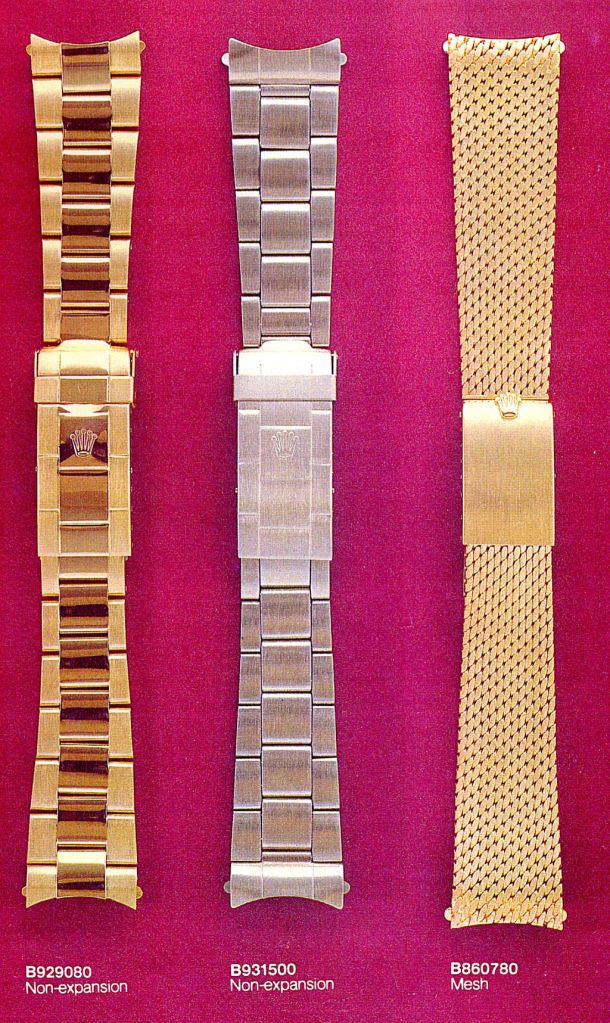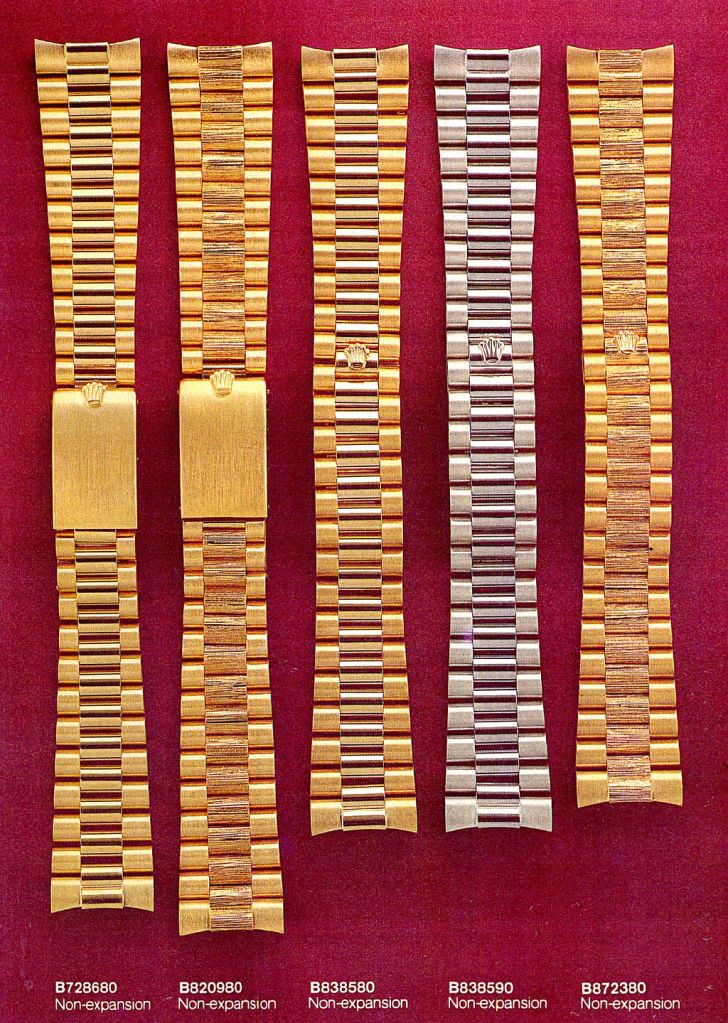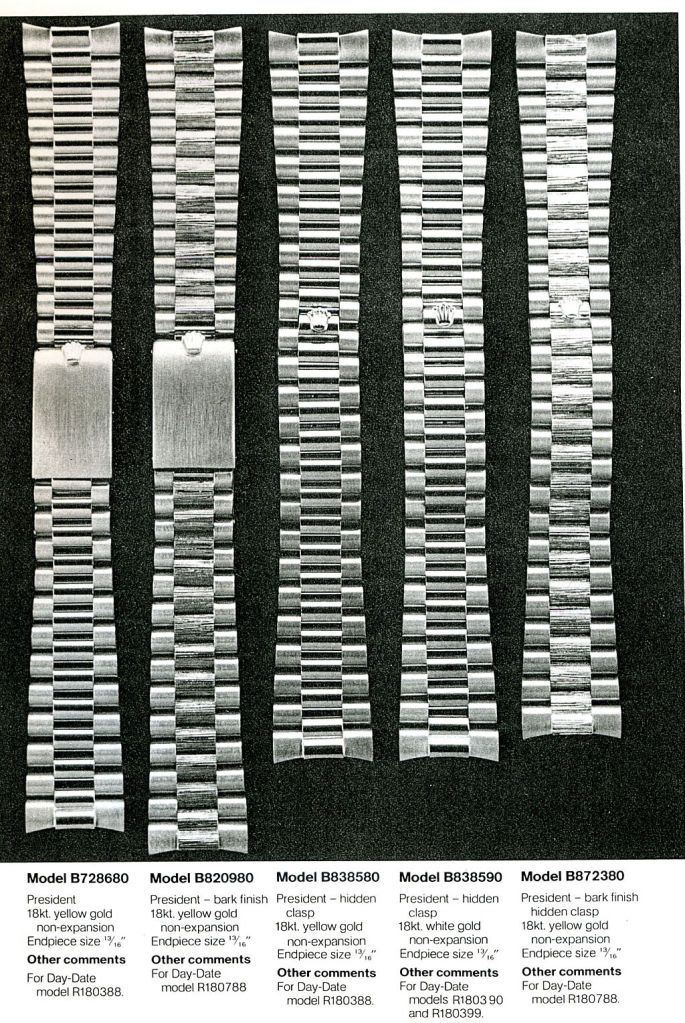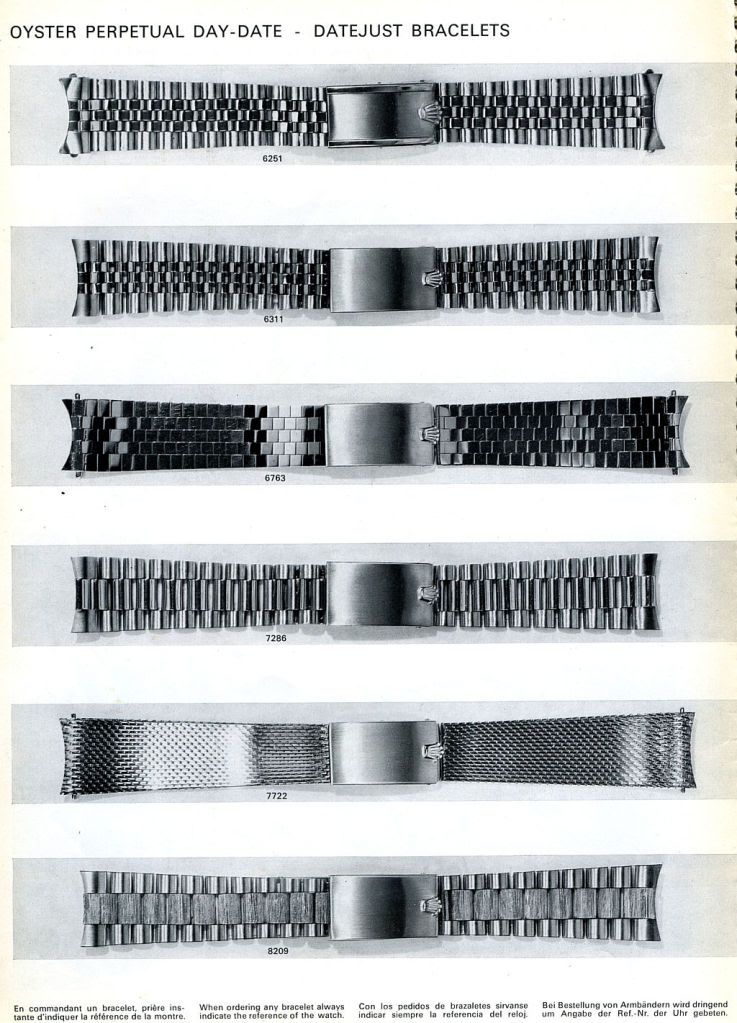 Tutti i bracciali hanno i punzoni identificativi e di originalita' impressi sulla claps di chiusura, in funzione della produzione anche il numero identificativo del modello sull'ultima maglia .
Per adattarsi al meglio vengano dedicati i finali ad ogni modello , per esempio
Rolex Submariner ref. 5513/1680 bracciale 9315 finali 280 o 380
Rolex Sea dweller ref 1665 bracciale 9315 finali 285 o 385
La differenza tra il finale che inizia con 2 a quello che inizia con 3 e' il sistema di fissaggio al resto del bracciale.
Il primo e' collegato tramite maglia oppurtunamente piegata, il secondo e' collegato tramite l'ansa a molla o barretta che dir si voglia.
All bracelets have an identifying and uniqueness stamp on the closure clasp according to which production, the identifying number of the model is on the last link.
To best adapt to the bracelet, final numbers are assigned to each model, for example Rolex Submariner ref. 5513/1680 bracelet 9315 280 or 380 end, Rolex Sea Dweller ref 1665 bracelet 9315 285 or 385 end.
The difference between the end numbers that begin with a 2 and those that begin with a 3 is the mounting system used for the rest of the bracelet.
The first is connected by a suitably bent link, whereas the second is connected through the spring loaded lug or bar if you prefer.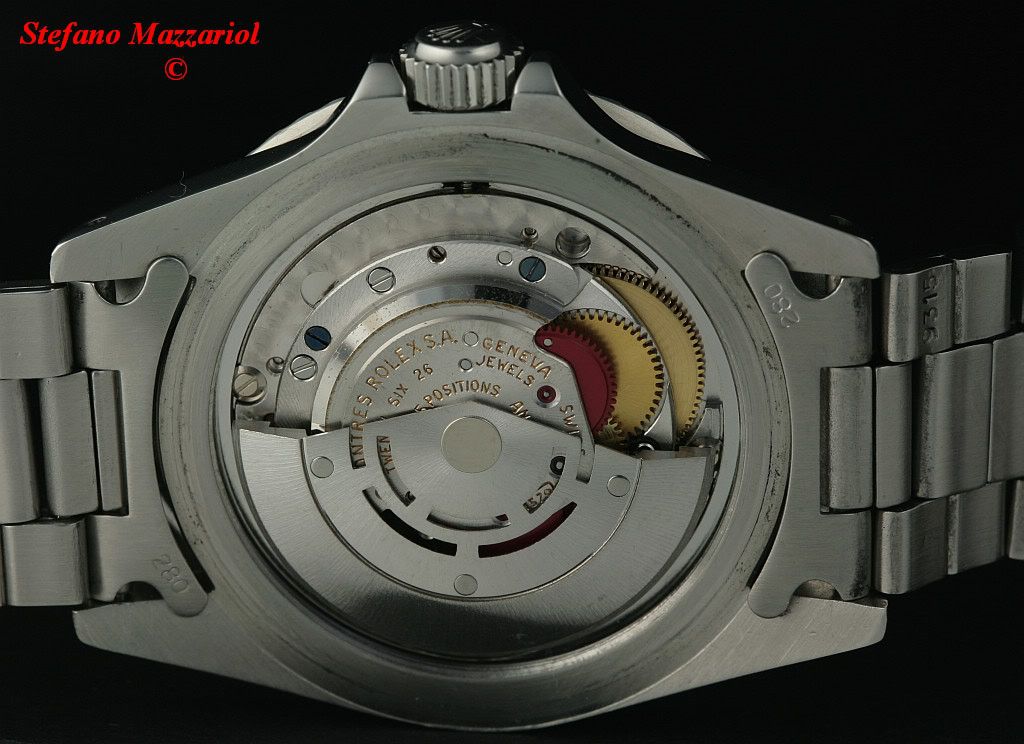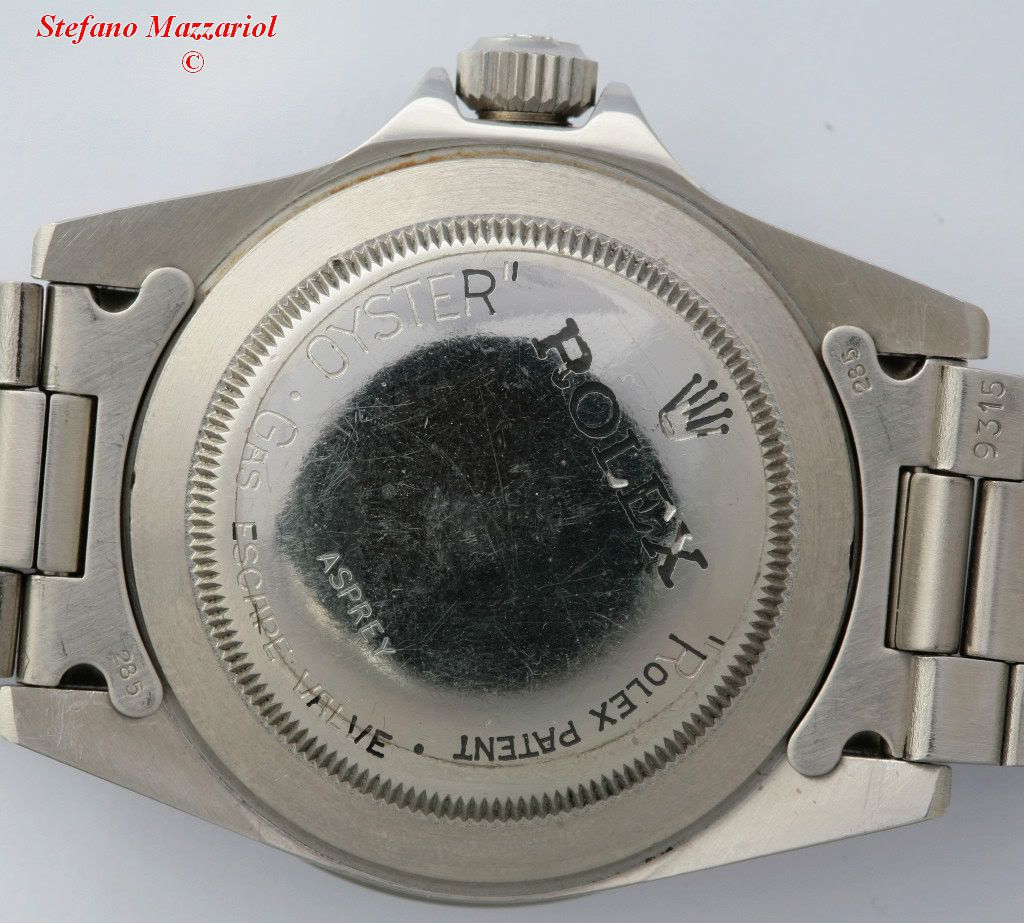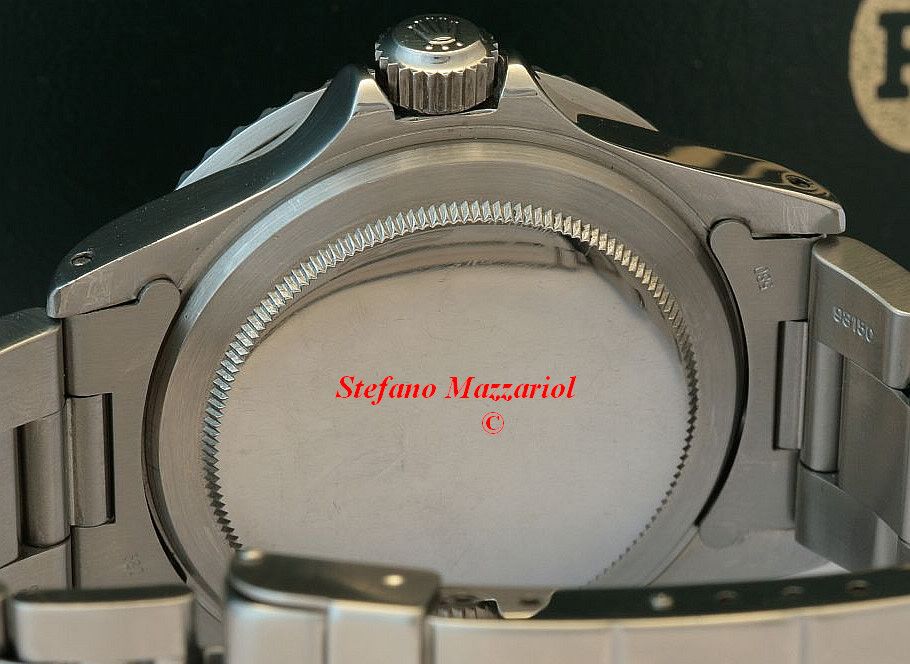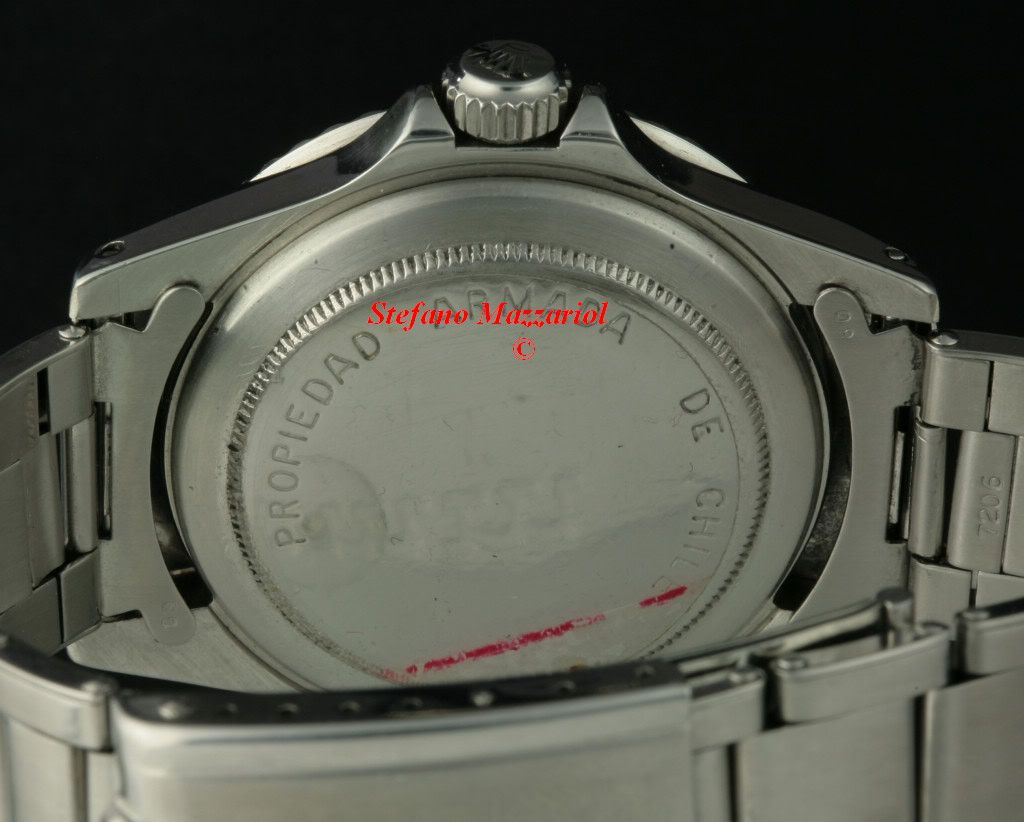 La variante N dedicata, in questo caso, ai Crono manuali:
The N variation, dedicated in this case to the manual Chronograph: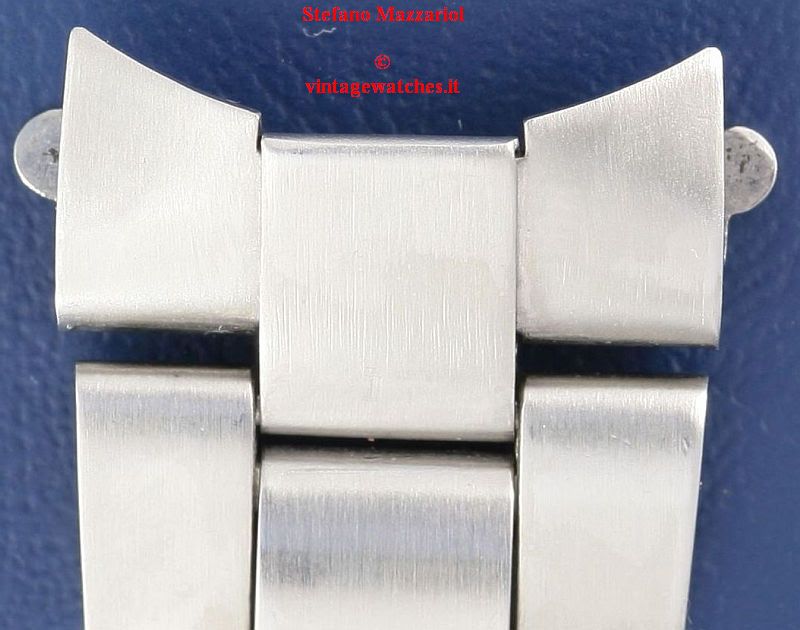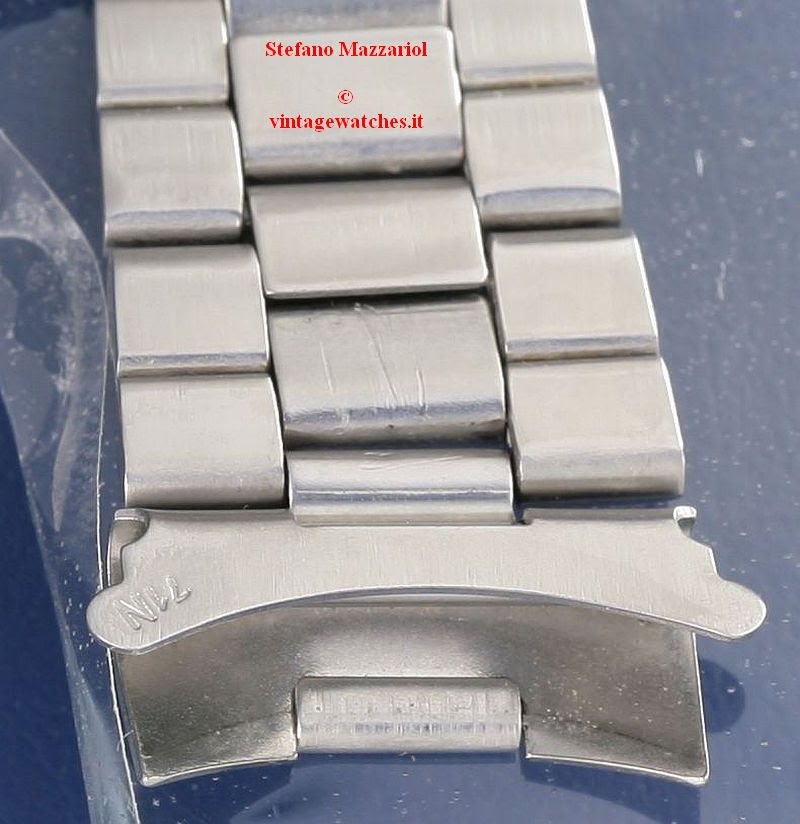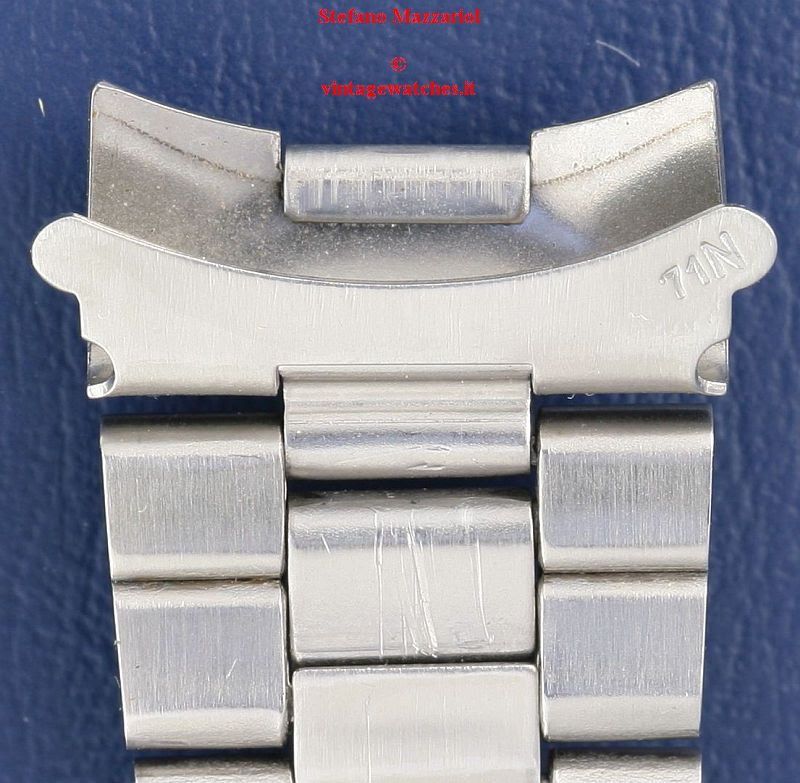 La seguente e' una tabella realizzata dall'amico Tom, relativa all'abbinamento
orologio/bracciale/finali:
The following is a table created by my friend Tom, showing the combination of watch/bracelet/ends: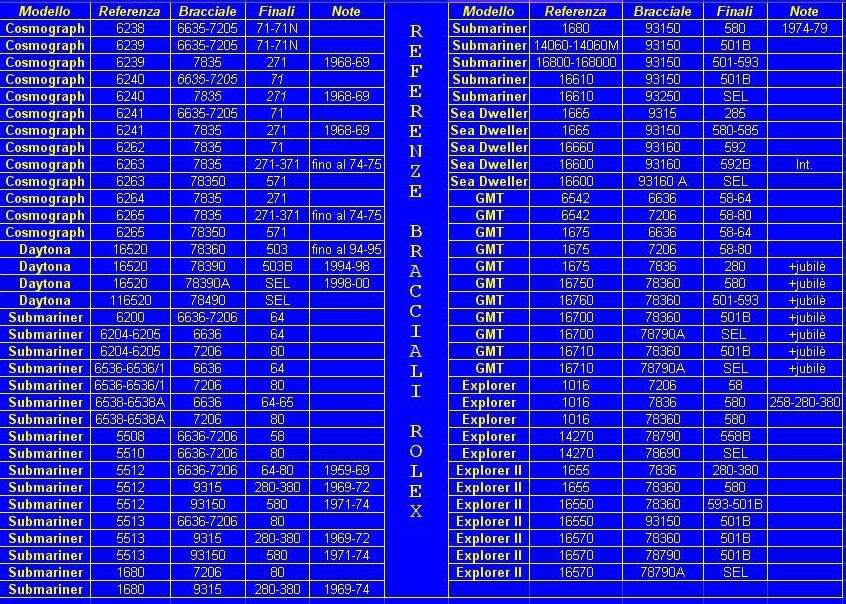 Generalmente, ma non tutte,le claps di chiusura portano l'anno di fabbricazione
fino a circa meta del 1976 per poi essere sostituito da un codice alfanumerico:
Generally, but not all, the closure clasps show the year of manufacture up until approximately midway through 1976 when it was substituted by an alphanumeric code:
(MAGLIA PIENA)
1976 A (VA) ?
1977 B (VB)
1978 C (VC)
1979 D (VD)
1980 E (VE)
1981 F (VF)
1982 G
1983 H
1984 I
1985 J
1986 K
1987 L
1988 M
1989 N
1990 O
1991 P
1992 Q
1993 R
1994 S
1995 T(W)
1996 T-V
1997 U (Z)
1998 Z X
1999 X
2000 AB
2001 DE
2002 DT
2003 AD
2004 CL
2005 MA
2006 OP
Nella follia della passione ho cercato negli anni di collezionare i piu' svariati e particolari bracciali in giro per il mondo , la soddisfazione di indossarne uno " particolare"
e' complementare a quella di un bell'orologio.
Taken by the madness of my passion, I have tried over the years to collect as many different and special bracelets available around the world, the satisfaction of wearing a "peculiar" one is complementary to that of a beautiful watch.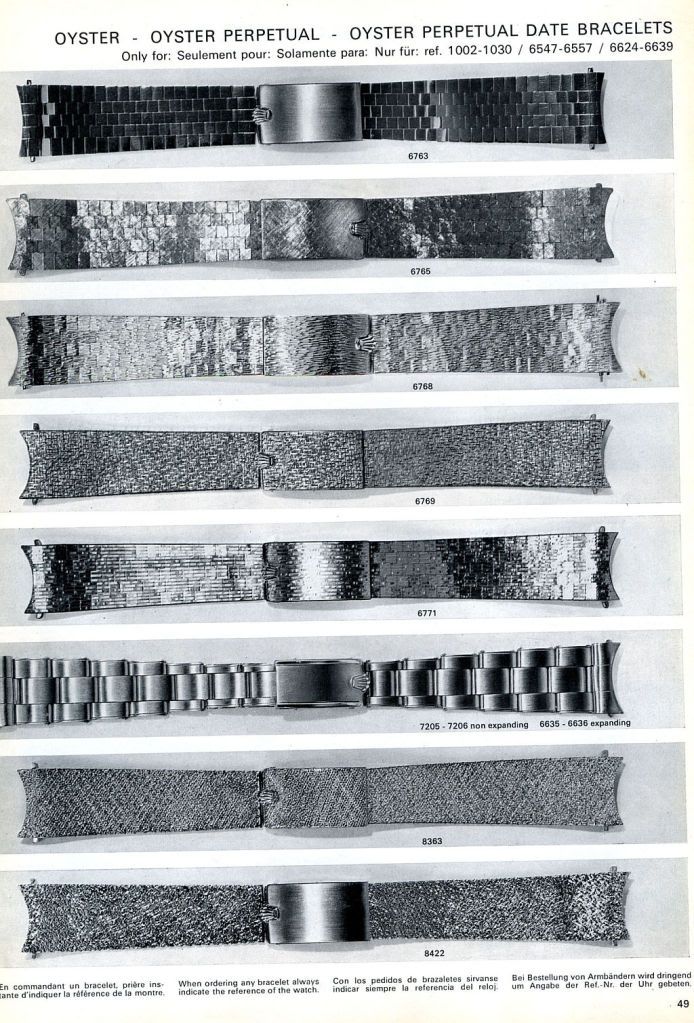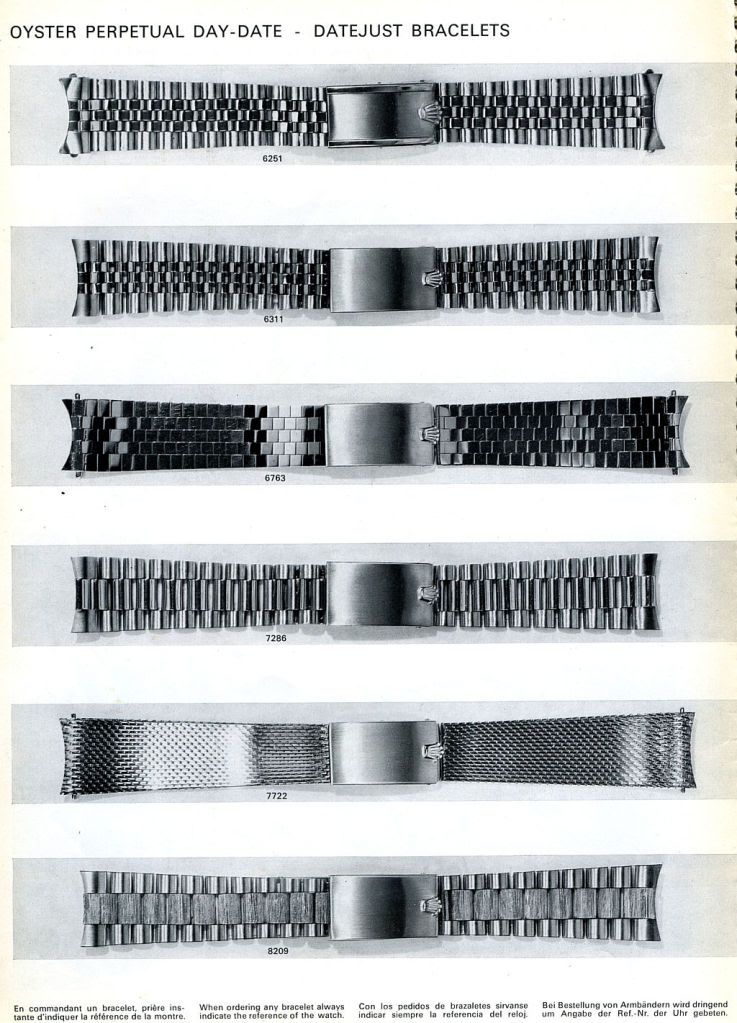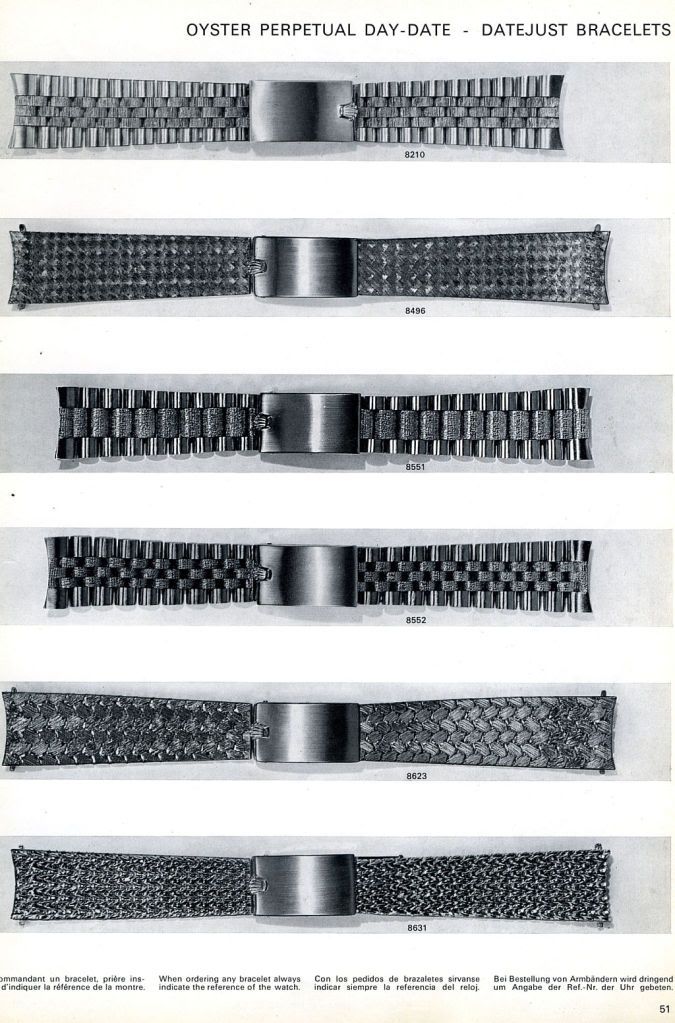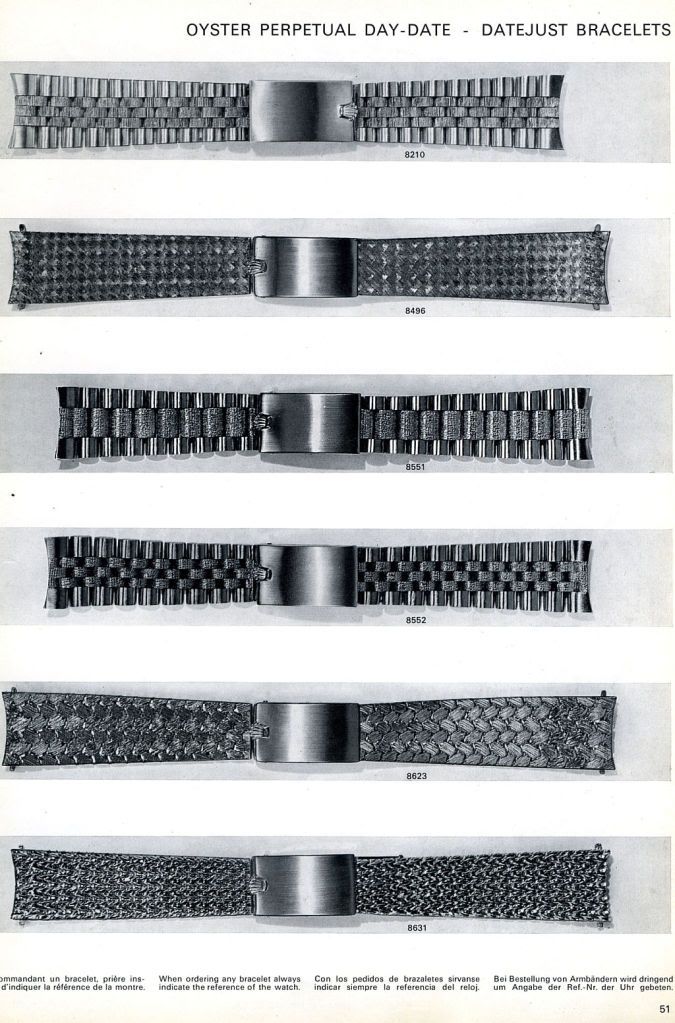 Stefano Mazzariol