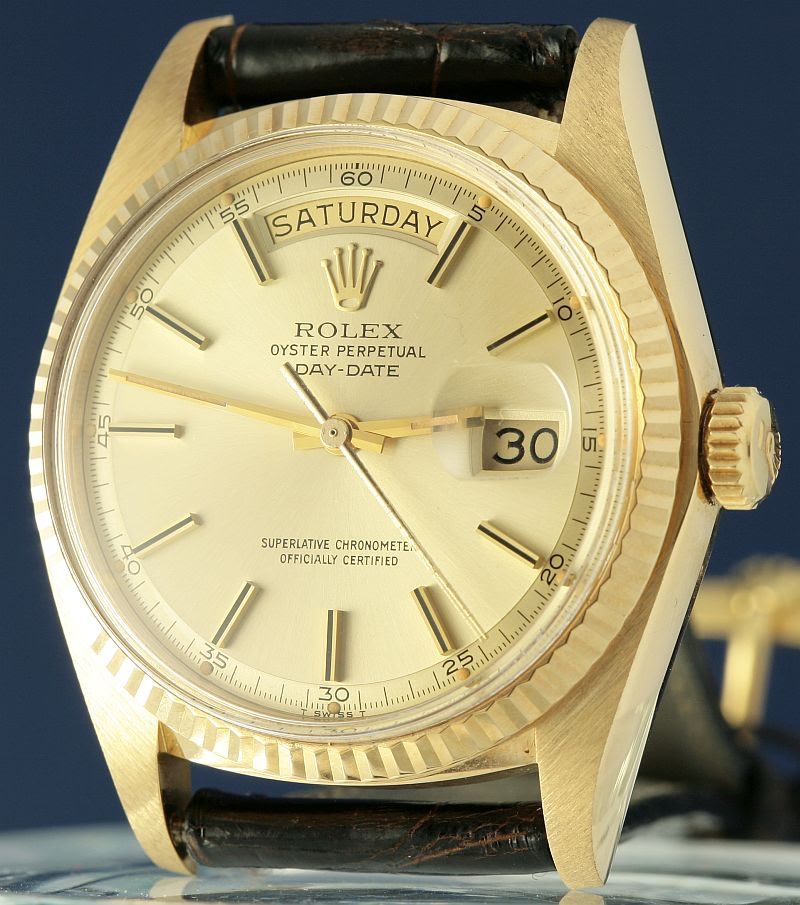 Vediamo questo Day date ref 1803 mai lucidato,per parlare dei punzoni degli orologi Rolex negli anni 70.
We will examine this Day Date ref 1803 that has never been polished to speak about the stamps present on Rolex watches during the 1970s.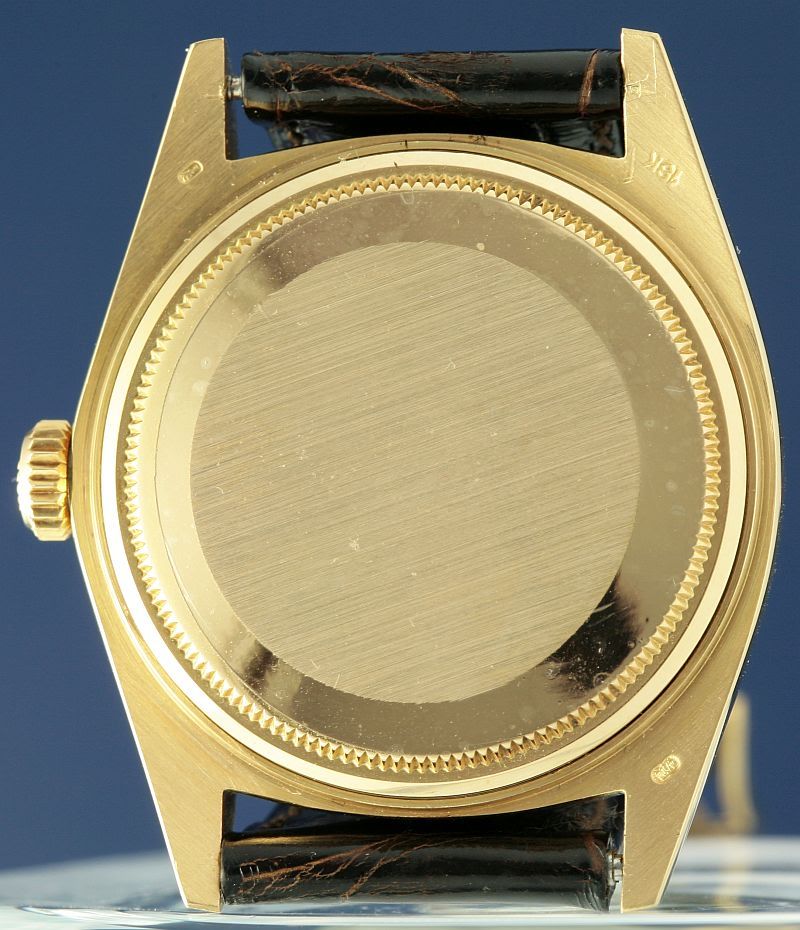 In questo caso i punzoni si trovano su 3 anse,nelle due in alto troviamo a sx la testina,definito Elvezia piccolo era il punzone usato in
Svizzera per marchiare piccoli oggetti in oro,garantiva il titolo minimo legale di 750 millesimi(18kt),la lettera posta sotto il segno identifica la citta' dove gli oggetti sono stati punzonati(G= Geneve).
sempre in alto a dx il titolo dell'oro espresso in Kt (18kt).
In basso a dx vi e' impresso il punzone di garanzia internazionale per i metalli preziosi A forma di 8 con all'interno una bilancia e nel mezzo il numero750.
Questo punzone e' entrato in vigore dopo un accordo internazionale , relativo al controllo ed alla punzonatura degli oggetti in metallo prezioso, del novembre 1972 a Vienna ratificato originariamente da Austria,Finlandia,Svizzera, Svezia,Norvegia ,Portogallo e Inghilterra.
Questo punzone diventa operativo dal 27 Giugno 1975.
Elvezia piccolo
In this case we find the stamps on three lugs, on the two upper ones we find a small head on the left, defined as Elvezia which was the stamps used in Switzerland to mark small gold objects. It guaranteed the legal minimum gold rating of 750 thousandths (18kt). The letter placed below it is the identifying sign of the city where the objects were stamped (G=Geneva)
Still on the upper lugs on the right we find the gold rating expressed in carats (18kt).
On the lower right is the stamp for the international guarantee of precious metals in the shape of an 8 with a scale inside and in the middle the number 750.
This stamp started being used after an international agreement related to the control and stamping of precious metal objects in November of 1972 in Vienna which was originally ratified by Austria, Finland, Switzerland, Sweden, Norway, Portugal and England.
This stamp became operative from June 27th 1975.
Small Elvezia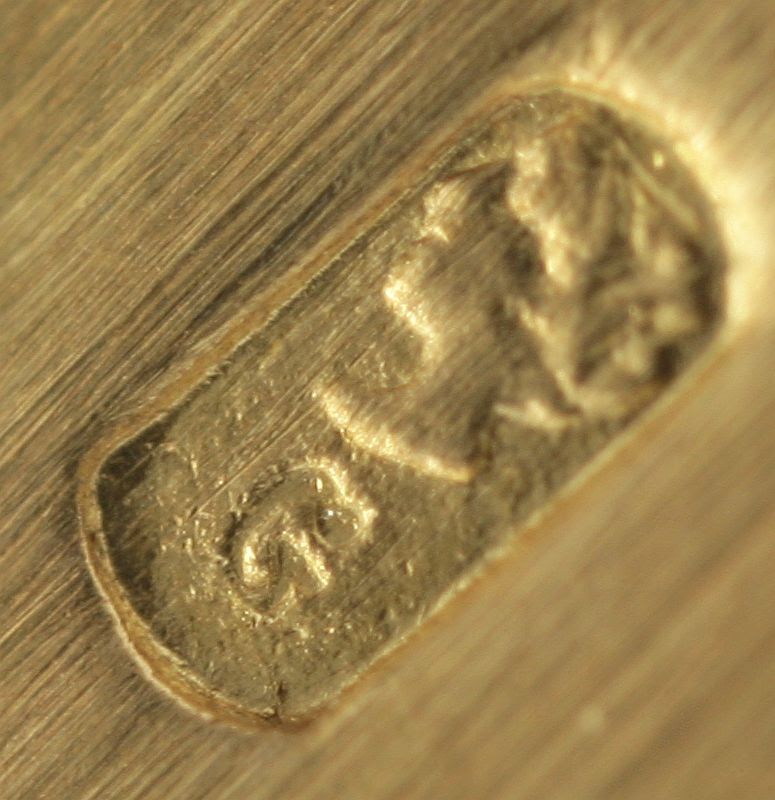 La lettera posta sotto e' il marchio distintivo della citta' dove gli oggetti sono stati punzonati:
The letter place below is the distinctive mark for the city where the objects were stamped:
+ = Berna
B = Bienne
C = La Chaux-De- Fonds
D = Delèmont
F = Fleurier
G = Geneva
g = Grange
L = Le Locle
N = Neuchatel
n = Le Noirmont
P = Porrentruy
I = St.Imier
S = Schaffhouse
T = Tramelan
E' entrata in vigore il 17 maggio 1881.
Le dimensioni sono 1,2 mm x 0,7 mm
It started being used from May 17 1881.
The dimensions are 1.2 mm x 0.7 mm
Punzone di garanzia internazionale per i metalli preziosi.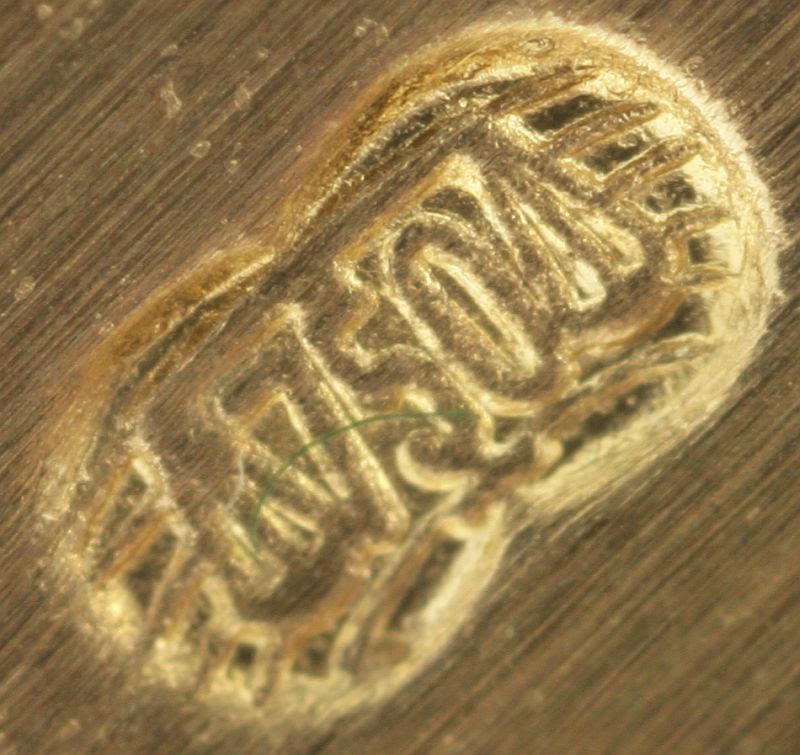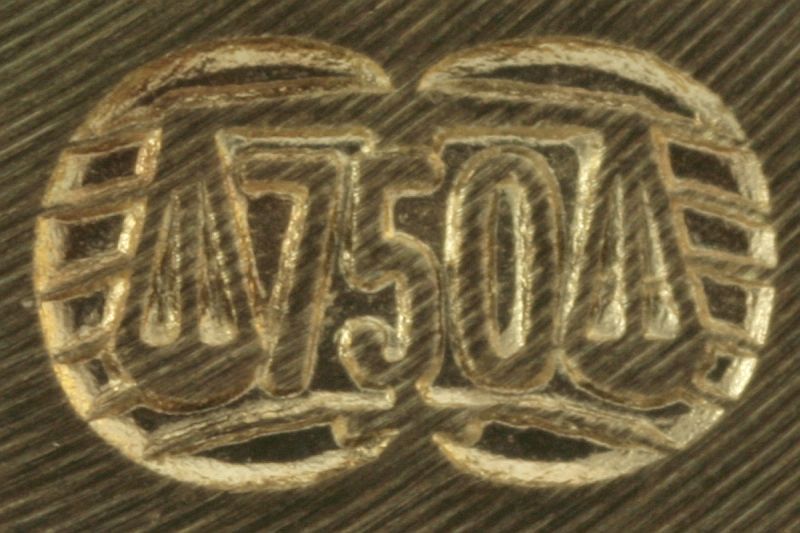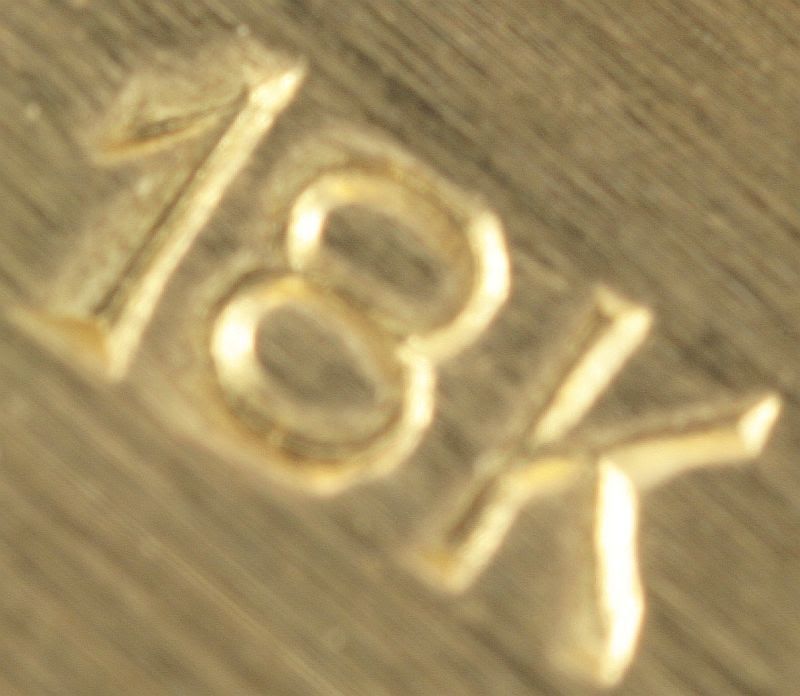 Elvezia grande
Large Elvezia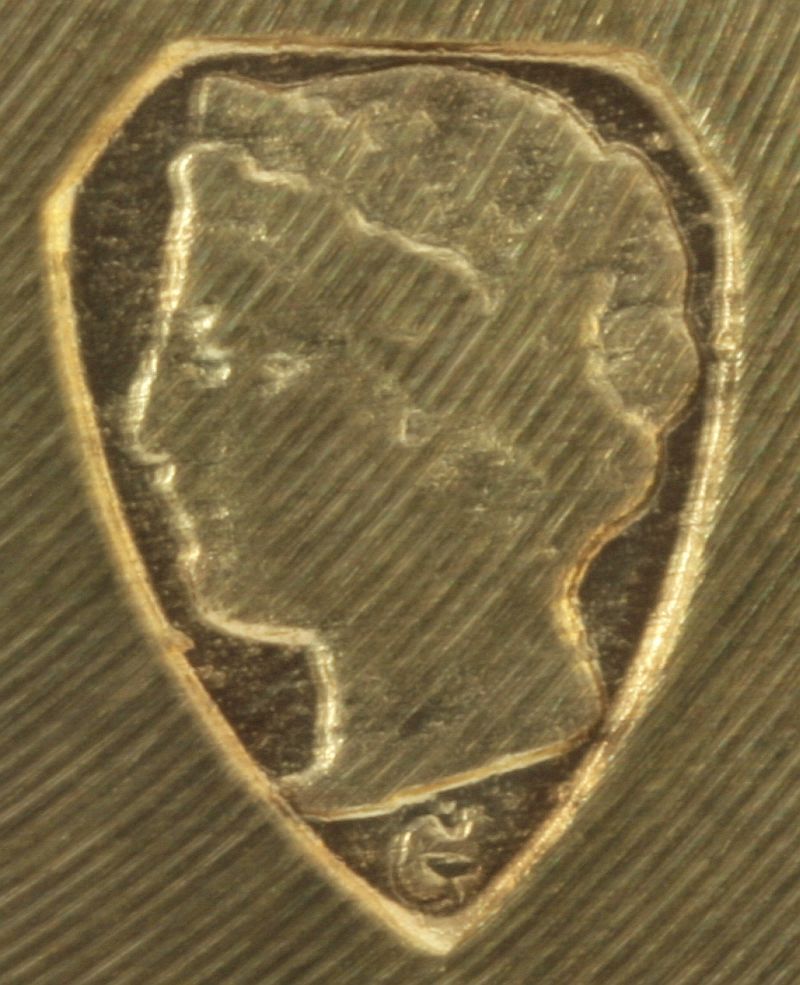 In ogni parte separabile vengano ripetuti i punzoni (fondello, bracciale)
Each separate part has the stamps repeated (back, bracelet)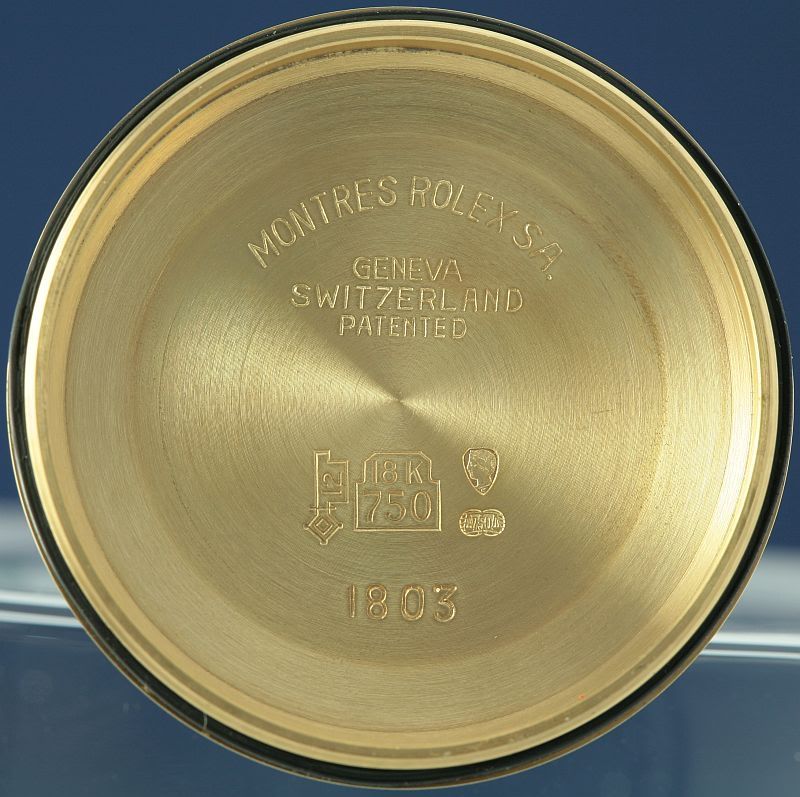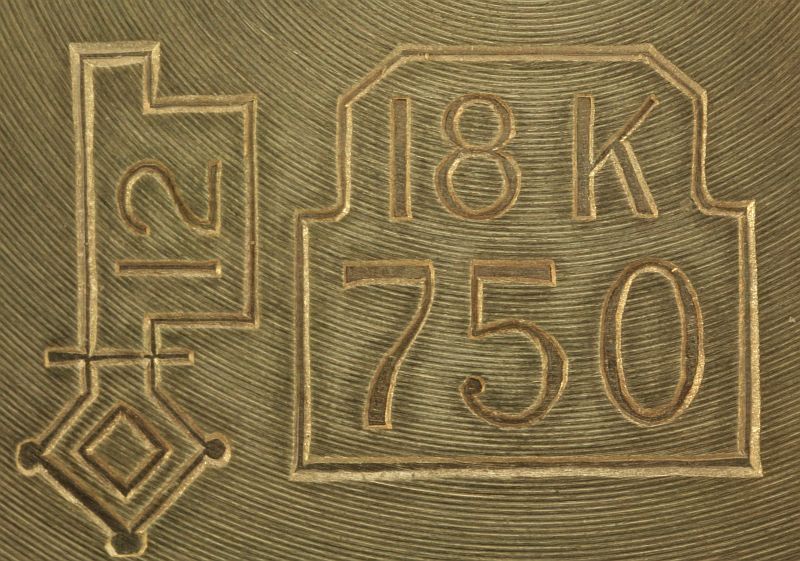 Questo e' il punzone della caratura e titolo in millesimi dell'oro, mentre la chiave e' il punzone di fabbricante (maitre' boitier)Il numero indica che il fabbricante ha depositato ad un ufficio addetto la propieta' intelletuale della realizazione di un det .gioiello.
This is the stamp of the gold carat and rating in thousandths, but the key is the stamp of the manufacturer (maitre' boitier). The number indicates that the manufacturer has registered the intellectual property rights for said piece of jewelry with the appropriate offices.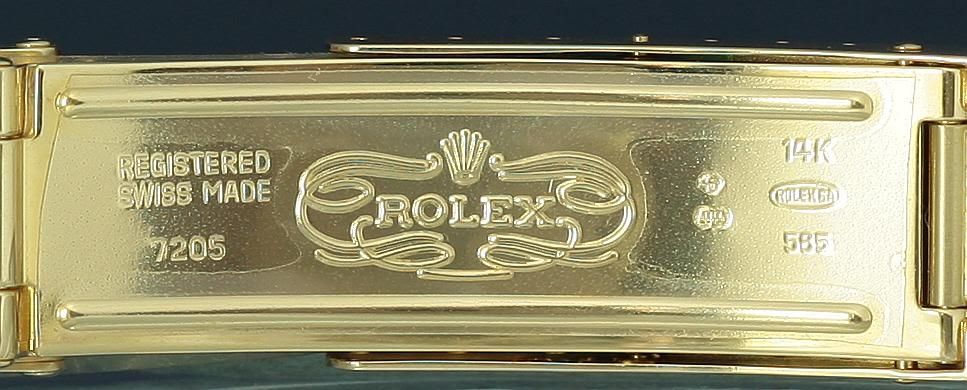 Vediamo i punzoni su altri modelli:
Let us see some stamps on other models: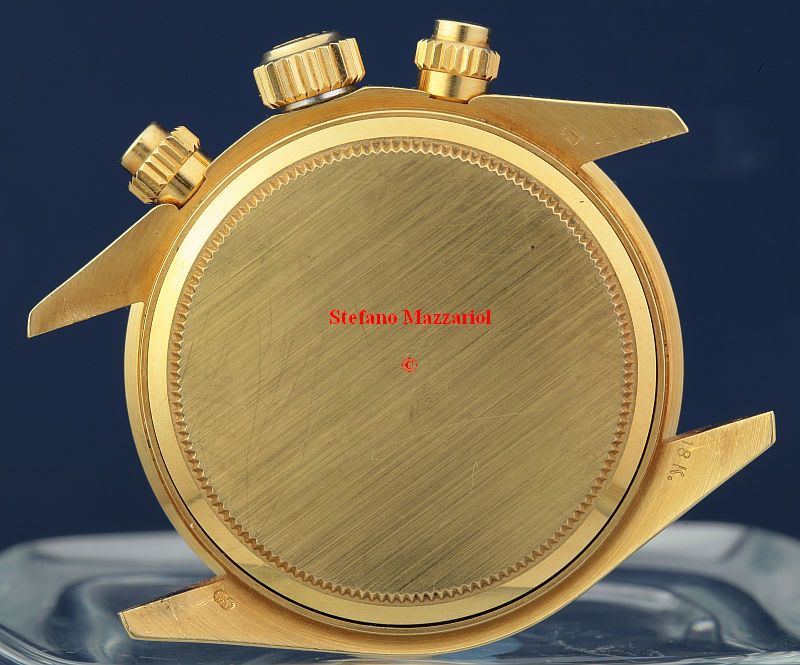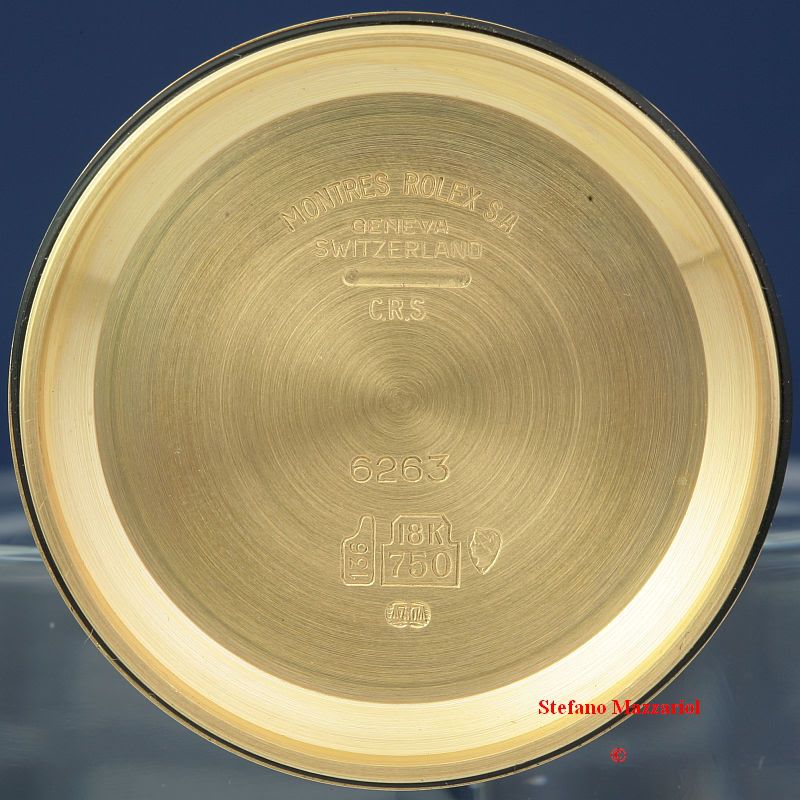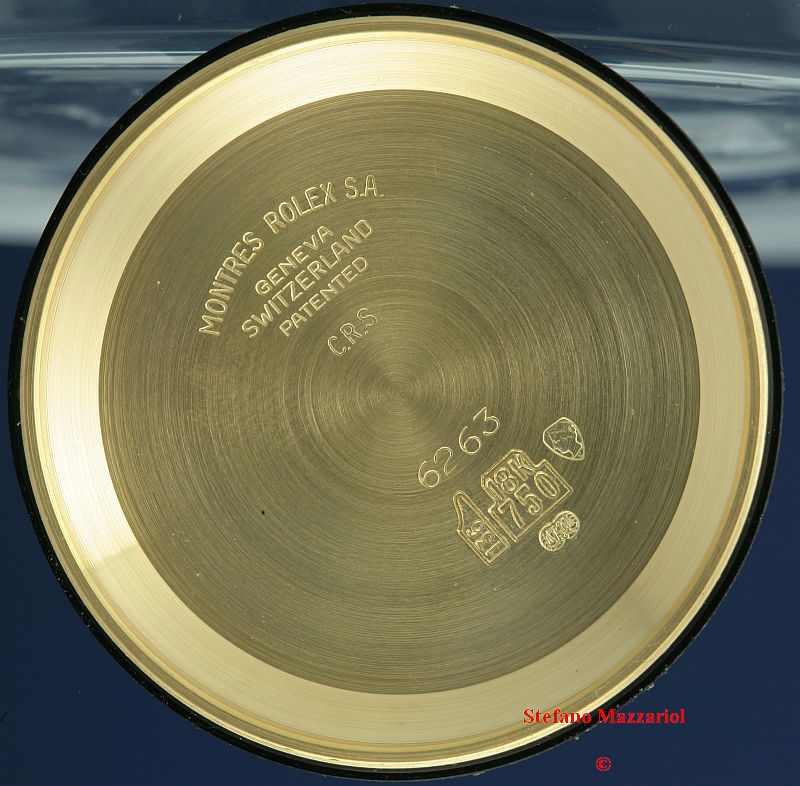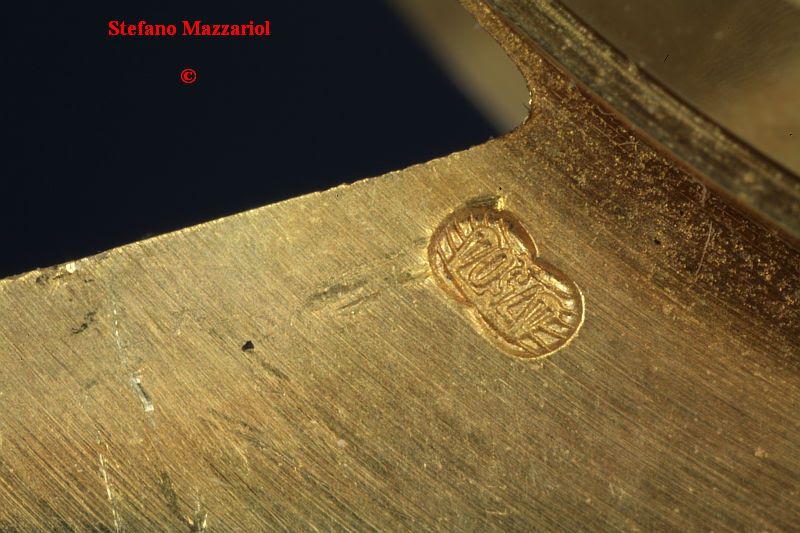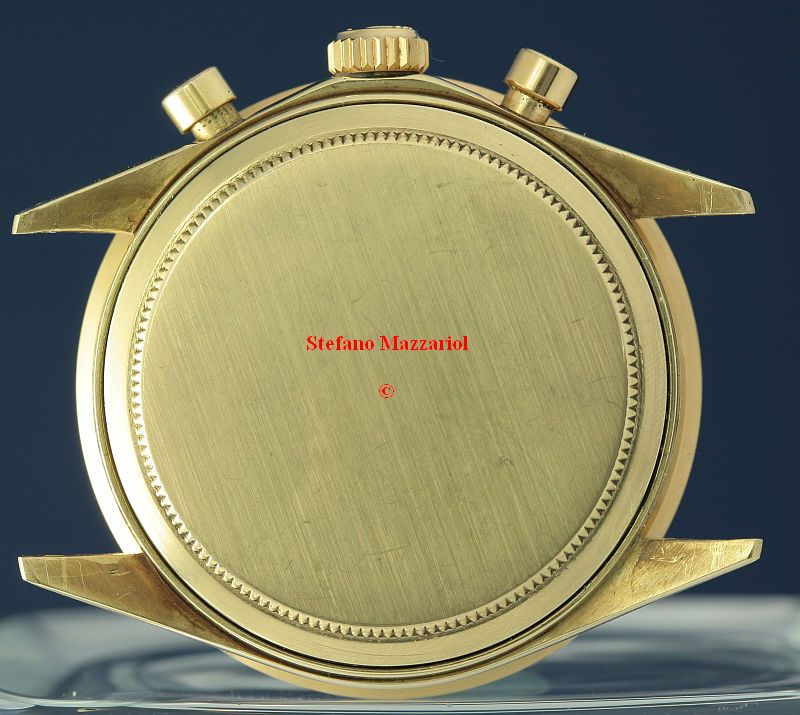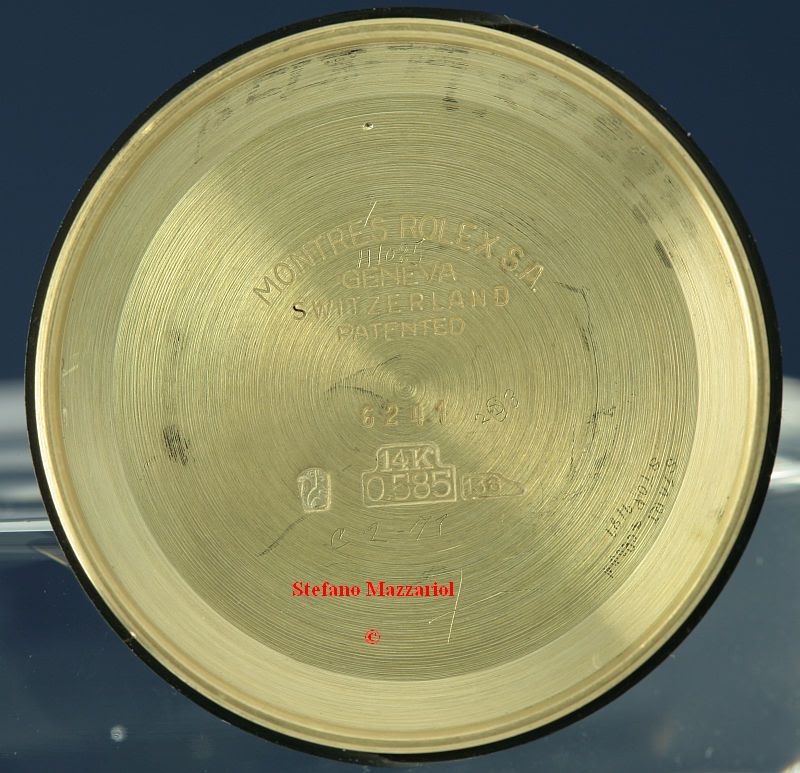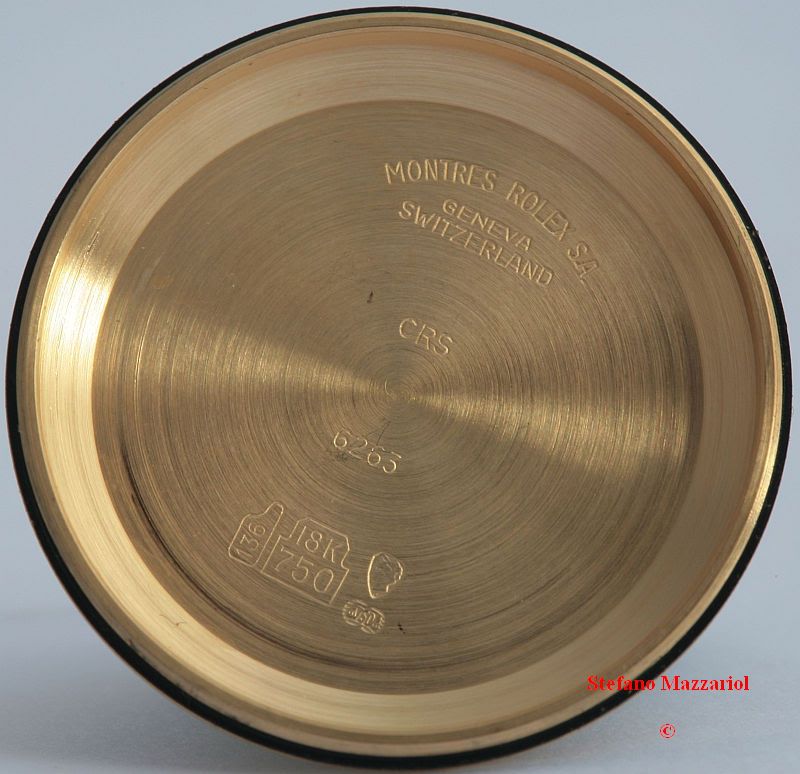 Scoiattolo grande: E' un punzone di garanzia Svizzero usato per marchiare oggetti in oro con titolo legale minimo di 583 millesimi (14kt).La lettera e' , come sopra elencato per il titolo 18kt,il segno distintivo della citta' dove gli oggetti sono stati punzonati.
Large squirrel: This is a stamp for Swiss guarantees that is used to identify gold objects with the legal minimum of 583 thousandths (14kt). The letter is, as listed above for the 18kt rating, the distinctive sign for the city where the object was stamped.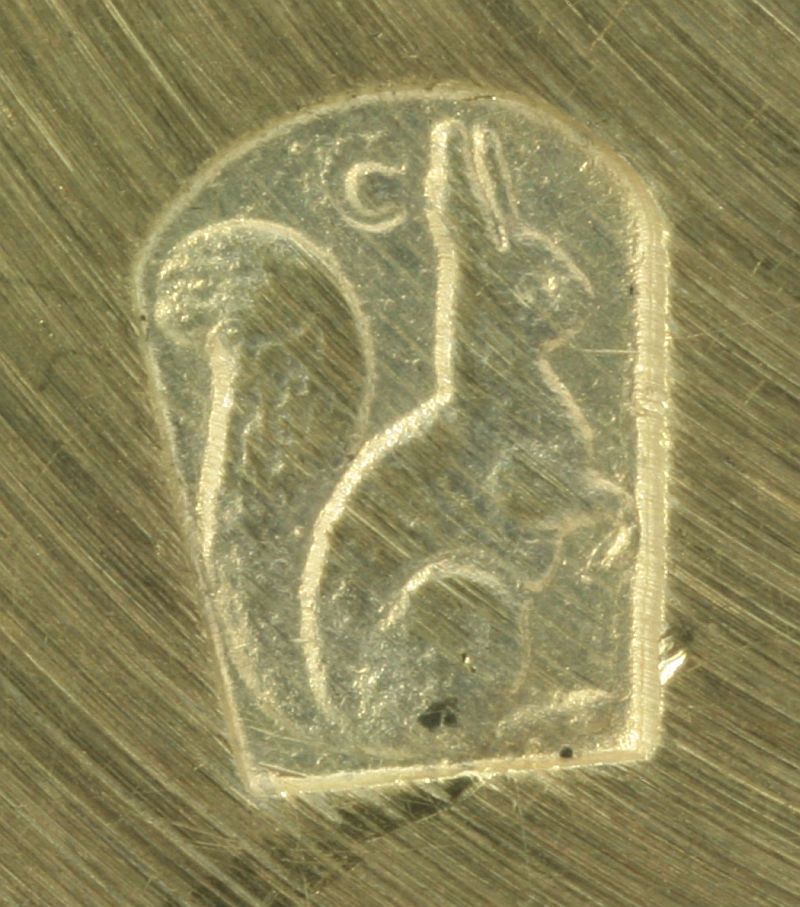 Il punzone a sinistra dell'immagine seguente, e' il punzone del fabbricante.
Indica che il marchio e l'oggetto e' depositato all'ufficio della propieta' intelletuale.
The stamp on the left of the following image is the manufacturer's stamp.
It indicates that the stamp and the object have been registered with the office of intellectual property.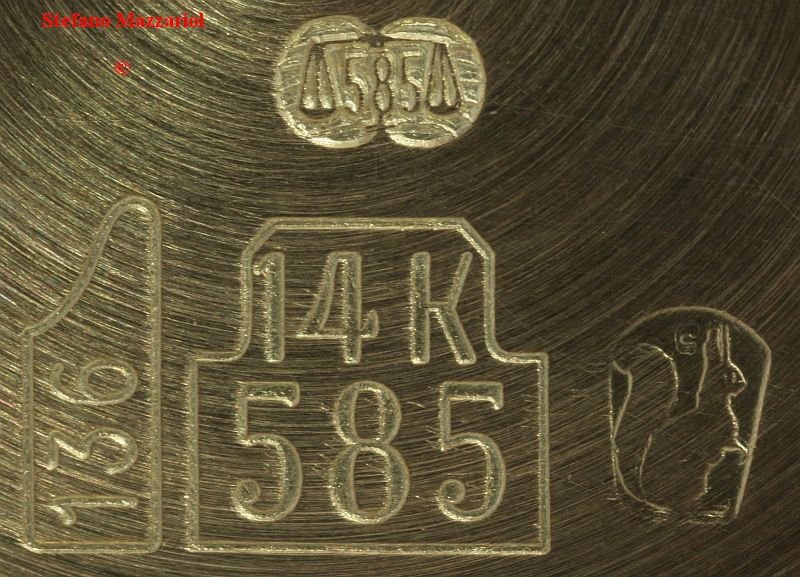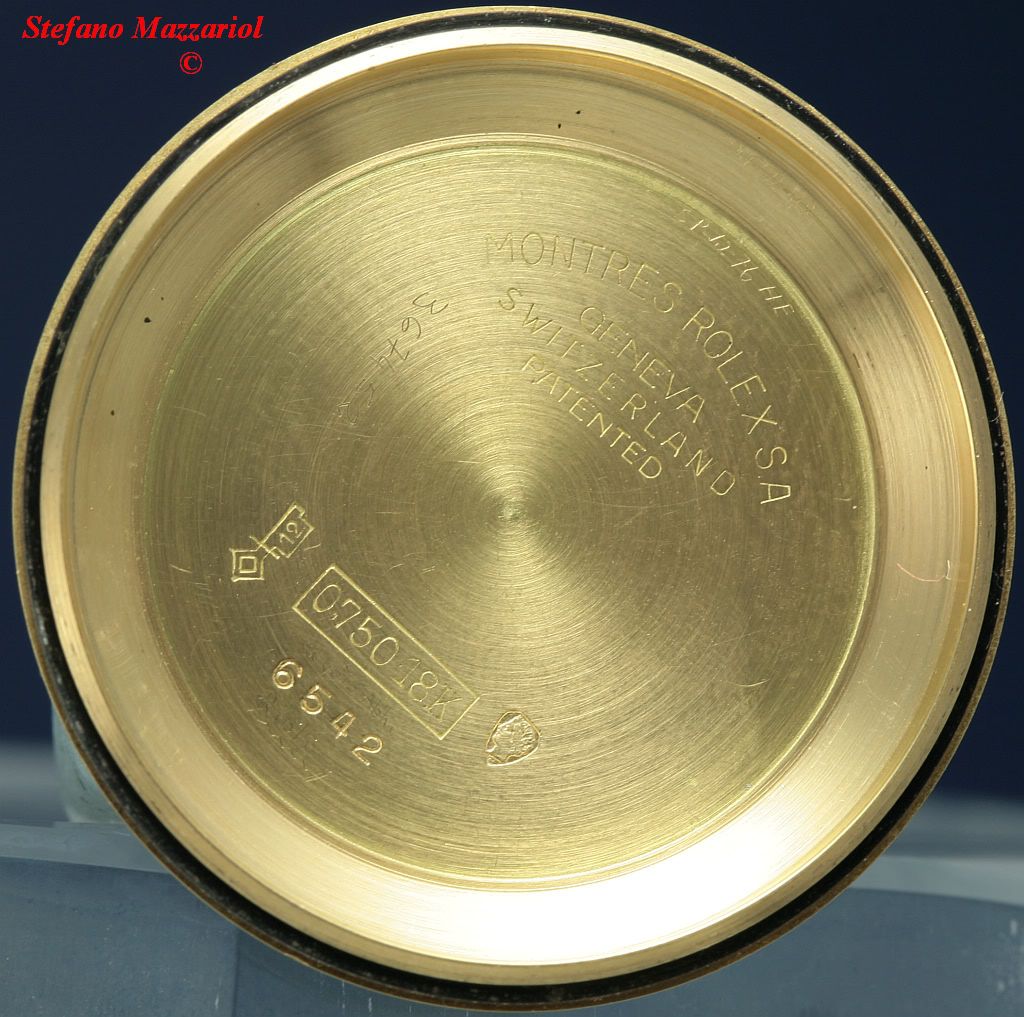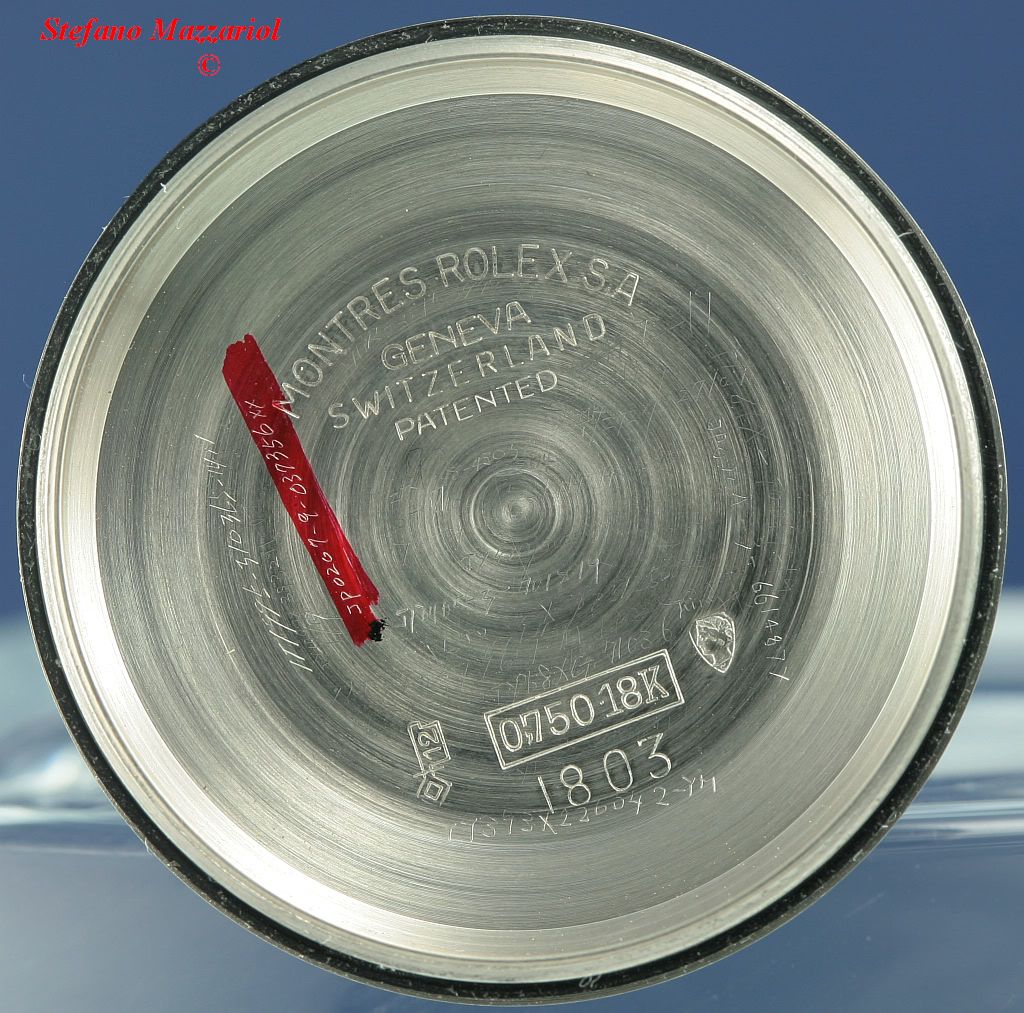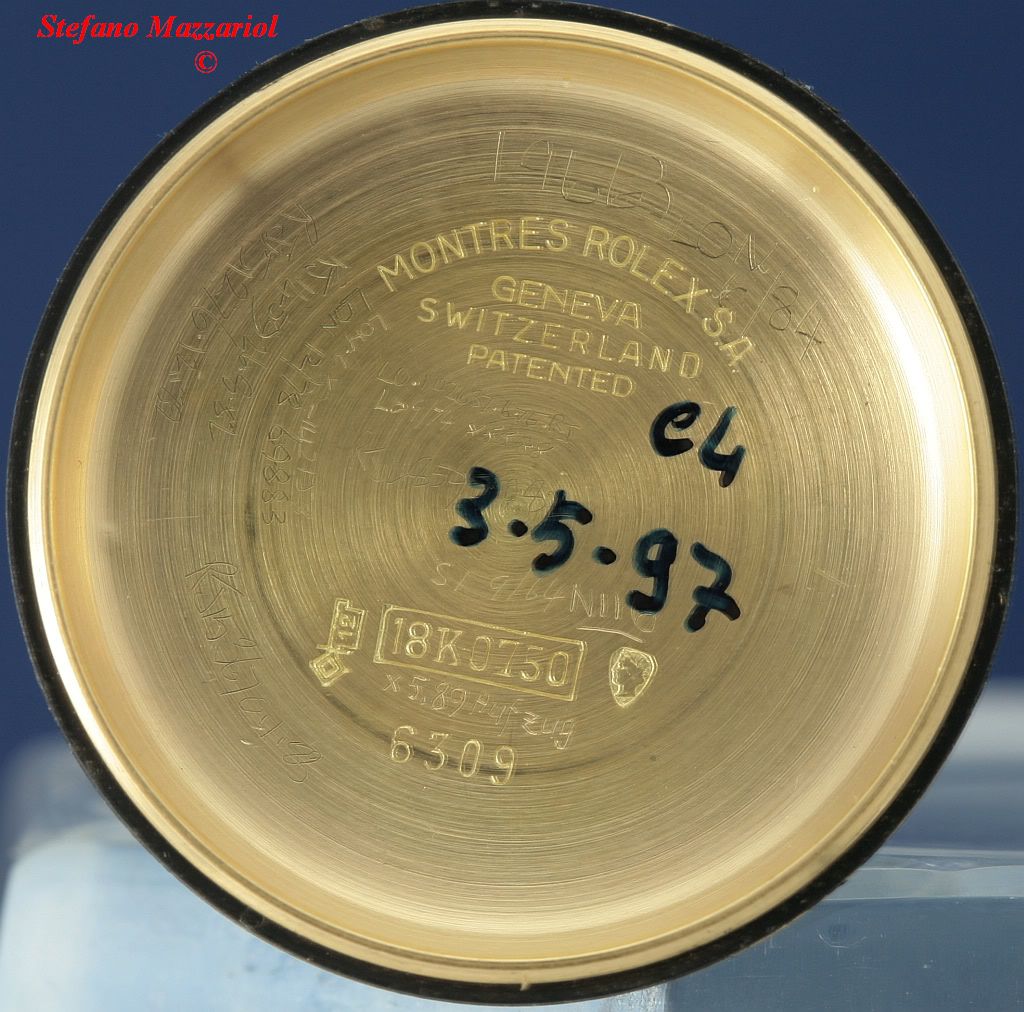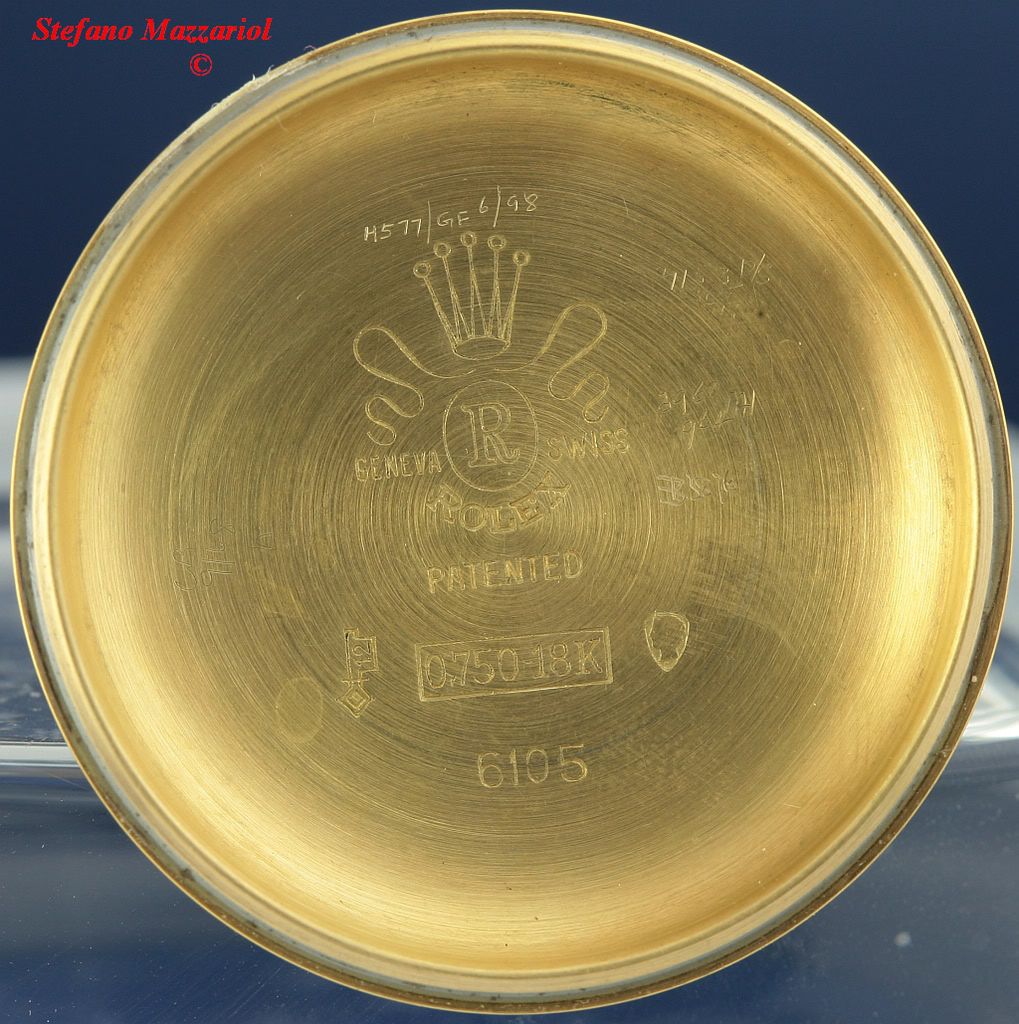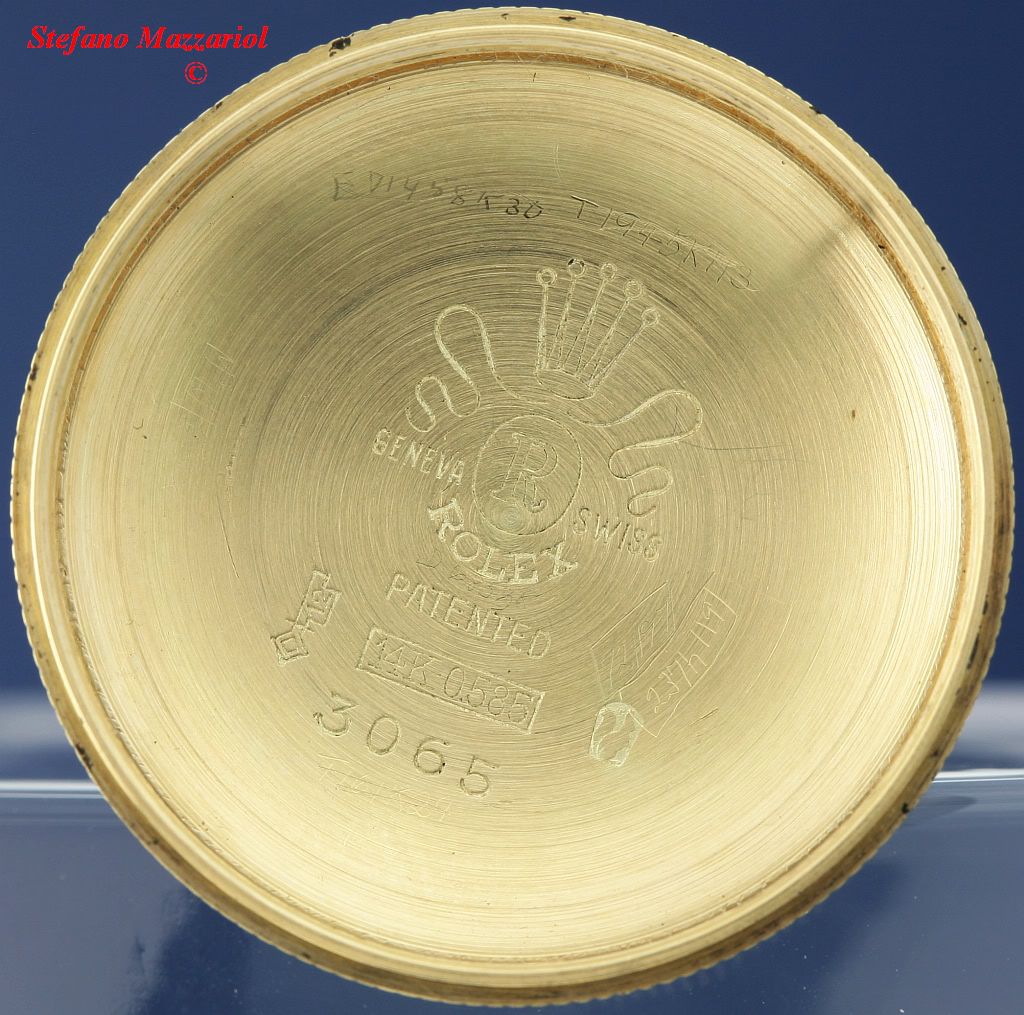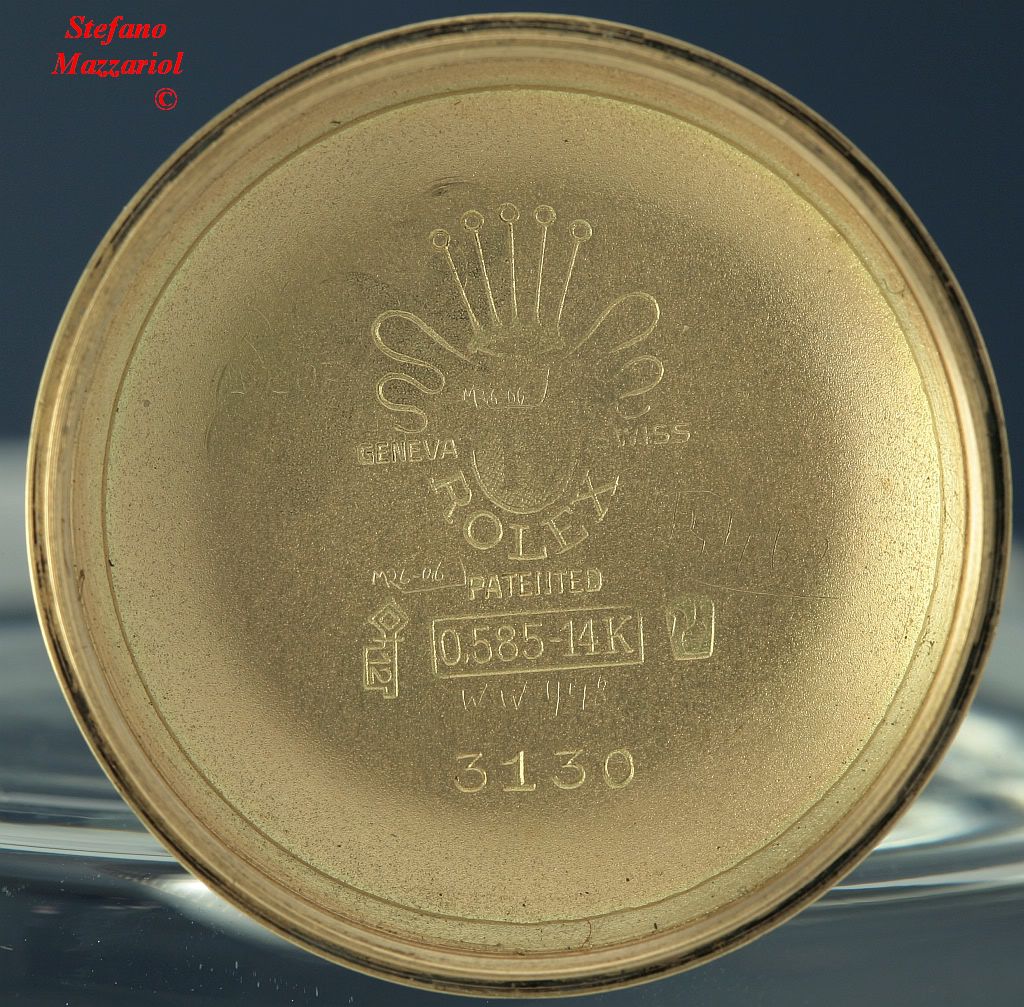 Dal 1995 il Controllo fed. dei metalli preziosi usa il punzone raffigurante la testa di un san Bernardo. I metalli preziosi vengono importati in Svizzera come materie prime o sotto forma di beni lavorati; sono esportati essenzialmente in forma di orologi fabbricati in Svizzera.
Since 1995 the Federal Control for precious metals has used a stamp showing the head of a Saint Bernard. Precious metals are imported in Switzerland as base materials or in the form of crafted assets; they are exported essentially in the form of watches made in Switzerland.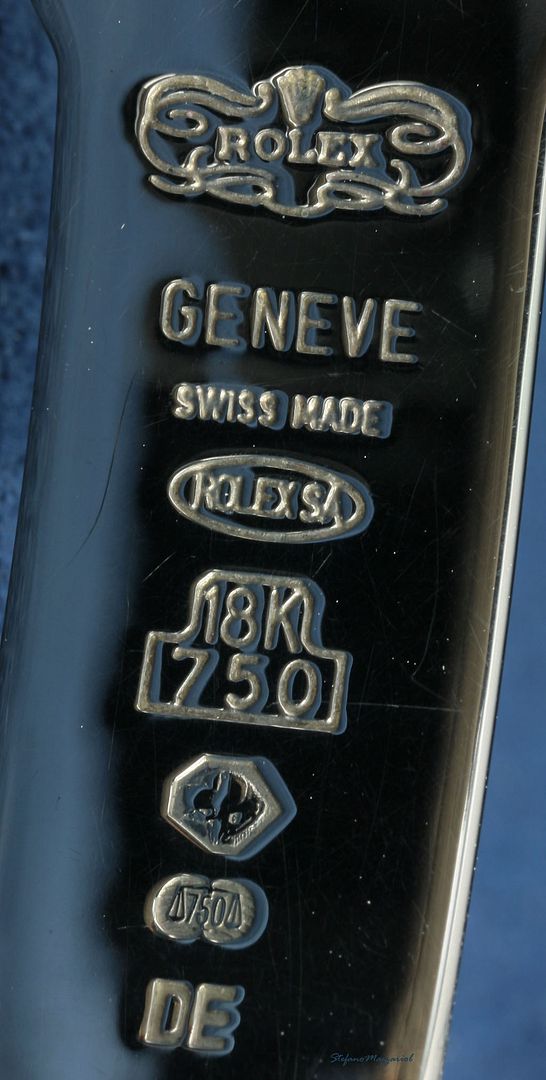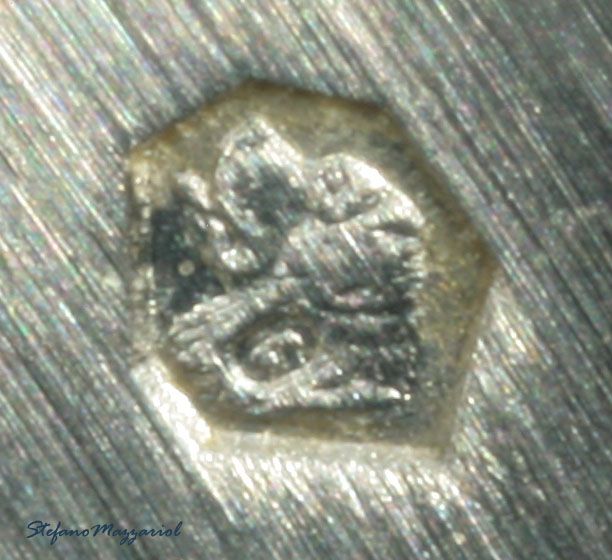 Stefano Mazzariol