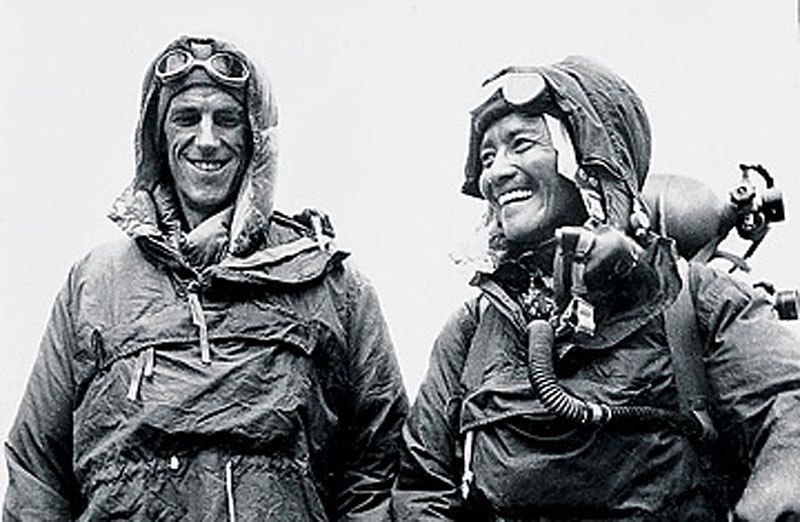 (foto Jake rolexblog)
1950, il mondo del dopoguerra ,l'attenzione globale era rivolta alle nuove esplorazioni di cielo, terra e mare.
Il fascino dello sconosciuto e dell'inesplorato riempiva l'immaginario collettivo.
La conquista dell' Everest e' avvenuta il 29 maggio del 1953 dalla spedizione Inglese guidata da Edmund Hilary e John Hunt ;la risonanza fu' mondiale.
1950, the world after war, global attention was paid to new explorations of sky, land and sea.
The fascination of exploring the unknown and filled the collective imagination.
The conquest of 'Everest and' on May 29 1953 by the English expedition led by Edmund Hilary and John Hunt; resonance was' world.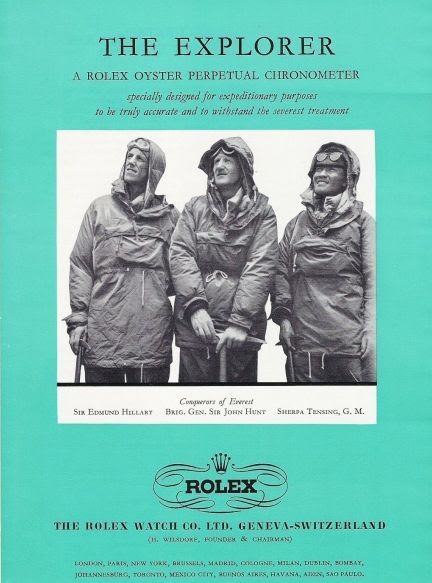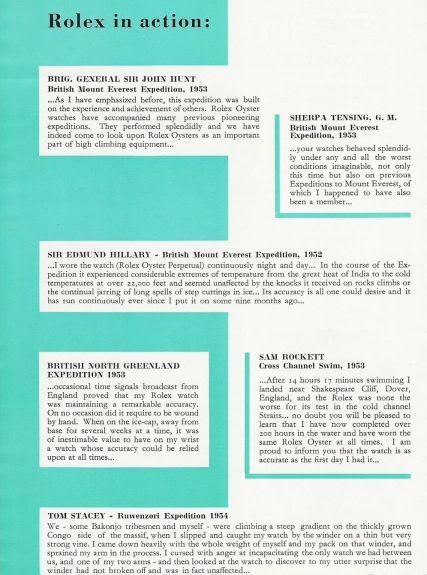 La ricostruzione storica che seguira' e' frutto di considerazioni e valutazioni personali.
Gli orologi che avevano al polso erano Rolex, presumibilmente ref 6098 , cassa monoblocco in un solo corpo con la ghiera , corona superoyster ,calibro 9 3/4 A 296 vetro B.P.30,3(blu point), prodotto da Rolex gia' a partire dal 1950 , con la grafica tipica con i tre numeri arabi 3,6,9, quadrante ampliamente trattato con materiale fosforescente senza la scritta Explorer ma precision.
The historical reconstruction that followed 'and' result of personal considerations and evaluations.
The watches who were Rolex wrist, presumably ref 6098, cash-piece one body with the ring, crown superoyster, size 9 3 / 4 to 296 glass BP30, 3 (blue points), produced by Rolex starting since 1950, with typical graphics with the three Arabic numerals 3,6,9, quadrant widely treated with phosphorescent material without written Explorer but precision.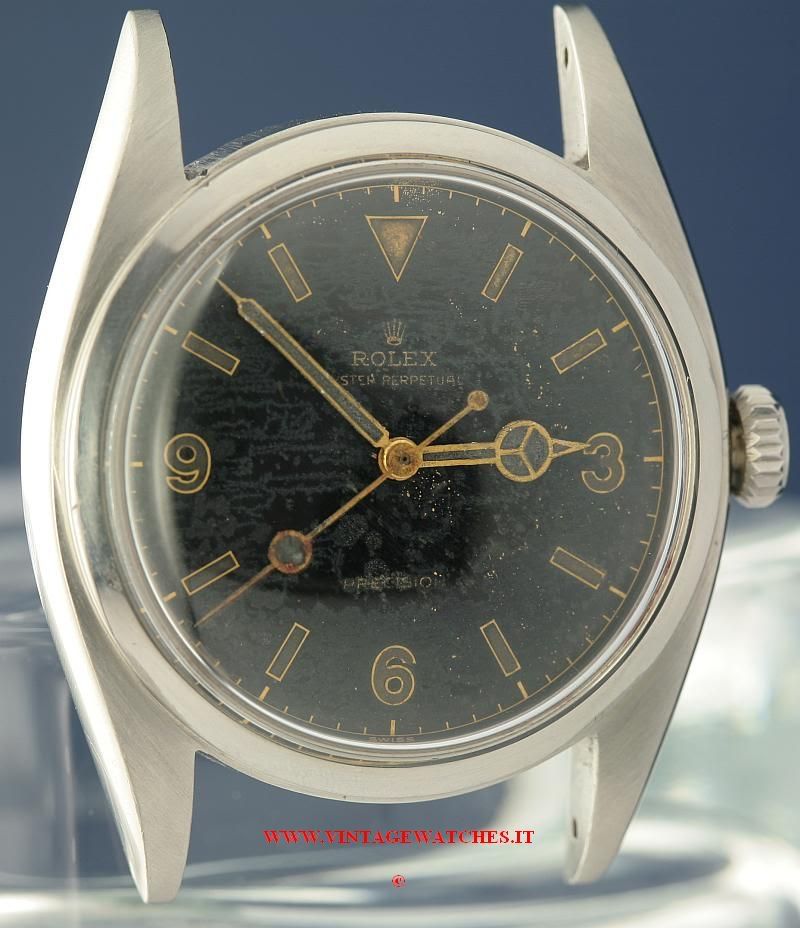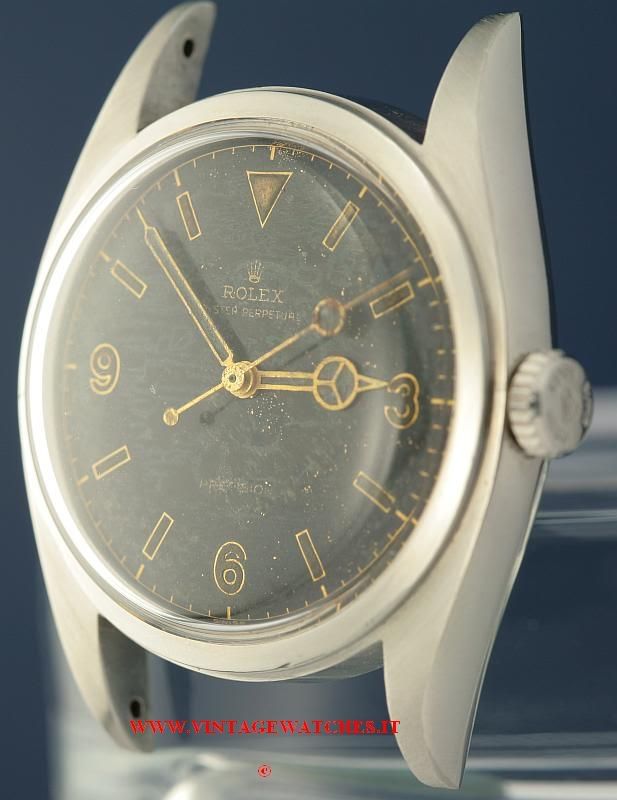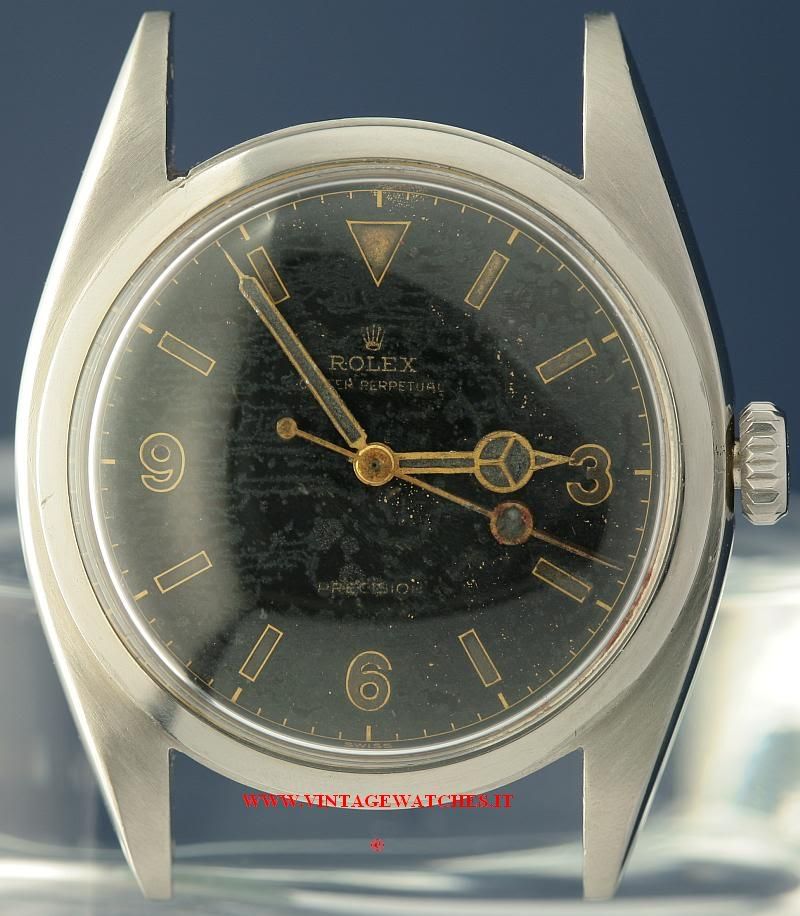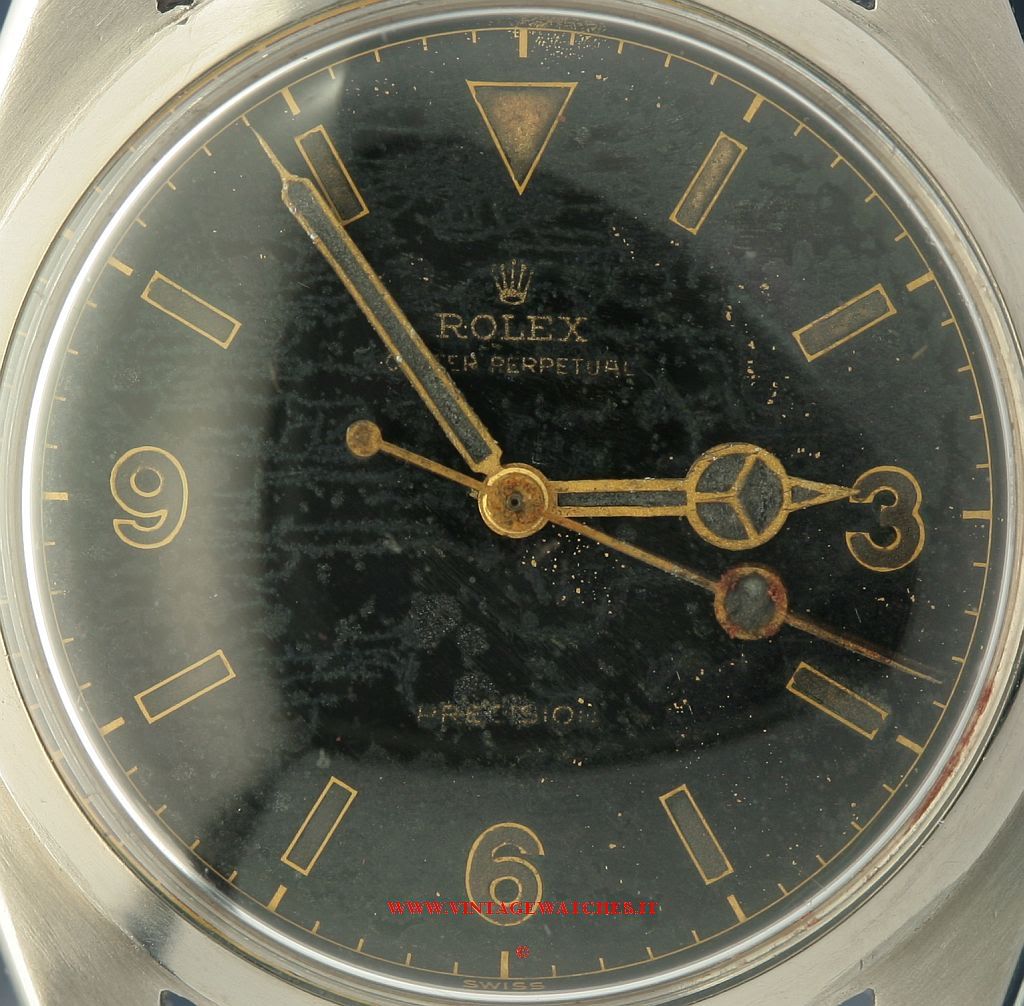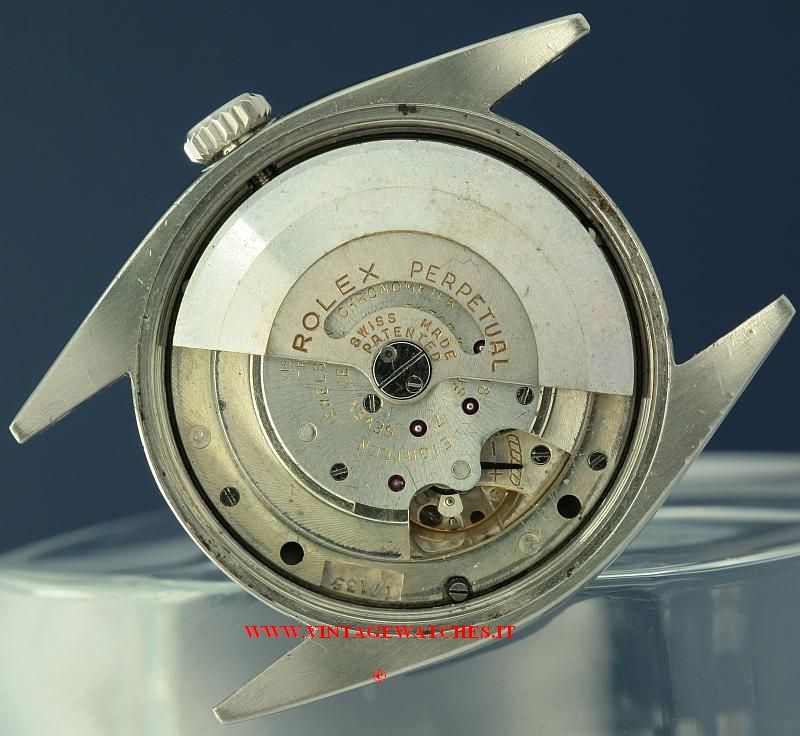 R20 del 1960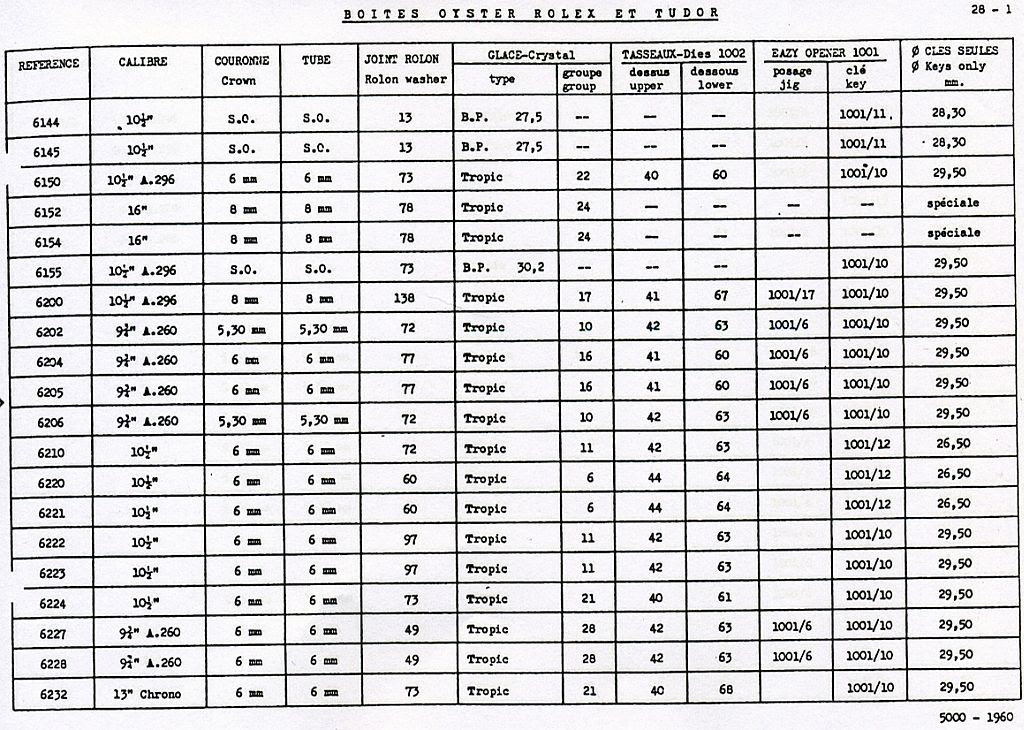 Questo esemplare riporta l'incisione sul fondello BEE: potrebbe voler significare Britisch Everest Expedition.
Un orologio attribuito alla spedizione Everest e' stato venduto da Sotheby's Londra il 19 luglio 1988 come lotto 117,
sarebbe utile confrontarlo.
This specimen shows the engraving on the back BEE might want Britisch mean Everest Expedition.
A watch given to the Everest expedition and 'was sold by Sotheby's London on 19 July 1988 as lot 117,
It would be useful to compare.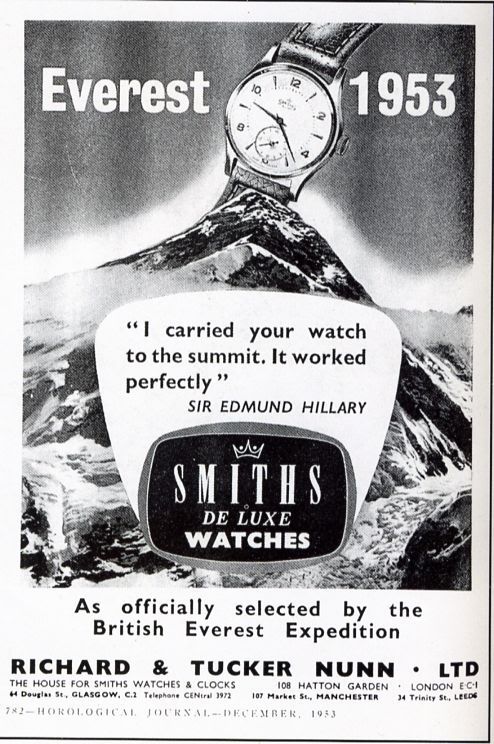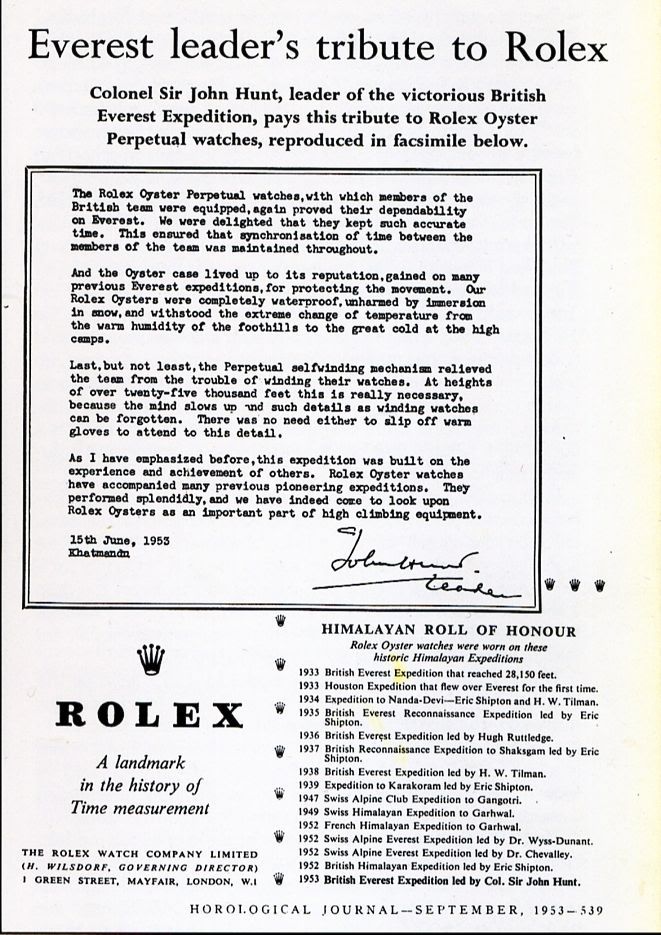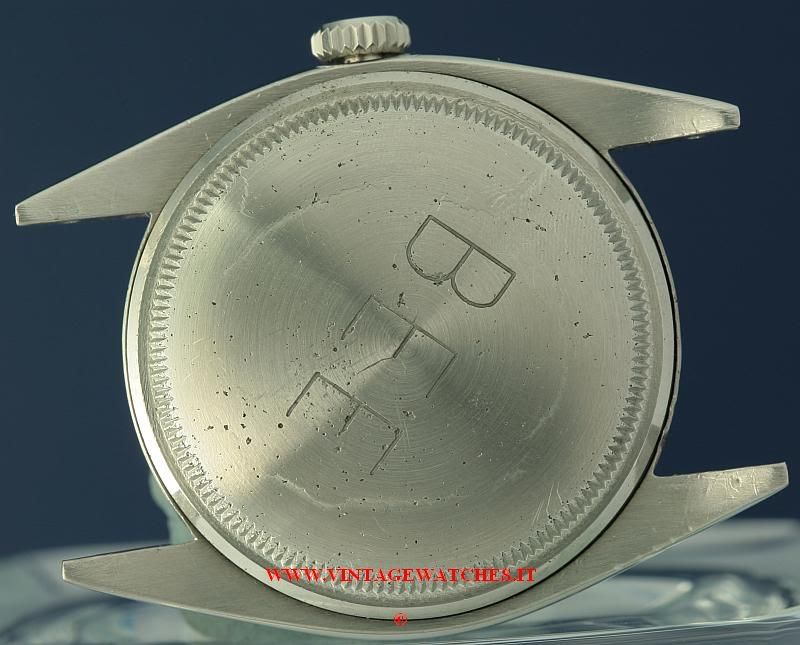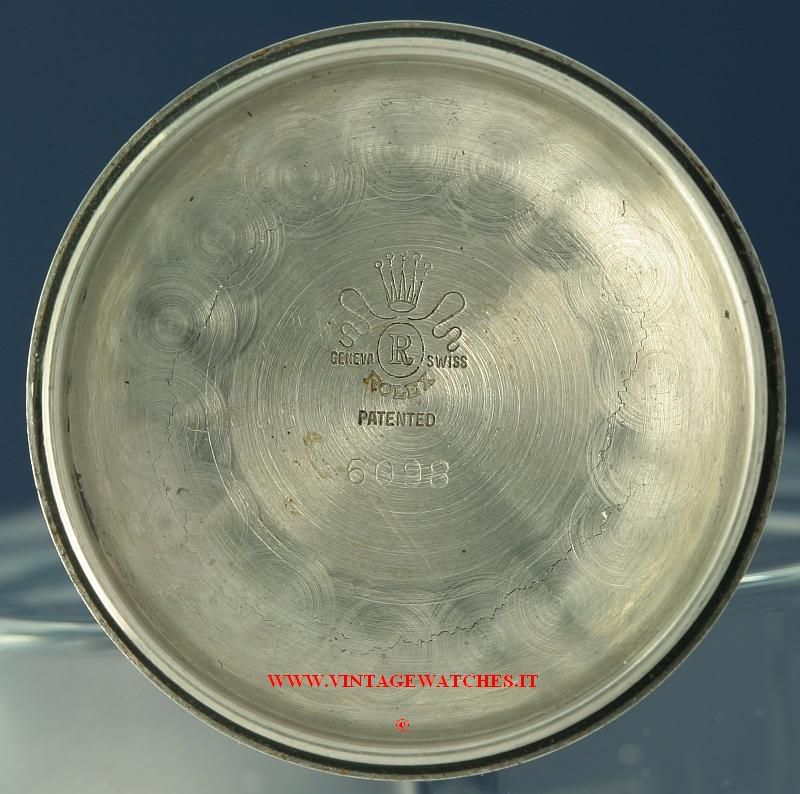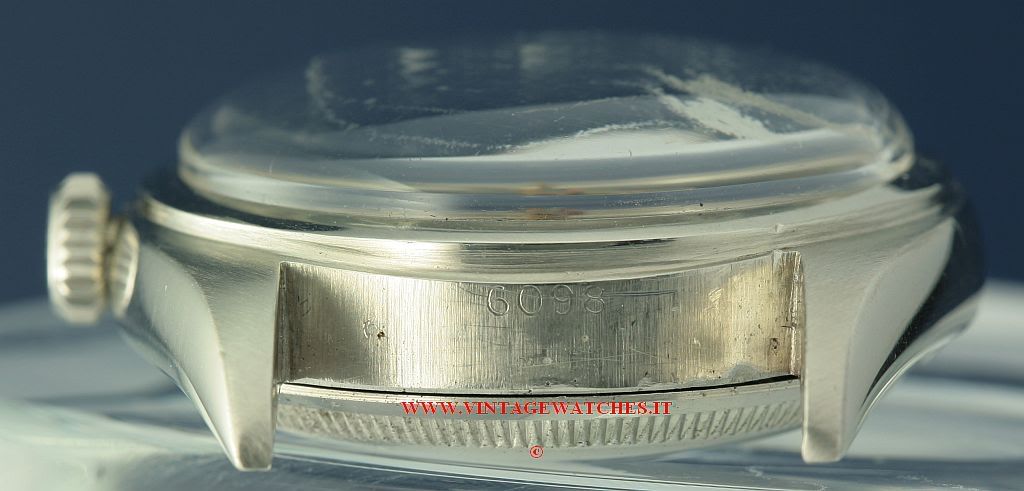 Questa referenza venne sostituita dalla ref 6298 con cassa in tre parti(cassa , ghiera, fondello) e la corona a vite +, vetro tropic 21 .
This reference was replaced by ref 6298 with the case into three parts (cash, ring, bottom) and the crown screw +, glass tropic 21.
R20 del 1963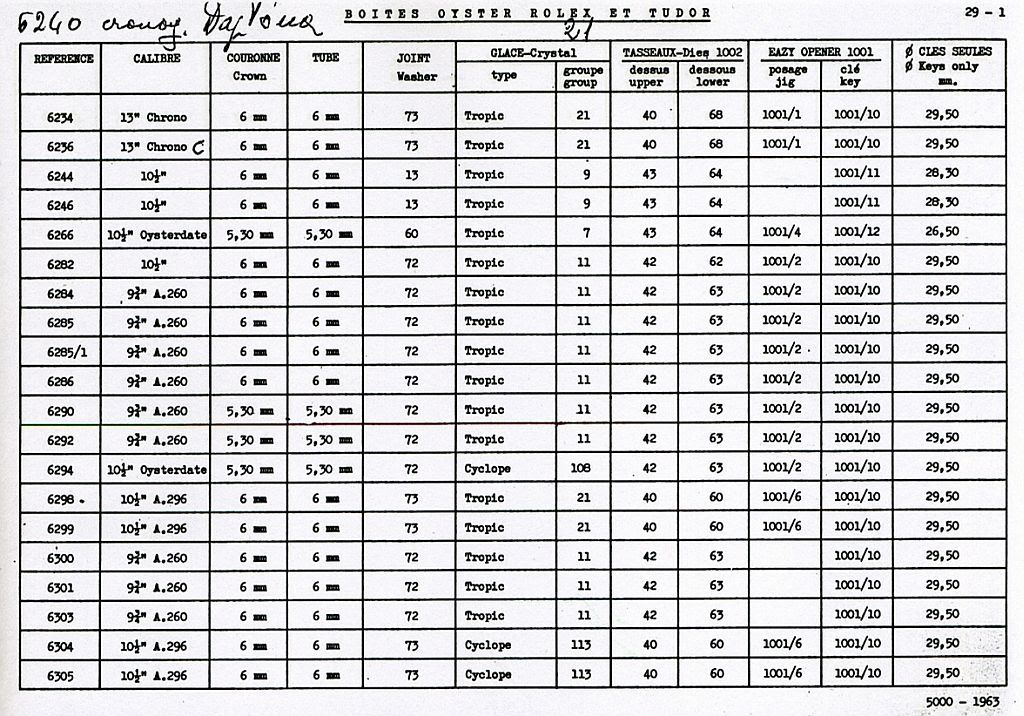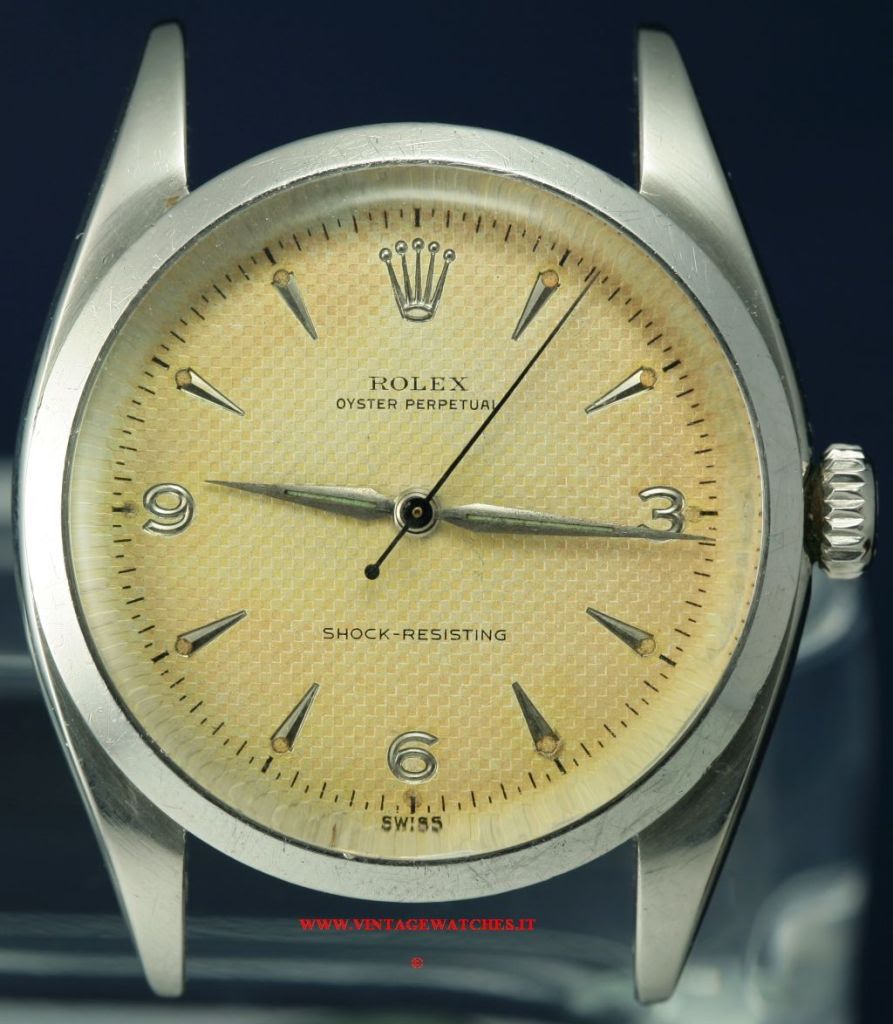 La svolta di grafica dei quadranti rispetto al design classico dell'epoca era destinata a creare un nuovo orologio di vocazione sportiva e aggressiva , cosa che non esisteva all'epoca.I quadranti erano generalmente classici ed eleganti definiti Dress.
Rolex , da tradizione ,sempre attenta e presente agli eventi creo' il primo Rolex sportivo mai prodotto : l'EXPLORER.
L a dicitura Explorer comincio' ad apparire sui quadranti dal 1953, anno della conquista dell' Everest.
Il successo dell'impresa e dell' orologio fu immediato, ma non tutti erano pronti per una grafica e un immagine cosi' aggressiva e diversa dall'usuale del periodo , pero' non volevano rinunciare a possedere un orologio di tendenza quindi Rolex produsse altri quadranti con grafiche varie con la dicitura Explorer(dress) o con il look Explorer.
La referenza successiva 6150, evoluzione della precedente differisce per avere la cassa a tre corpi , ghiera- cassa- fondello, corona a vite da 6mm marchiata + con "vetro" tropic 22(con ovvie modifiche di ghiera e cassa per alloggiarlo), solito calibro A296, ha svariati quadranti dedicati, con e senza la scritta Explorer:
The turning graphics of th dials compared to the classic design of that was to create a new watch vocation and aggressive sports, which did not exist at that time. The dials were generally defined classic and elegant Dress.
Rolex, by tradition, always attentive and present events to create 'the first ever Rolex Sports Product: EXPLORER.
The words began Explorer 'to appear on dials from 1953, the year of the conquest of' Everest.
The success and the watch was immediate, but not everyone was ready for a graphics and image as an' aggressive and different from the period, but 'did not want to give up have a tendency watch Rolex then produced other dials with various graphics with the words Explorer (dress) or with the look Explorer.
The next reference 6150, the previous trend differs for the cash three bodies, ring-cash-bottom, screw crown marked by 6mm + with "glass" tropic 22 (with obvious changes gear and case ), usually caliber A296, has devoted several dials with and without the written Explorer: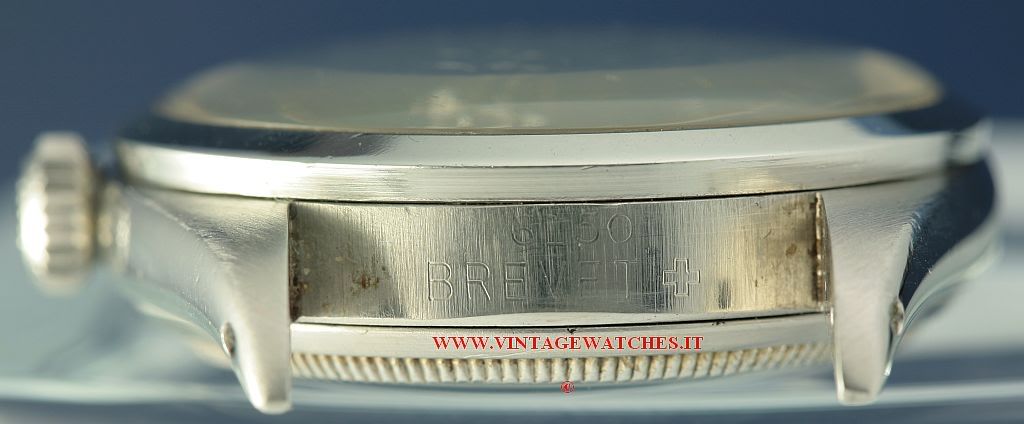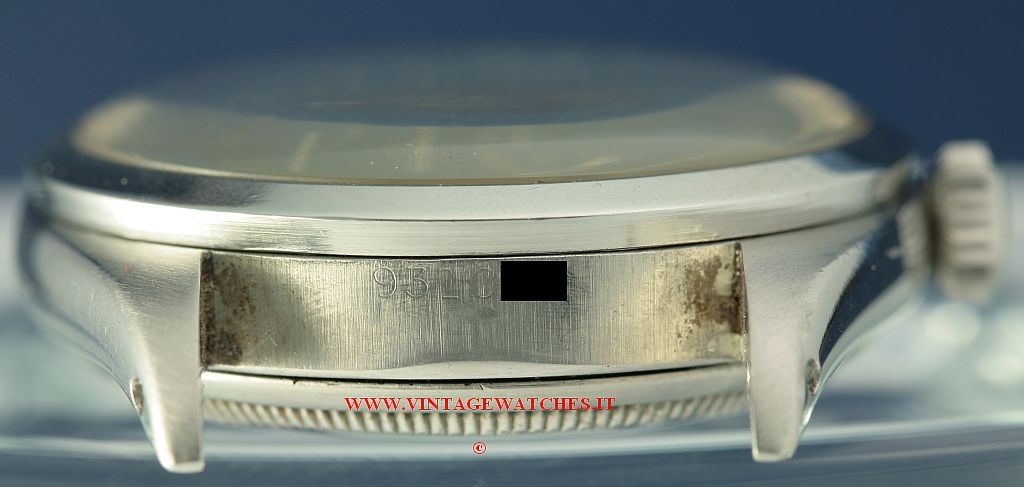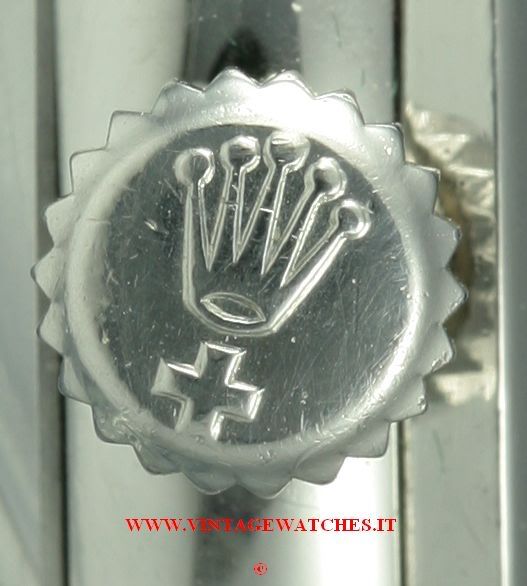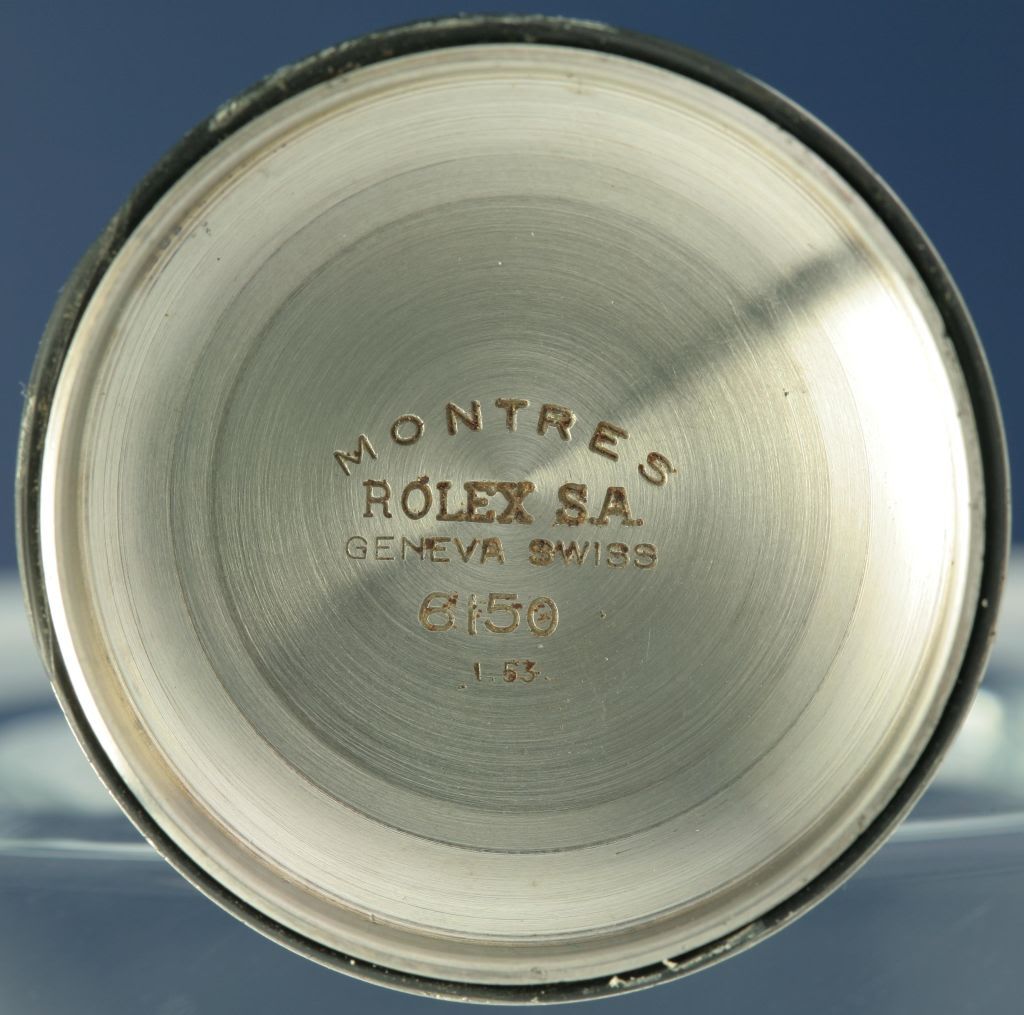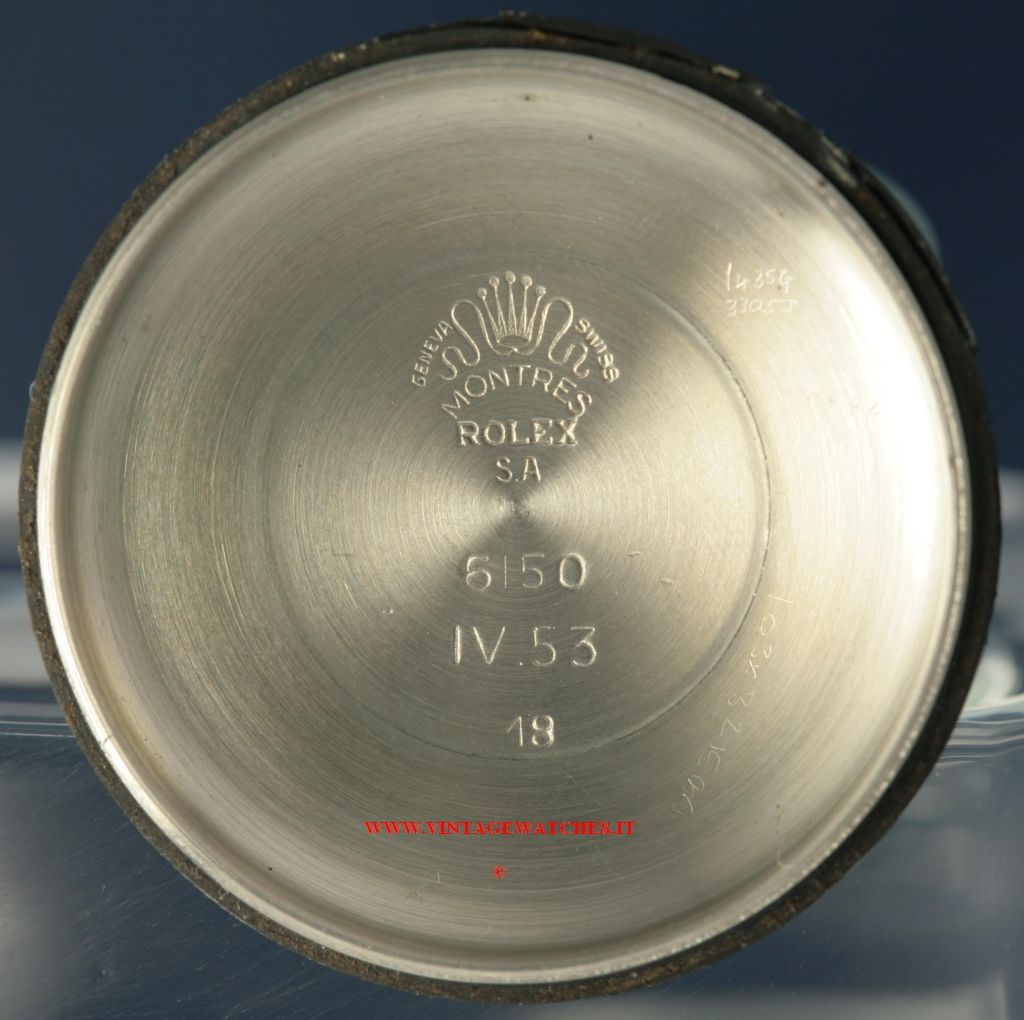 Quadrante EXPLORER face con solo scritta Precision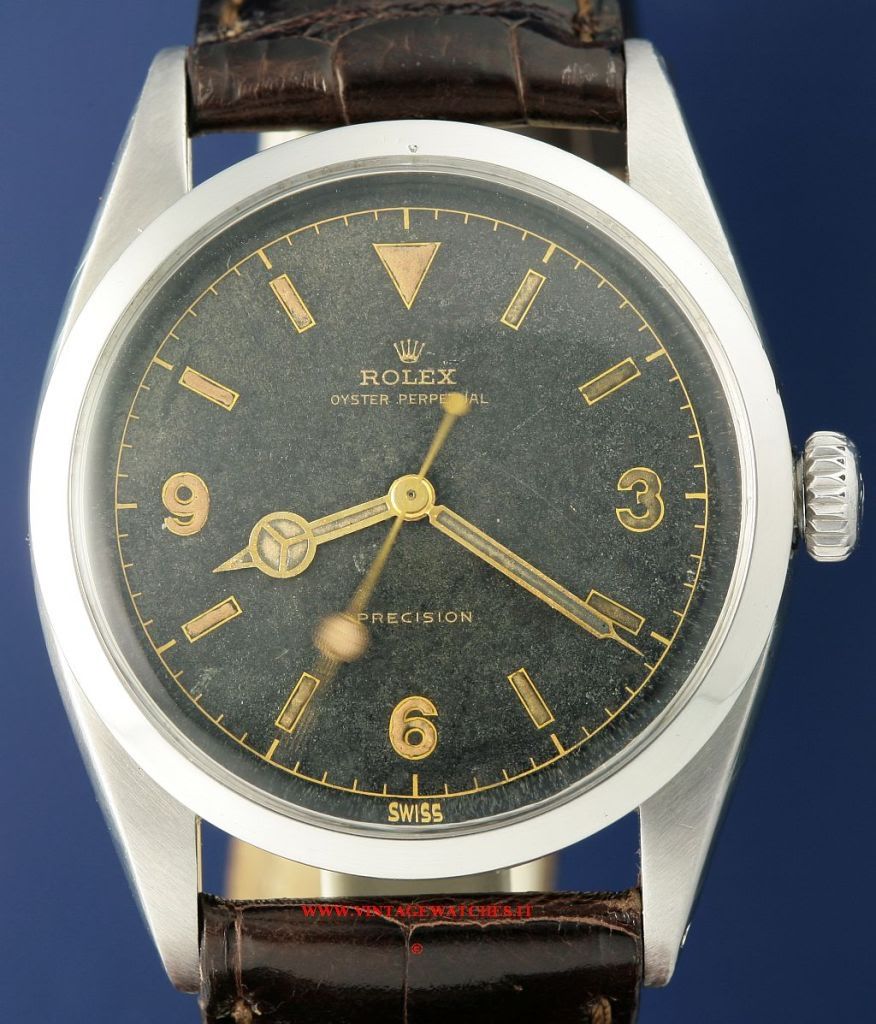 Quadrante EXPLORER face con scritta Explorer in alto( sfere successive)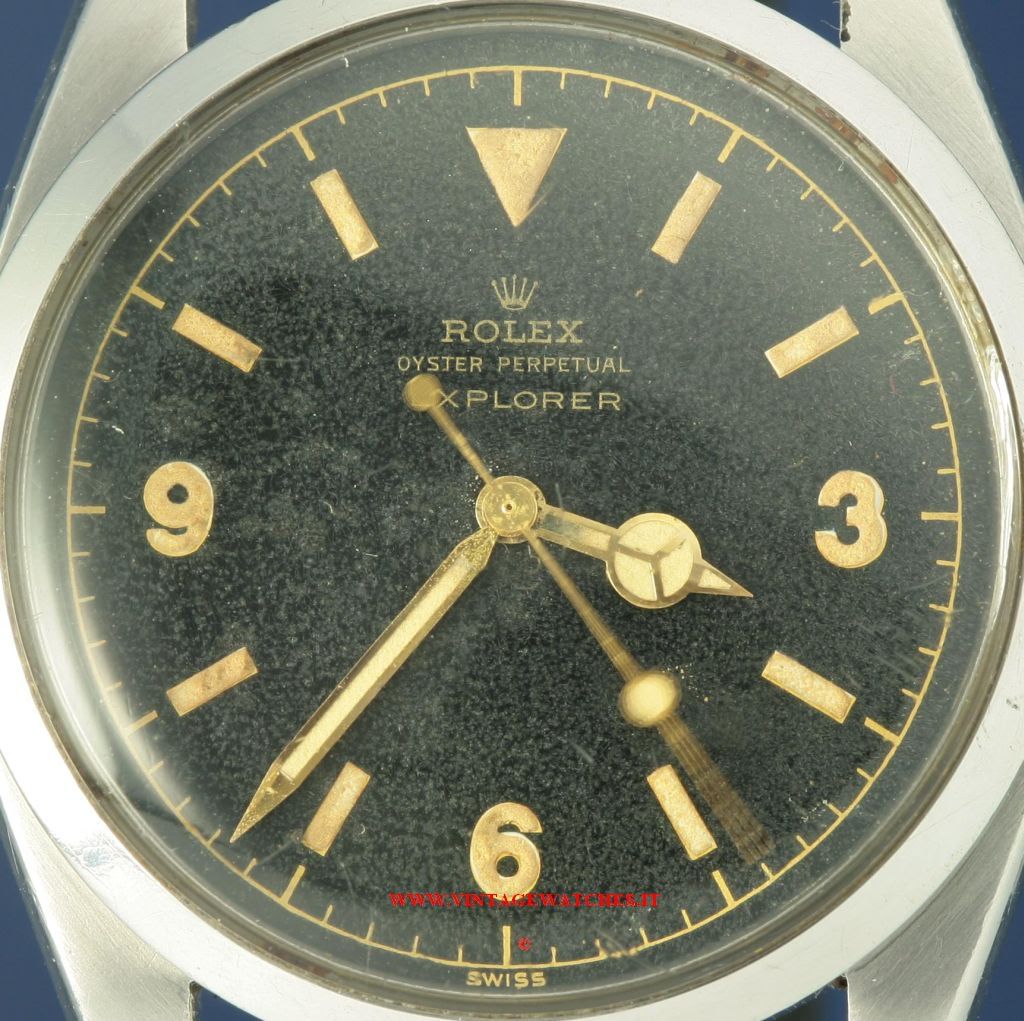 Quadrante EXPLORER con scritta Explorer in basso:
EXPLORER dial written with Explorer below: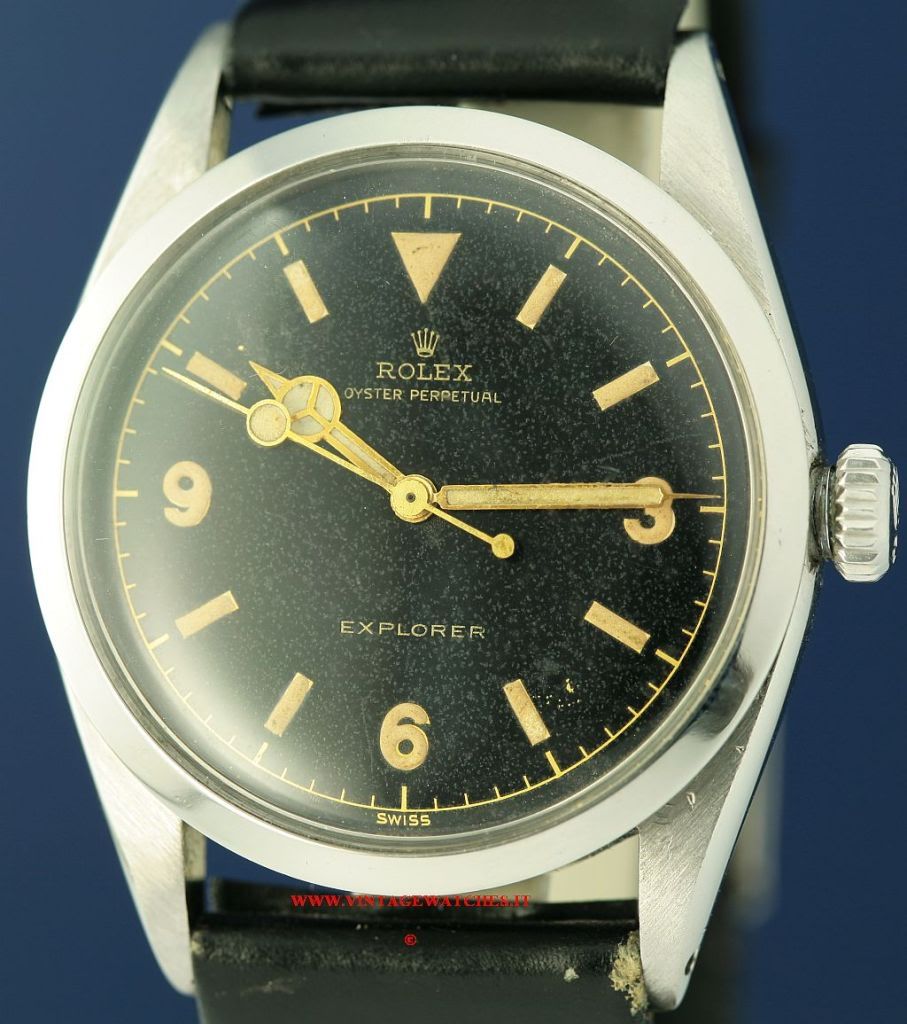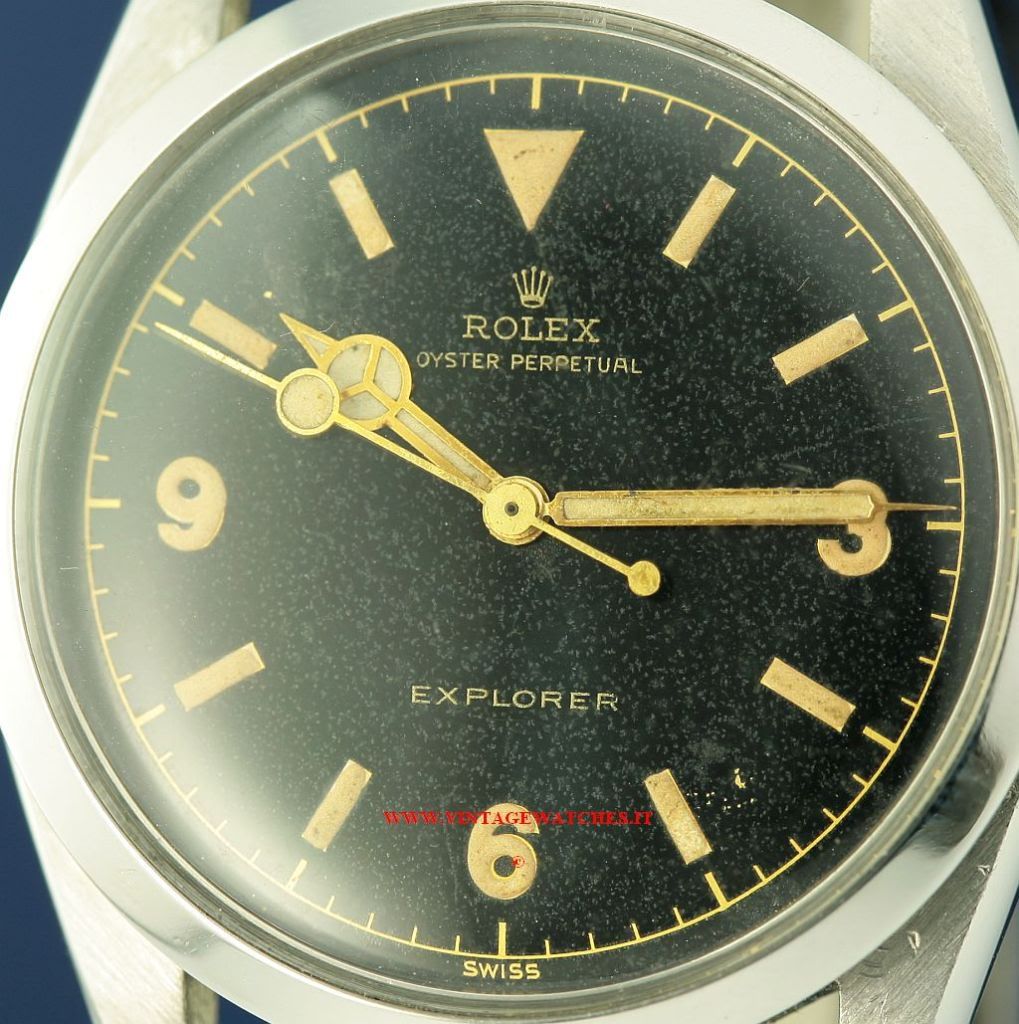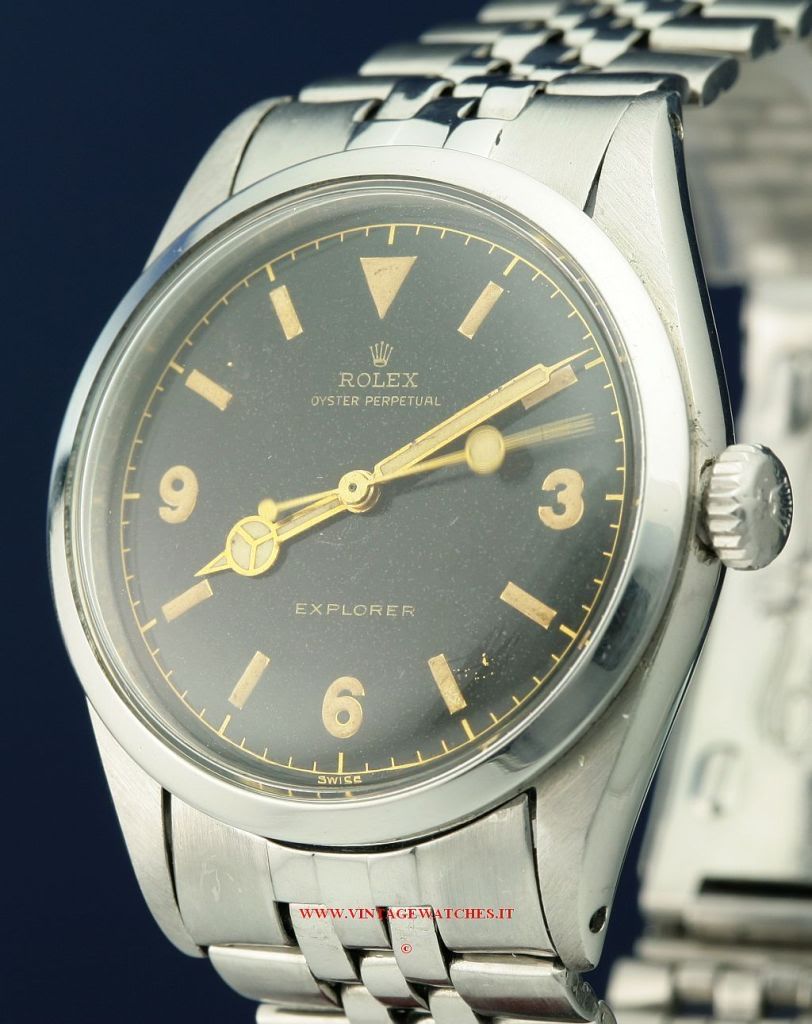 .. alcuni quadranti dress:
..some dress dials: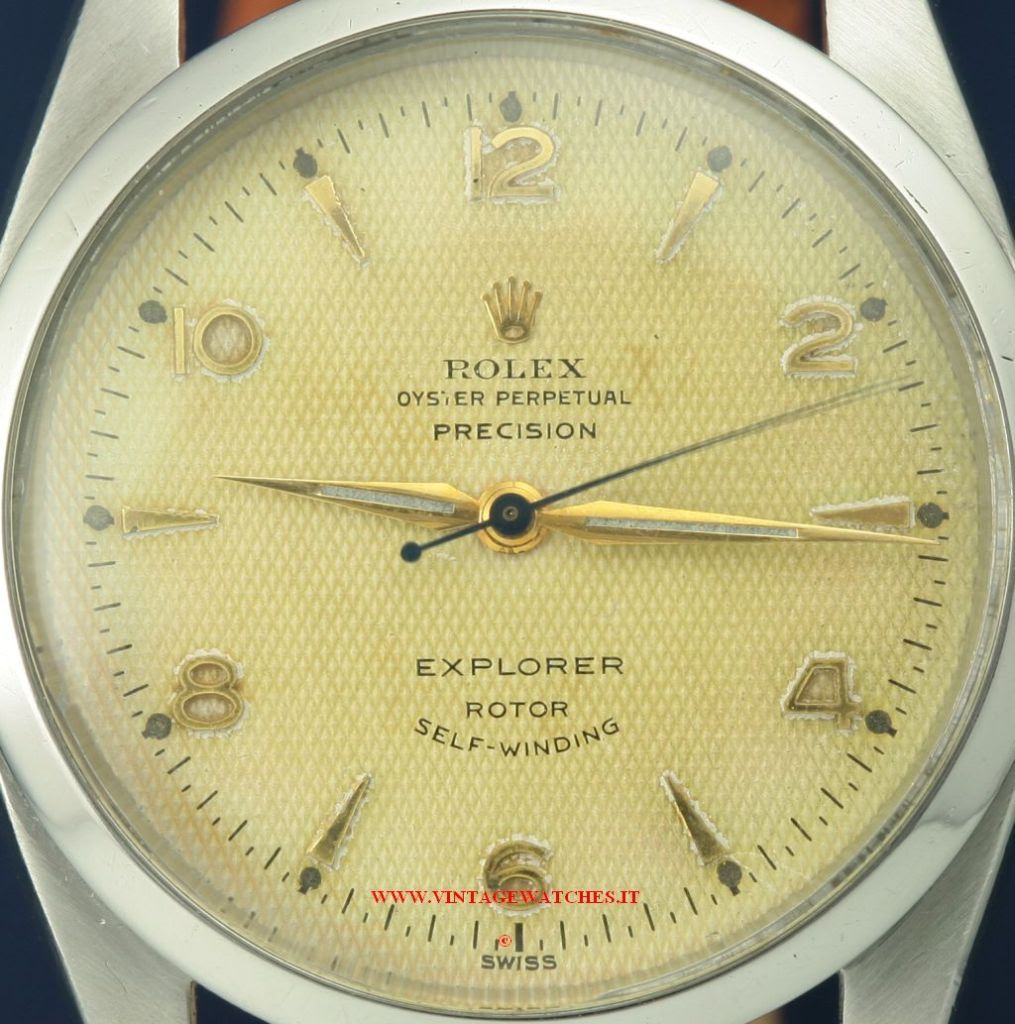 Insieme alla referenza 6150 era prodotta la 6350 che differiva principalmente per il movimento cronometrico: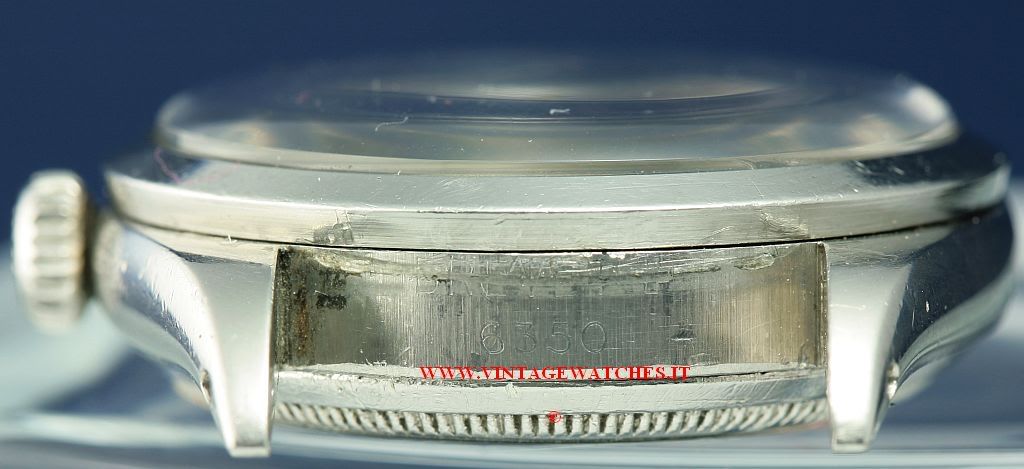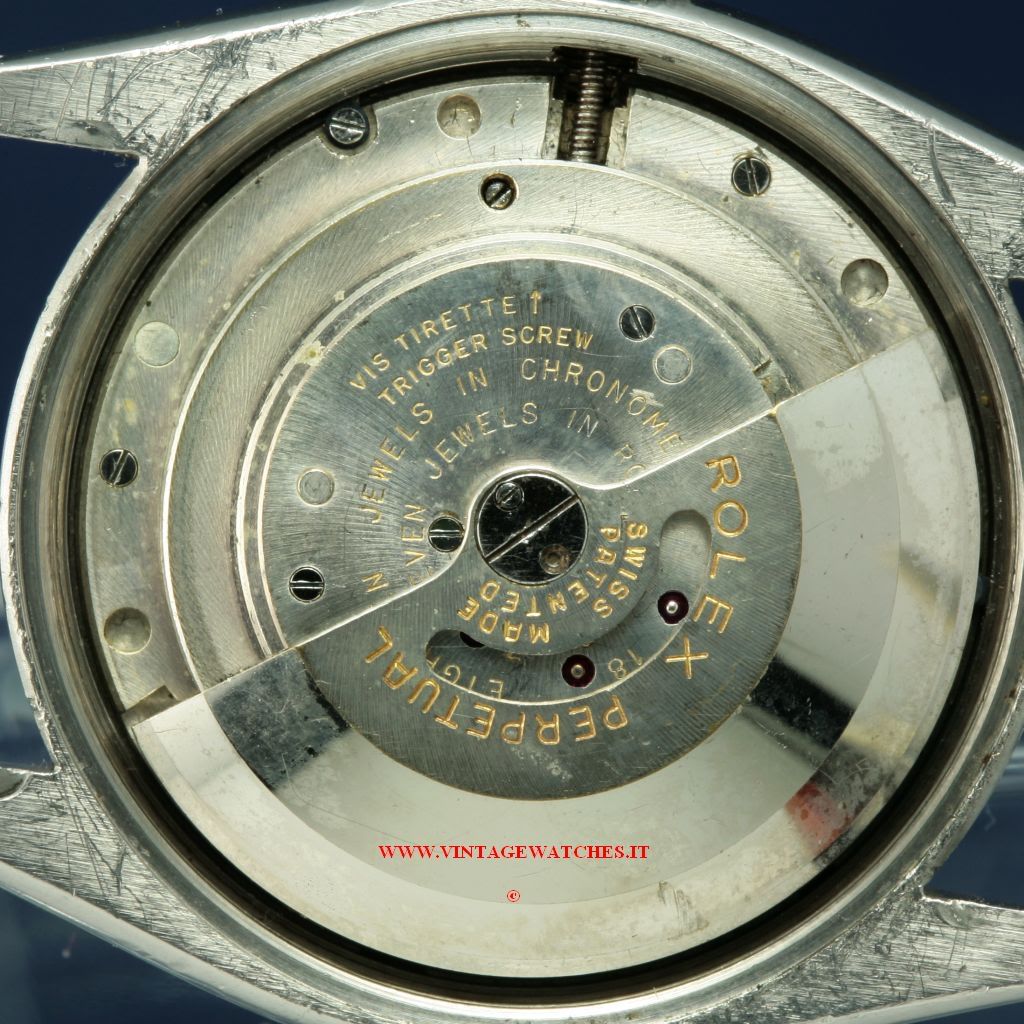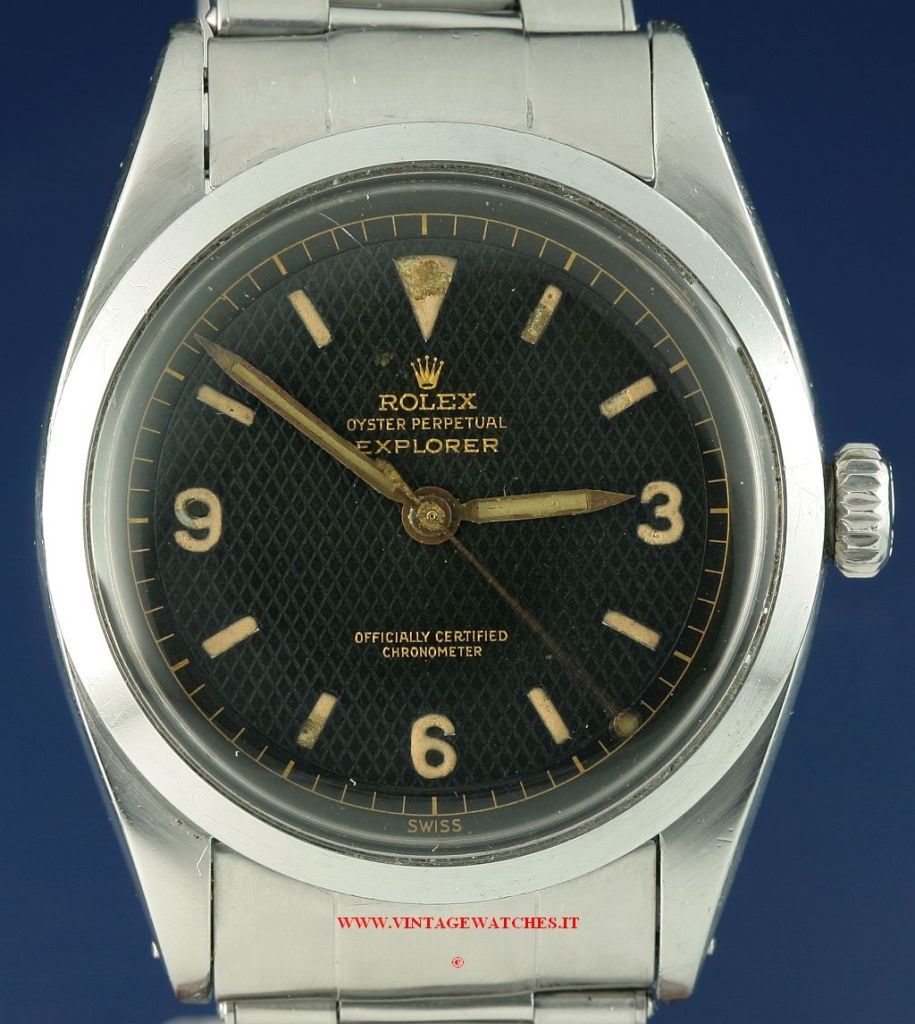 Nel 1954 venne prodotta in pochissimi esemplari la ref . 6352.
Raro orologio con certificazione cronometrica, differisce dalla ref 6350 per cassa ,ghiera , vetro e quadrante dimensionati diversamente.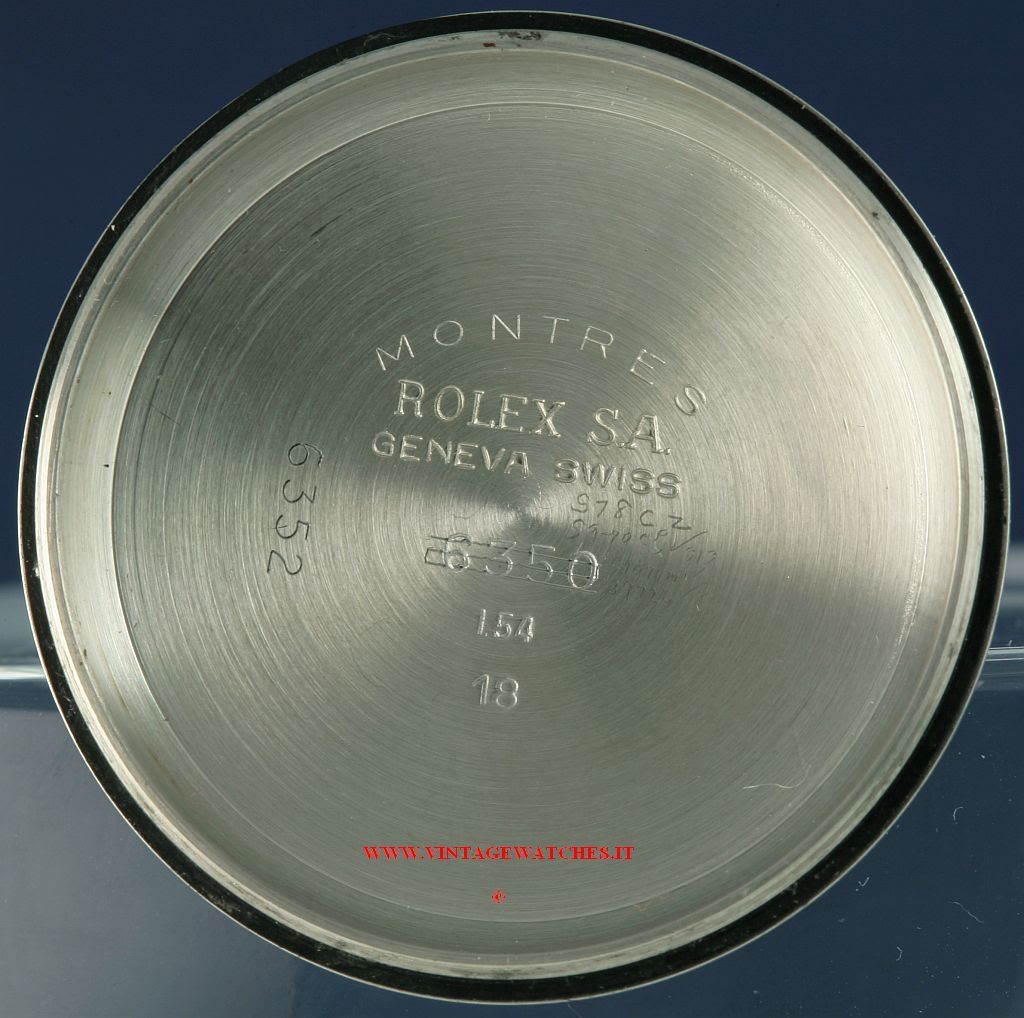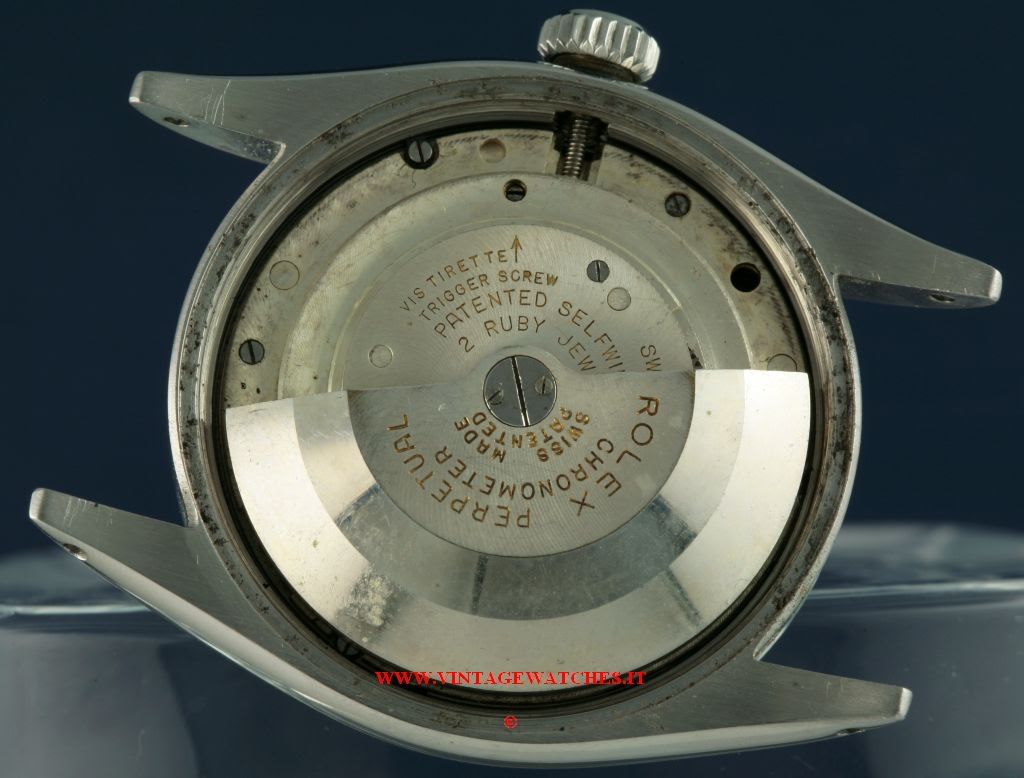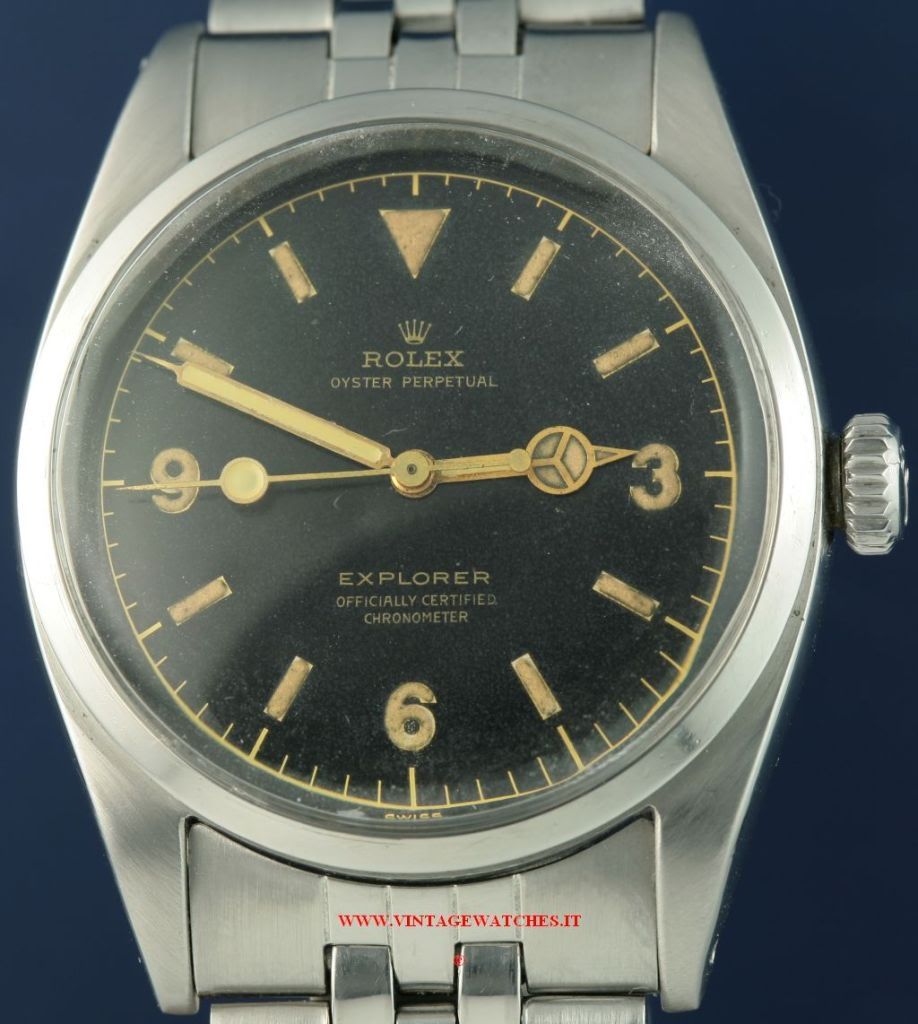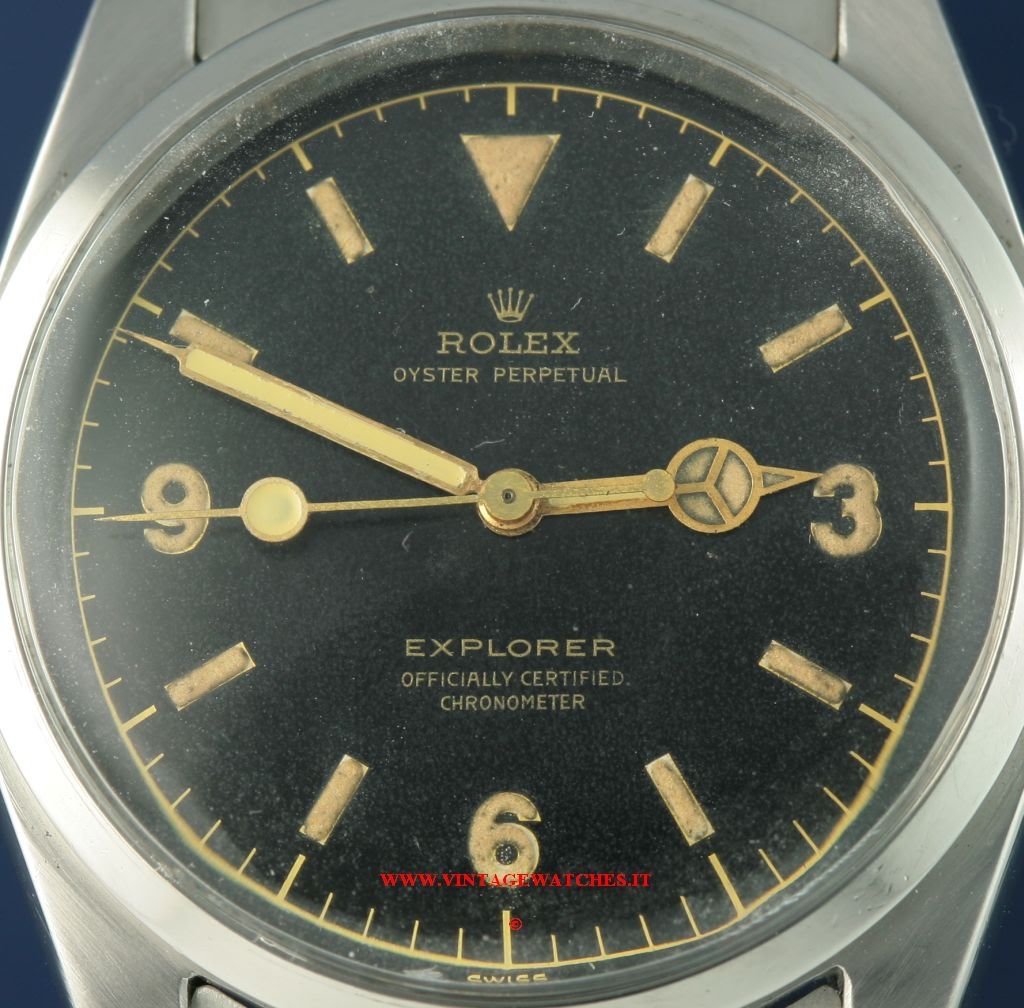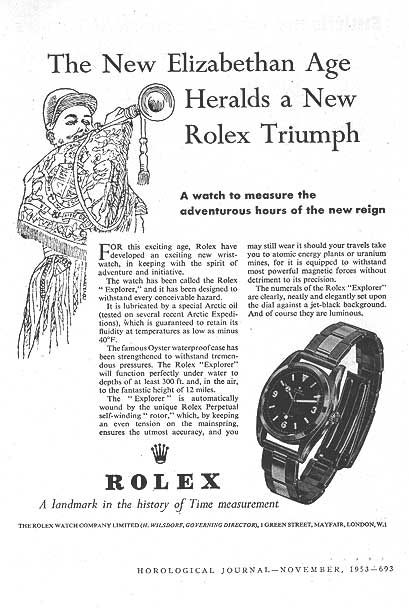 R 20 del 1960: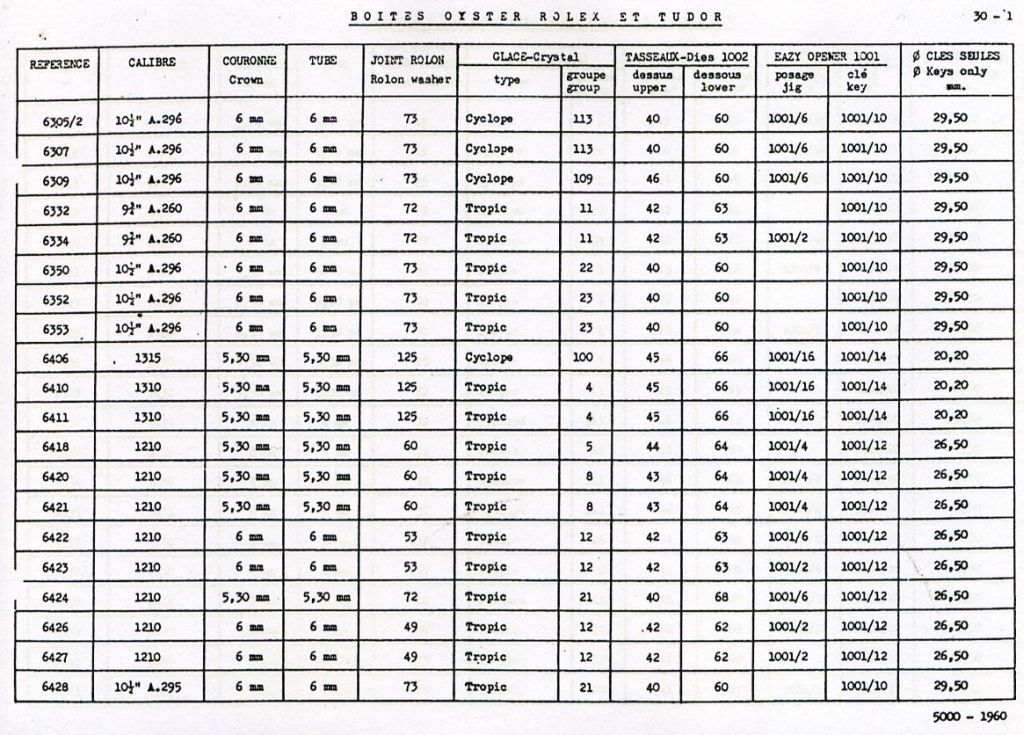 Verso la meta' degli anni 50 venne prodotto il nuovo cal. 1030 . L'EXPLORER venne completamente ridisegnato e prese la referenza 6610 ,ecco alcuni esempi: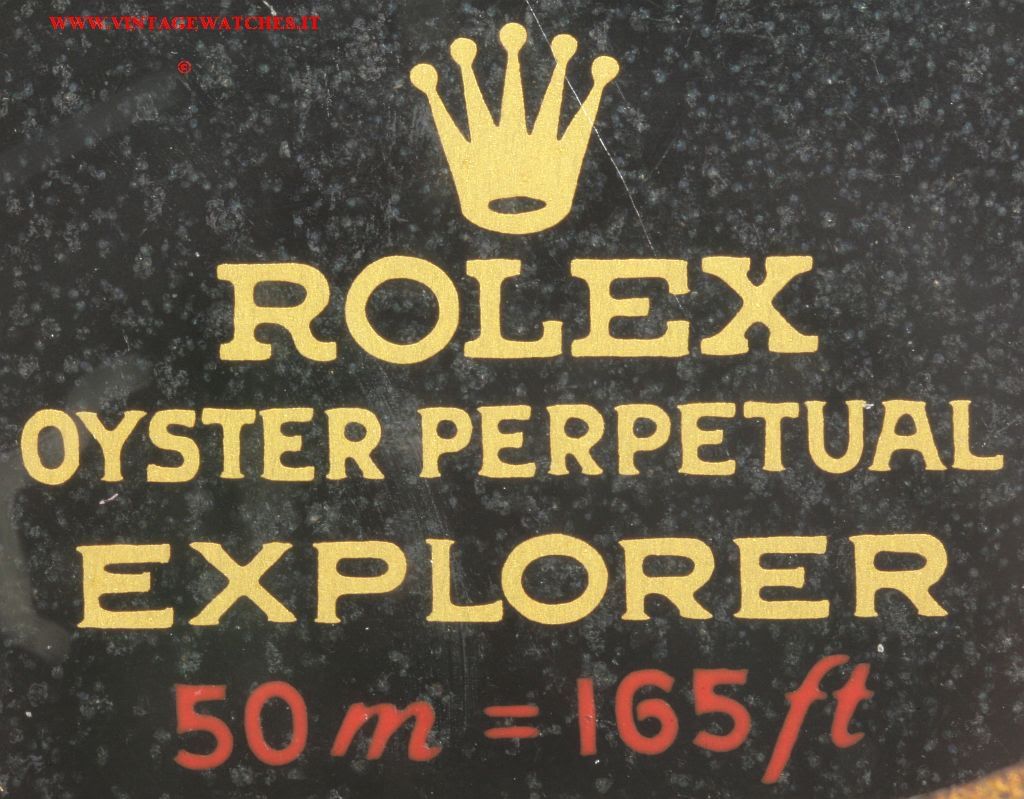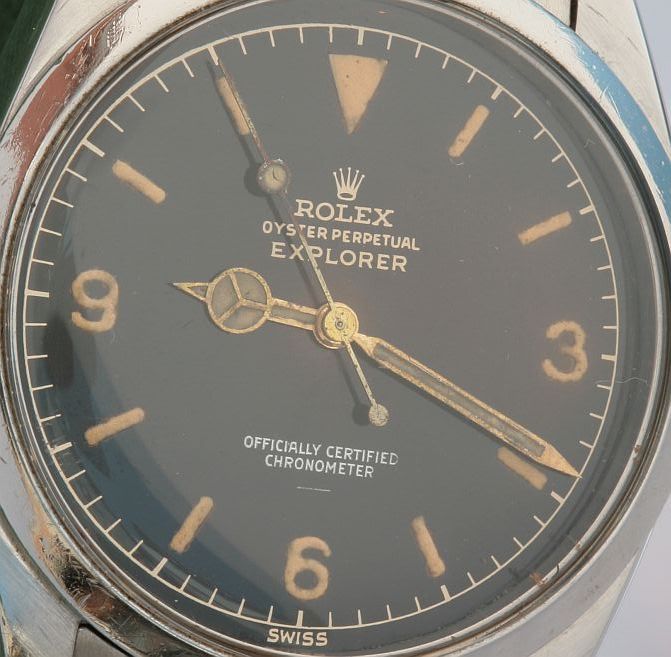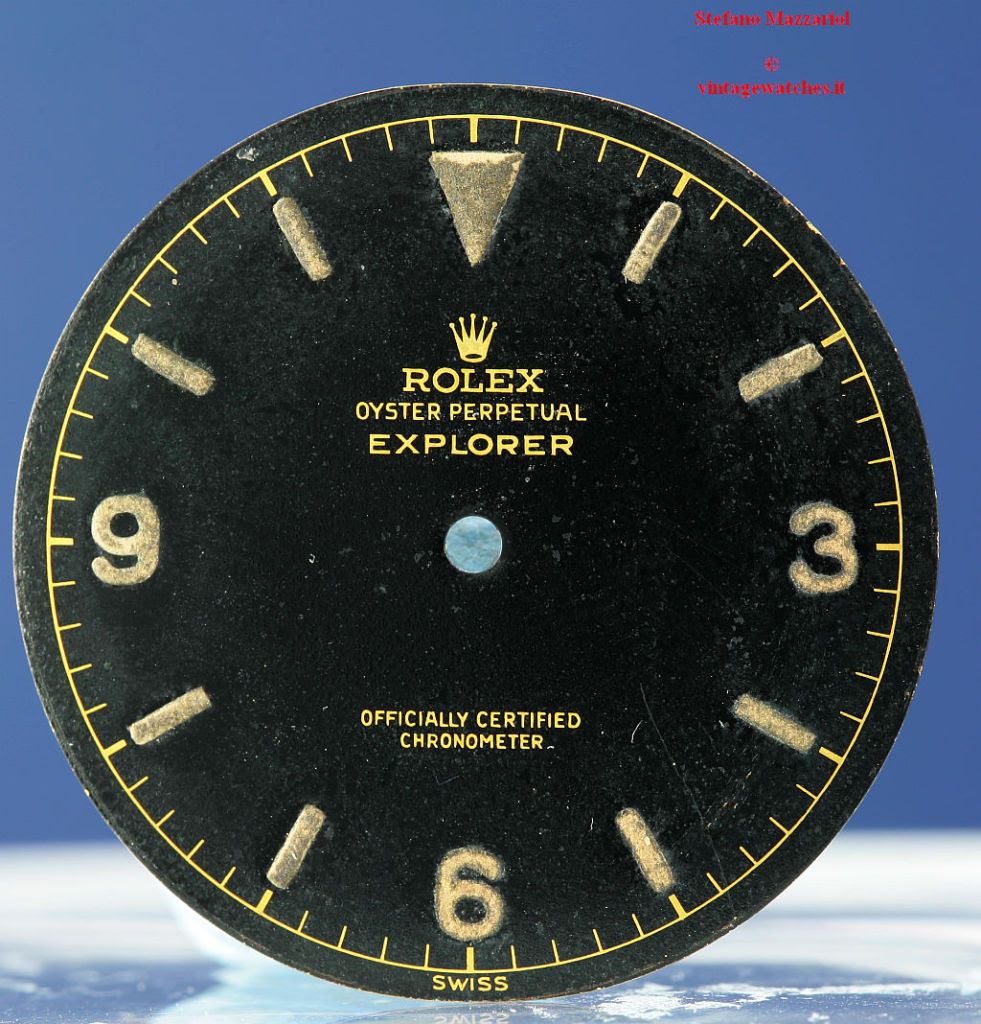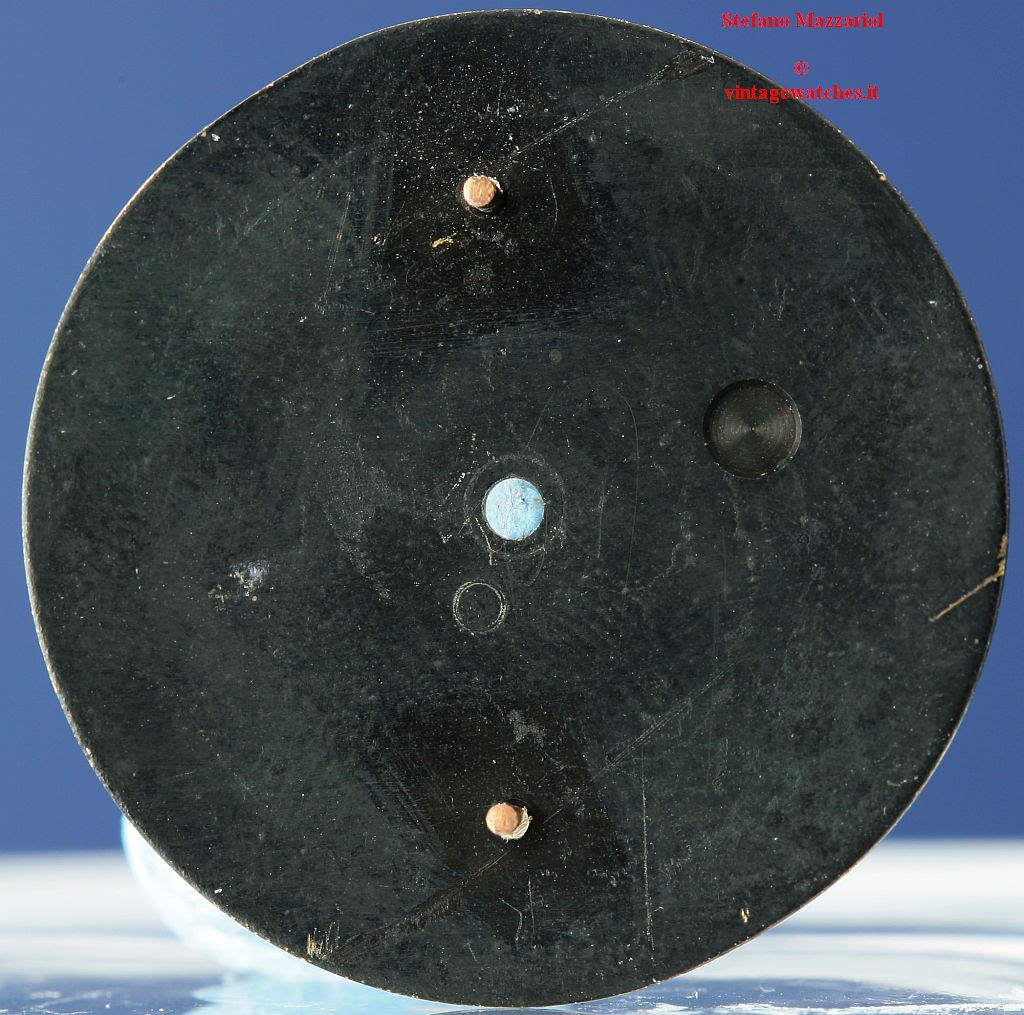 R 20 del 1960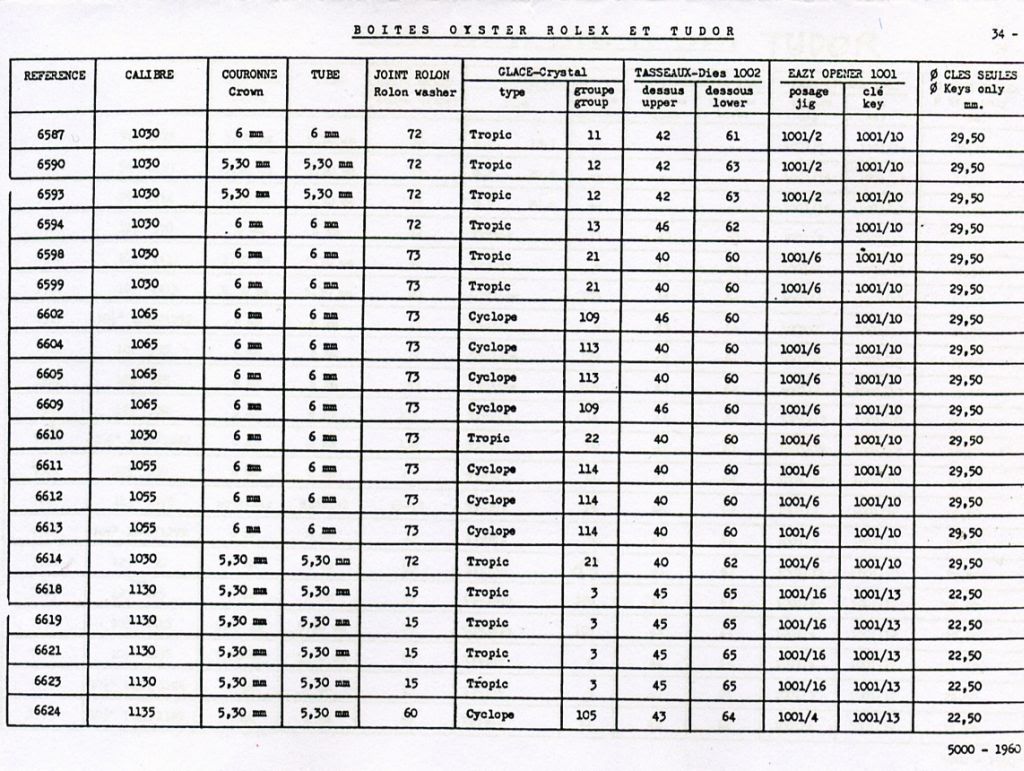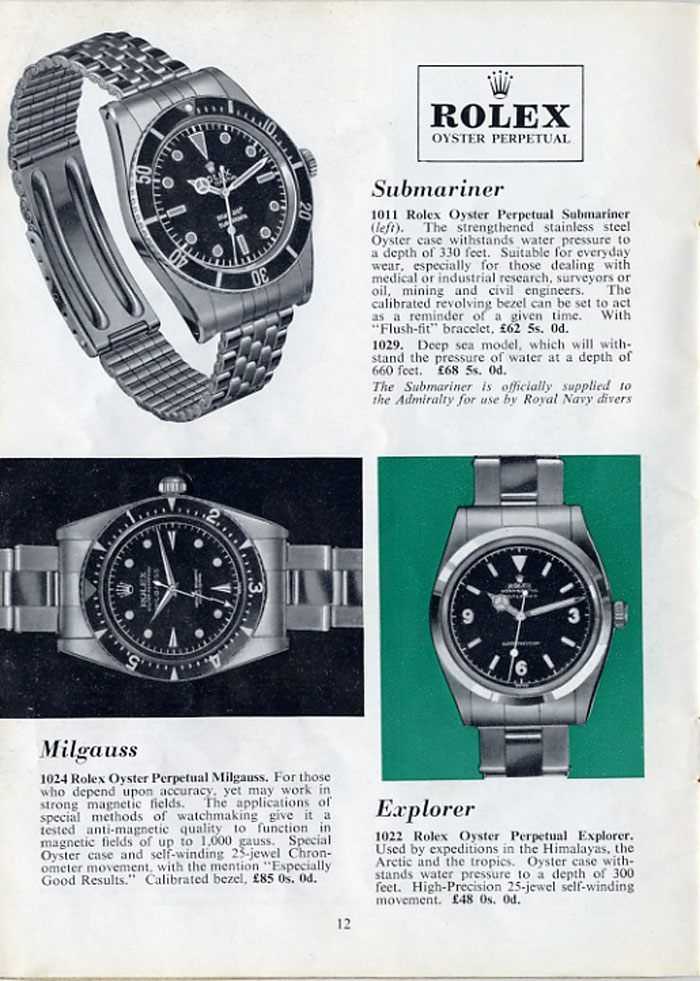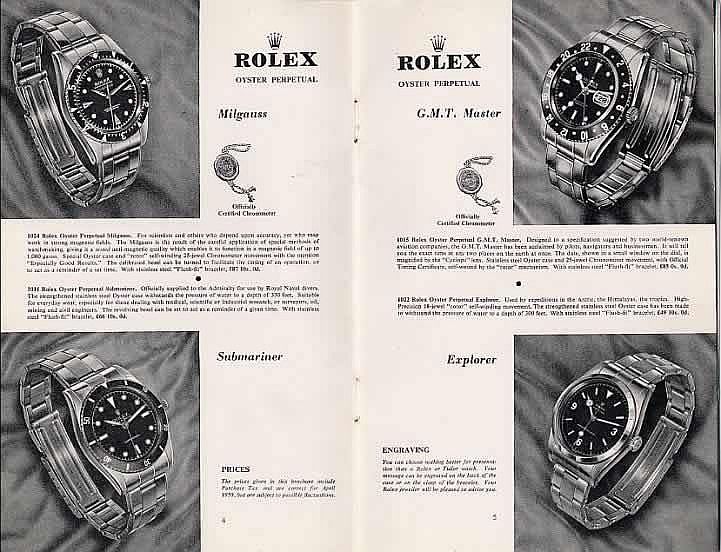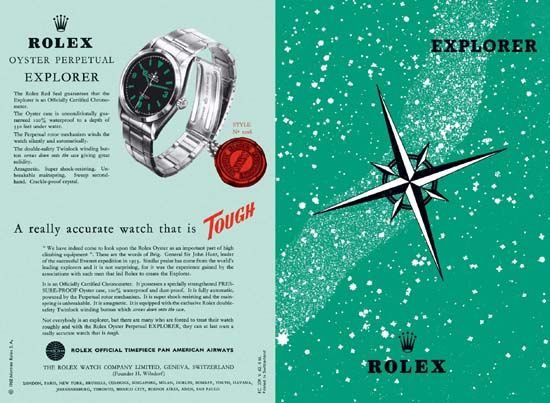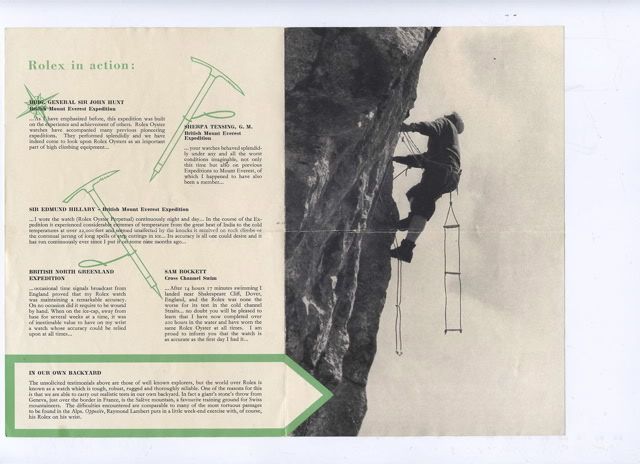 Alla fine degli anni 50 , Rolex introduce il nuovo calibro 1530, nel ns caso 1560,l'EXPLORER viene nuovamente modificato per accogliere il nuovo movimento, nasce cosi la ref 1016 che ci accompagnera' alla soglia degli anni 90.
At the end of 50 years, the Rolex introduces new calibre 1530, in our case 1560, the EXPLORER is again modified to accept the new movement was born as the ref 1016 that accompany us' on the threshold of 90 years.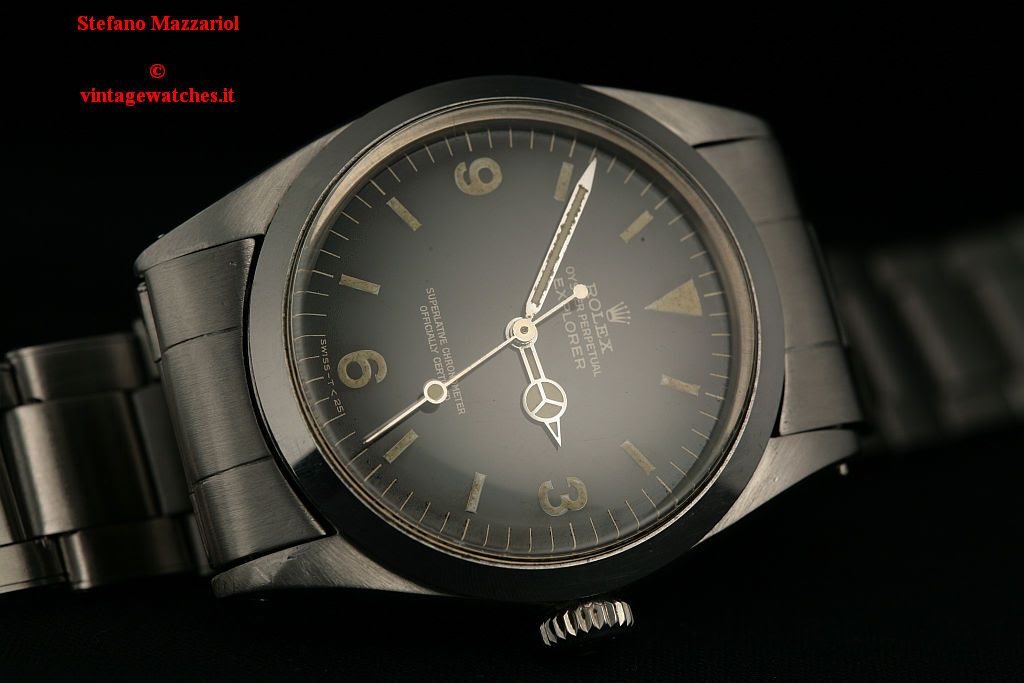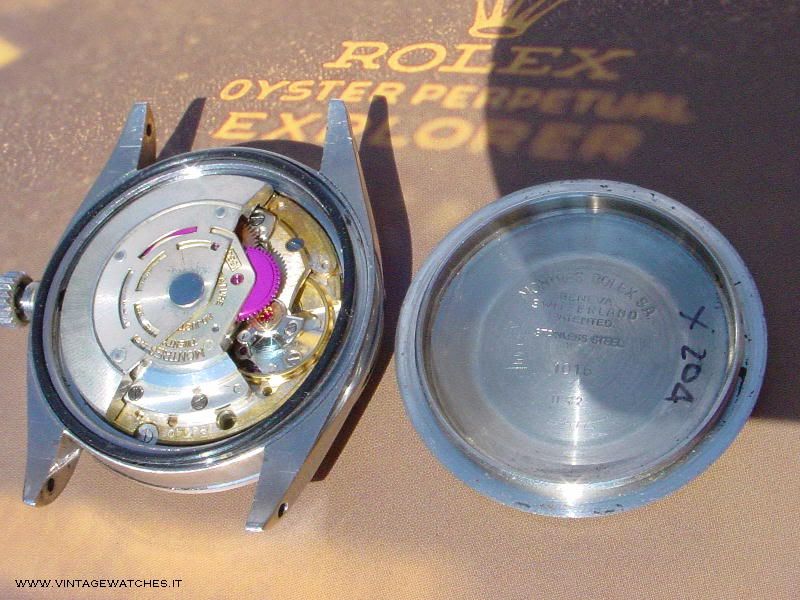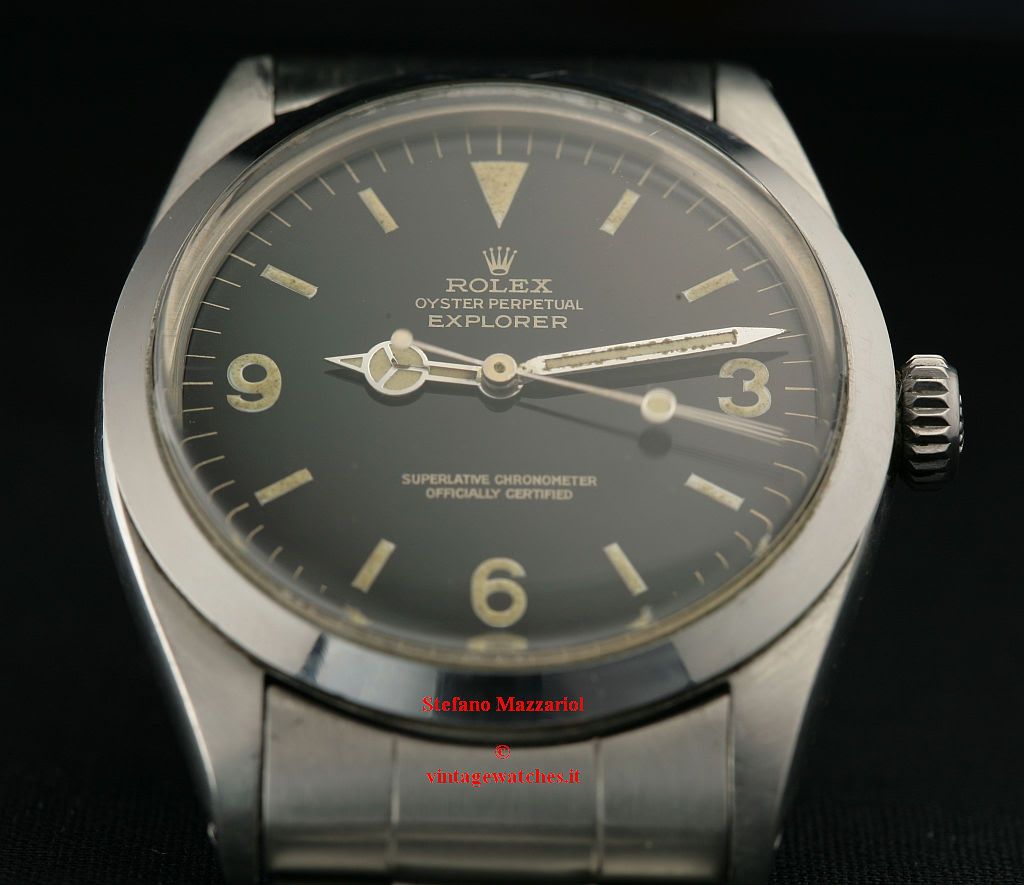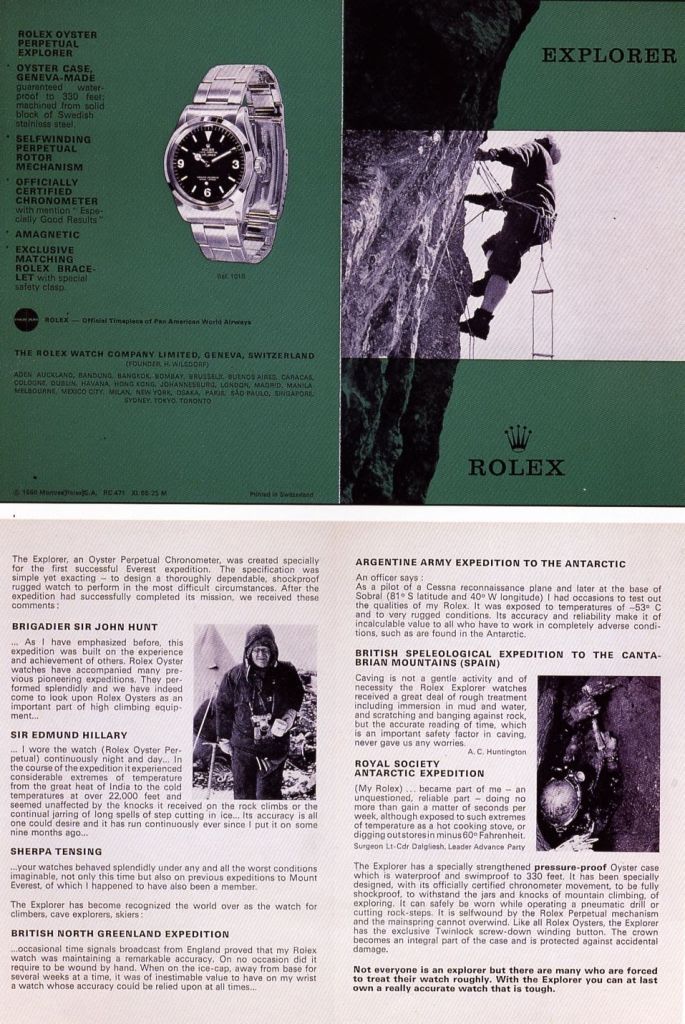 ..vennero prodotti con quadrante EXPLORER anche le seguenti referenze :5500, 5700, 5504.Ecco alcuni esempi trovati in rete:
... Were produced with EXPLORER dials the following references: 5500, 5700, 5504.There are some examples found online:
5500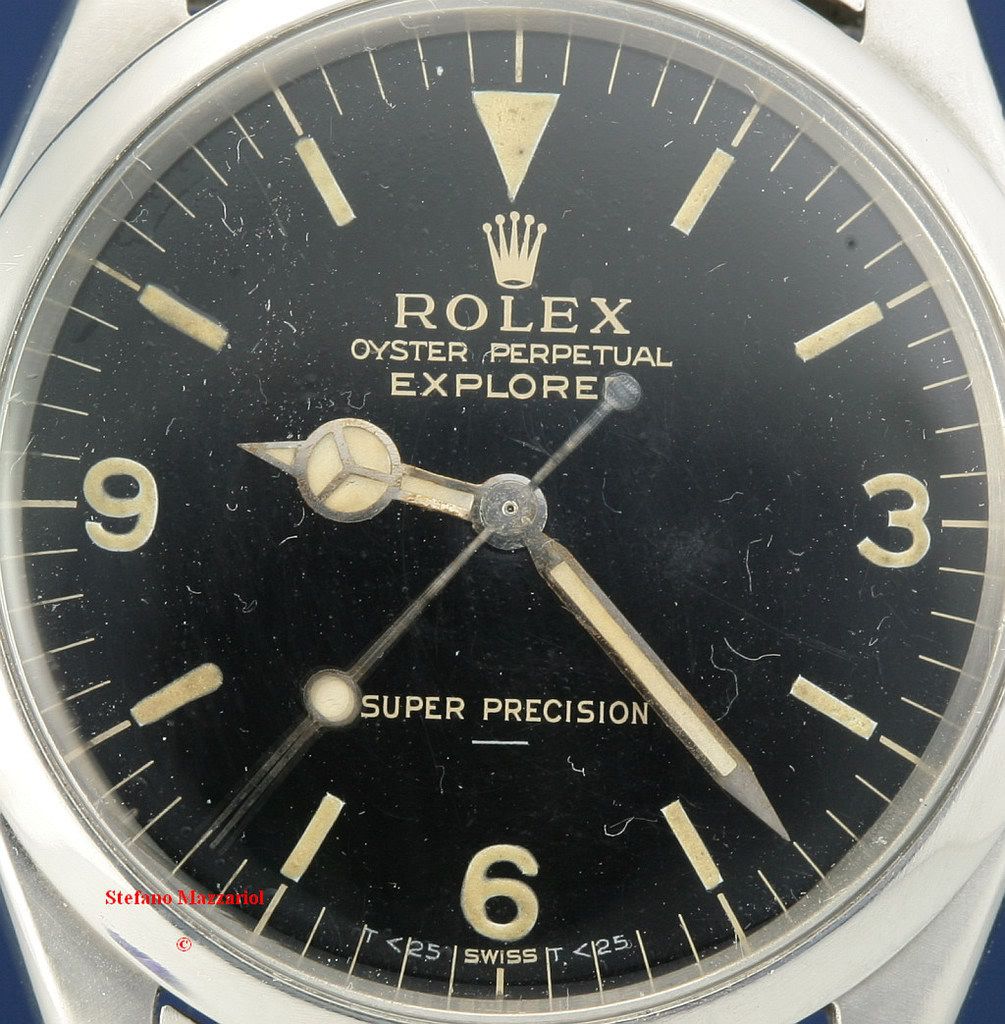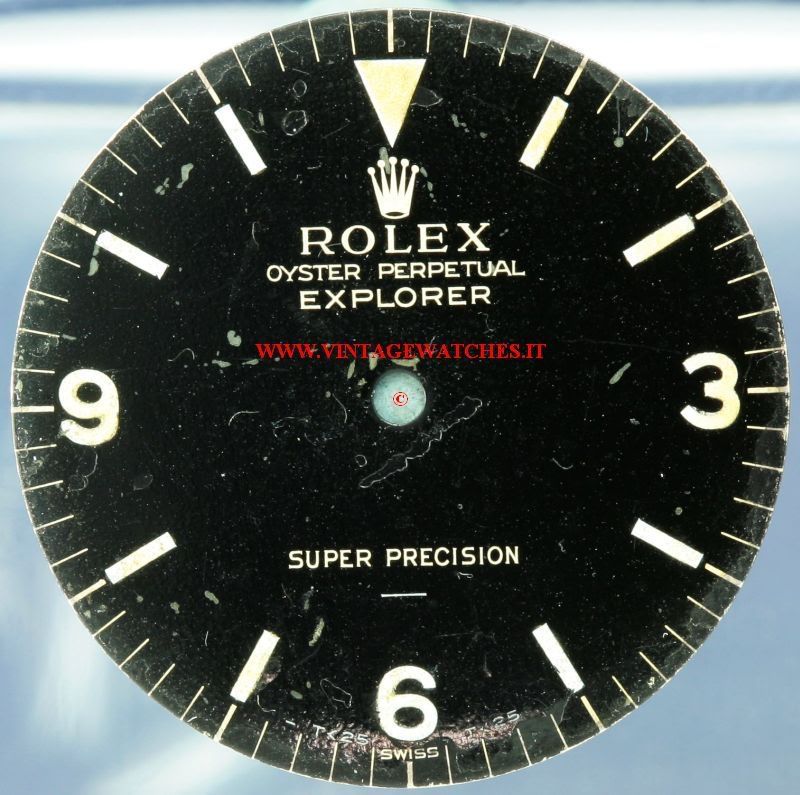 1002 in oro 14Kt (foto Rolexmax)
5504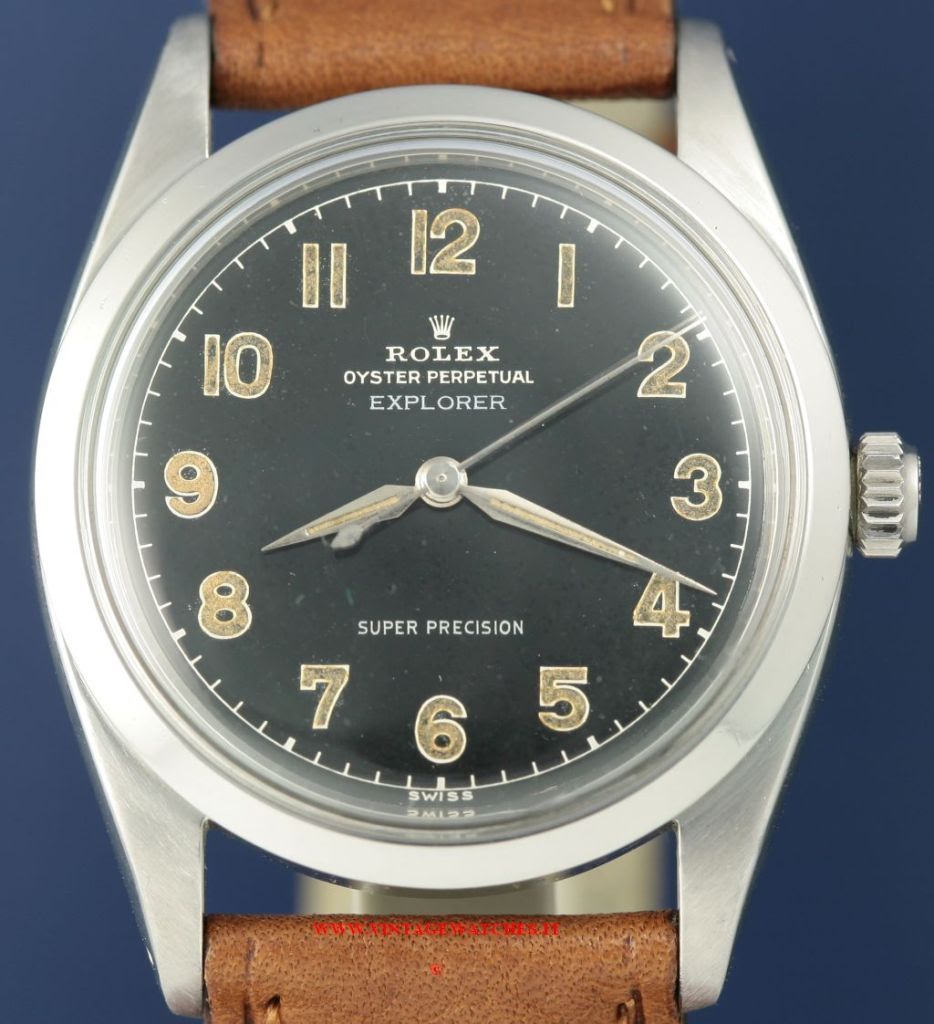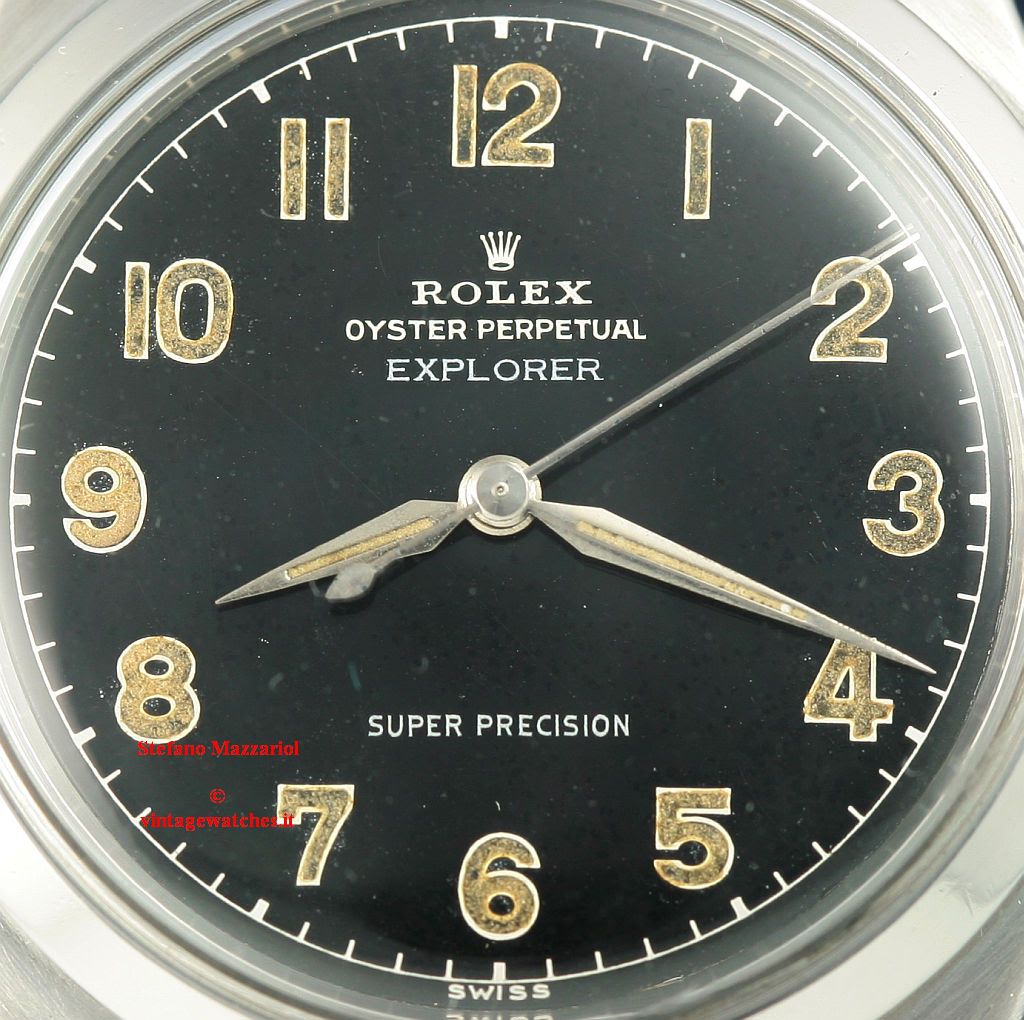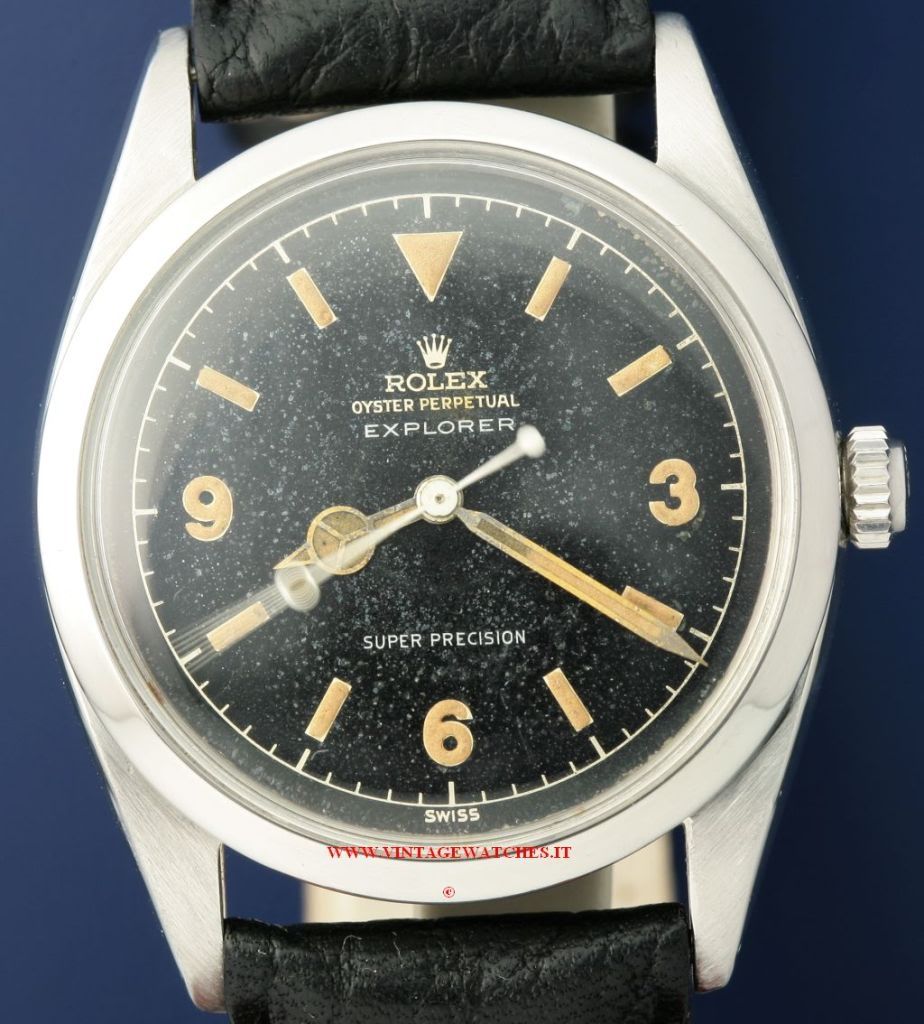 5504 Everest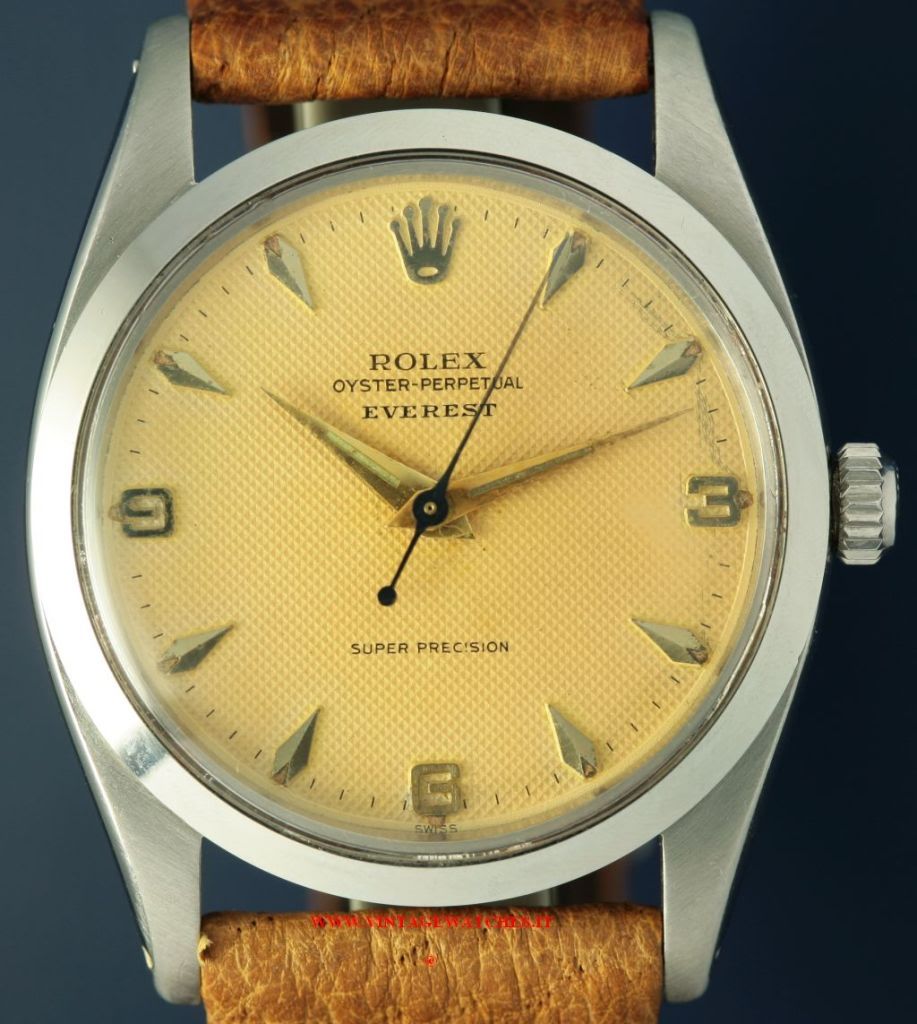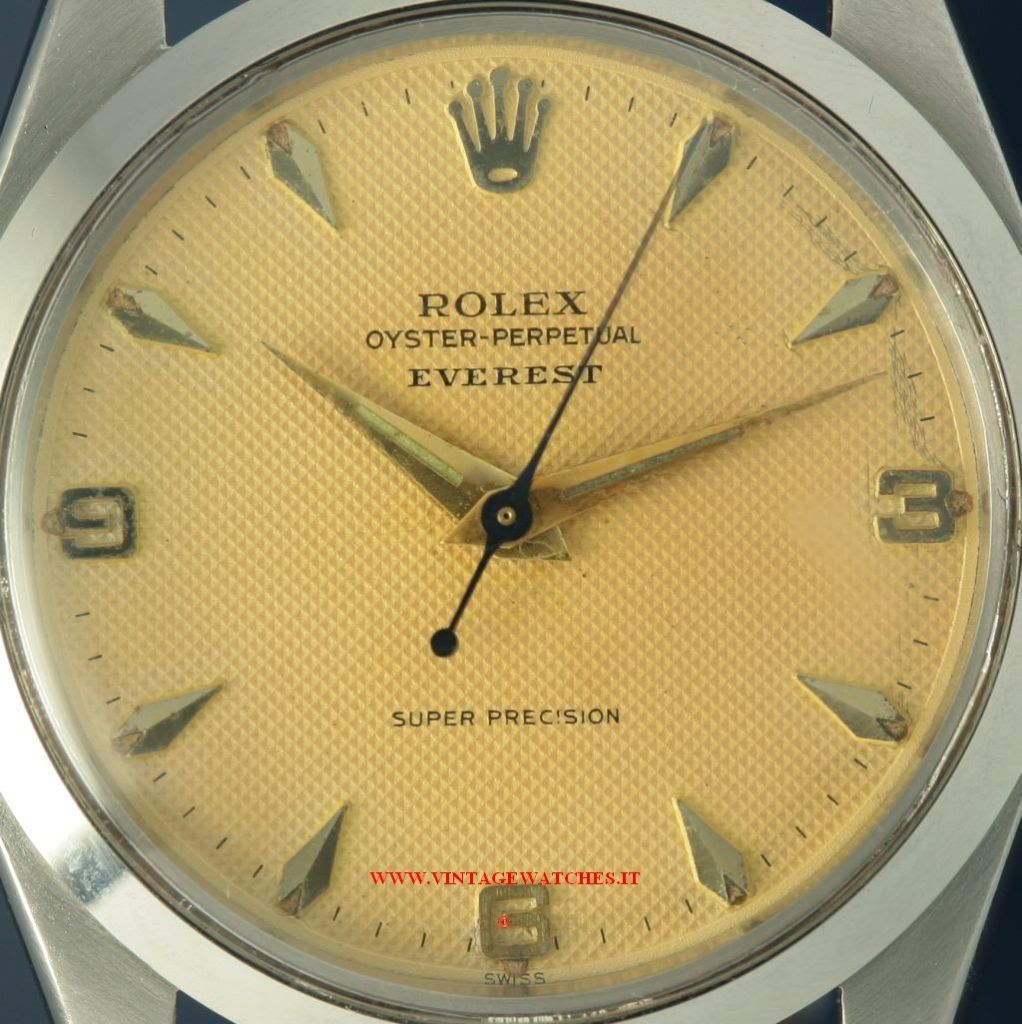 5504 versione Explorer face guiloche' Air -King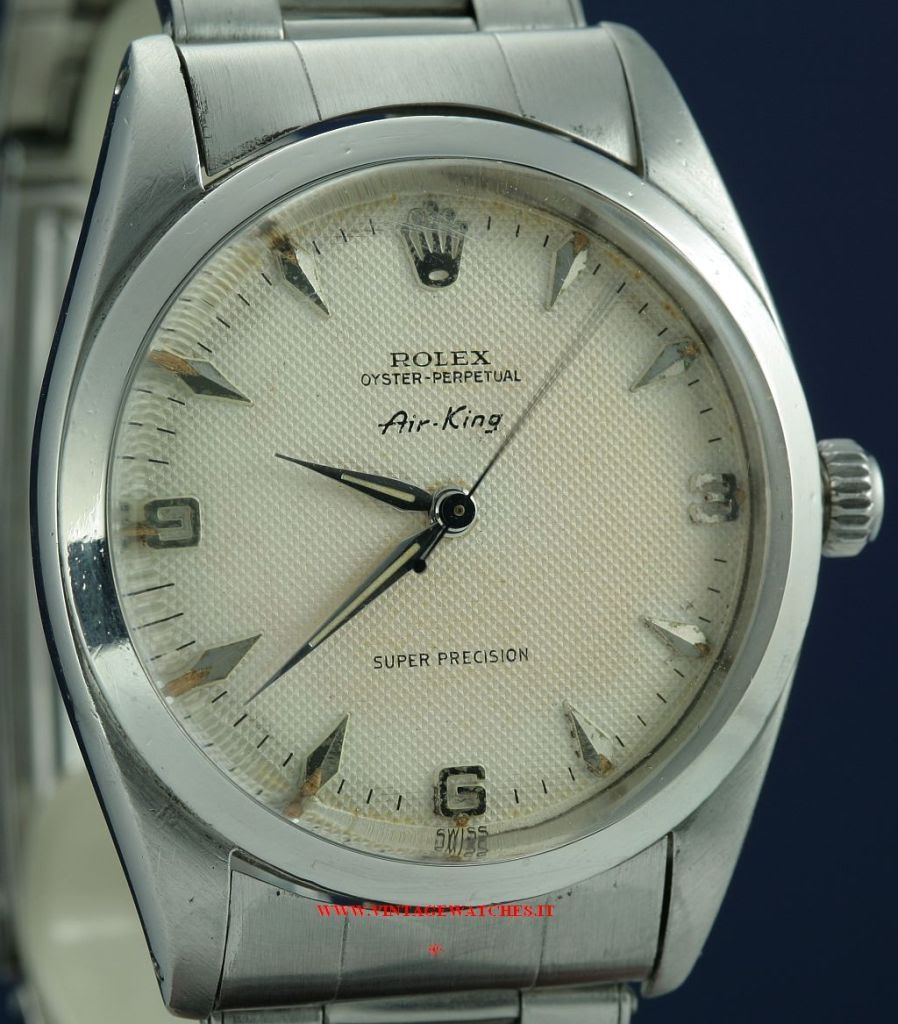 5700 (foto presa in rete)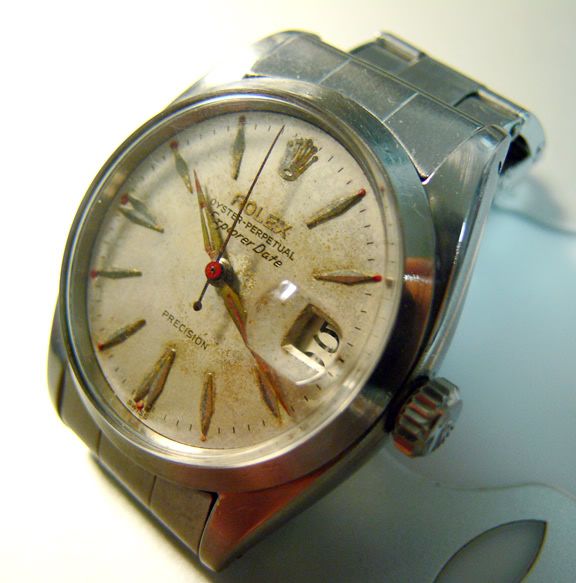 verso il 1967 l'EXPLORER ref 1016 adotta il quadrante matt, e sostanzialmente arriva a fine carriera , nel 1990, oltre 40 anni di successo e 58 dalla creazione del primo quadrante Explorer face.
Il primo e intramontabile sportivo Rolex.
1967 towards the ref EXPLORER 1016 adopts the matt dial, and basically get to the end of their career, in 1990, over 40 years of success and 58 since the creation of the first dial Explorer face.
The first and everlasting Rolex Sports.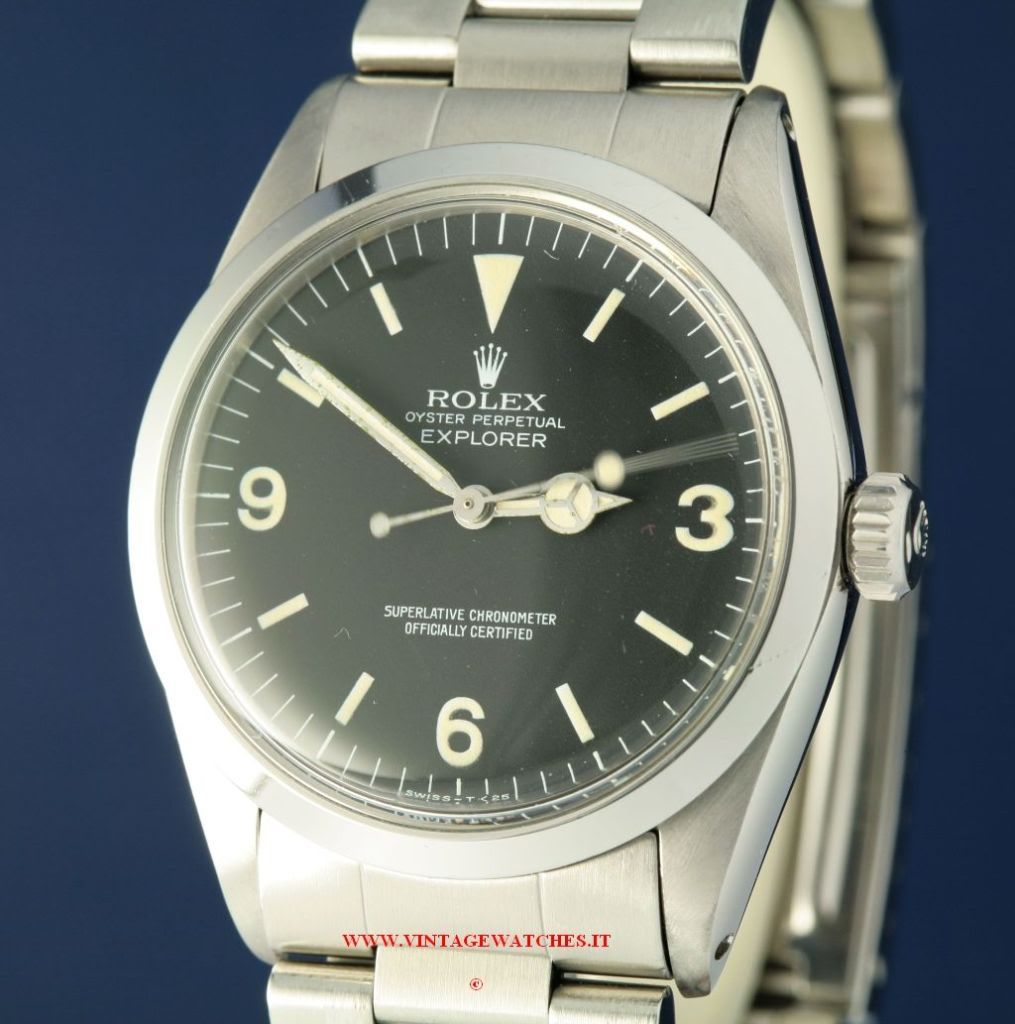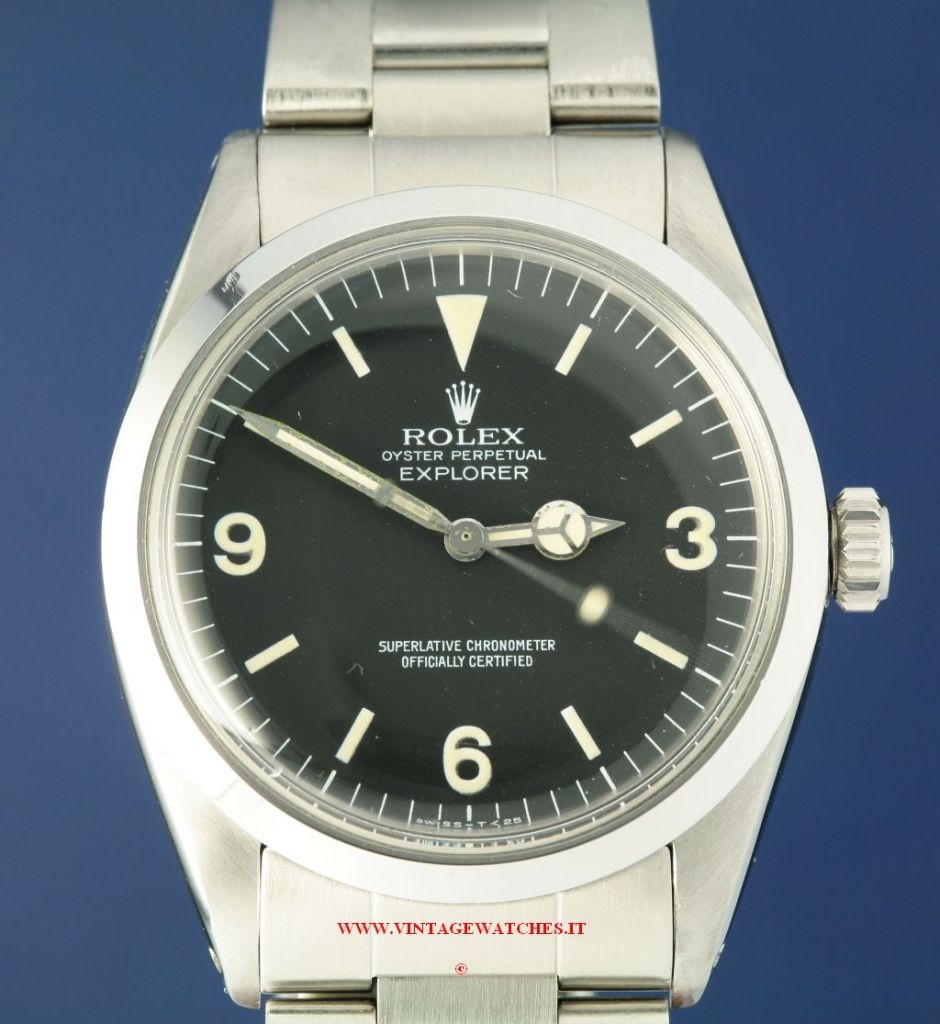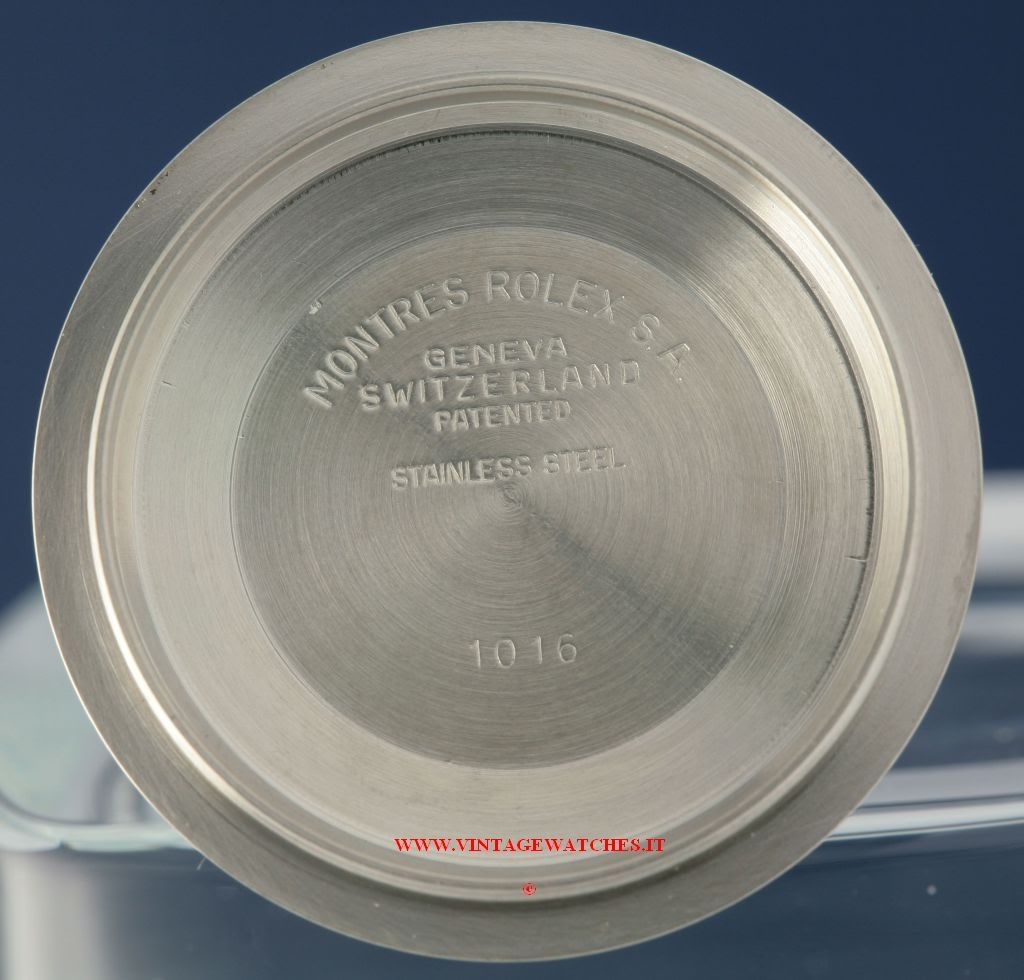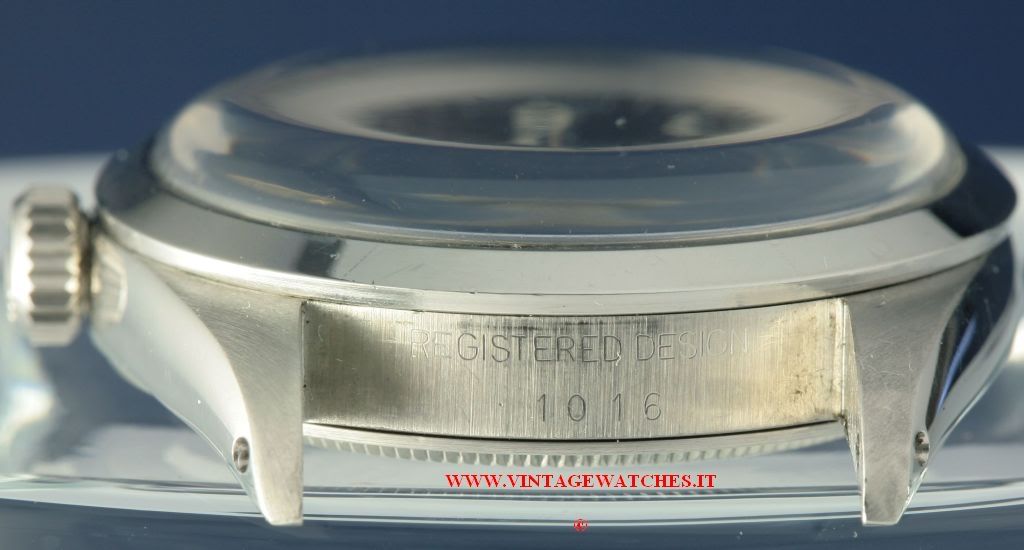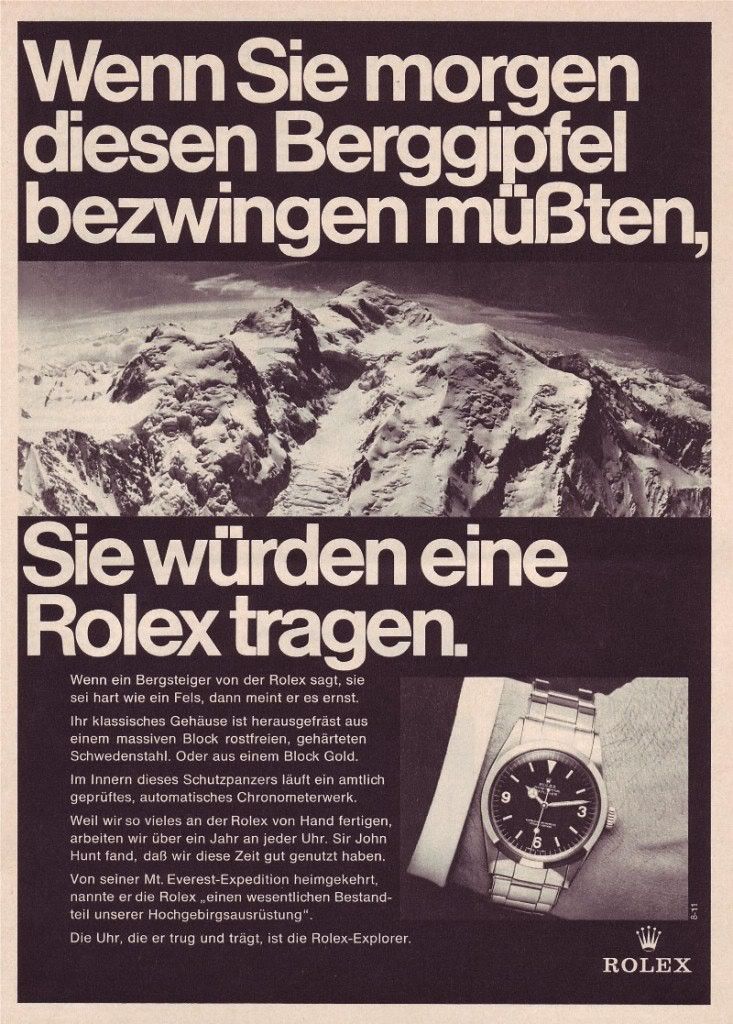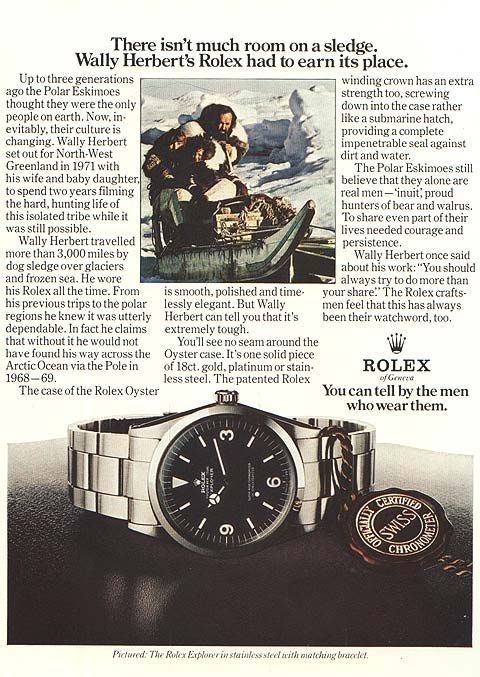 Inizio anni 90 ref. 14270 il primo con vetro zaffiro e nuovo calibro 3000
Versione Black out (presa dalla rete)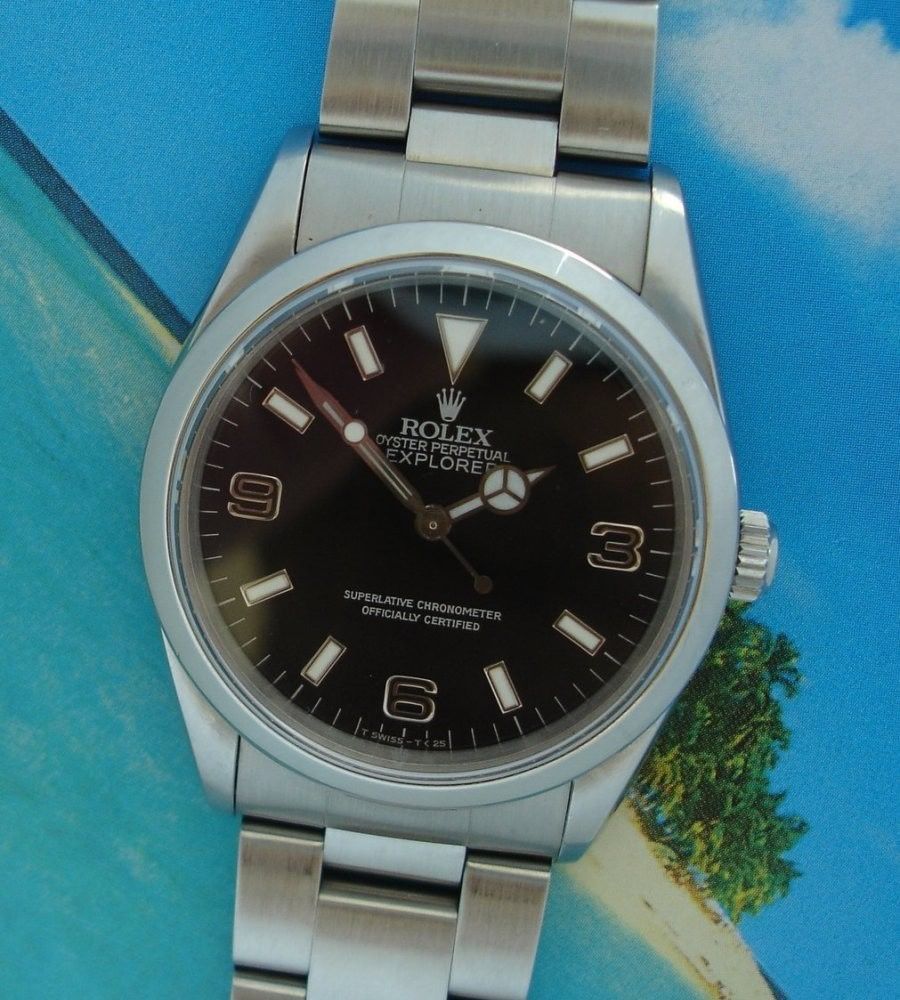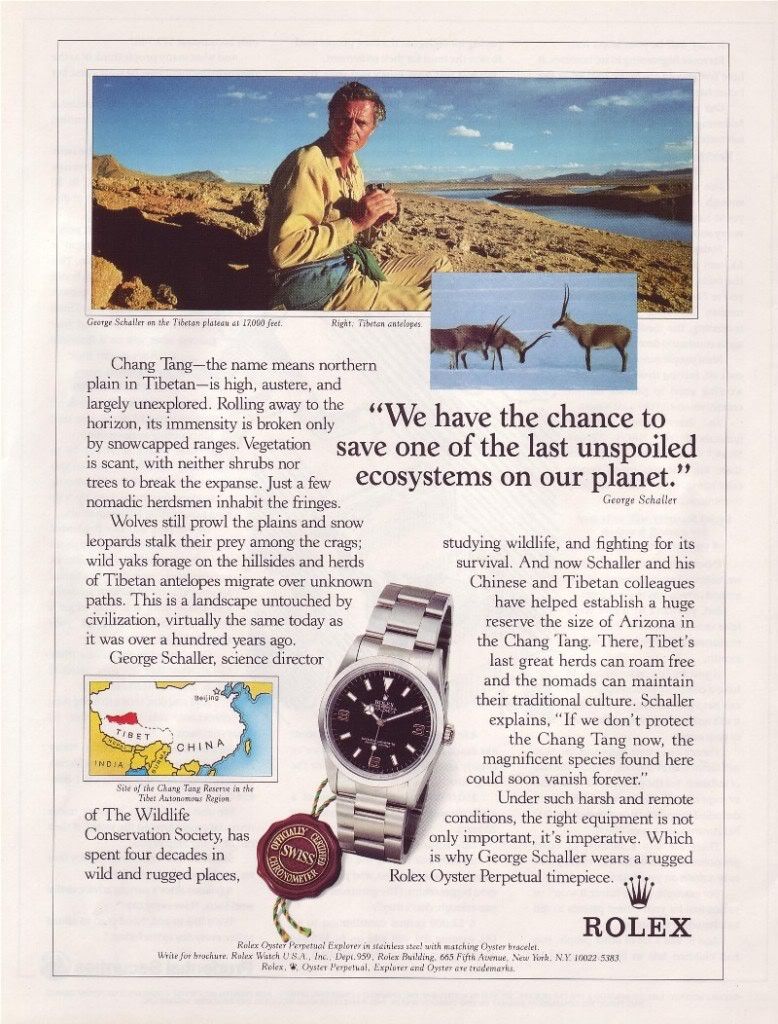 14270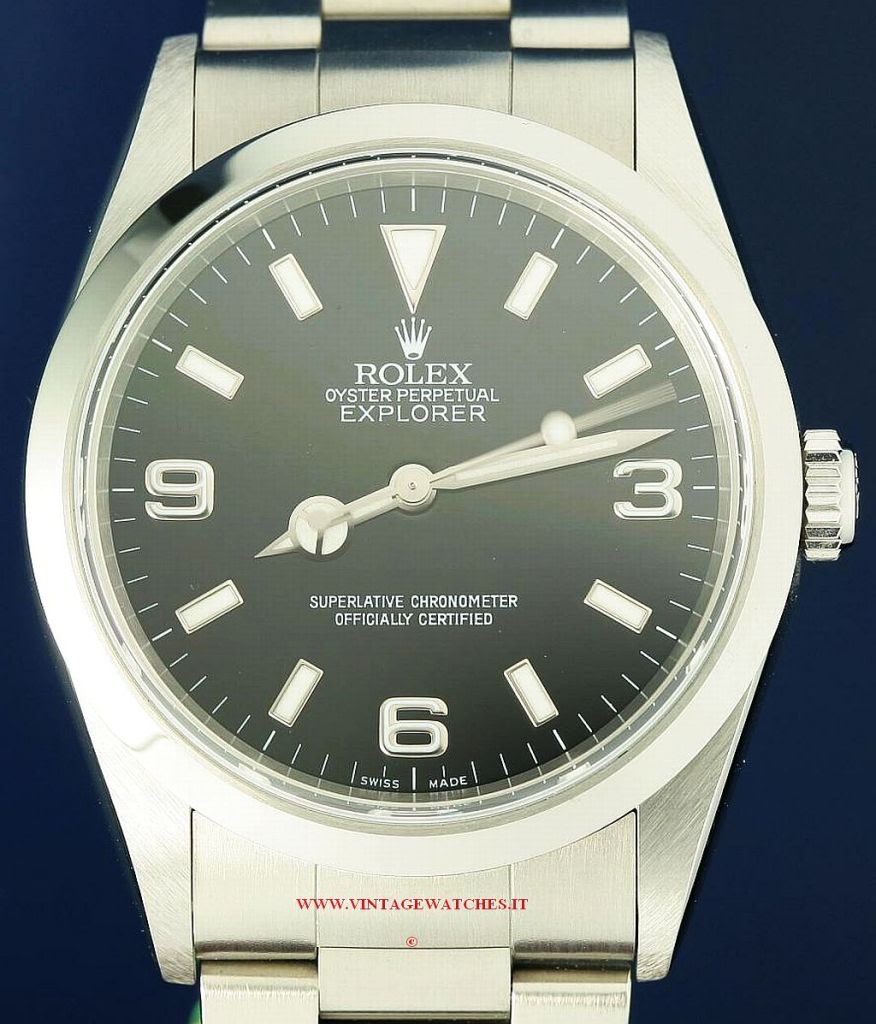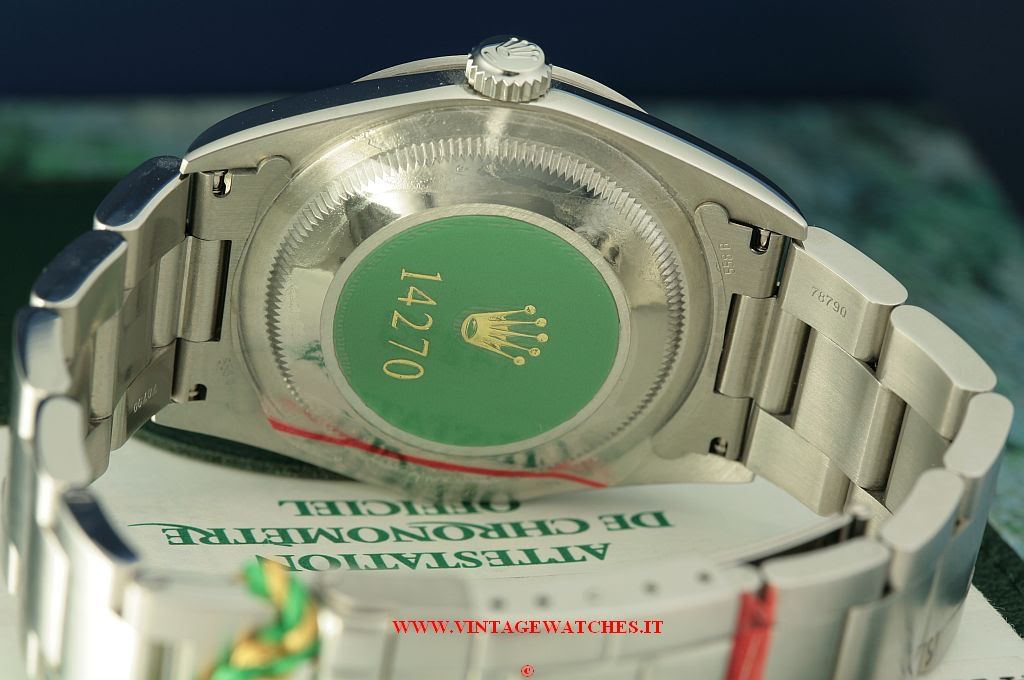 e l'ultima versione 114270: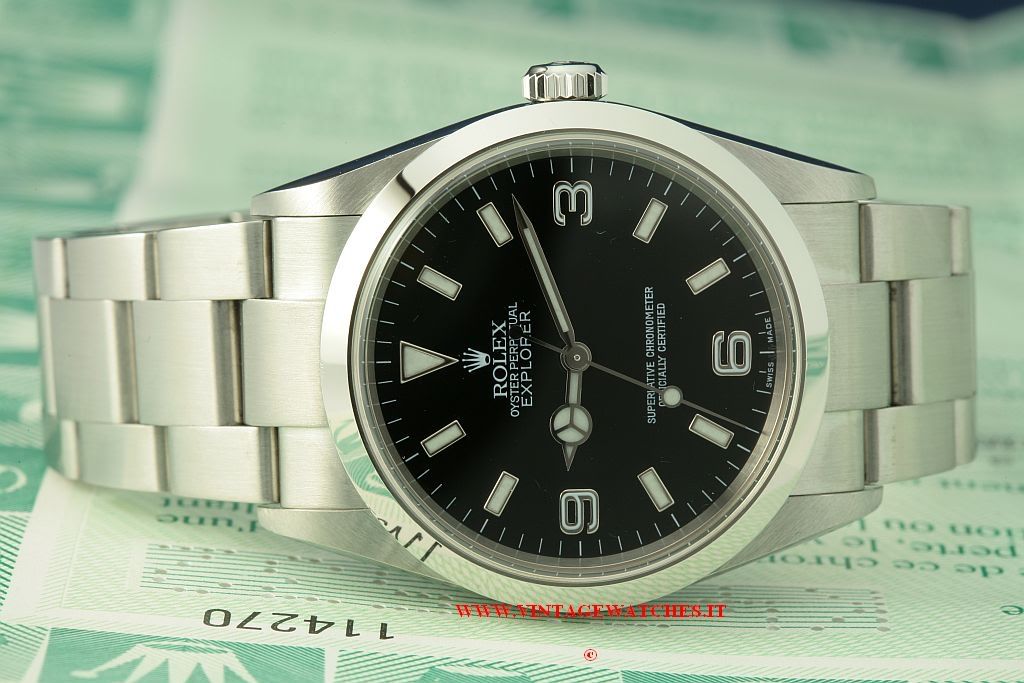 Stefano Mazzariol